—
Philadelphia Riots Are Another Case of Street Violence Used to Advance Radical Political Agendas
James Carafano / @JJCarafano / October 28, 2020 / 4 Comments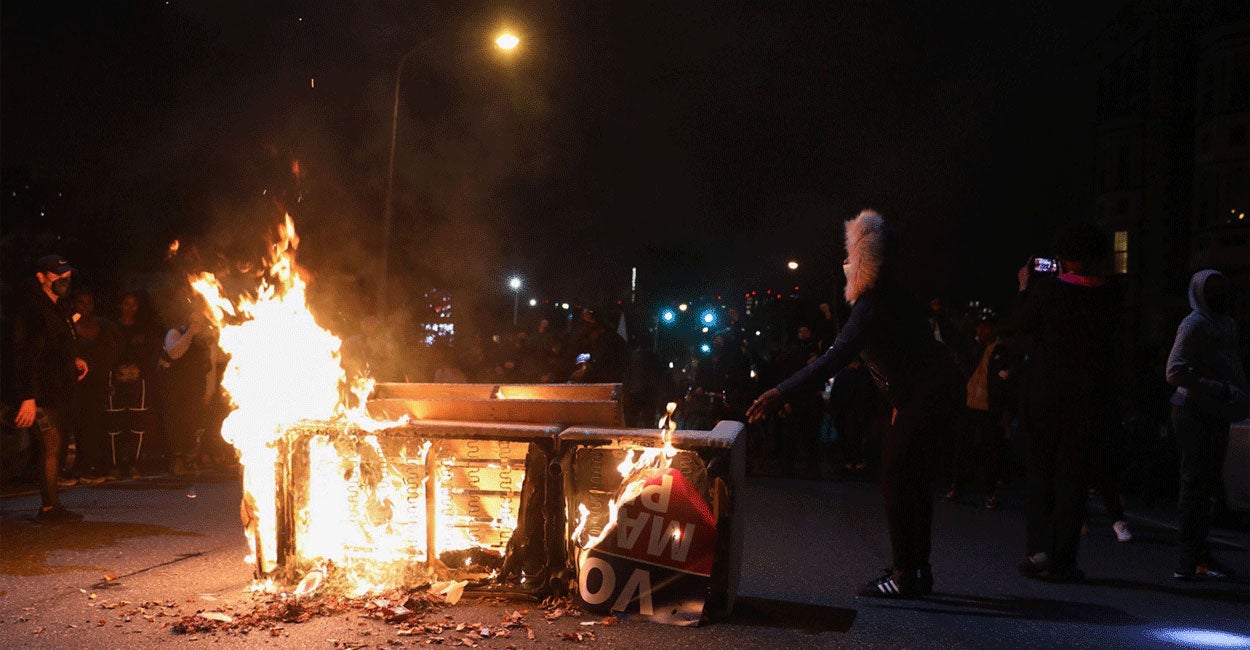 In Kenosha, Portland, Seattle, and Chicago, city officials have tolerated criminal activity performed by mobs for politically motivated reasons. Philadelphia appears to be the next hotspot for mob violence to go unchecked. Pictured: A barricade is set on fire during a night of looting and violence in Philadelphia on Oct. 27. (Photo: Gabriella Audi/AFP/Getty Images)
COMMENTARY BY
James Jay Carafano, a leading expert in national security and foreign policy challenges, is The Heritage Foundation's vice president for foreign and defense policy studies, E. W. Richardson fellow, and director of the Kathryn and Shelby Cullom Davis Institute for International Studies. Read his research.
Like the replay of a bad movie, a law enforcement incident in Philadelphia triggered an excuse for violence and looting. It remains to be seen whether the City of Brotherly Love will become the next "Kenosha," where city officials moved quickly to restore order and seek state and federal support—though sadly after 48 hours of opportunistic looting, violence, and destruction devastated the city.
Or perhaps Philadelphia will be the next Portland, Seattle, or Chicago, where systemic attacks seem to be a daily occurrence.
Police in Philadelphia are fully capable of restoring peace. The open question is whether the mayor and Larry Krasner, the former defense attorney-turned elected rogue prosecutor, will do their job and hold people accountable for their crimes.
When local, state, and federal governments work together, act quickly, and demonstrate no tolerance for organized violence to advance radical agendas, communities are kept safe and equal protection under the law is afforded for all citizens.
The left is actively working to undermine the integrity of our elections. Read the plan to stop them now. Learn more now >>
On the other hand, when local officials, the media, and politicians ignore, excuse, normalize, and enable violence, everyday Americans pay the price.
There is a plague sweeping this country that many don't want to talk about: The deliberate use of street violence to advance radical political agendas, often under a smoke screen of campaigning for civil liberties. The evidence of organized criminal activity at the root of the outbreaks in American cities is mounting.
The list of people enabling this violence sadly includes some public officials, who are principally responsible for ensuring public safety. For example, a growing threat to peaceful communities is "rogue prosecutors," former criminal defense attorneys recruited and funded by liberal billionaire backers, who—once elected—abuse their office by refusing to prosecute entire categories of crimes.
These rogue prosecutors are usurping the power of the legislature in the process, and ignoring victim's rights—all to advance their politics.
Baltimore is a perfect example. Since being sworn into office, under the watch of Baltimore City State's Attorney Marilyn J. Mosby.
Rogue prosecutors fuel street violence by refusing to prosecute rioters and looters. When confronted with the rising crimes rates, Mosby called the statistics "rhetoric."
The only way to break the cycle of violence is for local and state officials to work with each other, and if necessary, the federal government. They need to stop enabling the destruction of property and lives on their streets, and start investigating and prosecuting the individuals (and organizations) behind the riots.
It's time to start shaming and calling out the media, politicians, and advocates who excuse and normalize the violence.
There is a proven action plan for making our streets safe. It is past time for officials to start following this blueprint.
There is no time—zero time to waste. There are already fears of more violence in our streets, regardless of the outcome of the national elections.
In my hometown of Washington, D.C., downtown buildings are already boarding up in anticipation of violence on our streets after the election. If Trump wins, violence. If Biden wins, violence. This makes no sense, and it's time for it to stop.
It is time for every official and public figure, every political party, in every part of the country to publically reject violence on American streets as a legitimate form of protected speech. Violence is not protected speech, period.
The notion of deliberately destroying the lives and property of our neighbors to advance a radical political agenda is abhorrent. American leaders—of all stripes—should stand up now as one and reject these violent acts. It has gone on for too long, well before the death of George Floyd.
Leaders in Philadelphia and across America must take a principled stand to demand the end to this violence, and they need to do it before the election. In one voice, they should demand: "Leave our streets alone."
—-
Philadelphia Sees More Unrest After Police Shoot, Kill Walter Wallace Jr.
Police said about a thousand people were looting businesses northeast of downtown


By
Scott CalvertUpdated Oct. 28, 2020 1:41 am ET
Looters hit businesses in Philadelphia on Tuesday for a second straight night, as authorities struggled to contain civil unrest sparked by a video showing police fatally shooting Walter Wallace Jr., a Black man who was holding a knife.
Police said late Tuesday about a thousand people were looting businesses northeast of downtown, miles from the West Philadelphia neighborhood where the violence was concentrated a night earlier.
Police urged residents in several parts of the city to stay indoors because those areas were experiencing widespread demonstrations that had turned violent with looting.
Police had arrested 91 people late Monday and early Tuesday, most in connection with looting of pharmacies, shoe stores and other retail outlets, police said. Thirty officers were injured, mostly from hurled bricks and other projectiles, police said, and a sergeant's leg was broken when she was hit by a pickup truck.
Like other large U.S. cities, Philadelphia had already been preparing for potential violence around the Nov. 3 election, Police Commissioner Danielle Outlaw said at a news conference Tuesday. The city is the most-populous in Pennsylvania, a state viewed as key to deciding the presidential election.
Ms. Outlaw said unrest caused by Monday's shooting of Mr. Wallace could spill into election-related disturbances. "There may be some bleeding together, just given the timeline, as far as how close we are to Election Day and the days after," she said.
To help manage tensions, city officials have requested assistance from law-enforcement agencies in surrounding counties and from the state government. The Pennsylvania National Guard said Tuesday it was sending several hundred members to Philadelphia at the request of Gov. Tom Wolf.
"We are exploring all of our options at this time to do everything that we can to ensure that all of our PPD resources are focused on what's in front of us, whether it's the actual civil unrest or even again the crime that continues to occur throughout the city," Ms. Outlaw said.
The White House said the Trump administration would deploy federal resources if requested.
Bystander video that captured the episode in West Philadelphia was distributed on social media. The video shows Mr. Wallace standing on a sidewalk with two police officers pointing their guns at him. At one point a woman appeared to try to stop Mr. Wallace as he crossed the street. Officers fired several times when he re-emerged onto the street from between two parked cars and walked toward them.
A police spokesman said officers ordered Mr. Wallace to drop the knife before they fired their guns.
The two officers, whose names haven't been released, each fired about seven rounds, police Chief Inspector Frank Vanore said. He said he didn't know how many bullets struck Mr. Wallace. Mr. Vanore said police received a call about a man who was screaming and armed with a knife.
Speaking at a news conference Tuesday evening, Shaka Johnson, a lawyer for the Wallace family, said Mr. Wallace had mental health problems and was taking lithium under a doctor's care.
"The man was suffering," he said. "When you come to a scene where somebody is in a mental crisis, [and] the only tool you have to deal with it is a gun, that's a problem."
Mr. Johnson said police had been called to the Wallace home twice earlier Monday. Their third appearance, which ended with the deadly confrontation, came after Mr. Wallace's brother had requested an ambulance, Mr. Johnson said, but the police officers got there first.
Mr. Wallace's father, Walter Wallace Sr., decried the looting and called for justice for his son. "I can't even sleep at night," he said. "Every time I close my eyes, I get flashbacks about multiple shots."
Ms. Outlaw, noting that the two officers hadn't yet been interviewed, didn't answer a number of questions about the incident, such as whether the officers had any information ahead of time about possible mental-health concerns and whether police had contact with Mr. Wallace before Monday.
"There are many questions that demand answers. Residents have my assurance that those questions will be fully addressed by the investigation," Ms. Outlaw said. "Everyone involved, including the officers, will forever be impacted by this tragedy."
District Attorney Larry Krasner said his office will investigate the incident along with the police department.
Law enforcement and the state of U.S. cities have drawn attention in this year's presidential election. Speaking in West Salem, Wis., on Tuesday, President Trump said he supported "the heroes of law enforcement."
"Last night Philadelphia was torn up by Biden-supporting radicals," he said.
Former Vice President and Democratic presidential candidate Joe Biden and his running mate, Sen. Kamala Harris, said in a statement Tuesday, "Walter Wallace's life, like too many others,' was a Black life that mattered—to his mother, to his family, to his community, to all of us." At the same time, they said, there was no excuse for attacking police officers and vandalizing businesses.
Philadelphia Mayor Jim Kenney said that he had spoken with Mr. Wallace's wife and parents.
"I have watched the video of this tragic incident, and it presents difficult questions that must be answered," he said. "We need a speedy and transparent resolution for the sake of Mr. Wallace, his family, the officers and for all Philadelphia."
John McNesby, president of the local police union, asked the public for patience while the investigation proceeds.
"Our police officers are being vilified this evening for doing their job and keeping the community safe, after being confronted by a man with a knife," Mr. McNesby said Monday. "We support and defend these officers, as they too are traumatized by being involved in a fatal shooting."
As word of the incident spread late Monday, protesters took to the streets. Looters hit businesses around the city, including on 52nd Street, a West Philadelphia commercial corridor that sustained major damage on May 31 and June 1 during protests over the killing of George Floyd in Minneapolis. Ms. Outlaw said the people who gathered to protest the incident weren't the same people whom police later arrested.
Among the businesses hit were five SunRay pharmacies in West Philadelphia, said owner Marc Tancredi. In June, two SunRay locations were looted, including the one on 52nd Street.
"They broke into the pharmacy and stole the drugs like they did last time," Mr. Tancredi said Tuesday. "Not as much physical damage to the location."
Some looting was still occurring at 8 a.m. Tuesday, said Jabari Jones, president of the West Philadelphia Corridor Collaborative, a business association. He said he had examined the damage.
"It's just another day where unfortunately the situation has boiled to the point where people have resorted to vandalism and looting," he said.
Mr. Jones described the video of Mr. Wallace's killing as "sickening" and wondered why officers didn't take less-lethal steps to resolve the situation.
"I can understand the pent-up anger and rage," Mr. Jones said. But he said damaging businesses hurts owners and residents who rely on them. "It is a balance of making sure neighborhood stores and places that provide products and services for residents in the community can still be open and provide those things."
Write to Scott Calvert at scott.calvert@wsj.com
Portland protesters topple Lincoln, Roosevelt statues during 'Day of Rage'
The unrest was reportedly tied to the 'Day of Rage' on the eve of Columbus Day
Portland absorbed another night of violent protests Sunday that resulted in the toppling of two statues in the city and reports of numerous buildings with their windows smashed in, including the Oregon Historical Society.
The unrest was reportedly tied to the "Day of Rage" on the eve of Columbus Day.
Andy Ngo, a journalist who has been documenting the unrest in the city, posted images of the destruction on Twitter. The Oregonian reported that protesters managed to bring down statues of Abraham Lincoln and Theodore Roosevelt.
Ngo posted a video of what he identified as the protesters toppling the statue of Roosevelt, which depicts the former president riding on horseback. The video showed a rope tied around the statue and protesters could be heard cheering when the statue shifted.https://www.google.com/amp/s/www.foxnews.com/us/portland-protesters-topple-lincoln-roosevelt-statues-during-day-of-rage.amp
Justin "Jussie" Smollett[1] (/ˈdʒʌsi/ JUSS-ee,born June 21, 1982)[1] is an American actor and singer. He began his career as a child actor in 1987 acting in films including The Mighty Ducks (1992) and Rob Reiner's North (1994). In 2015, Smollett portrayed musician Jamal Lyon in the Fox drama series Empire, a role that was hailed as groundbreaking for its positive depiction of a black gay man on television. Smollett has also appeared in Ridley Scott's science fiction film Alien: Covenant (2017) as Ricks and in Marshall (2017) as Langston Hughes.
Smollett was indicted in February 2019, for disorderly conduct for allegedly staging a fake hate crime assault;[2] the charges were dropped the following month.[3] In February 2020, he was indicted on six counts of making false police reports.[4][5][6]

2019 alleged hate crime hoax
Main article: Jussie Smollett alleged assault
On January 29, 2019, Smollett told police that he was attacked outside his apartment building by two men in ski masks. He reported they called him racialand homophobic slurs and said "this is MAGA country," a reference to President Donald Trump's slogan "Make America Great Again."[36] He claimed they used their hands, feet, and teeth as weapons in the assault.[37][38] According to a statement released by the Chicago Police Department, the two suspects then "poured an unknown liquid" on Smollett and put a noose around his neck.[39]Smollett said that he fought them off. Smollett was treated at Northwestern Memorial Hospital; not seriously injured, he was released "in good condition" later that morning.[36][40][41] The police were called after 2:30 a.m.;[42] when they arrived around 2:40 am, Smollett had a white rope around his neck.[43] Smollett said that the attack may have been motivated by his criticism of the Trump administration[44] and that he believed that the alleged assault was linked to the threatening letter that was sent to him earlier that month.[35]
On February 20, 2019, Smollett was charged by a grand jury with a class 4 felony for filing a false police report.[45][46][47] The next day, Smollett surrendered himself at the Chicago Police Department's Central Booking station.[48] Shortly thereafter, CPD spokesman Anthony Guglielmi stated that Smollett "is under arrest and in the custody of detectives".[49] On March 26, 2019, all charges filed against Smollett were dropped, with Judge Steven Watkins ordering the public court file sealed.[3][50] First Assistant State's Attorney Joseph Magats said the office reached a deal with Smollett's defense team in which prosecutors dropped the charges upon Smollett performing 16 hours of community service[51][52][53] and forfeiting his $10,000 bond.[54][55][56]
On April 12, 2019, the city of Chicago filed a lawsuit in the Circuit Court of Cook County against Smollett for the cost of overtime authorities expended investigating the alleged attack, totalling $130,105.15.[57][58][6][59] In November 2019, Smollett filed a counter-suit against the city of Chicago alleging he was the victim of "mass public ridicule and harm" and arguing he should not be made to reimburse the city for the cost of the investigation.[60] On February 11, 2020, after further investigation by a special prosecutor was completed, Smollett was indicted again by a Cook County grand jury on six counts pertaining to making four false police reports.[4][6] On June 12, 2020, a judge struck down Smollett's claim that his February charge violated the principle of double jeopardy.[61]
Last Update 3 hrs ago
AOC to VP Pence: 'It's Congresswoman Ocasio-Cortez to you'
Ocasio-Cortez appeared bothered by what she saw as "gender dynamics" at work during the debate, in which Pence was the only male participant
U.S. Rep. Alexandria Ocasio-Cortez appeared to be closely watching the vice presidential debateWednesday night, tweeting several responses to comments by Vice President Mike Pence during his confrontation against Sen. Kamala Harris.
Particularly irking the New York Democrat seemed to be Pence's reference to her by her widely used nickname "AOC."
"For the record @Mike_Pence, it's Congresswoman Ocasio-Cortez to you," Ocasio-Cortez responded on Twitter.

Alexandria Ocasio-Cortez@AOCUS House candidate, NY-14For the record @Mike_Pence, it's Congresswoman Ocasio-Cortez to you.9:29 PM · Oct 7, 2020
Ocasio-Cortez also appeared bothered by what she saw as "gender dynamics" at work during the debate, in which Pence was the only male participant. She accused Pence of demanding answers for the questions he posed to Harris, while trying to avoid directly answering questions put to him by the debate moderator, Susan Page of USA Today.
"Why is it that Mike Pence doesn't seem to have to answer any of the questions asked of him in this debate?" she wrote.

Alexandria Ocasio-Cortez@AOCUS House candidate, NY-14Why is it that Mike Pence doesn't seem to have to answer any of the questions asked of him in this debate?9:06 PM · Oct 7, 2020
"Pence demanding that Harris answer *his* own personal questions when he won't even answer the moderator's is gross, and exemplary of the gender dynamics so many women have to deal with at work," she added.

Alexandria Ocasio-Cortez@AOCUS House candidate, NY-14Pence demanding that Harris answer *his* own personal questions when he won't even answer the moderator's is gross, and exemplary of the gender dynamics so many women have to deal with at work.9:18 PM · Oct 7, 2020
But perhaps the most touchy subject for Ocasio-Cortez – a member of so-called "Squad" of far-left lawmakers on Capitol Hill — was climate change.
During the debate, Pence had suggested that the Green New Deal – the signature legislative proposal of Ocasio-Cortez – was a product of "climate alarmists" that would be expensive and cost many Americans their jobs. Estimates have placed the deal's price tag at more than $90 trillion.
Pence claimed that the Democratic presidential ticket of former Vice President Joe Biden and Harris would fully embrace the plan if elected.
"Now, Joe Biden and Kamala Harris would put us back in the Paris climate accord, they'd impose the Green New Deal, which would crush American energy, would increase the energy costs of American families in their homes, and literally crush American jobs," Pence said.
Ocasio-Cortez responded by claiming the Green New Deal "has been lied about nonstop."
"It's a massive job-creation and infrastructure plan to decarbonize & increase quality of work and life," she wrote.
The vice president also accused Biden and Harris of wanting to steer the U.S. away from traditional energy sources and ban fracking – a process that has helped contribute to the nation's resurgence in the energy sector but has been a divisive topic among Democrats, who are split between the economic benefits of the process and what many see as its potentially harmful environmental impact.
The debate performance of Vice President Mike Pence drew close scrutiny by U.S. Rep. Alexandria Ocasio-Cortez, D-N.Y.
Harris quickly shot down Pence's assertion about fracking.
"The American people know Joe Biden will not ban fracking," Harris said. "That is a fact. That is a fact."
Ocasio-Cortez – perhaps mindful of accusations that she was less than enthusiastic for the Biden-Harris ticket after preferring progressive Sen. Bernie Sanders for president earlier in the campaign – kept her fracking response limited to a single sentence.

Alexandria Ocasio-Cortez@AOCUS House candidate, NY-14Fracking is bad, actually8:43 PM · Oct 7, 2020498.3K92.1K people are Tweeting about this
"Fracking is bad, actually," she wrote.Dom Calicchio is a Senior Editor at FoxNews.com. Reach him at dom.calicchio@foxnews.com.
—-
​Amy Coney Barrett was appointed to the U.S. Court of Appeals for the Seventh Circuit in November 2017. She serves on the faculty of the Notre Dame Law School, teaching on constitutional law, federal courts, and statutory interpretation, and previously served on the Advisory Committee for the Federal Rules of Appellate Procedure. She earned her bachelor's degree from Rhodes College in 1994 and her J.D. from Notre Dame Law School in 1997. Following law school, Barrett clerked for Judge Laurence Silberman of the U.S. Court of Appeals for the D.C. Circuit and for Associate Justice Antonin Scalia of the U.S. Supreme Court. She also practiced law with Washington, D.C. law firm Miller, Cassidy, Larroca & Lewin.
—-
—-
—
—-Related posts:
I have gone back and forth and back and forth with many liberals on the Arkansas Times Blog on many issues such as abortion, human rights, welfare, poverty, gun control and issues dealing with popular culture. Here is another exchange I had with them a while back. My username at the Ark Times Blog is Saline […]By Everette Hatcher III | Posted in Francis Schaeffer, Prolife | Edit | Comments (0)
I have gone back and forth and back and forth with many liberals on the Arkansas Times Blog on many issues such as abortion, human rights, welfare, poverty, gun control and issues dealing with popular culture. Here is another exchange I had with them a while back. My username at the Ark Times Blog is Saline […]By Everette Hatcher III | Posted in Francis Schaeffer, President Obama, Prolife | Edit | Comments (0)
I have gone back and forth and back and forth with many liberals on the Arkansas Times Blog on many issues such as abortion, human rights, welfare, poverty, gun control and issues dealing with popular culture. Here is another exchange I had with them a while back. My username at the Ark Times Blog is Saline […]By Everette Hatcher III | Posted in Francis Schaeffer, President Obama, Prolife | Edit | Comments (0)
I have gone back and forth and back and forth with many liberals on the Arkansas Times Blog on many issues such as abortion, human rights, welfare, poverty, gun control and issues dealing with popular culture. Here is another exchange I had with them a while back. My username at the Ark Times Blog is Saline […]By Everette Hatcher III | Posted in Francis Schaeffer, Prolife | Edit | Comments (0)
I have gone back and forth and back and forth with many liberals on the Arkansas Times Blog on many issues such as abortion, human rights, welfare, poverty, gun control and issues dealing with popular culture. Here is another exchange I had with them a while back. My username at the Ark Times Blog is Saline […]By Everette Hatcher III | Posted in Francis Schaeffer, Prolife | Edit | Comments (0)
I have gone back and forth and back and forth with many liberals on the Arkansas Times Blog on many issues such as abortion, human rights, welfare, poverty, gun control and issues dealing with popular culture. Here is another exchange I had with them a while back. My username at the Ark Times Blog is Saline […]By Everette Hatcher III | Posted in Francis Schaeffer, Prolife | Edit | Comments (3)
I have gone back and forth and back and forth with many liberals on the Arkansas Times Blog on many issues such as abortion, human rights, welfare, poverty, gun control and issues dealing with popular culture. Here is another exchange I had with them a while back. My username at the Ark Times Blog is Saline […]By Everette Hatcher III | Posted in Francis Schaeffer, Prolife | Edit | Comments (2)
It is truly sad to me that liberals will lie in order to attack good Christian people like state senator Jason Rapert of Conway, Arkansas because he headed a group of pro-life senators that got a pro-life bill through the Arkansas State Senate the last week of January in 2013. I have gone back and […]By Everette Hatcher III | Posted in Arkansas Times, Francis Schaeffer, Max Brantley, Prolife | Edit | Comments (0)
I have gone back and forth and back and forth with many liberals on the Arkansas Times Blog on many issues such as abortion, human rights, welfare, poverty, gun control and issues dealing with popular culture. Here is another exchange I had with them a while back. My username at the Ark Times Blog is Saline […]By Everette Hatcher III | Posted in Francis Schaeffer, Prolife | Edit | Comments (0)