Check out the quote below by Kamala Harris in the debate concerning President Lincoln stating that the reason he put off nominating a Supreme Court replacement after the election was because Lincoln wanted the winner of the the 1864 election to make the pick, and then see that debunked. Yet liberal fact checkers like Planned Parenthood do not put in the false category but only say it "may be a little bit of a stretch."

Sen. Kamala Harris told Pence. "In 1864… Abraham Lincoln was up for reelection. And it was 27 days before the election. And a seat became open on the United States Supreme Court. Abraham Lincoln's party was in charge not only of the White House but the Senate. But Honest Abe said, 'It's not the right thing to do. The American people deserve to make the decision about who will be the next president of the United States, and then that person will be able to select who will serve on the highest court of the land."

Michael Burlingame, the distinguished chair in Lincoln studies at the University of Illinois-Springfield, told PolitiFact, "I've never seen anything like that quote in all my 36 years of Lincoln research."

"Lincoln, of course, said no such thing," Dan McLaughlin of THE NATIONAL REVIEW refuted the Democrat Wednesday night. "He sent no nominee to the Senate in October 1864 because the Senate was out of session until December."

Gillian Brockell of the WASHINGTON POST also made the same point as McLaughlin:
Congress was in recess until early December, so there would have been no point in naming a man before the election anyway. Lincoln shrewdly used that to his advantage. If he had lost the election, there is no evidence he wouldn't have filled the spot in the lame-duck session.


In fact, most historians assume Lincoln intended on filling the vacancy as soon as he could in the lame duck session.
Current: Vice Presidential Debate Fact Check

Claim: In 1864, 27 days before the election, President Abraham Lincoln decided not to nominate an appointment to a vacant seat on the U.S. Supreme Court because he believed the people should decide.
Context: In a discussion of Trump's recent nomination of Amy Coney Barrett to the supreme court just weeks before the November Election, Harris recalled a moment in political history when Abraham Lincoln chose to defer the nomination of a justice to the court following a Justice's death less than a month before the election. Harris tied this story to the current moment, as most voters across the country would like for the winner of the November election to appoint the next justice to the Supreme Court.
Fact-check: Lincoln did wait to appoint a justice in 1864 until December, a month after the presidential election. His decision to do so may or may not have been politically motivated, as many potential candidates were eager to campaign for his reelection with the hope that he would return the favor with a nomination to the court. Harris's claim that Lincoln waited so that the people could decide on the president and the court appointment may be a little bit of a stretch, but it is also not necessarily representative of the position we're in today, given that during Abraham Lincoln's presidency, only white men were allowed to vote.
Vice Presidential Debate Fact Check
By Anna Selle | Oct. 8, 2020, 9:39 p.m.
Washington Post fact-check's Harris' 'little history lesson' about Lincoln: 'Wasn't exactly true'
Harris insisted 'Honest Abe' said filling a vacant Supreme Court seat during an election was 'not the right thing to do'
By Joseph A. Wulfsohn | Fox News
The Washington Post offered a sharp rebuke to the "little history lesson" Sen. Kamala Harris shared during Wednesday night's vice presidential debate, which apparently "wasn't exactly true."
During an exchange with Vice President Mike Penceon the confirmation of Judge Amy Coney Barrett to the Supreme Court, Harris suggested that one of the most revered Republican presidents would be in favor of allowing a newly elected president to fill a vacant seat instead of rushing a confirmation in the heat of an election.
She made her argument in response to Pence saying that President Trump's appointment is following precedent.
"I'm so glad we went through a little history lesson. Let's do that a little more," Harris told Pence. "In 1864… Abraham Lincoln was up for reelection. And it was 27 days before the election. And a seat became open on the United States Supreme Court. Abraham Lincoln's party was in charge not only of the White House but the Senate. But Honest Abe said, 'It's not the right thing to do. The American people deserve to make the decision about who will be the next president of the United States, and then that person will be able to select who will serve on the highest court of the land."
Well, according to a report from The Washington Post on Thursday, Harris did not accurately describe what took place under Lincoln when filling the vacant seat of Chief Justice Roger B. Taney.
"Harris is correct that a seat became available 27 days before the election. And that Lincoln didn't nominate anyone until after he won," the Post wrote. "But there is no evidence he thought the seat should be filled by the winner of the election. In fact, he had other motives for the delay."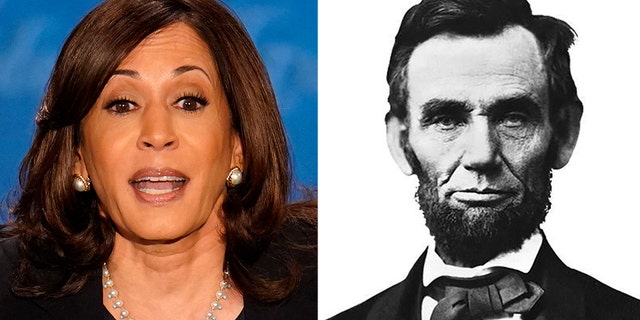 According to Lincoln historian Michael Burlingame, Lincoln told his aides he wanted to delay his Supreme Court confirmation process because he was "waiting to receive expressions of public opinion from the country," though the Post noted, "that didn't mean he was waiting for ballots so much as the mail."
"The overarching effect of the delay is that it held Lincoln's broad but shaky coalition of conservative and radical Republicans together," the Post explained. "Congress was in recess until early December, so there would have been no point in naming a man before the election anyway. Lincoln shrewdly used that to his advantage. If he had lost the election, there is no evidence he wouldn't have filled the spot in the lame-duck session."
The Post concluded, "So Harris is mistaken about Lincoln's motivations in this regard."
National Review senior writer Dan McLaughin went even further, accusing Harris of "dishonesty" with her Lincoln anecdote.
"Lincoln, of course, said no such thing," McLaughlin refuted the Democrat Wednesday night. "He sent no nominee to the Senate in October 1864 because the Senate was out of session until December."
He added, "Kamala Harris is simply inventing history."
Fred Lucas / @FredLucasWH / Jarrett Stepman / @JarrettStepman / October 08, 2020 / 182 Comments
During the vice presidential debate Wednesday night, Sen. Kamala Harris, D-Calif., and Vice President Mike Pence sparred over a variety of policies, revealing significant differences on several issues.
The debate, which was moderated by USA Today Washington bureau chief Susan Page, featured the two contenders discussing issues ranging from climate change and COVID-19 to abortion and the Supreme Court.
Here are six highlights from the debate:
1) COVID-19
Harris aggressively attacked the Trump administration's handling of the COVID-19 pandemic. After the opening question, she laid out what could be called a prosecutor's case. How are socialists deluding a whole generation? Learn more now >>
"The American people have witnessed what is the greatest failure of any presidential administration in the history of our country," the California senator said. "And here are the facts: 210,000 dead people in our country in just the last several months, over 7 million people who have contracted this disease, 1 in 5 businesses closed. We are looking at frontline workers treated like sacrificial workers. We are looking at 30 million people who in the last several months had to file for unemployment."
That was in response to a question from Page about what the Biden administration would have done differently than Trump to address the COVID-19 pandemic. Harris then went on to summarize the Biden-Harris plan.
"Our plan is about what we need to do around a national strategy, for contact tracing, for testing, for administration of a vaccine, and make sure it's free," Harris said.
Pence, who headed the White House coronavirus task force, defended the administration's record.
"I want the American people to know that from the very first day, President Donald Trump has put the health of America first," the vice president said. "Before there were more than five cases in the United States—all people who had returned from China—President Donald Trump did what no other American had ever done. That was, he suspended all travel from China, the second-largest economy in the world."
Pence added: "Joe Biden opposed that decision."
"He said it was xenophobic and hysterical. I can tell you, having led the White House coronavirus task force that decision alone by President Trump gave us invaluable time to set up the greatest mobilization since World War II," Pence said. "I believe it saved hundreds of thousands of American lives."
As for the Biden plan, Pence said, the Trump administration was already doing much of what it recommends. He also took a shot at a Biden scandal that effectively ended his 1988 presidential bid.
"The reality is, when you look at the Biden plan, it looks an awful lot like what President Trump and I and our task force have been doing every step of the way," he said. " … It looks a little bit like plagiarism, something Joe Biden knows a little bit about."
In September 1987, Biden came in for withering criticism for borrowing lines from a speech by then-British Labor Party leader Neil Kinnock without attribution, knocking him out of the race when it was subsequently revealed to be part of a larger pattern of borrowing lines from other politicians without credit.
Asked about the race to develop a vaccine, Harris said she wouldn't trust a Trump-endorsed vaccine, but would take one approved by Dr. Anthony Fauci, the director of the National Institutes of Allergy and Infectious Diseases.
"If the public health professionals, if Dr. Fauci, if the doctors tell us that we should take it, I'll be the first in line to take it. Absolutely," Harris said. "But if Donald Trump tells us that we should take it, I'm not taking it."
Pence fired back that the California senator was politicizing the vaccine.
"The fact that you continue to undermine public confidence in a vaccine, if a vaccine emerges during the Trump administration, I think, is unconscionable," the vice president said. "Senator, I just ask you, stop playing politics with people's lives. The reality is, we will have a vaccine by the end of this year, and it will continue to save countless American lives."
2) Taxes and the Economy
Harris and Pence sparred over the tax cuts passed by Congress in 2017 and debated Biden's tax plan.
Harris said that the Biden administration would repeal the 2017 tax cuts "on Day One," and that they were passed to benefit the "rich."
"Joe Biden believes you measure the health and strength of America's economy based on the health and strength of the American worker and the American family," Harris said. "On the other hand, you have Donald Trump, who measures the strength of the economy based on how rich people are doing."
Pence defended the tax cuts and said: "Joe Biden said twice in the debate last week that he's going to repeal the Trump tax cuts," Pence said. "That was tax cuts that gave the average working family $2,000 with a tax break."
In 2017, Congress passed the Tax Cuts and Jobs Act, which reduced federal income taxes and made various other changes to the U.S. tax code.
Following the tax cut, the American economy experienced record low unemployment, wage growth, and an overall increase in business investment, according to Adam Michel, a specialist on tax policy and the federal budget as a policy analyst in the Thomas A. Roe Institute for Economic Policy Studies at The Heritage Foundation.
Harris said that Biden's tax plan would end tax breaks for the wealthy but wouldn't raise taxes on American making under $400,000.
"He has been very clear about that," Harris said, adding, "Joe Biden is the one who, during the Great Recession, was responsible for the Recovery Act that brought America back, and now the Trump and Pence administration wants to take credit for Joe Biden's success for the economy that they had at the beginning of their term."
According to The Washington Post, "most Americans received a tax" cut in 2017, not just the rich.
Biden's tax proposal would raise taxes about $3 trillion over the next decade, according to the nonpartisan Tax Foundation.
"… The Biden tax plan would reduce [gross domestic product] by 1.47 percent over the long term," according to the Tax Foundation's General Equilibrium Model. "On a conventional basis, the Biden tax plan by 2030 would lead to about 6.5 percent less after-tax income for the top 1 percent of taxpayers and about a 1.7 percent decline in after-tax income for all taxpayers on average."
According to the left-leaning Tax Policy Center, Biden's proposal "would increase taxes on average on all income groups, but the highest-income households would see substantially larger increases, both in dollar amounts and as a share of their incomes."
3) Climate Change and Fracking
Harris said a Biden administration would grow the economy through green energy, but she also denied past support for banning fracking.
"Joe Biden will not ban fracking. That is a fact. I will repeat that Joe Biden has been very clear that he thinks about growing jobs," Harris said, adding, "Part of those jobs that will be created by Joe Biden are going to be about clean energy and renewable energy, because Joe understands that the West Coast of our country is burning, including my home state of California."
Harris also spoke about climate-related problems in the Southeast and in the Midwest.
"Joe sees what is happening in the Gulf states, which are being battered by storms. Joe has seen and talked with the farmers in Iowa, whose entire crops have been destroyed because of floods," she said. "So, Joe believes again in science. … We have seen a pattern with this administration, which is, they don't believe in science. Joe's plan is about saying we are going to deal with it, but we are going to create jobs."
Pence addressed the issue of climate change, but also attacked the Biden campaign's promises for the environment.
"As I said, Susan, the climate is changing. We'll follow the science," he said.
"With regard to banning fracking, I just recommend people look at the record. You yourself said repeatedly you would ban fracking," Pence said of Harris. "You were the first Senate co-sponsor of the Green New Deal.
"While Joe Biden denied support for the Green New Deal, Susan, thank you for pointing out the Green New Deal is on [the Biden-Harris] website. As USA Today said, it's essentially the same plan as you co-sponsored with AOC."
That was a reference to Rep. Alexandria Ocasio-Cortez, D-N.Y., the main sponsor of the Green New Deal in the House.
"You just heard the senator say she was going to resubmit America to the Paris Climate Accord. The American people have always cherished our environment, and we'll continue to cherish it," Pence said. "We've made great progress reducing [carbon dioxide] emissions through American innovation and the development of natural gas through fracking.
"We don't need a massive $2 trillion Green New Deal that would impose all new mandates on American businesses and American families. … It makes no sense. It will cost jobs."
4) China
Pence and Harris sparred over U.S. relations with China, including its role in the outbreak of the COVID-19 pandemic.
"China and the World Health Organization did not play straight with the American people," Pence said. "They did not let our personnel into China … until the middle of February."
The vice president defended the administration's aggressive trade policy with Beijing. "But China has been taking advantage of the United States for decades, in the wake of Biden cheerleading for China," he said.
Harris said that the Trump administration had "lost" the trade war with China. "What ended up happening because of a so-called "trade war" with China? America lost 300,000 manufacturing jobs," she said.
Pence countered that a Biden administration would go soft on the communist country.
"Joe Biden has been a cheerleader for communist China over the last several decades," he said.
The vice president criticized the record of the administration of Biden's boss, President Barack Obama, saying that it had dismissed the idea that manufacturing jobs could ever come back to America.
"In our first three years, this administration saw 500,000 manufacturing jobs created, and that's the type of growth we're going to see," Pence said.
5) Supreme Court and Abortion
With the nomination of federal appeals court Judge Amy Coney Barrett to the Supreme Court, Page asked both candidates what they would want their respective states of Indiana and California to do if the high court were to overturn the 1973 Roe v. Wade decision that legalized abortion nationwide and sent the matter back to the states to decide for themselves.
Neither candidate directly addressed the question, but both spoke of the abortion issue in the context of the Supreme Court.
"The issues before us couldn't be more serious," Harris said. "There is the issue of choice, and I will always fight for a woman's right to make a decision about her own body. It should be her decision and not that of Donald Trump and the vice president, Michael Pence."
Pence reiterated his pro-life stance, and called out the Biden-Harris ticket.
"I couldn't be more proud to serve as vice president to a president who stands unapologetically for the sanctity of human life. I will not apologize for it," he said. "This is another one of those cases where there is such a dramatic contrast. Joe Biden and Kamala Harris support taxpayer funding of abortion all the way up to the moment of birth, late-term abortion."
Pence asked Harris at one point if she would support packing the courts, meaning increasing the number of Supreme Court justices to 10 or more, and then he accused her of not answering the question.
"Once again you gave a non-answer, Joe Biden gave a non-answer," Pence said. "The American people deserve a straight answer."
In his remarks, Pence noted the Supreme Court has had nine justices for the past 150 years.
6) Race Relations
The vice presidential candidates also had a heated exchange on race relations amid social unrest in major American cities.
Harris called out Trump for what she claimed was his reluctance to condemn white supremacists, referring to last week's presidential debate between Trump and Biden.
"Last week, the president of the United States took a debate stage in front of 70 million Americans and refused to condemn white supremacists," Harris said. "It wasn't like he wasn't given a chance. He didn't do it, and then he doubled down. Then he said, when pressed, 'Stand back, stand by.' This is part of a pattern with Donald Trump."
She also cited the deadly 2017 Charlottesville, Va., Unite the Right rally.
Pence countered by citing Trump's comments regarding the Charlottesville violence.
"This is one of the things that makes people dislike the media so much in this country, that you selectively edit so much," Pence said, arguing that the media had distorted what Trump had said about there being "very fine people" on both sides in Charlottesville.
"After President Trump made comments about people on either side of the debate over monuments, he condemned the KKK, neo-Nazis and white supremacists," the vice president said.
"He has done so repeatedly. Your concern that he doesn't condemn neo-Nazis, President Trump has Jewish grandchildren. His daughter and son-in-law are Jewish. This is a president who respects and cherishes all of the American people."
Pence then went on offense about Harris' prosecution record as a district attorney in San Francisco.
"When you were D.A. in San Francisco, African Americans were 19 times more likely to be prosecuted for minor drug offenses than whites and Hispanics," Pence said to Harris. "You increased the disproportionate incarceration. You did nothing on criminal justice reform in California. You didn't lift a finger to pass the First Step Act on Capitol Hill."
The First Step Act is a bipartisan criminal justice reform bill signed into law by Trump in December 2018.
Harris didn't directly defend her record as district attorney of San Francisco, but pivoted to her record as California attorney general.
"Having served as the attorney general of California, the work I did is a model of what our nation needs to do and what we will be able to do," she said, adding, "I was the first statewide officer to institute a requirement that my agents would wear body cameras and keep them on full time. We were the first to initiate that there would be training for law enforcement on implicit bias."
——
I grew up and went to EVANGELICAL CHRISTIAN SCHOOL in Memphis and ran some of our track meets at RHODES COLLEGE and I know that campus well and I even was contacted by a official at Rhodes with some recruiting material after a good performance in my sophomore year in my mile run there in 1978. Also during the late 1970's I helped my friends Byron Tyler and David Rogers in a Christian Rock Saturday morning show on Rhodes's radio station!!! My brother-in-law graduated from Rhodes but I graduated from University of Memphis in 1982.
—-
By Tim H.
| September 23, 202027 COMMENTS
President Trump is going to announce his nomination for the Supreme Court later this week, and all the talk is about Amy Coney Barrett, currently a Notre Dame professor of law and a judge on the Seventh Circuit Court of Appeals. As it happens, Amy was a classmate of mine at Rhodes College, a small (1,400 students at the time) liberal-arts school in Memphis. I didn't know her well, but she was a friend of other friends, and we were acquainted a bit through being in a club together.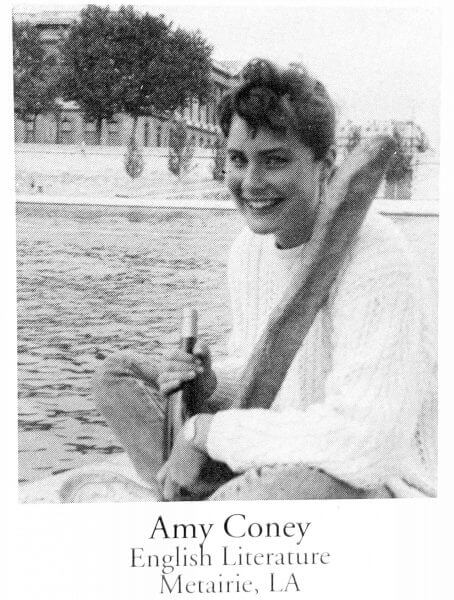 I can tell you a few things about her, though. For one thing, she did not have a wild reputation, so I think that if she's nominated, the Senate hearings will have to find something else to complain about. She was an English major and served on the Honor Council, a student body that enforced our honor code against lying and cheating (a great feature of academics at Rhodes that allowed us take-home tests in many classes). We were both in Mortar Board, an honor society. She wasn't a political activist and was never a member of the College Republicans (I was, and we had a much larger membership than the College Democrats).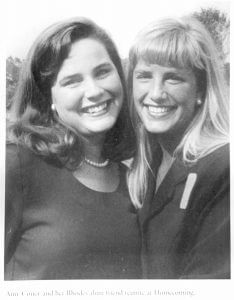 Amy at the homecoming game senior year
Popular, as far as I knew, and by our senior year, she shows up in the yearbook's candid photos taken around campus.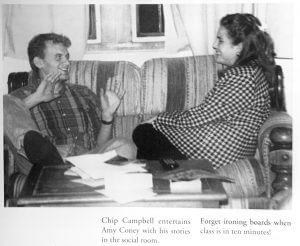 Candid photo in the social room (the ironing board refers to another picture)
I hadn't thought about her for a long time, until three years ago when friends were pointing out she'd been nominated for the Seventh Circuit, and Sen. Dianne Feinstein grilled her over her religion, proclaiming that "the dogma lives loudly within you." At the time, I thought that was a rough Senate hearing.
My daughter was a Notre Dame student, and two years ago, I stopped by to visit Amy at her home in South Bend and catch up. She had been listed as being on the president's shortlist for a Supreme Court seat, and Kavanaugh was going through his own nomination process at that time.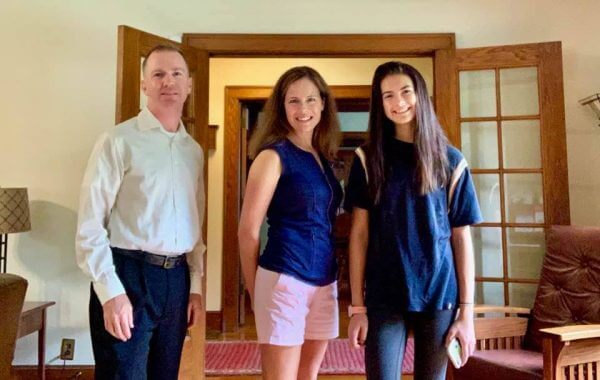 L to R: Me, Amy Barrett, and my daughter
My daughter had been treating the accusations against him as probably true by default and took an unconcerned view towards the behavior of the press. Amy knows Kavanaugh, spoke well of him, and described what it was like seeing the press contacting her and digging through rumors about him. That changed my daughter's opinion of how these things go, she told me. I meant to ask her if she were named to the Supreme Court if she'd be willing to go through all of the hatred and attacks on her reputation that would surely be a part of it. But I can't remember if I did. I reckon we'll all find out soon enough, though.
As a footnote, if Amy is confirmed to the court, she would be the second Supreme Court justice to come from Rhodes. Our first was Abe Fortas (class of 1930), who was named by President Johnson in 1965. Fortas resigned in 1969 after a series of ethics scandals, but the college gives out the Abe Fortas Award for Excellence in Legal Studies each year. Quite understandable; we're a small school, and we should still be proud one of our own was elevated to the Supreme Court. May Amy Barrett bring us more honor.Published in LawTags: SCOTUS; SUPREME COURT; Amy Coney Barrett
—
—
Amy Coney Barrett (born January 28, 1972)[1][2] is an American lawyer, jurist, and academic who serves as a circuit judge on the U.S. Court of Appeals for the Seventh Circuit. Barrett considers herself a public-meaning originalist; her judicial philosophy has been likened to that of her mentor and former boss, Antonin Scalia.[3] Barrett's scholarship focuses on originalism.
Barrett was nominated to the Seventh Circuit Court of Appeals by President Donald Trump on May 8, 2017 and confirmed by the Senate on October 31, 2017. While serving on the federal bench, she was a professor of law at Notre Dame Law School, where she has taught civil procedure, constitutional law, and statutory interpretation.[4][2][5][6] Shortly after her confirmation to the Seventh Circuit Court of Appeals in 2017, Barrett was added to President Trump's list of potential Supreme Court nominees.[7]Trump reportedly intends to nominate her to succeed Ruth Bader Ginsburg on the United States Supreme Court.[8]
Early life and education
Barrett was born in New Orleans, Louisiana, in 1972.[2] She is the eldest of seven children, with five sisters and a brother. Her father Michael Coney worked as an attorney for Shell Oil Company, and her mother Linda was a homemaker. Barrett grew up in Metairie, a suburb of New Orleans, and graduated from St. Mary's Dominican High School in 1990.[9]
Barrett studied English literature at Rhodes College, graduating in 1994 with a Bachelor of Arts magna cum laude and Phi Beta Kappa membership.[10] She then studied law at Notre Dame Law School on a full-tuition scholarship. She served as an executive editor of the Notre Dame Law Review[11] and graduated first in her class in 1997 with a Juris Doctor summa cum laude.[12]
Career
Clerkships and private practice
After law school Barrett spent two years as a judicial law clerk, first for Judge Laurence Silberman of the U.S. Court of Appeals for the D.C. Circuit from 1997 to 1998,[13] then for Justice Antonin Scalia of the U.S. Supreme Court from 1998 to 1999.[13]
From 1999 to 2002, she practiced law at Miller, Cassidy, Larroca & Lewin in Washington, D.C.[11][14]
Teaching and scholarship
Barrett served as a visiting associate professor and John M. Olin Fellow in Law at George Washington University Law School for a year before returning to her alma mater, Notre Dame Law School in 2002.[15]At Notre Dame she taught federal courts, constitutional law, and statutory interpretation. Barrett was named a Professor of Law in 2010, and from 2014 to 2017 held the Diane and M.O. Miller Research Chair of Law.[16] Her scholarship focuses on constitutional law, originalism, statutory interpretation, and stare decisis.[12] Her academic work has been published in journals such as the Columbia, Cornell, Virginia, Notre Dame, and TexasLaw Reviews.[15] Some of her most significant publications are Suspension and Delegation, 99 Cornell L. Rev. 251 (2014), Precedent and Jurisprudential Disagreement, 91 Tex. L. Rev. 1711 (2013), The Supervisory Power of the Supreme Court, 106 Colum. L. Rev. 101 (2006), and Stare Decisis and Due Process, 74 U. Colo. L. Rev. 1011 (2003).
At Notre Dame, Barrett received the "Distinguished Professor of the Year" award three times.[15] She taught Constitutional Law, Civil Procedure, Evidence, Federal Courts, Constitutional Theory Seminar, and Statutory Interpretation Seminar.[15] Barrett has continued to teach seminars as a sitting judge.[17]
Federal judicial service
Nomination and confirmation
President Donald Trump nominated Barrett on May 8, 2017, to serve as a United States Circuit Judge of the United States Court of Appeals for the Seventh Circuit, to the seat vacated by Judge John Daniel Tinder, who took senior status on February 18, 2015.[18][19]Judge Laurence Silberman, for whom Barrett first clerked after law school, swearing her in at her investiture as a judge on the Seventh Circuit.
A hearing on Barrett's nomination before the Senate Judiciary Committee was held on September 6, 2017.[20] During the hearing, Senator Dianne Feinstein questioned Barrett about a law review article Barrett co-wrote in 1998 with Professor John H. Garvey in which she argued that Catholic judges should in some cases recuse themselves from death penalty cases due to their moral objections to the death penalty. The article concluded that the trial judge should recuse herself instead of entering the order. Asked to "elaborate on the statements and discuss how you view the issue of faith versus fulfilling the responsibility as a judge today," Barrett said that she had participated in many death-penalty appeals while serving as law clerk to Scalia, adding, "My personal church affiliation or my religious belief would not bear on the discharge of my duties as a judge"[21][22] and "It is never appropriate for a judge to impose that judge's personal convictions, whether they arise from faith or anywhere else, on the law."[23] Worried that Barrett would not uphold Roe v. Wade given her Catholic beliefs, Feinstein followed Barrett's response by saying, "the dogma lives loudly within you, and that is a concern."[24][25][26] The hearing made Barrett popular with religious conservatives,[11] and in response, the conservative Judicial Crisis Network began to sell mugs with Barrett's photo and Feinstein's "dogma" remark.[27]Feinstein's and other senators' questioning was criticized by some Republicans and other observers, such as university presidents John I. Jenkins and Christopher Eisgruber, as improper inquiry into a nominee's religious belief that employed an unconstitutional "religious test" for office;[23][28][29]others, such as Nan Aron, defended Feinstein's line of questioning.[29]
Lambda Legal, an LGBT civil rights organization, co-signed a letter with 26 other gay rights organizations opposing Barrett's nomination. The letter expressed doubts about her ability to separate faith from her rulings on LGBT matters.[30][31] During her Senate confirmation hearing, Barrett was questioned about landmark LGBTQ legal precedents such as Obergefell v. Hodges, United States v. Windsor, and Lawrence v. Texas. Barrett said these cases are "binding precedents" that she intended to "faithfully follow if confirmed" to the appeals court, as required by law.[30] The letter co-signed by Lambda Legal said "Simply repeating that she would be bound by Supreme Court precedent does not illuminate—indeed, it obfuscates—how Professor Barrett would interpret and apply precedent when faced with the sorts of dilemmas that, in her view, 'put Catholic judges in a bind.'"[30] Carrie Severino of the Judicial Crisis Network later said that warnings from LGBT advocacy groups about shortlisted nominees to replace Justice Anthony Kennedy, including Barrett, were "very much overblown" and called them "mostly scare tactics."[30]
In 2015, Barrett signed a letter in support of the Ordinary Synod of Bishops on the Family that endorsed the Catholic Church's teachings on human sexuality and its definition of marriage as between one man and one woman. When asked about the letter, she testified that the Church's definition of marriage is legally irrelevant.[32][33]
Barrett's nomination was supported by every law clerk she had worked with and all of her 49 faculty colleagues at Notre Dame Law school. 450 former students signed a letter to the Senate Judiciary Committee supporting Barrett's nomination.[34][35]
On October 5, 2017, the Senate Judiciary Committee voted 11–9 on party lines to recommend Barrett and report her nomination to the full Senate.[36][37] On October 30, the Senate invoked cloture by a vote of 54–42.[38] It confirmed her by a vote of 55–43 on October 31, with three Democrats—Joe Donnelly, Tim Kaine, and Joe Manchin—voting for her.[10] She received her commission two days later.[2] Barrett is the first and to date only woman to occupy an Indiana seat on the Seventh Circuit.[39]
Notable cases
Title IX
In Doe v. Purdue University, 928 F.3d 652 (7th Cir. 2019), the court, in a unanimous decision written by Barrett, reinstated a suit brought by a male Purdue University student (John Doe) who had been found guilty of sexual assault by Purdue University, which resulted in a one-year suspension, loss of his Navy ROTC scholarship, and expulsion from the ROTC affecting his ability to pursue his chosen career in the Navy.[40] Doe alleged the school's Advisory Committee on Equity discriminated against him on the basis of his sex and violated his rights to due process by not interviewing the alleged victim, not allowing him to present evidence in his defense, including an erroneous statement that he confessed to some of the alleged assault, and appearing to believe the victim instead of the accused without hearing from either party or having even read the investigation report. The court found that Doe had adequately alleged that the university deprived him of his occupational liberty without due process in violation of the Fourteenth Amendment and had violated his Title IX rights "by imposing a punishment infected by sex bias," and remanded to the District Court for further proceedings.[41][42][43]
Title VII
In EEOC v. AutoZone, the Seventh Circuit considered the federal government's appeal from a ruling in a suit brought by the Equal Employment Opportunity Commission against AutoZone; the EEOC argued that the retailer's assignment of employees to different stores based on race (e.g., "sending African American employees to stores in heavily African American neighborhoods") violated Title VII of the Civil Rights Act. The panel, which did not include Barrett, ruled in favor of AutoZone. An unsuccessful petition for rehearing en banc was filed. Three judges—Chief Judge Diane Wood and Judges Ilana Rovner and David Hamilton—voted to grant rehearing, and criticized the panel decision as upholding a "separate-but-equal arrangement"; Barrett and four other judges voted to deny rehearing.[11]
Immigration
In Cook County v. Wolf, 962 F.3d 208 (7th Cir. 2020), Barrett wrote a 40-page dissent from the majority's decision to uphold a preliminary injunction on the Trump administration's controversial "public charge rule", which heightened the standard for obtaining a green card. In her dissent, she argued that any noncitizens who disenrolled from government benefits because of the rule did so due to confusion about the rule itself rather than from its application, writing that the vast majority of the people subject to the rule are not eligible for government benefits in the first place. On the merits, Barrett departed from her colleagues Wood and Rovner, who held that DHS's interpretation of that provision was unreasonable under Chevron Step Two. Barrett would have held that the new rule fell within the broad scope of discretion granted to the Executive by Congress through the Immigration and Nationality Act.[44][45][46] The public charge issue is the subject of a circuit split.[44][46][47]
In Yafai v. Pompeo, 924 F.3d 969 (7th Cir. 2019), the court considered a case brought by a Yemeni citizen, Ahmad, and her husband, a U.S. citizen, who challenged a consular officer's decision to twice deny Ahmad's visa application under the Immigration and Nationality Act. Yafai, the U.S. citizen, argued that the denial of his wife's visa application violated his constitutional right to live in the United States with his spouse.[48] In an 2-1 majority opinion authored by Barrett, the court held that the plaintiff's claim was properly dismissed under the doctrine of consular nonreviewability. She declined to address whether Yafai had been denied a constitutional right (or whether a constitutional right to live in the United States with his spouse existed) because even if a constitutional right was implicated, the court lacked authority to disturb the consular officer's decision to deny Ahmad's visa application because that decision was facially legitimate and bona fide. Following the panel's decision, Yafai filed a petition for rehearing en banc; the petition was denied, with eight judges voting against rehearing and three in favor, Wood, Rovner and Hamilton. Barrett and Judge Joel Flaumconcurred in the denial of rehearing.[48][49]
Second Amendment
In Kanter v. Barr, 919 F.3d 437 (7th Cir. 2019), Barrett dissented when the court upheld a law prohibiting convicted nonviolent felons from possessing firearms. The plaintiffs had been convicted of mail fraud. The majority upheld the felony dispossession statutes as "substantially related to an important government interest in preventing gun violence." In her dissent, Barrett argued that while the government has a legitimate interest in denying gun possession to felons convicted of violent crimes, there is no evidence that denying guns to nonviolent felons promotes this interest, and that the law violates the Second Amendment.[50][51]
Fourth Amendment
In Rainsberger v. Benner, 913 F.3d 640 (7th Cir. 2019), the panel, in an opinion by Barrett, affirmed the district court's ruling denying the defendant's motion for summary judgment and qualified immunity in a 42 U.S.C. § 1983 case. The defendant, Benner, was a police detective who knowingly provided false and misleading information in a probable cause affidavit that was used to obtain an arrest warrant against Rainsberger. (The charges were later dropped and Rainsberger was released.) The court found the defendant's lies and omissions violated "clearly established law" and thus Benner was not shielded by qualified immunity.[52]
The case United States v. Watson, 900 F.3d 892 (7th Cir. 2018) involved police responding to an anonymous tip that people were "playing with guns" in a parking lot. The police arrived and searched the defendant's vehicle, taking possession of two firearms; the defendant was later charged with being a felon in possession of a firearm. The district court denied the defendant's motion to suppress. On appeal, the Seventh Circuit, in a decision by Barrett, vacated and remanded, determining that the police lacked probable cause to search the vehicle based solely upon the tip, when no crime was alleged. Barrett distinguished Navarette v. California and wrote, "the police were right to respond to the anonymous call by coming to the parking lot to determine what was happening. But determining what was happening and immediately seizing people upon arrival are two different things, and the latter was premature…Watson's case presents a close call. But this one falls on the wrong side of the Fourth Amendment."[53]
In a 2013 Texas Law Review article, Barrett included as one of only seven Supreme Court "superprecedents", Mapp vs Ohio (1961); the seminal case where the court found through the doctrine of selective incorporation that the 4th Amendment's protections against unreasonable searches and seizures was binding on state and local authorities in the same way it historically applied to the federal government.
Civil procedure and standing
In Casillas v. Madison Ave. Associates, Inc., 926 F.3d 329 (7th Cir. 2019), the plaintiff brought a class-action lawsuit against Madison Avenue, alleging that the company violated the Fair Debt Collection Practices Act (FDCPA) when it sent her a debt-collection letter that described the FDCPA process for verifying a debt but failed to specify that she was required to respond in writing to trigger the FDCPA protections. Casillas did not allege that she had tried to verify her debt and trigger the statutory protections under the FDCPA, or that the amount owed was in any doubt. In a decision written by Barrett, the panel, citing the Supreme Court's decision in Spokeo, Inc. v. Robins, found that the plaintiff's allegation of receiving incorrect or incomplete information was a "bare procedural violation" that was insufficiently concrete to satisfy the Article III's injury-in-fact requirement. Wood dissented from the denial of rehearing en banc. The issue created a circuit split.[54][55][56]
Judicial philosophy and political views
Barrett considers herself an originalist. She is a constitutional scholar with expertise in statutory interpretation.[10] Reuters described Barrett as a "a favorite among religious conservatives," and said that she has supported expansive gun rights and voted in favor of one of the Trump administration's anti-immigration policies.[57]
Barrett was one of Justice Antonin Scalia's law clerks. She has spoken and written of her admiration of his close attention to the text of statutes. She has also praised his adherence to originalism.[58]
In 2013, Barrett wrote a Texas Law Review article on the doctrine of stare decisis wherein she listed seven cases that should be considered "superprecedents"—cases that the court would never consider overturning. The list included Brown v. Board of Education but specifically excluded Roe v. Wade. In explaining why it was not included, Barrett referenced scholarship agreeing that in order to qualify as "superprecedent" a decision must enjoy widespread support from not only jurists but politicians and the public at large to the extent of becoming immune to reversal or challenge. She argued the people must trust the validity of a ruling to such an extent the matter has been taken "off of the court's agenda," with lower courts no longer taking challenges to them seriously. Barrett pointed to Planned Parenthood v. Casey as specific evidence Roe had not yet attained this status.[59] The article did not include any pro-Second Amendment or pro-LGBT cases as "Super-Precedent".[30][31] When asked during her confirmation hearings why she did not include any pro-LGBT cases as "superprecedent", Barrett explained that the list contained in the article was collected from other scholars and not a product of her own independent analysis on the subject.[32][33]
Barrett has never ruled directly on a case pertaining to abortion rights, but she did vote to rehear a successful challenge to Indiana's parental notification law in 2019. In 2018, Barrett voted against striking down another Indiana law requiring burial or cremation of fetal remains. In both cases, Barrett voted with the minority. The Supreme Court later reinstated the fetal remains law and in July 2020 it ordered a rehearing in the parental notification case.[57] At a 2013 event reflecting on the 40th anniversary of Roe v. Wade, she described the decision—in Notre Dame Magazine's paraphrase—as "creating through judicial fiat a framework of abortion on demand."[60][61] She also remarked that it was "very unlikely" the court would overturn the core of Roe v. Wade: "The fundamental element, that the woman has a right to choose abortion, will probably stand. The controversy right now is about funding. It's a question of whether abortions will be publicly or privately funded."[62][63] NPR said that those statements were made before the election of Donald Trump and the changing composition of the Supreme Court to the right subsequent to his election, which could make Barrett's vote pivotal in overturning Roe v. Wade.[64]
Barrett was critical of Chief Justice John Roberts'opinion in the 5–4 decision that upheld the constitutionality of the central provision in the Affordable Care Act (Obamacare) in NFIB vs. Sebelius. Roberts's opinion defended the constitutionality of the individual mandate of the Affordable Care Act by characterizing it as a "tax." Barrett disapproved of this approach, saying Roberts pushed the ACA "beyond it's plausible limit to save it."[64][65][66][67] She criticized the Obama administration for providing employees of religious institutions the option of obtaining birth controlwithout having the religious institutions pay for it.[65]
Potential Supreme Court nomination
Barrett has been on President Trump's list of potential Supreme Court nominees since 2017, almost immediately after her court of appeals confirmation. In July 2018, after Anthony Kennedy's retirement announcement, she was reportedly one of three finalists Trump considered, along with Judge Raymond Kethledge and Judge Brett Kavanaugh.[16][68] Trump chose Kavanaugh.[69]Reportedly, although Trump liked Barrett, he was concerned about her lack of experience on the bench.[70] In the Republican Party, Barrett was favored by social conservatives.[70]
After Kavanaugh's selection, Barrett was viewed as a possible Trump nominee for a future Supreme Court vacancy.[71] Trump was reportedly "saving" Ruth Bader Ginsburg's seat for Barrett if Ginsburg retired or died during his presidency.[72] Ginsburg died on September 18, 2020, and Barrett has been widely mentioned as the front-runner to succeed her.[73][74][75][76]
Personal life
Judge Barrett with her husband, Jesse
Since 1999, Barrett has been married to fellow Notre Dame Law graduate Jesse M. Barrett, a partner at SouthBank Legal in South Bend, Indiana. Previously, Jesse Barrett worked as an Assistant U.S. Attorneyfor the Northern District of Indiana for 13 years.[77][78][79] They live in South Bend and have seven children, ranging in age from 8-19.[80] Two of the Barrett children are adopted from Haiti. Their youngest biological child has special needs.[79][2][81]Barrett is a practicing Catholic.[82][83]
In September 2017, The New York Times reported that Barrett was an active member of a small, tightly knit Charismatic Christian group called People of Praise.[84][85] Founded in South Bend, the group is associated with the Catholic Charismatic Renewalmovement; it is ecumenical and not formally affiliated with the Catholic Church, but about 90% of its members are Catholic.[85][86]
Affiliations and recognition
From 2010 to 2016, Barrett served by appointment of the Chief Justice on the Advisory Committee for the Federal Rules of Appellate Procedure.[15]
Barrett was a member of the Federalist Society from 2005 to 2006 and from 2014 to 2017.[25][10][11] She is a member of the American Law Institute.[87]
Selected publications
See also
References
—-
​Amy Coney Barrett was appointed to the U.S. Court of Appeals for the Seventh Circuit in November 2017. She serves on the faculty of the Notre Dame Law School, teaching on constitutional law, federal courts, and statutory interpretation, and previously served on the Advisory Committee for the Federal Rules of Appellate Procedure. She earned her bachelor's degree from Rhodes College in 1994 and her J.D. from Notre Dame Law School in 1997. Following law school, Barrett clerked for Judge Laurence Silberman of the U.S. Court of Appeals for the D.C. Circuit and for Associate Justice Antonin Scalia of the U.S. Supreme Court. She also practiced law with Washington, D.C. law firm Miller, Cassidy, Larroca & Lewin.
—-
—-
—
—-Related posts:
I have gone back and forth and back and forth with many liberals on the Arkansas Times Blog on many issues such as abortion, human rights, welfare, poverty, gun control and issues dealing with popular culture. Here is another exchange I had with them a while back. My username at the Ark Times Blog is Saline […]By Everette Hatcher III | Posted in Francis Schaeffer, Prolife | Edit | Comments (0)
I have gone back and forth and back and forth with many liberals on the Arkansas Times Blog on many issues such as abortion, human rights, welfare, poverty, gun control and issues dealing with popular culture. Here is another exchange I had with them a while back. My username at the Ark Times Blog is Saline […]By Everette Hatcher III | Posted in Francis Schaeffer, President Obama, Prolife | Edit | Comments (0)
I have gone back and forth and back and forth with many liberals on the Arkansas Times Blog on many issues such as abortion, human rights, welfare, poverty, gun control and issues dealing with popular culture. Here is another exchange I had with them a while back. My username at the Ark Times Blog is Saline […]By Everette Hatcher III | Posted in Francis Schaeffer, President Obama, Prolife | Edit | Comments (0)
I have gone back and forth and back and forth with many liberals on the Arkansas Times Blog on many issues such as abortion, human rights, welfare, poverty, gun control and issues dealing with popular culture. Here is another exchange I had with them a while back. My username at the Ark Times Blog is Saline […]By Everette Hatcher III | Posted in Francis Schaeffer, Prolife | Edit | Comments (0)
I have gone back and forth and back and forth with many liberals on the Arkansas Times Blog on many issues such as abortion, human rights, welfare, poverty, gun control and issues dealing with popular culture. Here is another exchange I had with them a while back. My username at the Ark Times Blog is Saline […]By Everette Hatcher III | Posted in Francis Schaeffer, Prolife | Edit | Comments (0)
I have gone back and forth and back and forth with many liberals on the Arkansas Times Blog on many issues such as abortion, human rights, welfare, poverty, gun control and issues dealing with popular culture. Here is another exchange I had with them a while back. My username at the Ark Times Blog is Saline […]By Everette Hatcher III | Posted in Francis Schaeffer, Prolife | Edit | Comments (3)
I have gone back and forth and back and forth with many liberals on the Arkansas Times Blog on many issues such as abortion, human rights, welfare, poverty, gun control and issues dealing with popular culture. Here is another exchange I had with them a while back. My username at the Ark Times Blog is Saline […]By Everette Hatcher III | Posted in Francis Schaeffer, Prolife | Edit | Comments (2)
It is truly sad to me that liberals will lie in order to attack good Christian people like state senator Jason Rapert of Conway, Arkansas because he headed a group of pro-life senators that got a pro-life bill through the Arkansas State Senate the last week of January in 2013. I have gone back and […]By Everette Hatcher III | Posted in Arkansas Times, Francis Schaeffer, Max Brantley, Prolife | Edit | Comments (0)
I have gone back and forth and back and forth with many liberals on the Arkansas Times Blog on many issues such as abortion, human rights, welfare, poverty, gun control and issues dealing with popular culture. Here is another exchange I had with them a while back. My username at the Ark Times Blog is Saline […]By Everette Hatcher III | Posted in Francis Schaeffer, Prolife | Edit | Comments (0)