—
—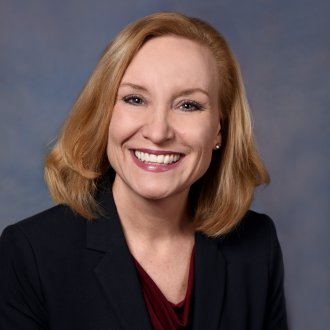 Hon. Joan Larsen
The Honorable Joan L. Larsen is a judge of the United States Court of Appeals for the Sixth Circuit. She was nominated by the President on May 8, 2017 and confirmed by the Senate on November 1, 2017. Before her appointment to the federal bench, Judge Larsen served two terms as a Justice of the Michigan Supreme Court, where she was the court's liaison to Michigan's drug, sobriety, mental health and veteran's courts.
Before becoming a judge, Judge Larsen was a faculty member at the University of Michigan Law School, where she was also Special Counsel to the Dean and received the L. Hart Wright Award for Excellence in Teaching. Judge Larsen's research and teaching interests included constitutional law, criminal procedure, statutory interpretation, and presidential power. Judge Larsen continues to assist the law school as the adviser to the Henry M. Campbell Moot Court Competition.
Judge Larsen began her legal career as a law clerk to the Hon. David B. Sentelle of the United States Court of Appeals for the D.C. Circuit and to Justice Antonin Scalia of the Supreme Court of the United States. Following her clerkships, she joined the law firm of Sidley Austin, where she was a member of the Constitutional, Criminal, and Civil Litigation Section. She later served as Deputy Assistant Attorney General in the United States Department of Justice, Office of Legal Counsel.
Judge Larsen graduated first in her class from Northwestern University School of Law, where she served as articles editor of the Northwestern University Law Review and earned the John Paul Stevens Award for Academic Excellence. She received her B.A., with highest honors, from the University of Northern Iowa.
—-
Judge, U.S. Court of Appeals for the 6th Circuit (Michigan)
Age: 49
Education: University of Northern Iowa; Northwestern Law School
Clerkships: David Sentelle (D.C. Circuit) and Justice Antonin Scalia
In this 2016 photo, Joan Larsen, justice of the Michigan Supreme Court and a former clerk for Supreme Court Justice Antonin Scalia, speaks at a memorial for Scalia at the Mayflower Hotel in Washington, D.C. (Photo: Susan Walsh/UPI/Newscom)
Joan Larsen is a judge on the 6th Circuit. Trump nominated her in May 2017 and she was initially blocked by Michigan's Democratic Sens. Debbie Stabenow and Gary Peters. Eventually, her nomination advanced in the Senate and she was confirmed by a 60-38 vote, with the two Michigan Democrats and Democratic Sens. Tom Carper (Delaware), Joe Donnelly (Indiana), Heidi Heitkamp (North Dakota), Joe Manchin (West Virginia), Bill Nelson (Florida), and Mark Warner (Virginia) voting in her favor.
Earlier in her career, Larsen worked in private practice in Washington. She also served as deputy assistant attorney general in the Justice Department's Office of Legal Counsel when the so-called "Torture Memos" were written. She did not contribute to those memos but co-authored a still-classified memo on detainees' ability to challenge their detentions.
She spent the next 12 years as a lecturer at the University of Michigan School of Law, where she taught constitutional law, criminal procedure, and presidential power. Gov. Rick Snyder, a Republican, appointed her to the Michigan Supreme Court in 2015 after a justice stepped down. Larsen ran for election the next year to finish the remainder of her predecessor's term, and she won 58 percent of the vote.
She wrote a 2004 law review article in which she criticized the use of foreign and international law in interpreting our Constitution. She co-authored a 1994 law review article discussing how the unwritten traditions of the Constitution's Incompatibility Clause, which limits members of Congress' and senators' ability to simultaneously serve in the executive branch, has strengthened the executive. She wrote a 2010 law review article arguing that modern juries are inconsistent under the original meaning of the Constitution.
Her judicial record is thin compared to the majority of the other potential nominees. While on the Michigan Supreme Court, she wrote six opinions, including In Re Hicks (2017), vacating a district court's order terminating the parental rights of an intellectually disabled woman. She also wrote the majority in Yono v. Department of Transportation (2016), finding the state of Michigan was immune from suit under a state tort law for an injury that occurred in a parallel parking lane on a highway.
Since joining the federal bench, Larsen has written 11 unpublished opinions, which are opinions that do not appear in the Federal Reporter and typically have no precedential value. These include cases dealing with the sentencing guidelines, removal of aliens by the Board of Immigration Appeals, a couple cases involving the termination of disability benefits, and a landlord-tenant dispute.
Her record as a judge is limited but she has demonstrated a commitment to conservative principles. She's also shown some of her former boss' sass: When asked "what it was like to be a woman clerking for Justice Scalia," she has often quipped: "[m]uch like being a man clerking for him."
—-
​Amy Coney Barrett was appointed to the U.S. Court of Appeals for the Seventh Circuit in November 2017. She serves on the faculty of the Notre Dame Law School, teaching on constitutional law, federal courts, and statutory interpretation, and previously served on the Advisory Committee for the Federal Rules of Appellate Procedure. She earned her bachelor's degree from Rhodes College in 1994 and her J.D. from Notre Dame Law School in 1997. Following law school, Barrett clerked for Judge Laurence Silberman of the U.S. Court of Appeals for the D.C. Circuit and for Associate Justice Antonin Scalia of the U.S. Supreme Court. She also practiced law with Washington, D.C. law firm Miller, Cassidy, Larroca & Lewin.
—-
—-
—
—-Related posts:
I have gone back and forth and back and forth with many liberals on the Arkansas Times Blog on many issues such as abortion, human rights, welfare, poverty, gun control and issues dealing with popular culture. Here is another exchange I had with them a while back. My username at the Ark Times Blog is Saline […]By Everette Hatcher III | Posted in Francis Schaeffer, Prolife | Edit | Comments (0)
I have gone back and forth and back and forth with many liberals on the Arkansas Times Blog on many issues such as abortion, human rights, welfare, poverty, gun control and issues dealing with popular culture. Here is another exchange I had with them a while back. My username at the Ark Times Blog is Saline […]By Everette Hatcher III | Posted in Francis Schaeffer, President Obama, Prolife | Edit | Comments (0)
I have gone back and forth and back and forth with many liberals on the Arkansas Times Blog on many issues such as abortion, human rights, welfare, poverty, gun control and issues dealing with popular culture. Here is another exchange I had with them a while back. My username at the Ark Times Blog is Saline […]By Everette Hatcher III | Posted in Francis Schaeffer, President Obama, Prolife | Edit | Comments (0)
I have gone back and forth and back and forth with many liberals on the Arkansas Times Blog on many issues such as abortion, human rights, welfare, poverty, gun control and issues dealing with popular culture. Here is another exchange I had with them a while back. My username at the Ark Times Blog is Saline […]By Everette Hatcher III | Posted in Francis Schaeffer, Prolife | Edit | Comments (0)
I have gone back and forth and back and forth with many liberals on the Arkansas Times Blog on many issues such as abortion, human rights, welfare, poverty, gun control and issues dealing with popular culture. Here is another exchange I had with them a while back. My username at the Ark Times Blog is Saline […]By Everette Hatcher III | Posted in Francis Schaeffer, Prolife | Edit | Comments (0)
I have gone back and forth and back and forth with many liberals on the Arkansas Times Blog on many issues such as abortion, human rights, welfare, poverty, gun control and issues dealing with popular culture. Here is another exchange I had with them a while back. My username at the Ark Times Blog is Saline […]By Everette Hatcher III | Posted in Francis Schaeffer, Prolife | Edit | Comments (3)
I have gone back and forth and back and forth with many liberals on the Arkansas Times Blog on many issues such as abortion, human rights, welfare, poverty, gun control and issues dealing with popular culture. Here is another exchange I had with them a while back. My username at the Ark Times Blog is Saline […]By Everette Hatcher III | Posted in Francis Schaeffer, Prolife | Edit | Comments (2)
It is truly sad to me that liberals will lie in order to attack good Christian people like state senator Jason Rapert of Conway, Arkansas because he headed a group of pro-life senators that got a pro-life bill through the Arkansas State Senate the last week of January in 2013. I have gone back and […]By Everette Hatcher III | Posted in Arkansas Times, Francis Schaeffer, Max Brantley, Prolife | Edit | Comments (0)
I have gone back and forth and back and forth with many liberals on the Arkansas Times Blog on many issues such as abortion, human rights, welfare, poverty, gun control and issues dealing with popular culture. Here is another exchange I had with them a while back. My username at the Ark Times Blog is Saline […]By Everette Hatcher III | Posted in Francis Schaeffer, Prolife | Edit | Comments (0)