—
Canary Islands 2014: Harold Kroto and Richard Dawkins
_
September 10, 2019
Richard Dawkins c/o Richard Dawkins Foundation,
Washington, DC 20005
Dear Mr. Dawkins,
i have enjoyed reading about a dozen of your books and some of the most intriguing were The God Delusion, An Appetite for Wonder: The Making of a Scientist, and Brief Candle in the Dark: My Life in Science.
Page 184 of THE GOD DELUSION: Even if we accept that God doesn't exist, doesn't religion still have a lot going for it? Isn't it consoling?
Doesn't it motivate people to do good?
Today I want to take another approach to the issue of the afterlife and that is the pure and simple fact that without an enforcement factor people can do what they want in this life and get away with it. This is a big glaring weakness in the Humanist Manifestos that have been published so far. All three of them do not recognize the existence of God who is our final judge. (I am not claiming that this is evidence that points to an afterlife, but this post will demonstrate that atheists many times have not thought through the full ramifications of their philosophy of life.)
I had the unique opportunity to discuss this very issue with Robert Lester Mondale and his wife Rosemary on April 14, 1996 at his cabin in Fredricktown, Missouri , and my visit was very enjoyable and informative. Mr. Mondale had the distinction of being the only person to sign all three of the Humanist Manifestos in 1933, 1973 and 2003. I asked him which signers of Humanist Manifesto Number One did he know well and he said that Raymond B. Bragg, and Edwin H. Wilson and him were known as "the three young radicals of the group." Harold P. Marley used to have a cabin near his and they used to take long walks together, but Marley's wife got a job in Hot Springs, Arkansas and they moved down there.
Roy Wood Sellars was a popular professor of philosophy that he knew. I asked if he knew John Dewey and he said he did not, but Dewey did contact him one time to ask him some questions about an article he had written, but Mondale could not recall anything else about that.
Mondale told me some stories about his neighbors and we got to talking about some of his church members when he was an Unitarian pastor. Once during the 1930's he was told by one of his wealthier Jewish members that he shouldn't continue to be critical of the Nazis. This member had just come back from Germany and according to him Hitler had done a great job of getting the economy moving and things were good.
Of course, just a few years later after World War II was over Mondale discovered on a second hand basis what exactly had happened over there when he visited with a Lutheran pastor friend who had just returned from Germany. This Lutheran preacher was one of the first to be allowed in after the liberation of the concentration camps in 1945, and he told Mondale what level of devastation and destruction of innocent lives went on inside these camps. As Mondale listened to his friend he could feel his own face turning pale.
I asked, "If those Nazis escaped to Brazil or Argentina and lived out their lives in peace would they face judgment after they died?"
Mondale responded, "I don't think there is anything after death."
I told Mr. Mondale that there is sense in me that says justice will be given eventually and God will judge those Nazis even if they evade punishment here on earth. I did point out that in Ecclesiastes 4:1 Solomon did note that without God in the picture the scales may not be balanced in this life and power could reign, but at the same time the Bible teaches that all must face the ultimate Judge.
Then I asked him if he got to watch the O.J. Simpson trial and he said that he did and he thought that the prosecution had plenty of evidence too. Again I asked Mr. Mondale the same question concerning O.J. and he responded, "I don't think there is a God that will intervene and I don't believe in the afterlife."REPORT THIS AD
Dan Guinn posted on his blog at http://www.francisschaefferstudies.org concerning the Nazis and evolution: As Schaeffer points out, "…these ideas helped produce an even more far-reaching yet logical conclusion: the Nazi movement in Germany. Heinrich Himmler (1900-1945), leader of the Gestapo, stated that the law of nature must take its course in the survival of the fittest. The result was the gas chambers. Hitler stated numerous times that Christianity and its notion of charity should be "replaced by the ethic of strength over weakness." Surely many factors were involved in the rise of National Socialism in Germany. For example, the Christian consensus had largely been lost by the undermining from a rationalistic philosophy and a romantic pantheism on the secular side, and a liberal theology (which was an adoption of rationalism in theological terminology) in the universities and many of the churches. Thus biblical Christianity was no longer giving the consensus for German society. After World War I came political and economic chaos and a flood of moral permissiveness in Germany. Thus, many factors created the situation. But in that setting the theory of the survival of the fittest sanctioned what occurred. "
Francis Schaeffer notes that this idea ties into today when we are actually talking about making infanticide legal in some academic settings. Look at what these three humanist scholars have written:
Peter Singer, who recently was seated in an endowed chair at Princeton's Center for Human Values, said, "Killing a disabled infant is not morally equivalent to killing a person. Very often it is not wrong at all."
In May 1973, James D. Watson, the Nobel Prize laureate who discovered the double helix of DNA, granted an interview to Prism magazine, then a publication of the American Medical Association. Time later reported the interview to the general public, quoting Watson as having said, "If a child were not declared alive until three days after birth, then all parents could be allowed the choice only a few are given under the present system. The doctor could allow the child to die if the parents so choose and save a lot of misery and suffering. I believe this view is the only rational, compassionate attitude to have."
In January 1978, Francis Crick, also a Nobel laureate, was quoted in the Pacific News Service as saying "… no newborn infant should be declared human until it has passed certain tests regarding its genetic endowment and that if it fails these tests it forfeits the right to live."
Woody Allen's 1989 movie, CRIMES AND MISDEMEANORS , was on this very subject of the Nazis that Lester Mondale and I discussed on that day in 1996 at Mondale's cabin in Missouri. In this film, Allen attacks his own atheistic view of morality. Martin Landau plays a Jewish eye doctor named Judah Rosenthal raised by a religious father who always told him, "The eyes of God are always upon you." However, Judah later concludes that God doesn't exist. He has his mistress (played in the film by Anjelica Huston) murdered because she continually threatened to blow the whistle on his past questionable, probably illegal, business activities. She also attempted to break up Judah's respectable marriage by going public with their two-year affair. Judah struggles with his conscience throughout the remainder of the movie and continues to be haunted by his father's words: "The eyes of God are always upon you." This is a very scary phrase to a young boy, Judah observes. He often wondered how penetrating God's eyes are.
The answer to find meaning in life is found in putting your faith and trust in Jesus Christ. The Bible is true from cover to cover and can be trusted.
Thank you again for your time and I know how busy you are.
Everette Hatcher, everettehatcher@gmail.com, http://www.thedailyhatch.org, cell ph 501-920-5733, Box 23416, LittleRock, AR 72221, United States
On November 21, 2014 I received a letter from Nobel Laureate Harry Kroto and it said:
…Please click on this URL http://vimeo.com/26991975
and you will hear what far smarter people than I have to say on this matter. I agree with them.
Harry Kroto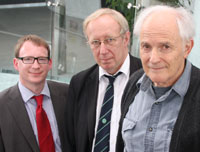 Nick Gathergood, David-Birkett, Harry-Kroto
I have attempted to respond to all of Dr. Kroto's friends arguments and I have posted my responses one per week for over a year now. Here are some of my earlier posts:
Arif Ahmed, Sir David Attenborough, Mark Balaguer, Horace Barlow, Michael Bate, Patricia Churchland, Aaron Ciechanover, Noam Chomsky,Alan Dershowitz, Hubert Dreyfus, Bart Ehrman, Stephan Feuchtwang, David Friend, Riccardo Giacconi, Ivar Giaever , Roy Glauber, Rebecca Goldstein, David J. Gross, Brian Greene, Susan Greenfield, Stephen F Gudeman, Alan Guth, Jonathan Haidt, Theodor W. Hänsch, Brian Harrison, Hermann Hauser, Roald Hoffmann, Bruce Hood, Herbert Huppert, Gareth Stedman Jones, Steve Jones, Shelly Kagan, Michio Kaku, Stuart Kauffman, Lawrence Krauss, Harry Kroto, George Lakoff, Elizabeth Loftus, Alan Macfarlane, Peter Millican, Marvin Minsky, Leonard Mlodinow, Yujin Nagasawa, Alva Noe, Douglas Osheroff, Jonathan Parry, Saul Perlmutter, Herman Philipse, Carolyn Porco, Robert M. Price, Lisa Randall, Lord Martin Rees, Oliver Sacks, John Searle, Marcus du Sautoy, Simon Schaffer, J. L. Schellenberg, Lee Silver, Peter Singer, Walter Sinnott-Armstrong, Ronald de Sousa, Victor Stenger, Barry Supple, Leonard Susskind, Raymond Tallis, Neil deGrasse Tyson, .Alexander Vilenkin, Sir John Walker, Frank Wilczek, Steven Weinberg, and Lewis Wolpert,
In the second video below in the 67th clip in this series are Richard Dawkins' words that Harry Kroto wanted me to see. Since then I have read several of Richard Dawkins books and have attempted to respond to the contents of these books directly to Richard Dawkins by mail. In fact, I have been writing Richard Dawkins letters since May 15, 1994 which was the 10th anniversary of the passing of one of my heroes, Francis Schaeffer. Francis Schaeffer spent a lot of time responding to many of Richard Dawkins' heroes such as Carl Sagan, Jacques Monod, H.J. Blackham, Isaac Newton, Ludwig Wittgenstein, Max Planck, Johann Sebastian Bach, Francis Bacon, Samuel Beckett, Leonardo Da Vinci, Albert Einstein, Michael Faraday, Gerald Horton, Edmund Leach, Louis Pasteur, George Wald, Jacob Bronowski, Steven Weinberg, Charles Darwin, Paul Kurtz, Peter Singer, Jonathan Miller, William B. Provine, Woody Allen, Noam Chomsky, James D. Watson, Francis Crick, Michael Polanyi, The Huxley family, Antony Flew, and Edward O. Wilson (Dawkins has since revised his opinion of Flew and Wilson, but he earlier regarded them very highly).
_
_
Both Francis Schaeffer and Richard Dawkins have talked extensively about the life of Charles Darwin.
_
Sir Harry Kroto with his high school friend Sir Ian McKellan at the FSU National High Field Magnetic Lab on Tuesday, October 27, 2009.
50 Renowned Academics Speaking About God (Part 1)
_
Another 50 Renowned Academics Speaking About God (Part 2)
_
_
Edit Post ‹ The Daily Hatch — WordPress
A Further 50 Renowned Academics Speaking About God (Part 3)
_
Richard Dawkins Photos Photos – Professor Stephen Hawking Unveils Medal For Science Communication – Zimbio
Professor Stephen Hawking Unveils Medal For Science Communication In This Photo: Richard Dawkins, Stephen Hawking, Brian May, Harold Kroto, Alexi Leonov, Garik Israelian
__
Richard Dawkins, founder of the Richard Dawkins Foundation for Reason and Science. Credit: Don Arnold Getty Images
16
–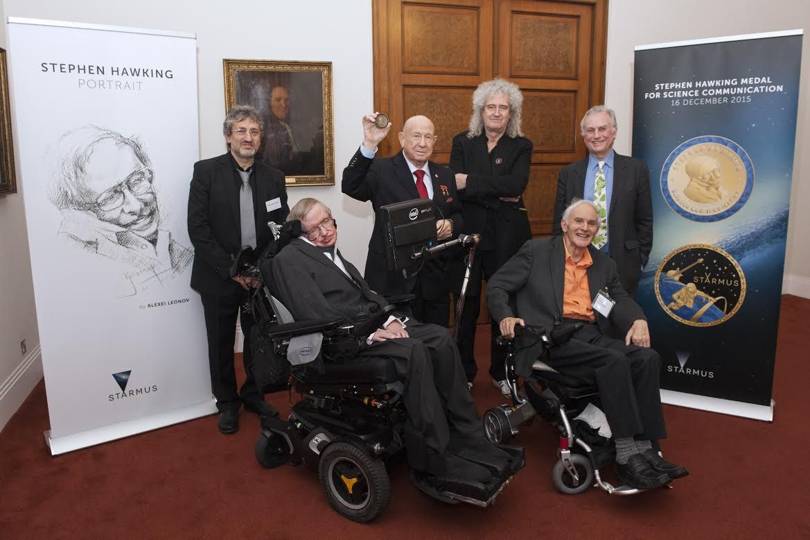 Garik Israelian, Stephen Hawking, Alexey Leonov, Brian May, Richard Dawkins and Harry Kroto
—-
—-
—-
—-
—-
Related posts:
On November 21, 2014 I received a letter from Nobel Laureate Harry Kroto and it said: …Please click on this URL http://vimeo.com/26991975 and you will hear what far smarter people than I have to say on this matter. I agree with them. Harry Kroto _________________ Below you have picture of 1996 Chemistry Nobel Prize Winner […]
The Beatles were "inspired by the musique concrète of German composer and early electronic music pioneer Karlheinz Stockhausen…" as SCOTT THILL has asserted. Francis Schaeffer noted that ideas of "Non-resolution" and "Fragmentation" came down German and French streams with the influence of Beethoven's last Quartets and then the influence of Debussy and later Schoenberg's non-resolution which is in total contrast […]
_______ On November 21, 2014 I received a letter from Nobel Laureate Harry Kroto and it said: …Please click on this URL http://vimeo.com/26991975 and you will hear what far smarter people than I have to say on this matter. I agree with them. Harry Kroto _________________ Below you have picture of 1996 Chemistry Nobel Prize […]
On November 21, 2014 I received a letter from Nobel Laureate Harry Kroto and it said: …Please click on this URL http://vimeo.com/26991975 and you will hear what far smarter people than I have to say on this matter. I agree with them. Harry Kroto ____________________ Below you have picture of 1996 Chemistry Nobel Prize Winner Dr. […]