—
Canary Islands 2014: Harold Kroto and Richard Dawkins
_
September 4, 2019
Richard Dawkins c/o Richard Dawkins Foundation,
Washington, DC 20005
Dear Mr. Dawkins,
i have enjoyed reading about a dozen of your books and some of the most intriguing were The God Delusion, An Appetite for Wonder: The Making of a Scientist, and Brief Candle in the Dark: My Life in Science.
Page 151 of THE GOD DELUSION: one of the truly bad effects of religion is that it teaches us that it is a virtue to be satisfied with not understanding.
QUOTE FROM DR. Marvin Minsky taken from atheistic blogger:
My head says the former; my heart, the latter. Maybe my head needs some help—and I know where to find my potential helper: at the Massachusetts Institute of Technology, my alma mater. Marvin Minsky, the legendary pioneer of artificial intelligence, is not known to be shy about entering the science-religion debate.
To get Minsky started (it doesn't take much), I ask him whether it is efficacious for scientists to seek harmony between science and theology.
Minsky gives me a look and calls religion "an amazing phenomenon for thousands of years" that is a "psychologically wonderful device." But he's just warming up.
"Take all the questions you can't answer and give them a name," says Minsky. "So somebody says, 'Well, God did that.' And the right question to then ask is, 'Well, how does God work?' And [believers] regard that as rude. So there's something strange about theology. It's a system of thinking which teaches you not to ask questions. And so it's incompatible with science.
"The trouble with religion," Minsky continues, "is it picks particular things and says, 'Don't think about this.' 'Don't change that.' 'Abide by this Book.' And that's very convenient. It saves a lot of time. At any period, if there are questions science can't yet answer, why knock yourself out? I regard religion as a wonderful way to save people's time."
Minsky believes that if religion would not have impeded science for hundreds, if not thousands, of years, humanity would be far advanced, even in dramatically extending human life. "I think death will go away," Minsky opines. "But we don't need to pray for it. We need to work for it." Not yet finished, Minsky adds, "If we look at religion as fossilized old beliefs, some of which may have been useful, that's fine. But I can't see serious discussions of theological ideas because they're all nutty. Unless you say how God works, saying that God exists doesn't explain anything."
Minsky is fierce. Good for him. Religion as an excuse to avoid hard questions? Based on the history of religion, he makes a good argument.
But from the foibles or fallacies of human religion, does anything really follow about a Creator God?
_____
Let's break this down a little bit. Religion does not encourage science but discourages it by suggesting that we omit the hard work and just say God did it. Minsky is also asserting in this same discussion, "Unless you say how God works, saying that God exists doesn't explain anything," and he is implying that brilliant scientists are the ones who give us the answers that we can depend on.
Did you know that all atheists are not atheists because of intellectual problems? They're atheists because of moral problems. You say, "But I know some brilliant people who are atheists." Well, that may be so, but I know some brilliant people who are not. You say, "I know some foolish people who believe in God." Well, I know everyone who doesn't believe in God is foolish.
In other words there are brilliant and stupid people on both sides of the fence and it is not an intellectual issue but a moral one. Let's take a look at the history of science that was handled down to us from Western Europe and take a closer examination of those great men's religious views and if their religious views were corrosive to their scientific pursuits? This is the accusation of many modern day evolutionists.
Francis Schaeffer in his book "HOW SHOULD WE THEN LIVE?" stated that according to Alfred North Whitehead and J. Robert Oppenheimer, both renowned philosophers and scientists of our era (but not Christians themselves), modern science was born out of the Christian world view. Whitehead said that Christianity is the "mother of science" because of the insistence on the rationality of God. In the article, "Christianity and Technological Advance – The Astonishing Connection," by T. V. Varughese, Ph.D, he observed:
Without question, "technology" has now become the new magic word in place of the word "science." Since technology represents the practical applications of science, it is clearly consumer-oriented. Herein is bright economic promise to all who can provide technology.
In terms of technology, our present world can be divided into at least three groups: countries that are strong providers of technology, both original and improved; countries that are mass producers because of cheaper labor; and countries that are mostly consumers. Without a doubt, being in the position of "originating" superior technology should be a goal for any major country. The difficult question, however, is "how."
An obvious place to start suggests itself. Why not begin with the countries that have established themselves as strong originators of technology and see if there is a common thread between them? The western nations, after the Renaissance and the Reformation of the 16th century, offer a ready example. Any book on the history of inventions, such as the Guinness Book of Answers, will reveal that the vast majority of scientific inventions have originated in Europe (including Britain) and the USA since the dawn of the 17th century. What led to the fast technological advances in the European countries and North America around that time?
The answer is that something happened which set the stage for science and technology to emerge with full force. Strange as it may seem, that event was the return to Biblical Christianity in these countries.The Epistemological Foundation of Technology
According to Alfred North Whitehead and J. Robert Oppenheimer, both renowned philosophers and scientists of our era (but not Christians themselves), modern science was born out of the Christian world view. Whitehead said that Christianity is the "mother of science" because of the insistence on the rationality of God.[1] Entomologist Stanley Beck,though not a Christian himself, acknowledged the corner-stone premises of science which the Judeo-Christian world view offers: "The first of the unprovable premises on which science has been based is the belief that the world is real and the human mind is capable of knowing its real nature. The second and best-known postulate underlying the structure of scientific knowledge is that of cause and effect. Thethird basic scientific premise is that nature is unified."[2] In other words, the epistemological foundation of technology has been the Judeo-Christian world view presented in the Bible…
Perhaps the most obvious affirmation that Biblical Christianity and science are friends and not foes comes from the fact that most of the early scientists after the Renaissance were also strong believers in the Bible as the authoritative source of knowledge concerning the origin of the universe and man's place in it.[4] The book of Genesis, the opening book of the Bible, presents the distinctly Judeo-Christian world view of a personal Creator God behind the origin and sustenance of the universe (Genesis 1:1; Colossians 1:17; etc.).
Among the early scientists of note who held the Biblical creationist world view are Blaise Pascal (1623-1662), Sir Isaac Newton (1642-1727), and Samuel Morse (1791-1872) – what motivated them was a confidence in the "rationality" behind the universe and the "goodness" of the material world. The creation account in Genesis presents an intelligent, purposeful Creator, who, after completing the creation work, declared it to be very good (Genesis 1:31). That assures us that the physical universe operates under reliable laws which may be discovered by the intelligent mind and used in practical applications. The confidence in the divinely pronounced goodness of the material world removed any reluctance concerning the development of material things for the betterment of life in this world. The spiritual world and the material world can work together in harmony.
References –
Francis A. Schaeffer: How Should We Then Live (Revell, 1976), p. 132.
Henry M. Morris, Biblical Basis for Modern Science (Baker, 1991), p. 30.
Schaeffer, p. 131.
Henry M. Morris, Men of Science, Men of God (Master Books, CA, 1988), 107 pp.
_____________
Henry Morris pointed out:
Many of these great scientists of the past were before Darwin, but not all of them. However, all of them were acquainted with secular philosophies and some were in fact opponents of Darwinism (Agassiz, Pasteur, Lord Kelvin, Maxwell, Dawson, Virchow, Fabre, Fleming, etc). Many of them believed in the inspiration and authority of the Bible, as well as in the deity and saving work of Jesus Christ. They believed that God had supernaturally created all things, each with its own complex structure for its own unique purpose. They believed that, as scientists, they were "thinking God's thoughts after Him," learning to understand and control the laws and processes of nature for God's glory and man's good. They believed and practiced science in exactly the same way that modern creationist scientists do.
And somehow this attitude did not hinder them in their commitment to the "scientific method." In fact one of them, Sir Francis Bacon, is credited with formulating and establishing the scientific method! They seem also to have been able to maintain a proper "scientific attitude," for it was these men (Newton, Pasteur, Linnaeus, Faraday, Pascal, Lord Kelvin, Maxwell, Kepler, etc.) whose researches and analyses led to the very laws and concepts of science which brought about our modern scientific age….
To illustrate the caliber and significance of these great scientists of the past, Tables I and II have been prepared. These tabulations are not complete lists, of course, but at least are representative and they do point up the absurdity of modern assertions that no true scientist can be a creationist and Bible-believing Christian.
Table I lists the creationist "fathers" of many significant branches of modern science. Table II lists the creationist scientists responsible for various vital inventions, discoveries, and other contributions to mankind. These identifications are to some degree oversimplified, of course, for even in the early days of science every new development involved a number of other scientists, before and after. Nevertheless, in each instance, a strong case can be made for attributing the chief responsibility to the creationist scientist indicated. At the very least, his contribution was critically important and thus supports our contention that belief in creation and the Bible helps, rather than hinders, scientific discovery.
_______________
My relatives live 3 miles from Spring Hill, Tennessee. When the new General Motors plant opened there I got to go see it. What if I had said, "The assembly line created a beautiful Saturn automobile!" Hopefully, some would have corected me by responding, "The assembly line did not create the automobile. It was first designed by the General Motors engineers in Detroit." ASSUMING EVOLUTION IS TRUE, IT WOULD STILL ONLY BE THE MECHANISM. DOES EVOLUTION ACCOUNT FOR THE DESIGNER?
The answer to find meaning in life is found in putting your faith and trust in Jesus Christ. The Bible is true from cover to cover and can be trusted.
Thank you again for your time and I know how busy you are.
Everette Hatcher, everettehatcher@gmail.com, http://www.thedailyhatch.org, cell ph 501-920-5733, Box 23416, LittleRock, AR 72221, United States

On November 21, 2014 I received a letter from Nobel Laureate Harry Kroto and it said:
…Please click on this URL http://vimeo.com/26991975
and you will hear what far smarter people than I have to say on this matter. I agree with them.
Harry Kroto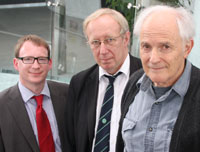 Nick Gathergood, David-Birkett, Harry-Kroto
I have attempted to respond to all of Dr. Kroto's friends arguments and I have posted my responses one per week for over a year now. Here are some of my earlier posts:
Arif Ahmed, Sir David Attenborough, Mark Balaguer, Horace Barlow, Michael Bate, Patricia Churchland, Aaron Ciechanover, Noam Chomsky,Alan Dershowitz, Hubert Dreyfus, Bart Ehrman, Stephan Feuchtwang, David Friend, Riccardo Giacconi, Ivar Giaever , Roy Glauber, Rebecca Goldstein, David J. Gross, Brian Greene, Susan Greenfield, Stephen F Gudeman, Alan Guth, Jonathan Haidt, Theodor W. Hänsch, Brian Harrison, Hermann Hauser, Roald Hoffmann, Bruce Hood, Herbert Huppert, Gareth Stedman Jones, Steve Jones, Shelly Kagan, Michio Kaku, Stuart Kauffman, Lawrence Krauss, Harry Kroto, George Lakoff, Elizabeth Loftus, Alan Macfarlane, Peter Millican, Marvin Minsky, Leonard Mlodinow, Yujin Nagasawa, Alva Noe, Douglas Osheroff, Jonathan Parry, Saul Perlmutter, Herman Philipse, Carolyn Porco, Robert M. Price, Lisa Randall, Lord Martin Rees, Oliver Sacks, John Searle, Marcus du Sautoy, Simon Schaffer, J. L. Schellenberg, Lee Silver, Peter Singer, Walter Sinnott-Armstrong, Ronald de Sousa, Victor Stenger, Barry Supple, Leonard Susskind, Raymond Tallis, Neil deGrasse Tyson, .Alexander Vilenkin, Sir John Walker, Frank Wilczek, Steven Weinberg, and Lewis Wolpert,
In the second video below in the 67th clip in this series are Richard Dawkins' words that Harry Kroto wanted me to see. Since then I have read several of Richard Dawkins books and have attempted to respond to the contents of these books directly to Richard Dawkins by mail. In fact, I have been writing Richard Dawkins letters since May 15, 1994 which was the 10th anniversary of the passing of one of my heroes, Francis Schaeffer. Francis Schaeffer spent a lot of time responding to many of Richard Dawkins' heroes such as Carl Sagan, Jacques Monod, H.J. Blackham, Isaac Newton, Ludwig Wittgenstein, Max Planck, Johann Sebastian Bach, Francis Bacon, Samuel Beckett, Leonardo Da Vinci, Albert Einstein, Michael Faraday, Gerald Horton, Edmund Leach, Louis Pasteur, George Wald, Jacob Bronowski, Steven Weinberg, Charles Darwin, Paul Kurtz, Peter Singer, Jonathan Miller, William B. Provine, Woody Allen, Noam Chomsky, James D. Watson, Francis Crick, Michael Polanyi, The Huxley family, Antony Flew, and Edward O. Wilson (Dawkins has since revised his opinion of Flew and Wilson, but he earlier regarded them very highly).
_
_
Both Francis Schaeffer and Richard Dawkins have talked extensively about the life of Charles Darwin.
_
Sir Harry Kroto with his high school friend Sir Ian McKellan at the FSU National High Field Magnetic Lab on Tuesday, October 27, 2009.
50 Renowned Academics Speaking About God (Part 1)
_
Another 50 Renowned Academics Speaking About God (Part 2)
_
_
Edit Post ‹ The Daily Hatch — WordPress
A Further 50 Renowned Academics Speaking About God (Part 3)
_
Richard Dawkins Photos Photos – Professor Stephen Hawking Unveils Medal For Science Communication – Zimbio
Professor Stephen Hawking Unveils Medal For Science Communication In This Photo: Richard Dawkins, Stephen Hawking, Brian May, Harold Kroto, Alexi Leonov, Garik Israelian
__
Richard Dawkins, founder of the Richard Dawkins Foundation for Reason and Science. Credit: Don Arnold Getty Images
16
–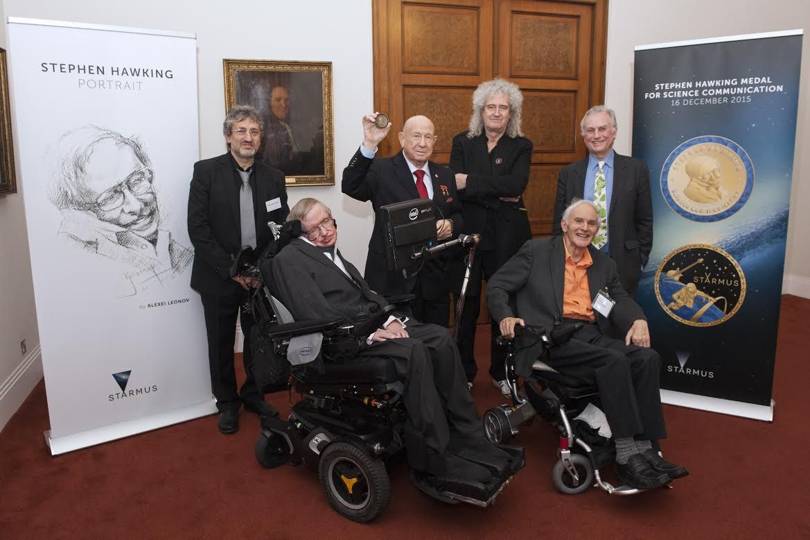 Garik Israelian, Stephen Hawking, Alexey Leonov, Brian May, Richard Dawkins and Harry Kroto
—-
—-
—-
—-
—-
Related posts:
On November 21, 2014 I received a letter from Nobel Laureate Harry Kroto and it said: …Please click on this URL http://vimeo.com/26991975 and you will hear what far smarter people than I have to say on this matter. I agree with them. Harry Kroto _________________ Below you have picture of 1996 Chemistry Nobel Prize Winner […]
The Beatles were "inspired by the musique concrète of German composer and early electronic music pioneer Karlheinz Stockhausen…" as SCOTT THILL has asserted. Francis Schaeffer noted that ideas of "Non-resolution" and "Fragmentation" came down German and French streams with the influence of Beethoven's last Quartets and then the influence of Debussy and later Schoenberg's non-resolution which is in total contrast […]
_______ On November 21, 2014 I received a letter from Nobel Laureate Harry Kroto and it said: …Please click on this URL http://vimeo.com/26991975 and you will hear what far smarter people than I have to say on this matter. I agree with them. Harry Kroto _________________ Below you have picture of 1996 Chemistry Nobel Prize […]
On November 21, 2014 I received a letter from Nobel Laureate Harry Kroto and it said: …Please click on this URL http://vimeo.com/26991975 and you will hear what far smarter people than I have to say on this matter. I agree with them. Harry Kroto ____________________ Below you have picture of 1996 Chemistry Nobel Prize Winner Dr. […]