—-
—
—
—-
—
——

—-
After Life #1 Trailer
—-
I listened to this question and answer session at Harvard in 1992 on cassette tapes and was captivated with Ravi Zacharias. His responses were so much better than Kath's responses to Tony in AFTER LIFE. I have referenced work by Ravi many times in the past and Especially moving was Ravi's own spiritual search which started in a hospital bed after a failed suicide attempt. I also want you to check out his talk at Princeton and the question and answer time afterwards which are both on YOU TUBEat these two links: Link for talk, Link for Q/A.

After Life 2 Trailer
—-
On Saturday April 18, 2020 at 6pm in London and noon in Arkansas, I had a chance to ask Ricky Gervais a question on his Twitter Live broadcast which was "Is Tony a Nihilist?" At the 20:51 mark Ricky answers my question. Below is the video:
–
—-
—-
If Death is the end then what is the point Kath asks below:
——
Francis Schaeffer passed away on May 15, 1984 and on the 10th anniversary of that date I wrote many skeptics such as Carl Sagan and corresponded with them on the big questions covered by the Book of Ecclesiastes.

Kath: You are an atheist?
—-
Adrian Rogers on Evolution
—-
Ravi Zacharias (March 26, 1946 – May 19, 2020)
Francis Schaeffer (January 30, 1912 – May 15, 1984[1])

I grew up at Bellevue Baptist Church under the leadership of our pastor Adrian Rogers and I read many books by the Evangelical Philosopher Francis Schaeffer and in 1992 I heard cassette tapes of Ravi Zacharias in all his brilliance in his sessions at Harvard and have had the opportunity to contact many of the evolutionists or humanistic academics that they have mentioned in their works. Many of these scholars have taken the time to respond back to me in the last 20 years and some of the names included are Ernest Mayr (1904-2005), George Wald (1906-1997), Carl Sagan (1934-1996), Robert Shapiro (1935-2011), Nicolaas Bloembergen (1920-), Brian Charlesworth (1945-), Francisco J. Ayala (1934-) Elliott Sober (1948-), Kevin Padian (1951-), Matt Cartmill (1943-) , Milton Fingerman (1928-), John J. Shea (1969-), , Michael A. Crawford (1938-), Paul Kurtz (1925-2012), Sol Gordon (1923-2008), Albert Ellis (1913-2007), Barbara Marie Tabler (1915-1996), Renate Vambery (1916-2005), Archie J. Bahm (1907-1996), Aron S "Gil" Martin ( 1910-1997), Matthew I. Spetter (1921-2012), H. J. Eysenck (1916-1997), Robert L. Erdmann (1929-2006), Mary Morain (1911-1999), Lloyd Morain (1917-2010), Warren Allen Smith (1921-), Bette Chambers (1930-), Gordon Stein (1941-1996) , Milton Friedman (1912-2006), John Hospers (1918-2011), Michael Martin (1932-).Harry Kroto (1939-), Marty E. Martin (1928-), Richard Rubenstein (1924-), James Terry McCollum (1936-), Edward O. WIlson (1929-), Lewis Wolpert (1929), Gerald Holton(1922-), Martin Rees (1942-), Alan Macfarlane (1941-), Roald Hoffmann (1937-), Herbert Kroemer (1928-), Thomas H. Jukes(1906-1999) and Ray T. Cragun (1976-).
Adrian Rogers (September 12, 1931 – November 15, 2005)
Charles Darwin Autobiography
—
(Above) Tony and Anne on the bench at the graveyard where their spouses are buried.
—
July 5, 2020 
Ricky Gervais 

Dear Ricky,
This is the 79th day in a row that I have written another open letter to you to comment on some of your episodes of AFTER LIFE.
—
This song THE ONLY THING by Sufjan Stevens is played as the 6th episode of the 2nd season is concluding and Tony has by chance avoided his own suicide attempt when Emma comes to his door and announces she will accept Ground Hog Day. Ground Hog Day is the film with Bill Murray where he repeats the same day over and over and seems to not make in progress. The song is placed perfectly because describes a person that struggles with thoughts of suicide like Tony does. On my blog I have written about several songs that deal with suicide such as Adam's song by Blink 182, and I have also discussed the unfortunate high profile cases of suicides such as Bob Welch.

The only thing that keeps me from driving this car
Half-light, jack knife into the canyon at night
Signs and wonders, Perseus aligned with the skull
Slain Medusa, Pegasus alight from us all
Do I care if I survive this, bury the dead where they're found
In a veil of great surprises I wonder did you love me at all?
The only thing that keeps me from cutting my arm
Cross hatch, warm bath, Holiday Inn after dark
Signs and wonders, water stain writing the wall
Daniel's message, blood of the moon on us all
Do I care if I despise this, nothing else matters, I know
In a veil of great disguises, how do I live with your ghost?
Should I tear my eyes out now?
Everything I see returns to you somehow
Should I tear my heart out now?
Everything I feel returns to you somehow
I want to save you from your sorrow
The only reason why I continue at all
Faith in reason, I wasted my life playing dumb
Signs and wonders, sea lion caves in the dark
Blind faith, God's grace, nothing else left to impart
Do I care if I survive this, bury the dead where they're found
In a veil of great surprises, hold to my head till I drown
Should I tear my eyes out now, before I see too much?
Should I tear my arms out now, I wanna feel your touch
Should I tear my eyes out now?
Everything I see returns to you somehow
Should I tear my heart out now?
Everything I feel returns to you somehow
—-
What does Sufjan Stevens mean when he writes, "The only reason why I continue at all, Faith in reason, I wasted my life playing dumb…Blind faith…" Song writers rarely come out and tell you what they had in mind because they want the debate to begin. Bob Dylan didn't ever tell anything and in fact at the Dylan concert I attended he didn't even say a word the whole concert!

Here are some of my thoughts on these words "The only reason why I continue at all, Faith in reason, I wasted my life playing dumb…Blind faith…" I think the song writer believes in a time and chance universe and sees no future in faith in reason and he might as well be dumb because all his learning has got him no where so far. Without a personal God in the picture, is man just a machine without an ultimate purpose to his life and the only alternative is nihilism? Did Charles Darwin in the 1800's and the Beatles in the 1960's grapple with big questions like this one? An interesting fact is that after Charles Darwin came up with evolution he personally said he lost his taste for music and paintings and even the love of fine scenery that he earlier had and he blamed this lost "of happiness" on his dedication to his theory of evolution! No wonder his theory of time and chance evolution did affect modern art in the 20th century and Andy Warhol is a perfect example!
Francis Schaeffer talked about the views of the Beatles and Charles Darwin a lot and since you have taken an interest in music and science I thought you would be interested in these thoughts of Schaeffer. His son Frank wrote recently about the impact of SGT. PEPPER'S LONELY HEARTS CLUB BAND:
"Sgt. Pepper's" became my personal sound track of liberation back then…Genie, my wife of 44 years… grew up in the Bay Area and as a teen had the distinction of seeing the Beatles three times (!) live and the Rolling Stones four times (!) live.
Meanwhile, I was growing up in Switzerland in a mission(L'Abri Fellowship), and my "almost famous" rock-n-roll high point came when I got a job helping with theLed Zeppelin'slight show at the Montreux Jazz/rock festival.I met Jimmy Page and noticed he was reading one of my dad's first books, ESCAPE FROM REASON. (No kidding.)
This was back in the days when Dad was a sort of hippie guru for Jesus catering to Beats, hippies and dropouts hitching across Europe.Eric Claptonhad given Page the book as it turned out. I was trying to be "cool" that day on the light show crew… and I wasn't too pleased to find my brief escape into the rock world from the world of my Dad's evangelical mission was no escape from my God-world at all. He'd been giving lectures on Bob Dylan, and drug guru Timothy Leary had been a guest at L'Abri. And now I got to briefly "hang out with the band" and Dad got there first, or at least one of his books did! Sheesh! It's hard to be cool!
NOT MANY PEOPLE HAVE THOUGHT ABOUT THE FACT THAT THE PICTURE ON THE COVER OF SGT. PEPPER'S LONELY HEARTS CLUB BAND IS THE BEATLES' GRAVE SITE. In the article Philosophy and its Effect on Society, Robert A. Sungenis (who was a personal friend of Schaeffer) tells us:
On the front cover are all the famous "Lonely Hearts" of the world who also could not find answers to life with reason and rationality, resorting to the existential leap into the dark (e.g ., Marlene Dietrich, Carl Jung, W.C. Fields, Bob Dylan, Marilyn Monroe, Sigmund Freud, Aleister Crowley, Edgar Allan Poe, Karl Marx, Oscar Wilde, Marlon Brando, Stan Laurel and Oliver Hardy, Lenny Bruce). They are all viewing the burial scene of the Beatles, which, in the framework we are using here, represents the passing of idealistic innocence and the failure to find a rational answer and meaning to life, an answer to love, purpose, significance and morals.They instead were leaping into the irrational, whether it was by drugs, the occult, suicide, or the bizarre.
William Lane Craig observed that BERTRAND RUSSELL wrotethat we must build our lives upon "the firm foundation of unyielding despair." and also that Francis Schaeffer noted:
Modern man resides in a two-story universe. In the lower story is the finite world without God; here life is absurd, as we have seen. In the upper story are meaning, value, and purpose. Now modern man lives in the lower story because he believes there is no God.But he cannot live happily in such an absurd world; therefore, he continually makes leaps of faith into the upper story to affirm meaning, value, and purpose, even though he has no right to, since he does not believe in God. Modern man is totally inconsistent when he makes this leap, because these values cannot exist without God, and man in his lower story does not have God.
This ties in well with what Schaeffer said in describing Andy Warhol's art:
THE OBSERVER June 12, 1966 does a big spread on Warhol. Andy is a mass communicator. Someone has described pop art as Dada plus Madison Avenue or commercialism and I think that is a good definition. Dada was started in Zurich and came along in modern art. Dada means nothing. The word "Dada" means rocking horse, but it was chosen by chance. The whole concept Dada is everything means nothing. Pop Art has been said to be the Dada concept put forth in modern commercialization. Everything in his work is being leveled down to an universal monotony which he can always sell for $8000.00.
ANDY WARHOL says, "It stops you thinking about things. I wish I were a machine. I don't want to be heard. I don't want human emotions. I have never been touched by a painting. I don't want to think. The world would be easier to live in if we all were machines. It is nothing in the end anyway."
Warhol's words made me think of Charles Darwin's reaction to paintings late in his life and the fact that Darwin blamed science for causing him to lose his aesthetic tastes ( Charles Darwin: his life told in an autobiographical chapter, and in a selected series of his published letters.). I am going to quote some of Charles Darwin's own words and then include the comments of Francis Schaeffer on those words. I sent you earlier Ricky a CD with two messages from Adrian Rogers and Bill Elliff concerning Darwinism.
CHARLES DARWIN'S AUTOBIOGRAPHY. Addendum. Written May 1st, 1881 [the year before his death].
"I have said that in one respect my mind has changed during the last twenty or thirty years. Up to the age of thirty, or beyond it, poetry of many kinds, such as the works of Milton, Gray, Byron, Wordsworth, Coleridge, and Shelley, gave me great pleasure, I have also said that formerly pictures gave me considerable, and music very great delight. But now for many years I cannot endure to read a line of poetry: I have tried lately to read Shakespeare, and found it so intolerably dull that it nauseated me. I have also almost lost my taste for pictures or music. Music generally sets me thinking too energetically on what I have been at work on, instead of giving me pleasure. I retain some taste for fine scenery, but it does not cause me the exquisite delight which it formerly did….My mind seems to have become a kind of machine for grinding general laws out of large collections of facts, but why this should have caused the atrophy of that part of the brain alone, on which the higher tastes depend, I cannot conceive….The loss of these tastes is a loss of happiness, and may possibly be injurious to the intellect, and more probably to the moral character, by enfeebling the emotional part of our nature."
Francis Schaeffer commented:
This is the old man Darwin writing at the end of his life.What he is saying here is the further he has gone on with his studies the more he has seen himself reduced to a machine as far as aesthetic things are concerned.I think this is crucial because as we go through this we find that his struggles and my sincere conviction is that he never came to the logical conclusion of his own position, but he nevertheless in the death of the higher qualities as he calls them, art, music, poetry, and so on, what he had happen to him was his own theory was producing this in his own self just as his theories a hundred years later have produced this in our culture.
Unlike Darwin many people today still hang on to their love of music and the arts. Schaeffer points out in his book The God Who Is There, pages 68-69, "The very 'mannishness' of man refuses to live in the logic of the position to which his humanism and rationalism have brought him. To say that I am only a machine is one thing; to live consistently as if this were true is quite another…Every truly modern man is forced to accept some sort of leap in theory or practice, because the pressure of his own humanity demands it. He can say what he will concerning what he himself is; but no matter what he says he is, he is still a man."
Francis Schaeffer noted thatin Darwin's 1876 Autobiography that Darwin he is going to set forth two arguments for God in this and again you will find when he comes to the end of this that he is in tremendous tension. Darwin wrote,
"At the present day the most usual argument for the existence of an intelligent God is drawn from the deep inward conviction and feelings which are experienced by most persons.Formerly I was led by feelings such as those just referred to, …to the firm conviction of the existence of God and of the immortality of the soul. In my Journal I wrote that whilst standing in the midst of the grandeur of a Brazilian forest, 'it is not possible to give an adequate idea of the higher feelings of wonder, admiration, and devotion which fill and elevate the mind.' I well remember my conviction that there is more in man than the mere breath of his body; but now the grandest scenes would not cause any such convictions and feelings to rise in my mind. It may be truly said that I am like a man who has become COLOUR-BLIND."
Francis Schaeffer remarked:
Now Darwin says when I look back andwhen I look at nature I came to the conclusion that man can not be just a fly!But now Darwin has moved from being a younger man to an older man and he has allowed his presuppositions to enter in to block his logic, these things at the end of his life he had no intellectual answer for. To block them out in favor of his theory. Remember the letter of his that said he had lost all aesthetic senses when he had got older and he had become a clod himself. Now interesting he says just the same thing, but not in relation to the arts, namely music, pictures, etc, but to nature itself. Darwinsaid,"But now the grandest scenes would not cause any such convictions and feelings to rise in my mind. It may be truly said that I am like a man who has become colour-blind…"So now you see that Darwin's presuppositions have not only robbed him of the beauty of man's creation in art, but now the universe. He can't look at it now and see the beauty.The reason he can't see the beauty is for a very, very , very simple reason:THE BEAUTY DRIVES HIM TO DISTRACTION. THIS IS WHERE MODERN MAN IS AND IT IS HELL. The art is hell because it reminds him of man and how great man is, and where does it fit in his system? It doesn't. When he looks at nature and it's beauty he is driven to the same distraction and so consequently you find what has built up inside him is a real death, not only the beauty of the artistic but the beauty of nature. He has no answer in his logic and he is left in tension. He dies and has become less than human because thesetwo great things (such as any kind of art and the beauty of nature)that would make him human stand against his theory.
Schaeffer later asserted, "We cannot deal with people like human beings, we cannot deal with them on the high level of true humanity, unless we really know their origin-who they are. God tells man who he is. God tells us that He created man in His image. So man is something wonderful." ( Escape from Reason: A Penetrating Analysis of Trends in Modern Thought )
Many young people turned to Eastern Religions in the 1960's and 1970's. Francis Schaeffer asserted, "But this finally brings them to the place where the word GOD merely becomes the word GOD, and no certain content can be put into it. In this many of the established theologians are in the same position asGeorge Harrison (1943-) (the former Beatles guitarist)when he wrote MY SWEET LORD (1970). Many people thought he had come to Christianity. But listen to the words in the background: "Krishna, Krishna, Krishna." Krishna is one Hindu name for God. This song expressed no content, just a feeling of religious experience. To Harrison, the words were equal: Christ or Krishna. Actually, neither the word used nor its content was of importance," HOW SHOULD WE THEN LIVE? (page 191 Vol 5).
However, this is not the personal God that Christians worship. Darwin only had a problem with the idea of a personal God. In 1879 Charles Darwin was applied to by a German student, in a similar manner. The letter was answered by a member of Darwin's family, who wrote:–
"Mr. Darwin…considers that the theory of Evolution is quite compatible with the belief in a God; but that you must remember that different persons have different definitions of what they mean by God."
Francis Schaeffer commented:
You find a great confusion in Darwin's writings although there is a general structure in them. Here he says the word "God" is alright but you find later what he doesn't take is a personal God. Of course, what you open is the whole modern linguistics concerning the word "God." is God a pantheistic God? What kind of God is God? Darwin says there is nothing incompatible with the word "God."
Besides looking to Eastern Religions the Beatles tried to escape from reason by turning to drugs.In the book HOW SHOULD WE THEN LIVE?, Schaeffer observed,"This emphasis onhallucinogenic drugsbrought with it many rock groups–for example, Cream, Jefferson Airplane, Grateful Dead, Incredible String Band, Pink Floyd, and Jimi Hendrix. Most of their work was from 1965-1968.The Beatles' SERGEANT PEPPER'S LONELY HEART S CLUB BAND (1967) also fits here.This disc is a total unity, not just an isolated series of individual songs, and for a time it became the rallying cry for young people throughout the world. As a whole, this music was the vehicle to carry the drug culture and the mentality which went with it across frontiers which were almost impassible by other means of communication."
In his recent article, "Lucy in the Mind of Lennon: An Empirical Analysis of Lucy in the Sky with Diamonds, March 10, 2014, Tim Kasser, notes:
When the Beatles released their album Sgt. Pepper's Lonely Hearts Club Band in the late spring of 1967,fans and critics alike were quick to find references to drugs throughout the LP. The album's deliriously decorated jacket featured marijuana plants in the garden behind which the Beatles stood. The lyrics of With a Little Help from My Friends, Lovely Rita, and A Day in the Life all referred to marijuana, mentioning getting "high" and taking "some tea," as well a desire to "turn you on." And tuned-in listeners easily connected the feelings, sensations, and visions people typically experience while on hallucinogenic drugs to the dreamlike imagery of Lucy in the Sky with Diamonds. Some clever listeners even pointed out that the song's title shares the initials of the hallucinogen LSD (lysergic acid diethylamide).
The Beatles had no doubt contributed to the perception that Sgt. Pepper was indeed a piece of hippie propaganda for hallucinogenic partying. Around the time the album was released, Paul McCartney revealed in a Life magazine interview that he had been using marijuana and LSD. McCartney even went on to extol the virtues of LSD, claiming that it had brought him closer to God and would yield world peace if only politicians would try it. Soon after, John Lennon, George Harrison, and the Beatles' manager Brian Epstein also admitted that they had used LSD. Later that summer, the Beatles endorsed the legalization of marijuana by signing their names to a full-page advertisement in the London Times.
Despite these public proclamations about his drug use, John Lennon steadfastly denied that Lucy in the Sky with Diamonds was about drugs. Lennon instead consistently claimed that the song was a response to a picture painted by his almost four-year-old son Julian. The oft-repeated story goes that Julian had brought the picture home from school and told his father that it was of his friend, Lucy, who was up in the sky with diamonds. Lennon's mind had then wandered toward the Lewis Carroll books Alice in Wonderland and Through the Looking-Glass that he had long admired and recently been re-reading. Lucy in the Sky with Diamonds was born when Lennon took images from Julian's picture and combined them with elements of Carroll's stories and poems.
A third explanation for the song's meaning and origin was provided by Lennon many years after it was written, just a few weeks before he was killed. While reflecting on each of the songs in his discography, Lennon said this about Lucy in the Sky with Diamonds:
"There was also the image of the female who would someday come save me—a "girl with kaleidoscope eyes" who would come out of the sky. It turned out to be Yoko, though I hadn't met Yoko yet. . . . The imagery was Alice in the boat. And also the image of this female who would come and save me—this secret love that was going to come one day. So it turned out to be Yoko, though, and I hadn't met Yoko then. But she was my imaginary girl that we all have."
Despite the fact that some people do not think that LUCY IN THE SKY WITH DIAMONDS was about drugs, the fact remains that it was probably considered so through the years by most drug users!!!!!!
SERGEANT PEPPER'S LONELY HEART S CLUB BAND not only dealt with drugs but also with death. In the TELEGRAPH in Nicky Browne's obit it was noted that "Paul McCartney told interviewers that he took LSD for the first time with Tara Browne." Wikipedia records, "The Honourable Tara Browne (4 March 1945 – 18 December 1966) was a young London socialite and heir to the Guinness fortune and was the son of Dominick Browne, 4th Baron Oranmore and Browne, a member of the House of Lords since 1927 who later became famous for having served in that house longer than any other peer…According to some sources, Tara was the inspiration for the Beatles song "A Day in the Life". He sat in on the making of the Beatles record 'Revolver'.
On 17 January 1967 John Lennon, a friend of Browne's, was composing music at his piano whilst idly reading London's Daily Mail and happened upon the news of the coroner's verdict into Browne's death. He worked the story into the song "A Day in the Life", later released on the album Sgt. Pepper's Lonely Hearts Club Band. The second verse features the following lines:
He blew his mind out in a car, He didn't notice that the lights had changed, A crowd of people stood and stared, They'd seen his face before, Nobody was really sure, If he was from the House of Lords.
According to Lennon, in his 1980 interview with Playboy magazine, "I was reading the paper one day and I noticed two stories. One was the Guinness heir who killed himself in a car. That was the main headline story. He died in London in a car crash."
A side note about Tara Browne is that in Paris his social circle was the likes of Samuel Beckett, Salvador Dali, and Jean Cocteau. Samuel Beckett had a lot to say on this issue of man's significance as William Lane Craig has noted:
If each individual person passes out of existence when he dies, then what ultimate meaning can be given to his life? Does it really matter whether he ever existed at all? It might be said that his life was important because it influenced others or affected the course of history. But this shows only a relative significance to his life, not an ultimate significance. His life may be important relative to certain other events, but what is the ultimate significance of any of those events? If all the events are meaningless, then what can be the ultimate significance of influencing any of them? Ultimately it makes no difference.
This is the horror of modern man: because he ends in nothing, he is nothing.
Twentieth-century man came to understand this. Read WAITING FOR GODOT bySamuel Beckett. During this entire play two men carry on trivial conversation while waiting for a third man to arrive, who never does. Our lives are like that, BECKETT IS SAYING: WE JUST KILL TIME WAITING–FOR WHAT, WE DON'T KNOW. In a tragic portrayal of man, Beckett wrote another play in which the curtain opens revealing a stage littered with junk. For thirty long seconds, the audience sits and stares in silence at that junk. Then the curtain closes. That's all.
French existentialistsJean-Paul SartreandAlbert Camusunderstood this, too. Sartre portrayed life in his play No Exit as hell—the final line of the play are the words of resignation, "Well, let's get on with it." Hence, Sartre writes elsewhere of the "nausea" of existence. Man, he says, is adrift in a boat without a rudder on an endless sea. Camus, too, saw life as absurd. At the end of his brief novel The Stranger, Camus's hero discovers in a flash of insight that the universe has no meaning and there is no God to give it one. The French biochemistJacques Monodseemed to echo those sentiments when he wrote in his work Chance and Necessity, "Man finally knows he is alone in the indifferent immensity of the universe."
Thus, if there is no God, then life itself becomes meaningless. Man and the universe are without ultimate significance.
IN SPITE OF ALL THIS MANY SECULARISTS HAVE ADOPTED WHAT I CALL "EVOLUTIONARY OPTIMISTIC HUMANISM" and even in the 19th century Charles Darwin in his autobiography was touting the same product as we see today!!!!
Francis Darwin noted, "passages which here follow are extracts, somewhat abbreviated, from a part of the Autobiography, written in 1876, in which my father gives the history of his religious views:"
"Believing as I do that man in the distant future will be a far more perfect creature than he now is,"
FRANCIS SCHAEFFER COMMENTED:
Now you have now the birth of Julian Huxley's evolutionary optimistic humanism already stated by Darwin. Darwin now has a theory that man is going to be better. If you had lived at 1860 or 1890 and you said to Darwin, "By 1970 will man be better?" He certainly would have the hope that man would be better as Julian Huxley does today. Of course, I wonder what he would say if he lived in our day and saw what has been made of his own views in the direction of (the mass murder) Richard Speck (and deterministic thinking of today's philosophers). I wonder what he would say. So you have the factor, already the dilemma in Darwin that I pointed out in Julian Huxley and that is evolutionary optimistic humanism rests always on tomorrow. You never have an argument from the present or the past for evolutionary optimistic humanism.
You can have evolutionary nihilism on the basis of the present and the past. Every time you have someone bringing in evolutionary optimistic humanism it is always based on what is going to be produced tomorrow. When is it coming? The years pass and is it coming? Arthur Koestler doesn't think it is coming. He sees lots of problems here and puts forth for another solution.
In Darwin's 1876 Autobiography he noted:
"…it is an intolerable thought that he and all other sentient beings are doomed to complete annihilation after such long-continued slow progress. To those who fully admit the immortality of the human soul, the destruction of our world will not appear so dreadful."
Francis Schaeffer commented:
Here you feel Marcel Proust and the dust of death is on everything today because the dust of death is on everything tomorrow. Here you have the dilemma of Nevil Shute'sON THE BEACH.If it is true that all we have left is biological continuity and increased biological complexity, which is all we have left in Darwinism here, or with many of the modern philosophers, then you can't stand Shute'sON THE BEACH.Maybe tomorrow at noon human life may be wiped out. Darwin already feels the tension, because if human life is going to be wiped out tomorrow, what is it worth today? Darwin can't stand the thought of death of all men.Charlie Chaplinwhen he heard there was no life on Mars said, "I'm lonely."
You think of the Swedish Opera (ANIARA) that is pictured inside a spaceship. There was a group of men and women going into outer space and they had come to another planet and the singing inside the spaceship was normal opera music. Suddenly there was a big explosion and the world had blown up and these were the last people left, the only conscious people left, and the last scene is the spaceship is off course and it will never land, but will just sail out into outer space and that is the end of the plot. They say when it was shown in Stockholm the first time, the tough Swedes with all their modern mannishness, came out (after the opera was over) with hardly a word said, just complete silence.
Darwin already with his own position says he CAN'T STAND IT!! You can say, "Why can't you stand it?" We would say to Darwin, "You were not made for this kind of thing. Man was made in the image of God. Your CAN'T- STAND- IT- NESS is screaming at you that your position is wrong. Why can't you listen to yourself?"
You find all he is left here is biological continuity, and thus his feeling as well as his reason now is against his own theory, yet he holds it against the conclusions of his reason. Reason doesn't make it hard to be a Christian. Darwin shows us the other way. He is holding his position against his reason.
These words of Darwin ring in my ear, "…it is an intolerable thought that he and all other sentient beings are doomed to complete annihilation after such long-continued slow progress…" . Schaeffer rightly noted, "Maybe tomorrow at noonhuman life may be wiped out. Darwin already feels the tension, because if human life is going to be wiped out tomorrow, what is it worth today? Darwin can't stand the thought of death of all men."IN OTHER WORDS ALL WE ARE IS DUST IN THE WIND. I sent you a CD that starts off with the song DUST IN THE WIND by Kerry Livgren of the group KANSAS which was a hit song in 1978 when it rose to #6 on the charts because so many people connected with the message of the song. It included these words, "All we do, crumbles to the ground though we refuse to see, Dust in the Wind, All we are is dust in the wind, Don't hang on, Nothing lasts forever but the Earth and Sky, It slips away, And all your money won't another minute buy."
Kerry Livgren himself said that he wrote the song because he saw where man was without a personal God in the picture. Solomon pointed out in the Book of Ecclesiastes that those who believe that God doesn't exist must accept three things. FIRST, death is the end. SECOND, chance and time are the only guiding forces in this life. FINALLY, power reigns in this life and the scales are never balanced. The Christian can face death and also confront the world knowing that it is not determined by chance and time alone and finally there is a judge who will balance the scales.
BothKerry Livgren and the bass player Dave Hope of Kansas became Christians eventually. Kerry Livgren first tried Eastern Religions and Dave Hope had to come out of a heavy drug addiction. I was shocked and elated to see their personal testimony on The 700 Club in 1981 and that same interview can be seen on You Tube today. Livgren lives in Topeka, Kansas today where he teaches "Diggers," a Sunday school class at Topeka Bible Church. DAVE HOPE is the head of Worship, Evangelism and Outreach at Immanuel Anglican Church in Destin, Florida.
HOW DID THE BEATLES SEARCH END UP AND WHY WAS ALDOUS HUXLEY PUT ON THE COVER OF "SERGEANT PEPPER'S LONELY HEART S CLUB BAND"? Below is an excerpt from Francis A. Schaeffer's 1972 paper on the trends seen in secular society concerning drug use:
The philosophic basis for the drug scene came from ALDOUS HUXLEY'S 
concept that, since, for the rationalist, reason is not 
taking us anywhere, we should look for a final experience, one 
that can be produced "on call," one that we do not need to 
wait for. The drug scene, in other words, was at first an ideol- 
ogy, an ideology that had very practical consequences. Some of 
us at L'Abri have cried over the young people who have blown 
their minds. But many of them thought, like Alan Watts, Gary 
Snyder, Alan Ginsberg and Timothy Leary, that if you could 
simply turn everyone on, there would be an answer to man's 
longings. It wasn't just the far-out freaks who suggested that 
you could put drugs in the drinking water and turn on a whole 
city so that the "pigs" and the kids would all have flowers in 
their hair. In those days it really was an optimistic ideological 
concept...
The Beatles are a sort of test case. First they were just a 
rock group, then they took to drugs and expressed that in such 
songs as Sergeant Pepper's Lonely Hearts Club Band. When 
drugs didn't pan out, when they saw what was happening in 
Haight-Ashbury, they turned to the psychedelic sounds of 
Straivberry Fields, and then went further into Eastern religious 
experiences. But that, too, did not work out, and they wound 
up their career as a group by making The Yellow Submarine. 
When they made this movie, some people said, "The Beatles 
are coming back." But of course that was not the case. It was 
really 'the sad end of their ideological search as a group. It's 
interesting that Erich Segal, the man who wrote the film script 
for THE YELLOW SUBMARINE, then wrote LOVE STORY.
_________________

The answer to find meaning in life is found in putting your faith and trust in Jesus Christ. The Bible is true from cover to cover and can be trusted.
Thank you again for your time and I know how busy you are.
Sincerely,
Everette Hatcher, everettehatcher@gmail.com, http://www.thedailyhatch.org, cell ph 501-920-5733, 13900 Cottontail Lane, Alexander, AR 72002
PS: What is the meaning of life? Find it in the end of the open letter I wrote to you on April 23, 2020.
—
Below is the workforce of THE TAMBURY GAZETTE
—
Seen below is the third episode of AFTERLIFE (season 1) when Matt takes Tony to a comedy club with front row seats to cheer him up but it turns into disaster!!!
——
—-
—
Part 1 "Why have integrity in Godless Darwinian Universe where Might makes Right?"
Part 2 "My April 14, 2016 Letter to Ricky mentioned Book of Ecclesiastes and the Meaninglessness of Life"
Part 3 Letter about Brandon Burlsworth concerning suffering and pain and evil in the world. "Why didn't Jesus save her [from cancer]?" (Tony's 10 year old nephew George in episode 2)
Part 4 Letter on Solomon on Death Tony in episode one, "It should be everyone's moral duty to kill themselves."
Part 5 Letter on subject of Learning in Ecclesiastes "I don't read books of fiction but mainly science and philosophy"
Part 6 Letter on Luxuries in Ecclesiastes Part 6, The Music of AFTERLIFE (Part A)
Part 7 Letter on Labor in Ecclesiastes My Letter to Ricky on Easter in 2017 concerning Book of Ecclesiastes and the legacy of a person's life work
Part 8 Letter on Liquor in Ecclesiastes Tony's late wife Lisa told him, "Don't get drunk all the time alright? It will only make you feel worse in the log run!"
Part 9 Letter on Laughter in Ecclesiastes , I said of laughter, "It is foolishness;" and of mirth, "What does it accomplish?" Ecclesiastes 2:2
Part 10 Final letter to Ricky on Ladies in Ecclesiastes "I gathered a chorus of singers to entertain me with song, and—most exquisite of all pleasures— voluptuous maidens for my bed…behold, all was vanity and a striving after wind, and there was nothing to be gained under the sun" Ecclesiastes 2:8-11.
Part 11 Letter about Daniel Stanhope and optimistic humanism "If man has been kicked up out of that which is only impersonal by chance , then those things that make him man-hope of purpose and significance, love, motions of morality and rationality, beauty and verbal communication-are ultimately unfulfillable and thus meaningless." (Francis Schaeffer)
Part 12 Letter on how pursuit of God is only way to get Satisfaction Dan Jarrell "[In Ecclesiastes] if one seeks satisfaction they will never find it. In fact, every pleasure will be fleeting and can not be sustained, BUT IF ONE SEEKS GOD THEN ONE FINDS SATISFACTION"
Part 13 Letter to Stephen Hawking on Solomon realizing he will die just as a dog will die "For men and animals both breathe the same air, and both die. So mankind has no real advantage over the beasts; what an absurdity!" Ecclesiastes
Part 14 Letter to Stephen Hawking on 3 conclusions of humanism and Bertrand Russell destruction of optimistic humanism. "That Man is the product of causes which had no prevision of the end they were achieving; that his origin, his growth, his hopes and fears, his loves and his beliefs, are but the outcome of accidental collocations of atoms—no philosophy which rejects them can hope to stand. Only within the scaffolding of these truths, only on the firm foundation of unyielding despair, can the soul's habitation henceforth be safely built."(Bertrand Russell, Free Man's Worship)
Part 15 Letter to Stephen Hawking on Leonardo da Vinci and Solomon and Meaningless of life "I hate life. As far as I can see, what happens on earth is a bad business. It's smoke—and spitting into the wind" Ecclesiastes Book of Ecclesiastes Part 15 "I hate life. As far as I can see, what happens on earth is a bad business. It's smoke—and spitting into the wind" Ecclesiastes 2:17
Part 16 Letter to Stephen Hawking on Solomon's longing for death but still fear of death and 5 conclusions of humanism on life UNDER THE SUN. Francis Schaeffer "Life is just a series of continual and unending cycles and man is stuck in the middle of the cycle. Youth, old age, Death. Does Solomon at this point embrace nihilism? Yes!!! He exclaims that the hates life (Ecclesiastes 2:17), he longs for death (4:2-3) Yet he stills has a fear of death (2:14-16)"
—
Mandeep Dhillon as Sandy on her first assignment in 'After Life'. (Twitter)
A still from 'After Life' that captures the vibe of the Tambury Gazette. (Twitter)
Michael Scott of THE OFFICE (USA) with Ricky Gervais
After Life on Netflix stars Ricky Gervais as a bereaved husband (Image: Netflix)
—-
Psychiatrist played by Paul Kaye seen below.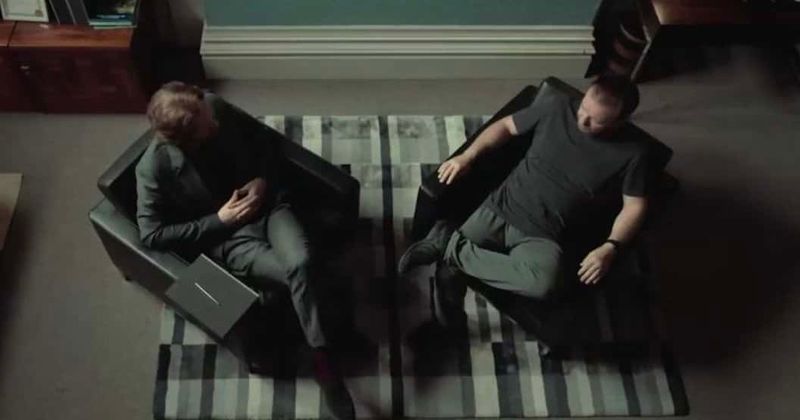 —
Tony Johnson with his dog Brandi seen below:
—-
Related posts:
I have gone back and forth and back and forth with many liberals on the Arkansas Times Blog on many issues such as abortion, human rights, welfare, poverty, gun control and issues dealing with popular culture. Here is another exchange I had with them a while back. My username at the Ark Times Blog is Saline […]By Everette Hatcher III | Posted in Biblical Archaeology, Francis Schaeffer, Prolife | Edit|Comments (0)
I have posted many of the sermons by John MacArthur. He is a great bible teacher and this sermon below is another great message. His series on the Book of Proverbs was outstanding too. I also have posted several of the visits MacArthur made to Larry King's Show. One of two most popular posts I […]By Everette Hatcher III | Posted in Adrian Rogers, Current Events | Edit|Comments (0)
I have posted many of the sermons by John MacArthur. He is a great bible teacher and this sermon below is another great message. His series on the Book of Proverbs was outstanding too. I also have posted several of the visits MacArthur made to Larry King's Show. One of two most popular posts I […]By Everette Hatcher III | Posted in Adrian Rogers, Current Events |Tagged Bible Prophecy, john macarthur | Edit|Comments (0)
Prophecy–The Biblical Prophesy About Tyre.mp4 Uploaded by TruthIsLife7 on Dec 5, 2010 A short summary of the prophecy about Tyre and it's precise fulfillment. Go to this link and watch the whole series for the amazing fulfillment from secular sources. http://www.youtube.com/watch?v=qvt4mDZUefo________________ John MacArthur on the amazing fulfilled prophecy on Tyre and how it was fulfilled […]By Everette Hatcher III | Posted in Biblical Archaeology | Edit|Comments (1)
John MacArthur on the Bible and Science (Part 2) I have posted many of the sermons by John MacArthur. He is a great bible teacher and this sermon below is another great message. His series on the Book of Proverbs was outstanding too. I also have posted several of the visits MacArthur made to Larry […]By Everette Hatcher III | Posted in Current Events | Edit|Comments (0)
John MacArthur on the Bible and Science (Part 1) I have posted many of the sermons by John MacArthur. He is a great bible teacher and this sermon below is another great message. His series on the Book of Proverbs was outstanding too. I also have posted several of the visits MacArthur made to Larry […]By Everette Hatcher III | Posted in Current Events | Edit|Comments (0)
Adrian Rogers – How you can be certain the Bible is the word of God Great article by Adrian Rogers. What evidence is there that the Bible is in fact God's Word? I want to give you five reasons to affirm the Bible is the Word of God. First, I believe the Bible is the […]By Everette Hatcher III | Posted in Adrian Rogers, Biblical Archaeology | Edit|Comments (0)
Is there any evidence the Bible is true? Articles By PleaseConvinceMe Apologetics Radio The Old Testament is Filled with Fulfilled Prophecy Jim Wallace A Simple Litmus Test There are many ways to verify the reliability of scripture from both internal evidences of transmission and agreement, to external confirmation through archeology and science. But perhaps the […]By Everette Hatcher III | Posted in Biblical Archaeology, Current Events | Edit|Comments (0)
I have gone back and forth and back and forth with many liberals on the Arkansas Times Blog on many issues such as abortion, human rights, welfare, poverty, gun control and issues dealing with popular culture. Here is another exchange I had with them a while back. My username at the Ark Times Blog is […]By Everette Hatcher III | Posted in Francis Schaeffer, Prolife | Edit|Comments (0)
Here is some very convincing evidence that points to the view that the Bible is historically accurate. Archaeological and External Evidence for the Bible Archeology consistently confirms the Bible! Archaeology and the Old Testament Ebla tablets—discovered in 1970s in Northern Syria. Documents written on clay tablets from around 2300 B.C. demonstrate that personal and place […]By Everette Hatcher III | Posted in Biblical Archaeology | E
—
Francis Schaeffer "The Age of NONREASON"
—
——-
—
—-
—

—-
—-
—
—-
—
—
—
—
—



—-
—-
—
—-
—-