—
Canary Islands 2014: Harold Kroto and Richard Dawkins
_
August 19, 2019
Richard Dawkins c/o Richard Dawkins Foundation,
Washington, DC 20005
Dear Mr. Dawkins,
i have enjoyed reading about a dozen of your books and some of the most intriguing were The God Delusion, An Appetite for Wonder: The Making of a Scientist, and Brief Candle in the Dark: My Life in Science.
Page 334 in THE GOD DELUSION: "Maybe embryos don't suffer, but a culture that tolerates the taking of human life risks going too far: where will it all end? In INFANTICIDE? The moment of birth provides a natural Rubicon for defining rules"
I was blessed with the opportunity to correspond with Dr. Sagan, and in his December 5, 1995 letter Dr. Sagan went on to tell me that he was enclosing his article "The Question of Abortion: A Search for Answers"by Carl Sagan and Ann Druyan. I am going to respond to several points made in that article. Here is a portion of Sagan's article (here is a link to the whole article):
Carl Sagan and Ann Druyan pictured above
by Carl Sagan and Ann Druyan
Let's consider these two absolutist positions in turn. A newborn baby is surely the same being it was just before birth. There 's good evidence that a late-term fetus responds to sound–including music, but especially its mother's voice. It can suck its thumb or do a somersault. Occasionally, it generates adult brain-wave patterns. Some people claim to remember being born, or even the uterine environment. Perhaps there is thought in the womb. It's hard to maintain that a transformation to full personhood happens abruptly at the moment of birth. Why, then, should it be murder to kill an infant the day after it was born but not the day before?
As a practical matter, this isn't very important: Less than 1 percent of all tabulated abortions in the United States are listed in the last three months of pregnancy (and, on closer investigation, most such reports turn out to be due to miscarriage or miscalculation). But third-trimester abortions provide a test of the limits of the pro-choice point of view. Does a woman's "innate right to control her own body" encompass the right to kill a near-term fetus who is, for all intents and purposes, identical to a newborn child?
——-
End of Sagan Excerpt
When I was in high school the book and film series named WHATEVER HAPPENED TO THE HUMAN RACE? came out and it featured Doctor C. Everett Koop and Francis Schaeffer and they looked at the issues of abortion, infanticide, and youth euthanasia and they looked at comments from such scholars as Peter Singer and James D. Watson.
C. Everett Koop pictured above and Peter Singer below
Peter Singer, an endowed chair at Princeton's Center for Human Values, said, "Killing a disabled infant is not morally equivalent to killing a person. Very often it is not wrong at all."
In May 1973, James D. Watson, the Nobel Prize laureate who discovered the double helix of DNA, granted an interview to Prism magazine, then a publication of the American Medical Association. Time later reported the interview to the general public, quoting Watson as having said, "If a child were not declared alive until three days after birth, then all parents could be allowed the choice only a few are given under the present system. The doctor could allow the child to die if the parents so choose and save a lot of misery and suffering. I believe this view is the only rational, compassionate attitude to have."
On August 30, 1995 I mailed a letter to Carl Sagan that probably prompted this discussion on abortion and it enclosed a lengthy story from Adrian Rogers about an abortion case in Pine Bluff, Arkansas that almost became an infanticide case:
An excerpt from the Sunday morning message (11-6-83) by Adrian Rogers in Memphis, TN.
I want to tell you that secular humanism and so-called abortion rights are inseparably linked together. We have been taught that our bodies and our children are the products of the evolutionary process, and so therefore human life may not be all that valuable to begin with. We have come today to where it is legal and even considered to be a good thing to put little babies to death…15 million little babies put to death since 1973 because of this philosophy of Secular Humanism.
How did the court make that type of decision? You would think it would be so obvious. You can't do that! You can't kill little babies! Why? Because the Bible says! Friend, they don't give a hoot what the Bible says! There used to be a time when they talked about what the Bible says because there was a time that we as a nation had a constitution that was based in the Judeo-Christian ethic, but today if we say "The Bible says" or "God says "Separation of Church and State. Don't tell us what the Bible says or what God says. We will tell you what we think!" Therefore, they look at the situation and they decide if it is right or wrong purely on the humanistic philosophy that right and wrong are relative and the situation says what is right or what is wrong.
This little girl just 19 years old went into the doctor's office and he examined her. He said, "We can take take of you." He gave her an injection in her arm that was to cause her to go into labor and to get rid of that protoplasm, that feud, that little mass that was in her, but she wasn't prepared for the sound she was about to hear. It was a little baby crying. That little baby weighed 13 ounces. His hand the size of my thumbnail. You know what the doctor did. The doctor put that little baby in a grocery sack and gave it to Maria's two friends who were with her in that doctor office and Said, "It will stop making those noises after a while."
(Adrian Rogers pictured above)
They took that grocery sack and Maria home and one hour passed and two hours passed and that baby was still crying and panting for his life in that grocery sack. They took that little baby down to the hospital there in Pine Bluff, Arkansas, and they called an obstetrician and he called a pediatrician and they called nurses and they began to work on that little baby. Today that baby is alive and well and healthy, that little mass of protoplasm. That little thing that wasn't a human being is alive and well. I want to tell you they spent $150,000 to save the life of that baby. NOW CAN YOU EXPLAIN TO ME HOW THEY CAN SPEND $150,000 TO SAVE THE LIFE OF SOMETHING THAT SOMEBODY WAS PAYING ANOTHER DOCTOR TO TAKE THE LIFE OF? The same life!!! Are you going to tell me that is not a baby? Are you going to tell me that if that baby had been put to death it would not have been murder? You will never convince me of that. What has happened to us in America? We have been sold a bill of goods by the Secular Humanists!
Carl Sagan asked, "Does a woman's "innate right to control her own body" encompass the right to kill a near-term fetus who is, for all intents and purposes, identical to a newborn child?"
The answer to find meaning in life is found in putting your faith and trust in Jesus Christ. The Bible is true from cover to cover and can be trusted.
Thank you again for your time and I know how busy you are.
Everette Hatcher, everettehatcher@gmail.com, http://www.thedailyhatch.org, cell ph 501-920-5733, Box 23416, LittleRock, AR 72221, United States

On November 21, 2014 I received a letter from Nobel Laureate Harry Kroto and it said:
…Please click on this URL http://vimeo.com/26991975
and you will hear what far smarter people than I have to say on this matter. I agree with them.
Harry Kroto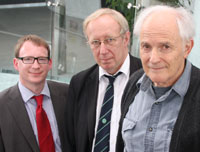 Nick Gathergood, David-Birkett, Harry-Kroto
I have attempted to respond to all of Dr. Kroto's friends arguments and I have posted my responses one per week for over a year now. Here are some of my earlier posts:
Arif Ahmed, Sir David Attenborough, Mark Balaguer, Horace Barlow, Michael Bate, Patricia Churchland, Aaron Ciechanover, Noam Chomsky,Alan Dershowitz, Hubert Dreyfus, Bart Ehrman, Stephan Feuchtwang, David Friend, Riccardo Giacconi, Ivar Giaever , Roy Glauber, Rebecca Goldstein, David J. Gross, Brian Greene, Susan Greenfield, Stephen F Gudeman, Alan Guth, Jonathan Haidt, Theodor W. Hänsch, Brian Harrison, Hermann Hauser, Roald Hoffmann, Bruce Hood, Herbert Huppert, Gareth Stedman Jones, Steve Jones, Shelly Kagan, Michio Kaku, Stuart Kauffman, Lawrence Krauss, Harry Kroto, George Lakoff, Elizabeth Loftus, Alan Macfarlane, Peter Millican, Marvin Minsky, Leonard Mlodinow, Yujin Nagasawa, Alva Noe, Douglas Osheroff, Jonathan Parry, Saul Perlmutter, Herman Philipse, Carolyn Porco, Robert M. Price, Lisa Randall, Lord Martin Rees, Oliver Sacks, John Searle, Marcus du Sautoy, Simon Schaffer, J. L. Schellenberg, Lee Silver, Peter Singer, Walter Sinnott-Armstrong, Ronald de Sousa, Victor Stenger, Barry Supple, Leonard Susskind, Raymond Tallis, Neil deGrasse Tyson, .Alexander Vilenkin, Sir John Walker, Frank Wilczek, Steven Weinberg, and Lewis Wolpert,
In the second video below in the 67th clip in this series are Richard Dawkins' words that Harry Kroto wanted me to see. Since then I have read several of Richard Dawkins books and have attempted to respond to the contents of these books directly to Richard Dawkins by mail. In fact, I have been writing Richard Dawkins letters since May 15, 1994 which was the 10th anniversary of the passing of one of my heroes, Francis Schaeffer. Francis Schaeffer spent a lot of time responding to many of Richard Dawkins' heroes such as Carl Sagan, Jacques Monod, H.J. Blackham, Isaac Newton, Ludwig Wittgenstein, Max Planck, Johann Sebastian Bach, Francis Bacon, Samuel Beckett, Leonardo Da Vinci, Albert Einstein, Michael Faraday, Gerald Horton, Edmund Leach, Louis Pasteur, George Wald, Jacob Bronowski, Steven Weinberg, Charles Darwin, Paul Kurtz, Peter Singer, Jonathan Miller, William B. Provine, Woody Allen, Noam Chomsky, James D. Watson, Francis Crick, Michael Polanyi, The Huxley family, Antony Flew, and Edward O. Wilson (Dawkins has since revised his opinion of Flew and Wilson, but he earlier regarded them very highly).
_
_
Both Francis Schaeffer and Richard Dawkins have talked extensively about the life of Charles Darwin.
_
Sir Harry Kroto with his high school friend Sir Ian McKellan at the FSU National High Field Magnetic Lab on Tuesday, October 27, 2009.
50 Renowned Academics Speaking About God (Part 1)
_
Another 50 Renowned Academics Speaking About God (Part 2)
_
_
Edit Post ‹ The Daily Hatch — WordPress
A Further 50 Renowned Academics Speaking About God (Part 3)
_
Richard Dawkins Photos Photos – Professor Stephen Hawking Unveils Medal For Science Communication – Zimbio
Professor Stephen Hawking Unveils Medal For Science Communication In This Photo: Richard Dawkins, Stephen Hawking, Brian May, Harold Kroto, Alexi Leonov, Garik Israelian
__
Richard Dawkins, founder of the Richard Dawkins Foundation for Reason and Science. Credit: Don Arnold Getty Images
16
–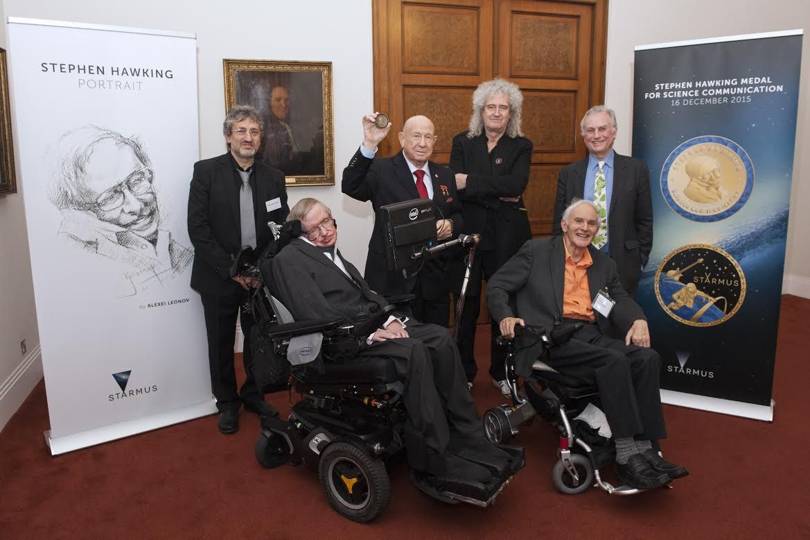 Garik Israelian, Stephen Hawking, Alexey Leonov, Brian May, Richard Dawkins and Harry Kroto
—-
—-
—-
—-
—-
Related posts:
On November 21, 2014 I received a letter from Nobel Laureate Harry Kroto and it said: …Please click on this URL http://vimeo.com/26991975 and you will hear what far smarter people than I have to say on this matter. I agree with them. Harry Kroto _________________ Below you have picture of 1996 Chemistry Nobel Prize Winner […]
The Beatles were "inspired by the musique concrète of German composer and early electronic music pioneer Karlheinz Stockhausen…" as SCOTT THILL has asserted. Francis Schaeffer noted that ideas of "Non-resolution" and "Fragmentation" came down German and French streams with the influence of Beethoven's last Quartets and then the influence of Debussy and later Schoenberg's non-resolution which is in total contrast […]
_______ On November 21, 2014 I received a letter from Nobel Laureate Harry Kroto and it said: …Please click on this URL http://vimeo.com/26991975 and you will hear what far smarter people than I have to say on this matter. I agree with them. Harry Kroto _________________ Below you have picture of 1996 Chemistry Nobel Prize […]
On November 21, 2014 I received a letter from Nobel Laureate Harry Kroto and it said: …Please click on this URL http://vimeo.com/26991975 and you will hear what far smarter people than I have to say on this matter. I agree with them. Harry Kroto ____________________ Below you have picture of 1996 Chemistry Nobel Prize Winner Dr. […]