—
Canary Islands 2014: Harold Kroto and Richard Dawkins
_
August 15, 2019
Richard Dawkins c/o Richard Dawkins Foundation,
Washington, DC 20005
Dear Mr. Dawkins,
Page 361 in THE GOD DELUSION: "Jill Mytton had been brought up terrified of hell, had escaped from Christianity as an adult"
Dr. Robert G. Lee: [Concerning sermons on hell] "I had rather be called cruel for being kind, than to be called kind for being cruel."
Below is a portion of a recent blog post I wrote on this subject:
Max Perutz asserted: "….we should fight creationism and when asked say we don't believe in religion. I don't think we should upset those people who do, who are a very large number of reasonable and decent people."
Sometimes people like Max Perutz get mad at people like Richard Dawkins but I see where Dawkins is coming from because he feels strongly about what he feels is the truth.
Let me respond with three points.
FIRST, Christ commands us Christians to tell everyone about the gospel because there is a day of Judgment coming.
Matthew 24:14: "And this gospel of the kingdom will be preached in all the world as a witness to all the nations, and then the end will come."
Revelation 14:6-7: "Then I saw another angel flying in the midst of heaven, having the everlasting gospel to preach to those who dwell on the earth—to every nation, tribe, tongue, and people— saying with a loud voice, 'Fear God and give glory to Him, for the hour of His judgment has come; and worship Him who made heaven and earth, the sea and springs of water.'"
My former pastor at Bellevue Baptist Church, Adrian Rogers in his sermon A PLACE CALLED HELL noted:
The late, great Dr. Robert G. Lee, who was the pastor of this church, said this, and I wrote it down, he said, "I know some people call the preacher who stands squarely upon the teaching of Christ and his apostles narrow, harsh, cruel." then he said, "as to being narrow, I have no desire to any broader than was Jesus. As to being cruel, is it cruel to tell a man the truth? Is a man to be called cruel who declares the whole counsel of God and points out to men their danger? Is it cruel to arouse sleeping people to the fact that the house is on fire? Is it cruel to jerk a blind man away from the rattlesnake in the coil? Is it cruel to declare to people the deadliness of disease and tell them which medicine to take?" and then dr. Lee said this; he said, "I had rather be called cruel for being kind, than to be called kind for being cruel."
The cruelest thing a man could do would be to fail to warn people about what the bible has to say about hell. To speak sneeringly, disparagingly about a preacher who believes in hell, to ridicule a preacher who warns of hell would be the same as to ridicule a doctor who warns of cancer. It's not a pleasant subject, but it is a fact. And I'm going to tell you, dear friend, that the idea of hell is ridiculed today. And, I know why it is ridiculed today, because people don't like the idea and they try to laugh it away. You can laugh your way into hell, but you can't laugh your way out once you're there.
SECOND, the answer to find meaning in life is found in putting your faith and trust in Jesus Christ. The Bible is true from cover to cover and can be trusted and a person can investigate some evidence that the Bible is accurate at this link.
THIRD, without God in the picture everything is permitted. Woody Allen demonstrated this brilliantly in his 1989 film CRIMES AND MISDEMEANORS. I bring this up because I read this below:
"All is lawful."
– Fyodor Dostoevsky, The Brothers Karamazov
"Viper will eat viper, and it would serve them both right!"
– Fyodor Dostoevsky, The Brothers Karamazov
"If you were to destroy in mankind the belief in immortality, not only love but every living force maintaining the life of the world would at once be dried up. Moreover, nothing then would be immoral; everything would be lawful, even cannibalism."
– Fyodor Dostoevsky, The Brothers Karamazov
"Scientists may not believe in God, but they should be taught why they ought to behave as if they did."(9)
Max Perutz, with a Nobel prize in chemistry, made this statement several years ago in response to critical remarks about Cambridge University establishing a Lectureship in Theology and Natural Science. Richard Dawkins, outspoken biologist and atheist, could barely contain himself in an editorial letter about the same lectureship: "The achievements of theologians don't do anything, don't affect anything, don't achieve anything. What makes you think that 'theology' is a subject at all?"(10)
Julian Huxley evidently agreed with Perutz because Huxley also wrote, "God does not in fact exist, but act as if He does!" Woody Allen addressed the same point in his movie CRIMES AND MISDEMEANORS and I have written this same subject over and over and over again on this blog.
Francis Schaeffer's comments on Huxley's quote:
Relieving the Tension in the West
In both the East and the West, however, there are attempts to relieve the tension of seeming to be nothing, while in fact being something very real – a person in a real world which has a definite form. On the materialist side, Sir Julian Huxley (1887-1975) has clarified the dilemma by acknowledging, though he was an atheist, that somehow or other – against all that one might expect – a person functions better if he acts as though God exists. "So," the argument goes, "God does not in fact exist, but act as if He does!" As observed by the Norwegian playwright Henrik Ibsen (1828-1906) in The Wild Duck: "Rob the average man of his life-illusion, and you rob him of his happiness at the same stroke." In other words, according to Huxley, you can function properly only if you live your whole life upon a lie. You act as if God exists, which to the materialist is false. At first this sounds like a feasible solution for relieving the tension produced by a materialist world-view. However, a moment's reflection shows what a terrible solution it is. You will find no deeper despair than this for a sensitive person. This is no optimistic, happy, reasonable, brilliant answer. It is darkness and death.
Another way the tension is relieved is through the theory of evolution, the idea that by chance there is an increasing advance. People are given an impression of progress – up from the primeval slime and the amoeba, up through the evolutionary chain, with life developing by chance from the simple carbon molecule to the complex, right up to the pinnacle, mankind.
This is not the place to discuss evolutionary theory, but it surprises us how readily people accept it, even on the scientific side, as if it had no problems. There are problems, even if these are not commonly realized or discussed.89 The primary point we are interested in, however, is not evolution itself but the illusion of "progress" which has been granted by it. By chance, this amazing complexity called "man" has been generated out of the slime. So, of course, there is progress! By this argument people are led into imagining that the whole of reality does have purpose even if, as we have said, there is no way that it really can have purpose within the humanistic world-view.
Evolution makes men and women feel superior and at the top of the pile, but in the materialistic framework, the whole of reality is meaningless; the concept of "higher" means nothing. Even if, within the humanist world-view, people are more complex than plants and animals, both "higher" and "lower" have no meanings. We are left with everything being sad and absurd.
Thus, the concept of progress is an illusion. Only some form of mystical jump will allow us to accept that personality comes from impersonality.90 No one has offered to explain, let alone demonstrate it to be feasible, how the impersonal plus time plus chance can give personality. We are distracted by a flourish of words – and, lo, personality has appeared out of a hat.
Imagine a universe made up of only liquids and solids, one containing no free gases. A fish is swimming in this universe. This fish, quite naturally, is conformed to its environment so that it is able to exist quite happily. Let us suppose, then, that by blind chance (as the evolutionists would have us believe) this fish developed lungs as it continued swimming in this universe without any gases. The fish would no longer be able to function and to fulfill its position as a fish. Would it then be "higher" or "lower" in its new state with lungs? Obviously it would be lower, for it would drown.
In the same way, if a person has been kicked up from the impersonal by chance, those things that make him a person – hope of purpose and significance, love, notions of morality and rationality and beauty – are ultimately unfulfillable and are thus meaningless. In such a situation, is man higher or lower? Mankind would then be the lowest creature on the scale, the least conforming to what reality is. Thus we see how hopeless is the illusion of meaning or purpose as derived from evolutionary thought.
The answer to find meaning in life is found in putting your faith and trust in Jesus Christ. The Bible is true from cover to cover and can be trusted.
Thank you again for your time and I know how busy you are.
Everette Hatcher, everettehatcher@gmail.com, http://www.thedailyhatch.org, cell ph 501-920-5733, Box 23416, LittleRock, AR 72221, United States
On November 21, 2014 I received a letter from Nobel Laureate Harry Kroto and it said:
…Please click on this URL http://vimeo.com/26991975
and you will hear what far smarter people than I have to say on this matter. I agree with them.
Harry Kroto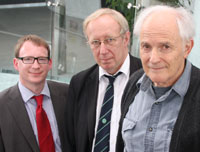 Nick Gathergood, David-Birkett, Harry-Kroto
I have attempted to respond to all of Dr. Kroto's friends arguments and I have posted my responses one per week for over a year now. Here are some of my earlier posts:
Arif Ahmed, Sir David Attenborough, Mark Balaguer, Horace Barlow, Michael Bate, Patricia Churchland, Aaron Ciechanover, Noam Chomsky,Alan Dershowitz, Hubert Dreyfus, Bart Ehrman, Stephan Feuchtwang, David Friend, Riccardo Giacconi, Ivar Giaever , Roy Glauber, Rebecca Goldstein, David J. Gross, Brian Greene, Susan Greenfield, Stephen F Gudeman, Alan Guth, Jonathan Haidt, Theodor W. Hänsch, Brian Harrison, Hermann Hauser, Roald Hoffmann, Bruce Hood, Herbert Huppert, Gareth Stedman Jones, Steve Jones, Shelly Kagan, Michio Kaku, Stuart Kauffman, Lawrence Krauss, Harry Kroto, George Lakoff, Elizabeth Loftus, Alan Macfarlane, Peter Millican, Marvin Minsky, Leonard Mlodinow, Yujin Nagasawa, Alva Noe, Douglas Osheroff, Jonathan Parry, Saul Perlmutter, Herman Philipse, Carolyn Porco, Robert M. Price, Lisa Randall, Lord Martin Rees, Oliver Sacks, John Searle, Marcus du Sautoy, Simon Schaffer, J. L. Schellenberg, Lee Silver, Peter Singer, Walter Sinnott-Armstrong, Ronald de Sousa, Victor Stenger, Barry Supple, Leonard Susskind, Raymond Tallis, Neil deGrasse Tyson, .Alexander Vilenkin, Sir John Walker, Frank Wilczek, Steven Weinberg, and Lewis Wolpert,
In the second video below in the 67th clip in this series are Richard Dawkins' words that Harry Kroto wanted me to see. Since then I have read several of Richard Dawkins books and have attempted to respond to the contents of these books directly to Richard Dawkins by mail. In fact, I have been writing Richard Dawkins letters since May 15, 1994 which was the 10th anniversary of the passing of one of my heroes, Francis Schaeffer. Francis Schaeffer spent a lot of time responding to many of Richard Dawkins' heroes such as Carl Sagan, Jacques Monod, H.J. Blackham, Isaac Newton, Ludwig Wittgenstein, Max Planck, Johann Sebastian Bach, Francis Bacon, Samuel Beckett, Leonardo Da Vinci, Albert Einstein, Michael Faraday, Gerald Horton, Edmund Leach, Louis Pasteur, George Wald, Jacob Bronowski, Steven Weinberg, Charles Darwin, Paul Kurtz, Peter Singer, Jonathan Miller, William B. Provine, Woody Allen, Noam Chomsky, James D. Watson, Francis Crick, Michael Polanyi, The Huxley family, Antony Flew, and Edward O. Wilson (Dawkins has since revised his opinion of Flew and Wilson, but he earlier regarded them very highly).
_
_
Both Francis Schaeffer and Richard Dawkins have talked extensively about the life of Charles Darwin.
_
Sir Harry Kroto with his high school friend Sir Ian McKellan at the FSU National High Field Magnetic Lab on Tuesday, October 27, 2009.
50 Renowned Academics Speaking About God (Part 1)
_
Another 50 Renowned Academics Speaking About God (Part 2)
_
_
Edit Post ‹ The Daily Hatch — WordPress
A Further 50 Renowned Academics Speaking About God (Part 3)
_
Richard Dawkins Photos Photos – Professor Stephen Hawking Unveils Medal For Science Communication – Zimbio
Professor Stephen Hawking Unveils Medal For Science Communication In This Photo: Richard Dawkins, Stephen Hawking, Brian May, Harold Kroto, Alexi Leonov, Garik Israelian
__
Richard Dawkins, founder of the Richard Dawkins Foundation for Reason and Science. Credit: Don Arnold Getty Images
16
–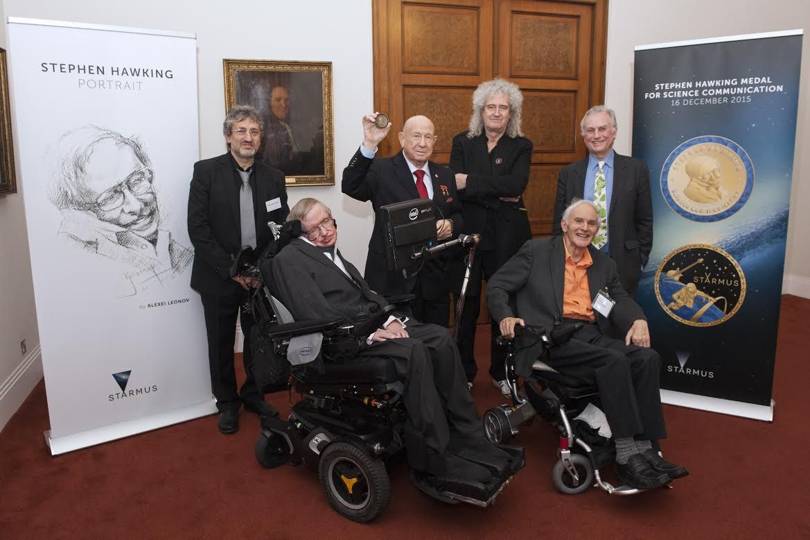 Garik Israelian, Stephen Hawking, Alexey Leonov, Brian May, Richard Dawkins and Harry Kroto
—-
—-
—-
—-
—-
Related posts:
On November 21, 2014 I received a letter from Nobel Laureate Harry Kroto and it said: …Please click on this URL http://vimeo.com/26991975 and you will hear what far smarter people than I have to say on this matter. I agree with them. Harry Kroto _________________ Below you have picture of 1996 Chemistry Nobel Prize Winner […]
The Beatles were "inspired by the musique concrète of German composer and early electronic music pioneer Karlheinz Stockhausen…" as SCOTT THILL has asserted. Francis Schaeffer noted that ideas of "Non-resolution" and "Fragmentation" came down German and French streams with the influence of Beethoven's last Quartets and then the influence of Debussy and later Schoenberg's non-resolution which is in total contrast […]
_______ On November 21, 2014 I received a letter from Nobel Laureate Harry Kroto and it said: …Please click on this URL http://vimeo.com/26991975 and you will hear what far smarter people than I have to say on this matter. I agree with them. Harry Kroto _________________ Below you have picture of 1996 Chemistry Nobel Prize […]
On November 21, 2014 I received a letter from Nobel Laureate Harry Kroto and it said: …Please click on this URL http://vimeo.com/26991975 and you will hear what far smarter people than I have to say on this matter. I agree with them. Harry Kroto ____________________ Below you have picture of 1996 Chemistry Nobel Prize Winner Dr. […]