—-
After Life #1 Trailer
—-
After Life 2 Trailer
—-
On Saturday April 18, 2020 at 6pm in London and noon in Arkansas, I had a chance to ask Ricky Gervais a question on his Twitter Live broadcast which was "Is Tony a Nihilist?" At the 20:51 mark Ricky answers my question. Below is the video:
—-
—-
If Death is the end then what is the point Kath asks below:
——
Kath: You are an atheist?
—-
Ricky Gervais plays bereaved husband Tony Johnson in AFTER LIFE
Tony and his wife Lisa who died 6 months ago of cancer
(Above) Tony and Anne on the bench at the graveyard where their spouses are buried.
—
May 16, 2020
Ricky Gervais

Dear Ricky,
This is the 29th day in a row that I have written another open letter to you to comment on some of your episodes of AFTER LIFE, and then I wanted to pass along some evidence that indicates the Bible is historically accurate.
There is an excellent song "Passing Afternoon" by IRON & WINE that emphasizes the passing of time so quickly and how we have our regrets in our short lives between birth and death and how our lives go from the Springtime to Winter. Actually this song is played as Tony Johnson is getting ready to speak at his father's funeral, so this song selection was a pivotal selection by you for this episode. The words go as follows:
There are times that walk from you like some passing afternoon
Summer warmed the open window of her honeymoon
And she chose a yard to burn but the ground remembers her
Wooden spoons, her children stir her Bougainvillea bloomsThere are things that drift away like our endless, numbered days
Autumn blew the quilt right off the perfect bed she made
And she's chosen to believe in the hymns her mother sings
Sunday pulls its children from the piles of fallen leavesThere are sailing ships that pass all our bodies in the grass
Springtime calls her children until she let's them go at last
And she's chosen where to be, though she's lost her wedding ring
Somewhere near her misplaced jar of Bougainvillea seedsThere are things we can't recall, Blind as night that finds us all
Winter tucks her children in, her fragile china dolls
But my hands remember hers, rolling around the shaded ferns
Naked arms, her secrets still like songs I'd never learnedThere are names across the sea, only now I do believe
Sometimes, with the window closed, she'll sit and think of me
But she'll mend his tattered clothes and they'll kiss as if they know
A baby sleeps in all our bones, so scared to be alone (End of lyrics)
Ricky we both have something in common and that is we both were born in 1961 and just 39 days apart. Today I am turning 59 years old and many people call that middle age but how many 118 year old people do you see walking around?    I also  have started to think about the end of my life in recent days since it is fast approaching all of us. King Solomon in his book of ECCLESIASTES talks about death quite a lot and he wrote a passage in chapter 2 that I wanted to quote and then I wanted to include some comments from the preacher Ken Whitten in his sermon HAUNTED BY DEATH:Ken Whitten pastor of Tampa's Idlewild Baptist Church.
The Christian Scholar Ravi Zacharias noted, "The key to understanding the Book of Ecclesiastes is the term UNDER THE SUN — What that literally means is you lock God out of a closed system and you are left with only this world of Time plus Chance plus matter."
King Solomon gives us a little key to his heart in the Book of Ecclesiastes when he said he looked for everything imaginable tofind satisfaction UNDER THE SUN. Now folks anytime you look for satisfaction UNDER THE SUN it means you have an earthly view of life and if all you have is an earthly view of life you are going to be discouraged. You can tell Solomon is cynical. In Ecclesiastes 2 it says Solomon has tried LEARNING, LABOR, LEISURE, LUST, LAUGHTER, and LIQUOR but it is just like chasing the wind. It was like a little bubble that a kid would blow and then he catches it and there is nothing left there.
12 So I turned to consider wisdom, madness and folly; for what will the man do who will come after the king except what has already been done? 13 And I saw that wisdom excels folly as light excels darkness. 14 The wise man's eyes are in his head, but the fool walks in darkness. And yet I know that one fate befalls them both. 15 Then I said [j]to myself, "As is the fate of the fool, it will also befall me. Why then have I been extremely wise?" So [k]I said to myself, "This too is vanity." 16 For there is no [l]lasting remembrance of the wise man as with the fool, inasmuch as in the coming days all will be forgotten. And how the wise man and the fool alike die! 17 So I hated life, for the work which had been done under the sun was [m]grievous to me;because everything is futility and striving after wind.
Solomon is saying no matter if you are a fool or a wise-man it has nothing to do with removing the reality of death. It is an universal experience and it is going to happen to everyone. The Bible says it "befalls" or overtakes them all. Death overtakes us all.
Solomon looks at life like a race. At the beginning of life and when you are younger you look over your shoulder and in the far distance you see that someone is chasing you and he is in the race with you but you don't pay much attention to him and there is no sense looking back since you are so far ahead. You think he will never catch you. Then you get a little older and guess what you notice. He seems to be going a little faster and you seem to be going a little slower. And you notice that while you continue to move you are starting to hear the footsteps and you starting failing.
Something is happening to us and we are deteriorating physically. In verse 14 Solomon says one fate befalls both the fool and the wise and that is they both die. The rich is gonna die and the poor is gonna die. The actors, athletes, entertainers and the movie stars are gonna die.
Solomon doesn't like this very much and he says in verses 16-17:
16 For there is no [l]lasting remembrance of the wise man as with the fool, inasmuch as in the coming days all will be forgotten. And how the wise man and the fool alike die! 17 So I hated life, for the work which had been done under the sun was [m]grievous to me; because everything is futility and striving after wind.
Solomon is saying that he doesn't like this. It doesn't matter how famous you get because there will be very little remembrance of you. Regardless of how famous you become there are people behind you who are going to be famous and they need your space in the history books and they will take it.
The rich and poor are gonna die. It doesn't matter what is in your pocketbook but only what is in your heart. If you died tonight where would you spend eternity?
(End of sermon by Ken Whitten)
Below Ken is pictured with his wife Ginny
________________
—
I want to give you five reasons to affirm the Bible is the Word of God.
First, I believe the Bible is the Word of God because of its scientific accuracy. The Truth of the Word of God tells us that God "hangeth the earth upon nothing" (Job 26:7). How did Job know that the earth hung in space before the age of modern astronomy and space travel? The Holy Spirit told him. The scientists of Isaiah's day didn't know the topography of the earth, but Isaiah said, "It is [God] that sitteth upon the circle of the earth" (Isaiah 40:22). The word for "circle" here means a globe or sphere. How did Isaiah know that God say upon the circle of the earth? By divine inspiration.
Secondly, the Bible is affirmed through historical accuracy. Do you remember the story about the handwriting on the wall that is found in the fifth chapter of Daniel? Belshazzar hosted a feast with a thousand of his lords and ladies. Suddenly, a gruesome hand appeared out of nowhere and began to write on a wall. The king was disturbed and asked for someone to interpret the writing. Daniel was found and gave the interpretation. After the interpretation, "Then commanded Belshazzar, and they clothed Daniel with scarlet, and put a chain of gold about his neck, and made a proclamation concerning him, that he should be the third ruler in the kingdom." (Daniel 5:29). Basing their opinion on Babylonian records, the historians claim this never happened. According to the records, the last king of Babylon was not Belshazzar, but a man named Nabonidas. And so, they said, the Bible is in error. There wasn't a record of a king named Belshazzar. Well, the spades of archeologists continued to do their work. In 1853, an inscription was found on a cornerstone of a temple built by Nabonidas, to the god Ur, which read: "May I, Nabonidas, king of Babylon, not sin against thee. And may reverence for thee dwell in the heart of Belshazzar, my first-born favorite son." From other inscriptions, it was learned that Belshazzar and Nabonidas were co-regents. Nabonidas traveled while Belshazzar stayed home to run the kingdom. Now that we know that Belshazzar and Nabonidas were co-regents, it makes sense that Belshazzar would say that Daniel would be the third ruler. What a marvelous nugget of truth tucked away in the Word of God!
Third, from Genesis to Revelation, the Bible reads as one book. And there is incredible unity to the Bible. The Bible is one book, and yet it is made up of 66 books, was written by at least 40 different authors over a period of about 1600 years, in 13 different countries and on three different continents. It was written in at least three different languages by people in all professions. The Bible forms one beautiful temple of truth that does not contradict itself theologically, morally, ethically, doctrinally, scientifically, historically, or in any other way.
Fourth, did you know the Bible is the only book in the world that has accurate prophecy? When you read the prophecies of the Bible, you simply have to stand back in awe. There are over 300 precise prophecies that deal with the Lord Jesus Christ in the Old Testament that are fulfilled in the New Testament. To say that these are fulfilled by chance is an astronomical impossibility.
Finally, the Bible is not a book of the month, but the Book of the Ages. First Peter 1:25 says: "But the word of the Lord endureth for ever. And this is the Word which by the gospel is preached unto you." No book has ever had as much opposition as the Bible. Men have laughed at it, scorned it, burned it, ridiculed it, and made laws against it. But the Word of God has survived. And it is applicable today as much as it was yesterday and will be tomorrow.
It's so majestically deep that scholars could swim and never touch the bottom. Yet so wonderfully shallow that a little child could come and get a drink of water without fear of drowning. That is God's precious, holy Word. The Word of God. Know it. Believe it. It is True.
—-

The answer to find meaning in life is found in putting your faith and trust in Jesus Christ. The Bible is true from cover to cover and can be trusted.
Thank you again for your time and I know how busy you are.
Sincerely,
Everette Hatcher, everettehatcher@gmail.com, http://www.thedailyhatch.org, cell ph 501-920-5733, 13900 Cottontail Lane, Alexander, AR 72002
PS: What is the meaning of life? Find it in the end of the open letter I wrote to you on April 23, 2020.
—
Below is the workforce of THE TAMBURY GAZETTE
—
Seen below is the third episode of AFTERLIFE (season 1) when Matt takes Tony to a comedy club with front row seats to cheer him up but it turns into disaster!!!
——
—-
—
Part 1 "Why have integrity in Godless Darwinian Universe where Might makes Right?"
Part 2 "My April 14, 2016 Letter to Ricky mentioned Book of Ecclesiastes and the Meaninglessness of Life"
Part 3 Letter about Brandon Burlsworth concerning suffering and pain and evil in the world. "Why didn't Jesus save her [from cancer]?" (Tony's 10 year old nephew George in episode 2)
Part 4 Letter on Solomon on Death Tony in episode one, "It should be everyone's moral duty to kill themselves."
Part 5 Letter on subject of Learning in Ecclesiastes "I don't read books of fiction but mainly science and philosophy"
Part 6 Letter on Luxuries in Ecclesiastes Part 6, The Music of AFTERLIFE (Part A)
Part 7 Letter on Labor in Ecclesiastes My Letter to Ricky on Easter in 2017 concerning Book of Ecclesiastes and the legacy of a person's life work
Part 8 Letter on Liquor in Ecclesiastes Tony's late wife Lisa told him, "Don't get drunk all the time alright? It will only make you feel worse in the log run!"
Part 9 Letter on Laughter in Ecclesiastes , I said of laughter, "It is foolishness;" and of mirth, "What does it accomplish?" Ecclesiastes 2:2
Part 10 Final letter to Ricky on Ladies in Ecclesiastes "I gathered a chorus of singers to entertain me with song, and—most exquisite of all pleasures— voluptuous maidens for my bed…behold, all was vanity and a striving after wind, and there was nothing to be gained under the sun" Ecclesiastes 2:8-11.
Part 11 Letter about Daniel Stanhope and optimistic humanism "If man has been kicked up out of that which is only impersonal by chance , then those things that make him man-hope of purpose and significance, love, motions of morality and rationality, beauty and verbal communication-are ultimately unfulfillable and thus meaningless." (Francis Schaeffer)
Part 12 Letter on how pursuit of God is only way to get Satisfaction Dan Jarrell "[In Ecclesiastes] if one seeks satisfaction they will never find it. In fact, every pleasure will be fleeting and can not be sustained, BUT IF ONE SEEKS GOD THEN ONE FINDS SATISFACTION"
Part 13 Letter to Stephen Hawking on Solomon realizing he will die just as a dog will die "For men and animals both breathe the same air, and both die. So mankind has no real advantage over the beasts; what an absurdity!" Ecclesiastes
Part 14 Letter to Stephen Hawking on 3 conclusions of humanism and Bertrand Russell destruction of optimistic humanism. "That Man is the product of causes which had no prevision of the end they were achieving; that his origin, his growth, his hopes and fears, his loves and his beliefs, are but the outcome of accidental collocations of atoms—no philosophy which rejects them can hope to stand. Only within the scaffolding of these truths, only on the firm foundation of unyielding despair, can the soul's habitation henceforth be safely built."(Bertrand Russell, Free Man's Worship)
Part 15 Letter to Stephen Hawking on Leonardo da Vinci and Solomon and Meaningless of life "I hate life. As far as I can see, what happens on earth is a bad business. It's smoke—and spitting into the wind" Ecclesiastes Book of Ecclesiastes Part 15 "I hate life. As far as I can see, what happens on earth is a bad business. It's smoke—and spitting into the wind" Ecclesiastes 2:17
Part 16 Letter to Stephen Hawking on Solomon's longing for death but still fear of death and 5 conclusions of humanism on life UNDER THE SUN. Francis Schaeffer "Life is just a series of continual and unending cycles and man is stuck in the middle of the cycle. Youth, old age, Death. Does Solomon at this point embrace nihilism? Yes!!! He exclaims that the hates life (Ecclesiastes 2:17), he longs for death (4:2-3) Yet he stills has a fear of death (2:14-16)"
—
Mandeep Dhillon as Sandy on her first assignment in 'After Life'. (Twitter)
A still from 'After Life' that captures the vibe of the Tambury Gazette. (Twitter)
Michael Scott of THE OFFICE (USA) with Ricky Gervais
After Life on Netflix stars Ricky Gervais as a bereaved husband (Image: Netflix)
—-
Psychiatrist played by Paul Kaye seen below.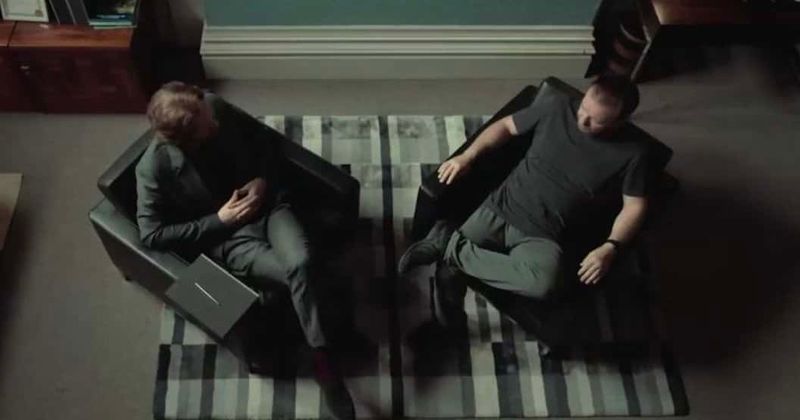 —
Tony Johnson with his dog Brandi seen below:
—-
Related posts:
I have gone back and forth and back and forth with many liberals on the Arkansas Times Blog on many issues such as abortion, human rights, welfare, poverty, gun control and issues dealing with popular culture. Here is another exchange I had with them a while back. My username at the Ark Times Blog is Saline […]By Everette Hatcher III | Posted in Biblical Archaeology, Francis Schaeffer, Prolife | Edit|Comments (0)
I have posted many of the sermons by John MacArthur. He is a great bible teacher and this sermon below is another great message. His series on the Book of Proverbs was outstanding too. I also have posted several of the visits MacArthur made to Larry King's Show. One of two most popular posts I […]By Everette Hatcher III | Posted in Adrian Rogers, Current Events | Edit|Comments (0)
I have posted many of the sermons by John MacArthur. He is a great bible teacher and this sermon below is another great message. His series on the Book of Proverbs was outstanding too. I also have posted several of the visits MacArthur made to Larry King's Show. One of two most popular posts I […]By Everette Hatcher III | Posted in Adrian Rogers, Current Events |Tagged Bible Prophecy, john macarthur | Edit|Comments (0)
Prophecy–The Biblical Prophesy About Tyre.mp4 Uploaded by TruthIsLife7 on Dec 5, 2010 A short summary of the prophecy about Tyre and it's precise fulfillment. Go to this link and watch the whole series for the amazing fulfillment from secular sources. http://www.youtube.com/watch?v=qvt4mDZUefo________________ John MacArthur on the amazing fulfilled prophecy on Tyre and how it was fulfilled […]By Everette Hatcher III | Posted in Biblical Archaeology | Edit|Comments (1)
John MacArthur on the Bible and Science (Part 2) I have posted many of the sermons by John MacArthur. He is a great bible teacher and this sermon below is another great message. His series on the Book of Proverbs was outstanding too. I also have posted several of the visits MacArthur made to Larry […]By Everette Hatcher III | Posted in Current Events | Edit|Comments (0)
John MacArthur on the Bible and Science (Part 1) I have posted many of the sermons by John MacArthur. He is a great bible teacher and this sermon below is another great message. His series on the Book of Proverbs was outstanding too. I also have posted several of the visits MacArthur made to Larry […]By Everette Hatcher III | Posted in Current Events | Edit|Comments (0)
Adrian Rogers – How you can be certain the Bible is the word of God Great article by Adrian Rogers. What evidence is there that the Bible is in fact God's Word? I want to give you five reasons to affirm the Bible is the Word of God. First, I believe the Bible is the […]By Everette Hatcher III | Posted in Adrian Rogers, Biblical Archaeology | Edit|Comments (0)
Is there any evidence the Bible is true? Articles By PleaseConvinceMe Apologetics Radio The Old Testament is Filled with Fulfilled Prophecy Jim Wallace A Simple Litmus Test There are many ways to verify the reliability of scripture from both internal evidences of transmission and agreement, to external confirmation through archeology and science. But perhaps the […]By Everette Hatcher III | Posted in Biblical Archaeology, Current Events | Edit|Comments (0)
I have gone back and forth and back and forth with many liberals on the Arkansas Times Blog on many issues such as abortion, human rights, welfare, poverty, gun control and issues dealing with popular culture. Here is another exchange I had with them a while back. My username at the Ark Times Blog is […]By Everette Hatcher III | Posted in Francis Schaeffer, Prolife | Edit|Comments (0)
Here is some very convincing evidence that points to the view that the Bible is historically accurate. Archaeological and External Evidence for the Bible Archeology consistently confirms the Bible! Archaeology and the Old Testament Ebla tablets—discovered in 1970s in Northern Syria. Documents written on clay tablets from around 2300 B.C. demonstrate that personal and place […]By Everette Hatcher III | Posted in Biblical Archaeology | E
Adrian Rogers on Evolution
—-
Charles Darwin Autobiography
—
The basis for human dignity by Francis Schaeffer and C. Everett Koop
Dust in the Wind by KANSAS
—-
Kerry Livgren and Dave Hope of KANSAS on 700 Club Part 1
——-
Kerry Livgren and Dave Hope of KANSAS on 700 Club Part 2
—-
—-
—-