—
Canary Islands 2014: Harold Kroto and Richard Dawkins
_
On November 21, 2014 I received a letter from Nobel Laureate Harry Kroto and it said:
…Please click on this URL http://vimeo.com/26991975
and you will hear what far smarter people than I have to say on this matter. I agree with them.
Harry Kroto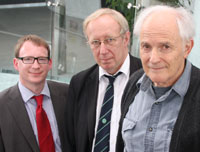 Nick Gathergood, David-Birkett, Harry-Kroto
I have attempted to respond to all of Dr. Kroto's friends arguments and I have posted my responses one per week for over a year now. Here are some of my earlier posts:
Arif Ahmed, Sir David Attenborough, Mark Balaguer, Horace Barlow, Michael Bate, Patricia Churchland, Aaron Ciechanover, Noam Chomsky,Alan Dershowitz, Hubert Dreyfus, Bart Ehrman, Stephan Feuchtwang, David Friend, Riccardo Giacconi, Ivar Giaever , Roy Glauber, Rebecca Goldstein, David J. Gross, Brian Greene, Susan Greenfield, Stephen F Gudeman, Alan Guth, Jonathan Haidt, Theodor W. Hänsch, Brian Harrison, Hermann Hauser, Roald Hoffmann, Bruce Hood, Herbert Huppert, Gareth Stedman Jones, Steve Jones, Shelly Kagan, Michio Kaku, Stuart Kauffman, Lawrence Krauss, Harry Kroto, George Lakoff, Elizabeth Loftus, Alan Macfarlane, Peter Millican, Marvin Minsky, Leonard Mlodinow, Yujin Nagasawa, Alva Noe, Douglas Osheroff, Jonathan Parry, Saul Perlmutter, Herman Philipse, Carolyn Porco, Robert M. Price, Lisa Randall, Lord Martin Rees, Oliver Sacks, John Searle, Marcus du Sautoy, Simon Schaffer, J. L. Schellenberg, Lee Silver, Peter Singer, Walter Sinnott-Armstrong, Ronald de Sousa, Victor Stenger, Barry Supple, Leonard Susskind, Raymond Tallis, Neil deGrasse Tyson, .Alexander Vilenkin, Sir John Walker, Frank Wilczek, Steven Weinberg, and Lewis Wolpert,
In the second video below in the 67th clip in this series are Richard Dawkins' words that Harry Kroto wanted me to see. Since then I have read several of Richard Dawkins books and have attempted to respond to the contents of these books directly to Richard Dawkins by mail. In fact, I have been writing Richard Dawkins letters since May 15, 1994 which was the 10th anniversary of the passing of one of my heroes, Francis Schaeffer. Francis Schaeffer spent a lot of time responding to many of Richard Dawkins' heroes such as Carl Sagan, Jacques Monod, H.J. Blackham, Isaac Newton, Ludwig Wittgenstein, Max Planck, Johann Sebastian Bach, Francis Bacon, Samuel Beckett, Leonardo Da Vinci, Albert Einstein, Michael Faraday, Gerald Horton, Edmund Leach, Louis Pasteur, George Wald, Jacob Bronowski, Steven Weinberg, Charles Darwin, Paul Kurtz, Peter Singer, Jonathan Miller, William B. Provine, Woody Allen, Noam Chomsky, James D. Watson, Francis Crick, Michael Polanyi, The Huxley family, Antony Flew, and Edward O. Wilson (Dawkins has since revised his opinion of Flew and Wilson, but he earlier regarded them very highly).
_
_
Both Francis Schaeffer and Richard Dawkins have talked extensively about the life of Charles Darwin.
_
Sir Harry Kroto with his high school friend Sir Ian McKellan at the FSU National High Field Magnetic Lab on Tuesday, October 27, 2009.
50 Renowned Academics Speaking About God (Part 1)
_
Another 50 Renowned Academics Speaking About God (Part 2)
_
_
Edit Post ‹ The Daily Hatch — WordPress
A Further 50 Renowned Academics Speaking About God (Part 3)
_
Richard Dawkins Photos Photos – Professor Stephen Hawking Unveils Medal For Science Communication – Zimbio
Professor Stephen Hawking Unveils Medal For Science Communication In This Photo: Richard Dawkins, Stephen Hawking, Brian May, Harold Kroto, Alexi Leonov, Garik Israelian
__
Richard Dawkins, founder of the Richard Dawkins Foundation for Reason and Science. Credit: Don Arnold Getty Images
16
–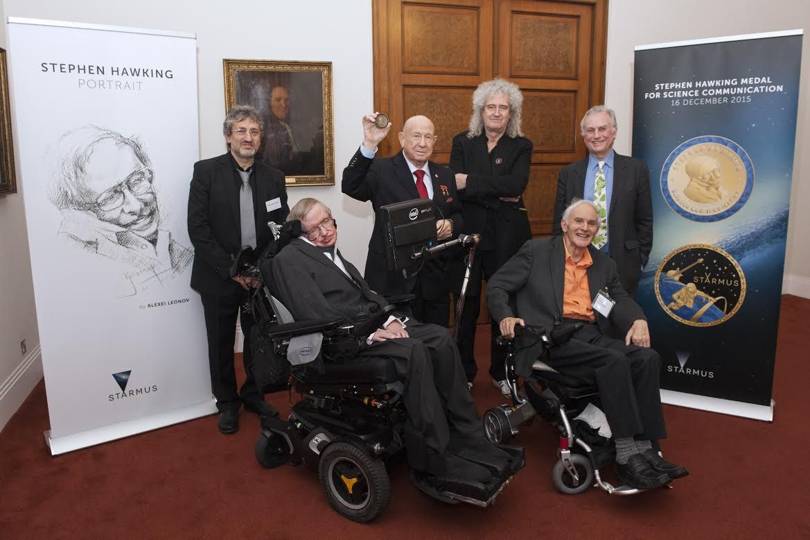 Garik Israelian, Stephen Hawking, Alexey Leonov, Brian May, Richard Dawkins and Harry Kroto
—-
—-
—-
—-
August 3, 2019
Richard Dawkins c/o Richard Dawkins Foundation,
Washington, DC 20005
Dear Mr. Dawkins,
Page 72 in THE GOD DELUSION: "Another way to express that error [of agnosticism] is in terms of burden of proof & example of B. Russell's parable of celestial teapot"
However, Bertie also states OPTIMISTIC HUMANISM IS NOT POSSIBLE in his work A FREE MAN'S WORSHIP.
Bertrand dogmatically states that OPTIMISTIC HUMANISM IS NOT POSSIBLE in his work A FREE MAN'S WORSHIP. "A Free Man's Worship" (first published as "The Free Man's Worship" in Dec. 1903) is perhaps Bertrand Russell's best known and most reprinted essay. Here are his exact words:
Such, in outline, but even more purposeless, more void of meaning, is the world which Science presents for our belief. Amid such a world, if anywhere, our ideals henceforward must find a home. That Man is the product of causes which had no prevision of the end they were achieving; that his origin, his growth, his hopes and fears, his loves and his beliefs, are but the outcome of accidental collocations of atoms; that no fire, no heroism, no intensity of thought and feeling, can preserve an individual life beyond the grave; that all the labours of the ages, all the devotion, all the inspiration, all the noonday brightness of human genius, are destined to extinction in the vast death of the solar system, and that the whole temple of Man's achievement must inevitably be buried beneath the debris of a universe in ruins–all these things, if not quite beyond dispute, are yet so nearly certain, that no philosophy which rejects them can hope to stand. Only within the scaffolding of these truths, only on the firm foundation of unyielding despair, can the soul's habitation henceforth be safely built.
_
__
Francis Schaeffer on pages 178 to 179 of volume 1 THE GOD WHO IS THERE asserted:
I do not believe that there is a leap of faith needed; there are good and sufficient reasons to know why Christianity is true–and more than that, that is the Bible's insistence. The Bible's emphasis is that there are good and sufficient reasons to know Christianity is true, so much so that we are disobedient and guilty if we do not believe it.
The Christian system (what is taught in the whole Bible) is a unity of thought. Christianity is not just a lot of bits and pieces–there is a beginning and an end, a whole system of truth, and this system is the only system that will stand up to all the questions that are presented to us as we face the reality of existence. Some of the other systems answer some of the questions but leave others unanswered. I believe it is only Christianity that gives the answers to all the crucial questions.
What are those questions? The questions are those which are presented to us as we face the reality of existence. God shuts us up to reality. We cannot escape the reality of what is, no matter what we say we believe or think.
This reality of which I speak falls into two parts: the fact that the universe truly exists and it has form, and then what I would call the "mannishness" of man–which is my own term for meaning that man is unique. People have certain qualities that must be explained.
God has shut up all people to these things, and I always like to go back to the statement of Jean-Paul Sartre,though he had no answer for his own statement, and that is that the basic philosophic question is that something is there. Things do exist, and this demands an explanation for their existence. I would then go beyond Sartre's statement to one by Albert Einstein. Einstein said that the most amazing thing about the universe is that we can know something truly about it.In other words, it has a form that is comprehensible, even though we cannot exhaust it. And then I would say beyond that–no matter what people say they are, they are what they are, that is,man is unique as made in the image of God. Any system of thought, to be taken seriously, has to at least try to explain these two great phenomena of the universe and man. In other words, we are talking about objective truth related to reality and not just something within our own heads.
Now I would like to add a corollary to this: in WHATEVER HAPPENED TO THE HUMAN RACE?, and especially the extensive notes of the fifth chapter, there is a third thing and that is the way the Bible measures up to history. Once we say that, this is very exciting. It is very exciting because other religions are not founded in history, they are "out there" somewhere, or you can think of them as inside of your own head–whichever way you are looking at it. On the other hand, the Bible claims to be rooted in history. Whether we are considering the history of the Old Testament, whether we are considering the history of Christ, including the resurrection, or Paul's journeys, it is insisted on as real history. So now we have three interwoven parts. Usually I have dealt with the twentieth-century person, but the third is also there. We have to face the reality of the universe and its having an existence and having a form. We have to face the reality in the uniqueness of man. We are able to discuss the fact that the Bible is rooted in history.
You want some evidence that indicates that the Bible is true? Here is a good place to start and that is taking a closer look at the archaeology of the Old Testament times. Is the Bible historically accurate? Here are some of the posts I have done in the past on the subject: 1. The Babylonian Chronicle, of Nebuchadnezzars Siege of Jerusalem, 2. Hezekiah's Siloam Tunnel Inscription. 3. Taylor Prism (Sennacherib Hexagonal Prism), 4. Biblical Cities Attested Archaeologically. 5. The Discovery of the Hittites, 6.Shishak Smiting His Captives, 7. Moabite Stone, 8. Black Obelisk of Shalmaneser III, 9A Verification of places in Gospel of John and Book of Acts., 9B Discovery of Ebla Tablets. 10. Cyrus Cylinder, 11. Puru "The lot of Yahali" 9th Century B.C.E., 12. The Uzziah Tablet Inscription, 13. The Pilate Inscription, 14. Caiaphas Ossuary, 14 B Pontius Pilate Part 2, 14c. Three greatest American Archaeologists moved to accept Bible's accuracy through archaeology.,
____
The answer to find meaning in life is found in putting your faith and trust in Jesus Christ. The Bible is true from cover to cover and can be trusted.
Thank you again for your time and I know how busy you are.
Everette Hatcher, everettehatcher@gmail.com, http://www.thedailyhatch.org, cell ph 501-920-5733, Box 23416, LittleRock, AR 72221, United States

—-
Related posts:
On November 21, 2014 I received a letter from Nobel Laureate Harry Kroto and it said: …Please click on this URL http://vimeo.com/26991975 and you will hear what far smarter people than I have to say on this matter. I agree with them. Harry Kroto _________________ Below you have picture of 1996 Chemistry Nobel Prize Winner […]
The Beatles were "inspired by the musique concrète of German composer and early electronic music pioneer Karlheinz Stockhausen…" as SCOTT THILL has asserted. Francis Schaeffer noted that ideas of "Non-resolution" and "Fragmentation" came down German and French streams with the influence of Beethoven's last Quartets and then the influence of Debussy and later Schoenberg's non-resolution which is in total contrast […]
_______ On November 21, 2014 I received a letter from Nobel Laureate Harry Kroto and it said: …Please click on this URL http://vimeo.com/26991975 and you will hear what far smarter people than I have to say on this matter. I agree with them. Harry Kroto _________________ Below you have picture of 1996 Chemistry Nobel Prize […]
On November 21, 2014 I received a letter from Nobel Laureate Harry Kroto and it said: …Please click on this URL http://vimeo.com/26991975 and you will hear what far smarter people than I have to say on this matter. I agree with them. Harry Kroto ____________________ Below you have picture of 1996 Chemistry Nobel Prize Winner Dr. […]