—
Canary Islands 2014: Harold Kroto and Richard Dawkins
_
This is the third portion of my 5-15-94 letter to Richard Dawkins and last week I posted the second portion and next week I will post the fourth portion.
SECTION #2 If there is no Afterlife, how can there be any lasting meaning to our lives? Should people be asking themselves these types of Questions???
Albert Camus:The fundamental question about life is meaning, anything else is secondary and until that question of meaning is dealt with I really cannot for what the answers are for the other queries.George H. Smith – Religions are successful, not because they provide the correct answers, but because they ask important questions—Questions that concern every human being. What is the nature of the universe? Is there a purpose, or plan, to human existence? …PESSIMISM FROM AGNOSTICS?Nathaniel Brandon: But twentieth-century philosophy has almost totally backed off from the responsibility of offering such a vision or addressing itself to the kind of questions human beings struggle with in the course of their existence. Twentieth-century philosophy typically scorns system building. The problems to which it addresses itself grow smaller and smaller and more and more remote from human experience. At their philosophical conferences and conventions, philosophers explicitly acknowledge that they have nothing of practical value to offer anyone. This is not my accusation; they announce it themselves.During the same period of history, the twentieth century, orthodox religion has lost more and more of its hold over people's minds and lives. It is perceived as more and more irrelevant. Its demise as a cultural force really began with the Renaissance and has been declining ever since.But the need for answers persists. The need for values by which to guide our lives remains unabated. The hunger for intelligibility is as strong as it ever was. The world around us is more and more confusing, more and more frightening; the need to understand it cries out in anguish.The ENCYCLPEDIA OF PHILOSOPHY on page 471 "When Fred Hoyle in his book THE NATURE OF THE UNIVERSE turns to what he calls 'the deeper issues' and remarks that we find ourselves in a 'dreadful situation' in which there is 'scarcely a clue as to whether our existence has ourselves in a 'dreadful situation' in which there is 'scarcely a clue as to whether our existence has any real significance.' He is using the word 'significance' in this comic sense."
On Sunday April 11, 1920 in Chicago there was a debate on this question: Has life any meaning? The following 3 quotes were taken from that meeting:Percy Ward -How can life have any meaning at all, when all living things, along with the world on which they live, are doomed to destruction? What meaning can there be to life, when its dominant law is age-long and world-wide struggle for existence? What possible meaning can there be to life, when the chief experience of living things is suffering and pain? Percy Ward – "To what end is comic evolution moving? All this life which rises, step by step, from moneron to main is impotent effort; the road to nowhere. Imagine an artist devoting his entire life to the painting of a wonderful picture; and then, when his picture is completed, tearing it to ribbons, what could be the meaning of such a painter's behavior? Arthur J. Balfour – "Man, so far as natural science by itself is able to teach us, is no longer the final cause of the universe, the heaven-descended heir of all the ages. His very existence is an accident, history a brief and transitory episode in the life of one of the meanest of the planets…Man will go down into the pit, and all his thoughts will perish, the uneasy consciousness, which in this obscure corner has for a long space broken the contented silence of the universe, will be at rest. Matter will know itself no longer. Imperishable monuments and immortal deeds, death itself, will be as though they had never been."SHOULD TRUE HUMANISTS BE OPTIMISTS OR NIHILISTS?????????Paul Kurtz –
220 × 323Images may be subject to copyright. Learn More
"The universe is neutral, indifferent to man's existential yearnings. But we instinctively discover life, experience its throb, its excitement, its attraction. Life is here to be lived, enjoyed, suffered, and endured…Again–one cannot 'prove' this normative principle to everyone's satisfaction. Living beings tend instinctively to maintain themselves and to reproduce beyond ultimate justification. It is a brute fact of our contingent natures; It is an instinctive desire to live."

J.P. Moreland – "2 Objections to optimistic humanism: #1 There is no rational justification for choosing it over nihilism. As far as rationality is concerned, it has nothing to offer over nihilism. Therefore, optimistic humanism suffers from some of the same objections we raised against nihilism. Kurtz himself admits that the ultimate values of humanism are incapable of rational justification!!!!!! #2 Optimistic Humanism really answers the question of the meaning of life in the negative, just as nihilism does. For the optimistic humanist life has no objective value or purpose; It offers only subjective satisfaction, one should think long and hard before embracing such a horrible view. If there is a decent case that life has objective value and purpose, then such a case should be given as good a hearing as possible.
R.C. Sproul:Nihilism has two traditional enemies–Theism and Naive Humanism. The theist contradicts the nihilist because the existence of God guarantees that ultimate meaning and significance of personal life and history. Naive Humanism is considered naive by the nihilist because it rhapsodizes–with no rational foundation–the dignity and significance of human life. The humanist declares that man is a cosmic accident whose origin was fortuitous and entrenched in meaningless insignificance. Yet in between the humanist mindlessly crusades for, defends, and celebrates the chimera of human dignity…Herein is the dilemma: Nihilism declares that nothing really matters ultimately…In my judgment, no philosophical treatise has ever surpassed or equaled the penetrating analysis of the ultimate question of meaning versus vanity that is found in the Book of Ecclesiastes
PAGE 4
J. Kerby Anderson– "The cynicism and skepticism in the arts, politics, commerce, and the media all testify to the futility of trying to find wisdom and meaning in a world without wisdom based on 'the Fear of the Lord' is folly.
1200 × 628Images may be subject to copyright. Learn M
Ravi Zacharias – "Having killed God, the atheist is left with no reason for being, no morality to espouse, no meaning to life and no hope beyond the grave."Arthur Ashe – (born in 1943, won U.S.Open in 1968, and Wimbledon in 1975) "If I am just remembered as an exceptional tennis player then my life really was not much."The next two quotes by Kai Nielson and the next quote by J.P. Moreland were taken from a debate held at Ole Miss on March 24, 1988. This debate was later published by Prometheus Books by the title DOES GOD EXIST?
Does death ultimately take away the love we feel for others?Kai Nielson – "If you love someone, whether there is a God or not, that love can go on. It remains intact. It might even be more intact, because if death ends it all, the love relationships between people in life are all the more precious because that is all there is in that respect. So that's perfectly intact, God or no God. Indeed, as I have just argued, it may even become more important."
220 × 305Images may be subject to copyright. Learn More
Clarence Darrow – "I love my friends, but they all must come to a tragic end. Death is more terrible the more one is attached to things in the world." Do we need a lasting purpose to our lives?Kai Nielson – "There are all those intentions, purposes, goals, and the like that you can figure out and can have. They are what John Rawls called life plans. You can have all these purposes in life even though there is no purpose to life. So life doesn't become meaningless and pointless if you were not made for a purpose."
200 × 238Images may be subject to copyright. Learn
Francis Schaeffer – "The struggle for modern man is to begin with himself and find a meaning in life. Not just plans in life. It is nothing to have plans in life. Anybody can find plans in life. A child can fill up his time with plans of building tomorrow's sand castle when today's have been washed away. There is a difference between finding plans in life and purpose."J.P.Moreland – "James Rachels says that we don't need purpose in the sense of an over arching objective purpose to life, but we can have purpose in life, as Nielson says. And he means by that 'subjective satisfaction,' things that we find worthwhile to us. Now if this is true, what's the difference, let's say between becoming a doctor and feeding the poor and sitting around pinching heads off rats or being a Sisyphus and pushing a rock up and down a hill, or giving your time to flipping tiddlywinks? There is no difference since each of these options could be satisfying and worthwhile to someone."Marvin Kohl – (Taken from an article in FREE INQUIRY, Spring 81 issue, article entitled, "The Meaning of Life and belief in God" ) "….Belief in beneficent providence is untrue. It is untrue because there is no evidence to warrant the claim that there is a benevolent force behind nature. Not only does the secular humanist deny that we have knowledge about a friend behind the universe; He also denies that we have knowledge about divine or cosmic purpose. The argument in its essential form is simple and, I believe, decisive. Purposes can only be correctly assigned to sentient beings; And since man does not have knowledge that God or other sentient beings govern the universe, He cannot on a cognitive level maintain that the universe has any purpose…The facts also indicate that many, like lady Katharine (Bertrand Russell's Christian daughter who was quoted earlier in the article), are given insight about the meaning of life, about the chief end of human living, when they believe God makes a disclosure about his own nature and purpose and gently embraces them in his absolute love. In short, it appears to be true that belief in God has had and still has the power to give comfort and consolation to millions of devout believers. Largely because of this, two important claims cannot be easily, if at all, dismissed. They are: (1) that in addition to other basic human needs, there is a need for psychological security, which includes the need to believe in God, or at least believe that the cosmos is guided by a loving purpose; and (2) that this need is often successfully met if a man genuinely recognizes that his goal for living is in, and given to him by, God."Aldous Huxley – "Science does not retain the sovereignty over metaphysical pronouncements…Science does not have the right to give to me my reason for being and my definition for existence, but I am going to take science's view because I want this world not to have meaning because it frees me to my own erotic and political desires."
—
On November 21, 2014 I received a letter from Nobel Laureate Harry Kroto and it said:
…Please click on this URL http://vimeo.com/26991975
and you will hear what far smarter people than I have to say on this matter. I agree with them.
Harry Kroto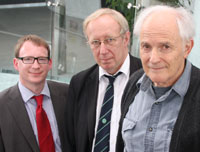 Nick Gathergood, David-Birkett, Harry-Kroto
I have attempted to respond to all of Dr. Kroto's friends arguments and I have posted my responses one per week for over a year now. Here are some of my earlier posts:
Arif Ahmed, Sir David Attenborough, Mark Balaguer, Horace Barlow, Michael Bate, Patricia Churchland, Aaron Ciechanover, Noam Chomsky,Alan Dershowitz, Hubert Dreyfus, Bart Ehrman, Stephan Feuchtwang, David Friend, Riccardo Giacconi, Ivar Giaever , Roy Glauber, Rebecca Goldstein, David J. Gross, Brian Greene, Susan Greenfield, Stephen F Gudeman, Alan Guth, Jonathan Haidt, Theodor W. Hänsch, Brian Harrison, Hermann Hauser, Roald Hoffmann, Bruce Hood, Herbert Huppert, Gareth Stedman Jones, Steve Jones, Shelly Kagan, Michio Kaku, Stuart Kauffman, Lawrence Krauss, Harry Kroto, George Lakoff, Elizabeth Loftus, Alan Macfarlane, Peter Millican, Marvin Minsky, Leonard Mlodinow, Yujin Nagasawa, Alva Noe, Douglas Osheroff, Jonathan Parry, Saul Perlmutter, Herman Philipse, Carolyn Porco, Robert M. Price, Lisa Randall, Lord Martin Rees, Oliver Sacks, John Searle, Marcus du Sautoy, Simon Schaffer, J. L. Schellenberg, Lee Silver, Peter Singer, Walter Sinnott-Armstrong, Ronald de Sousa, Victor Stenger, Barry Supple, Leonard Susskind, Raymond Tallis, Neil deGrasse Tyson, .Alexander Vilenkin, Sir John Walker, Frank Wilczek, Steven Weinberg, and Lewis Wolpert,
In the second video below in the 67th clip in this series are Richard Dawkins' words that Harry Kroto wanted me to see. Since then I have read several of Richard Dawkins books and have attempted to respond to the contents of these books directly to Richard Dawkins by mail. In fact, I have been writing Richard Dawkins letters since May 15, 1994 which was the 10th anniversary of the passing of one of my heroes, Francis Schaeffer. Francis Schaeffer spent a lot of time responding to many of Richard Dawkins' heroes such as Carl Sagan, Jacques Monod, H.J. Blackham, Isaac Newton, Ludwig Wittgenstein, Max Planck, Johann Sebastian Bach, Francis Bacon, Samuel Beckett, Leonardo Da Vinci, Albert Einstein, Michael Faraday, Gerald Horton, Edmund Leach, Louis Pasteur, George Wald, Jacob Bronowski, Steven Weinberg, Charles Darwin, Paul Kurtz, Peter Singer, Jonathan Miller, William B. Provine, Woody Allen, Noam Chomsky, James D. Watson, Francis Crick, Michael Polanyi, The Huxley family, Antony Flew, and Edward O. Wilson (Dawkins has since revised his opinion of Flew and Wilson, but he earlier regarded them very highly).
_
_
Both Francis Schaeffer and Richard Dawkins have talked extensively about the life of Charles Darwin.
_
Sir Harry Kroto with his high school friend Sir Ian McKellan at the FSU National High Field Magnetic Lab on Tuesday, October 27, 2009.
50 Renowned Academics Speaking About God (Part 1)
_
Another 50 Renowned Academics Speaking About God (Part 2)
_
_
Edit Post ‹ The Daily Hatch — WordPress
A Further 50 Renowned Academics Speaking About God (Part 3)
_
Richard Dawkins Photos Photos – Professor Stephen Hawking Unveils Medal For Science Communication – Zimbio
Professor Stephen Hawking Unveils Medal For Science Communication In This Photo: Richard Dawkins, Stephen Hawking, Brian May, Harold Kroto, Alexi Leonov, Garik Israelian
__
Richard Dawkins, founder of the Richard Dawkins Foundation for Reason and Science. Credit: Don Arnold Getty Images
16
–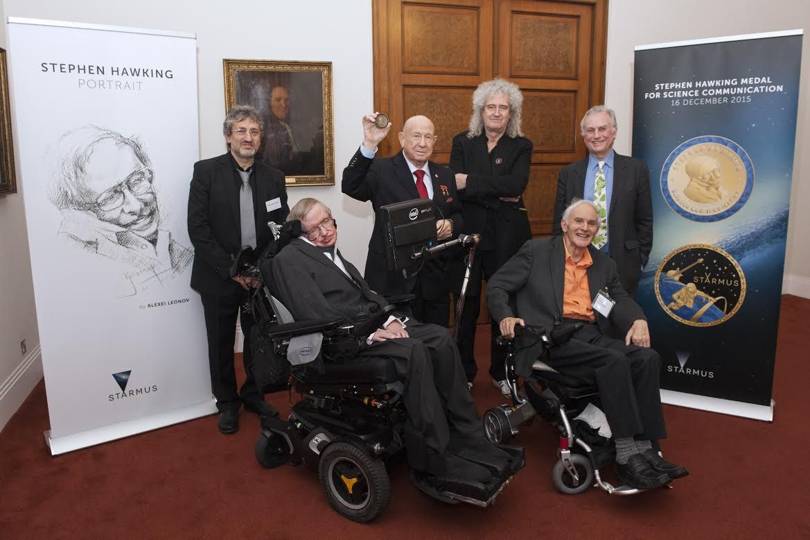 Garik Israelian, Stephen Hawking, Alexey Leonov, Brian May, Richard Dawkins and Harry Kroto
—-
—-
—-
—-
—-
Related posts:
On November 21, 2014 I received a letter from Nobel Laureate Harry Kroto and it said: …Please click on this URL http://vimeo.com/26991975 and you will hear what far smarter people than I have to say on this matter. I agree with them. Harry Kroto _________________ Below you have picture of 1996 Chemistry Nobel Prize Winner […]
The Beatles were "inspired by the musique concrète of German composer and early electronic music pioneer Karlheinz Stockhausen…" as SCOTT THILL has asserted. Francis Schaeffer noted that ideas of "Non-resolution" and "Fragmentation" came down German and French streams with the influence of Beethoven's last Quartets and then the influence of Debussy and later Schoenberg's non-resolution which is in total contrast […]
_______ On November 21, 2014 I received a letter from Nobel Laureate Harry Kroto and it said: …Please click on this URL http://vimeo.com/26991975 and you will hear what far smarter people than I have to say on this matter. I agree with them. Harry Kroto _________________ Below you have picture of 1996 Chemistry Nobel Prize […]
On November 21, 2014 I received a letter from Nobel Laureate Harry Kroto and it said: …Please click on this URL http://vimeo.com/26991975 and you will hear what far smarter people than I have to say on this matter. I agree with them. Harry Kroto ____________________ Below you have picture of 1996 Chemistry Nobel Prize Winner Dr. […]