_
XXX November 29, 2019
November 29, 2019
Richard Dawkins c/o Richard Dawkins Foundation,  Washington, DC 20005
Richard Dawkins c/o Richard Dawkins Foundation, Washington, DC 20005
Dear Mr. Dawkins,
I have enjoyed reading about a dozen of your books and some of the most intriguing were The God Delusion, An Appetite for Wonder: The Making of a Scientist, and Brief Candle in the Dark: My Life in Science.
I have posted in the past showing the false claims made in "Outgrowing God," and you can reference these by googling "Outgrowing God The Daily Hatch." Some questions raised by you include "Did Jesus even exist?" One of my favorite posts was FRANCIS SCHAEFFER ANALYZES ART AND CULTURE Part 292 In OUTGROWING GOD Richard Dawkins wrongly notes "Genesis says Abraham owned camels, but archaeological evidence shows that the camel was not domesticated until many centuries after Abraham" Featured Artist is Paul Pfeiffer
I enjoyed your latest book Outgrowing God which is one of my favorite books that you have written. However, there are some some weak parts of the book. For instance, on page 49:
There's some beautiful English writing in the King James Bible. Ecclesiastes is at least as good as the Song of Songs, although it's poetry is bleak and world-weary. If you read nothing else in the Bible, I recommend those two books, Ecclesiastes and the Song of Songs.
Have you taken the time to really dig into Ecclesiastes? It is really an attack on the humanism that you hold so dear.

Francis Schaeffer on Ecclesiastes below:
—-
OUTLINE OF ECCLESIATES BY SCHAEFFER
_______
William Lane Craig on Man's predicament if God doesn't exist
Read Waiting for Godot by Samuel Beckett. During this entire play two men carry on trivial conversation while waiting for a third man to arrive, who never does. Our lives are like that, Beckett is saying; we just kill time waiting—for what, we don't know.
Thus, if there is no God, then life itself becomes meaningless. Man and the universe are without ultimate significance.
Francis Schaeffer looks at Nihilism of Solomon and the causes of it!!!
Notes on Ecclesiastes by Francis Schaeffer
Solomon is the author of Ecclesiastes and he is truly an universal man like Leonardo da Vinci.
Two men of the Renaissance stand above all others –Michelangelo and Leonardo da Vinci and it is in them that one can perhaps grasp a view of the ultimate conclusion of humanism for man. Michelangelo was unequaled as a sculptor in the Renaissance and arguably no one has ever matched his talents.
The other giant of the Renaissance period was Leonardo da Vinci – the perfect Renaissance Man, the man who could do almost anything and does it better than most anyone else. As an inventor, an engineer, an anatomist, an architect, an artist, a chemist, a mathematician, he was almost without equal. It was perhaps his mathematics that lead da Vinci to come to his understanding of the ultimate meaning of Humanism. Leonardo is generally accepted as the first modern mathematician. He not only knew mathematics abstractly but applied it in his Notebooks to all manner of engineering problems. He was one of the unique geniuses of history, and in his brilliance he perceived that beginning humanistically with mathematics one only had particulars. He understood that man beginning from himself would never be able to come to meaning on the basis of mathematics. And he knew that having only individual things, particulars, one never could come to universals or meaning and thus one only ends with mechanics. In this he saw ahead to where our generation has come: everything, including man, is the machine.
Leonardo da Vinci compares well to Solomon and they both were universal men searching for the meaning in life. Solomon was searching for a meaning in the midst of the details of life. His struggle was to find the meaning of life. Not just plans in life. Anybody can find plans in life. A child can fill up his time with plans of building tomorrow's sand castle when today's has been washed away. There is a difference between finding plans in life and purpose in life. Humanism since the Renaissance and onward has never found it and it has never found it since. Modern man has not found it and it has always got worse and darker in a very real way.
We have here the declaration of Solomon's universality:
1 Kings 4:30-34
English Standard Version (ESV)
30 so that Solomon's wisdom surpassed the wisdom of all the people of the east and all the wisdom of Egypt. 31 For he was wiser than all other men, wiser than Ethan the Ezrahite, and Heman, Calcol, and Darda, the sons of Mahol, and his fame was in all the surrounding nations. 32 He also spoke 3,000 proverbs, and his songs were 1,005. 33 He spoke of trees, from the cedar that is in Lebanon to the hyssop that grows out of the wall. He spoke also of beasts, and of birds, and of reptiles, and of fish.34 And people of all nations came to hear the wisdom of Solomon, and from all the kings of the earth, who had heard of his wisdom.
_________________________
Here is the universal man and his genius. Solomon is the universal man with a empire at his disposal. Solomon had it all.
Ecclesiastes 1:3
English Standard Version (ESV)
3 What does man gain by all the toil
at which he toils under the sun?
Schaeffer noted that Solomon took a look at the meaning of life on the basis of human life standing alone between birth and death "under the sun." This phrase UNDER THE SUN appears over and over in Ecclesiastes.
(Added by me:The Christian Scholar Ravi Zacharias noted, "The key to understanding the Book of Ecclesiastes is the term UNDER THE SUN — What that literally means is you lock God out of a closed system and you are left with only this world of Time plus Chance plus matter." )
Man is caught in the cycle
Ecclesiastes 1:1-7
English Standard Version (ESV)
All Is Vanity
1 The words of the Preacher, the son of David, king in Jerusalem.
2 Vanity of vanities, says the Preacher,
vanity of vanities! All is vanity.
3 What does man gain by all the toil
at which he toils under the sun?
4 A generation goes, and a generation comes,
but the earth remains forever.
5 The sun rises, and the sun goes down,
and hastens to the place where it rises.
6 The wind blows to the south
and goes around to the north;
around and around goes the wind,
and on its circuits the wind returns.
7 All streams run to the sea,
but the sea is not full;
to the place where the streams flow,
there they flow again.
8 All things are full of weariness;
a man cannot utter it;
the eye is not satisfied with seeing,
nor the ear filled with hearing.
9 What has been is what will be,
and what has been done is what will be done,
and there is nothing new under the sun.
10 Is there a thing of which it is said,
"See, this is new"?
It has been already
in the ages before us.
_____________
Solomon is showing a high degree of comprehension of evaporation and the results of it. Seeing also in reality nothing changes. There is change but always in a set framework and that is cycle. You can relate this to the concepts of modern man. Ecclesiastes is the only pessimistic book in the Bible and that is because of the place where Solomon limits himself.He limits himself to the question of human life, life under the sunbetween birth and death and the answers this would give.
Ecclesiastes 1:4
English Standard Version (ESV)
4 A generation goes, and a generation comes,
but the earth remains forever.
___________________
Ecclesiastes 4:16
English Standard Version (ESV)
16 There was no end of all the people, all of whom he led. Yet those who come later will not rejoice in him. Surely this also is vanity and a striving after wind.
__________________________
In verses 1:4 and 4:16 Solomon places man in the cycle. He doesn't place man outside of the cycle. Man doesn't escape the cycle. Man is only cycle. Birth and death and youth and old age. With this in mind Solomon makes this statement.
Ecclesiastes 6:12
12 For who knows what is good for a man during his lifetime, during the few years of his futile life? He will spend them like a shadow. For who can tell a man what will be after him under the sun?
____________________
There is no doubt in my mind that Solomon had the same experience in his life that I had as a younger man. I remember standing by the sea and the moon arose and it was copper and beauty. Then the moon did not look like a flat dish but a globe or a sphere since it was close to the horizon. One could feel the global shape of the earth too. Then it occurred to me that I could contemplate the interplay of the spheres and I was exalted because I thought I can look upon them with all their power, might, and size, but they could contempt nothing and I felt as man as God. Then came upon me a horror of great darkness because it suddenly occurred to me that although I could contemplate them and they could contemplate nothing yet they would continue to turn in ongoing cycles when I saw no more forever and I was crushed.
THIS IS SOLOMON'S FEELING TOO. The universal man, Solomon, beyond our intelligence with an empire at his disposal with the opportunity of observation so he could recite these words here in Ecclesiastes 6:12, "For who knows what is good for a man during his lifetime, during the few years of his futile life? He will spend them like a shadow. For who can tell a man what will be after him under the sun?"
_
—-
Why not take a few minutes and just read the short chapter of Psalms 22 that was written hundreds of years before the Romans even invented the practice of Crucifixion. 1000 years BC the Jews had the practice of stoning people but we read in this chapter a graphic description of Christ dying on the cross. How do you explain that without looking ABOVE THE SUN to God. Ecclesiastes was written to those who wanted to examine life UNDER THE SUN without God in the picture and Solomon's conclusion in the final chapter was found in Ecclesiastes 12 when he looked at life ABOVE THE SUN:
13 The end of the matter; all has been heard. Fear God and keep his commandments, for this is the whole duty of man. 14 For God will bring every deed into judgment, with every secret thing, whether good or evil.

The answer to find meaning in life is found in putting your faith and trust in Jesus Christ. The Bible is true from cover to cover and can be trusted.
Thank you again for your time and I know how busy you are.
Everette Hatcher, everettehatcher@gmail.com, http://www.thedailyhatch.org, cell ph 501-920-5733, Box 23416, LittleRock, AR 72221, United States
Richard Dawkins and Ricky Gervais
_
Francis Schaeffer below:
Richard Dawkins vs John Lennox | The God Delusion Debate
Ben Stein vs. Richard Dawkins Interview

XXXX Peter Singer – The Genius of Darwin: The Uncut Interviews – Richard Dawkins
XXXXXXX
__
__
Science Confirms the Bible with Ken Ham
__
Schaeffer with his wife Edith in Switzerland.
Richard Dawkins and John Lennox
_
_
Francis and Edith Schaeffer seen below:
__
_
Dawkins, Hitchens, Dennett, Harris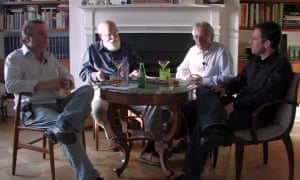 Canary Islands 2014: Harold Kroto and Richard Dawkins
__
Francis Schaeffer pictured below:
The Basis of Human Dignity by Francis Schaeffer
Richard Dawkins, founder of the Richard Dawkins Foundation for Reason and Science. Credit: Don Arnold Getty Images
—
Francis Schaeffer in 1984
Christian Manifesto by Francis Schaeffer
Francis Schaeffer in 1982
—-
Whatever Happened to the Human Race? Episode 1
—
—
–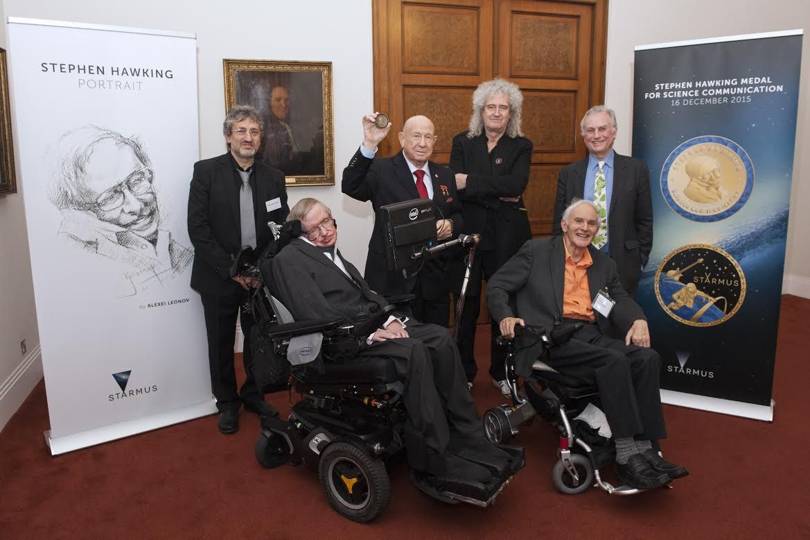 Garik Israelian, Stephen Hawking, Alexey Leonov, Brian May, Richard Dawkins and Harry Kroto
—-
—-
—-
Dark History of Evolution-Henry Morris, Ph.D.
—-
Featured artist is William Kentridge
William Kentridge was born in Johannesburg, South Africa, in 1955. He attended the University of the Witwatersrand, Johannesburg (1973–76), Johannesburg Art Foundation (1976–78), and studied mime and theater at L'École Internationale de Théâtre Jacques Lecoq, Paris (1981–82). Having witnessed first-hand one of the twentieth century's most contentious struggles—the dissolution of apartheid—Kentridge brings the ambiguity and subtlety of personal experience to public subjects that are most often framed in narrowly defined terms.
Using film, drawing, sculpture, animation, and performance, he transmutes sobering political events into powerful poetic allegories. In a now-signature technique, Kentridge photographs his charcoal drawings and paper collages over time, recording scenes as they evolve. Working without a script or storyboard, he plots out each animated film, preserving every addition and erasure. Aware of myriad ways in which we construct the world by looking, Kentridge uses stereoscopic viewers and creates optical illusions with anamorphic projection, to extend his drawings-in-time into three dimensions.
Kentridge has had major exhibitions at San Francisco Museum of Modern Art (2009); Philadelphia Museum of Art (2008); Moderna Museet, Stockholm, (2007); and the Metropolitan Museum of Art, New York (2004); among others. He has also participated in Prospect.1 New Orleans (2008); the Sydney Biennale (1996, 2008); and Documenta (1997, 2002). His opera and theater works, often produced in collaboration with Handspring Puppet Company, have appeared at Brooklyn Academy of Music (2007); Standard Bank National Arts Festival, Grahamstown, South Africa (1992, 1996, 1998); and Festival d'Avignon, France (1995, 1996).
His production of Dmitri Shostakovich's opera, The Nose, premiered in 2010 at the Metropolitan Opera, New York, in conjunction with a retrospective organized by San Francisco Museum of Modern Art and the Museum of Modern Art, New York. William Kentridge lives and works in Johannesburg, South Africa.
—-
Related posts:
On November 21, 2014 I received a letter from Nobel Laureate Harry Kroto and it said: …Please click on this URL http://vimeo.com/26991975 and you will hear what far smarter people than I have to say on this matter. I agree with them. Harry Kroto _________________ Below you have picture of 1996 Chemistry Nobel Prize Winner […]
The Beatles were "inspired by the musique concrète of German composer and early electronic music pioneer Karlheinz Stockhausen…" as SCOTT THILL has asserted. Francis Schaeffer noted that ideas of "Non-resolution" and "Fragmentation" came down German and French streams with the influence of Beethoven's last Quartets and then the influence of Debussy and later Schoenberg's non-resolution which is in total contrast […]
_______ On November 21, 2014 I received a letter from Nobel Laureate Harry Kroto and it said: …Please click on this URL http://vimeo.com/26991975 and you will hear what far smarter people than I have to say on this matter. I agree with them. Harry Kroto _________________ Below you have picture of 1996 Chemistry Nobel Prize […]
On November 21, 2014 I received a letter from Nobel Laureate Harry Kroto and it said: …Please click on this URL http://vimeo.com/26991975 and you will hear what far smarter people than I have to say on this matter. I agree with them. Harry Kroto ____________________ Below you have picture of 1996 Chemistry Nobel Prize Winner Dr. […]