_
I started this series on my letters and postcards to Hugh Hefner back in September when I read of the passing of Mr. Hefner. There are many more to come. It is my view that he may have taken time to look at glance at one or two of them since these postcards were short and from one of Hef's favorite cities!!!!
Postcards from New Orleans Feb 5, 2017 Proverbs 5
——–
Hugh Hefner Playboy Mansion 16236 Charing Cross Road
Los Angeles, CA 90024 Feb 5, 2017 Dear Hugh Reading a Proverb for every day of the month has been a practice of mine for a long time. Today is February 5. 2017 and I'm reading Proverbs 5 which is appropriate since I am spending a week in New Orleans this month. Here are verses 3-14:
The lips of a seductive woman are oh so sweet,
her soft words are oh so smooth.
But it won't be long before she's gravel in your mouth,
a pain in your gut, a wound in your heart.
She's dancing down the primrose path to Death;
she's headed straight for Hell and taking you with her.
She hasn't a clue about Real Life,
about who she is or where she's going.
7-14 So, my friend, listen closely;
don't treat my words casually.
Keep your distance from such a woman;
absolutely stay out of her neighborhood.
You don't want to squander your wonderful life,
to waste your precious life among the hardhearted.
Why should you allow strangers to take advantage of you?
Why be exploited by those who care nothing for you?
You don't want to end your life full of regrets,
nothing but sin and bones,
Saying, "Oh, why didn't I do what they told me?
Why did I reject a disciplined life?
Why didn't I listen to my mentors,
or take my teachers seriously?
My life is ruined!
I haven't one blessed thing to show for my life!"
Never Take Love for Granted
—- There is hope!!! Check out John 3:16!!! Best wishes, Everette Hatcher Xx
____
These comments below are from Francis Schaeffer' study on Ecclesiastes and they reminded me of Hugh Hefner who was the closest person to a modern day King Solomon and I was also reminded of a Hefner's possible bitterness against women that started when he learned of his wife's sexual betrayal of him in 1949. Below are Schaeffer's comments followed by an article concerning what Hefner called "the most devastating moment in my life."
___________
If one would flee to alcohol, then surely one may choose sexual pursuits to flee to. Solomon looks in this area too.
Ecclesiastes 7:25-28
25 I directed my mind to know, to investigate and to seek wisdom and an explanation, and to know the evil of folly and the foolishness of madness. 26 And I discovered more bitter than death the woman whose heart is snares and nets, whose hands are chains. One who is pleasing to God will escape from her, but the sinner will be captured by her.
27 "Behold, I have discovered this," says the Preacher, "adding one thing to another to find an explanation, 28 I have looked for other answers but have found none. I found one man in a thousand that I could respect, but not one woman. (Good News Translation on verse 28)
One can understand both Solomon's expertness in this field and his bitterness.
I Kings 11:1-3 (New American Standard Bible)
11 Now King Solomon loved many foreign women along with the daughter of Pharaoh: Moabite, Ammonite, Edomite, Sidonian, and Hittite women, 2 from the nations concerning which the Lord had said to the sons of Israel, "You shall not associate with them, nor shall they associate with you, for they will surely turn your heart away after their gods." Solomon held fast to these in love. 3 He had seven hundred wives, princesses, and three hundred concubines, and his wives turned his heart away.
An expert but also the reason for his bitterness. Certainly there have been many men over the centuries who have daydreamed of Solomon's wealth in this area [of women], but at the end it was sorry, not only sorry but nothing and less than nothing. The simple fact is that one can not know woman in the real sense by pursuing 1000 women. It is not possible. Woman is not found this way. All that is left in this setting if one were to pursue the meaning of life in this direction is this most bitter word found in Ecclesiastes 7:28, "I have looked for other answers but have found none. I found one man in a thousand that I could respect, but not one woman." (Good News Translation on verse 28) He was searching in the wrong way. He was searching for the answer to life in the limited circle of that which is beautiful in itself but not an answer finally in sexual life. More than that he finally tried to find it in variety and he didn't even touch one woman at the end.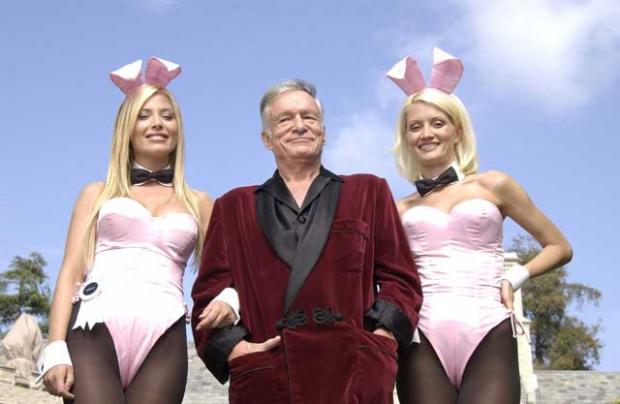 The infidelity would forever skew his view on sexuality
Thursday 28 September 2017 11:47 BST
A man who became famous for his hedonism, Hugh Hefner claims to have slept with more than 1,000 women with a stable of girlfriends less than a third of his age.
But it turns out that the silk-robed, pipe-smoking Casanova's Playboy lifestyle may have been sparked by the "devastating" betrayal of his first wife.
Hugh – who died yesterday age 91 – vowed to 'save himself' for childhood sweetheart Mildred 'Millie' Williams until they got married. But just days before their wedding, Williams revealed that she had slept with someone else.
"I had literally saved myself for my wife, but after we had sex she told me that she'd had an affair. That was the most devastating moment in my life," Hefner once said.
Despite the revelation, the pair got married in 1949 and went on to have two children – daughter Christie Hefner, born in 1952, and son David, born three years later.
However, the betrayal loomed over their marriage and Williams gave her husband permission to sleep with other women; a decision that would forever skew his views on the institution and sexuality.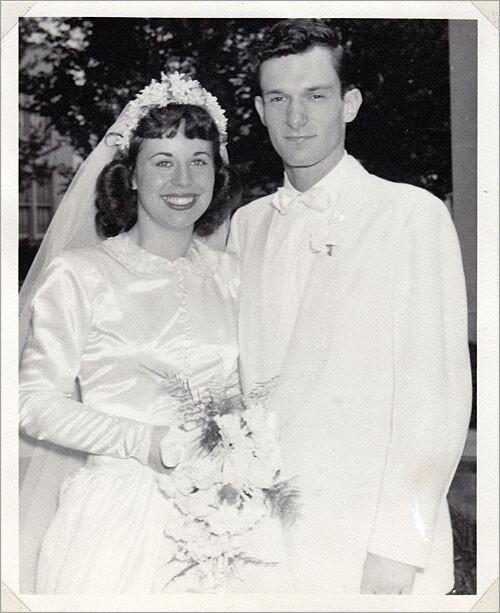 After 10 years the marriage came to an end but with the successful launch of Playboy in 1953, Hefner's lavish and lecherous lifestyle was only just beginning.
The serial ladies' man who became famed for hosting decadent parties at his luxurious Playboy Mansion, has dated a parade of high-profile women over the years…
_
October 1, 2017 Matt Kennedy Preventing Grace PodcastAnne Kennedy: The children and I are memorizing Ecclesiastes Chapter 12 this fall. I read it out on Thursday September 28th and it was if it was written for Hugh Hefner or for any person who goes throughout their life without thinking about their creator. The description of death is so interesting in Ecclesiastes 12. Solomon wrote the passage and his life looked to be as perfect as Hugh Hefner's . Matt Kennedy: If you had all the power in the world and all the money in the world what would you do? Solomon did whatever his heart desired. Few of us have the power or the means to do that but Solomon had both. Anne Kennedy: But the thing that Solomon regretted was that he wasn't a peasant in a hut with his one wife. That is what he wished he could have had.
Matt Kennedy:
What is better in life than to work with your hands and enjoy your food and the wife of your youth? That is what he wishes that he had, not the women, not the kingdom, not the riches, not the building projects. Everything he desired he got, but he was empty at the end, it was dust. It is not an inaccurate comparison to compare Hugh Hefner to King Solomon because at least in his pursuit of women Solomon probably outdid him, yet at the end Solomon came to repentance and not so sure about Hugh Hefner.
Anne Kennedy:
Solomon returned to the wisdom of his youth and it seems that Hugh Hefner never had any wisdom. He had nothing to go back to.
Matt Kennedy:
Hefner was raised a Methodist though.
Anne Kennedy:
It seems that his parents did not communicate the substance of their faith to their son except to be ridged.
Playboy founder Hugh Hefner has died at the age of 91.
The American icon helped usher in the 1960s sexual revolution with his groundbreaking men's magazine and built a business empire around his libertine lifestyle.
Hefner, once called the "prophet of pop hedonism", peacefully passed away at his home, Playboy Enterprises confirmed.
29th July 1970: Hef and girlfriend Barbi Benton arrive at Heathrow Airport in his private jet, the "Big Bunny" during a grand tour of his empire.On board with him were Jet Bunnies dressed in all black wet-look uniforms, and they were met at the airport by British Bunnies.(Image: Daily Mirror)1 of 34  
27th September 1972: Playboy king Hugh Hefner pictured during a press conference at the Hilton Hotel."I'm never going to grow up," Hefner said in a CNN interview when he was 82."Staying young is what it is all about for me. Holding on to the boy and long ago I decided that age really didn't matter and as long as the ladies … feel the same way, that's fine with me."(Image: Daily Mirror)2 of 34
8th August 1971: Hef pictured at Heathrow Airport before his flight to Saint-Tropez.There to see him off was playmate Marilyn Cole. Also travelling with Hefner is Roman Polanski (left).(Image: Daily Mirror)3 of 34
26th September 1972: Hef, girlfriend Barbi Benton and Bunny Girls arrive at Heathrow Airport on the "Big Bunny".Hefner was sometimes characterised as an oversexed Peter Pan as he kept a harem of young blondes that numbered as many as seven at his legendary Playboy Mansion.(Image: Daily Mirror)4 of 34   http://tpc.googlesyndication.com/safeframe/1-0-13/html/container.html
3rd September 1969: Hugh Hefner arriving at Gatwick Airport with his girlfriend Barbara (Barbi) Benton.(Image: Daily Herald)5 of 34
6th September 1969: Hef and Barbi in their travels again.(Image: Daily Herald)6 of 34
1966: Playboy Bunnies await Hef's arrival at London Airport.He said his swinging lifestyle might have been a reaction to growing up in a repressed family where affection was rarely exhibited.His so-called stunted childhood led to a multi-million-dollar enterprise that centered on naked women but also espoused Hefner's "Playboy philosophy" based on romance, style and the casting off of mainstream mores.(Image: Sunday Mirror)7 of 34  
20th February 1971: Hef on his Playboy Jet headed for chicago with, left to right, Marilyn Cole, Barbi Benton and, seated, Connie Kreski.Hef held legendary parties in his mansions – first in his native Chicago, then in Los Angeles' exclusive Holmby Hills neighbourhood – where legions of male celebrities swarmed to mingle with beautiful young women.(Image: Sunday Mirror)8 of 34
(Image: Sunday Mirror)9 of 34
25th June 1966: Hefner arrives at London Airport and is welcomed by fifty Playboy Bunnies.Hefner proved to be a genius at branding. The magazine's rabbit silhouette became one of the best known logos in the world and the "bunny" waitresses in his Playboy nightclubs were instantly recognisable in their low-cut bathing suit-style uniforms with bow ties, puffy cotton tails and pert rabbit ears.(Image: Sunday Mirror)10 of 34  
1966: Playboy Bunnies wait to welcome Hef to London."What I created came out of my own adolescent dreams of fantasies," he told CNN. "I was trying to redefine what it meant to be a young, urban unattached male."(Image: Sunday Mirror)11 of 34
25th June 1966: Hefner and his Bunny harem at London Airport.Hef, as he began calling himself in high school, also was a living logo for Playboy, presiding over his realm in silk pajamas and a smoking jacket while puffing on a pipe.(Image: Sunday Mirror)12 of 34
29th July 1970: Hef had a private DC9-30 jet, the "Big Bunny".On board with him were Jet Bunnies dressed in all black wet-look uniforms, and they were met at the airport by British Bunnies.(Image: Daily Mirror)13 of 34
Featured artist is Kimsooja
Kimsooja was born in 1957 in Taegu, South Korea. She earned a BFA (1980) and MA (1984) from Hong-Ik University, Seoul. Kimsooja's videos and installations blur the boundaries between aesthetics and transcendent experience through their use of repetitive actions, meditative practices, and serial forms. In many pieces, everyday actions—such as sewing or doing laundry—become two- and three-dimensional or performative activities. Central to her work is the "bottari," a traditional Korean bed cover used to wrap and protect personal belongings, which Kimsooja transforms into a philosophical metaphor for structure and connection.
In videos that feature her in various personas (Needle Woman, Beggar Woman, Homeless Woman), she leads us to reflect on the human condition, offering open-ended perspectives through which she presents and questions reality. Using her own body, facing away from the camera, Kimsooja becomes a void; we literally see and respond through her. While striking for their vibrant color and density of imagery, Kimsooja's works emphasize metaphysical changes within the artist-as-performer as well as the viewer.
Kimsooja has received the Anonymous Was a Woman Award (2002), among others, and has been an artist-in-residence at the World Trade Center, New York (1998); P.S.1 Contemporary Art Center, Long Island City (1992–93); and École Nationale Supérieure des Beaux-arts, Paris (1984). She has had major exhibitions at Los Angeles County Museum of Art (2009); Hirshhorn Museum and Sculpture Garden, Washington, DC (2008); Museo Nacional Centro de Arte Reina Sofía, Madrid (2006); Magasin 3, Stockholm Konsthall, Sweden (2006); Massachusetts Institute of Technology, List Visual Arts Center, Cambridge (2005); and other institutions. Kimsooja has participated in international exhibitions, including the Venice Biennale (2001, 2005, 2007); Yokohama Triennial (2005); and Whitney Biennial (2002). Kimsooja lives and works in New York.
Links:
Artist's website
Related posts:
Ecclesiastes 2-3 Published on Sep 19, 2012 Calvary Chapel Spring Valley | Sunday Evening | September 16, 2012 | Derek Neider _____________________________ I have written on the Book of Ecclesiastes and the subject of the meaning of our lives on several occasions on this blog. In this series on Ecclesiastes I hope to show how secular […] By Everette Hatcher III | Posted in Current Events | Edit | Comments (0)
Is Love All You Need? Jesus v. Lennon Posted on January 19, 2011 by Jovan Payes 0 On June 25, 1967, the Beatles participated in the first worldwide TV special called "Our World". During this special, the Beatles introduced "All You Need is Love"; one of their most famous and recognizable songs. In it, John Lennon […] By Everette Hatcher III | Posted in Francis Schaeffer | Edit | Comments (0)
___________________ Something happened to the Beatles in their journey through the 1960's and although they started off wanting only to hold their girlfriend's hand it later evolved into wanting to smash all previous sexual standards. The Beatles: Why Don't We Do It in the Road? _______ Beatle Ringo Starr, and his girlfriend, later his wife, […] By Everette Hatcher III | Posted in Current Events | Edit | Comments (0)
__________ Marvin Minsky __ I was sorry recently to learn of the passing of one of the great scholars of our generation. I have written about Marvin Minsky several times before in this series and today I again look at a letter I wrote to him in the last couple of years. It is my […] By Everette Hatcher III | Posted in Adrian Rogers, Francis Schaeffer | Edit | Comments (0)
Why was Tony Curtis on the cover of SGT PEPPERS? I have no idea but if I had to hazard a guess I would say that probably it was because he was in the smash hit SOME LIKE IT HOT. Above from the movie SOME LIKE IT HOT __ __ Jojo was a man who […] By Everette Hatcher III | Posted in Current Events | Edit | Comments (0)
__ Francis Schaeffer did not shy away from appreciating the Beatles. In fact, SERGEANT PEPPER'S LONELY HEARTS CLUB BAND album was his favorite and he listened to it over and over. I am a big fan of Francis Schaeffer but there are detractors that attack him because he did not have all the degrees that they […] By Everette Hatcher III | Posted in Atheists Confronted, Francis Schaeffer | Edit | Comments (0)