——
Video Shows 4-Year-Old Shooting at Police to 'Free' His Dad
Suspect Sadaat Johnson was arrested and charged with child abuse after his 4-year-old child fired a gun at officers in February
Utah police have released body-camera footage showing a Feb. 12 incident in which a 4-year-old shot at police officers at a McDonald's drive-thru in Midvale.
Officers with the Unified Police Department were responding to reports that a male suspect allegedly brandished a firearm at McDonald's employees due to an incorrect order around 1:30 p.m. local time, and, once officers arrived and began to detain 27-year-old Sadaat Johnson, a child in the backseat of his vehicle fired a gun at the responders.
In the body-camera footage from the Unified Police Department released to FOX 13 Salt Lake City, officers can be heard telling two distraught children, ages 3 and 4, in the backseat of Johnson's vehicle, "It's okay," after one of the children fired a single shot.
Police initially detained Johnson after they asked him to exit his vehicle and he refused to cooperate, according to a press release from the police department. Footage shows officers forcibly removing the suspect from the driver's seat and handcuffing him on the ground.
UTAH POLICE OFFICERS SHOT AT BY 4-YEAR-OLD CHILD ON ORDERS OF FATHER: REPORTS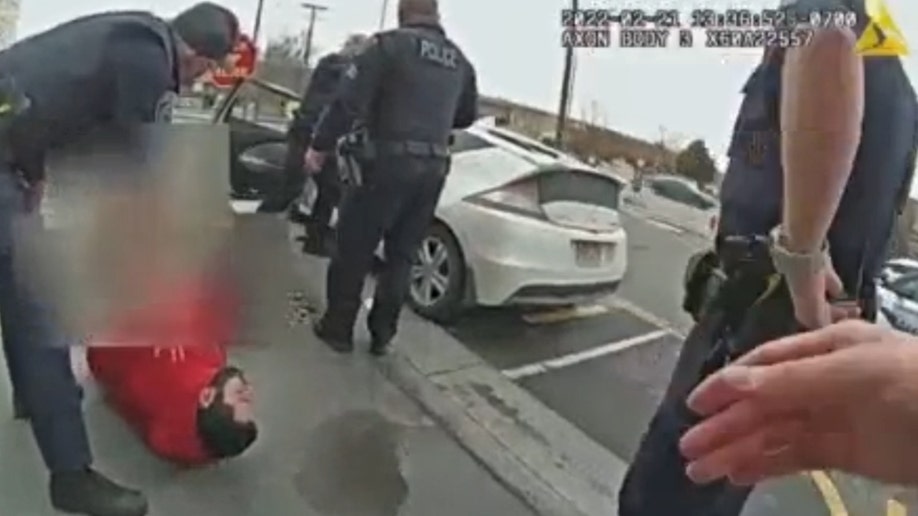 Sadaat Johnson, 27, allegedly pulled a gun on McDonald's employees in Midvale, Utah, on Feb. 12, 2022. (Unified Police Department/ FOX 13 Utah)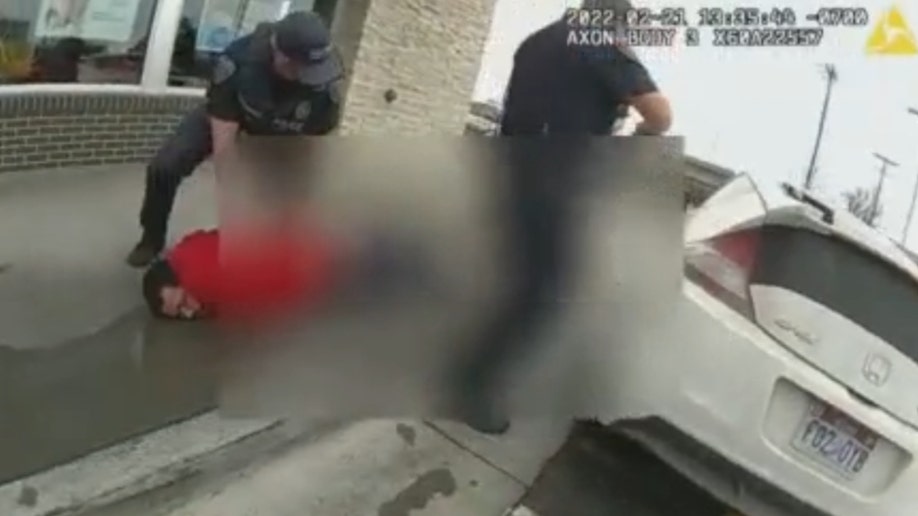 Sadaat Johnson's 4-year-old child allegedly fired a gun at officers after Johnson instructed him to do so during his February arrest. (Unified Police Department/ FOX 13 Utah)
During that time, an officer noticed a gun pointing from a rear window of Johnson's vehicle, at which point he alerted other officers to the gun and pushed it "to the side as a round was fired," the press release states. He also alerted other officers that it was a "kid" who fired the weapon.
A preliminary investigation indicated that the 27-year-old instructed his child to shoot at officers, police said.
UTAH MAN PLEADS GUILTY TO MURDERING 3 SIBLINGS, MOTHER
Court records obtained by FOX 13 revealed that the child shot at officers because "he wanted his daddy back."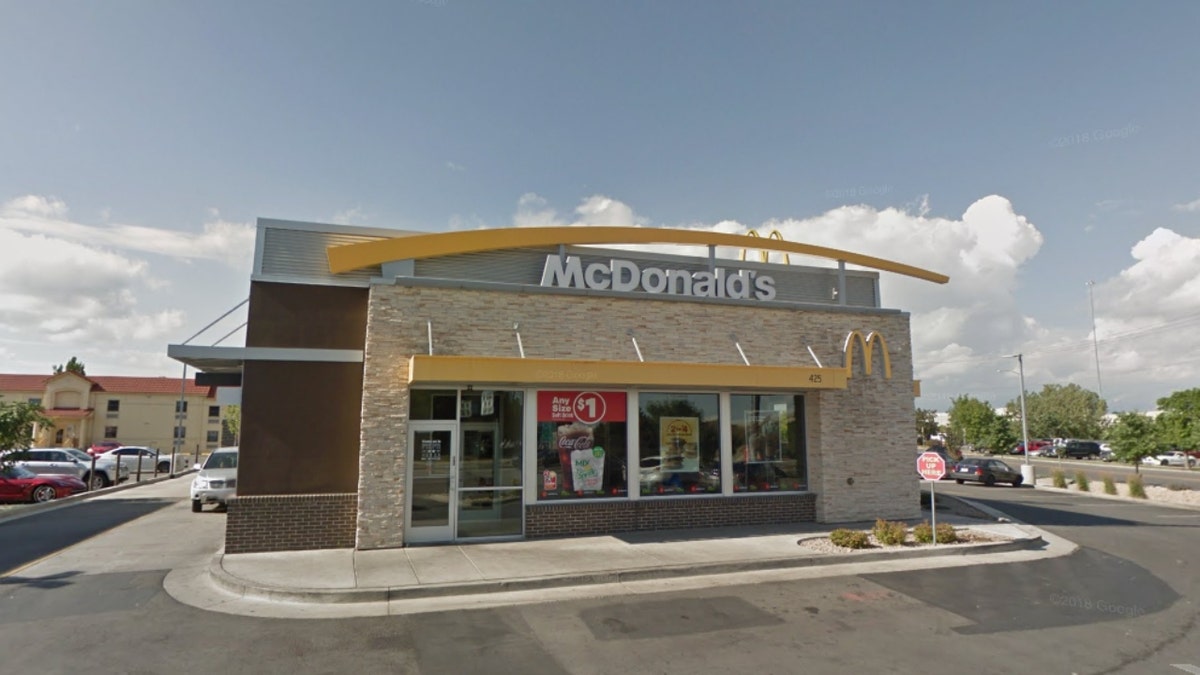 A 4-year-old child fired at police officers at a McDonald's in Midvale, Utah, in February. (Google Maps)
CLICK HERE TO GET THE FOX NEWS APP
"To have an adult think it is okay to encourage a [4]-year-old to pull a firearm and shoot at police illustrates how out of hand the campaign against police has gotten," Sheriff Rosie Rivera said in a February statement after the incident. "This needs to stop and we need to come together as a community to find solutions to the challenges we face in our neighborhoods. Officers are here to protect and serve and we are beyond belief that something like [this] could happen."
Utah authorities charged Johnson with child abuse, aggravated assault and interference with an arresting officer after the incident, according to FOX 13.
Audrey Conklin is a digital reporter for FOX Business and Fox News. Email tips to audrey.conklin@fox.com or on Twitter at @audpants.
———
To rid Portland of the riots completely, the rioters must be prosecuted for the state and federal crimes they are committing. Pictured: A protester signals his defiance early in the morning of Aug. 23 in Portland, Oregon. (Photo: Nathan Howard/Getty Images
—
June 16, 2021
President Biden c/o The White House 1600 Pennsylvania Avenue NW Washington, DC 20500
Dear Mr. President,
Over and over on my blog I have written about your efforts as Vice President and President to attack legally the rights of our unborn babies in the USA. These views of yours are due to your allegiance to the humanist worldview which Francis Schaeffer and Tim LaHaye exposed in their books. Your vast support from humanist groups in the 2020 election proves my point. No wonder we have seen criminals let go and an effort by Democrats (namely VP Harris) to defund the police. The Bible recognizes the sinful nature of humans and calls for the authorities to have the power of the sword in Romans 13! However, there have been times when the IRS has been used against freedom of expression such as the past persecution of the Tea Party. The Founding Fathers did NOT think the King was above the law! Unfortunately many lawmakers today don't care about the law very much it seems which is a result of loss of a Christian Consensus influence in our society!

I wanted to reach out to you because of some of the troubling moral issues coming out of your administration. For instance, it seems that you and Kamala did NOT condemn the riots last summer in Portland and in fact I read last August:
This June, however, after protests turned to looting and violence in Minneapolis, Harris asked her Twitter followers to send money to the Minnesota Freedom Fund to bail out the rioters. The organization subsequently received $35 million and used it to bail out violent criminals, including a suspect who shot at police and a twice-convicted sex offender.
John MacArthur gave a sermon in June of 2021 entitled "When Government Rewards Evil and Punishes Good" and in that sermon he makes the following points:
INTRODUCTION AND DISCUSSION OF ROMANS 13
GOVERNMENT CAN FORFEIT ITS AUTHORITY
THE WORLD IS THE ENEMY OF THE GOSPEL
ALL OF HUMAN HISTORY IS PROGRESSING TOWARD A GLOBAL KINGDOM UNDER THE POWER OF SATAN
ONE FALSE WORLD RELIGION IS FINAL PLAY BY SATAN
REAL PERSECUTION CAN ONLY BE DONE BY GOVERNMENT
PERSECUTION IN BOOK OF DANIEL
THE LAW IS KING AND NOT THE GOVERNOR OF CALIFORNIA
GOVERNMENT HAS BECOME PURVEYOR OF WICKEDNESS
THERE IS A PLACE FOR CIVIL DISOBEDIENCE
DOES GOVERNMENT WIN?
Let me just share a portion of that sermon with you and you can watch it on You Tube:
GOVERNMENT CAN FORFEIT ITS AUTHORITY
A second passage, 1 Peter chapter 2, and verses 13 and 14 will suffice, I think: "Submit yourselves for the Lord's sake to every human institution, whether to a king as the one in authority, or to governors as sent by him"—by the Lord—"for the punishment of evildoers and the praise of those who do right." There again we are to submit for the Lord's sake. "What do you mean 'the Lord's sake'?" When the government is doing what the Lord designed it to do.
When government turns the divine design on its head and protects those who do evil and makes those who do good afraid, it forfeits its divine purpose. In our world today rulers are designing a culture that protects the immoral. It even has reached the point where it desires to protect criminals, and makes those who do good afraid. When the criminals are unrestrained because they don't fear the consequences, but the police are restrained because they fear the consequences of stopping criminals, you know everything is turned on its head. Our government is the source of lies and the protector of liars, and the enemy of those who speak the truth. It praises the evil and persecutes the good.
So God's design for government has been entirely corrupted. As these divinely designed spheres of control in human society descend into chaos, the government will cease to function the way God designed it, and in fact it will become the enemy of the divine design. It will turn everything upside down. It will become the punisher of those who do good, like putting James Coates in prison for preaching but letting rioters go free.
davidsschrock7 months ago
Francis Schaeffer on "The Limits of Civil Obedience"
Last, in A Christian Manifesto(1981), Francis Schaeffer writes the following about Romans 13 and the limits of civil obedience.
The civil government, as all of life, stands under the Law of God. In this fallen world God has given us certain offices to protect us from the chaos which is the natural result of that fallenness. But when any office commands that which is contrary to the Word of God, those who hold that office ABROGATE their authority and they are not to be obeyed. And that includes the state.
Schaeffer cites Romans 13:1–4 and continues,
God has ordained the state as delegated authority; it is not autonomous. The state is to be an agent of justice by punishing the wrongdoer, and to protect the good in society. When it does the reverse, it has no proper authority. It is then a usurped authority and as such it becomes lawless and is tyranny.
—-
Thank you so much for your time. I know how valuable it is. I also appreciate the fine family that you have and your commitment as a father and a husband. I also respect you for putting your faith in Christ for your eternal life. I am pleading to you on the basis of the Bible to please review your religious views concerning abortion. It was the Bible that caused the abolition movement of the 1800's and it also was the basis for Martin Luther King's movement for civil rights and it also is the basis for recognizing the unborn children. I wanted to encourage you to investigate the work of Dr. Bernard Nathanson who like you used to be pro-abortion. I also want you to watch the You Tube series WHATEVER HAPPENED TO THE HUMAN RACE? by Francis Schaeffer and Dr. C. Everett Koop. Also it makes me wonder what our the moral climate Of our nation is when we concentrate more on potential mistakes of the police and we let criminals back on the street so fast! Our national was founded of LEX REX and not REX LEX!
Sincerely,
Everette Hatcher III, 13900 Cottontail Lane, Alexander, AR 72002, ph 501-920-5733,
PS: In this series of letters John MacArthur covers several points. In the first letter, he quotes you saying that the greatest threat to America—he said on one occasion—is systemic racism, which doesn't exist; he said white supremacy, which doesn't exist with any power; and then he said global warming, which doesn't exist either, and if it does, God's in charge of it.
In reality the greatest threat to this nation is the government, the government. And I want to show you how we are to understand that. Turn to Romans 13
In the 2nd letter, Dr. MacArthur noted When government turns the divine design on its head and protects those who do evil and makes those who do good afraid, it forfeits its divine purpose
In the 3rd letter Dr. MacArthur noted The world is the enemy of the gospel. The world is the enemy of the church. I pointed out that this manifests itself today in the form of HUMANISM.
In the 4th letter Dr. MacArthur points out how much today the devil is having his way in our society and that the Bible predicts that these will get worse!
In the 5th letter Francis Schaeffer points out "The HUMANIST MANIFESTOS not only say that humanism is a religion, but the Supreme Court has declared it to be a religion. The 1961 case of Torcaso v. Watkins specifically defines secular humanism as a religion equivalent to theistic and other non theistic religions."
In the 6th letter Dr. MacArthur noted God has given government the sword, the power; and when they prostitute that power and they begin to punish those who do good and protect those who do evil, they wield that power against the people of God.
In the 7th letter Dr. MacArthur asserted, Throughout history, even in the Western world, people lived under what was called the divine right of kings. Kings were believed to have had a divine right. This was absolute monarchy. What broke that was basically the Reformers. The Reformers—a little phrase was "the law is king," not the man.
In the 8th letter Dr. MacArthur noted that today the United States "Government has already become the purveyor of wickedness. Government is a murderer, slaughtering millions of infants in abortion."
Whatever Happened To The Human Race? | Episode 4 | The Basis for Human Dignity
Sunday Night Prime – Dr. Bernard Nathanson – Fr Groeschel, CFR with Fr …

——
Francis Schaeffer pictured above
Larry King had John MacArthur as a guest on his CNN program several times.

When Government Rewards Evil and Punishes Good
_________________________
Related posts:
Francis Schaeffer: "Whatever Happened to the Human Race" (Episode 1) ABORTION OF THE HUMAN RACE Published on Oct 6, 2012 by AdamMetropolis ________________ Picture of Francis Schaeffer and his wife Edith from the 1930′s above. I was sad to read about Edith passing away on Easter weekend in 2013. I wanted to pass along this fine […]By Everette Hatcher III | Posted in Francis Schaeffer, Prolife | Edit | Comments (0)
I have gone back and forth and back and forth with many liberals on the Arkansas Times Blog on many issues such as abortion, human rights, welfare, poverty, gun control and issues dealing with popular culture. Here is another exchange I had with them a while back. My username at the Ark Times Blog is Saline […]By Everette Hatcher III | Posted in Francis Schaeffer, Prolife | Edit | Comments (0)
I have gone back and forth and back and forth with many liberals on the Arkansas Times Blog on many issues such as abortion, human rights, welfare, poverty, gun control and issues dealing with popular culture. Here is another exchange I had with them a while back. My username at the Ark Times Blog is Saline […]By Everette Hatcher III | Posted in Francis Schaeffer, Prolife | Edit | Comments (0)
It is truly sad to me that liberals will lie in order to attack good Christian people like state senator Jason Rapert of Conway, Arkansas because he headed a group of pro-life senators that got a pro-life bill through the Arkansas State Senate the last week of January in 2013. I have gone back and […]By Everette Hatcher III | Posted in Arkansas Times, Francis Schaeffer, Max Brantley, Prolife | Edit | Comments (0)
I have gone back and forth and back and forth with many liberals on the Arkansas Times Blog on many issues such as abortion, human rights, welfare, poverty, gun control and issues dealing with popular culture. Here is another exchange I had with them a while back. My username at the Ark Times Blog is Saline […]By Everette Hatcher III | Posted in Francis Schaeffer, Prolife | Edit | Comments (0)
I have gone back and forth and back and forth with many liberals on the Arkansas Times Blog on many issues such as abortion, human rights, welfare, poverty, gun control and issues dealing with popular culture. Here is another exchange I had with them a while back. My username at the Ark Times Blog is Saline […]By Everette Hatcher III | Posted in Francis Schaeffer, Prolife | Edit | Comments (0)
I have gone back and forth and back and forth with many liberals on the Arkansas Times Blog on many issues such as abortion, human rights, welfare, poverty, gun control and issues dealing with popular culture. Here is another exchange I had with them a while back. My username at the Ark Times Blog is Saline […]By Everette Hatcher III | Posted in Francis Schaeffer, Prolife | Edit | Comments (0)
Sometimes you can see evidences in someone's life of how content they really are. I saw something like that on 2-8-13 when I confronted a blogger that goes by the name "AngryOldWoman" on the Arkansas Times Blog. See below. Leadership Crisis in America Published on Jul 11, 2012 Picture of Adrian Rogers above from 1970′s […]By Everette Hatcher III | Posted in Adrian Rogers, Arkansas Times, Prolife | Edit | Comments (0)
In the film series "WHATEVER HAPPENED TO THE HUMAN RACE?" the arguments are presented against abortion (Episode 1), infanticide (Episode 2), euthenasia (Episode 3), and then there is a discussion of the Christian versus Humanist worldview concerning the issue of "the basis for human dignity" in Episode 4 and then in the last episode a close […]By Everette Hatcher III | Posted in Francis Schaeffer, Prolife | Edit | Comments (0)
I have gone back and forth and back and forth with many liberals on the Arkansas Times Blog on many issues such as abortion, human rights, welfare, poverty, gun control and issues dealing with popular culture. Here is another exchange I had with them a while back. My username at the Ark Times Blog is Saline […]By Everette Hatcher III | Posted in Francis Schaeffer, Prolife | Edit | Comments (0)
I have gone back and forth and back and forth with many liberals on the Arkansas Times Blog on many issues such as abortion, human rights, welfare, poverty, gun control and issues dealing with popular culture. Here is another exchange I had with them a while back. My username at the Ark Times Blog is Saline […]By Everette Hatcher III | Posted in Francis Schaeffer, Prolife | Edit | Comments (3)
I have gone back and forth and back and forth with many liberals on the Arkansas Times Blog on many issues such as abortion, human rights, welfare, poverty, gun control and issues dealing with popular culture. Here is another exchange I had with them a while back. My username at the Ark Times Blog is Saline […]By Everette Hatcher III | Posted in Francis Schaeffer, Prolife | Edit | Comments (2)
E P I S O D E 1 0 Dr. Francis Schaeffer – Episode X – Final Choices 27 min FINAL CHOICES I. Authoritarianism the Only Humanistic Social Option One man or an elite giving authoritative arbitrary absolutes. A. Society is sole absolute in absence of other absolutes. B. But society has to be […]By Everette Hatcher III | Posted in Francis Schaeffer | Tagged francis crick, hitler and stalin, john kenneth galbraith, robert theobald, youtube | Edit | Comments (0)
E P I S O D E 9 Dr. Francis Schaeffer – Episode IX – The Age of Personal Peace and Affluence 27 min T h e Age of Personal Peace and Afflunce I. By the Early 1960s People Were Bombarded From Every Side by Modern Man's Humanistic Thought II. Modern Form of Humanistic Thought Leads […]By Everette Hatcher III | Posted in Francis Schaeffer | Tagged free speech movement, paris riots, personal peace., sproul plaza, www youtube | Edit | Comments (0)
E P I S O D E 8 Dr. Francis Schaeffer – Episode VIII – The Age of Fragmentation 27 min I saw this film series in 1979 and it had a major impact on me. T h e Age of FRAGMENTATION I. Art As a Vehicle Of Modern Thought A. Impressionism (Monet, Renoir, Pissarro, Sisley, […]By Everette Hatcher III | Posted in Francis Schaeffer | Tagged airplane design, http www youtube, marcel duchamp art, post impressionism, van gogh gauguin | Edit | Comments (0)
E P I S O D E 7 Dr. Francis Schaeffer – Episode VII – The Age of Non Reason I am thrilled to get this film series with you. I saw it first in 1979 and it had such a big impact on me. Today's episode is where we see modern humanist man act […]By Everette Hatcher III | Posted in Francis Schaeffer | Tagged french existentialism, humanist philosophers, humanistic philosophy, natural freedom, www youtube | Edit | Comments (0)
E P I S O D E 6 How Should We Then Live 6#1 Uploaded by NoMirrorHDDHrorriMoN on Oct 3, 2011 How Should We Then Live? Episode 6 of 12 ________ I am sharing with you a film series that I saw in 1979. In this film Francis Schaeffer asserted that was a shift in […]By Everette Hatcher III | Posted in Francis Schaeffer | Tagged biblical foundations., biblical influence, french prose, neo darwinism, www youtube | Edit | Comments (0)
E P I S O D E 5 How Should We Then Live? Episode 5: The Revolutionary Age I was impacted by this film series by Francis Schaeffer back in the 1970′s and I wanted to share it with you. Francis Schaeffer noted, "Reformation Did Not Bring Perfection. But gradually on basis of biblical teaching there […]By Everette Hatcher III | Posted in Francis Schaeffer | Tagged christian foundations, freedom of press, freedom of religion, lex rex, www youtube | Edit | Comments (0)
Dr. Francis Schaeffer – Episode IV – The Reformation 27 min I was impacted by this film series by Francis Schaeffer back in the 1970′s and I wanted to share it with you. Schaeffer makes three key points concerning the Reformation: "1. Erasmian Christian humanism rejected by Farel. 2. Bible gives needed answers not only as to […]By Everette Hatcher III | Posted in Francis Schaeffer | Tagged authority of the bible, christian humanism, old testament prophets, school of athens., thomas cromwell | Edit | Comments (0)
Francis Schaeffer's "How should we then live?" Video and outline of episode 3 "The Renaissance" Francis Schaeffer: "How Should We Then Live?" (Episode 3) THE RENAISSANCE I was impacted by this film series by Francis Schaeffer back in the 1970′s and I wanted to share it with you. Schaeffer really shows why we have so […]By Everette Hatcher III | Posted in Francis Schaeffer | Edit | Comments (0)
Francis Schaeffer: "How Should We Then Live?" (Episode 2) THE MIDDLE AGES I was impacted by this film series by Francis Schaeffer back in the 1970′s and I wanted to share it with you. Schaeffer points out that during this time period unfortunately we have the "Church's deviation from early church's teaching in regard […]By Everette Hatcher III | Posted in Francis Schaeffer | Tagged byzantine art, conservative evangelicalism, gothic architecture., gregorian chants, naturalism in art | Edit | Comments (0)
Francis Schaeffer: "How Should We Then Live?" (Episode 1) THE ROMAN AGE Today I am starting a series that really had a big impact on my life back in the 1970′s when I first saw it. There are ten parts and today is the first. Francis Schaeffer takes a look at Rome and why […]
By Everette Hatcher III | Posted in Francis Schaeffer | Edit | Comments (0)