—
Catholic Bishop Slams Pelosi's Bill to Overturn Every Pro-Life Law Nationwide: "This is Child Sacrifice"
Speaker Nancy Pelosi's archbishop chastised Catholic politicians Tuesday for supporting a radical pro-abortion bill that promotes "child sacrifice."
Archbishop Salvatore Cordileone of San Francisco urged Catholics to pray and fast for the defeat of the deceptively named Women's Health Protection Act, according to the Catholic News Agency.
"This proposed legislation is nothing short of child sacrifice," Cordileone said in a statement. "[It] is surely the type of legislation one would expect from a devout Satanist, not a devout Catholic."
Pelosi, a San Francisco Democrat who claims to be Catholic, is expected to bring the bill to the House floor for a vote later this week. If it passes, the legislation would erase basically all restrictions on abortion and prevent states from enacting even modest protections for unborn babies.
The U.S. Conference of Catholic Bishops and other pro-life organizations have been warning Americans about just how radical the legislation is.
In a recent statement, the bishops said the bill would override all "meaningful" limits on late-term abortions and allow viable unborn babies to be aborted for basically any reason up to birth. It would force taxpayers to pay for abortions, too.
LifeNews depends on the support of readers like you to combat the pro-abortion media. Please donate now.
"Any reasonable person with a basic sense of morality and inkling of decency cannot but shudder in horror at such a heinous evil being codified in law," Cordileone said.
He criticized pro-abortion politicians who profess to be Catholic for supporting the legislation. Pelosi is one, President Joe Biden another, though Cordileone did not mention any politician by name.
"To Catholic politicians in particular, I implore you to listen to the words of Pope Francis who just last weekend, during his flight back to Rome from Slovakia, said: 'Abortion is more than a problem. Abortion is homicide…. It is a human life, period. And this human life must be respected,'" the archbishop continued.
Pope Francis also compared aborting an unborn baby to hiring a hitman to murder someone.
In the U.S., Catholic bishops are urging people to pray and support the lives of all people, born and unborn. Cordileone joined them in telling Congress that killing unborn babies is not a way to solve any problem.
"A child is not an object to be thrown away, and neither is a mother's heart," he said. "I've said it before and I'll say it again: The answer to a woman in a crisis pregnancy is not violence but love. This is America. We can do better."
Democrat leaders, angered by the life-saving Texas heartbeat law, hope to appease their pro-abortion supporters by passing the pro-abortion legislation in Congress. They are portraying the bill as a mere "codification" of Roe v. Wade, rather than admitting that it will force states to allow unborn babies to be aborted without limits up to birth.
The bill may pass the Democrat-controlled House, but it likely will be blocked in the Senate.
If passed, the bill would:
Eliminate all state and federal parental consent laws in relation to abortion
Eliminate all state informed consent laws, including those that allow women to view an ultrasound prior to abortion
Prevent states from passing laws to protect babies at 20 weeks, thereby joining countries like North Korea, China, Vietnam, Singapore, Canada, and the Netherlands in not protecting unborn children later in development
Force doctors and nurses opposed to abortion to lose their jobs, and Catholic hospitals could lose public funds unless they perform abortions
Eliminate decades-long limitations on direct taxpayer funding of abortion – including the popular Hyde Amendment, which has saved over 2 million lives since enacted
In short, overturn all federal and state pro-life laws, and go further to make it illegal for elected officials to even introduce pro-life legislation
Polls consistently show strong opposition to the measures in the bill, including taxpayer-funded abortions. A new AP-NORC Center for Public Affairs Research poll found that 65 percent of Americans think most or all abortions should be illegal in the second-trimester and 80 percent think most or all should be illegal in the third trimester.
ACTION ALERT: Contact U.S. House lawmakers and tell them to vote NO on this radical pro-abortion legislation.
Mary Margaret Olohan / @MaryMargOlohan / July 22, 2021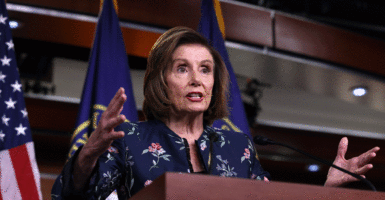 House Speaker Nancy Pelosi says Thursday that she feels "blessed" to have five children "as a devout Catholic," but that "poor women" need taxpayer-funded abortion. (Photo: Anna Moneymaker/Getty Images)
House Speaker Nancy Pelosi said Thursday that she was "blessed" to have five children "as a devout Catholic," but "poor women" need taxpayer-funded abortion.
On Capitol Hill, Pelosi also said falsely that Democrats have not blocked Republicans' attempts to ban taxpayer-funded abortions, before describing taxpayer-funded abortion as "an issue of health, as an issue of fairness."
"It's an issue of health of many women in America, especially those in lower-income situations, and different states, and it is something that has been a priority for many of us a long time," Pelosi, D-Calif., said.
The House speaker then echoed a popular media description of President Joe Biden's faith.
"As a devout Catholic and mother of five in six years, I feel that God blessed my husband and me with our beautiful family; five children in six years almost to the day," she said. "But it's not up to me to dictate that that's what other people should [do], and it is an issue of fairness and justice for poor women in our country."
San Francisco Archbishop Salvatore Cordileone, who is in charge the archdiocese to which Pelosi belongs, told The Daily Caller News Foundation in May that he has had "conversations" with her about abstaining from receiving Holy Communion at Mass because she is a pro-abortion Catholic.
"Because we are dealing with public figures and public examples of cooperation in moral evil, this correction can also take the public form of exclusion from the reception of Holy Communion," Cordileone wrote in the document called "Before I Formed You in the Womb, I Knew You," adding:
When other avenues are exhausted, the only recourse a pastor has left is the public medicine of temporary exclusion from the Lord's Table. This is a bitter medicine, but the gravity of the evil of abortion can sometimes warrant it.
"I have had such conversations with Speaker Pelosi, she knows that I stand by church teaching, and I know she's respectful enough not to do anything so provocative," the archbishop said in May.
"In the case of President Biden or any other prominent Catholic, I think what I would do is if I knew that they were coming into the area here and planned to attend Mass, I would try to have those conversations as well ahead of time," Cordileone added.
Content created by The Daily Caller News Foundation is available without charge to any eligible news publisher that can provide a large audience. For licensing opportunities of this original content, email licensing@dailycallernewsfoundation.org.
Have an opinion about this article? To sound off, please email letters@DailySignal.com and we'll consider publishing your edited remarks in our regular "We Hear You" feature. Remember to include the URL or headline of the article plus your name and town and/or state.
—
June 23, 2021
President Biden c/o The White House 1600 Pennsylvania Avenue NW Washington, DC 20500
Dear Mr. President,
I wanted to reach out to you because of some of the troubling moral issues coming out of your administration.

Over and over on my blog I have written about your efforts as Vice President and President to attack legally the rights of our unborn babies in the USA. These views of yours are due to your allegiance to the humanist worldview which Francis Schaeffer and Tim LaHaye exposed in their books. Your vast support from humanist groups in the 2020 election proves my point. No wonder we have seen criminals let go and an effort by Democrats (namely VP Harris) to defund the police. The Bible recognizes the sinful nature of humans and calls for the authorities to have the power of the sword in Romans 13! However, there have been times when the IRS has been used against freedom of expression such as the past persecution of the Tea Party. The Founding Fathers did NOT think the King was above the law! Unfortunately many lawmakers today don't care about the law very much it seems which is a result of loss of a Christian Consensus influence in our society!


I recently read this article below:
America's second-ever Catholic president supports abortion rights, leaving the bishops unsure about how to move forward.By Emma Green
MARCH 14, 2021
Archbishop Joseph Naumann is anxious about President Joe Biden's soul. The two men are in some ways similar: cradle Catholics born in the 1940s who witnessed John F. Kennedy become America's first Catholic president. Both found a natural home in the Democratic Party—in Naumann's midwestern family, asking Catholics if they were Democrats was a redundancy. Naumann became a priest and Biden became a politician, but their paths really diverged over the issue of abortion. Now in his 70s, Naumann watched Biden—America's second Catholic president—transform into a vocal supporter of abortion rights while competing for the 2020 Democratic presidential nomination. Naumann runs the Archdiocese of Kansas City in Kansas and also leads what the Catholic bishops describe as their pro-life activities. He has suggested that Biden should no longer call himself a devout Catholic. At the very least, Naumann says, Biden should stop receiving Communion, a holy sacrament in Catholic life.
The United States Conference of Catholic Bishops recently convened a working group to discuss how the bishops should interact with Biden, and how they should deal with the challenge of having a visibly Catholic president who defies Church teachings on a central issue. Naumann was part of that group. Conflicts have already arisen: Naumann recently co-authored a statement expressing moral concerns about the Johnson & Johnson vaccine, which was developed and tested using cell lines from aborted fetal tissue. He also joined a statement from a group of the country's top bishops celebrating the passage of the American Rescue Plan Act, but called it "unconscionable that Congress has passed the bill without critical protections needed to ensure that billions of taxpayer dollars are used for life-affirming health care and not for abortion."
John MacArthur gave a sermon in June of 2021 entitled "When Government Rewards Evil and Punishes Good" and in that sermon he makes the following points:
INTRODUCTION AND DISCUSSION OF ROMANS 13
GOVERNMENT CAN FORFEIT ITS AUTHORITY
THE WORLD IS THE ENEMY OF THE GOSPEL
ALL OF HUMAN HISTORY IS PROGRESSING TOWARD A GLOBAL KINGDOM UNDER THE POWER OF SATAN
ONE FALSE WORLD RELIGION IS FINAL PLAY BY SATAN
REAL PERSECUTION CAN ONLY BE DONE BY GOVERNMENT
PERSECUTION IN BOOK OF DANIEL
THE LAW IS KING AND NOT THE GOVERNOR OF CALIFORNIA
GOVERNMENT HAS BECOME PURVEYOR OF WICKEDNESS
THERE IS A PLACE FOR CIVIL DISOBEDIENCE
DOES GOVERNMENT WIN?
Let me just share a portion of that sermon with you and you can watch it on You Tube:
GOVERNMENT HAS BECOME PURVEYOR OF WICKEDNESS
One New Testament writer says that Romans 13 has "caused more unhappiness and misery . . . than any other . . . verses in the New Testament by the license they have given to tyrants . . . used to justify a host of horrendous abuses of individual human rights." Hitler's Holocaust, racism in the apartheid of South Africa, Cantrell says, "Both the Jews in Germany and blacks in South Africa were viewed as a threat to public health and national security. . . . "'Trust us,' said government . . . 'we truly have your best interests at heart. All we want to do is help . . . keep you safe.'"
Government has already become the purveyor of wickedness. Government is a murderer, slaughtering millions of infants in abortion; elevating the LGBTQ agenda, the bizarre transgender deception. The culture has become anti-truth, we all know that. The truth is the biggest threat to lies. William Pitt, well-known name in English history, said this: "Necessity (i.e., public health, common good) is the plea [of] every infringement of human freedom: it is the argument of tyrants. "Get people afraid, and they'll do whatever you want. A fearful society will always comply; panicking people will believe anything" [(Cantrell)].
"During the gruesome and bloody days of the French Revolution, when 40,000 innocent [people] lost their heads," you would be interested to know who was operating the guillotine: the Committee for Public Safety [(Cantrell)]. One writer says, "Governments now get voted into power by promising to oversee housing, education, medicine, the economy, [the] currency, a minimum income, food, water, land, and the list goes on. The government become a parent, and the citizens are dependents. The government in this role becomes a monstrous juggernaut of bureaucracy, devouring taxes and trying to regulate every detail of life." And they definitely want to regulate the church and silence its proclamation.
In his book The Glorious Body of Christ, Kuiper wrote, "Our age is one of ecclesiastical passivism. . . . When a church ceases to be militant it also ceases to be a church of Jesus Christ. . . . A truly militant church stands opposed to the world both without its walls and within. . . . Time and again in its history the church has found it necessary to assert its sovereignty over against usurpations by the state." And Kuiper gave some biblical examples, like when King Saul or King Uzziah usurped the priesthood, stating, "In both cases a representative of the state was severely punished for encroaching [on] the sovereignty of the church."
"Lord Macaulay of England summed up the Puritan reputation this way" [(Cantrell)]. He said of the Puritans, "He bowed himself in the dust before his Maker; [as] he set his foot on the neck of his king." Kuiper says, "Ours is an age of state totalitarianism. All over the world statism is [rising] . . . . In consequence, in many lands the church finds itself utterly at the mercy of the state whose mercy often proves cruelty, while in others the notion is rapidly gaining ground that the church exists and operates by the state's permission." We do not operate by the state's permission; we operate by the Lord's command.
—-
Francis Schaeffer discusses this more in his fine book CHRISTIAN MANIFESTO:
PAGE 437
CHAPTER 3 THE DESTRUCTION OF FAITH AND FREEDOM
And now it is all gone!
In most law schools today almost no one studies William Blackstone unless he or she is taking a course in the history of law. We live in a secularized society and in secularized, sociological law. By sociological law we mean law that has no fixed base but law in which a group of people decides what is sociologically good for society at the given moment; and wha they arbitrarily decide becomes law. Oliver Wendall Holmes (1841-1935) made totally clear that this was his position. Frederick Moore Vinson (1890-1953), former Chief Justice of the United States Supreme Court, said, "Nothing is more certain in modern society than the principle that there are no absolutes." Those who hold this position themselves call it sociological law.
As the new sociological law has moved away from the original base of the Creator giving the "inalienable rights," etc., it has been natural that this sociological law has then also moved away from the Constitution. William Bentley Ball, in his paper entitled "Religious Liberty: The Constitutional Frontier," says:
i propose that secularism militates against religious liberty, and indeed against personal freedoms generally, for two reasons: first, the familiar fact that secularism does not recognize the existence of the "higher law"; second, because, that being so, secularism tends toward decisions based on the pragmatic public policy of the moment and inevitably tends to resist the submitting of those policies to the "higher" criteria of a constitution.
This moving away from the Constitution is not only by court rulings, for example the First Amendment rulings, which are the very reversal of the original purpose of the First Amendment (see pp. 433, 434), but in other ways as well. Quoting again from the same paper by William Bentley Ball:
Our problem consists also, as perhaps this paper has well enough indicated, of more general constitutional delegation of legislative power and ultra vires. The first is where the legislature hands over its powers to agents through the conferral of regulatory power unaccompanied by strict standards. The second is where the agents make up powers on their own–assume powers not given them by the legislature. Under the first, the government of laws largely disappears and the government of men largely replaces it. Under the second, agents' personal "home-made law replaces the law of the elected representatives of the people.
Naturally, this shift from the Judeo-Christian basis for law and the shift away from the restraints of the Constitution automatically militates against religious liberty. Mr. Ball closes his paper:
Fundamentally, in relation to personal liberty, the Constitution was aimed at restraint of the State. Today, in case after case relating to religious liberty, we encounter the bizarre presumption that it is the other way around; that the State is justified in whatever actions, and that religion bears a great burden of proof to overcome that presumption.
It is our job, as Christian lawyers, to destroy that presumption at every turn.
As lawyers discuss the changes in law in the United States, often they speak of the influence of the laws involved in the reentrance of the southern states into the national government after the Civil War. These indeed must be considered. But they were not the reason for the drastic change in law in our country. This reason was the takeover by the totally other world view which never have given the form and freedom in government we have had in Northern Europe (including the United States). That is the central factor in the change.
PAGE 439
It is parallel to the difference between modern science beginning with Copernicus and Galileo and the materialistic science which took over the last century. Materialistic thought would never have produced modern science. Modern science was produced on the Christian base. That is, because an intelligent Creator had created the universe we can in some measure understand the universe and there is, therefore, a reason for observation and experimentation to be pursued.
Then there was a shift into materialistic science based on a philosophic change to the materialistic concept of final reality. This shift was based on no addition to the facts known. It was a choice, in faith, to see things that way. No clearer expression of this could be given than Carl Sagan's arrogant statement on public television–made without any scientific proof for the statement–to 140 million viewers: "The cosmos is all that is or ever was or ever was or ever will be." He opened the series, COSMOS, with this essentially creedal declaration and went on to build every subsequent conclusion upon it.
There is exactly the same parallel in law. The materialistic-energy, chance concept of final reality never would have produced the form and freedom in government we have in this country and in other Reformation countries. But now it has arbitrarily and arrogantly supplanted the historic Judeo-Christian Consensus that provided the base for form and freedom in government. The Judeo-Christian consensus gave greater freedoms than the world has ever known, but it also contained the freedoms so that they did not pound society to pieces. The materialistic concept of reality would not have produced the form-freedom balance, and now that it has taken over it cannot maintain the balance. It has destroyed it.
Will Durant and his wife Ariel together wrote The Story of Civilization. The Durants received the 1976 Humanist Pioneer Award. In The Humanist magazine of February 1977, Will Durant summed up the humanist problem with regard to personal ethics and social order: "Moreover, we shall find it no easy task to mold a natural ethic strong enough to maintain moral restraint and social order without the support of supernatural consolations, hopes, and fears."
Poor Will Durant! It is not just difficult, it is impossible. He should have remembered the quotation he and Ariel Durant gave from the agnostic Renan in their book The Lessons of History. According to the Durants, Renan said in 1866: "If Rationalism wishes to govern the world without regard to the religious needs of the soul, the experience of the French Revolution is there to teach us the consequences of such a blunder." And the Durants themselves say in the same context: "There is no significant example in history, before our time, of a society successfully maintaining moral life without the aid of religion."
PAGE 440
Along with the decline of the Judie-Christian consensus we have come to a new definition and connotation of "pluralism." Until recently it meant that the Christianity flowing from the Reformation is not now as dominant in the country and in society as it was in the early days of the nation. After about 1848 the great viewpoints not shaped by Reformation Christianity. This, of course, is the situation which exists today. Thus as we stand for religious freedom today, we need to realize that this must include a general religious freedom from the control of the state for all religion. It will not mean just freedom for those who are Christians. It is then up to Christians to show that Christianityis the Truth of total reality in the open marketplace of freedom.
This greater mixture in the United States, however, is now used as an excuse for the new meaning and connotation of pluralism. It now is used to mean that all types of situations are spread out before us, and that it really is up to each individual to grab one or the other on the way past, according to the whim of personal preference. What you take is only a matter of personal choice, with one choice as valid as another. Pluralism has come to mean that everything is acceptable. This new concept of pluralism suddenly is everywhere. There is no right or wrong; it is just a matter of your personal preference. On a recent SIXTY MINUTES program on television, for example, the questions of euthanasia of the old and the growing of marijuana as California's largest paying crop were presented this way. One choice is as valid as another. It is just a matter of personal preference. This new definition and connotation of pluralism is presented in many forms, not only in personal ethics, but in society's ethics and in the choices concerning law,
PAGE 440
Now I have a question. In these shifts that have come in law, where have the Christian lawyers been? I really ask you that. The shift has come gradually, but it has only come to its peak in the last 40 or 50 years. Where have the Christian lawyers been? Surely the Christian lawyers should have been the ones to have sounded the trumpet clear and loud, not just in bits and pieces but looking at the totality of what was occurring. Now, a nonlawyer like myself believes I have a right to feel let down because the Christian lawyers did not blow the trumpets clearly between, let us say, 1940 and 1970.

PAGE 441
When I wrote HOW SHOULD WE THEN LIVE? From 1974 to 1976 I worked out of a knowledge of secular philosophy. I moved from the results in secular philosophy, to the results in liberal theology, to the results in the arts, and then I turned to the courts, and especially the Supreme Court. I read Oliver Wendell Holmes and others, and I must say, I was totally appalled by what I read. It was an exact parallel to what i had already known so well from my years of study in philosophy, theology, and the other disciplines.
In the book and film series HOW SHOULD WE THEN LIVE? I used the Supreme Court abortion case as the clearest illustration of arbitrary sociiological law. But it was only the clearest illustration. The law is shot through with this kind of ruling. It is similar to choosing Fletcher's situational ethics and point to it as the clearest illustration of how our society now functions with no fixed ethics. This is only the clearest illustration because in many ways our society functions on unfixed, situational ethics. The abortion case in law is exactly the same. It is only the clearest case. Law in this country has become situational law, using the term Fletcher used for his ethics. That is, a small group of people decide arbitrarily what, from their viewpoint, is for the good of society at that precise moment and they make it law, binding the whole society by their personal arbitrary decisions.
But of course! What would we expect? These things are the natural, inevitable results of the material-energy, humanistic concept of the final basic reality. From the material-energy, chance concept of final reality, final reality is, and must be b it nature, silent as to values, principles, or any basis for law. There is no way to ascertain "the ought:" from "the is." Not only should we have known what this would have produced, but on the basis of this viewpoint of reality, we should have recognized that there are no other conclusions that this view could produce. It is a natural result of really believing that the basic reality of all things is merely material-energy, shaped into its present form by impersonal chance.
No, we must say that the Christians in the legal profession did not ring the bell, and we are indeed very, very far down the road toward a totally humanistic culture. At this moment we are in a humanistic culture, but we are happily not in a totally humanistic culture. But what we must realize is that the drift has been all in this direction. if it is not turned around we will move very rapidly into a totally humanistic culture.
PAGE 442
The law, and especially the courts, is the vehicle to force this total humanistic way of thinking upon the entire population.This is what has happened. The abortion law is a perfect example. The Supreme Court abortion ruling invalidated abortion lawsin all fifty states, even though it seems clear that in 1973 the majority of Americans were against abortion. It did not matter. The Supreme Court arbitrarily ruled that abortion was legal, and overnight they overthrew the state laws and forced their will on the majority, even though their ruling was arbitrary both legally and medically. Thus law and the courts became the vehicle for forcing a totally secular concept on the population.
—-
Thank you so much for your time. I know how valuable it is. I also appreciate the fine family that you have and your commitment as a father and a husband. I also respect you for putting your faith in Christ for your eternal life. I am pleading to you on the basis of the Bible to please review your religious views concerning abortion. It was the Bible that caused the abolition movement of the 1800's and it also was the basis for Martin Luther King's movement for civil rights and it also is the basis for recognizing the unborn children. I wanted to encourage you to investigate the work of Dr. Bernard Nathanson who like you used to be pro-abortion. I also want you to watch the You Tube series WHATEVER HAPPENED TO THE HUMAN RACE? by Francis Schaeffer and Dr. C. Everett Koop. Also it makes me wonder what our the moral climate Of our nation is when we concentrate more on potential mistakes of the police and we let criminals back on the street so fast! Our national was founded of LEX REX and not REX LEX!
Sincerely,
Everette Hatcher III, 13900 Cottontail Lane, Alexander, AR 72002, ph 501-920-5733,
PS: In this series of letters John MacArthur covers several points. In the first letter, he quotes you saying that the greatest threat to America—he said on one occasion—is systemic racism, which doesn't exist; he said white supremacy, which doesn't exist with any power; and then he said global warming, which doesn't exist either, and if it does, God's in charge of it.
In reality the greatest threat to this nation is the government, the government. And I want to show you how we are to understand that. Turn to Romans 13
In the 2nd letter, Dr. MacArthur noted When government turns the divine design on its head and protects those who do evil and makes those who do good afraid, it forfeits its divine purpose
In the 3rd letter Dr. MacArthur noted The world is the enemy of the gospel. The world is the enemy of the church. I pointed out that this manifests itself today in the form of HUMANISM.
In the 4th letter Dr. MacArthur points out how much today the devil is having his way in our society and that the Bible predicts that these will get worse!
In the 5th letter Francis Schaeffer points out "The HUMANIST MANIFESTOS not only say that humanism is a religion, but the Supreme Court has declared it to be a religion. The 1961 case of Torcaso v. Watkins specifically defines secular humanism as a religion equivalent to theistic and other non theistic religions."
In the 6th letter Dr. MacArthur noted God has given government the sword, the power; and when they prostitute that power and they begin to punish those who do good and protect those who do evil, they wield that power against the people of God.
In the 7th letter Dr. MacArthur asserted, Throughout history, even in the Western world, people lived under what was called the divine right of kings. Kings were believed to have had a divine right. This was absolute monarchy. What broke that was basically the Reformers. The Reformers—a little phrase was "the law is king," not the man.
In the 8th letter Dr. MacArthur noted that today the United States "Government has already become the purveyor of wickedness. Government is a murderer, slaughtering millions of infants in abortion."
In the 9th letter the article
Judge gives preliminary OK to $3.5M settlement of IRS case is discussed about the 2013 lawsuit during the Barack Obama administration over treatment of conservative groups who said they were singled out for extra IRS scrutiny on tax-exempt status applications. Then Dr. MacArthur talks about persecution in the Book of Daniel.
"These are groups of law-abiding citizens who should have never had their First Amendment rights infringed upon by the IRS," Jenny Beth Martin, president of the Tea Party Patriots umbrella group, said Wednesday. "These are groups that want the government to be accountable."
The government has been used to persecuting people they don't like for centuries! Let me just share a portion of that sermon by John MacArthur with you and you can watch it on You Tube:
PERSECUTION IN BOOK OF DANIEL
In the 10th letter Dr. MacArthur noted:
THERE IS A PLACE FOR CIVIL DISOBEDIENCE
Francis Schaeffer, who died in 1984, says, "If [there's] no final place for civil disobedience, then the government has been made autonomous, and as such, it has been put in the place of the living God." And that point is exactly when the early Christians performed their acts of civil disobedience, even when it cost them their lives. "Acts of State which contradict God's [Laws] are illegitimate and acts of tyranny. Tyranny is ruling without the sanction of God. To resist tyranny is to honour God. . . . The bottom line is that at a certain point there is not only the right, but the duty to disobey the State."
Whatever Happened To The Human Race? | Episode 4 | The Basis for Human Dignity
Sunday Night Prime – Dr. Bernard Nathanson – Fr Groeschel, CFR with Fr …

——
Francis Schaeffer pictured above
Larry King had John MacArthur as a guest on his CNN program several times.
When Government Rewards Evil and Punishes Good
_________________________
Related posts:
Francis Schaeffer: "Whatever Happened to the Human Race" (Episode 1) ABORTION OF THE HUMAN RACE Published on Oct 6, 2012 by AdamMetropolis ________________ Picture of Francis Schaeffer and his wife Edith from the 1930′s above. I was sad to read about Edith passing away on Easter weekend in 2013. I wanted to pass along this fine […]By Everette Hatcher III | Posted in Francis Schaeffer, Prolife | Edit | Comments (0)
I have gone back and forth and back and forth with many liberals on the Arkansas Times Blog on many issues such as abortion, human rights, welfare, poverty, gun control and issues dealing with popular culture. Here is another exchange I had with them a while back. My username at the Ark Times Blog is Saline […]By Everette Hatcher III | Posted in Francis Schaeffer, Prolife | Edit | Comments (0)
I have gone back and forth and back and forth with many liberals on the Arkansas Times Blog on many issues such as abortion, human rights, welfare, poverty, gun control and issues dealing with popular culture. Here is another exchange I had with them a while back. My username at the Ark Times Blog is Saline […]By Everette Hatcher III | Posted in Francis Schaeffer, Prolife | Edit | Comments (0)
It is truly sad to me that liberals will lie in order to attack good Christian people like state senator Jason Rapert of Conway, Arkansas because he headed a group of pro-life senators that got a pro-life bill through the Arkansas State Senate the last week of January in 2013. I have gone back and […]By Everette Hatcher III | Posted in Arkansas Times, Francis Schaeffer, Max Brantley, Prolife | Edit | Comments (0)
I have gone back and forth and back and forth with many liberals on the Arkansas Times Blog on many issues such as abortion, human rights, welfare, poverty, gun control and issues dealing with popular culture. Here is another exchange I had with them a while back. My username at the Ark Times Blog is Saline […]By Everette Hatcher III | Posted in Francis Schaeffer, Prolife | Edit | Comments (0)
I have gone back and forth and back and forth with many liberals on the Arkansas Times Blog on many issues such as abortion, human rights, welfare, poverty, gun control and issues dealing with popular culture. Here is another exchange I had with them a while back. My username at the Ark Times Blog is Saline […]By Everette Hatcher III | Posted in Francis Schaeffer, Prolife | Edit | Comments (0)
I have gone back and forth and back and forth with many liberals on the Arkansas Times Blog on many issues such as abortion, human rights, welfare, poverty, gun control and issues dealing with popular culture. Here is another exchange I had with them a while back. My username at the Ark Times Blog is Saline […]By Everette Hatcher III | Posted in Francis Schaeffer, Prolife | Edit | Comments (0)
Sometimes you can see evidences in someone's life of how content they really are. I saw something like that on 2-8-13 when I confronted a blogger that goes by the name "AngryOldWoman" on the Arkansas Times Blog. See below. Leadership Crisis in America Published on Jul 11, 2012 Picture of Adrian Rogers above from 1970′s […]By Everette Hatcher III | Posted in Adrian Rogers, Arkansas Times, Prolife | Edit | Comments (0)
In the film series "WHATEVER HAPPENED TO THE HUMAN RACE?" the arguments are presented against abortion (Episode 1), infanticide (Episode 2), euthenasia (Episode 3), and then there is a discussion of the Christian versus Humanist worldview concerning the issue of "the basis for human dignity" in Episode 4 and then in the last episode a close […]By Everette Hatcher III | Posted in Francis Schaeffer, Prolife | Edit | Comments (0)
I have gone back and forth and back and forth with many liberals on the Arkansas Times Blog on many issues such as abortion, human rights, welfare, poverty, gun control and issues dealing with popular culture. Here is another exchange I had with them a while back. My username at the Ark Times Blog is Saline […]By Everette Hatcher III | Posted in Francis Schaeffer, Prolife | Edit | Comments (0)
I have gone back and forth and back and forth with many liberals on the Arkansas Times Blog on many issues such as abortion, human rights, welfare, poverty, gun control and issues dealing with popular culture. Here is another exchange I had with them a while back. My username at the Ark Times Blog is Saline […]By Everette Hatcher III | Posted in Francis Schaeffer, Prolife | Edit | Comments (3)
I have gone back and forth and back and forth with many liberals on the Arkansas Times Blog on many issues such as abortion, human rights, welfare, poverty, gun control and issues dealing with popular culture. Here is another exchange I had with them a while back. My username at the Ark Times Blog is Saline […]By Everette Hatcher III | Posted in Francis Schaeffer, Prolife | Edit | Comments (2)
E P I S O D E 1 0 Dr. Francis Schaeffer – Episode X – Final Choices 27 min FINAL CHOICES I. Authoritarianism the Only Humanistic Social Option One man or an elite giving authoritative arbitrary absolutes. A. Society is sole absolute in absence of other absolutes. B. But society has to be […]By Everette Hatcher III | Posted in Francis Schaeffer | Tagged francis crick, hitler and stalin, john kenneth galbraith, robert theobald, youtube | Edit | Comments (0)
E P I S O D E 9 Dr. Francis Schaeffer – Episode IX – The Age of Personal Peace and Affluence 27 min T h e Age of Personal Peace and Afflunce I. By the Early 1960s People Were Bombarded From Every Side by Modern Man's Humanistic Thought II. Modern Form of Humanistic Thought Leads […]By Everette Hatcher III | Posted in Francis Schaeffer | Tagged free speech movement, paris riots, personal peace., sproul plaza, www youtube | Edit | Comments (0)
E P I S O D E 8 Dr. Francis Schaeffer – Episode VIII – The Age of Fragmentation 27 min I saw this film series in 1979 and it had a major impact on me. T h e Age of FRAGMENTATION I. Art As a Vehicle Of Modern Thought A. Impressionism (Monet, Renoir, Pissarro, Sisley, […]By Everette Hatcher III | Posted in Francis Schaeffer | Tagged airplane design, http www youtube, marcel duchamp art, post impressionism, van gogh gauguin | Edit | Comments (0)
E P I S O D E 7 Dr. Francis Schaeffer – Episode VII – The Age of Non Reason I am thrilled to get this film series with you. I saw it first in 1979 and it had such a big impact on me. Today's episode is where we see modern humanist man act […]By Everette Hatcher III | Posted in Francis Schaeffer | Tagged french existentialism, humanist philosophers, humanistic philosophy, natural freedom, www youtube | Edit | Comments (0)
E P I S O D E 6 How Should We Then Live 6#1 Uploaded by NoMirrorHDDHrorriMoN on Oct 3, 2011 How Should We Then Live? Episode 6 of 12 ________ I am sharing with you a film series that I saw in 1979. In this film Francis Schaeffer asserted that was a shift in […]By Everette Hatcher III | Posted in Francis Schaeffer | Tagged biblical foundations., biblical influence, french prose, neo darwinism, www youtube | Edit | Comments (0)
E P I S O D E 5 How Should We Then Live? Episode 5: The Revolutionary Age I was impacted by this film series by Francis Schaeffer back in the 1970′s and I wanted to share it with you. Francis Schaeffer noted, "Reformation Did Not Bring Perfection. But gradually on basis of biblical teaching there […]By Everette Hatcher III | Posted in Francis Schaeffer | Tagged christian foundations, freedom of press, freedom of religion, lex rex, www youtube | Edit | Comments (0)
Dr. Francis Schaeffer – Episode IV – The Reformation 27 min I was impacted by this film series by Francis Schaeffer back in the 1970′s and I wanted to share it with you. Schaeffer makes three key points concerning the Reformation: "1. Erasmian Christian humanism rejected by Farel. 2. Bible gives needed answers not only as to […]By Everette Hatcher III | Posted in Francis Schaeffer | Tagged authority of the bible, christian humanism, old testament prophets, school of athens., thomas cromwell | Edit | Comments (0)
Francis Schaeffer's "How should we then live?" Video and outline of episode 3 "The Renaissance" Francis Schaeffer: "How Should We Then Live?" (Episode 3) THE RENAISSANCE I was impacted by this film series by Francis Schaeffer back in the 1970′s and I wanted to share it with you. Schaeffer really shows why we have so […]By Everette Hatcher III | Posted in Francis Schaeffer | Edit | Comments (0)
Francis Schaeffer: "How Should We Then Live?" (Episode 2) THE MIDDLE AGES I was impacted by this film series by Francis Schaeffer back in the 1970′s and I wanted to share it with you. Schaeffer points out that during this time period unfortunately we have the "Church's deviation from early church's teaching in regard […]By Everette Hatcher III | Posted in Francis Schaeffer | Tagged byzantine art, conservative evangelicalism, gothic architecture., gregorian chants, naturalism in art | Edit | Comments (0)
Francis Schaeffer: "How Should We Then Live?" (Episode 1) THE ROMAN AGE Today I am starting a series that really had a big impact on my life back in the 1970′s when I first saw it. There are ten parts and today is the first. Francis Schaeffer takes a look at Rome and why […]
By Everette Hatcher III | Posted in Francis Schaeffer | Edit | Comments (0)