—
AUGUST 25, 2021 2:15PM
---
Democratic leaders in the House and Senate are hoping to pass a $1 trillion bill to fund infrastructure and a $3.5 trillion bill to fund new and expanded entitlement programs. The bills would entrench a substantial increase in the size and scope of the federal government.
The chart below shows past and projected domestic program spending if the Democratic plans pass, measured as a percent of gross domestic product. Projected spending is as proposed in the Democratic budget resolution less defense and interest outlays.
Domestic program spending almost tripled from 5 percent to 14 percent of GDP from the mid‐1950s to the mid‐1970s under Presidents Eisenhower, Kennedy, Johnson, and Nixon. Spending moderated under Reagan and Clinton, with the latter ending his tenure with four balanced budgets and spending at 12.8 percent of GDP.
Then both parties moved left on spending, with low interest rates encouraging a free‐lunch mindset and rising deficits. Spending rose after 9/11 under Bush, spiked during the Great Recession under Obama, and spiked again during the pandemic under Trump. Usually after crises subside, spending declines but to a higher plateau than previously. Under the Democratic budget resolution, spending would settle in at a much higher level than under Trump.
If the Democratic bills are passed, domestic program spending would average 18.6 percent of GDP through this decade, which would be 43 percent higher than the average under Clinton and more than double the average in the 1960s.
Much of the growth in federal spending since the 1950s has been in activities better handled by the states or private sector. The federal government is inherently inefficient at running domestic programs, and federal intervention tends to kill diversity and democracy in state and local governance.
Supporters of new federal spending ignore the simple realities of federalism. Senator Rob Portman said, "Upgrading infrastructure is especially important for Ohio," so then why doesn't the Ohio legislature fund it? Senator Chuck Schumer said that spending on Albany's airport will be a "major boon for the regional economy," so then why doesn't Albany's government fund it?
Senator Bernie Sanders said that it is a "disgrace" that we don't have a mandatory paid leave program, but Vermont and other states can enact such programs anytime their own residents want. As it turns out, Vermont's highly popular governor Phil Scott has rejected the Sanders approach of mandatory paid leave.
Advocates who think that government should spend more on highways, airports, or paid leave should convince their own states to do it. The federal government is an overgrown, wasteful, and incompetent institution, and its spending activities are already too numerous for Congress to properly oversee.
Historical data is from CBO and OMB. The Democratic budget resolution is here and analyses of it are here, here, here, and here.
https://www.cato.org/blog/federal-government-debt-soaring
SEPTEMBER 2, 2021 4:54PM
Federal Government Debt Is Soaring
---
Federal government debt rose from $3.3 trillion in 2001, to $10.1 trillion in 2011, to $23.0 trillion in 2021. Under current law, the CBO expects debt to rise to $35.8 trillion by 2031. If Congress passes the spending increases in the Democratic budget resolution, debt will rise to $40.1 trillion by 2031, according to CRFB. This is "debt held by the public," meaning federal borrowing from domestic and foreign creditors.
The chart scales the debt to the number of U.S. households. Debt per household under the Democratic plan would rise from $179,082 in 2021 to $288,047 by 2031. That debt is not like mortgage debt where households have a hard asset to match what they owe. Rather, it is the government going on a consumption spending spree and putting $288,047 on each household's credit card. That is because just 5 percent of federal spending is for hard assets such as highways and fighter jets. By ballooning the debt today, politicians are imposing large and rising burdens on households tomorrow.
Here are further observations:
Federal debt today is 103 percent of GDP and would rise to 119 percent by 2031 under the Democratic spending plan. That level of debt is higher than the 31 percent reached in the Civil War, 33 percent reached in World War I, and 106 percent reached in World War II. Today we are not at war, and politicians show no interest in paying down the debt as they did after past wars.
Bill Clinton was the last president to balance the budget, but the chronic red ink began in the 1930s with the rise of Keynesian economics and the invention of auto‐pilot entitlement programs. Deficit spending has been supercharged in recent years by the rise in global capital markets, which makes vast borrowing much easier. From 1791 to 1930, federal politicians balanced the budget 68 percent of the years, but since 1931 they have balanced it only 13 percent of the years.
America's combined federal and state government debt in 2021 at 141 percent of GDP is far higher than the OECD average of 100 percent of GDP, and much higher than debt levels in Australia, Denmark, Ireland, Israel, Germany, Korea, the Netherlands, New Zealand, and Sweden.
Rising debt may trigger an economic crisis with soaring interest rates and falling output. Greece's debt crisis a decade ago created long‐lasting damage, and the country's real income per capita is still down one‐quarter from its pre‐crisis level. America's government debt today is about the same size relative to GDP as was Greece's before its debt crisis.
With the Democratic spending plan, federal interest costs will top $1 trillion a year by 2031. But that assumes the CBO baseline projection of interest rates rising only to 1.9 percent on short‐term federal debt and 3.2 percent on long‐term debt. I think that is a rosy scenario. The risk is on the upside. If interest rates rise more than projected, it will have a huge budget impact because the debt is so large.
More on the history and costs of debt here.
Data Notes. The OECD debt measure is general government gross financial liabilities. OECD publishes the weighted average, but I calculated the simple average across countries. The number of U.S. households is here, and I estimated the 2031 figure based on the recent growth rate.
https://www.cato.org/blog/more-federal-spending-bad-idea
SEPTEMBER 7, 2021 11:54AM
---
Democratic leaders in Congress are moving ahead with a $1 trillion infrastructure bill and a $3.5 trillion reconciliation bill to expand entitlement programs. Both bills are fiscally reckless and fund activities that are the proper responsibility of the states and private sector.
Many politicians seem to think there are no downsides to expanding the federal budget. But that is not the case. I discuss 10 reasons why both spending bills are misguided in a new National Review op‐ed.
Some Republican members and conservative commentators favor the infrastructure bill but not the entitlement bill. But the flaws in both are the same. Expanding federal spending and regulatory power over state, local, and private activities makes no practical sense. If Ohio needs more highways, then the Ohio legislature should fund them. If Kentucky needs more public transportation, then local governments in the state should handle it. If Louisiana needs a hydrogen hub, then businesses in the state should invest in it.
The federal government does a lousy job of managing its vast array of current programs, and more spending would further overload federal policymakers. Expanding federal spending and control would undermine the democratic choices of state and local governments for no good reason.
Further discussion of federalism is here and infrastructure is here.
—
June 17, 2021
President Biden c/o The White House 1600 Pennsylvania Avenue NW Washington, DC 20500
Dear Mr. President,
I wanted to reach out to you because of some of the troubling moral issues coming out of your administration. Recently I read this about your religious views:
But now, the nation's most prominent Catholic is at odds with many of the American bishops of his church. He has been the catalyst for an explosive disagreement that had been playing out for years, over whether Communion should be granted to politicians whose public stances go against church doctrine, and on Friday they took a step toward barring Biden and others from the Eucharist.
John MacArthur gave a sermon in June of 2021 entitled "When Government Rewards Evil and Punishes Good" and in that sermon he makes the following points:
INTRODUCTION AND DISCUSSION OF ROMANS 13
GOVERNMENT CAN FORFEIT ITS AUTHORITY
THE WORLD IS THE ENEMY OF THE GOSPEL
ALL OF HUMAN HISTORY IS PROGRESSING TOWARD A GLOBAL KINGDOM UNDER THE POWER OF SATAN
ONE FALSE WORLD RELIGION IS FINAL PLAY BY SATAN
REAL PERSECUTION CAN ONLY BE DONE BY GOVERNMENT
PERSECUTION IN BOOK OF DANIEL
THE LAW IS KING AND NOT THE GOVERNOR OF CALIFORNIA
GOVERNMENT HAS BECOME PURVEYOR OF WICKEDNESS
THERE IS A PLACE FOR CIVIL DISOBEDIENCE
DOES GOVERNMENT WIN?
Let me just share a portion of that sermon with you and you can watch it on You Tube:
THE WORLD IS THE ENEMY OF THE GOSPEL
Now I want you to understand that there's some supernatural reasons why this is happening. They're not political. They're not even social in the fullest measure. If you go back to 1 John and reconnect with the passage from last week, 1 John 2:15–17, we read, "Do not love the world nor the things that are in the world. If anyone loves the world, the love of the Father is not in him." Then verse 16, "For all that is in the world, the lust of the flesh and the lust of the eyes and the boastful pride of life, is not from the Father, but is from the world. The world is passing away, and also its lusts; but the one who does the will of God lives forever."
The world is the enemy of God, the enemy of the triune God: Father, Son, and Holy Spirit. The world is the enemy of Scripture. The world is the enemy of the gospel. The world is the enemy of the church. What do we mean by the world? Well remember last week I talked about the world as the complex of evil. The word is kosmos; it means a system. The complex of evil works against what is good.
So you have government, which is a part of the world, turned to restrain the world of which it is a part. Very hard for it to hold together because it's all part of the same system. The complex of evil works everywhere, and the government is no exception because the very evil people given the responsibility to restrain evil are themselves incapable of being without evil. And that makes enough problems. We have a human system made up of evil, sinful people trying to control a culture of evil, sinful people. The potential for breakdown is inevitable, and it has been demonstrated historically. That's why the Bible says the world gets worse and worse; evil men get worse and worse as time goes on.
But there's something more than just that. There's something more than just the human complex of sinners trying to restrain sin, which in the end is a losing effort. There's something more that we have to face, and that's in 1 John 5:19, and I want you to look at it. First John 5:19, "We know that we are of God." We, believers, are of God. And then this very, very important statement, "And that the whole world lies in"—literally—"in the evil one." The whole world is in the control of the evil one. It isn't just that everybody's sinful; it is that there is an evil supernatural power: the evil one.
Who is this archenemy of God, this evil one? Listen to John 12:31, where Jesus speaks of the devil and says he is "the ruler of this world." And then again in John 14 and verse 30, He calls the devil the ruler of this world. And then again in chapter 16 and verse 11, for the third time, "the ruler of this world." And in Ephesians 2:2, he is "the prince of the power of the air, the spirit working in the sons of disobedience."
So you have Satan, who is the world ruler, who operates in the system and—listen carefully—in the people. The whole world is in his kingdom—John 8:44, "You're of your father the devil." And Satan is in them in the sense that he can attach his devious, evil deception to the lust of the eyes, the lust of the flesh, and the pride of life—and that way exercise influence over them. He is "the god of this world," 2 Corinthians 4:4, who blinds minds. And Paul says in Ephesians 6:12, "We wrestle not against flesh and blood"—humanity—"but against principalities and powers, the rulers of the darkness of this world, spiritual wickedness in the heavenlies."
It's not just a human complex of evil, it is behind that that the entire force of hell operates. The enemy is not just sinful people, it is the system of evil behind that visible evil, that invisible system basically under the control of the prince of demons, Satan himself, and all his demon cohorts. Evil operates in the heart of every human being, so there is a kosmos of evil that operates in the human heart. But there's another powerful kosmos of evil in the invisible spiritual world run by Satan.
What is Satan's objective? Listen to Peter's words, 1 Peter 5:8, "Your adversary, the devil, prowls around like a roaring lion, seeking someone to devour, seeking someone to devour." He's a killer. John 8 tells us "he's a liar, the father of lies," and he's "a murderer." He tempts, he lies, he seduces, he slanders; and Scripture gives us all of these illustrations. He distracts, he divides, he destroys, he sifts, he silences, he strategizes, he steals, he oppresses, he possesses, he blinds, and he kills.
And how does he gain the power to do this? How is he so adept at drawing people into his methods? The answer comes in Revelation 12:9, which says this: "Satan deceives the whole world." "Satan deceives the whole world." Paul told the Corinthians he is disguised as an angel of light, and therein lies the deception.
So what we're dealing with in the world is not just a complex of human evil, as vast and complete and comprehensive as it is, we're dealing with another level altogether—not just that visible human world, but that invisible demonic world. And Satan's ultimate goal is to prevent people from coming to Christ. His ultimate goal is to take over everything, to rule in the place of God. He is the usurper. And he has a goal, he has an objective: He's heading human history toward his kingdom. He has a goal, he has an objective: Satan is systematically working to get to his kingdom.
That kingdom is described for us in the book of Revelation. Turn to chapter 13 of Revelation, one of the most amazing images in this incredible revelation. As he moves through human history, Satan wants to strip all elements of divine law and all elements of divine truth from society. He's moving the world into his final design. Chapter 13, verse 1, John has a vision of a dragon "on the sand of the seashore," and he sees a monster, "a beast coming up out of the sea, having ten horns and seven heads, and on his horns were ten diadems, and on his heads were blasphemous names." This is a monster—this is a monster who consolidates power and consolidates national leadership; the ten and the seven speak of that consolidation. All the crowns are on his head, and all of them have the name of blasphemy because this is the kingdom that Satan is pulling together as the final attempt to dethrone God. It describes this kingdom as having powers like a leopard, a bear, and a lion; and what we find here is this monster is none other than the final Antichrist.
"Even now," John says, there are "many antichrists." This is the final one. He rises up out of the sea, out of the nations. He consolidates all world power—this is globalism symbolized by ten horns, a number of completion, as is seven heads. He has the consolidated power and the consolidated authority. He is a blasphemer, but a powerful one. And the dragon is Satan, and the dragon gave the Antichrist in John's vision his power, his throne, and his great authority. At some point in the future the world will be, verse 3 says, amazed at this monster. And as a result of his influence they will worship the devil, the dragon, because he gave his authority to the beast. They worship the beast, the monster, the Antichrist, "saying, 'Who is like the beast, and who is able to wage war with him?'"
—-
Francis Schaeffer in chapter 2 of CHRISTIAN MANIFESTO tells what the founders attitude towards God and religion and religious influence on government:
The men who formed the United States in those days from the original 13 states knew very specifically and consciously what they were doing. Let me give you some phrases. Certain "inalienable rights." They knew what they were doing.Inalienable rights. Where do inalienable rights come from? Not out of irrelativism, surely. Certain inalienable rights. "In God We Trust" soon marched along, along with the previous statement. There was a paid chaplain functioning for the United States Congress before the war was even finished. I wonder if you realize that. And the first Thanksgiving Day was called in order to say thank you to God for the winning of war. These men really knew what they were doing, and they consciously understood the basis of the government which they had established. Also, we must remember that the earlier provincial congresses and the various states — in every single one, they opened with prayer. From the beginning of the United States Congress after it was formed, it always opened with prayer.
________________
Witherspoon's sermon on that first Thanksgiving Day shows their perspective. As he said, "A republic once equally poised must either preserve its virtue or lose its liberty." That was the crux of his first Thanksgiving service immediately after the war was won. In an earlier speech, we find Witherspoon saying, "He is the best friend of American liberty who is most sincere and active in promoting pure and undefiled religion." This is Witherspoon, signer of the Declaration of Independence.
The First Amendment was only for a specific purpose — that there would be no established church for the united 13 colonies or states. That was its basic purpose. As a matter of fact, there were individual states at that time that had state churches. And even this was not considered to be in conflict with the purpose of the First Amendment. To have suggested a viable state separated from religion — which at times meant a general concept of Christianity — to suggest a viable state to these original men separated from religious influence would have utterly amazed them.
Francis Schaeffer in his book CHRISTIAN MANIFESTO makes this same point that the humanist worldview sets itself up against God and God's word:
CHAPTER 4 THE HUMANIST RELIGION (Page 445)
The humanists have openly told us their views of final reality. The Humanist Manifesto I (1933), page 8 says
Religious humanists regard the universe as self-existing and not created.
Humanism asserts that the nature of the universe depicted by modern science makes unacceptable any super-natural or cosmic guarantees of human values.
And Carl Sagan indoctrinated millions of unsuspecting viewers with this humanistic final view of reality in the public television show Cosmos: "The cosmos is all that is or ever was or ever will be." The humanist view has infiltrated every level of society.
If we are going to join the battle in a way that has any hope of effectiveness – with Christians truly being salt and the light in our culture and our society – then we must do battle on the entire front. We must not finally even battle on the front for freedom, and specifically not only our freedom. It must be on the basis of Truth. Not just religious truths, but the Truth of what the final reality is. It is impersonal material or is it the living God?
The ruling of the Supreme Court in the Torcaso v. Watkins case in 1961 is instructive in another way. It shows that within the span of 28 years the Supreme Court turned radically from a Christian memory to the humanistic consensus. In 1933 in the United States v. MacIntosh case about conscientious objection, Justice Hughes stated in his dissent:
"The essence of religion is belief in a relation to God involving duties superior to those arising from any human relation….One cannot speak of religious liberty, with proper appreciation of its essential and historical significance, without assuming the existence of a belief in supreme allegiance to the will of God."
In 1965 in United States v. Seeger, also about conscientious objection, the Court held that the test of religious belief is a "sincere and meaningful belief which occupies in the life of its possessor a place parallel to that filled by the God of those admittedly qualifying for the exemption." This, of course, is a drastic change away from the position of 1933.
—
During the last twenty years it has been my practice to visit in person with those that don't agree with my political or religious views and just try to get to know them. Back in 1996 while on a family trip to New York, Washington, Philadelphia, Delaware, and New Jersey, we had dinner one night with Herbert A. Tonne, who was one of the signers of the Humanist Manifesto II. While in Missouri several years ago I got to spend a couple of hours with the former Unitarian minister Lester Mondale and his wife at their cabin. Rev. Mondale (1904-2003) was the only person to sign each of the three Humanist Manifestos of 1933, 1973, and 2003.
Several of these meetings led to longtime friendships. The Late Professor John George who has written books for Prometheus Press (a secular humanist group) was my good friend during the last 10 years of his life. (I still miss him today.) We often ate together and were constantly talking on the phone and writing letters to one another. Ed Babinski, the author of LEAVING THE FOLD, has corresponded with me for almost 20 years now, and that goes also for evolutionist Kevin Henke.
On August 7, 2014 I was able to meet another signer of the Humanist Manifesto II, and I must say it we had a delightful time. I got to visit with Jim and Betty Grace McCollum, and I gave them a tour of Little Rock Broom Works and how we make brooms and mops. Jim said he really enjoyed visiting manufacturing plants and learning how products were made. As you see below Jim is wearing a Southern Arkansas University shirt where he furthering his education. After living in Rochester, New York for 34 years and practicing law, he moved to Arkansas in 1994. They have been living in Emerson, Arkansas ever since. Below you can see pictured from left to right: Betty Grace and Jim McCollum, Everette Hatcher, and Wilson Hatcher.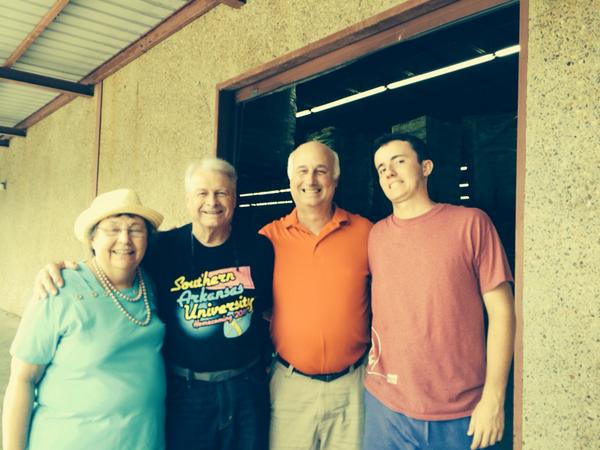 Jim's mother was Vashti McCollum, a housewife who later became president of the American Humanist Association. Her U.S. Supreme Court victory in McCollum v. Board of Education established that American public schools must be religiously neutral. I mentioned to Jim that I have visited with Lester Mondale at his cabin in Missouri and he pointed out that Lester was the only living signer of Humanist Manifesto I until his death several years ago.
Thank you so much for your time. I know how valuable it is. I also appreciate the fine family that you have and your commitment as a father and a husband. I also respect you for putting your faith in Christ for your eternal life. I am pleading to you on the basis of the Bible to please review your religious views concerning abortion. It was the Bible that caused the abolition movement of the 1800's and it also was the basis for Martin Luther King's movement for civil rights and it also is the basis for recognizing the unborn children. I wanted to encourage you to investigate the work of Dr. Bernard Nathanson who like you used to be pro-abortion. I also want you to watch the You Tube series WHATEVER HAPPENED TO THE HUMAN RACE? by Francis Schaeffer and Dr. C. Everett Koop. Also it makes me wonder what our the moral climate Of our nation is when we concentrate more on potential mistakes of the police and we let criminals back on the street so fast! Our national was founded of LEX REX and not REX LEX!
Sincerely,
Everette Hatcher III, 13900 Cottontail Lane, Alexander, AR 72002, ph 501-920-5733,
PS: In this series of letters John MacArthur covers several points. In the first letter, he quotes you saying that the greatest threat to America—he said on one occasion—is systemic racism, which doesn't exist; he said white supremacy, which doesn't exist with any power; and then he said global warming, which doesn't exist either, and if it does, God's in charge of it.
In reality the greatest threat to this nation is the government, the government. And I want to show you how we are to understand that. Turn to Romans 13
In the 2nd letter, Dr. MacArthur noted When government turns the divine design on its head and protects those who do evil and makes those who do good afraid, it forfeits its divine purpose
In the 3rd letter Dr. MacArthur noted The world is the enemy of the gospel. The world is the enemy of the church. I pointed out that this manifests itself today in the form of HUMANISM.
In the 4th letter Dr. MacArthur points out how much today the devil is having his way in our society and that the Bible predicts that these will get worse!
In the 5th letter Francis Schaeffer points out "The HUMANIST MANIFESTOS not only say that humanism is a religion, but the Supreme Court has declared it to be a religion. The 1961 case of Torcaso v. Watkins specifically defines secular humanism as a religion equivalent to theistic and other non theistic religions."
In the 6th letter Dr. MacArthur noted God has given government the sword, the power; and when they prostitute that power and they begin to punish those who do good and protect those who do evil, they wield that power against the people of God.
In the 7th letter Dr. MacArthur asserted, Throughout history, even in the Western world, people lived under what was called the divine right of kings. Kings were believed to have had a divine right. This was absolute monarchy. What broke that was basically the Reformers. The Reformers—a little phrase was "the law is king," not the man.
In the 8th letter Dr. MacArthur noted that today the United States "Government has already become the purveyor of wickedness. Government is a murderer, slaughtering millions of infants in abortion."
Whatever Happened To The Human Race? | Episode 4 | The Basis for Human Dignity
Sunday Night Prime – Dr. Bernard Nathanson – Fr Groeschel, CFR with Fr …

——
Francis Schaeffer pictured above
Larry King had John MacArthur as a guest on his CNN program several times.

When Government Rewards Evil and Punishes Good
_________________________
Related posts:
Francis Schaeffer: "Whatever Happened to the Human Race" (Episode 1) ABORTION OF THE HUMAN RACE Published on Oct 6, 2012 by AdamMetropolis ________________ Picture of Francis Schaeffer and his wife Edith from the 1930′s above. I was sad to read about Edith passing away on Easter weekend in 2013. I wanted to pass along this fine […]By Everette Hatcher III | Posted in Francis Schaeffer, Prolife | Edit | Comments (0)
I have gone back and forth and back and forth with many liberals on the Arkansas Times Blog on many issues such as abortion, human rights, welfare, poverty, gun control and issues dealing with popular culture. Here is another exchange I had with them a while back. My username at the Ark Times Blog is Saline […]By Everette Hatcher III | Posted in Francis Schaeffer, Prolife | Edit | Comments (0)
I have gone back and forth and back and forth with many liberals on the Arkansas Times Blog on many issues such as abortion, human rights, welfare, poverty, gun control and issues dealing with popular culture. Here is another exchange I had with them a while back. My username at the Ark Times Blog is Saline […]By Everette Hatcher III | Posted in Francis Schaeffer, Prolife | Edit | Comments (0)
It is truly sad to me that liberals will lie in order to attack good Christian people like state senator Jason Rapert of Conway, Arkansas because he headed a group of pro-life senators that got a pro-life bill through the Arkansas State Senate the last week of January in 2013. I have gone back and […]By Everette Hatcher III | Posted in Arkansas Times, Francis Schaeffer, Max Brantley, Prolife | Edit | Comments (0)
I have gone back and forth and back and forth with many liberals on the Arkansas Times Blog on many issues such as abortion, human rights, welfare, poverty, gun control and issues dealing with popular culture. Here is another exchange I had with them a while back. My username at the Ark Times Blog is Saline […]By Everette Hatcher III | Posted in Francis Schaeffer, Prolife | Edit | Comments (0)
I have gone back and forth and back and forth with many liberals on the Arkansas Times Blog on many issues such as abortion, human rights, welfare, poverty, gun control and issues dealing with popular culture. Here is another exchange I had with them a while back. My username at the Ark Times Blog is Saline […]By Everette Hatcher III | Posted in Francis Schaeffer, Prolife | Edit | Comments (0)
I have gone back and forth and back and forth with many liberals on the Arkansas Times Blog on many issues such as abortion, human rights, welfare, poverty, gun control and issues dealing with popular culture. Here is another exchange I had with them a while back. My username at the Ark Times Blog is Saline […]By Everette Hatcher III | Posted in Francis Schaeffer, Prolife | Edit | Comments (0)
Sometimes you can see evidences in someone's life of how content they really are. I saw something like that on 2-8-13 when I confronted a blogger that goes by the name "AngryOldWoman" on the Arkansas Times Blog. See below. Leadership Crisis in America Published on Jul 11, 2012 Picture of Adrian Rogers above from 1970′s […]By Everette Hatcher III | Posted in Adrian Rogers, Arkansas Times, Prolife | Edit | Comments (0)
In the film series "WHATEVER HAPPENED TO THE HUMAN RACE?" the arguments are presented against abortion (Episode 1), infanticide (Episode 2), euthenasia (Episode 3), and then there is a discussion of the Christian versus Humanist worldview concerning the issue of "the basis for human dignity" in Episode 4 and then in the last episode a close […]By Everette Hatcher III | Posted in Francis Schaeffer, Prolife | Edit | Comments (0)
I have gone back and forth and back and forth with many liberals on the Arkansas Times Blog on many issues such as abortion, human rights, welfare, poverty, gun control and issues dealing with popular culture. Here is another exchange I had with them a while back. My username at the Ark Times Blog is Saline […]By Everette Hatcher III | Posted in Francis Schaeffer, Prolife | Edit | Comments (0)
I have gone back and forth and back and forth with many liberals on the Arkansas Times Blog on many issues such as abortion, human rights, welfare, poverty, gun control and issues dealing with popular culture. Here is another exchange I had with them a while back. My username at the Ark Times Blog is Saline […]By Everette Hatcher III | Posted in Francis Schaeffer, Prolife | Edit | Comments (3)
I have gone back and forth and back and forth with many liberals on the Arkansas Times Blog on many issues such as abortion, human rights, welfare, poverty, gun control and issues dealing with popular culture. Here is another exchange I had with them a while back. My username at the Ark Times Blog is Saline […]By Everette Hatcher III | Posted in Francis Schaeffer, Prolife | Edit | Comments (2)
E P I S O D E 1 0 Dr. Francis Schaeffer – Episode X – Final Choices 27 min FINAL CHOICES I. Authoritarianism the Only Humanistic Social Option One man or an elite giving authoritative arbitrary absolutes. A. Society is sole absolute in absence of other absolutes. B. But society has to be […]By Everette Hatcher III | Posted in Francis Schaeffer | Tagged francis crick, hitler and stalin, john kenneth galbraith, robert theobald, youtube | Edit | Comments (0)
E P I S O D E 9 Dr. Francis Schaeffer – Episode IX – The Age of Personal Peace and Affluence 27 min T h e Age of Personal Peace and Afflunce I. By the Early 1960s People Were Bombarded From Every Side by Modern Man's Humanistic Thought II. Modern Form of Humanistic Thought Leads […]By Everette Hatcher III | Posted in Francis Schaeffer | Tagged free speech movement, paris riots, personal peace., sproul plaza, www youtube | Edit | Comments (0)
E P I S O D E 8 Dr. Francis Schaeffer – Episode VIII – The Age of Fragmentation 27 min I saw this film series in 1979 and it had a major impact on me. T h e Age of FRAGMENTATION I. Art As a Vehicle Of Modern Thought A. Impressionism (Monet, Renoir, Pissarro, Sisley, […]By Everette Hatcher III | Posted in Francis Schaeffer | Tagged airplane design, http www youtube, marcel duchamp art, post impressionism, van gogh gauguin | Edit | Comments (0)
E P I S O D E 7 Dr. Francis Schaeffer – Episode VII – The Age of Non Reason I am thrilled to get this film series with you. I saw it first in 1979 and it had such a big impact on me. Today's episode is where we see modern humanist man act […]By Everette Hatcher III | Posted in Francis Schaeffer | Tagged french existentialism, humanist philosophers, humanistic philosophy, natural freedom, www youtube | Edit | Comments (0)
E P I S O D E 6 How Should We Then Live 6#1 Uploaded by NoMirrorHDDHrorriMoN on Oct 3, 2011 How Should We Then Live? Episode 6 of 12 ________ I am sharing with you a film series that I saw in 1979. In this film Francis Schaeffer asserted that was a shift in […]By Everette Hatcher III | Posted in Francis Schaeffer | Tagged biblical foundations., biblical influence, french prose, neo darwinism, www youtube | Edit | Comments (0)
E P I S O D E 5 How Should We Then Live? Episode 5: The Revolutionary Age I was impacted by this film series by Francis Schaeffer back in the 1970′s and I wanted to share it with you. Francis Schaeffer noted, "Reformation Did Not Bring Perfection. But gradually on basis of biblical teaching there […]By Everette Hatcher III | Posted in Francis Schaeffer | Tagged christian foundations, freedom of press, freedom of religion, lex rex, www youtube | Edit | Comments (0)
Dr. Francis Schaeffer – Episode IV – The Reformation 27 min I was impacted by this film series by Francis Schaeffer back in the 1970′s and I wanted to share it with you. Schaeffer makes three key points concerning the Reformation: "1. Erasmian Christian humanism rejected by Farel. 2. Bible gives needed answers not only as to […]By Everette Hatcher III | Posted in Francis Schaeffer | Tagged authority of the bible, christian humanism, old testament prophets, school of athens., thomas cromwell | Edit | Comments (0)
Francis Schaeffer's "How should we then live?" Video and outline of episode 3 "The Renaissance" Francis Schaeffer: "How Should We Then Live?" (Episode 3) THE RENAISSANCE I was impacted by this film series by Francis Schaeffer back in the 1970′s and I wanted to share it with you. Schaeffer really shows why we have so […]By Everette Hatcher III | Posted in Francis Schaeffer | Edit | Comments (0)
Francis Schaeffer: "How Should We Then Live?" (Episode 2) THE MIDDLE AGES I was impacted by this film series by Francis Schaeffer back in the 1970′s and I wanted to share it with you. Schaeffer points out that during this time period unfortunately we have the "Church's deviation from early church's teaching in regard […]By Everette Hatcher III | Posted in Francis Schaeffer | Tagged byzantine art, conservative evangelicalism, gothic architecture., gregorian chants, naturalism in art | Edit | Comments (0)
Francis Schaeffer: "How Should We Then Live?" (Episode 1) THE ROMAN AGE Today I am starting a series that really had a big impact on my life back in the 1970′s when I first saw it. There are ten parts and today is the first. Francis Schaeffer takes a look at Rome and why […]
By Everette Hatcher III | Posted in Francis Schaeffer | Edit | Comments (0)