—
—
July 4, 2021
President Biden c/o The White House 1600 Pennsylvania Avenue NW Washington, DC 20500
Dear Mr. President,
I wanted to reach out to you because of some of the troubling moral issues coming out of your administration.

For many years the national press has taken a humanist point of view. Let me trace this back to 1981 when Francis Schaeffer made this observation about the press handling of the confirmation of Dr C. Everett Koop:
Now the window is open and we must take advantage of it in every way we can as citizens, as Christian citizens of the democracy in which we still have freedom. We must try to roll back the other total entity. It will not be easy to roll it back because those who hold the other total world view of reality have no intention that it will be rolled back. Those who hold this view are deeply entrenched, they have had their own way without opposition for a long time, and they will use every means to see that the momentum they have achieved, and the results they have brought forth in all fields, will be retained and enlarged.
For example, all you have to do is to consider the way the media treated Dr. C. Everett Koop. Dr. Koop is one of the foremost pediatric surgeons in the United States, and among other honors, he was given the highest honor of the French government for his pioneering work in pediatric surgery. But when he was nominated for the position of Surgeon General, he was attacked by the secular media with total disregard for objective reporting—and with total disregard for his brilliant humanitarian record as a surgeon. Those in the media holding the humanist world view could not tolerate Dr. Koop's voice to be heard—they could not tolerate his articulate defense of the sanctity of human life to be expressed
—
Another example from today:
After Tracking Trump 'Falsehoods,' Washington Post Says It Won't Do the Same for Biden
Tony Perkins / @tperkins / January 22, 2021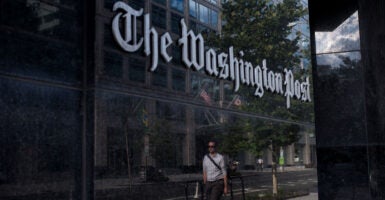 The Washington Post, which went to extraordinary lengths to track former President Donald Trump's veracity, is seemingly set to give his successor a pass. (Photo: Brendan Smialowski/Agence France-Presse/Getty Images)
COMMENTARY BY
Tony Perkins is president of the Family Research Council.
The Washington Post will have a lot more time on its hands now that President Joe Biden has been sworn in. According to the paper's spokesperson, it can call off its whole fact-checking operation.
Apparently, it's not necessary now that its preferred party is in office.
The Daily Caller's Shelby Talcott reached out to the Post after it published its final tally of "lies or misleading statements by Donald Trump." The newspaper's alleged total: 30,573. (Of course, considering the media's inability to trade in facts themselves, no one will ever know how many of those Pinocchios are real.)
Now, regardless of Biden's own issues with the truth, the Post says it has "no plans" to keep a Biden database of falsehoods "at this time."
"The database of Trump claims was started a month after Trump became president as a way not to overwhelm our fact-checking enterprise," the Post spokesperson said. Don't worry, the paper insisted, we'll still try to keep track of both parties' statements.
But Biden, Talcott pointed out, has plenty of baggage when it comes to untruths. She pointed to a list of public embarrassments, dating as far back as 1987 when C-SPAN found footage of him lying about his graduating rank in law school. It was such a scandal that Biden had to drop out of the presidential race.
Then there were the stories that no one would confirm about Biden being arrested in South Africa when he said he was trying to visit Nelson Mandela in prison. The Washington Post's own fact-checkers looked at that claim last year and called it "ridiculous."
Before that, the Post had called him out for an account he shared about his trip to Afghanistan. "In the space of three minutes, Biden got the time period, the location, the heroic act, the type of medal, the military branch and the rank of the recipient wrong, as well as his own role in the ceremony," the Post insisted.
Now, when the stakes are highest, Biden gets a free pass?
Does The Washington Post suddenly believe that facts are partisan? Ironically, this news about the fact-checkers broke on the same day as a new poll, showing that record numbers of Americans think the press is intentionally trying to deceive us.
If you were one of the only people on earth still giving the media the benefit of the doubt, this should make it clear: The press has an agenda—and protecting Democratic leaders is part of it.
The Daily Signal publishes a variety of perspectives. Nothing written here is to be construed as representing the views of The Heritage Foundation.
Have an opinion about this article? To sound off, please email letters@DailySignal.com and we will consider publishing your remarks in our regular "We Hear You" feature.
John MacArthur gave a sermon in June of 2021 entitled "When Government Rewards Evil and Punishes Good" and in that sermon he makes the following points:
INTRODUCTION AND DISCUSSION OF ROMANS 13
GOVERNMENT CAN FORFEIT ITS AUTHORITY
THE WORLD IS THE ENEMY OF THE GOSPEL
ALL OF HUMAN HISTORY IS PROGRESSING TOWARD A GLOBAL KINGDOM UNDER THE POWER OF SATAN
ONE FALSE WORLD RELIGION IS FINAL PLAY BY SATAN
REAL PERSECUTION CAN ONLY BE DONE BY GOVERNMENT
PERSECUTION IN BOOK OF DANIEL
THE LAW IS KING AND NOT THE GOVERNOR OF CALIFORNIA
GOVERNMENT HAS BECOME PURVEYOR OF WICKEDNESS
THERE IS A PLACE FOR CIVIL DISOBEDIENCE
DOES GOVERNMENT WIN?
Let me just share a portion of that sermon with you and you can watch it on You Tube:
DOES GOVERNMENT WIN?
Satan persecutes the church through governments. But the Son of God has come to destroy the devil, to render him powerless, to overthrow Satan's final kingdom of darkness. In conclusion, Romans 8:31, "If God be for us, who is against us?" Let's pray.
Father, we are so grateful for the confidence that we have, borne to our souls from Your precious truth: Your Word. Thank You for these dear people. Thank You for their faithfulness, for their love for You, for the love wrought in their hearts, by You and thus for You. Thank You for the joy of fellowship. Give us such joy, as we understand that what's coming is all going to be for Your glory.
Everything in history is unfolding in the plan that You have designed. Your purposes cannot be thwarted. You will triumph. Christ will come. He will destroy His enemies. He will destroy all kings and all rulers, and reign alone in His glorious kingdom, of which we who love Him will be a part. We long for that day. Until then may we celebrate with joy and thanksgiving that we even now are citizens of that kingdom; and we who know Him and love Him will reign with Him. We thank You for that promise.
May we never become discouraged by what's happening in the world. May we understand that it's exactly what Scripture says we would expect. Help us not to get caught up in the politics of these things, but rather to see them through the lens of Holy Scripture.
We know that the devil has a plan, but so do You; and You will triumph. You are triumphing even now at Grace Church, and we are basking in a preview of Your final triumph. We thank You for that sweet gift of grace. Bring to Yourself any with us today who don't know Christ. Draw that soul into Your kingdom. For Your glory we pray. Amen.
—-
Thank you so much for your time. I know how valuable it is. I also appreciate the fine family that you have and your commitment as a father and a husband. I also respect you for putting your faith in Christ for your eternal life. I am pleading to you on the basis of the Bible to please review your religious views concerning abortion. It was the Bible that caused the abolition movement of the 1800's and it also was the basis for Martin Luther King's movement for civil rights and it also is the basis for recognizing the unborn children. I wanted to encourage you to investigate the work of Dr. Bernard Nathanson who like you used to be pro-abortion. I also want you to watch the You Tube series WHATEVER HAPPENED TO THE HUMAN RACE? by Francis Schaeffer and Dr. C. Everett Koop. Also it makes me wonder what our the moral climate Of our nation is when we concentrate more on potential mistakes of the police and we let criminals back on the street so fast! Our national was founded of LEX REX and not REX LEX!
Sincerely,
Everette Hatcher III, 13900 Cottontail Lane, Alexander, AR 72002, ph 501-920-5733,
PS: In this series of letters John MacArthur covers several points. In the first letter, he quotes you saying that the greatest threat to America—he said on one occasion—is systemic racism, which doesn't exist; he said white supremacy, which doesn't exist with any power; and then he said global warming, which doesn't exist either, and if it does, God's in charge of it.
In reality the greatest threat to this nation is the government, the government. And I want to show you how we are to understand that. Turn to Romans 13
In the 2nd letter, Dr. MacArthur noted When government turns the divine design on its head and protects those who do evil and makes those who do good afraid, it forfeits its divine purpose
In the 3rd letter Dr. MacArthur noted The world is the enemy of the gospel. The world is the enemy of the church. I pointed out that this manifests itself today in the form of HUMANISM.
In the 4th letter Dr. MacArthur points out how much today the devil is having his way in our society and that the Bible predicts that these will get worse!
In the 5th letter Francis Schaeffer points out "The HUMANIST MANIFESTOS not only say that humanism is a religion, but the Supreme Court has declared it to be a religion. The 1961 case of Torcaso v. Watkins specifically defines secular humanism as a religion equivalent to theistic and other non theistic religions."
In the 6th letter Dr. MacArthur noted God has given government the sword, the power; and when they prostitute that power and they begin to punish those who do good and protect those who do evil, they wield that power against the people of God.
In the 7th letter Dr. MacArthur asserted, Throughout history, even in the Western world, people lived under what was called the divine right of kings. Kings were believed to have had a divine right. This was absolute monarchy. What broke that was basically the Reformers. The Reformers—a little phrase was "the law is king," not the man.
In the 8th letter Dr. MacArthur noted that today the United States "Government has already become the purveyor of wickedness. Government is a murderer, slaughtering millions of infants in abortion."
In the 9th letter the article
Judge gives preliminary OK to $3.5M settlement of IRS caseis discussed about the 2013 lawsuit during the Barack Obama administration over treatment of conservative groups who said they were singled out for extra IRS scrutiny on tax-exempt status applications. Then Dr. MacArthur talks about persecution in the Book of Daniel.
"These are groups of law-abiding citizens who should have never had their First Amendment rights infringed upon by the IRS," Jenny Beth Martin, president of the Tea Party Patriots umbrella group, said Wednesday. "These are groups that want the government to be accountable."
The government has been used to persecuting people they don't like for centuries! Let me just share a portion of that sermon by John MacArthur with you and you can watch it on You Tube:
PERSECUTION IN BOOK OF DANIEL
In the 10th letter Dr. MacArthur noted:
THERE IS A PLACE FOR CIVIL DISOBEDIENCE
Francis Schaeffer, who died in 1984, says, "If [there's] no final place for civil disobedience, then the government has been made autonomous, and as such, it has been put in the place of the living God." And that point is exactly when the early Christians performed their acts of civil disobedience, even when it cost them their lives. "Acts of State which contradict God's [Laws] are illegitimate and acts of tyranny. Tyranny is ruling without the sanction of God. To resist tyranny is to honour God. . . . The bottom line is that at a certain point there is not only the right, but the duty to disobey the State."
Whatever Happened To The Human Race? | Episode 4 | The Basis for Human Dignity
Sunday Night Prime – Dr. Bernard Nathanson – Fr Groeschel, CFR with Fr …

——
Francis Schaeffer pictured above
Larry King had John MacArthur as a guest on his CNN program several times.

When Government Rewards Evil and Punishes Good
_________________________
Related posts:
Francis Schaeffer: "Whatever Happened to the Human Race" (Episode 1) ABORTION OF THE HUMAN RACE Published on Oct 6, 2012 by AdamMetropolis ________________ Picture of Francis Schaeffer and his wife Edith from the 1930′s above. I was sad to read about Edith passing away on Easter weekend in 2013. I wanted to pass along this fine […]By Everette Hatcher III | Posted in Francis Schaeffer, Prolife | Edit | Comments (0)
I have gone back and forth and back and forth with many liberals on the Arkansas Times Blog on many issues such as abortion, human rights, welfare, poverty, gun control and issues dealing with popular culture. Here is another exchange I had with them a while back. My username at the Ark Times Blog is Saline […]By Everette Hatcher III | Posted in Francis Schaeffer, Prolife | Edit | Comments (0)
I have gone back and forth and back and forth with many liberals on the Arkansas Times Blog on many issues such as abortion, human rights, welfare, poverty, gun control and issues dealing with popular culture. Here is another exchange I had with them a while back. My username at the Ark Times Blog is Saline […]By Everette Hatcher III | Posted in Francis Schaeffer, Prolife | Edit | Comments (0)
It is truly sad to me that liberals will lie in order to attack good Christian people like state senator Jason Rapert of Conway, Arkansas because he headed a group of pro-life senators that got a pro-life bill through the Arkansas State Senate the last week of January in 2013. I have gone back and […]By Everette Hatcher III | Posted in Arkansas Times, Francis Schaeffer, Max Brantley, Prolife | Edit | Comments (0)
I have gone back and forth and back and forth with many liberals on the Arkansas Times Blog on many issues such as abortion, human rights, welfare, poverty, gun control and issues dealing with popular culture. Here is another exchange I had with them a while back. My username at the Ark Times Blog is Saline […]By Everette Hatcher III | Posted in Francis Schaeffer, Prolife | Edit | Comments (0)
I have gone back and forth and back and forth with many liberals on the Arkansas Times Blog on many issues such as abortion, human rights, welfare, poverty, gun control and issues dealing with popular culture. Here is another exchange I had with them a while back. My username at the Ark Times Blog is Saline […]By Everette Hatcher III | Posted in Francis Schaeffer, Prolife | Edit | Comments (0)
I have gone back and forth and back and forth with many liberals on the Arkansas Times Blog on many issues such as abortion, human rights, welfare, poverty, gun control and issues dealing with popular culture. Here is another exchange I had with them a while back. My username at the Ark Times Blog is Saline […]By Everette Hatcher III | Posted in Francis Schaeffer, Prolife | Edit | Comments (0)
Sometimes you can see evidences in someone's life of how content they really are. I saw something like that on 2-8-13 when I confronted a blogger that goes by the name "AngryOldWoman" on the Arkansas Times Blog. See below. Leadership Crisis in America Published on Jul 11, 2012 Picture of Adrian Rogers above from 1970′s […]By Everette Hatcher III | Posted in Adrian Rogers, Arkansas Times, Prolife | Edit | Comments (0)
In the film series "WHATEVER HAPPENED TO THE HUMAN RACE?" the arguments are presented against abortion (Episode 1), infanticide (Episode 2), euthenasia (Episode 3), and then there is a discussion of the Christian versus Humanist worldview concerning the issue of "the basis for human dignity" in Episode 4 and then in the last episode a close […]By Everette Hatcher III | Posted in Francis Schaeffer, Prolife | Edit | Comments (0)
I have gone back and forth and back and forth with many liberals on the Arkansas Times Blog on many issues such as abortion, human rights, welfare, poverty, gun control and issues dealing with popular culture. Here is another exchange I had with them a while back. My username at the Ark Times Blog is Saline […]By Everette Hatcher III | Posted in Francis Schaeffer, Prolife | Edit | Comments (0)
I have gone back and forth and back and forth with many liberals on the Arkansas Times Blog on many issues such as abortion, human rights, welfare, poverty, gun control and issues dealing with popular culture. Here is another exchange I had with them a while back. My username at the Ark Times Blog is Saline […]By Everette Hatcher III | Posted in Francis Schaeffer, Prolife | Edit | Comments (3)
I have gone back and forth and back and forth with many liberals on the Arkansas Times Blog on many issues such as abortion, human rights, welfare, poverty, gun control and issues dealing with popular culture. Here is another exchange I had with them a while back. My username at the Ark Times Blog is Saline […]By Everette Hatcher III | Posted in Francis Schaeffer, Prolife | Edit | Comments (2)
E P I S O D E 1 0 Dr. Francis Schaeffer – Episode X – Final Choices 27 min FINAL CHOICES I. Authoritarianism the Only Humanistic Social Option One man or an elite giving authoritative arbitrary absolutes. A. Society is sole absolute in absence of other absolutes. B. But society has to be […]By Everette Hatcher III | Posted in Francis Schaeffer | Tagged francis crick, hitler and stalin, john kenneth galbraith, robert theobald, youtube | Edit | Comments (0)
E P I S O D E 9 Dr. Francis Schaeffer – Episode IX – The Age of Personal Peace and Affluence 27 min T h e Age of Personal Peace and Afflunce I. By the Early 1960s People Were Bombarded From Every Side by Modern Man's Humanistic Thought II. Modern Form of Humanistic Thought Leads […]By Everette Hatcher III | Posted in Francis Schaeffer | Tagged free speech movement, paris riots, personal peace., sproul plaza, www youtube | Edit | Comments (0)
E P I S O D E 8 Dr. Francis Schaeffer – Episode VIII – The Age of Fragmentation 27 min I saw this film series in 1979 and it had a major impact on me. T h e Age of FRAGMENTATION I. Art As a Vehicle Of Modern Thought A. Impressionism (Monet, Renoir, Pissarro, Sisley, […]By Everette Hatcher III | Posted in Francis Schaeffer | Tagged airplane design, http www youtube, marcel duchamp art, post impressionism, van gogh gauguin | Edit | Comments (0)
E P I S O D E 7 Dr. Francis Schaeffer – Episode VII – The Age of Non Reason I am thrilled to get this film series with you. I saw it first in 1979 and it had such a big impact on me. Today's episode is where we see modern humanist man act […]By Everette Hatcher III | Posted in Francis Schaeffer | Tagged french existentialism, humanist philosophers, humanistic philosophy, natural freedom, www youtube | Edit | Comments (0)
E P I S O D E 6 How Should We Then Live 6#1 Uploaded by NoMirrorHDDHrorriMoN on Oct 3, 2011 How Should We Then Live? Episode 6 of 12 ________ I am sharing with you a film series that I saw in 1979. In this film Francis Schaeffer asserted that was a shift in […]By Everette Hatcher III | Posted in Francis Schaeffer | Tagged biblical foundations., biblical influence, french prose, neo darwinism, www youtube | Edit | Comments (0)
E P I S O D E 5 How Should We Then Live? Episode 5: The Revolutionary Age I was impacted by this film series by Francis Schaeffer back in the 1970′s and I wanted to share it with you. Francis Schaeffer noted, "Reformation Did Not Bring Perfection. But gradually on basis of biblical teaching there […]By Everette Hatcher III | Posted in Francis Schaeffer | Tagged christian foundations, freedom of press, freedom of religion, lex rex, www youtube | Edit | Comments (0)
Dr. Francis Schaeffer – Episode IV – The Reformation 27 min I was impacted by this film series by Francis Schaeffer back in the 1970′s and I wanted to share it with you. Schaeffer makes three key points concerning the Reformation: "1. Erasmian Christian humanism rejected by Farel. 2. Bible gives needed answers not only as to […]By Everette Hatcher III | Posted in Francis Schaeffer | Tagged authority of the bible, christian humanism, old testament prophets, school of athens., thomas cromwell | Edit | Comments (0)
Francis Schaeffer's "How should we then live?" Video and outline of episode 3 "The Renaissance" Francis Schaeffer: "How Should We Then Live?" (Episode 3) THE RENAISSANCE I was impacted by this film series by Francis Schaeffer back in the 1970′s and I wanted to share it with you. Schaeffer really shows why we have so […]By Everette Hatcher III | Posted in Francis Schaeffer | Edit | Comments (0)
Francis Schaeffer: "How Should We Then Live?" (Episode 2) THE MIDDLE AGES I was impacted by this film series by Francis Schaeffer back in the 1970′s and I wanted to share it with you. Schaeffer points out that during this time period unfortunately we have the "Church's deviation from early church's teaching in regard […]By Everette Hatcher III | Posted in Francis Schaeffer | Tagged byzantine art, conservative evangelicalism, gothic architecture., gregorian chants, naturalism in art | Edit | Comments (0)
Francis Schaeffer: "How Should We Then Live?" (Episode 1) THE ROMAN AGE Today I am starting a series that really had a big impact on my life back in the 1970′s when I first saw it. There are ten parts and today is the first. Francis Schaeffer takes a look at Rome and why […]
By Everette Hatcher III | Posted in Francis Schaeffer | Edit | Comments (0)