—
—
June 28, 2021
President Biden c/o The White House 1600 Pennsylvania Avenue NW Washington, DC 20500
Dear Mr. President,
I wanted to reach out to you because of some of the troubling moral issues coming out of your administration.

Over Legal Objections, Biden Moves to Reinstate Family Planning Funds for Abortion Providers
Melanie Israel / @Melanie_Israel / May 19, 2021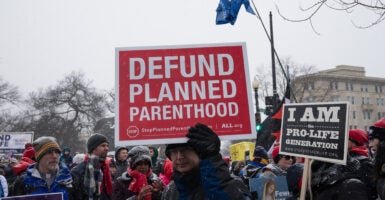 The Biden administration is seeking to roll back important provisions of the Trump administration's 2019 "Protect Life" rule. Pictured: Tens of thousands of pro-life supporters march in Washington on Jan. 22, 2016, on the anniversary of the 1973 Supreme Court decision Roe v. Wade. (Photo: Albin Lohr-Jones/Pacific Press/LightRocket/ Getty Images)
COMMENTARY BY
Melanie Israel is a policy analyst with the DeVos Center for Religion & Civil Society at The Heritage Foundation.
The public comment period closed Monday for a rule proposed by the Biden administration that would roll back important provisions of the Trump administration's 2019 "Protect Life" rule.
At issue in the debate is the federal Title X family planning program. The law that established the program—Title X of the Public Health Service Act (1970)—says that no funds appropriated "shall be used in programs where abortion is a method of family planning."
The Trump administration's Protect Life rule required that grantees maintain strict physical and financial separation between Title X activity and abortion-related activity. In other words, a grantee couldn't conduct Title X activity in one room and perform abortion with non-Title X resources in a room down the hall.
The Protect Life rule also ensured that Title X regulations are consistent with federal conscience rights laws by not requiring grantees to refer for, or counsel women to get, abortions.
During the Trump administration, Planned Parenthood refused to comply with the terms of the rule and walked away from $60 million in Title X funds.
Now, the Biden administration has proposed a rule to reverse the Trump administration's pro-life policies and allow Title X activity to be conducted alongside abortion activity without strict physical and financial separation.
The rule would require grantees to refer for abortions, despite sincere moral or religious objections, effectively banning otherwise qualified pro-life grantees from participating.
The Heritage Foundation has long articulated the importance of conscience rights and opposed taxpayer dollars being entangled with abortion activity.
The Protect Life rule rightly required transparency and good stewardship of federal funds while protecting fundamental rights to life and conscience.
In response to the Biden administration's proposal to gut those important protections, Heritage submitted public comment in opposition to the rule.
An abridged and lightly edited version of that comment follows:
The Law Requires a Wall of Separation Between Title X Activity and Abortion
The Biden administration's proposed regulation guts the 2019 requirements that Title X regulations comply with the clear, unambiguous language of the Title X statute: "None of the funds appropriated under this subchapter shall be used in programs where abortion is a method of family planning."
The statute has remained unchanged for more than 50 years, and appropriations legislation that provides funding for the Title X program reiterates this requirement, most recently in the Consolidated Appropriations Act 2021, which stipulates that funds appropriated for Title X "shall not be expended on abortion."
The 1970 conference report for the legislation establishing the Title X program explains that funds are only to be used "to support preventive family-planning services, population research, infertility services, and other related medical, informational, and educational activities."
The conferees have adopted the language contained in section 1008, which prohibits the use of such funds for abortion, in order to make clear this intent.
The 2019 regulation, a "materially indistinguishable version" of a regulation upheld by the Supreme Court in Rust v. Sullivan (1991), recognized Congress' clear intent. In its opinion, the Supreme Court was clear that "the legislative history demonstrates that Congress intended that Title X funds be kept separate and distinct from abortion-related activates."
Congressional intent is clear: Abortion is not family planning, and Congress intended for there to be a clear separation between abortion and Title X activity. The 2019 regulation rightly ensured compliance with the Title X statute by requiring clear physical and financial separation of Title X activity and abortion activity.
The proposed rule wrongly eliminates that important firewall.
Importance of Conscience Protections
The Biden administration's proposed rule opens with an acknowledgement that Congress has, on multiple occasions, enacted statutes protecting conscience rights in the context of abortion. Such laws include the Weldon Amendment, which prohibits (among other things) discrimination on the basis that a health care entity does not refer for abortions.
However, the Biden administration's proposed rule makes no such acknowledgement or mention of such civil rights in the proposed regulatory text, which states that projects must offer pregnant clients the opportunity to be provided with information about abortion.
Furthermore, the proposed regulatory text requires that projects provide abortion referral upon request.
The proposed rule is inconsistent with long-standing federal civil rights law protecting rights of conscience. While the Biden administration is entitled to take a position on abortion, it cannot force Title X projects to communicate a message that directly contradicts and undermines their beliefs (in addition to being against the plain text of the law).
If an otherwise qualified potential grantee decides that it cannot, in good conscience, agree to provide the information about abortion outlined in the regulation, and is precluded from applying for program funding, then the Department of Health and Human Services has deliberately limited the diversity of the pool of applicants that can be awarded grants.
Every day, thousands of Americans freely choose to seek health care at high-quality clinics that are not enmeshed with the abortion industry. The proposed rule would mean that those Americans would be unable to access Title X program activity at a site that aligns with their choices and personal values.
In Conclusion
Title X of the Public Health Service Act is clear: Funds may not "be used in programs where abortion is a method of family planning." The Biden administration's justification for allowing commingling of Title X programs and physical and financial resources related to abortion is woefully deficient.
Furthermore, the proposed rule contradicts long-standing civil rights law protecting rights of conscience.
The Trump administration's 2019 Protect Life rule rightly sought to uphold what the law requires with respect to good stewardship of taxpayer dollars and freedom of conscience by preventing the government from compelling speech.
The Biden administration should not infringe upon fundamental freedoms by revising these important policies.
Have an opinion about this article? To sound off, please email letters@DailySignal.com and we'll consider publishing your edited remarks in our regular "We Hear You" feature. Remember to include the url or headline of the article plus your name and town and/or state.
John MacArthur gave a sermon in June of 2021 entitled "When Government Rewards Evil and Punishes Good" and in that sermon he makes the following points:
INTRODUCTION AND DISCUSSION OF ROMANS 13
GOVERNMENT CAN FORFEIT ITS AUTHORITY
THE WORLD IS THE ENEMY OF THE GOSPEL
ALL OF HUMAN HISTORY IS PROGRESSING TOWARD A GLOBAL KINGDOM UNDER THE POWER OF SATAN
ONE FALSE WORLD RELIGION IS FINAL PLAY BY SATAN
REAL PERSECUTION CAN ONLY BE DONE BY GOVERNMENT
PERSECUTION IN BOOK OF DANIEL
THE LAW IS KING AND NOT THE GOVERNOR OF CALIFORNIA
GOVERNMENT HAS BECOME PURVEYOR OF WICKEDNESS
THERE IS A PLACE FOR CIVIL DISOBEDIENCE
DOES GOVERNMENT WIN?
Let me just share a portion of that sermon with you and you can watch it on You Tube:
In reality the greatest threat to this nation is the government, the government. And I want to show you how we are to understand that. Turn to Romans 13, Romans 13. Listen carefully to what the apostle Paul said: "Every person is to be in subjection to the governing authorities. For there is no authority except from God, and those which exist are established by God. Therefore whoever resists authority has opposed the ordinance of God; and they who have opposed will receive condemnation upon themselves. For rulers are not a cause of fear for good behavior, but for evil. Do you want to have no fear of authority? Do what is good and you will have praise from the same; for it is a minister of God to you for good. But if you do what is evil, be afraid; for it doesn't bear the sword for nothing; for it is a minister of God, an avenger who brings wrath on the one who practices evil." The role of the government is to restrain evil; and when it functions to restrain evil, it is fulfilling its God-ordained purpose.
Please notice in verses 1 and 2 that government is from God, by God, of God. It is designed as a necessary restraint in a world of sinners. Verses 3 and 4 tell us it is not a threat to those whose behavior is good, but evil. It is those who do evil who should be afraid, not those who do good. In fact it offers praise to those who do good, and brings wrath on those who do evil. And rulers actually, according to verse 6, are servants of God, devoted to that service.
This is God's design for government. The problem is, when government ceases to function by God's design, it yields up its authority. The same would be true in a family. God's design is that the father lead the family. When the father leads in a destructive and evil way, he yields up the right to exercise that God-given authority.
And by the way just as a footnote, the man who wrote that, the apostle Paul, was in violation of the government more often than any other person in the entire New Testament. And when he went to preach the gospel, he was very often thrown in jail; and ultimately he was executed by the government that he refused to obey when it no longer functioned to protect good behavior and punish evil behavior.
—
Francis Schaeffer on "The Limits of Civil Obedience"
Last, in A Christian Manifesto(1981), Francis Schaeffer writes the following about Romans 13 and the limits of civil obedience.
The civil government, as all of life, stands under the Law of God. In this fallen world God has given us certain offices to protect us from the chaos which is the natural result of that fallenness. But when any office commands that which is contrary to the Word of God, those who hold that office abrogate their authority and they are not to be obeyed. And that includes the state.
Schaeffer cites Romans 13:1–4 and continues,
God has ordained the state as delegated authority; it is not autonomous. The state is to be an agent of justice by punishing the wrongdoer, and to protect the good in society. When it does the reverse, it has no proper authority. It is then a usurped authority and as such it becomes lawless and is tyranny.
In 1 Peter 2:13-17 we read:
Submit yourselves for the Lord's sake to every authority instituted among men: whether to the king, as the supreme authority, or to governors, who are sent by him to punish those who do wrong and to commend those who do right. For it is God's will that by doing good you should silence the ignorant talk of foolish men. Live as free men, but do not use your freedom as a cover-up for evil; live as servants of God. Show proper respect to everyone: Love the brotherhood of believers, fear God, honor the king.
Peter says here that civil authority is to be honored and that God is to be feared. The state, as he defines it, is to punish those who do wrong and commend those who do right. If this is not so, then the whole structure falls apart. Clearly, the state is to be a ministry of justice. This is the legitimate function of the state, and in this structure Christians are to obey the state as a matter of "'conscience" (Romans 13:5).
But what is to be done when the state does that which violates its legitimate function? The early Christians died because they would not obey the state in a civil matter. People often say to us that the early church did not show any civil disobedience. They do not know church history. Why were the Christians in the Roman Empire thrown to the lions? From the Christian's viewpoint it was for a religious reason. But from the viewpoint of the Roman State they were in civil disobedience, they were civil rebels.
The Roman State did not care what anybody believed religiously; you could believe anything, or you could be an atheist. But you had to worship Caesar as a sign of your loyalty to the state. The Christians said they would not worship Caesar, anybody, or anything, but the living God. Thus to the Roman Empire they were rebels, and it was civil disobedience. That is why they were thrown to the lions. . . .
The bottom line is that at a certain point there is not only the right, but the duty, to disobey the state. (A Christian Manifesto, in The Complete Works of Francis Schaeffer, 5:468–69)
Proving this point from Church history (pp. 469–73), Schaeffer lists examples of Christian resistance from the Reformation in countries like the Netherlands, Sweden, Denmark, Germany, Switzerland, Geneva, Scotland, Hungary, France, Spain, and Scotland again. Focusing his attention on Samuel Rutherford, and his work of Protestant political resistance, Lex, Rex (trans. The Law and the Prince), Schaeffer concludes with Rutherford's reading of Romans 13. He writes,
Romans 13 indicates that all power is from God and that government is ordained and instituted by God. The state, however, is to be administered according to the principles of God's Law. Acts of the state which contradicted God's Law were illegitimate and acts of tyranny. Tyranny was defined as ruling without the sanction of God. (473–74)
Moving from this definition of tyranny, Schaeffer explains how, according to Rutherford, "tyrannical government is always immortal," and thus Christians must always be on guard. Summarizing Rutherford, Schaeffer gives incisive instruction for what Romans 13 means in the context of wicked rulers.
First, since tyranny is satanic, not to resist it is to resist God—to resist tyranny is to honor God. Second, since the ruler is granted power conditionally, it follows that the people have the power to withdraw their sanction if the proper conditions are not fulfilled. The civil magistrate is a "fiduciary figure'"—that is, he holds his authority in trust for the people. Violation of the trust gives the people a legitimate base for resistance.
It follows from Rutherford's thesis that citizens have a moral obligation to resist unjust and tyrannical government. While we must always be subject to the office of the magistrate, we are not to be subject to the man in that office who commands that which is contrary to the Bible. . . . A ruler, he wrote, should not be deposed merely because he commits a single breach of the compact he has with the people. Only when the magistrate acts in such a way that the governing structure of the country is being destroyed—that is, when he is attacking the fundamental structure of society—is he to be relieved of his power and authority. (474, emphasis mine)
This is a crucial distinction and one that we will consider as we conclude this blogpost.
Obedience Always and Sometimes Resistance
As Schaeffer notes, we must not charge rulers of tyranny when they do things we don't like or when they commit a single breach of trust, Rather, resistance to tyrants applies when the governing authorities are destroying the fabric of society itself in a serially and ongoing way. In his final estimation, Schaeffer believed this was already happening in America in 1981.
For us today, we need to keep our eyes open to what is happening in our country, our states, and local municipalities. The above quotations help us to see what Romans 13 means and how it calls for submission to governing authorities and measured resistance which obeys Romans 12:21: "Do not be overcome with evil, but overcome evil with good." This certainly applies to interpersonal relations, but it also applies to our interaction with the state.
As Schreiner, Sunshine, and Schaeffer remind us, when governing authorities act wickedly, Christians should respond in prayer, petition, and political action to oppose those who legislate evil and oppose good. The reason for this is not because Christians are trying to establish Christ's kingdom in this fallen world. Instead, it is because in this fallen world, disciples of Christ believe Christ has authority over all things, including government, and because governments that honor God's definition of good and evil are the best places for the gospel and churches to go forward. In this way, political engagement is not a "gospel issue." The gospel will go forward with or without government support. But in places where freedom of religion is practiced, individuals are in the best place to receive the gospel—without coercion or fear.
Again, Romans 13 positively teaches that submission is our basic posture to governing authorities, but it is not, and has never been, the only posture of faithful Christians. Wise Christians know this and they also know that Romans 13 does not deny political resistance. Instead, Paul's words call us to bless our neighbors with our presence, and to count the cost in moments when in obedience to God we stand up to tyrants.
For more on the subject of political resistance, read Sunshine's book. You can also get a taste of how Romans 13 informs us today in my Sunday sermon. In all, we need to be aware of how governing authorities are (mis)using their powers today and why Christians should care about that and how Scripture teaches us to respond.
Scripture is not silent on matters of God and Government. And faithful disciples will grow up in Christ as they let the whole counsel of Scripture inform their views of the world, including all matters pertaining to government.
Soli Deo Gloria, ds
Photo by Ruben Ramirez on Unsplash
Thank you so much for your time. I know how valuable it is. I also appreciate the fine family that you have and your commitment as a father and a husband. I also respect you for putting your faith in Christ for your eternal life. I am pleading to you on the basis of the Bible to please review your religious views concerning abortion. It was the Bible that caused the abolition movement of the 1800's and it also was the basis for Martin Luther King's movement for civil rights and it also is the basis for recognizing the unborn children. I wanted to encourage you to investigate the work of Dr. Bernard Nathanson who like you used to be pro-abortion. I also want you to watch the You Tube series WHATEVER HAPPENED TO THE HUMAN RACE? by Francis Schaeffer and Dr. C. Everett Koop. Also it makes me wonder what our the moral climate Of our nation is when we concentrate more on potential mistakes of the police and we let criminals back on the street so fast! Our national was founded of LEX REX and not REX LEX!
Sincerely,
Everette Hatcher III, 13900 Cottontail Lane, Alexander, AR 72002, ph 501-920-5733,
PS: In this series of letters John MacArthur covers several points. In the first letter, he quotes you saying that the greatest threat to America—he said on one occasion—is systemic racism, which doesn't exist; he said white supremacy, which doesn't exist with any power; and then he said global warming, which doesn't exist either, and if it does, God's in charge of it.
In reality the greatest threat to this nation is the government, the government. And I want to show you how we are to understand that. Turn to Romans 13
In the 2nd letter, Dr. MacArthur noted When government turns the divine design on its head and protects those who do evil and makes those who do good afraid, it forfeits its divine purpose
In the 3rd letter Dr. MacArthur noted The world is the enemy of the gospel. The world is the enemy of the church. I pointed out that this manifests itself today in the form of HUMANISM.
In the 4th letter Dr. MacArthur points out how much today the devil is having his way in our society and that the Bible predicts that these will get worse!
In the 5th letter Francis Schaeffer points out "The HUMANIST MANIFESTOS not only say that humanism is a religion, but the Supreme Court has declared it to be a religion. The 1961 case of Torcaso v. Watkins specifically defines secular humanism as a religion equivalent to theistic and other non theistic religions."
In the 6th letter Dr. MacArthur noted God has given government the sword, the power; and when they prostitute that power and they begin to punish those who do good and protect those who do evil, they wield that power against the people of God.
In the 7th letter Dr. MacArthur asserted, Throughout history, even in the Western world, people lived under what was called the divine right of kings. Kings were believed to have had a divine right. This was absolute monarchy. What broke that was basically the Reformers. The Reformers—a little phrase was "the law is king," not the man.
In the 8th letter Dr. MacArthur noted that today the United States "Government has already become the purveyor of wickedness. Government is a murderer, slaughtering millions of infants in abortion."
In the 9th letter the article
Judge gives preliminary OK to $3.5M settlement of IRS caseis discussed about the 2013 lawsuit during the Barack Obama administration over treatment of conservative groups who said they were singled out for extra IRS scrutiny on tax-exempt status applications. Then Dr. MacArthur talks about persecution in the Book of Daniel.
"These are groups of law-abiding citizens who should have never had their First Amendment rights infringed upon by the IRS," Jenny Beth Martin, president of the Tea Party Patriots umbrella group, said Wednesday. "These are groups that want the government to be accountable."
The government has been used to persecuting people they don't like for centuries! Let me just share a portion of that sermon by John MacArthur with you and you can watch it on You Tube:
PERSECUTION IN BOOK OF DANIEL
In the 10th letter Dr. MacArthur noted:
THERE IS A PLACE FOR CIVIL DISOBEDIENCE
Francis Schaeffer, who died in 1984, says, "If [there's] no final place for civil disobedience, then the government has been made autonomous, and as such, it has been put in the place of the living God." And that point is exactly when the early Christians performed their acts of civil disobedience, even when it cost them their lives. "Acts of State which contradict God's [Laws] are illegitimate and acts of tyranny. Tyranny is ruling without the sanction of God. To resist tyranny is to honour God. . . . The bottom line is that at a certain point there is not only the right, but the duty to disobey the State."
Whatever Happened To The Human Race? | Episode 4 | The Basis for Human Dignity
Sunday Night Prime – Dr. Bernard Nathanson – Fr Groeschel, CFR with Fr …

——
Francis Schaeffer pictured above
Larry King had John MacArthur as a guest on his CNN program several times.

When Government Rewards Evil and Punishes Good
_________________________
Related posts:
Francis Schaeffer: "Whatever Happened to the Human Race" (Episode 1) ABORTION OF THE HUMAN RACE Published on Oct 6, 2012 by AdamMetropolis ________________ Picture of Francis Schaeffer and his wife Edith from the 1930′s above. I was sad to read about Edith passing away on Easter weekend in 2013. I wanted to pass along this fine […]By Everette Hatcher III | Posted in Francis Schaeffer, Prolife | Edit | Comments (0)
I have gone back and forth and back and forth with many liberals on the Arkansas Times Blog on many issues such as abortion, human rights, welfare, poverty, gun control and issues dealing with popular culture. Here is another exchange I had with them a while back. My username at the Ark Times Blog is Saline […]By Everette Hatcher III | Posted in Francis Schaeffer, Prolife | Edit | Comments (0)
I have gone back and forth and back and forth with many liberals on the Arkansas Times Blog on many issues such as abortion, human rights, welfare, poverty, gun control and issues dealing with popular culture. Here is another exchange I had with them a while back. My username at the Ark Times Blog is Saline […]By Everette Hatcher III | Posted in Francis Schaeffer, Prolife | Edit | Comments (0)
It is truly sad to me that liberals will lie in order to attack good Christian people like state senator Jason Rapert of Conway, Arkansas because he headed a group of pro-life senators that got a pro-life bill through the Arkansas State Senate the last week of January in 2013. I have gone back and […]By Everette Hatcher III | Posted in Arkansas Times, Francis Schaeffer, Max Brantley, Prolife | Edit | Comments (0)
I have gone back and forth and back and forth with many liberals on the Arkansas Times Blog on many issues such as abortion, human rights, welfare, poverty, gun control and issues dealing with popular culture. Here is another exchange I had with them a while back. My username at the Ark Times Blog is Saline […]By Everette Hatcher III | Posted in Francis Schaeffer, Prolife | Edit | Comments (0)
I have gone back and forth and back and forth with many liberals on the Arkansas Times Blog on many issues such as abortion, human rights, welfare, poverty, gun control and issues dealing with popular culture. Here is another exchange I had with them a while back. My username at the Ark Times Blog is Saline […]By Everette Hatcher III | Posted in Francis Schaeffer, Prolife | Edit | Comments (0)
I have gone back and forth and back and forth with many liberals on the Arkansas Times Blog on many issues such as abortion, human rights, welfare, poverty, gun control and issues dealing with popular culture. Here is another exchange I had with them a while back. My username at the Ark Times Blog is Saline […]By Everette Hatcher III | Posted in Francis Schaeffer, Prolife | Edit | Comments (0)
Sometimes you can see evidences in someone's life of how content they really are. I saw something like that on 2-8-13 when I confronted a blogger that goes by the name "AngryOldWoman" on the Arkansas Times Blog. See below. Leadership Crisis in America Published on Jul 11, 2012 Picture of Adrian Rogers above from 1970′s […]By Everette Hatcher III | Posted in Adrian Rogers, Arkansas Times, Prolife | Edit | Comments (0)
In the film series "WHATEVER HAPPENED TO THE HUMAN RACE?" the arguments are presented against abortion (Episode 1), infanticide (Episode 2), euthenasia (Episode 3), and then there is a discussion of the Christian versus Humanist worldview concerning the issue of "the basis for human dignity" in Episode 4 and then in the last episode a close […]By Everette Hatcher III | Posted in Francis Schaeffer, Prolife | Edit | Comments (0)
I have gone back and forth and back and forth with many liberals on the Arkansas Times Blog on many issues such as abortion, human rights, welfare, poverty, gun control and issues dealing with popular culture. Here is another exchange I had with them a while back. My username at the Ark Times Blog is Saline […]By Everette Hatcher III | Posted in Francis Schaeffer, Prolife | Edit | Comments (0)
I have gone back and forth and back and forth with many liberals on the Arkansas Times Blog on many issues such as abortion, human rights, welfare, poverty, gun control and issues dealing with popular culture. Here is another exchange I had with them a while back. My username at the Ark Times Blog is Saline […]By Everette Hatcher III | Posted in Francis Schaeffer, Prolife | Edit | Comments (3)
I have gone back and forth and back and forth with many liberals on the Arkansas Times Blog on many issues such as abortion, human rights, welfare, poverty, gun control and issues dealing with popular culture. Here is another exchange I had with them a while back. My username at the Ark Times Blog is Saline […]By Everette Hatcher III | Posted in Francis Schaeffer, Prolife | Edit | Comments (2)
E P I S O D E 1 0 Dr. Francis Schaeffer – Episode X – Final Choices 27 min FINAL CHOICES I. Authoritarianism the Only Humanistic Social Option One man or an elite giving authoritative arbitrary absolutes. A. Society is sole absolute in absence of other absolutes. B. But society has to be […]By Everette Hatcher III | Posted in Francis Schaeffer | Tagged francis crick, hitler and stalin, john kenneth galbraith, robert theobald, youtube | Edit | Comments (0)
E P I S O D E 9 Dr. Francis Schaeffer – Episode IX – The Age of Personal Peace and Affluence 27 min T h e Age of Personal Peace and Afflunce I. By the Early 1960s People Were Bombarded From Every Side by Modern Man's Humanistic Thought II. Modern Form of Humanistic Thought Leads […]By Everette Hatcher III | Posted in Francis Schaeffer | Tagged free speech movement, paris riots, personal peace., sproul plaza, www youtube | Edit | Comments (0)
E P I S O D E 8 Dr. Francis Schaeffer – Episode VIII – The Age of Fragmentation 27 min I saw this film series in 1979 and it had a major impact on me. T h e Age of FRAGMENTATION I. Art As a Vehicle Of Modern Thought A. Impressionism (Monet, Renoir, Pissarro, Sisley, […]By Everette Hatcher III | Posted in Francis Schaeffer | Tagged airplane design, http www youtube, marcel duchamp art, post impressionism, van gogh gauguin | Edit | Comments (0)
E P I S O D E 7 Dr. Francis Schaeffer – Episode VII – The Age of Non Reason I am thrilled to get this film series with you. I saw it first in 1979 and it had such a big impact on me. Today's episode is where we see modern humanist man act […]By Everette Hatcher III | Posted in Francis Schaeffer | Tagged french existentialism, humanist philosophers, humanistic philosophy, natural freedom, www youtube | Edit | Comments (0)
E P I S O D E 6 How Should We Then Live 6#1 Uploaded by NoMirrorHDDHrorriMoN on Oct 3, 2011 How Should We Then Live? Episode 6 of 12 ________ I am sharing with you a film series that I saw in 1979. In this film Francis Schaeffer asserted that was a shift in […]By Everette Hatcher III | Posted in Francis Schaeffer | Tagged biblical foundations., biblical influence, french prose, neo darwinism, www youtube | Edit | Comments (0)
E P I S O D E 5 How Should We Then Live? Episode 5: The Revolutionary Age I was impacted by this film series by Francis Schaeffer back in the 1970′s and I wanted to share it with you. Francis Schaeffer noted, "Reformation Did Not Bring Perfection. But gradually on basis of biblical teaching there […]By Everette Hatcher III | Posted in Francis Schaeffer | Tagged christian foundations, freedom of press, freedom of religion, lex rex, www youtube | Edit | Comments (0)
Dr. Francis Schaeffer – Episode IV – The Reformation 27 min I was impacted by this film series by Francis Schaeffer back in the 1970′s and I wanted to share it with you. Schaeffer makes three key points concerning the Reformation: "1. Erasmian Christian humanism rejected by Farel. 2. Bible gives needed answers not only as to […]By Everette Hatcher III | Posted in Francis Schaeffer | Tagged authority of the bible, christian humanism, old testament prophets, school of athens., thomas cromwell | Edit | Comments (0)
Francis Schaeffer's "How should we then live?" Video and outline of episode 3 "The Renaissance" Francis Schaeffer: "How Should We Then Live?" (Episode 3) THE RENAISSANCE I was impacted by this film series by Francis Schaeffer back in the 1970′s and I wanted to share it with you. Schaeffer really shows why we have so […]By Everette Hatcher III | Posted in Francis Schaeffer | Edit | Comments (0)
Francis Schaeffer: "How Should We Then Live?" (Episode 2) THE MIDDLE AGES I was impacted by this film series by Francis Schaeffer back in the 1970′s and I wanted to share it with you. Schaeffer points out that during this time period unfortunately we have the "Church's deviation from early church's teaching in regard […]By Everette Hatcher III | Posted in Francis Schaeffer | Tagged byzantine art, conservative evangelicalism, gothic architecture., gregorian chants, naturalism in art | Edit | Comments (0)
Francis Schaeffer: "How Should We Then Live?" (Episode 1) THE ROMAN AGE Today I am starting a series that really had a big impact on my life back in the 1970′s when I first saw it. There are ten parts and today is the first. Francis Schaeffer takes a look at Rome and why […]
By Everette Hatcher III | Posted in Francis Schaeffer | Edit | Comments (0)