_________
The state of New York is an economic disaster area.
The good news is that New York's politicians seem to be aware of these rankings and are taking steps to change policy.
The bad news is that they want they apparently want to be in last place in every index, so they're looking at a giant tax increase.
The Wall Street Journal opined on the potential tax increase yesterday.
…lawmakers in Albany should be shouting welcome home. Instead they're eyeing big new tax increases that would give the state's temporary refugees to Florida—or wherever—one more reason to stay away for good. …Here are some of the proposals… Impose graduated rates on millionaires, up to 11.85%. …Since New York City has its own income tax,running to 3.88%, the combined rate would be…a bigger bite than even California's notorious 13.3% top tax, and don't forget Uncle Sam's 37% share. …The squeeze is worse when you add the new taxes President Biden wants. A second factor: In 2017 the federal deduction for state and local taxes was capped at $10,000, so New Yorkers will now really feel the pinch. As E.J. McMahon of the Empire Center for Public Policy writes: "The financial incentive for high earners to move themselves and their businesses from New York to states with low or no income taxes has never—ever—been higher than it already is."
The potential deal also would increase the state's capital gains tax and the state's death tax, adding two more reasons for entrepreneurs and investors to escape.
Here are some more details from a story in the New York Timesby Luis Ferré-Sadurní and Jesse McKinley.
Gov. Andrew M. Cuomo and New York State legislative leaders were nearing a budget agreement on Monday that would make New York City's millionaires pay the highest personal income taxes in the nation… Under the proposed new tax rate, the city's top earners could pay between 13.5 percent to 14.8 percent in state and city taxes,when combined with New York City's top income tax rate of 3.88 percent — more than the top marginal income tax rate of 13.3 percent in California… Raising taxes on the rich in New York has been a top policy priority of the Democratic Party's left flank… The business community has warned that raising income taxes could prompt millionaires who have left the state during the pandemic and are working remotely to make their move permanent, damaging the state's tax base. Currently, the top 2 percent of the state's highest earners pay about half of the state's income taxes. …The corporate franchise tax rate would also increase to 7.25 percent from 6.5 percent.
There are two things to keep in mind about this looming tax increase.
That second item is a big reason why so many taxpayers already have escaped New York and moved to states with better tax policy (most notably, Florida).
And even more will move if tax rates are increased, as expected.
Indeed, if the left's dream agenda is adopted, I wouldn't be surprised if every successful person left New York. In a columnfor the Wall Street Journal, Mark Kingdon warns about other tax hikes being considered, especially a wealth tax.
Legislators in Albany are considering two tax bills that could seriously damage the economic well-being and quality of life in New York for many years to come: a wealth tax and a stock transfer tax. …Should New York enact a 2% wealth tax, a wealthy New Yorker could wind up paying a 77% tax on short-term stock market profits. And that's a conservative estimate: It assumes that stocks return 9% a year.If the return is 4.4% or less, the tax would be more than 100%. …65,000 families pay half of the city's income taxes, and they won't stay if the taxes become unreasonable… The trickle of wealthy émigrés out of New York has become a steady stream… It will be a flood if New York enacts a wealth tax with an associated tax on unrealized gains, which would lower, not raise, tax revenues, as those who leave take with them jobs and related services, such as legal and accounting. …The geese who have laid golden eggs for years see what is happening in Albany, and they'll fly south to avoid being carved up.
The good news – at least relatively speaking – is that a wealth tax is highly unlikely.
But that a rather small silver lining on a very big dark cloud. The tax increases that will happen are more than enough to make the state even more hostile to private sector growth.
I'll close with a few observations.
There are a few states that can get away with higher-than-average taxes because of special considerations. California, for instance, has climate and scenery. In the case of New York, it can get away with some bad policy because some people think of New York City as a one-of-a-kind place. But there's a limit to how much those factors can be exploited, as both California and New York are now learning.
What politicians don't realize (or don't care about) is that people look at a range of factors when deciding where to live. This is especially true for successful entrepreneurs, investors, and business owners, who have both resources and knowledge to assess the costs and benefits of different locations. The problem for New York is that it looks bad on almost all policy metrics.
If the tax increases is enacted, expect to see a significant drop in taxable income as upper-income taxpayers either leave the state or figure out other ways of protecting their income. I don't know if the state will be on the downward-sloping portion of the Laffer Curve, but it's safe to assume that revenues over time will fall far short of projections. And it's very safe to assume that the economic damage will easily offset any revenues that are collected.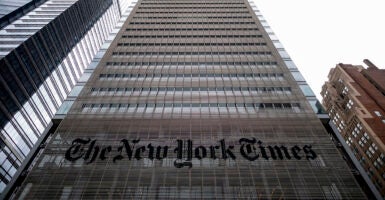 If the name Tatiana Schlossberg sounds like a brand for white privilege, you would be right. She's not a top chef or fashion designer. She's the 30-year-old daughter of Caroline Kennedy and Ed Schlossberg, the granddaughter of former President John F. Kennedy.
Like Maria Shriver at NBC News, Tatiana Schlossberg became an "objective journalist" for a while, covering the environment for The New York Times from 2014 to 2017.
When she wrote a book in 2019 called "Inconspicuous Consumption," NBC put her on TV and pushed her to run for office. She deferred, saying she is a journalist … a political activist of a different stripe.
On Jan. 24, she reviewed three books on "environmental disaster" for The New York Times Book Review. One book had an especially provocative title: "How to Blow Up a Pipeline," by a far-left Swedish professor named Andreas Malm. It was published on Jan. 5 by Verso Books, which calls itself "the largest independent, radical publishing house in the English-speaking world."
The Left has declared war on our culture, but we should never back down, nor compromise our principles. Learn more now >>
That was one day before the terrible, violent rioton Capitol Hill.
Verso's promotional blurb for this latest version of a Unabomber treatise is really something.
"In this lyrical manifesto, noted climate scholar (and saboteur of SUV tires and coal mines) Andreas Malm makes an impassioned call for the climate movement to escalate its tactics in the face of ecological collapse," it says. "We need, he argues, to force fossil fuel extraction to stop—with our actions, with our bodies, and by defusing and destroying its tools. We need, in short, to start blowing up some oil pipelines."
It seems intellectually incoherent for The New York Times to cheer social media platforms for squashing voices that promoted conspiracy theories about Donald Trump's "landslide victory" because they might lead to violence … and then offer space to a book advocating property destruction.
Online, the Times promoted it with the headline "Three Books Offer New Ways to Think About Environmental Disaster." When it comes to Big Energy (as opposed to Big Government), a few pipeline bombs offer "new ways to think," an expansion of our ecological possibilities.
Schlossberg calls it "a compelling but frustrating treatise." She says, "one of the most satisfying parts of his book comes when he brutally dispatches with 'climate fatalists.'" (Perhaps when reviewing a book that endorses blowing stuff up, the words "brutally" and "dispatches" should be avoided.)
She loves how Malm writes that "climate fatalism is for those on top." But here's the poster girl for white privilege, a roving global correspondent born "on top," promoting violence against energy companies, which provide jobs to Americans in flyover states much less privileged than she is.
This Kennedy descendant insists Malm doesn't offer "any actual instructions" for explosions. She concludes, "the problem with violence, even if it's meant only to destroy 'fossil capital,' is that ultimately it's impossible to control." That's true.
Philosophically, one can ask whether it would be advisable or appropriate to publish a book titled "How to Blow Up a Book Publisher." Did Verso Books ever consider that, or whether someone who's hurt (or whose family members are killed) in a pipeline explosion could sue for damages?
And shouldn't President Joe Biden's Department of Homeland Security broaden its focus on "domestic terrorism" from merely the far right to the far left? The left's attempt to place the entire terrorism narrative on the right is completely undermined by its promotion of noxious books like this.
COPYRIGHT 2021 CREATORS.COM
The Daily Signal publishes a variety of perspectives. Nothing written here is to be construed as representing the views of The Heritage Foundation.
Have an opinion about this article? To sound off, please email letters@DailySignal.com and we will consider publishing your remarks in our regular "We Hear You" feature.
by John Murdock2 . 22 . 13
A crowd of about 35,000 had gathered near the Washington Monument during a cold blustery Presidents Day weekend in the midst of an unusually mild winter to prod the Obama administration to take actions against climate change. The largest climate action rally in American history had been scheduled for noon on a Sunday, not exactly a time chosen with regular church-goers in mind"though, undoubtedly, for some present the environmental cause would be the closest thing to a religion in their lives.
I carried a sign that declared "Jesus is Pro-Planet" in 175-point type. I have no hesitation about the truth of the statement. Paul makes it clear in Colossians 1 that, through Christ, God is indeed reconciling to himself "all things, whether things on earth or things in heaven," and that this is good news for "every creature under heaven."
As C.S. Lewis noted in Mere Christianity , the true cosmic nature of Christ's atonement is difficult for our inwardly focused minds to fathom but "there are strange, exciting hints in the Bible that when we are drawn in [to Christ], a great many other things in Nature will begin to come right."
Francis Schaeffer made a similar point in his important Pollution and the Death of Man , a neglected manifesto for Evangelical environmentalism:
The blood of the Lamb will redeem man and nature together . . . . But Christians who believe the Bible are not simply called to say that "one day" there will be healing, but that by God's grace, upon the basis of the work of Christ, substantial healing can be a reality here and now.
In 1970, Schaeffer spoke against the "greed and haste" that was destroying creation and called for the Church to be a "pilot plant" demonstrating the healing of man and nature. The failure to do so would, to Schaeffer, be both disobedient and bring the loss of a great evangelistic opportunity, with pantheism filling the vacuum as long as the Church practiced this "sub-Christianity."
While Evangelical leaders enthusiastically embraced Schaeffer's push to engage on abortion and other cultural issues in the 1980s, his words and actions about the darkness of environmental degradation and the beauty of nature have largely been forgotten. He agreed with the 1960s countercultural critique of a "plastic culture" with its overreliance on "the machine" of technology and a diminished concept of nature.
The counterculture's diagnosis was largely correct , Schaeffer thought, but the favored prescription"implicit or explicit pantheism"reduced man to "no more than grass," after which he feared that "impersonal technology will reign even more securely."
Also problematic was the popular but "perverted" form of Christianity that embraced a type of Platonic dualism, focused exclusively on the soul and getting it to the higher state of Heaven. For such Christians, the realm of nature might, at best, serve as an apologetic tool, but it had no real intrinsic value to them or their version of God, despite his having proclaimed it "good" from the start.
Pollution and the Death of Man illustrates this point with the true story of a Christian institution run with its eyes solely on the sky. This austere school campus sits across a large ravine from what, despite its lushness, was derisively labeled as just a "hippie community" by the Christians. Schaeffer, after speaking at the school, visited the neighbors. He spoke with their leadership about ecological issues, saw the lovely fields, trees, gardens and even the site of their communal grape stomps.
Schaeffer realized that the Christians, with their unbiblical and cavalier attitude towards nature, were offering little to draw the sincere but lost pagans toward a true vision of creation and redemption. "When I stood on Christian ground and looked at the Bohemian people's place," wrote Schaeffer, "it was beautiful. Then I stood on pagan ground and looked at the Christian community and saw ugliness." Schaeffer took it as a sad compliment when his hippie host said he was the first to come from "across the ravine" in such a manner.
Indeed, Schaeffer (who loved to hike the Alps and did not own a car after 1948) believed that only a return to orthodox Christianity could effectively bridge this chasm. He countered Platonic Christianity by emphasizing that all of creation, from the human body on down to a tree or a stone, has inherent value stemming from its association with the Creator. "What God has made, I, who am also a creature, must not despise."
Schaeffer insisted that man is finite, as separated from the infinite God, as are our kin, the animals and the grass. But, lest we slide into pantheism, he also emphasized the separation from nature brought about by our special creation in the image of God. Here, the rest of creation lies below us, and in this regard we are much more than grass.
Maintaining these two truths in proper tension allows us to engage the environment with an appropriate respect for its order and worth. It is not a plaything, designed solely for our hedonistic enjoyment. We may use it, yes, but we should exercise dominion without utter destruction, always avoid disdain for what God has made, and delights in it independent of its utility to us. In practice, the Christian community should be a people that have learned "to say 'Stop!'" and "refuse men the right to ravish our land, just as we refuse them the right to ravish our women."
As I approached the D.C. throng calling for a "Stop!" of its own, I felt a bit as though I was taking the name of Jesus across a green ravine similar to the one Schaeffer walked. Looking over the crowd, I was reminded, though, that God has not been without his witnesses in this realm. The ringleader of the event, 350.org founder Bill McKibben, has regularly referenced his Methodist faith, and multiple Earth Flags"first created in 1969 by faithful believers John and Anna McConnell (who, incidentally, met with a little help from Richard John Neuhaus)"were taut in the stiff breeze.
Nevertheless, forty-three years after Schaeffer wrote his little treatise, plenty of pantheistic Mother Earth spirituality was on display as well as the secular humanism that Schaeffer famously warned against elsewhere. Unfortunately, the Evangelical Church did not step into the breach and much of its leadership instead now treats the small creation care movement as a theological leper, unclean because it engages with a green movement viewed as beyond redemption.
Yet the name of Jesus was surprisingly well received on the National Mall. I saw not one glare or frown; instead dozens of people made positive comments and requested photographs. A self-described agnostic hawking The Socialist Worker newspaper engaged with me about mankind's relationship to God and closed by saying of Jesus with a smile, "Well, if he got you out here, he can't be all bad."
A small group of banner-wielding Evangelical college students, who allowed me to join them despite my relatively advanced years, also drew thanks from fellow believers in the crowd and inquiries from the curious. One secular liberal couple stood with us for quite a while asking questions about what it meant to be an Evangelical, honestly discussing their own negative associations of the term with George W. Bush and SUVs. They eventually were comfortable enough"in deliciously appropriate clichéd fashion" to share their granola bars, even with an openly pro-life Bush voter like me.
Plenty of work remains to be done, both to bandage God's wounded creation and reach his most precious creatures. " We've got the whole world in our hands," a gaggle of green-clad marchers sang to a familiar Sunday School tune. "I think they've got the lyrics wrong," I remarked with a wink to the students. We set about to sing the song correctly.
John Murdock works as a natural resources attorney in Washington, D.C., and is a member of The Falls Church Anglican in northern Virginia. He has written on environmental matters for numerous outlets including The New Atlantis.
RESOURCES
" Earth Day's Forgotten Founder ," Flourish
" Crowd marches to voice opposition to Keystone pipeline ," Washington Post
" Is Good Friday Good for the Earth? ," Patheos
" The Climate of Climate Change ," The New Atlantis
" The Genesis of Pixar ," The New Atlantis
Become a fan of First Things on Facebook , subscribe to First Things via RSS , and follow First Thingson Twitter .
Related posts: