_________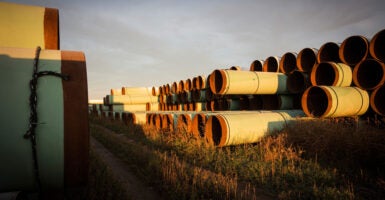 A lawsuit from across the northern U.S. border over the Biden administration's halting of an oil pipeline could hang on a Supreme Court ruling against the Trump administration related to the southern border.
In his first day in office, President Joe Biden canceled construction of the Keystone XL oil pipeline, an action projected to wipe out 11,000 jobs, including 8,000 union jobs.
Biden's move reversed President Donald Trump's executive action in early 2017 clearing the way for construction of the 1,200-mile pipeline from Alberta, Canada, through Montana and South Dakota to Nebraska. The project already had begun in Canada.
Alberta Premier Jason Kenney threatened legal action against the Biden administration, calling cancellation of the project a "gut punch" and "insult" to Canada.
The Left has declared war on our culture, but we should never back down, nor compromise our principles. Learn more now >>
Alberta-based TC Energy Corp. did not respond to inquiries for this story from The Daily Signal, but said in a recent press release: "TC Energy will review the decision, assess its implications, and consider its options."
A recent Supreme Court case that may provide guidance is Department of Homeland Security v. Regents of the University of California. In a 5-4 decision last June, the justices ruled that the Trump administration violated the Administrative Procedure Act by doing away with an Obama administration policy called Deferred Action for Childhood Arrivals, or DACA.
The key similarity is the concept of  "reliance interest," GianCarlo Canaparo, a legal fellow with The Heritage Foundation, told The Daily Signal. The phrase is mentioned several times in the high court's opinion in the DACA case.
President Barack Obama's executive action, which allowed illegal immigrants brought to the United States as minors to stay legally under certain circumstances, created an expectation among people in the country. Thus, if the U.S. government wanted to scrap the DACA policy, it would have to go through an administrative procedure.
This created a "reliance interest" in the policy, the majority opinion by Chief Justice John Roberts said.
TC Energy and the Canadian government likely also would have a reliance interest, said Canaparo, who has been researching potential legal avenues for the pipeline case:
In DHS v. Regents, the court found that Trump couldn't rescind DACA even though it was an executive action, because there was a reliance interest. That could be a stumbling block for Biden with regard to the Keystone pipeline. … The administration did not consider any reliance interest.
Just as Obama's DACA stated that certain people could live and work in the United States, Trump's go-ahead for Keystone XL  instituted a right to build a pipeline across the Canadian-U.S. border, Canaparo said. Both policies, according to court precedent, "created rights" that require the government to go through a procedure to undo, he said.
"Those rights were snatched away and the Biden administration did not consider the reliance interests of TC Energy, the Canadian government, or Alberta," Canaparo said. "The administration also did not provide a stated purpose for the decision. You could say it was to reduce carbon emissions. But the oil will still be transported by train or truck."
The majority opinion in the Supreme Court's ruling noted that  some DACA recipients had enrolled in degree programs, started careers, opened businesses, and bought homes. This crossed from being an emotional appeal to being a legal argument, because those persons took such actions in reliance on government policy.
Similarly, TC Energy issued at least six contracts and was set to employ 11,000 for the $8 billion construction of the pipeline to carry 830,000 barrels of crude oil per day from oil sands in Alberta to Steele City, Nebraska. From there, the pipeline would connect with another Keystone pipeline that runs south to the Gulf Coast.
The Supreme Court kept DACA in place, for the interim, while stating that the Department of Homeland Security has the authority to rescind the amnesty policy.
The high court didn't rule on the legality of Obama's policy, only that the Trump administration violated the Administrative Procedure Act in ending it. The justices also said Trump's DHS was "arbitrary and capricious" for not providing a compelling reason for the policy change.
Congress passed the Administrative Procedure Act in 1946, after  World War II, to recognize that the executive branch might have to take emergency action without congressional approval. Congress, however, wanted guidelines in place.
In a 2009 case, FCC v. Fox Television Stations, the Supreme Court established detailed guidelines for judicial review of a change in a government standard, according to a Congressional Research Service report. Among these guidelines is that the change cannot be an "unexplained inconsistency."
The high court's 2009 ruling also said that an agency would be required to provide a "more detailed justification" for a change in policy in some instances, including when a previous policy has "engendered serious reliance interests that must be taken into account." The court determined that it would be "arbitrary and capricious" to "ignore" or "disregard" such matters.
In its 2016 opinion in Encino Motorcars, LLC v. Navarro, the Supreme Court determined that "serious reliance interests are at stake" when the Labor Department altered its statutory interpretation of a rule without a "reasoned explanation." The agency's move came after decades of "industry reliance" on an existing policy, the court said.
In addition to suing the Biden administration in federal court, TC Energy could launch a case under a provision of the North American Free Trade Agreement. A NAFTA provision called Chapter 11 allows companies in the United States, Mexico, or Canada to challenge decisions by one of the three nations. The provision was grandfathered into the U.S.-Mexico-Canada Agreement, which replaced NAFTA, until 2023.
A complaint by TC Energy about the pipeline cancellation under Chapter 11 could provide more neutral ground, Mark Warner, an international trade lawyer at MAAW Law in Toronto, told the Financial Post.
"They could file a complaint under the old Chapter 11 and make a case that this was arbitrary and a denial of due process," Warner told the Post.
The energy company was going to launch both a Chapter 11 complaint under NAFTA and a federal lawsuit in 2016, but dropped both after Trump approved the pipeline project, the Post reported.
Have an opinion about this article? To sound off, please email letters@DailySignal.com and we will consider publishing your remarks in our regular "We Hear You" feature.
ENTARY
Many on the left continue to place their ideology of environmental extremism above all other considerations, including economic growth, individual freedom, and the welfare of low-income Americans.
This worldview ignores critical trade-offs and places environmental interests above even basic principles that have long served as a foundation of this nation. Further, this extreme environmental movement has crept into almost every issue area imaginable.
There are certainly environmental issues that need attention, but sensible environmental policy doesn't address those issues in a vacuum without regard for other important concerns. Yet, this extreme movement acts in such a manner.
The following examples highlight how environmental extremism is skewing public policy:
The demand for socialism is on the rise from young Americans today. But is socialism even morally sound? Find out more now >>
Energy
To environmental extremists, it's more important for the government to force radical changes to how we generate electricity and fuel our vehicles than it is to have reliable and affordable energy or to remove barriers to innovation.
It doesn't matter how unrealistic their objectives are, or the fact that their climate change efforts would have no meaningful effect on global temperatures.
This virtue-signaling may make the extremists feel better about themselves, but it certainly won't make low-income households feel better when they are disproportionately impacted by higher energy prices. Nor will it make Americans feel better to pay more of their hard-earned money for less reliable energy.
Food and Agriculture
Some extremists would prioritize their environmental agenda over efficiently producing safe and affordable food for Americans.
Instead of simply addressing specific environmental issues, some want to develop a national food policy, which is just another way of saying a federally centralized approach to dictate food and agricultural production, distribution, and consumption.
One of the primary goals of this envisioned national food and agricultural policy would be advancing environmental objectives. What is ignored in this movement is affordable food and consumer choice.
To see how such a philosophy would be applied in practice, the 2015 Dietary Guidelines process is instructive.
In developing its recommendations for the Department of Agriculture and the Department of Health and Human Services, the influential Dietary Guidelines Advisory Committee decided it would take into account non-dietary issues, such as climate change and sustainability, and not focus solely on the nutritional health of Americans—which is the purpose of the guidelines. Fortunately, the agencies rejected this extremism.
Housing, Land Use, and Transportation
The extreme environmental agenda has long been entrenched in urban policy, primarily through "smart growth," which is a pleasant name given to an unpleasant centralized planning philosophy.
Some of the key components of this philosophy are restricting development through land use regulations, which drives up housing prices, and limiting the use of cars by promoting higher density development and transit. The ability of Americans to afford their own homes and live where they would like is ignored.
Financial Regulation
Environmental extremists are currently pushing for Janet Yellen, President-elect Joe Biden's nominee for treasury secretary, to take drastic action to address climate change, such as by forcing oil and gas companies to sell off fossil fuel assets.
This is yet another effort to create a government mandate for environmental, social, and governance risks to play a primary role in banking and investing.
These efforts are a backdoor way to try and accomplish environmental objectives and simultaneously to try and radically change the very purpose of American businesses, and as a result, the entire economy.
Conclusion
Environmental policy should be debated in an open and transparent fashion. Using every issue imaginable as a pretext to push an environmental agenda is both not transparent and minimizes other critical concerns, from higher prices of basic needs to ensuring a stable food supply.
There should be a proactive environmental policy agenda that doesn't ignore the costs and trade-offs of seeking to achieve positive environmental outcomes.
The left likes to claim a monopoly about caring for the environment. But nobody, either on the left or right, has such a monopoly.
Placing the environment over individual rights and freedom, and even humanity itself, as some extremists do, may make some feel better about their commitment to the environment, but they do so at the expense of the well-being of the American people.
——
by John Murdock2 . 22 . 13
A crowd of about 35,000 had gathered near the Washington Monument during a cold blustery Presidents Day weekend in the midst of an unusually mild winter to prod the Obama administration to take actions against climate change. The largest climate action rally in American history had been scheduled for noon on a Sunday, not exactly a time chosen with regular church-goers in mind"though, undoubtedly, for some present the environmental cause would be the closest thing to a religion in their lives.
I carried a sign that declared "Jesus is Pro-Planet" in 175-point type. I have no hesitation about the truth of the statement. Paul makes it clear in Colossians 1 that, through Christ, God is indeed reconciling to himself "all things, whether things on earth or things in heaven," and that this is good news for "every creature under heaven."
As C.S. Lewis noted in Mere Christianity , the true cosmic nature of Christ's atonement is difficult for our inwardly focused minds to fathom but "there are strange, exciting hints in the Bible that when we are drawn in [to Christ], a great many other things in Nature will begin to come right."
Francis Schaeffer made a similar point in his important Pollution and the Death of Man , a neglected manifesto for Evangelical environmentalism:
The blood of the Lamb will redeem man and nature together . . . . But Christians who believe the Bible are not simply called to say that "one day" there will be healing, but that by God's grace, upon the basis of the work of Christ, substantial healing can be a reality here and now.
In 1970, Schaeffer spoke against the "greed and haste" that was destroying creation and called for the Church to be a "pilot plant" demonstrating the healing of man and nature. The failure to do so would, to Schaeffer, be both disobedient and bring the loss of a great evangelistic opportunity, with pantheism filling the vacuum as long as the Church practiced this "sub-Christianity."
While Evangelical leaders enthusiastically embraced Schaeffer's push to engage on abortion and other cultural issues in the 1980s, his words and actions about the darkness of environmental degradation and the beauty of nature have largely been forgotten. He agreed with the 1960s countercultural critique of a "plastic culture" with its overreliance on "the machine" of technology and a diminished concept of nature.
The counterculture's diagnosis was largely correct , Schaeffer thought, but the favored prescription"implicit or explicit pantheism"reduced man to "no more than grass," after which he feared that "impersonal technology will reign even more securely."
Also problematic was the popular but "perverted" form of Christianity that embraced a type of Platonic dualism, focused exclusively on the soul and getting it to the higher state of Heaven. For such Christians, the realm of nature might, at best, serve as an apologetic tool, but it had no real intrinsic value to them or their version of God, despite his having proclaimed it "good" from the start.
Pollution and the Death of Man illustrates this point with the true story of a Christian institution run with its eyes solely on the sky. This austere school campus sits across a large ravine from what, despite its lushness, was derisively labeled as just a "hippie community" by the Christians. Schaeffer, after speaking at the school, visited the neighbors. He spoke with their leadership about ecological issues, saw the lovely fields, trees, gardens and even the site of their communal grape stomps.
Schaeffer realized that the Christians, with their unbiblical and cavalier attitude towards nature, were offering little to draw the sincere but lost pagans toward a true vision of creation and redemption. "When I stood on Christian ground and looked at the Bohemian people's place," wrote Schaeffer, "it was beautiful. Then I stood on pagan ground and looked at the Christian community and saw ugliness." Schaeffer took it as a sad compliment when his hippie host said he was the first to come from "across the ravine" in such a manner.
Indeed, Schaeffer (who loved to hike the Alps and did not own a car after 1948) believed that only a return to orthodox Christianity could effectively bridge this chasm. He countered Platonic Christianity by emphasizing that all of creation, from the human body on down to a tree or a stone, has inherent value stemming from its association with the Creator. "What God has made, I, who am also a creature, must not despise."
Schaeffer insisted that man is finite, as separated from the infinite God, as are our kin, the animals and the grass. But, lest we slide into pantheism, he also emphasized the separation from nature brought about by our special creation in the image of God. Here, the rest of creation lies below us, and in this regard we are much more than grass.
Maintaining these two truths in proper tension allows us to engage the environment with an appropriate respect for its order and worth. It is not a plaything, designed solely for our hedonistic enjoyment. We may use it, yes, but we should exercise dominion without utter destruction, always avoid disdain for what God has made, and delights in it independent of its utility to us. In practice, the Christian community should be a people that have learned "to say 'Stop!'" and "refuse men the right to ravish our land, just as we refuse them the right to ravish our women."
As I approached the D.C. throng calling for a "Stop!" of its own, I felt a bit as though I was taking the name of Jesus across a green ravine similar to the one Schaeffer walked. Looking over the crowd, I was reminded, though, that God has not been without his witnesses in this realm. The ringleader of the event, 350.org founder Bill McKibben, has regularly referenced his Methodist faith, and multiple Earth Flags"first created in 1969 by faithful believers John and Anna McConnell (who, incidentally, met with a little help from Richard John Neuhaus)"were taut in the stiff breeze.
Nevertheless, forty-three years after Schaeffer wrote his little treatise, plenty of pantheistic Mother Earth spirituality was on display as well as the secular humanism that Schaeffer famously warned against elsewhere. Unfortunately, the Evangelical Church did not step into the breach and much of its leadership instead now treats the small creation care movement as a theological leper, unclean because it engages with a green movement viewed as beyond redemption.
Yet the name of Jesus was surprisingly well received on the National Mall. I saw not one glare or frown; instead dozens of people made positive comments and requested photographs. A self-described agnostic hawking The Socialist Worker newspaper engaged with me about mankind's relationship to God and closed by saying of Jesus with a smile, "Well, if he got you out here, he can't be all bad."
A small group of banner-wielding Evangelical college students, who allowed me to join them despite my relatively advanced years, also drew thanks from fellow believers in the crowd and inquiries from the curious. One secular liberal couple stood with us for quite a while asking questions about what it meant to be an Evangelical, honestly discussing their own negative associations of the term with George W. Bush and SUVs. They eventually were comfortable enough"in deliciously appropriate clichéd fashion" to share their granola bars, even with an openly pro-life Bush voter like me.
Plenty of work remains to be done, both to bandage God's wounded creation and reach his most precious creatures. " We've got the whole world in our hands," a gaggle of green-clad marchers sang to a familiar Sunday School tune. "I think they've got the lyrics wrong," I remarked with a wink to the students. We set about to sing the song correctly.
John Murdock works as a natural resources attorney in Washington, D.C., and is a member of The Falls Church Anglican in northern Virginia. He has written on environmental matters for numerous outlets including The New Atlantis.
RESOURCES
" Earth Day's Forgotten Founder ," Flourish
" Crowd marches to voice opposition to Keystone pipeline ," Washington Post
" Is Good Friday Good for the Earth? ," Patheos
" The Climate of Climate Change ," The New Atlantis
" The Genesis of Pixar ," The New Atlantis
Become a fan of First Things on Facebook , subscribe to First Things via RSS , and follow First Thingson Twitter .
Related posts: