—-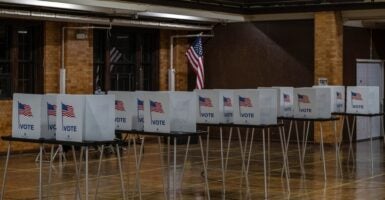 Noncitizens likely voted at a high enough rate to alter the 2020 Electoral College tally, potentially flipping the states of Arizona and Georgia in the presidential election, according to an analysis by Just Facts, a research group.
That's significant, and while it wouldn't be enough to hand the election to President Donald Trump, it potentially could have made a difference. Only U.S. citizens are legally allowed to vote in federal elections.
The revised estimate, as of Monday, shows that Trump could have won 259 electoral votes if noncitizen votes were not counted. But that would likely still leave former Vice President Joe Biden with 279 electoral votes, nine votes more than the 270 needed to win.
The current electoral vote tally stands at 306 for Biden, 232 for Trump. Arizona has 11 Electoral College votes, while Georgia gets 16.
The left is actively working to undermine the integrity of our elections. Read the plan to stop them now. Learn more now >>
Just Facts first released an analysis on Nov. 8, five days after the election, that calculated a lower and upper estimate of the extent of noncitizen voting. That analysis determined that Trump could have won as few as 259 electoral votes—or as many as 285. The latter would have secured a second term.
However, as more mail-in votes were counted, Biden's lead widened in states such Pennsylvania, Michigan, and Nevada.
Several major media outlets have projected Bidenas the president-elect, but the Trump campaign is still litigating in several battleground states. The Trump team has not made noncitizen voting a significant part of its allegations of voter fraud.
The revised study estimated the number of noncitizen votes cast in the states of Arizona, Georgia, Michigan, Wisconsin, Nevada, North Carolina, and Pennsylvania—all of which were closely contested on election night.
It estimated that 234,570 noncitizen votes benefited Biden across seven battleground states. That estimate did not change as more votes were counted.
"Based on the latest vote counts and the upper and lower bounds of the study results, Georgia and Arizona would flip to Trump, leaving him with 259 Electoral College votes," James Agresti, president of Just Facts, told The Daily Signal. "Under the upper bound, Nevada gets really close, with Trump down by 3,858 votes."
With the exception of Arizona, each of the states in question appeared to be favoring Trump until the early-morning hours of Nov. 4, but began to shift to Biden over several days. North Carolina is the only state of the seven that appears likely to go to Trump.
The Electoral College will cast its vote in 50 states and the District of Columbia on Dec. 14.
The estimate is based on the percentages of noncitizens that voted in previous elections, predicated on a 2014 study by researchers at Old Dominion University in Norfolk, Virginia, that evaluated rates of noncitizen voting in 2008 and 2010, Agresti said, applied only to the seven battleground states.
The Old Dominion study determined 6.4% of noncitizens voted in the 2008 presidential election and 3% in the 2010 congressional midterm elections, with 81% voting Democrat.
The rate was high enough to change the Electoral College vote count in 2008 (although not enough to swing the presidential election) and actually change the outcome of some congressional races, particularly the Senate race in Minnesota that year.
That race was decided in favor of Democrat Al Franken over Republican Norm Coleman by just 312 votes out of more than 2.86 million votes cast.
Agresti noted that illegal noncitizen voting is just "one type of fraud" that could have occurred in the 2020 election.
Asked about the proliferation of mail-in voting and ballot harvesting, he said, "That could certainly make it easier, with fewer checks and balances," for a larger number of noncitizens to vote.
Last week, USA Today criticized the initial study claiming in a "fact check" column that rated the study as "missing context," and arguing that it "relies on unverifiable estimates."
The USA Today fact check largely relied on rebuttals from left-leaning sources such as the Fair Elections Center and the Brennan Center for Justice. USA Today also referenced a Wired magazine article to question the Old Dominion researchers.
Just Facts issued a rebuttal on Tuesday to what it called a "slanderous 'fact check'" of its study:
The Just Facts study doesn't claim to have the precise 2020 numbers, and is clear in its reliance on the Old Dominion study and other sources, such as a 2008 Harvard/YouGov survey, the Government Accountability Office, and the Social Security Administration, to apply data from past elections as the basis for the assumptions of the numbers this year.
Agresti noted that as many as 15% of noncitizens said they were registered to vote, based on survey data cited in the Old Dominion report.
The full extent of noncitizen voting is a problem, as demonstrated in past years in Pennsylvania, said Hans von Spakovsky, the manager of the Election Law Reform Initiative at The Heritage Foundation.
Part of the problem is that when states register to vote people obtaining a driver's license, officials don't ask about citizenship.
"We don't know the full extent of the problem, but we know it is a problem," von Spakovsky, a former member of the Federal Election Commission, told The Daily Signal. "We need to require proof of citizenship from people registering to vote."
I got a chance to visit with John Fund the last time he came to Little Rock to speak and he made a great case that there is voter fraud happening in recent times and something has to be done about it. Here is an article that shows how liberals are denying reality when they say we don't need better voter ID laws.
There Is No Voter Fraud' Myth Takes a Torpedo
We are constantly told by liberals that there is no voter fraud — or at least not any that involves voting at the polls.
Well, the son of Representative Jim Moran, the Democrat who represents Virginia's Washington suburbs, has just resigned as field director for his father's campaign for essentially proving them wrong. Moran was caught by videographer James O'Keefe's camera advising an undercover reporter on how to commit in-person voter fraud. The scheme involved forging utility bills that would satisfy Virginia's voter-ID law and then rely on the assistance of Democratic lawyers stationed at the polls to make sure the votes were counted.
A leading Virginia liberal blog called "Not Larry Sabato" minced no words about Patrick Moran's behavior: "No reason to sugarcoat this in any way, it is totally unacceptable," was his conclusion. He then went on to say "it's time for his dad to retire."
Representative Moran, who has been in office for 22 years, is a rough-and-ready politician who has frequently embarrassed himself with politically incorrect comments and controversial positions. It will be interesting to see if his fellow Democrats stand with him now that his campaign has made it more difficult for them to repeat the tired claim that "there is no voter fraud."
The 26-minute O'Keefe video begins with the undercover reporter approaching Moran at a Cosi restaurant in Arlington. The reporter tells Moran, whom he has never met, that he has a friend who has found a list of 100 Virginia residents who haven't voted in the last three elections but are registered to vote.
After Moran finally understands that the goal is to use the list to cast fraudulent votes in the names of those non-voters, he explains how that could be done. He suggests creating fake utility bills, which would serve as a form of acceptable identification for voters. He warns that the state's new voter-ID law will mean poll workers will be "cracking down" on possible voter fraud, but there is a way around the law.
"So, if they just have the utility bill or bank statement — bank statement would obviously be tough . . . but faking a utility bill would be easy enough," Moran says. The two men then discuss how Microsoft Word can be used to manufacture a fake utility bill.
If there's any trouble, Moran then advises, an Obama for America lawyer, or another Democratic lawyer working the polling place would be available to help:
"You'll have somebody in house, that if they feel that what you have is legitimate, they'll argue for you."
Moran then helpfully invites the O'Keefe associate into the Arlington County Democratic Party's office where he tells him he should contact the registered voters on his list to make sure they won't be voting. One method he suggests is to impersonate a pollster and ask if they plan to vote.
Last April, a 22-year-old O'Keefe associate showed how easy it is to vote in the name of someone else at a polling place that doesn't require ID by simply mentioning the name of attorney general Eric Holder, and then being offered his ballot. Now O'Keefe has shown just how easy it could be to commit in-person voter fraud, even with some form of ID law, by simply using Microsoft Word and manufacturing a utility bill.
Here's hoping against hope that O'Keefe's latest video will stir some in the media to engage in the kind of investigative journalism that is so lacking on voting issues.
Related posts:
Wall Street Journal columnist John Fund discusses the stimulus bill during Missouri Chamber Day at the Capitol Part 2 Last week I got to attend the first ever "Conservative Lunch Series" presented by  KARN and Americans for Prosperity Foundation at the Little Rock Hilton on University Avenue. This monthly luncheon will be held the fourth […]
John Fund at Chamber Day, Part 1 Last week I got to attend the first ever "Conservative Lunch Series" presented by  KARN and Americans for Prosperity Foundation at the Little Rock Hilton on University Avenue. This monthly luncheon will be held the fourth Wednesday of every month. The speaker for today's luncheon was John Fund. John […]
Ep. 7 – Who Protects the Consumer [1/7]. Milton Friedman's Free to Choose (1980) Milton Friedman served as economic advisor for two American Presidents – Richard Nixon and Ronald Reagan. Although Friedman was inevitably drawn into the national political spotlight, he never held public office.   In the clip above you can see Milton Friedman […]
Ep. 8 – Who Protects the Worker [1/7]. Milton Friedman's Free to Choose (1980) Speakers at the First Richmond Tea Party, October 8-9, 2010 John Fund   John Fund is a columnist for The Wall Street Journal and its OpinionJournal.com and an on-air contributor to 24-hour cable news networks CNBC and MSNBC. He is the […]
Today I got to attend the first ever "Conservative Lunch Series" presented by  KARN and Americans for Prosperity Foundation at the Little Rock Hilton on University Avenue. This monthly luncheon will be held the fourth Wednesday of every month. The speaker for today's luncheon was John Fund. John Fund writes the weekly "On the Trail" column […]