—
November 25, 2020
Office of Barack and Michelle Obama
P.O. Box 91000
Washington, DC 20066
Dear President Obama,
I wrote you over 700 letters while you were President and I mailed them to the White House and also published them on my blog http://www.thedailyhatch.org .I received several letters back from your staff and I wanted to thank you for those letters.
I have been reading your autobiography A PROMISED LAND and I have been enjoying it. I noticed this quote from your book:
"I suspect that God's plan, whatever it is, works on a scale too large to admit our mortal tribulations; that in a single lifetime, accidents and happenstance determine more than we care to admit…and that the best we can do is to try to align ourselves with what we feel is right and construct some meaning out of our confusion, and with grace and nerve play at each moment the hand that we're dealt."
It sounds like you believe that we are at the mercy of time and chance?
As an evangelical believer I am encouraged by your references to spiritual hymns, but your intellectual views seem to place you in the secular humanist school of thought.
Five faith facts about former President Barack Obama's new book, 'A Promised Land'

Former President Barack Obama's new book, "A Promised Land," mentions only four pages in its index under the category "faith and."
But the title of the book by the 44th U.S. president invokes biblical imagery — a land promised by God to his people — and Obama includes the role of religious institutions, faith leaders and personal traditions throughout the 750-page book. On the page after his dedication of the tome to his wife and daughters, Obama features the words from an African American spiritual:
"Fly and never tire
There's a great camp-meeting in the Promised Land."
While friends and strangers have told him they believe God engineered his road to the White House, Obama says he didn't view his political path as a call from the Almighty.
"I suspect that God's plan, whatever it is, works on a scale too large to admit our mortal tribulations; that in a single lifetime, accidents and happenstance determine more than we care to admit," he writes, "and that the best we can do is to try to align ourselves with what we feel is right and construct some meaning out of our confusion, and with grace and nerve play at each moment the hand that we're dealt."
THIS SEEMS TO ME THAT YOU THINK OUR FUTURE IS TIED MORE TO ACCIDENTS AND CHANCE THAN TO A DIVINE PURPOSE.

President Obama your views are more in line with those of atheistic evolutionists than those scientists such as Isaac Newton who believed in creationism. I had the unique opportunity from 2015 to 2020 to correspond with a famous Harvard educated British scientist named Professor Horace Barlow of Cambridge. Barlow was named after his grandfather Horace Darwin. Most of the correspondence between Dr. Barlow and myself dealt with the views of Barlow's famous great grandfather Charles Darwin.

In my February 11, 2015 Letter to Dr. Barlow I made the following points about Charles Darwin and the subject of CHANCE and Dr. Barlow responded to many of these points in his November 22, 2017 letter:
Darwin, C. R. to Doedes, N. D., 2 Apr 1873
"It is impossible to answer your question briefly; and I am not sure that I could do so, even if I wrote at some length. But I may say that the impossibility of conceiving that this grand and wondrous universe, with our conscious selves, arose through chance, seems to me the chief argument for the existence of God; but whether this is an argument of real value, I have never been able to decide."
Francis Schaeffer observed:
So he sees here exactly the same that I would labor and what Paul gives in Romans chapter one, and that is first this tremendous universe [and it's form] and the second thing, the mannishness of man and the concept of this arising from chance is very difficult for him to come to accept and he is forced to leap into this, his own kind of Kierkegaardian leap, but he is forced to leap into this because of his presuppositions but when in reality the real world troubles him. He sees there is no third alternative. If you do not have the existence of God then you only have chance. In my own lectures I am constantly pointing out there are only two possibilities, either a personal God or this concept of the impersonal plus time plus chance and Darwin understood this . You will notice that he divides it into the same exact two points that Paul does in Romans chapter one into and that Carl Gustav Jung (1875-1961) will in the problem of existence, the external universe, and man and his consciousness. Paul points out there are these two steps that man is confronted with, what I would call two things in the real world. The universe and it's form and I usually quote Jean Paul Sartre here, and Sartre says the basic philosophic problem is that something is there rather than nothing is there and I then I add at the point the very thing that Darwin feels and that is it isn't a bare universe that is out there, it is an universe in a specific form. I always bring in Einstein and the uniformity of the form of the universe and that it is constructed as a well formulated word puzzle or you have Carl Gustav Jung who says two things cut across a man's will that he can not truly be autonomous, the external world and what Carl Gustav Jung would call his "collected unconsciousness." It is the thing that churns up out of man, the mannishness of man. Darwin understood way back here this is a real problem. So he says "the impossibility of conceiving that this grand and wondrous universe," part one, the real world, the external universe, and part two "with our conscious selves arose through chance" and then he goes on and says this is not "an argument of real value." This only thing he has to put in its place is his faith in his own theory.
______________
Here below is the Romans passage that Schaeffer is referring to and verse 19 refers to what Schaeffer calls "the mannishness of man" and verse 20 refers to Schaeffer's other point which is "the universe and it's form."Romans 1:18-22Amplified Bible (AMP) 18 For God's [holy] wrath and indignation are revealed from heaven against all ungodliness and unrighteousness of men, who in their wickedness repress and hinder the truth andmake it inoperative. 19 For that which is known about God is evident to them and made plain in their inner consciousness,because God [Himself] has shown it to them. 20 For ever since the creation of the world His invisible nature and attributes, that is, His eternal power and divinity, have been made intelligible and clearly discernible in and through the things that have been made (His handiworks). So [men] are without excuse [altogether without any defense or justification], 21 Because when they knew and recognized Him as God, they did not honor andglorify Him as God or give Him thanks. But instead they became futile andgodless in their thinking [with vain imaginings, foolish reasoning, and stupid speculations] and their senseless minds were darkened. 22 Claiming to be wise, they became fools [professing to be smart, they made simpletons of themselves].
Francis Schaeffer noted that in Darwin's 1876 Autobiography that Darwin he is going to set forth two arguments for God in this and again you will find when he comes to the end of this that he is in tremendous tension. Darwin wrote,
At the present day the most usual argument for the existence of an intelligent God is drawn from the deep inward conviction and feelings which are experienced by most persons.Formerly I was led by feelings such as those just referred to (although I do not think that the religious sentiment was ever strongly developed in me), to the firm conviction of the existence of God and of the immortality of the soul. In my Journal I wrote that whilst standing in the midst of the grandeur of a Brazilian forest, 'it is not possible to give an adequate idea of the higher feelings of wonder, admiration, and devotion which fill and elevate the mind.' I well remember my conviction that there is more in man than the mere breath of his body; but now the grandest scenes would not cause any such convictions and feelings to rise in my mind. It may be truly said that I am like a man who has become colour-blind.
Francis Schaeffer remarked:
Now Darwin says when I look back and when I look at nature I came to the conclusion that man can not be just a fly! But now Darwin has moved from being a younger man to an older man and he has allowed his presuppositions to enter in to block his logic. These things at the end of his life he had no intellectual answer for. To block them out in favor of his theory. Remember the letter of his that said he had lost all aesthetic senses when he had got older and he had become a clod himself. Now interesting he says just the same thing, but not in relation to the arts, namely music, pictures, etc, but to nature itself. Darwin said, "But now the grandest scenes would not cause any such convictions and feelings to rise in my mind. It may be truly said that I am like a man who has become colour-blind…" So now you see that Darwin's presuppositions have not only robbed him of the beauty of man's creation in art, but now the universe. He can't look at it now and see the beauty. The reason he can't see the beauty is for a very, very , very simple reason: THE BEAUTY DRIVES HIM TO DISTRACTION. THIS IS WHERE MODERN MAN IS AND IT IS HELL. The art is hell because it reminds him of man and how great man is, and where does it fit in his system? It doesn't. When he looks at nature and it's beauty he is driven to the same distraction and so consequently you find what has built up inside him is a real death, not only the beauty of the artistic but the beauty of nature. He has no answer in his logic and he is left in tension. He dies and has become less than human because these two great things (such as any kind of art and the beauty of nature) that would make him human stand against his theory
My Fourth letter dated 2-1-17 was an Email on first cause! And if creation was done by expression of a mind?
When I read the book Charles Darwin: his life told in an autobiographical chapter, and in a selected series of his published letters, I also read a commentary on it by Francis Schaeffer and I wanted to both quote some of Charles Darwin's own words to you and then include the comments of Francis Schaeffer on those words.
Darwin, C. R. to Doedes, N. D., 2 Apr 1873
"It is impossible to answer your question briefly; and I am not sure that I could do so, even if I wrote at some length. But I may say that the impossibility of conceiving that this grand and wondrous universe, with our conscious selves, arose through chance, seems to me the chief argument for the existence of God; but whether this is an argument of real value, I have never been able to decide…Nor can I overlook the difficulty from the immense amount of suffering through the world. I am aware that if we admit a First Cause, the mind still craves to know whence it came, and how it arose."
Jan Constantijn Costerus and Nicolaas Dirk Doedes pictured below: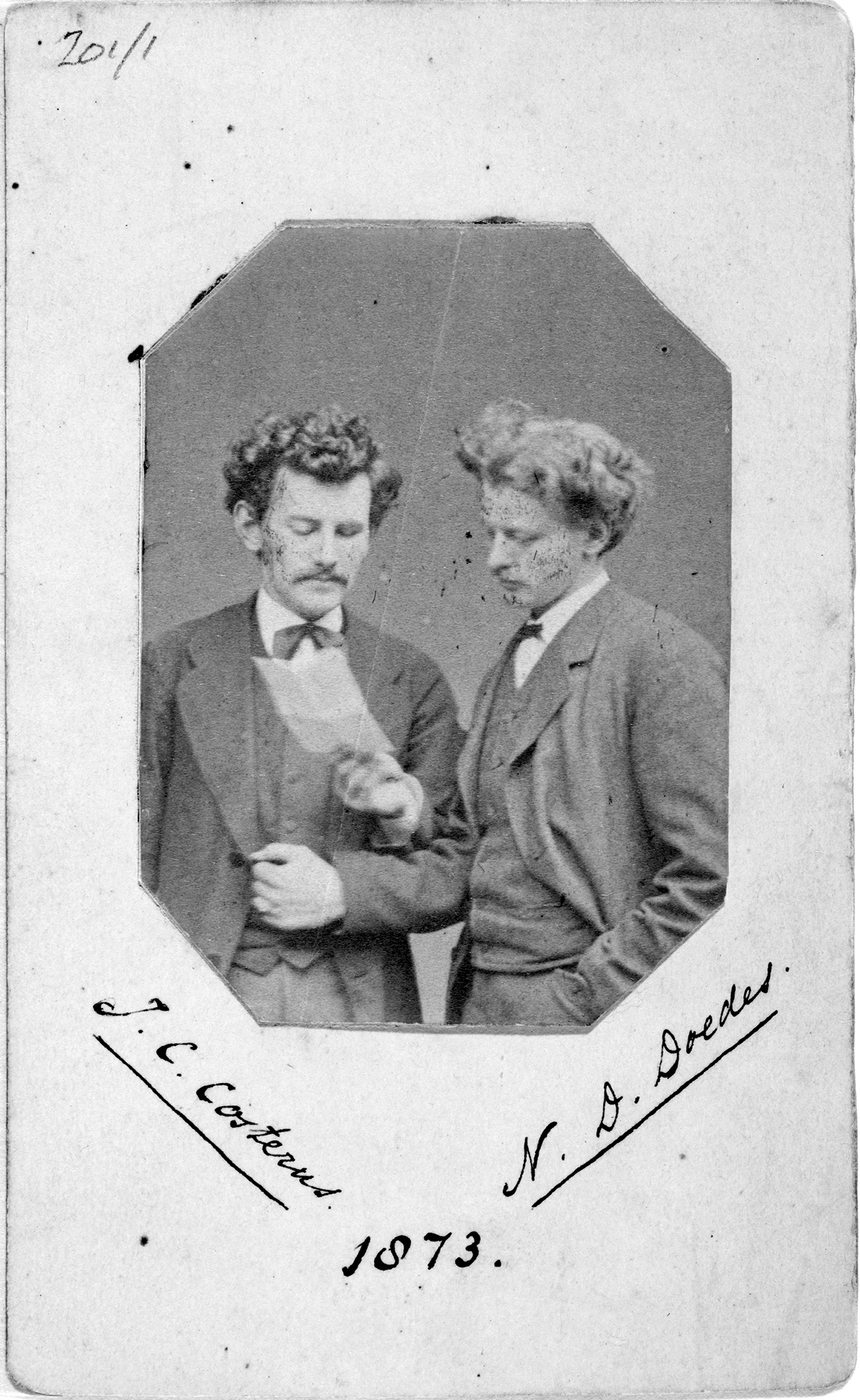 —
Francis Schaeffer noted:
What he is saying is if you say there is a first cause, then the mind says, "Where did this come from?" I think this is a bit old fashioned, with some of the modern thinkers, this would not have carry as much weight today as it did when Darwin expressed it. Jean Paul Sartre said it as well as anyone could possibly say it. The philosophic problem is that something is there and not nothing being there. No one has the luxury of beginning with nothing. Nobody I have ever read has put forth that everything came from nothing. I have never met such a person in all my reading,or all my discussion. If you are going to begin with nothing being there, it has to be nothing nothing, and it can't be something nothing. When someone says they believe nothing is there, in reality they have already built in something there. The only question is do you begin with an impersonal something or a personal something. All human thought is shut up to these two possibilities. Either you begin with an impersonal and then have Darwin's own dilemma which impersonal plus chance, now he didn't bring in the amount of time that modern man would though. Modern man has brought in huge amounts of time into the equation as though that would make a difference because I have said many times that time can't make a qualitative difference but only a quantitative difference. The dilemma is it is either God or chance. Now you find this intriguing thing in Darwin's own situation, he can't understand how chance could have produced these two great factors of the universe and its form and the mannishness of man.
From Charles Darwin, Autobiography (1876), in The Life and Letters of Charles Darwin, ed. Francis Darwin, vol. 1 (London: John Murray, 1888), pp. 307 to 313.
"Another source of conviction in the existence of God, connected with the reason and not with the feelings, impresses me as having much more weight. This follows from the extreme difficulty or rather impossibility of conceiving this immense and wonderful universe, including man with his capacity of looking far backwards and far into futurity, as the result of blind chance or necessity. When thus reflecting, I feel compelled to look to a First Cause having an intelligent mind in some degree analogous to that of man; and I deserve to be called a Theist. This conclusion was strong in my mind about the time, as far as I can remember, when I wrote the Origin of Species, and it is since that time that it has very gradually, with many fluctuations, become weaker. But then arises the doubt…"
Francis Schaeffer commented:
On the basis of his reason he has to say there must be an intelligent mind, someone analogous to man. You couldn't describe the God of the Bible better. That is man is made in God's image and therefore, you know a great deal about God when you know something about man. What he is really saying here is that everything in my experience tells me it must be so, and my mind demands it is so. Not just these feelings he talked about earlier but his MIND demands it is so, but now how does he counter this? How does he escape this? Here is how he does it!!!
Charles Darwin went on to observe: "—can the mind of man, which has, as I fully believe, been developed from a mind as low as that possessed by the lowest animals, be trusted when it draws such grand conclusions?"
1024 × 682Images may be subject to copyright. Learn More
Francis Schaeffe
Francis Schaeffer asserted:
So he says my mind can only come to one conclusion, and that is there is a mind behind it all. However, the doubt comes because his mind has come from the lowest form of earthworm, so how can I trust my mind. But this is a joker isn't it? Then how can you trust his mind to support such a theory as this? He proved too much. The fact that Darwin found it necessary to take such an escape shows the tremendous weight of Romans 1, that the only escape he can make is to say how can I trust my mind when I come from the lowest animal the earthworm? Obviously think of the grandeur of his concept, I don't think it is true, but the grandeur of his concept, so what you find is that Darwin is presenting something here that is wrong I feel, but it is not nothing. It is a tremendously grand concept that he has put forward. So he is accepting the dictates of his mind to put forth a grand concept which he later can't accept in this basic area with his reason, but he rejects what he could accept with his reason on this escape. It really doesn't make sense. This is a tremendous demonstration of the weakness of his own position.
Dr. Barlow responds to the points I made in earlier letters in his November 22, 2017 letter:
You may ask, "What is to take the place of Religious Belief in helping to understand the world around us? It has order and purpose, which cannot be explained by Blind chance as evolution teaches." I agree it cannot be explained by Blind chance alone, but Darwin did not claim that this happens, and modern evolutionists agree. We say that chance variations (mutations) occur in the substances (called genes nowadays) that control development and cause son and daughter to resemble father and mother. These genes control the development of the offspring, and and influence their success in life, and in particular they influence the types of mutated genes that are passed on to the next generation. Chance, together with "Survival of the fittest," thus causes the appearance of apparently purposeful adaptations of the population of genes in a species. 

—
These points made by Dr. Barlow seemed to be contradicted by the following quote from the Nobel Prize winner Jacques Monod:
It necessarily follows that chance alone is at the source of every innovation, and of all creation in the biosphere.Pure chance, absolutely free but blind, at the very root of the stupendous edifice of evolution: this central concept of modern biology is no longer one among many other possible or even conceivable hypotheses. It is today the sole conceivable hypothesis, the only one that squares with observed and tested fact. And nothing warrants the supposition – or the hope – that on this score our position is ever likely to be revised. There is no scientific concept, in any of the sciences, more destructive of anthropocentrism than this one.
Jacques Monod, Chance and Necessity
In my letter to Dr. Barlow on November 2, 2018 I responded to some of Dr. Barlow's points and I tried to make the point that Darwin never did get comfortable with the idea that chance was responsible for all of the creation and Randal Keynes actually makes the point that Darwin was at times despondent about the possibility that evidence would appear showing that a species had been designed:
Many thanks for your copious and charmingly expressed correspondence about Charles Darwin's religious views, and about his descriptions of losing his sense of reverence, awe, and beauty in his old age. Notice, however, that he clearly did not lose his sense of the value of truth, and of the importance of forever searching it out.
Darwin may have been searching for truth, but he never did come to a complete satisfaction that he had found it with his theory of evolution. Notice that your relative Randal Keynes makes this very point on Richard Dawkins special "The Genius of Darwin":
(Richard Dawkins words below)
Back in England at Down Housenow 20 years after his
voyage on the Beagle,Darwin had worked out the answers
to the biggest questions ever asked.But he was strangely reluctant
to go public with his idea.Darwin himself said that he'd
become a kind of machinefor grinding theories out of
huge assemblages of facts.I think that wasn't really
what it was like at all.He was an extraordinarily
imaginative, deep thinker.He had a prodigiously
curious mind as well.He was drawn to facts
that didn't fit.He once said,
"I cannot bear to be beaten."Darwin's theory explained how
the diversity of life from the planethad evolved spontaneously
without interference from any god.But he was acutely aware
of how upsettingthis flat contradiction of
the religious story would be.He hesitated to publish.Then, in June 1858,
Darwin received a letterfrom a naturalist travelling in the
Far East, Alfred Russel Wallace,which set our similar ideas.Darwin was in despair about
being scooped.He was even ready to drop
his life's work.But he was persuaded by
Charles Lyell and othersto present his unpublished work
alongside Wallace's notes,and then complete his masterpiece
for publication.
Dawkins interviews Darwin's great-great-grandson below.
I've come to meet Randal Keynes,
Darwin's great-great-grandsonto try to understand
Darwin's frame of mindas he finished his book.This is a book about
geology by Mr Greenough.It has this wonderful inscription –"Charles Darwin, Buenos Aires,
October 1832."So he's on the Beagle,really getting into
his stride as a geologist.This is a scrapbook,
a children's scrapbookthat belonged to Darwin's daughter
Annie. 'Darwin was
no aggressive polemicist.'He didn't take to the stage
to publicize his work,'but sought to influence leading
thinkers behind the scenes,'by sending them proof copies of the
book with apologetic letters
attached.'He would write things like,
"This vile rag of a theory of mine."Was that genuine modesty or was there
an element of false modesty about it? It was entirely real, um, and this is
a very strange point about him.Through the years when he was
steeling himself for publication,um, he was, at different times,
enormously confident in it,and at other times,
he was utterly uncertain.He had a deep fear, I think,that one species would be discoveredthat had some element of its make-upthat could only have been designed. Doubts may have lingered
in Darwin's mind,but finally, 150 years ago,
he set out his ideas on evolutionand how it worked
in The Origin Of Species.
Charles Darwin (1809-1882) pictured above
Francis Darwin (1848-1925) pictured above
Francis Schaeffer (1912-1984)
A letter to Sir J. D. Hooker, June 17, 1868, which repeats to some extent what is given in the Autobiography:—
"I am glad you were at the Messiah, it is the one thing that I should like to hear again, but I dare say I should find my soul too dried up to appreciate it as in old days; and then I should feel very flat, for it is a horrid bore to feel as I constantly do, that I am a withered leaf for every subject except Science. It sometimes makes me hate Science, though God knows I ought to be thankful for such a perennial interest, which makes me forget for some hours every day my accursed stomach.'
Francis Schaeffer summarized Darwin's statement:
So he is glad for science because his stomach bothers him, but on the other hand when I think of what it costs me I almost hate science. You can almost hear young Jean-Jacques Rousseau speaking here, he sees what the machine is going to do and he hates the machine and Darwin is constructing the machine and it leads as we have seen to his own loss of human values in the area of aesthetics, the area of art and also in the area of nature. This is what it has cost him. His theory has led him to this place. When you come to this then it seems to me that you understand man's dilemma very, very well, to think of the origin of the theory of mechanical evolution bringing Darwin himself to the place of this titanic tension.
Schaeffer discusses further Darwin's doubts about evolution:
Darwin in his autobiography ( Darwin, Francis ed. 1892. Charles Darwin: his life told in an autobiographical chapter, and in a selected series of his published letters [abridged edition]. London: John Murray. ) and in his letters Darwin showed that all through his life he never really came to a quietness concerning the possibility that chance really explained the situation of the biological world. You will find there is much material on this [from Darwin] extended over many many years that constantly he was wrestling with this problem. Darwin never came to a place of satisfaction. You have philosophically only two possible beginnings. The first would be a personal beginning and the other would be an impersonal beginning plus time plus chance. There is no other possible alternative except the alternative that everything comes out of nothing and that has to be a total nothing and that has to be a total nothing without mass, energy or motion existing. No one holds this last view because it is unthinkable. Darwin understood this and therefore until his death he was uncomfortable with the idea of chance producing the biological variation.
On May 15, 1994, the 10th anniversary of the passing of Francis Schaeffer, I mailed a letter to about 250 of the world top skeptics and I have posted this letter on my blog ( [Part 1, Part 2, Part 3, Part 4] ). In that letter were these quotes:
J.W.Burrow – "Nature, according to Darwin, was the product of blind chance and a blind struggle, and man a lonely, intelligent mutation, scrambling with the brutes for his sustenance. To some the sense of loss was irrevocable; It was as if an umbilical cord had been cut, and men found themselves part of a cold passionless universe."
William B. Provine in "The End of Ethics?" article in HARD CHOICES (a magazine companion to the television series HARD CHOICES) wrote:Even though it is often asserted that science is fully compatible with our Judeo-Christian tradition, in fact it is not… To be sure, even in antiquity, the mechanistic view of life–that chance was responsible for the shape of the world– had a few adherents. But belief in overarching order was dominant; it can be seen as easily in such scientists as Newton, Harvey, and Einstein as in the theologians Augustine, Luther, and Tillich. But beginning with Darwin, biology has undermined that tradition. Darwin in effect asserted that all living organisms had been created by a combination of CHANCE and necessity–natural selection.In the twentieth century, this view of life has been reinforced by a whole series of discoveries…Mind is the only remaining frontier, but it would be shortsighted to doubt that it can, one day, be duplicated in the form of thinking robots or analyzed in terms of the chemistry and electricity of the brain. The extreme mechanic view of life, which every new discovery in biology tends to confirm, has certain implications. First, God has no role in the physical world…Second, except for the laws of probability and cause and effect, there is no organizing principle in the world, and NO PURPOSE.

Bertrand Russell – "That Man is the product of causes which had no prevision of the end they were achieving; that his origin, his growth, his hopes and fears, his loves and his beliefs, are but the outcome of accidental collocations of atoms; that no fire, no heroism, no intensity of thought and feeling, can preserve an individual life beyond the grave; that all the labours of the ages, all the devotion, all the inspiration, all the noonday brightness of human genius, are destined to extinction in the vast death of the solar system, and that the whole temple of Man's achievement must inevitably be buried beneath the débris of a universe in ruins—all these things, if not quite beyond dispute, are yet so nearly certain, that no philosophy which rejects them can hope to stand. Only within the scaffolding of these truths, only on the firm foundation of unyielding despair, can the soul's habitation henceforth be safely built."(Bertrand Russell, Free Man's Worship)
—-
It is either a personal God who created it all or evolution by chance. Take a look at this statement by George Wald:
George Wald in 1987

"When it comes to the origin of life, we have only two possibilities as to how life arose. One is spontaneous generation arising to evolution; the other is a supernatural creative act of God. There is NO THIRD possibility…Spontaneous generation was scientifically disproved one hundred years ago by Louis Pasteur, Spellanzani, Reddy and others. That leads us scientifically to only one possible conclusion — that life arose as a supernatural creative act of God…I will not accept that philosophically because I do not want to believe in God. Therefore, I choose to believe in that which I know is scientifically impossible, spontaneous generationarising to evolution." – Scientific American, August, 1954.
The Designed CreationBY HENRY M. MORRIS, PH.D. | FRIDAY, AUGUST 08, 1997
"Understand, ye brutish among the people: and ye fools, when will ye be wise? He that planted the ear, shall He not hear? He that formed the eye, shall He not see?" (Psalm 94:8,9)
The concept of evolution, according to this verse, is nothing but brute-like foolishness. If an automobile presupposes an auto-maker, and a clock implies a clock-maker, surely the infinitely more intricate and complex eyes and ears of living creatures require an ear-maker and an eye-maker! "The hearing ear, and the seeing eye, the LORD hath made even both of them" (Proverbs 20:12).
The most basic of all scientific laws—the law of cause and effect (no effect greater than its cause)—becomes utmost nonsense if the cosmos is the product of chaos and the universe evolved by chance. "The fool hath said in his heart, There is no God" (Psalm 14:1).
Every creature, from the single-celled amoebae to the amazing human body, bears the impress of intricate planning and construction. The notion that such complex structures could evolve by random mutations and natural selection is simply a measure of the audacity of human rebellion and the absurdity of humanistic reasoning. Such things never happen in the real world, and there is no real scientific evidence whatever for "vertical" evolution from one kind to a higher kind. The only genuine evidence for evolution is the fact that the leaders of intellectualism believe it, and the only reason they believe it is their frantic desire to escape God. "Professing themselves to be wise, they became fools" (Romans 1:22).
The ear did not "evolve;" it was planted. The eye did not "happen by chance;" it was formed. Every wise man and woman will say with the psalmist, "I will praise thee; for I am fearfully and wonderfully made: marvelous are thy works; and that my soul knoweth right well" (Psalm 139:14). HMM
Sincerely,
Everette Hatcher III, 13900 Cottontail Lane, Alexander, AR 72002, ph 501-920-5733 everettehatcher@gmail.com
Related posts:
President Obama c/o The White House 1600 Pennsylvania Avenue NW Washington, DC 20500 Dear Mr. President, I know that you receive 20,000 letters a day and that you actually read 10 of them every day. I really do respect you for trying to get a pulse on what is going on out here. There have […]By Everette Hatcher III | Posted in David Barton, Founding Fathers, President Obama | Edit |Comments (0)
There have been many articles written by evangelicals like me who fear that our founding fathers would not recognize our country today because secular humanism has rid our nation of spiritual roots. I am deeply troubled by the secular agenda of those who are at war with religion in our public life. Lillian Kwon quoted somebody […]By Everette Hatcher III | Posted in David Barton, Founding Fathers | Edit | Comments (0)
There have been many articles written by evangelicals like me who fear that our founding fathers would not recognize our country today because secular humanism has rid our nation of spiritual roots. I am deeply troubled by the secular agenda of those who are at war with religion in our public life. Lillian Kwon quoted somebody […]By Everette Hatcher III | Posted in David Barton, Founding Fathers | Edit | Comments (0)
There have been many articles written by evangelicals like me who fear that our founding fathers would not recognize our country today because secular humanism has rid our nation of spiritual roots. I am deeply troubled by the secular agenda of those who are at war with religion in our public life. Lillian Kwon quoted somebody […]By Everette Hatcher III | Posted in David Barton, Founding Fathers | Edit | Comments (0)
There have been many articles written by evangelicals like me who fear that our founding fathers would not recognize our country today because secular humanism has rid our nation of spiritual roots. I am deeply troubled by the secular agenda of those who are at war with religion in our public life. Lillian Kwon quoted somebody […]By Everette Hatcher III | Posted in David Barton, Founding Fathers | Edit | Comments (0)
There have been many articles written by evangelicals like me who fear that our founding fathers would not recognize our country today because secular humanism has rid our nation of spiritual roots. I am deeply troubled by the secular agenda of those who are at war with religion in our public life. Lillian Kwon quoted somebody […]By Everette Hatcher III | Posted in Founding Fathers | Edit | Comments (0)
President Obama Speaks at The Ohio State University Commencement Ceremony Published on May 5, 2013 President Obama delivers the commencement address at The Ohio State University. May 5, 2013. You can learn a lot about what President Obama thinks the founding fathers were all about from his recent speech at Ohio State. May 7, 2013, […]By Everette Hatcher III | Posted in Founding Fathers, President Obama | Edit | Comments (0)
Dr. C. Everett Koop with Bill Graham. Francis Schaeffer: "Whatever Happened to the Human Race" (Episode 4) THE BASIS FOR HUMAN DIGNITY Published on Oct 7, 2012 by AdamMetropolis The 45 minute video above is from the film series created from Francis Schaeffer's book "Whatever Happened to the Human Race?" with Dr. C. Everett Koop. This […]By Everette Hatcher III | Posted in Founding Fathers, Francis Schaeffer, Prolife | Edit |Comments (1)
America's Founding Fathers Deist or Christian? – David Barton 4/6 There have been many articles written by evangelicals like me who fear that our founding fathers would not recognize our country today because secular humanism has rid our nation of spiritual roots. I am deeply troubled by the secular agenda of those who are at […]By Everette Hatcher III | Posted in David Barton, Founding Fathers | Tagged governor of connecticut, john witherspoon, jonathan trumbull | Edit | Comments (1)
3 Of 5 / The Bible's Influence In America / American Heritage Series / David Barton There were 55 gentlemen who put together the constitution and their church affliation is of public record. Greg Koukl notes: Members of the Constitutional Convention, the most influential group of men shaping the political foundations of our nation, were […]By Everette Hatcher III | Posted in Founding Fathers | Edit | Comments (0)
I do not think that John Quincy Adams was a founding father in the same sense that his father was. However, I do think he was involved in the early days of our government working with many of the founding fathers. Michele Bachmann got into another history-related tussle on ABC's "Good Morning America" today, standing […]By Everette Hatcher III | Posted in David Barton, Founding Fathers | Edit | Comments (0)
I have gone back and forth and back and forth with many liberals on the Arkansas Times Blog on many issues such as abortion, human rights, welfare, poverty, gun control and issues dealing with popular culture. Here is another exchange I had with them a while back. My username at the Ark Times Blog is Saline […]By Everette Hatcher III | Posted in Arkansas Times, Francis Schaeffer, Prolife | Edit |Comments (0)
I truly believe that many of the problems we have today in the USA are due to the advancement of humanism in the last few decades in our society. Ronald Reagan appointed the evangelical Dr. C. Everett Koop to the position of Surgeon General in his administration. He partnered with Dr. Francis Schaeffer in making the […]By Everette Hatcher III | Posted in Adrian Rogers, Francis Schaeffer | Edit | Comments (0)
Francis Schaeffer: "Whatever Happened to the Human Race" (Episode 4) THE BASIS FOR HUMAN DIGNITY Published on Oct 7, 2012 by AdamMetropolis ____________ The 45 minute video above is from the film series created from Francis Schaeffer's book "Whatever Happened to the Human Race?" with Dr. C. Everett Koop. This book really helped develop my political […]By Everette Hatcher III | Posted in Francis Schaeffer | Edit | Comments (0)
—-
—