—-
After Life #1 Trailer
—-
After Life 2 Trailer
—-
On Saturday April 18, 2020 at 6pm in London and noon in Arkansas, I had a chance to ask Ricky Gervais a question on his Twitter Live broadcast which was "Is Tony a Nihilist?" At the 20:51 mark Ricky answers my question. Below is the video:
—-
—-
If Death is the end then what is the point Kath asks below:
——
Kath: You are an atheist?
—-
—
July 13, 2020
Ricky Gervais

Dear Ricky,
This is the 87th day in a row that I have written another open letter to you to comment on some of your episodes of AFTER LIFE, and then I wanted to pass along some evidence that indicates the Bible is historically accurate.
—
Tony and his wife Lisa who died 6 months ago of cancer
In season 2 episode 5 there is "A Night of a Thousand Stars" held in Tambury and it starts off with the song THE WANDERER. Here are the lyrics:
Oh well, I'm the type of guy who will never settle down
Where pretty girls are, well you know that I'm around
I kiss 'em and I love 'em cause to me they're all the same
I hug 'em and I squeeze 'em they don't even know my nameThey call me the wanderer
Yeah, the wanderer
I roam around, around, around
—
Ricky Gervais plays bereaved husband Tony Johnson in AFTER LIFE
SOUNDS A LOT LIKE KING SOLOMON IN ECCLESIASTES WHO ACTUALLY HAD OVER 1,000 children!!!
Ricky Gervais
Among his other activities with humanist groups, Gervais has appeared in the Rationalist Association's Christmas show Nine Lessons and Carols for Godless People.
At school the young Gervais became particularly interested in nature and the sciences, his educational and evidentiary findings further validating his new-found path. On reaching university he intended to study Biology but admits that he opted instead for Philosophy because less study hours were required. It would be 20 more years before the comedian would establish his stand-up career, but anyone who has seen his "Animals", "Science" or "Politics" tours will surely perceive a rhetorical application of humor firmly rooted in a passion for both philosophy and science.
You have chosen to be identified with the Humanists so I wanted to ask you if you agree with something asserted by Humanist Manifest 2 concerning sexual freedom.
Humanist Manifesto 2 states:
SIXTH: In the area of sexuality, we believe that intolerant attitudes, often cultivated by orthodox religions and puritanical cultures, unduly repress sexual conduct. The right to birth control, abortion, and divorce should be recognized. While we do not approve of exploitive, denigrating forms of sexual expression, neither do we wish to prohibit, by law or social sanction, sexual behavior between consenting adults.
—
Let us take a look at the words in the following Beatles song:
"Why Don't We Do It In The Road?"Why don't we do it in the road? Mm
Why don't we do it in the road? Ah
Why don't we do it in the road? Mm
Why don't we do it in the road? Mm
No one will be watching us
Why don't we do it in the road?Why don't we do it in the road?
Why don't we do it in the road?
Why don't we do it in the road?
Why don't we do it in the road?
No one will be watching us
Why don't we do it in the road? OohWhy don't we do it in the road?
Why don't we do it in the road?
Why don't we do it, do it in the road?
Why don't we do it in the road?
No one will be watching us
Why don't we do it in the road?
I have written on the Book of Ecclesiastes and the subject of the meaning of our lives on several occasions on this blog of mine. In this series on Ecclesiastes I hope to show how secular humanist man can not hope to find a lasting meaning to his life in a closed system without bringing God back into the picture. This is the same exact case with Solomon in the Book of Ecclesiastes. Three thousand years ago, Solomon took a look at life "under the sun" in his book of Ecclesiastes. Christian scholar Ravi Zacharias has noted, "The key to understanding the Book of Ecclesiastes is the term 'under the sun.' What that literally means is you lock God out of a closed system, and you are left with only this world of time plus chance plus matter."
HERE BELOW IS SOLOMON'S SEARCH IN THE AREA OF THE 6 "L" WORDS. He looked into learning (1:16-18), laughter, ladies, luxuries, and liquor (2:1-3, 8, 10, 11), and labor (2:4-6, 18-20). TODAY WE WANT TO LOOK AT SOLOMON'S SEARCH INTO THE WORD "LADIES."
Ecclesiastes 2:8-10The Message (MSG)
I piled up silver and gold,
loot from kings and kingdoms.
I gathered a chorus of singers to entertain me with song,
and—most exquisite of all pleasures—
voluptuous maidens for my bed.
9-10 Oh, how I prospered! I left all my predecessors in Jerusalem far behind, left them behind in the dust. What's more, I kept a clear head through it all. Everything I wanted I took—I never said no to myself. I gave in to every impulse, held back nothing. I sucked the marrow of pleasure out of every task—my reward to myself for a hard day's work!
1 Kings 11:1-3 English Standard Version (ESV)
11 Now King Solomon loved many foreign women, along with the daughter of Pharaoh: Moabite, Ammonite, Edomite, Sidonian, and Hittite women, 2 from the nations concerning which the Lord had said to the people of Israel, "You shall not enter into marriage with them, neither shall they with you, for surely they will turn away your heart after their gods." Solomon clung to these in love. 3 He had 700 wives, who were princesses, and 300 concubines. And his wives turned away his heart.
Francis Schaeffer observed concerning Solomon, "You can not know woman but knowing 1000 women."
King Solomon in Ecclesiastes 2:11 sums up his search for meaning in the area of the Sexual Revolution with these words, "…behold, all was vanity and a striving after wind, and there was nothing to be gained under the sun."
How about today's most well known playboy the late Hugh Hefner?Schaeffer said that Hefner's goal with the "playboy mentality is just to smash the puritanical ethnic." About 30 years ago my pastor, Adrian Rogers of Bellevue Baptist Church in Memphis, Tennessee noticed an article where Hugh Hefner said he would be willing to trade all of his riches for the experience of just falling in love with one girl of his dreams and getting married. Rogers went on to say that the playboy lifestyle was bankrupt of lasting satisfaction and that God's plan of marriage was best. In fact, the Book of Ecclesiastes shows that Solomon came to the conclusion that nothing in life gives true satisfaction without God including knowledge (1:16-18), ladies and liquor (2:1-3, 8, 10, 11), and great building projects (2:4-6, 18-20). You can only find a lasting meaning to your life by looking above the sun and bring God back into the picture.
Solomon's experiment was a search for meaning to life "under the sun." Then in last few words in the Book of Ecclesiastes he looks above the sun and brings God back into the picture: "The conclusion, when all has been heard, is: Fear God and keep His commandments, because this applies to every person. For God will bring every act to judgment, everything which is hidden, whether it is good or evil."
—
—
The Judgment of Solomon, 1617 by Peter Paul Rubens(1577–1640)
—
—
Paul Kurtz pictured above.
I have had the privilege of corresponding with the humanist psychologist Steven Pinker of Harvard and I have enjoyed reading several of his books and the last one I read was ENLIGHTENMENT NOW: THE CASE FOR REASON, SCIENCE, HUMANISM, AND PROGRESS. In my view it is the best book written from a humanist point of view that discusses morality. Earlier I would given that recognition to Paul Kurtz and his book FORBIDDEN FRUIT: THE ETHICS OF SECULARISM.
Dr. Pinker asserted:
But theistic morality has two fatal flaws. the first one is that there is no good reaaon to believe that god exists. In a nonfiction appendix to her novel Thirty-Six Arguments for the Existence of God: A Work of Fiction, Rebecca Newberger Goldstein (drawing in part on Plato, Spinoza, Hume, Kant, and Russell) lays out refutations of every one of these arguments. The most common among them—faith, revelation, scripture, authority, tradition, and subjective appeal—are not arguments at all. It's not just that reason says they cannot be trusted. It's also that different religions, drawing on these sources, degree mutually incompatible beliefs about how many gods there are, which miracles they wrought, and what they demand of their devotees. Historical scholarship has amply demonstrated that holy scriptures are all-too-human products of their historical eras…" (page 421).

Dr. Pinker brings up two points and they are that the scriptures are not reliable and this goes for several religions. Let's look at the historical reliability of the Book of Mormon and then compare that to the Bible.
The Book of Mormon is blindly accepted even though archaeology has disproven many of the facts that are claimed by it. For instance, wheels and chariots did not exist in North America when they said they did and horses were not present either.
Rick Deem wrote the article, "Archaeology/Anthropolocical Problems in the Book of Mormon," and in it he asserted:
The Book of Mormon claims to be a record of the inhabitants of the Americas during the period from 2000 B.C. to 400 A.D. It makes many claims about the history and anthropology of pre-Columbian American cultures. Unfortunately, the author of the book, Joseph Smith, had little or no knowledge of pre-Columbian American civilizations. Borrowing and adapting many stories from the Old and New Testaments, Joseph Smith was unaware that the earlier Native American peoples were part of stone-age civilizations that were significantly less advanced than Hebrew and other Middle Eastern cultures of biblical times.
The Book of Mormon describes the following animals as living in the pre-Columbian Americas: donkey, cattle, oxen, horse, pig, and elephants. Although horses and mammoths and mastodons (related to elephants) had existed tens of thousands of years ago in the Americas, they had all disappeared by 10,000 years ago. Horses did not reappear on the American continents until the Spanish brought them after the voyage of Columbus. None of these animals existed in North, Central or South America during Book of Mormon times.
The Old and New Testaments present a rich description of biblical peoples, places and cultures. Archeology of the Middle East has revealed the cities, weapons, crops, animals, coins, writings, and references to biblical characters found in the Bible. However, none of the cities mentioned in the Book of Mormon have ever been identified by qualified archeologists. In addition, many Book of Mormon references to metals, weapons, crops, animals, articles of clothing are known to have not been present in the Americas during the time period claimed in the Book of Mormon.
___________________________________
Over the years there have been many criticisms leveled against the Bible concerning its historical reliability. These criticisms are usually based on a lack of evidence from outside sources to confirm the Biblical record. Since the Bible is a religious book, many scholars take the position that it is biased and cannot be trusted unless we have corroborating evidence from extra-Biblical sources. In other words, the Bible is guilty until proven innocent, and a lack of outside evidence places the Biblical account in doubt.
This standard is far different from that applied to other ancient documents, even though many, if not most, have a religious element. They are considered to be accurate, unless there is evidence to show that they are not. Although it is not possible to verify every incident in the Bible, the discoveries of archaeologysince the mid-1800s have demonstrated the reliability and plausibility of the Bible narrative.
Here are some examples:
Many thought the Biblical references to Solomon's wealth were greatly exaggerated. Recovered records from the past show that wealth in antiquity was concentrated with the king and Solomon's prosperity was entirely feasible.
It was once claimed there was no Assyrian king named Sargon as recorded in Isaiah 20:1, because this name was not known in any other record. Then, Sargon's palace was discovered in Khorsabad, Iraq. The very event mentioned in Isaiah 20, his capture of Ashdod, was recorded on the palace walls. What is more, fragments of a stela memorializing the victory were found at Ashdod itself.
Another king who was in doubt was Belshazzar, king of Babylon, named in Daniel 5. The last king of Babylon was Nabonidus according to recorded history. Tablets were found showing that Belshazzar was Nabonidus' son who served as coregent in Babylon. Thus, Belshazzar could offer to make Daniel "third highest ruler in the kingdom" (Dan. 5:16) for reading the handwriting on the wall, the highest available position. Here we see the "eye-witness" nature of the Biblical record, as is so often brought out by the discoveries of archaeology.
---
How does archaeology conclusively demonstrate the Bible to be reliable and unique among all the holy books of world religions? Answer
For many more archaeological evidences in support of the Bible, see Archaeology and the Bible
---
[ If this information has been helpful, please prayerfully consider a donation to help pay the expenses for making this faith-building service available to you and your family! Donations are tax-deductible. ]
Author: Bryant Wood of Associates for Biblical Research
The answer to find meaning in life is found in putting your faith and trust in Jesus Christ. The Bible is true from cover to cover and can be trusted. GOD HAS SPOKEN AND HAS NOT BEEN SILENT, BUT YOU CAN'T JUST CONTINUE TO LOOK FOR ANSWERS JUST "UNDER THE SUN." You want some evidence that indicates that the Bible is true? Here is a good place to start and that is taking a closer look at the archaeology of the Old Testament times. Is the Bible historically accurate? Here are some of the posts I have done in the past on the subject: 1. The Babylonian Chronicle, of Nebuchadnezzars Siege of Jerusalem, 2. Hezekiah's Siloam Tunnel Inscription. 3. Taylor Prism (Sennacherib Hexagonal Prism), 4. Biblical Cities Attested Archaeologically. 5. The Discovery of the Hittites, 6.Shishak Smiting His Captives, 7. Moabite Stone, 8. Black Obelisk of Shalmaneser III, 9A Verification of places in Gospel of John and Book of Acts., 9B Discovery of Ebla Tablets. 10. Cyrus Cylinder, 11. Puru "The lot of Yahali" 9th Century B.C.E., 12. The Uzziah Tablet Inscription, 13. The Pilate Inscription, 14. Caiaphas Ossuary, 14 B Pontius Pilate Part 2, 14c. Three greatest American Archaeologists moved to accept Bible's accuracy through archaeology.
—-

The answer to find meaning in life is found in putting your faith and trust in Jesus Christ. The Bible is true from cover to cover and can be trusted.
Thank you again for your time and I know how busy you are.
Sincerely,
Everette Hatcher, everettehatcher@gmail.com, http://www.thedailyhatch.org, cell ph 501-920-5733, 13900 Cottontail Lane, Alexander, AR 72002
PS: What is the meaning of life? Find it in the end of the open letter I wrote to you on April 23, 2020.
—

Below is the workforce of THE TAMBURY GAZETTE
—
Seen below is the third episode of AFTERLIFE (season 1) when Matt takes Tony to a comedy club with front row seats to cheer him up but it turns into disaster!!!
——
—-
—
Part 1 "Why have integrity in Godless Darwinian Universe where Might makes Right?"
Part 2 "My April 14, 2016 Letter to Ricky mentioned Book of Ecclesiastes and the Meaninglessness of Life"
Part 3 Letter about Brandon Burlsworth concerning suffering and pain and evil in the world. "Why didn't Jesus save her [from cancer]?" (Tony's 10 year old nephew George in episode 2)
Part 4 Letter on Solomon on Death Tony in episode one, "It should be everyone's moral duty to kill themselves."
Part 5 Letter on subject of Learning in Ecclesiastes "I don't read books of fiction but mainly science and philosophy"
Part 6 Letter on Luxuries in Ecclesiastes Part 6, The Music of AFTERLIFE (Part A)
Part 7 Letter on Labor in Ecclesiastes My Letter to Ricky on Easter in 2017 concerning Book of Ecclesiastes and the legacy of a person's life work
Part 8 Letter on Liquor in Ecclesiastes Tony's late wife Lisa told him, "Don't get drunk all the time alright? It will only make you feel worse in the log run!"
Part 9 Letter on Laughter in Ecclesiastes , I said of laughter, "It is foolishness;" and of mirth, "What does it accomplish?" Ecclesiastes 2:2
Part 10 Final letter to Ricky on Ladies in Ecclesiastes "I gathered a chorus of singers to entertain me with song, and—most exquisite of all pleasures— voluptuous maidens for my bed…behold, all was vanity and a striving after wind, and there was nothing to be gained under the sun" Ecclesiastes 2:8-11.
Part 11 Letter about Daniel Stanhope and optimistic humanism "If man has been kicked up out of that which is only impersonal by chance , then those things that make him man-hope of purpose and significance, love, motions of morality and rationality, beauty and verbal communication-are ultimately unfulfillable and thus meaningless." (Francis Schaeffer)
Part 12 Letter on how pursuit of God is only way to get Satisfaction Dan Jarrell "[In Ecclesiastes] if one seeks satisfaction they will never find it. In fact, every pleasure will be fleeting and can not be sustained, BUT IF ONE SEEKS GOD THEN ONE FINDS SATISFACTION"
Part 13 Letter to Stephen Hawking on Solomon realizing he will die just as a dog will die "For men and animals both breathe the same air, and both die. So mankind has no real advantage over the beasts; what an absurdity!" Ecclesiastes
Part 14 Letter to Stephen Hawking on 3 conclusions of humanism and Bertrand Russell destruction of optimistic humanism. "That Man is the product of causes which had no prevision of the end they were achieving; that his origin, his growth, his hopes and fears, his loves and his beliefs, are but the outcome of accidental collocations of atoms—no philosophy which rejects them can hope to stand. Only within the scaffolding of these truths, only on the firm foundation of unyielding despair, can the soul's habitation henceforth be safely built."(Bertrand Russell, Free Man's Worship)
Part 15 Letter to Stephen Hawking on Leonardo da Vinci and Solomon and Meaningless of life "I hate life. As far as I can see, what happens on earth is a bad business. It's smoke—and spitting into the wind" Ecclesiastes Book of Ecclesiastes Part 15 "I hate life. As far as I can see, what happens on earth is a bad business. It's smoke—and spitting into the wind" Ecclesiastes 2:17
Part 16 Letter to Stephen Hawking on Solomon's longing for death but still fear of death and 5 conclusions of humanism on life UNDER THE SUN. Francis Schaeffer "Life is just a series of continual and unending cycles and man is stuck in the middle of the cycle. Youth, old age, Death. Does Solomon at this point embrace nihilism? Yes!!! He exclaims that the hates life (Ecclesiastes 2:17), he longs for death (4:2-3) Yet he stills has a fear of death (2:14-16)"
—
Mandeep Dhillon as Sandy on her first assignment in 'After Life'. (Twitter)
A still from 'After Life' that captures the vibe of the Tambury Gazette. (Twitter)
Michael Scott of THE OFFICE (USA) with Ricky Gervais
After Life on Netflix stars Ricky Gervais as a bereaved husband (Image: Netflix)
—-
Psychiatrist played by Paul Kaye seen below.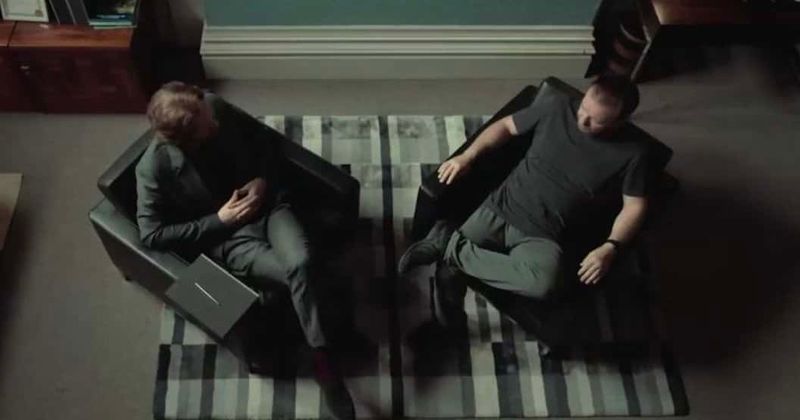 —
Tony Johnson with his dog Brandi seen below:
—-
Related posts:
I have gone back and forth and back and forth with many liberals on the Arkansas Times Blog on many issues such as abortion, human rights, welfare, poverty, gun control and issues dealing with popular culture. Here is another exchange I had with them a while back. My username at the Ark Times Blog is Saline […]By Everette Hatcher III | Posted in Biblical Archaeology, Francis Schaeffer, Prolife | Edit|Comments (0)
I have posted many of the sermons by John MacArthur. He is a great bible teacher and this sermon below is another great message. His series on the Book of Proverbs was outstanding too. I also have posted several of the visits MacArthur made to Larry King's Show. One of two most popular posts I […]By Everette Hatcher III | Posted in Adrian Rogers, Current Events | Edit|Comments (0)
I have posted many of the sermons by John MacArthur. He is a great bible teacher and this sermon below is another great message. His series on the Book of Proverbs was outstanding too. I also have posted several of the visits MacArthur made to Larry King's Show. One of two most popular posts I […]By Everette Hatcher III | Posted in Adrian Rogers, Current Events |Tagged Bible Prophecy, john macarthur | Edit|Comments (0)
Prophecy–The Biblical Prophesy About Tyre.mp4 Uploaded by TruthIsLife7 on Dec 5, 2010 A short summary of the prophecy about Tyre and it's precise fulfillment. Go to this link and watch the whole series for the amazing fulfillment from secular sources. http://www.youtube.com/watch?v=qvt4mDZUefo________________ John MacArthur on the amazing fulfilled prophecy on Tyre and how it was fulfilled […]By Everette Hatcher III | Posted in Biblical Archaeology | Edit|Comments (1)
John MacArthur on the Bible and Science (Part 2) I have posted many of the sermons by John MacArthur. He is a great bible teacher and this sermon below is another great message. His series on the Book of Proverbs was outstanding too. I also have posted several of the visits MacArthur made to Larry […]By Everette Hatcher III | Posted in Current Events | Edit|Comments (0)
John MacArthur on the Bible and Science (Part 1) I have posted many of the sermons by John MacArthur. He is a great bible teacher and this sermon below is another great message. His series on the Book of Proverbs was outstanding too. I also have posted several of the visits MacArthur made to Larry […]By Everette Hatcher III | Posted in Current Events | Edit|Comments (0)
Adrian Rogers – How you can be certain the Bible is the word of God Great article by Adrian Rogers. What evidence is there that the Bible is in fact God's Word? I want to give you five reasons to affirm the Bible is the Word of God. First, I believe the Bible is the […]By Everette Hatcher III | Posted in Adrian Rogers, Biblical Archaeology | Edit|Comments (0)
Is there any evidence the Bible is true? Articles By PleaseConvinceMe Apologetics Radio The Old Testament is Filled with Fulfilled Prophecy Jim Wallace A Simple Litmus Test There are many ways to verify the reliability of scripture from both internal evidences of transmission and agreement, to external confirmation through archeology and science. But perhaps the […]By Everette Hatcher III | Posted in Biblical Archaeology, Current Events | Edit|Comments (0)
I have gone back and forth and back and forth with many liberals on the Arkansas Times Blog on many issues such as abortion, human rights, welfare, poverty, gun control and issues dealing with popular culture. Here is another exchange I had with them a while back. My username at the Ark Times Blog is […]By Everette Hatcher III | Posted in Francis Schaeffer, Prolife | Edit|Comments (0)
Here is some very convincing evidence that points to the view that the Bible is historically accurate. Archaeological and External Evidence for the Bible Archeology consistently confirms the Bible! Archaeology and the Old Testament Ebla tablets—discovered in 1970s in Northern Syria. Documents written on clay tablets from around 2300 B.C. demonstrate that personal and place […]By Everette Hatcher III | Posted in Biblical Archaeology | E
Adrian Rogers on Evolution
—-
Charles Darwin Autobiography
Francis Schaeffer "The Age of NONREASON"
——-

—-
—-
—-