—-
This blog post was liked on Twitter by Ricky Gervais on January 31, 2021! How exciting that Ricky is interested in blog posts that discuss the great songs in AFTER LIFE and the issues they sing about!
After Life #1 Trailer
—-
After Life 2 Trailer
—-
On Saturday April 18, 2020 at 6pm in London and noon in Arkansas, I had a chance to ask Ricky Gervais a question on his Twitter Live broadcast which was "Is Tony a Nihilist?" At the 20:51 mark Ricky answers my question. Below is the video:
—-
—-
If Death is the end then what is the point Kath asks below:
——
Kath: You are an atheist?
—-
Adrian Rogers on Evolution
—-
Charles Darwin Autobiography
Francis Schaeffer "The Age of NONREASON"
—
Ricky Gervais plays bereaved husband Tony Johnson in AFTER LIFE
Tony and his wife Lisa who died 6 months ago of cancer
(Above) Tony and Anne on the bench at the graveyard where their spouses are buried.
—
May 18, 2020
Ricky Gervais

Dear Ricky,
This is the 31st day in a row that I have written another open letter to you to comment on some of your episodes of AFTER LIFE, and then I wanted to pass along some evidence that indicates the Bible is historically accurate.
—
Tony turns to drugs and alcohol to attempt to escape his problems and find answers in the area of nonreason. This is a result of Tony not looking to any spiritual answers because of his firm belief of atheism and that is why ECCLESIASTES is such a good book for Tony to read.

The Christian Scholar Ravi Zacharias noted, "The key to understanding the Book of Ecclesiastes is the term UNDER THE SUN — What that literally means is you lock God out of a closed system and you are left with only this world of Time plus Chance plus matter."
–
–

In 1968 Francis Schaeffer noted that Solomon took a look at the meaning of life on the basis of human life standing alone between birth and death "under the sun." This phrase UNDER THE SUN appears over and over in Ecclesiastes. Below are Schaeffer's comments on Ecclesiastes.
Ecclesiastes 1:11
11 There is no remembrance of earlier things; And also of the later things which will occur, There will be for them no remembrance among those who will come later still.
Ecclesiastes 2:16
16 For there is no lasting remembrance of the wise man as with the fool, inasmuch as in the coming days all will be forgotten. And how the wise man and the fool alike die!
You bring together here the factor of the beginning and you can't know what immediately follows after your death and of course you can't know the final ends. What do you do and the answer is to get drunk and this was not thought of in the RUBAIYAT OF OMAR KAHAYYAM:
Ecclesiastes 2:1-3
I said to myself, "Come now, I will test you with pleasure. So enjoy yourself." And behold, it too was futility. 2 I said of laughter, "It is madness," and of pleasure, "What does it accomplish?" 3 I explored with my mind how to stimulate my body with wine while my mind was guiding me wisely, and how to take hold of folly, until I could see what good there is for the sons of men to do under heaven the few years of their lives.
You know, my Friends, with what a brave Carouse
I made a Second Marriage in my house;
Divorced old barren Reason from my Bed,
And took the Daughter of the Vine to Spouse.
from the Rubaiyat of Omar Khayyam (Translation by Edward Fitzgerald)
A perfectly good philosophy coming out of Islam, but Solomon is not the first man that thought of it nor the last. In light of what has been presented by Solomon is the solution just to get intoxicated and black the think out? So many people have taken to alcohol and the dope which so often follows in our day.
(End of Schaeffer comments on Ecclesiastes)
—

At the end of episode 2 in season 1 of AFTER LIFE Elton John song ROCKET MAN is played while Tony slips into a drug trip with his druggie friend Julian as the words are sung "And I'm gonna be high as a kite by then." This is perfectly placed in the film to imply drug taking as a "high" and a drug trip. Here are the complete lyrics below:
She packed my bags last night pre-flight
Zero hour nine AM
And I'm gonna be high as a kite by then
I miss the earth so much I miss my wife
It's lonely out in space
On such a timeless flightAnd I think it's gonna be a long long time
'Till touch down brings me round again to find
I'm not the man they think I am at home
Oh no no no I'm a rocket man
Rocket man burning out his fuse up here aloneAnd I think it's gonna be a long long time
'Till touch down brings me round again to find
I'm not the man they think I am at home
Oh no no no I'm a rocket man
Rocket man burning out his fuse up here aloneMars ain't the kind of place to raise your kids
In fact it's cold as hell
And there's no one there to raise them if you did
And all this science I don't understand
It's just my job five days a week
A rocket man, a rocket manAnd I think it's gonna be a long long time
'Till touch down brings me round again to find
I'm not the man they think I am at home
Oh no no no I'm a rocket man
Rocket man burning out his fuse up here aloneAnd I think it's gonna be a long long time
'Till touch down brings me round again to find
I'm not the man they think I am at home
Oh no no no I'm a rocket man
Rocket man burning out his fuse up here aloneAnd I think it's gonna be a long long time
And I think it's gonna be a long long time
And I think it's gonna be a long long time
And I think it's gonna be a long long time
And I think it's gonna be a long long time
And I think it's gonna be a long long time
And I think it's gonna be a long long time
And I think it's gonna be a long long time
—-
This song reminds me of GET BACK by the Beatles which referred to leaving Phoenix for California grass. Also I am sure the Beatles had fun with the song LUCY IN THE SKY WITH DIAMONDS which is a clear picture of a drug trip.
John Lennon was writing about a drug trip when he wrote the song LUCY IN THE SKY WITH DIAMONDS and Paul later confirmed that many years later. Francis Schaeffer correctly noted that the Beatles' album Sgt. Pepper's brought the message of drugs and Eastern Religion to the masses like no other means of communication could.
by Raul on August 23, 2009 in George Harrison, John Lennon, Paul McCartney, Ringo Starr, The BeatlesOn the 21st of March 1967, a short way into the session for "Getting Better" off Sgt Pepper's Lonely Hearts Club Band, John Lennon announced he was feeling ill and was taken onto the roof of Abbey Road Studios for some fresh air by George Martin.George Martin recalls,
"I was aware of them smoking pot, but I wasn't aware that they did anything serious. In fact, I was so innocent that I actually took John up to the roof when he was having an LSD trip, not knowing what it was. If I'd known it was LSD, the roof would have been the last place I would have taken him. He was in the studio and I was in the control room, and he said he wasn't feeling too good. So I said, 'Come up here,' and asked Georgeand Paul to go on overdubbing the voice. 'I'll take John out for a breath of fresh air,' I said, but of course I couldn't take him out the front because there were 500 screaming kids who'd have torn him apart,. So the only place I could take him to get fresh air was the roof. It was a wonderful starry night, and John went to the edge, which was a parapet about 18 inches high, and looked up at the stars and said, 'Aren't they fantastic?' Of course, to him I suppose they would have been especially fantastic. At the time they just looked like stars to me."
In 1970 John Lennon recounted the incident:
"I never took [LSD] in the studio. Once I did, actually. I thought I was taking some uppers and I was not in the state of handling it. I took it and I suddenly got so scared on the mike. I said, 'What is it? I feel ill.' I thought I felt ill and I thought I was going cracked. I said I must go and get some air. They all took me upstairs on the roof, andGeorge Martin was looking at me funny, and then it dawned on me that I must have taken some acid. I said, 'Well, I can't go on. You'll have to do it and I'll just stay and watch.' I got very nervous just watching them all , and I kept saying, 'Is this all right?' They had all been very kind and they said, 'Yes, it's all right.' I said, 'Are you sure it's all right?' They carried on making the record.
John Lennon
Rolling Stone, 1970
In his book HOW SHOULD WE THEN LIVE? Francis Schaeffer noted:
This emphasis on hallucinogenic drugs brought with it many rock groups–for example, Cream, Jefferson Airplane, Grateful Dead, Incredible String Band, Pink Floyd, and Jimi Hendrix. Most of their work was from 1965-1958. The Beatles'Sergeant Pepper's Lonely Hearts Club Band (1967) also fits here. This disc is a total unity, not just an isolated series of individual songs, and for a time it became the rallying cry for young people throughout the world. As a whole, this music was the vehicle to carry the drug culture and the mentality which went with it across frontiers which were almost impassible by other means of communication.
—
Here is a good review of the episode 016 HSWTL The Age of Non-Reason of HOW SHOULD WE THEN LIVE?, December 23, 2007:
Together with the advent of the "drug Age" was the increased interest in the West in the religious experience of Hinduism and Buddhism. Schaeffer tells us that: "This grasping for a nonrational meaning to life and values is the central reason that these Eastern religions are so popular in the West today." Drugs and Eastern religions came like a flood into the Western world. They became the way that people chose to find meaning and values in life. By themselves or together, drugs and Eastern religion became the way that people searched inside themselves for ultimate truth.
Along with drugs and Eastern religions there has been a remarkable increase "of the occult appearing as an upper-story hope." As modern man searches for answers it "many moderns would rather have demons than be left with the idea that everything in the universe is only one big machine." For many people having the "occult in the upper story of nonreason in the hope of having meaning" is better than leaving the upper story of nonreason empty. For them horror or the macabre are more acceptable than the idea that they are just a machine.
Francis Schaeffer has correctly argued:
The universe was created by an infinite personal God and He brought it into existence by spoken word and made man in His own image. When man tries to reduce [philosophically in a materialistic point of view] himself to less than this [less than being made in the image of God] he will always fail and he will always be willing to make these impossible leaps into the area of nonreason even though they don't give an answer simply because that isn't what he is. He himself testifies that this infinite personal God, the God of the Old and New Testament is there.
Instead of making a leap into the area of nonreason the better choice would be to investigate the claims that the Bible is a historically accurate book and that God created the universe and reached out to humankind with the Bible. Below is a piece of that evidence given by Francis Schaeffer concerning the accuracy of the Bible.
TRUTH AND HISTORY (chapter 5 of WHATEVER HAPPENED TO THE HUMAN RACE?, under footnotes #97 and #98)
A common assumption among liberal scholars is that because the Gospels are theologically motivated writings–which they are–they cannot also be historically accurate. In other words, because Luke, say (when he wrote the Book of Luke and the Book of Acts), was convinced of the deity of Christ, this influenced his work to the point where it ceased to be reliable as a historical account. The assumption that a writing cannot be both historical and theological is false.
The experience of the famous classical archaeologist Sir William Ramsay illustrates this well. When he began his pioneer work of exploration in Asia Minor, he accepted the view then current among the Tubingen scholars of his day that the Book of Acts was written long after the events in Paul's life and was therefore historically inaccurate. However, his travels and discoveries increasingly forced upon his mind a totally different picture, and he became convinced that Acts was minutely accurate in many details which could be checked.
What is even more interesting is the way "liberal" modern scholars today deal with Ramsay's discoveries and others like them. In the NEW TESTAMENT : THE HISTORY OF THE INVESTIGATION OF ITS PROBLEMS, the German scholar Werner G. Kummel made no reference at all to Ramsay. This provoked a protest from British and American scholars, whereupon in a subsequent edition Kummel responded. His response was revealing. He made it clear that it was his deliberate intention to leave Ramsay out of his work, since "Ramsay's apologetic analysis of archaeology [in other words, relating it to the New Testament in a positive way] signified no methodologically essential advance for New Testament research." This is a quite amazing assertion. Statements like these reveal the philosophic assumptions involved in much liberal scholarship.
A modern classical scholar, A.N.Sherwin-White, says about the Book of Acts: "For Acts the confirmation of historicity is overwhelming…Any attempt to reject its basic historicity, even in matters of detail, must not appear absurd. Roman historians have long taken this for granted."
When we consider the pages of the New Testament, therefore, we must remember what it is we are looking at. The New Testament writers themselves make abundantly clear that they are giving an account of objectively true events.
(Under footnote #98)
Acts is a fairly full account of Paul's journeys, starting in Pisidian Antioch and ending in Rome itself. The record is quite evidently that of an eyewitness of the events, in part at least. Throughout, however, it is the report of a meticulous historian. The narrative in the Book of Acts takes us back behind the missionary journeys to Paul's famous conversion on the Damascus Road, and back further through the Day of Pentecost to the time when Jesus finally left His disciples and ascended to be with the Father.
But we must understand that the story begins earlier still, for Acts is quite explicitly the second part of a continuous narrative by the same author, Luke, which reaches back to the birth of Jesus.
Luke 2:1-7 New American Standard Bible (NASB)
2 Now in those days a decree went out from Caesar Augustus, that a census be taken of all [a]the inhabited earth. 2 [b]This was the first census taken while[c]Quirinius was governor of Syria. 3 And everyone was on his way to register for the census, each to his own city. 4 Joseph also went up from Galilee, from the city of Nazareth, to Judea, to the city of David which is called Bethlehem, because he was of the house and family of David, 5 in order to register along with Mary, who was engaged to him, and was with child. 6 While they were there, the days were completed for her to give birth. 7 And she gave birth to her firstborn son; and she wrapped Him in cloths, and laid Him in a [d]manger, because there was no room for them in the inn.
In the opening sentences of his Gospel, Luke states his reason for writing:
Luke 1:1-4 New American Standard Bible (NASB)
1 Inasmuch as many have undertaken to compile an account of the things[a]accomplished among us, 2 just as they were handed down to us by those whofrom the beginning [b]were eyewitnesses and [c]servants of the [d]word, 3 it seemed fitting for me as well, having [e]investigated everything carefully from the beginning, to write it out for you in consecutive order, most excellentTheophilus; 4 so that you may know the exact truth about the things you have been [f]taught.
In Luke and Acts, therefore, we have something which purports to be an adequate history, something which Theophilus (or anyone) can rely on as its pages are read. This is not the language of "myths and fables," and archaeological discoveries serve only to confirm this.
For example, it is now known that Luke's references to the titles of officials encountered along the way are uniformly accurate. This was no mean achievement in those days, for they varied from place to place and from time to time in the same place. They were proconsuls in Corinth and Cyprus, asiarchs at Ephesus, politarches at Thessalonica, and protos or "first man" in Malta. Back in Palestine, Luke was careful to give Herod Antipas the correct title of tetrarch of Galilee. And so one. The details are precise.
The mention of Pontius Pilate as Roman governor of Judea has been confirmed recently by an inscription discovered at Caesarea, which was the Roman capital of that part of the Roman Empire. Although Pilate's existence has been well known for the past 2000 years by those who have read the Bible, now his governorship has been clearly attested outside the Bible.
—-

The answer to find meaning in life is found in putting your faith and trust in Jesus Christ. The Bible is true from cover to cover and can be trusted.
Thank you again for your time and I know how busy you are.
Sincerely,
Everette Hatcher, everettehatcher@gmail.com, http://www.thedailyhatch.org, cell ph 501-920-5733, 13900 Cottontail Lane, Alexander, AR 72002
PS: What is the meaning of life? Find it in the end of the open letter I wrote to you on April 23, 2020.
—
Below is the workforce of THE TAMBURY GAZETTE
—
Seen below is the third episode of AFTERLIFE (season 1) when Matt takes Tony to a comedy club with front row seats to cheer him up but it turns into disaster!!!
——
—-
—
Part 1 "Why have integrity in Godless Darwinian Universe where Might makes Right?"
Part 2 "My April 14, 2016 Letter to Ricky mentioned Book of Ecclesiastes and the Meaninglessness of Life"
Part 3 Letter about Brandon Burlsworth concerning suffering and pain and evil in the world. "Why didn't Jesus save her [from cancer]?" (Tony's 10 year old nephew George in episode 2)
Part 4 Letter on Solomon on Death Tony in episode one, "It should be everyone's moral duty to kill themselves."
Part 5 Letter on subject of Learning in Ecclesiastes "I don't read books of fiction but mainly science and philosophy"
Part 6 Letter on Luxuries in Ecclesiastes Part 6, The Music of AFTERLIFE (Part A)
Part 7 Letter on Labor in Ecclesiastes My Letter to Ricky on Easter in 2017 concerning Book of Ecclesiastes and the legacy of a person's life work
Part 8 Letter on Liquor in Ecclesiastes Tony's late wife Lisa told him, "Don't get drunk all the time alright? It will only make you feel worse in the log run!"
Part 9 Letter on Laughter in Ecclesiastes , I said of laughter, "It is foolishness;" and of mirth, "What does it accomplish?" Ecclesiastes 2:2
Part 10 Final letter to Ricky on Ladies in Ecclesiastes "I gathered a chorus of singers to entertain me with song, and—most exquisite of all pleasures— voluptuous maidens for my bed…behold, all was vanity and a striving after wind, and there was nothing to be gained under the sun" Ecclesiastes 2:8-11.
Part 11 Letter about Daniel Stanhope and optimistic humanism "If man has been kicked up out of that which is only impersonal by chance , then those things that make him man-hope of purpose and significance, love, motions of morality and rationality, beauty and verbal communication-are ultimately unfulfillable and thus meaningless." (Francis Schaeffer)
Part 12 Letter on how pursuit of God is only way to get Satisfaction Dan Jarrell "[In Ecclesiastes] if one seeks satisfaction they will never find it. In fact, every pleasure will be fleeting and can not be sustained, BUT IF ONE SEEKS GOD THEN ONE FINDS SATISFACTION"
Part 13 Letter to Stephen Hawking on Solomon realizing he will die just as a dog will die "For men and animals both breathe the same air, and both die. So mankind has no real advantage over the beasts; what an absurdity!" Ecclesiastes
Part 14 Letter to Stephen Hawking on 3 conclusions of humanism and Bertrand Russell destruction of optimistic humanism. "That Man is the product of causes which had no prevision of the end they were achieving; that his origin, his growth, his hopes and fears, his loves and his beliefs, are but the outcome of accidental collocations of atoms—no philosophy which rejects them can hope to stand. Only within the scaffolding of these truths, only on the firm foundation of unyielding despair, can the soul's habitation henceforth be safely built."(Bertrand Russell, Free Man's Worship)
Part 15 Letter to Stephen Hawking on Leonardo da Vinci and Solomon and Meaningless of life "I hate life. As far as I can see, what happens on earth is a bad business. It's smoke—and spitting into the wind" Ecclesiastes Book of Ecclesiastes Part 15 "I hate life. As far as I can see, what happens on earth is a bad business. It's smoke—and spitting into the wind" Ecclesiastes 2:17
Part 16 Letter to Stephen Hawking on Solomon's longing for death but still fear of death and 5 conclusions of humanism on life UNDER THE SUN. Francis Schaeffer "Life is just a series of continual and unending cycles and man is stuck in the middle of the cycle. Youth, old age, Death. Does Solomon at this point embrace nihilism? Yes!!! He exclaims that the hates life (Ecclesiastes 2:17), he longs for death (4:2-3) Yet he stills has a fear of death (2:14-16)"
—
Mandeep Dhillon as Sandy on her first assignment in 'After Life'. (Twitter)
A still from 'After Life' that captures the vibe of the Tambury Gazette. (Twitter)
Michael Scott of THE OFFICE (USA) with Ricky Gervais
After Life on Netflix stars Ricky Gervais as a bereaved husband (Image: Netflix)
—-
Psychiatrist played by Paul Kaye seen below.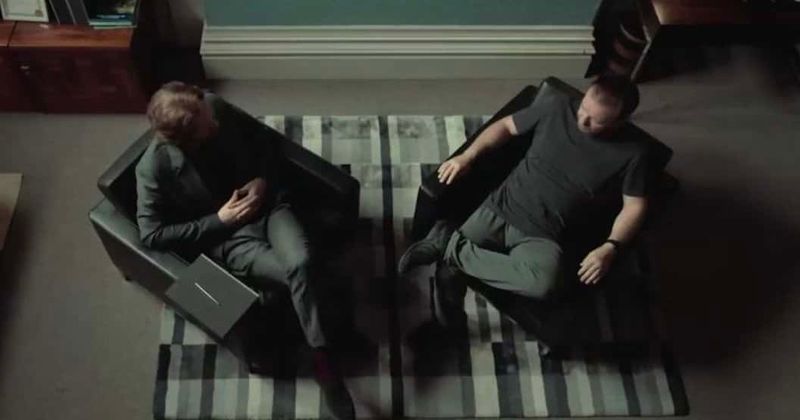 —
Tony Johnson with his dog Brandi seen below:
—-
Related posts:
I have gone back and forth and back and forth with many liberals on the Arkansas Times Blog on many issues such as abortion, human rights, welfare, poverty, gun control and issues dealing with popular culture. Here is another exchange I had with them a while back. My username at the Ark Times Blog is Saline […]By Everette Hatcher III | Posted in Biblical Archaeology, Francis Schaeffer, Prolife | Edit|Comments (0)
I have posted many of the sermons by John MacArthur. He is a great bible teacher and this sermon below is another great message. His series on the Book of Proverbs was outstanding too. I also have posted several of the visits MacArthur made to Larry King's Show. One of two most popular posts I […]By Everette Hatcher III | Posted in Adrian Rogers, Current Events | Edit|Comments (0)
I have posted many of the sermons by John MacArthur. He is a great bible teacher and this sermon below is another great message. His series on the Book of Proverbs was outstanding too. I also have posted several of the visits MacArthur made to Larry King's Show. One of two most popular posts I […]By Everette Hatcher III | Posted in Adrian Rogers, Current Events |Tagged Bible Prophecy, john macarthur | Edit|Comments (0)
Prophecy–The Biblical Prophesy About Tyre.mp4 Uploaded by TruthIsLife7 on Dec 5, 2010 A short summary of the prophecy about Tyre and it's precise fulfillment. Go to this link and watch the whole series for the amazing fulfillment from secular sources. http://www.youtube.com/watch?v=qvt4mDZUefo________________ John MacArthur on the amazing fulfilled prophecy on Tyre and how it was fulfilled […]By Everette Hatcher III | Posted in Biblical Archaeology | Edit|Comments (1)
John MacArthur on the Bible and Science (Part 2) I have posted many of the sermons by John MacArthur. He is a great bible teacher and this sermon below is another great message. His series on the Book of Proverbs was outstanding too. I also have posted several of the visits MacArthur made to Larry […]By Everette Hatcher III | Posted in Current Events | Edit|Comments (0)
John MacArthur on the Bible and Science (Part 1) I have posted many of the sermons by John MacArthur. He is a great bible teacher and this sermon below is another great message. His series on the Book of Proverbs was outstanding too. I also have posted several of the visits MacArthur made to Larry […]By Everette Hatcher III | Posted in Current Events | Edit|Comments (0)
Adrian Rogers – How you can be certain the Bible is the word of God Great article by Adrian Rogers. What evidence is there that the Bible is in fact God's Word? I want to give you five reasons to affirm the Bible is the Word of God. First, I believe the Bible is the […]By Everette Hatcher III | Posted in Adrian Rogers, Biblical Archaeology | Edit|Comments (0)
Is there any evidence the Bible is true? Articles By PleaseConvinceMe Apologetics Radio The Old Testament is Filled with Fulfilled Prophecy Jim Wallace A Simple Litmus Test There are many ways to verify the reliability of scripture from both internal evidences of transmission and agreement, to external confirmation through archeology and science. But perhaps the […]By Everette Hatcher III | Posted in Biblical Archaeology, Current Events | Edit|Comments (0)
I have gone back and forth and back and forth with many liberals on the Arkansas Times Blog on many issues such as abortion, human rights, welfare, poverty, gun control and issues dealing with popular culture. Here is another exchange I had with them a while back. My username at the Ark Times Blog is […]By Everette Hatcher III | Posted in Francis Schaeffer, Prolife | Edit|Comments (0)
Here is some very convincing evidence that points to the view that the Bible is historically accurate. Archaeological and External Evidence for the Bible Archeology consistently confirms the Bible! Archaeology and the Old Testament Ebla tablets—discovered in 1970s in Northern Syria. Documents written on clay tablets from around 2300 B.C. demonstrate that personal and place […]By Everette Hatcher III | Posted in Biblical Archaeology | E
——
——-

—-
—-
—-