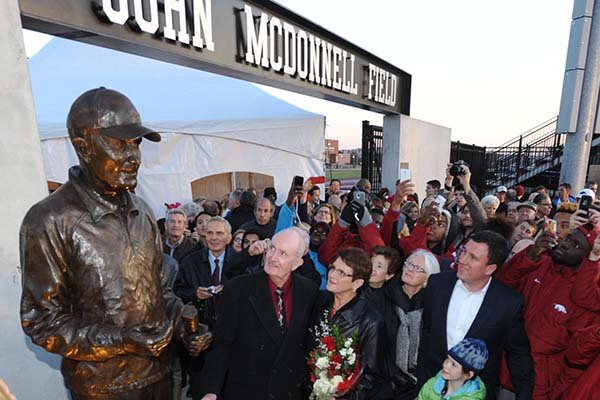 John McDonnell, former University of Arkansas cross country and track and field coach, center, and his wife, Ellen, smile as a cover is removed from a statue in his honor during a ceremony Friday, Nov. 14, 2014, at John McDonnell Field on the university campus in Fayetteville. A plaza honoring past athletes and championships was also dedicated during the ceremony.
Back in 2011 my son Wilson and I were in a big crowd in front of Razorback Stadium and we bought 2 tickets on the fifty yard line for the Razorbacks' game with Tennessee and much to our surprise we found ourselves sitting next to John McDonnell and his son Sean during the game. They were very kind and enjoyed visiting with them briefly during the game but although we knew it was a great honor we did not want to monopolize their time and let them enjoy their father and son time like we were enjoying ours. And there was a special treat in store when we had a perfect front row seat (about 30 rows up approximately) to see one of the all time great punt returns from Joe Adams!!!
—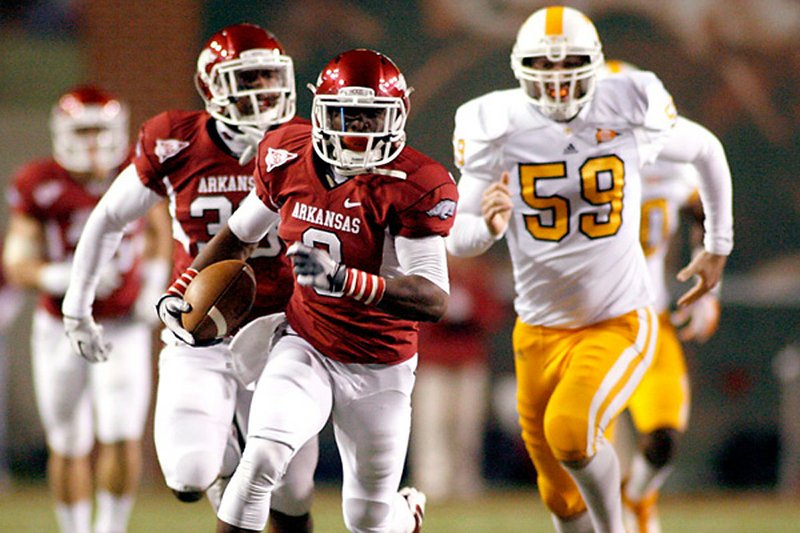 UA vs Tennessee football Arkansas punt returner Joe Adams breaks free from the Tennessee coverage on a punt return for a touchdown during the first quarter at Donald W. Reynolds Razorback Stadium in Fayetteville on Saturday, Nov. 12, 2011.
—
Photo by Amy Smotherman Burgess, ©KNS/2011
Arkansas wide receiver Joe Adams runs back a punt for a touchdown against Tennessee at Donald W. Reynolds Razorback Stadium in Fayetteville on Nov. 12, 2011. (AMY SMOTHERMAN BURGESS/NEWS SENTINEL)
Photo by Amy Smotherman Burgess, ©KNS/2011
Arkansas wide receiver Joe Adams breaks tackles to return a punt for a touchdown against Tennessee at Donald W. Reynolds Razorback Stadium in Fayetteville on Nov. 12, 2011. UT lost the game 49-7. (AMY SMOTHERMAN BURGESS/NEWS SENTINEL)
Photo by Amy Smotherman Burgess, ©KNS/2011
Arkansas wide receiver Joe Adams breaks past Tennessee defensive back Brian Randolph to return a punt for a touchdown at Donald W. Reynolds Razorback Stadium in Fayetteville on Nov. 12, 2011. UT lost the game 49-7. (AMY SMOTHERMAN BURGESS/NEWS
In Harry King's article on Saturday I read this:
"We're just struggling right now on offense, and I don't know any other way to say it," said Tennessee coach Derek Dooley.
That was demonstrated best by Joe Adams' punt return on Saturday.
My son Wilson and I had the same reaction to Joe Adams' punt return. We were seating at the 40 yard line on the side of the field that ran down and when he received the ball at the 45 yard line and ran back to the 30 we were yelling "No, no, no," but that quickly changed to "Go Joe, Go Joe" when he passed the 50 and ran by us.
Here is an article from the Tennessee perspective:
FAYETTEVILLE, Ark. —Derek Dooley couldn't find anything wrong with the coverage.
The punt itself might have left a little to be desired, but the Tennessee coach watched his special teams close down the space on the returner and put itself in exactly the kind of position he would have drawn up.
"It was great," Dooley said.
Everything that happened after came up well short of that evaluation, with Joe Adams shaking off a handful of tacklers, juking past others and then cruising into the end zone with a huge momentum-swinging touchdown that sent No. 8 Arkansas on its way to a 49-7 win against the overmatched Vols on Saturday night at Razorback Stadium.
"We should have had him for minus-10 (yards)," Dooley said. "We had five guys there, we've got to finish it.
"We missed a lot of opportunities, there were a ton of missed tackles in space. On the punt return we had about five guys right there and we've got to finish them off."
The Vols (4-6, 0-6 SEC) couldn't find a way to do it despite getting several sets of hands on Adams, and a couple others just simply whiffed on him during his winding, 60-yard road to a score.
That future staple on the highlight reel for the Razorbacks (9-1, 5-1) only gave them a 14-point lead, and UT had plenty of chances to close the margin and climb back into the game. But the Vols couldn't overcome their other errors on special teams, from a botched fake on a field goal to a shanked 12-yard punt, which only compounded the issues they were having on offense and defense.
"I mean, we had a lot of missed tackles on that, obviously," senior linebacker Austin Johnson said. "It was huge for them, it was a huge momentum swing for them because we were still in the game.
"I think it deflated us and we just have to make sure that when those kinds of things happen we have to stay up."
Associated Press
2 Minute Read
FAYETTEVILLE, Ark. — John McDonnell, the track and field coach who set a gold standard for excellence at Arkansas during his 36 years at the school, has died. He was 82.
He died Monday night, according to a family statement released by the university. A cause was not given.
McDonnell's men's teams produced 40 NCAA championships at Arkansas. Under him, the Razorbacks were a perennial power in cross country and indoor and outdoor track and field. His teams won six national triple crowns, 12 consecutive NCAA indoor titles from 1984-95 and 83 conference titles.
Athletic director Hunter Yurachek called him "quite simply the greatest collegiate coach in the history of intercollegiate athletics" and someone who made an "indelible impact on the hundreds of young men who had the privilege to compete for him."
From 1984 to 2000, at least one of his three teams captured a national championship. Of his 40 NCAA titles, 19 came during the indoor season, 11 in cross country and 10 during the outdoor season. McDonnell was the national coach of the year 30 times. He took conference coaching honors 49 times.
The Razorbacks, with McDonnell as coach, joined the UTEP men's team as the only program to claim a triple crown of titles, and then surpassed the Miners with a total of six.
His teams ruled the Southwest Conference and, beginning in 1991, the Southeastern Conference. The Razorbacks won 83 titles (37 SWC, 46 SEC), which included 34 consecutive championships in cross country, 27 from indoor and 22 outdoor.
McDonnell, born in County Mayo, Ireland, was a six-time All-American in cross country and track and field at Southwestern Louisiana. He became head cross country coach of the Razorbacks and then head track and field coach in 1977-78.
McDonnell is in numerous halls of fame, and Arkansas' 7,000-seat outdoor facility is named in his honor.
He is survived by his wife, Ellen; son Sean; daughter Heather; sisters Philomena Pena, Mary McDonnell and Margaret Carr; and two grandchildren.
https://www.google.com/amp/s/www.espn.com/college-sports/story/_/id/31591385/john-mcdonnell-famed-arkansas-track-coach-dies-82%3fplatform=amp
____________________________
I am an evangelical Christian and I have had the opportunity to visit with several atheists over the years. 
On August 7, 2014 I was able to meet another signer of the Humanist Manifesto II, and I must say it we had a delightful time.  I got to visit with Jim and Betty Grace  McCollum, and I gave them a tour of Little Rock Broom Works and how we make brooms and mops. Jim said he really enjoyed visiting manufacturing plants and learning how products were made. As you see below Jim is wearing a Southern Arkansas University shirt where he furthering his education. After living in Rochester, New York for 34 years and practicing law, he moved to Arkansas in 1994. They have been living in Emerson, Arkansas ever since. Below you can see pictured from left to right: Betty Grace and Jim McCollum, Everette Hatcher, and Wilson Hatcher.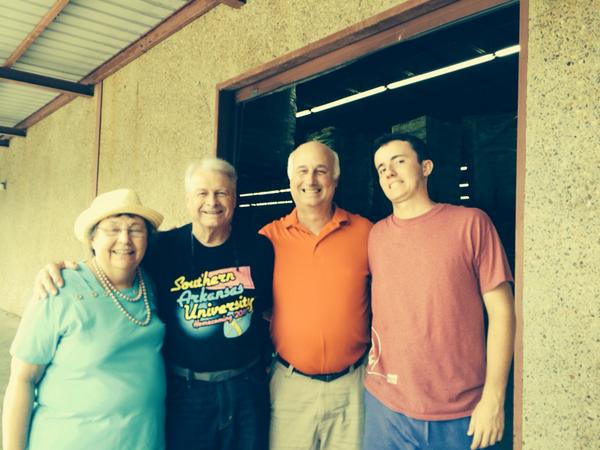 Jim's mother was  Vashti McCollum, a housewife who later became president of the American Humanist Association. Her U.S. Supreme Court victory in McCollum v. Board of Education established that American public schools must be religiously neutral. I mentioned to Jim that I have visited with Lester Mondale at his cabin in Missouri and he pointed out that Lester was the only living signer of Humanist Manifesto I until his death several years ago.
Photo by Amy Smotherman Burgess, ©KNS/2011
Tennessee defensive back Izauea Lanier is unable to stop Arkansas wide receiver Jarius Wright from scoring at Donald W. Reynolds Razorback Stadium in Fayetteville on Nov. 12, 2011. (AMY SMOTHERMAN BURGESS/NEWS SENTINEL)
____________________