—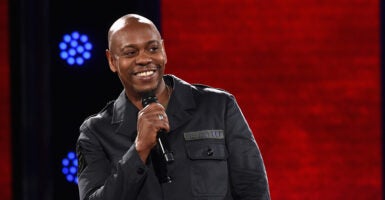 Perennially persecuted comedy legend Dave Chappelle is under fire yet again.
The controversy began after his latest special "The Closer" aired on Netflix. Chappelle, with his usual brand of acerbic humor, made a series of jokes that ran afoul of transgender ideology.
Chappelle is no stranger to controversy. His 2019 special "Sticks & Stones" faced similar accusations of transphobia from a vindictive press.
One topic that Chappelle joked about in "The Closer" was the outrage directed at "Harry Potter" author J.K. Rowling.
"They canceled J.K. Rowling—my God. Effectively, she said gender was a fact, the trans community got mad as s—, they started calling her a TERF," said the comedian.
TERF stands for "trans exclusionary radical feminist" and is used as a pejorative against feminists who don't think biological men are women.
Chappelle continued, "I'm Team TERF. I agree. I agree, man. Gender is a fact."
Cue the outrage. Articles spewed forth from the font of regularly aggrieved leftist journalists, including a loaded headline from NPR reading, "For Dave Chappelle, Punchlines Are Dares. His New Special, 'The Closer,' Goes too Far."
Not to be outdone, The Independent ran a piece titled "Meet the New Dave Chappelle—Misogynistic, Anti-Trans and Socially Irresponsible."
The hit pieces against Chappelle continued as the story developed. "Netflix Defends Dave Chappelle's Anti-Trans Remarks and Suspends a Trans Employee," reported Time after Netflix CEO Ted Sarandos initially defended Chappelle and the special and the company suspended Terra Field, a biological man who identifies as a woman, along with two other employees for barging into an executive-level meeting in order to complain about the "The Closer."
Notably, Sarandos has since caved to the pressure, saying he "screwed up" in his preliminary response to the outrage. However, the special remains on Netflix.
But for all of those news outlets writing on this "uproar," there appears to be more demand for outrage than can be provided naturally.
Stephen Miller, a contributor with The Spectator, noted, "The story cites 3 tweets, one from an account they call 'a Twitter user' with 200 followers. If a news story simply cites you as 'one twitter user said..' your opinion isn't newsworthy. It's irrelevant. Facebook is not the problem."
The media are so desperate for oxygen to keep the Chappelle controversy alive, they're soliciting actor Channing Tatum's thoughts on it.
Really? Why should we care about what Tatum, a man most famous for playing a stripper in a movie six years ago, has to say about Chappelle? In fact, why should we care what any number of leftists on Twitter have to say about Chappelle?
Twitter is not indicative of real life. According to a 2020 Pew Research Center report, "just 10% of users produced 92% of all tweets from U.S. adults since last November, and that 69% of these highly prolific users identify as Democrats or Democratic-leaning independents."
That is an obscenely small number of people driving cultural narratives like the Dave Chappelle story. But it also indicates that the narrative itself is being propped up by a group that doesn't represent the average American, who likely either agrees with Chappelle or couldn't care less.
June Gallup polling indicates that 30% of Americans identify as socially conservative, while 35% identify as moderate. That's a far cry from a majority who buy into the radical left's demands for progressive orthodoxy.
Chappelle himself said it best during "The Closer," "When 'Sticks & Stones' came out, a lot of people in the trans community were furious with me and apparently they dragged me on Twitter. I don't give a —- cuz Twitter's not a real place!"
The sooner people stop giving unrepresentative Twitter mobs the time of day, the sooner they lose their monopoly on the narrative.
Have an opinion about this article? To sound off, please email letters@DailySignal.com and we'll consider publishing your edited remarks in our regular "We Hear You" feature. Remember to include the url or headline of the article plus your name and town and/or state.

Honorable Vice President Kamala Harris c/o The White House
1600 Pennsylvania Avenue NW
Washington, DC 20500
Dear Mrs. Vice President,
"Is it true that your administration has set things in motion that will hurt women's sports?"
Forget women's empowerment, it takes a real civil rights leader to use federal power to humiliate and endanger women on behalf of biological men
You may have missed it, but Joe Bidendevoted part of his very first day in officeto addressing one of this nation's most pressing problems: Girls' sports.
–
The main problem with girls' sports, obviously, is that they lack diversity: Only girls get to play. That's wrong, and Joe Biden plans to fix it; to break the turf ceiling, if you will.
Now, for the first time in history, men will be allowed to compete in, for example, girls' field hockey, and then change in the girls' locker room afterward. Joe Biden has signed an executive order requiring it. Even Barack Obama didn't do that.
This makes Joe Biden a #civilrightshero. There's been a lot of talk recently about women's empowerment, but it takes a real leader, a once-in-a-generation moral visionary, to go further than that and use federal power to humiliate and endanger women on behalf of biological men. That is next-level feminism. That is real empowerment.
That's the Joe Biden program, and he's been planning it for years. This is what he said last February:
BIDEN: Well, no, the animating promise of this country, that all men and women are created equal, has never been fulfilled.
By "equal," Joe Biden means "identical". There are no differences between men and women, that's the position. Those gender categories we've heard about since the dawn of recorded history are fake. So there's no reason to protect women from men under any circumstances, because the whole idea of men and women isn't real.
Not everyone believes this, of course. Science isn't always popular (or the peasants don't understand it). There are still troglodytes out there in the year 2021 who are trying to keep men out of women's sports. Yes, Donald Trump is gone. But that doesn't mean hate has taken a holiday.
 –
But Joe Biden is not intimidated by that. He doesn't care that pretty much no one in America agrees with him or even understands what he's talking about. When Joe Biden watches girls' gymnastics, as he frequently does, and doesn't see a single biological man walking the balance beam or swinging from the uneven bars, he doesn't just sit back and accept the status quo. He acts with force and certainty.
 –
Now, activism like that may seem modern, but it's not new for Joe Biden. For 60 years, he has been fighting transphobia. Way back in the summer of 1962, decades before it was fashionable, Joe Biden confronted a vicious transphobe called Corn Pop, who wanted to keep men out of the girls' changing room at a public pool in Wilmington. It was a different time back then, but Joe Biden wouldn't have it. He threatened to beat Corn Pop with a six-foot chain, and that was just the beginning.
Decades later, Joe Biden flew all the way to South Africa to free Nelson Mandela from prison. Most of us assumed he was risking his life to fight the racist policies of the South African government. What we didn't know was that Joe Biden was actually fighting a more insidious foe, gender apartheid. Robben Island was men-only, segregated by sex, if you can imagine.
But the fight isn't over yet. Joe Biden's holy war of liberation continues. Even now, in this supposedly liberated time, groups of women still saunter to the ladies room together in restaurants across America with not a single man joining them in the stall. That happens, believe it or not. It happens right now. There are still sexually segregated public showers in this nation, not to mention dressing rooms in retail stores, that men aren't allowed to enter.  And what about your house? How many boys slept over at your seventh grade daughter's most recent slumber party?
–
year-old child decides, 'You know, I decided I want to be transgender. That's what I think I'd like to be. It'll make my life a lot easier. There should be zero discrimination
Joe Biden has a solution. Sixty years ago, he fought Corn Pop with a chain to protect the right of biological men to be present when girls change into their bathing suits, and he'll bring that same moral clarity to your daughter's lacrosse team.
CLICK HERE TO GET THE FOX NEWS APP
Leadership like that will change this country. In time, you won't hear people claiming to be the first female this or first female that because honestly, in a truly liberated society, who can say what's female? Why shouldn't Mike Pence announce that actually, he was the first woman to serve as vice president? Who could call him wrong?
Not us. We don't do hate speech here.
This article is adapted from Tucker Carlson's opening commentary on the Jan. 22, 2021 edition of "Tucker Carlson Tonight."
–
An executive order rigs competition by requiring that biological boys be allowed to compete against girls.
Amid Inauguration Day talk of shattered glass ceilings, on Wednesday President Biden delivered a body blow to the rights of women and girls: the Executive Order on Preventing and Combating Discrimination on the Basis of Gender Identity or Sexual Orientation. On day one, Mr. Biden placed all girls' sports and women's safe spaces in the crosshairs of the administrative state.
The order declares: "Children should be able to learn without worrying about whether they will be denied access to the rest room, the locker room, or school sports. . . . All persons should receive equal treatment under the law, no matter their gender identity or sexual orientation." The order purports to direct administrative agencies to begin promulgating regulations that would enforce the Supreme Court's 2020 decision Bostock v. Clayton County. In fact, it goes much further.
In Bostock, the justices held that Title VII of the Civil Rights Act of 1964 prohibited an employer from firing an employee on the basis of homosexuality or "transgender status." Justice Neil Gorsuch, writing for a 6-3 majority, took pains to clarify that the decision was limited to employment and had no bearing on "sex-segregated bathrooms, locker rooms, and dress codes"—all regulated under Title IX of the 1972 Education Amendments. "Under Title VII, too," the majority added, "we do not purport to address bathrooms, locker rooms, or anything else of the kind."
The Biden executive order is far more ambitious. Any school that receives federal funding—including nearly every public high school—must either allow biological boys who self-identify as girls onto girls' sports teams or face administrative action from the Education Department. If this policy were to be broadly adopted in anticipation of the regulations that are no doubt on the way, what would this mean for girls' and women's sports?
"Finished. Done," Olympic track-and-field coach Linda Blade told me. "The leadership skills, all the benefits society gets from letting girls have their protected category so that competition can be fair, all the advances of women's rights—that's going to be diminished." Ms. Blade noted that parents of teen girls are generally uninterested in watching their daughters demoralized by the blatant unfairness of a rigged competition.
I say rigged because in contests of strength and speed, the athletic chasm between the sexes, which opens at puberty, is both permanent and unbridgeable. Once male puberty is complete, testosterone suppression doesn't undo the biological advantages men possess: larger hearts, lungs and bones, greater bone density, more-oxygenated blood, more fast-twitch muscle fiber and vastly greater muscle mass.
It should be no surprise, then, that the two trans-identified biological males permitted to compete in Connecticut state track finals against girls—neither of whom was a top sprinter as a boy—consistently claimed top spots competing as girls. They eliminated girls from advancement to regional championships, scouting and scholarship opportunities and trophies, and they set records no girl may ever equal.
How big is this performance gap? To take one example cited by the Connecticut female runners in their complaint against the Connecticut Interscholastic Athletic Conference, the fastest female sprinter in the world is American runner Allyson Felix, a woman with more gold medals than Usain Bolt. Her lifetime best for the 400-meter run is 49.26 seconds. Based on 2018 data, nearly 300 high-school boys in the U.S. alone could beat it.
Even if allowing biological boys to join girls' teams means girls can't win, isn't it still worth trying out for the team? Actually, no—even in sports that involve no contact and little injury risk, like running or tennis. It isn't merely the trophies and scholarships and opportunities at stake. It isn't even all the benefits sports have so long provided to young women—in self-esteem and health and camaraderie with friends. It isn't merely that girls who participate in sports tend to earn better grades, that so many female Fortune 500 executives were athletes, or that sports force teen girls out of their own heads, where they might otherwise sit and stew to their detriment.
It's the profound and glaring injustice of it: the spectacular records and achievements that Jackie Joyner, Althea Gibson and Wilma Rudolph would never have achieved had the world pitted their bodies against men.
Yet here we are. Decades of women's achievement and opportunity rolled back by executive fiat. Battered women's shelters, women's jails and other safe spaces that receive federal funding and constitute "dwellings" under the Fair Housing Act may be next. Women's rights turn out to be cheap and up for grabs. Who will voice objection?
Certainly not those caught up in the "historic" moment of the first female vice president. Hillary Clinton swooned on Twitter : "It delights me to think that what feels historical and amazing to us today—a woman sworn in to the vice presidency—will seem normal, obvious, 'of course' to Kamala's grand-nieces as they grow up." If only this je ne sais quoi weren't accompanied by a far more material theft of female opportunity.
Ms. Shrier is author of "Irreversible Damage: The Transgender Craze Seducing Our Daughters."
I must say I share your love for the LION, WITCH AND THE WARDROBE by C.S. Lewis. Sadly he died on the same day as two other notable gentleman (JFK and Aldous Huxley). Just like you I have a love for books! 
Thank you so much for your time.
Sincerely,
Everette Hatcher III, 13900 Cottontail Lane, Alexander, AR 72002, ph 501-920-5733
Related posts:
Milton Friedman's Free to Choose (1980), episode 3 – Anatomy of a Crisis. part 1
Williams with Sowell – Minimum Wage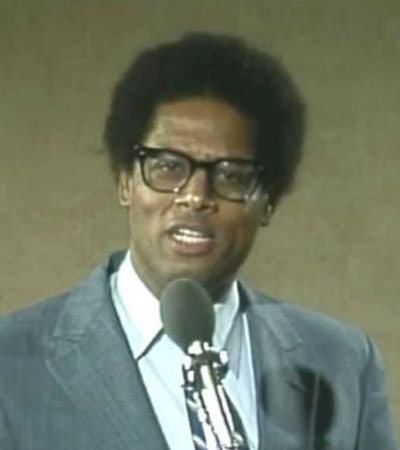 Thomas Sowell – Reducing Black Unemployment
—-
Ronald Reagan with Milton Friedman
Milton Friedman The Power of the Market 2-5