—
Trump won't say whether he wants Russia or Ukraine to win war
Watch Donald Trump Humiliate Kaitlan Collins at His CNN Town Hall!
CNN CEO Chris Licht defended town hall to upset staffers on editorial call Thursday
CNN is facing a "a fury of criticism" from its own employees for airing a town hall with former President Donald Trump on Wednesday, according to the network's own media reporter.
"It's hard to see how America was served by the spectacle of lies that aired on CNN," Oliver Darcy wrote in CNN's "Reliable Sources" newsletter.
Trump, the frontrunner in the 2024 Republican primary, sparred with CNN's Kaitlan Collins over his ongoing claim that the 2020 presidential election was "rigged," the Jan. 6 Capitol riot and the recent verdict that found him liable for defamation and battery against his accuser E. Jean Carroll, whom he continued railing against to the amusement of some supporters in the audience.
"CNN aired it all. On and on it went. It felt like 2016 all over again," Darcy complained. "Collins was put in an uncomfortable position, given the town hall was conducted in front of a Republican audience that applauded Trump, giving a sense of unintended endorsement to his shameful antics."
LIBERALS RAGE OVER CNN'S 'DISGUSTING' TRUMP TOWN HALL: 'THIS INSANITY SHOULD BE PULLED OFF THE F—ING AIR'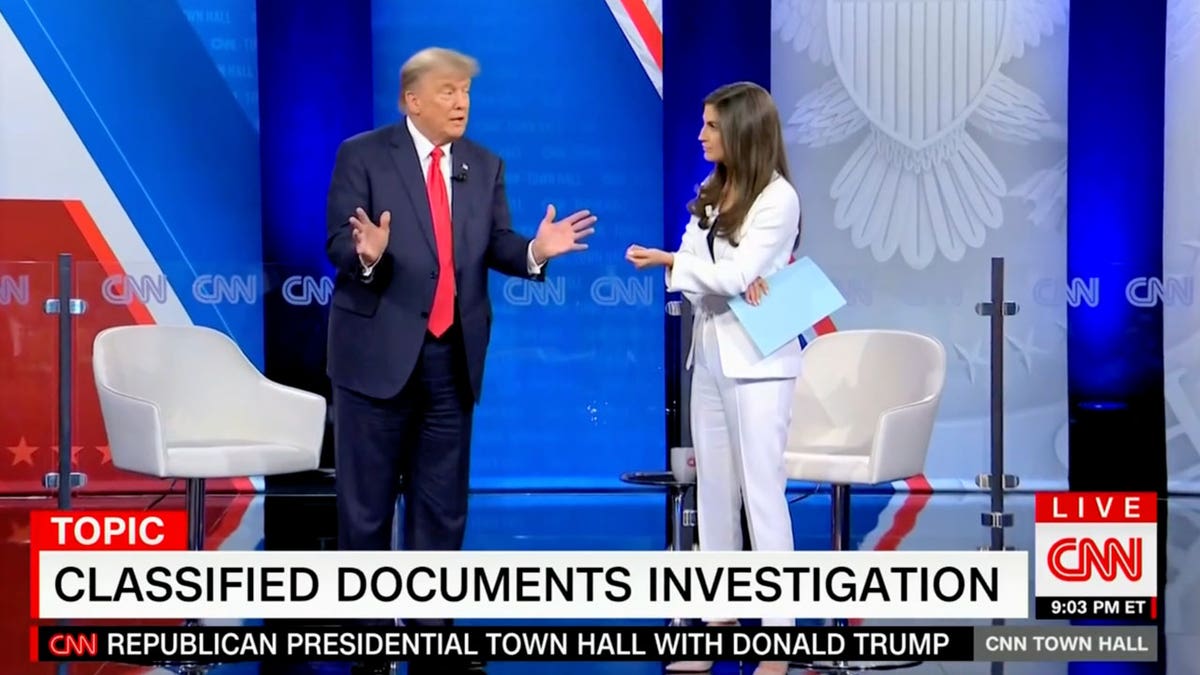 CNN's in-house media reporter continued to complain about the network, noting that "some news was made" but "the nation's eyes were transfixed on Trump's abuse of the platform that he was given."
CNN famously went all in on then-candidate Trump in 2016, sometimes airing empty podiums to tease upcoming speaking events. At the time, many criticized CNN for relying on Trump to boost ratings, but the network did an about-face and eventually emerged as an anti-Trump platform. Trump countered by regularly mocking the network as "fake news" throughout his presidency.
Trump's town hall marked his first appearance on CNN since the 2016 presidential election.
"While Collins is largely receiving praise for her relentless fact-checking of the former president, she was facing an impossible task. CNN and new network boss Chris Licht are facing a fury of criticism — both internally and externally over the event," Darcy wrote.
"How Licht and other CNN executives address the criticism in the coming days and weeks will be crucial," he continued. "Will they defend what transpired at Saint Anselm College? Or will they express some regret?"
TRUMP CALLS CNN'S KAITLAN COLLINS A 'NASTY PERSON' DURING TOWN HALL CLASH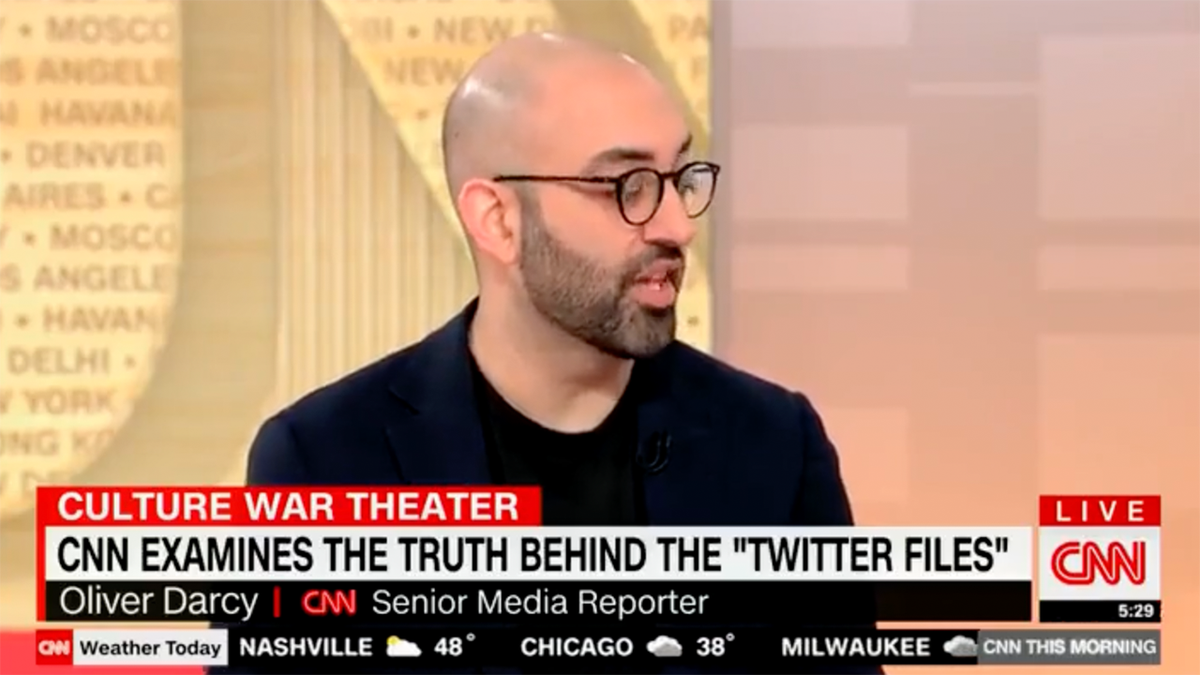 CNN CEO Chris Licht defended the decision on Thursday morning in a call with staffers, according to former CNN media reporter Brian Stelter.
Stelter, who founded the "Reliable Sources" newsletter and was fired by Licht last year, tweeted tidbits from the call.
"You do not have to like the former president's answers, but you can't say that we didn't get them," Licht said, according to Stelter. ""While we all may have been uncomfortable hearing people clapping, that was also an important part of the story… America was served very well by what we did last night."
CNN's newsletter also put a spotlight on the onslaught of criticism the network has received, including a Substack writer who called the town hall "CNN's lowest moment as an organization." Other media liberals like MSNBC's Mehdi Hasan have also been harshly critical of the event.
Not all CNN staffers were upset by the event, however, even ones who dislike Trump, with one insider praising Collins' performance.
"We live in a democratic republic and Trump is the frontrunner for the GOP nomination," they told Fox News Digital. "It's not the media's job to silence a politician they don't like. The format was messy, but voters need to hear from both of the frontrunners, Trump and Biden. And by the way, Trump did what his base wanted but his performance last night was radioactive to moderates and undecideds."
CNN has defended the decision to air the town hall
"Tonight, Kaitlan Collins exemplified what it means to be a world-class journalist. She asked tough, fair and revealing questions," a CNN spokesperson said.
"She followed up and fact-checked President Trump in real time to arm voters with crucial information about his positions as he enters the 2024 election as the Republican frontrunner," the spokesperson continued. "That is CNN's role and responsibility: to get answers and hold the powerful to account."
OCASIO-CORTEZ FUMES AT CNN FOR TRUMP TOWN HALL: 'SHOULD BE ASHAMED OF THEMSELVES'
CNN's own commentator Adam Kinzinger declared on Twitter the town hall was an "absolute joke" and later told his colleague Jake Tapper on-air, "As somebody who spent the last two years countering the lies, I'm not going to pretend like it was easy for me to see the former president get this forum tonight — to lie to the American people over and over and over again."
"I don't think [Jeff] Zucker would have let this happen," former CNN reporter Rebecca Buck tweeted, invoking CNN's former boss.
Before the town hall even started, CNN contributor Michael Fanone, a former D.C. police officer who was injured during the Jan. 6 riot, attacked his own employer.
"I don't believe for one second that this is about journalistic integrity. It's about ratings and money," Fanone wrote in a scathing Rolling Stone column.
Fox News' Joseph A. Wulfsohn contributed to this report. 
Why President Trump believes US should default if White House doesn't ag…
The CNN moderator grilled the former president over his handling of classified documents
Former President Trump took a personal swipe at CNN host Kaitlan Collins during Wednesday's town hall, referring to her as a "nasty person."
About an hour into the New Hampshire event, Collins grilled Trump over his handling of classified documents, which he defended by saying he had "the right" to declassify any records.
When Collins challenged him on why he held onto the documents despite a subpoena and requests from the National Archives, Trump lashed out.
CNN BLASTED BY ITS OWN CONTRIBUTOR FOR TRUMP TOWN HALL: 'GUY WHO TRIED TO GET ME KILLED'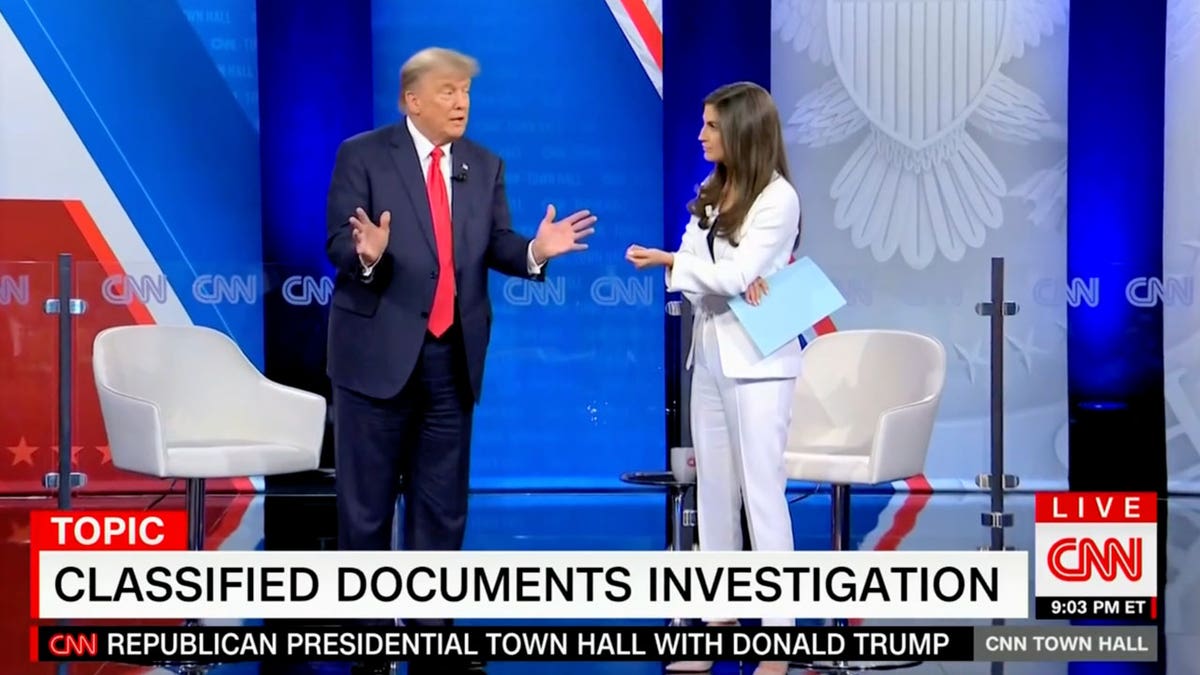 "Are you ready? Can I talk?" Trump asked.
"What's the answer?" Collins shot back. "I would like you to answer the question."
"It's very simple to answer," Trump responded.
"That's why I asked it," Collins told him.
"It's very simple – you're a nasty person, I'll tell ya," Trump said, which sparked cheers from his supporters in the audience.
MSNBC TORCHES CNN FOR AIRING TRUMP TOWN HALL, PLATFORMING REPUBLICANS AND DEMOCRATS: 'THIS IS NOT JOURNALISM'
Trump continued, "It's very simple. I was negotiating and we were talking to NARA – that's Washington, to bring whatever they want. They can have whatever they want. When we left Washington, we had the boxes lined up on the sidewalk outside for everybody. People were taking pictures, everybody knew we were taking those boxes and the GSA – government service, the GSA was the one taking them. They brought them down to Mar-a-Lago. We were negotiating with NARA. All of a sudden, they raid our house."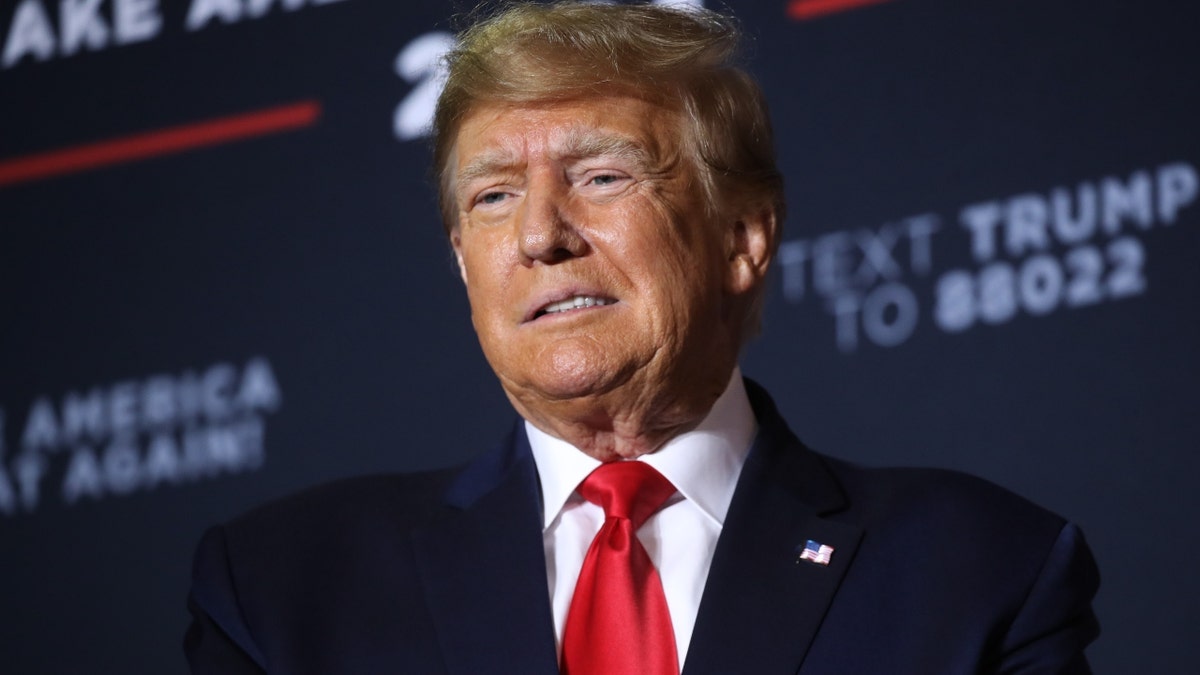 Both Trump and President Biden are under investigation by two separate special counsels over their handling of classified documents.
Collins opened the town hall with a series of questions grilling the former president about his claims that the 2020 presidential election was "rigged," his involvement on Jan. 6, as well as the recent verdict that held him liable for defamation and battery against accuser E. Jean Carroll, who he continued to rail against.
SUNNY HOSTIN FUMES OVER DONALD TRUMP DOING TELEVISED TOWN HALL: 'I'M SO DISGUSTED'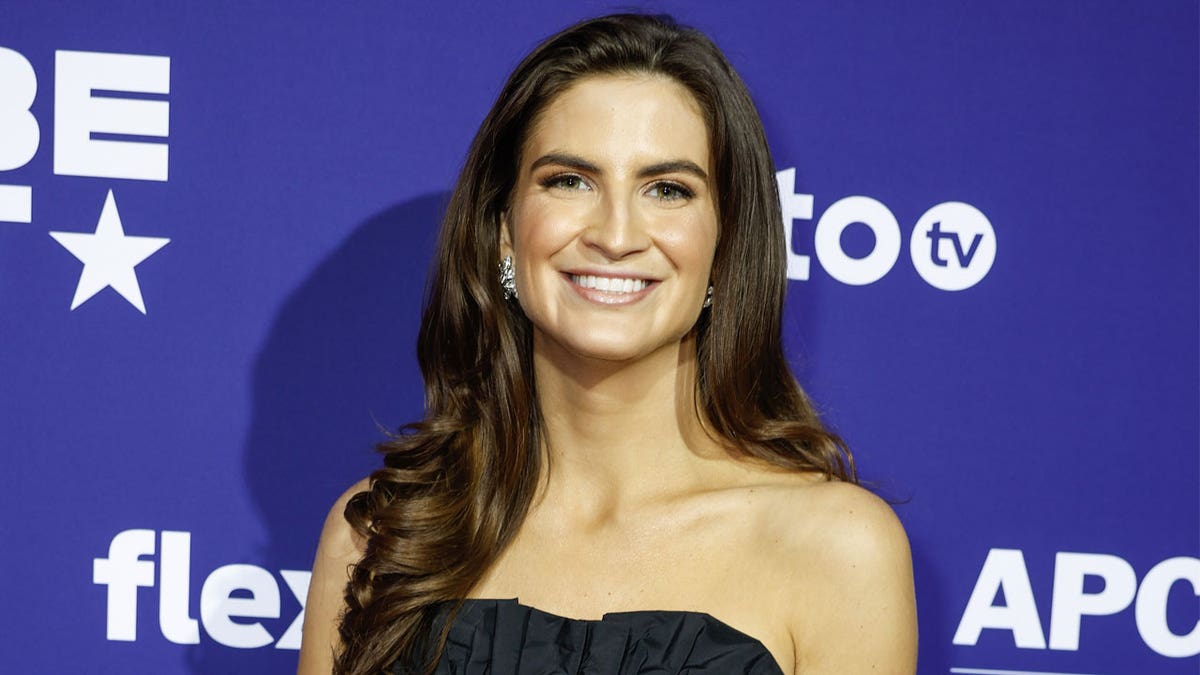 Trump's town hall marked his first appearance on CNN since the 2016 presidential election. Liberal critics leading up to the event blasted CNN for giving the former president a platform despite the fact that he is the current frontrunner in the 2024 Republican primary race.
The Sixty Six who resisted "Sugar-coated Satan Sandwich" Debt Deal (Part 19)
This post today is a part of a series I am doing on the 66 Republican Tea Party favorites that resisted eating the "Sugar-coated Satan Sandwich" Debt Deal. Actually that name did not originate from a representative who agrees with the Tea Party, but from a liberal.
Rep. Emanuel Clever (D-Mo.) called the newly agreed-upon bipartisan compromise deal to raise the  debt limit "a sugar-coated satan sandwich."
"This deal is a sugar-coated satan sandwich. If you lift the bun, you will not like what you see," Clever tweeted on August 1, 2011.
Washington, Aug 1
-Congressman Jack Kingston (R-GA) released the following statement after casting his vote against a proposal to increase the nation's statutory debt limit
"I commend the Speaker for fighting the good fight.  We moved the debate from tax increases to spending caps and matched each dollar of debt limit increase to more than a dollar of spending cuts.  But as far as we came, the deck was stacked against us.  Controlling one-half of one-third of government limits the ability of small government conservatives to change the direction of our country overnight.
It is clear America has a long struggle ahead of her as we continue to rein in spending and get our fiscal house in order.  I intend to continue the fight and work for the reforms and spending cuts we need so badly in America."