____
I got to see Jack play at DANNY THOMAS MEMPHIS CLASSIC in 1975. Followed him every day and he just looked at the pretty girls and was totally relaxed and came in 3rd with not much effort and he had a different intense look at the majors!!!
Al Geiberger's 59 At The Memphis Classic
I got an autographed picture of him too!!!
I got a lot of stories to tell about my many trips to the tournament from 1975 to 1987 and here is another one.
I also saw Al Geiberger shoot a 59 in 1977 on the 2nd of the tournament. Also I heard a roar from the crowd 2 days earlier when President Gerald Ford got a hole in one at the pro-am and later that round Danny Thomas came up to me when I was sitting next to the Green and he almost fell on me while holding up a golf ball and saying in slurred speech "This is the ball!! This is the ball!!!"
Golf phenom traded green jacket with Arnold Palmer for five straight years at Augusta National
Jack Nicklaus, just two years removed from dominating amateur golf as a student at The Ohio State University, bested a star-studded field of the game's greatest professionals to capture his first Masters Tournament title on this day in history, April 7, 1963.
The victory sparked an enduring love affair between the gallery at Augusta National in Georgia, America's most celebrated golf course, and the sport's most celebrated player.
The 23-year-old phenom was handed the green jacket for the first time at the 1963 Masters by defending champion Arnold Palmer after Nicklaus' two-under performance and one-stroke win over Tony Lema.
ON THIS DAY IN HISTORY, APRIL 6, 1917, US ENTERS WORLD WAR I AS CONGRESS VOTES TO DECLARE WAR ON GERMANY
The field that day also included all-time sport luminaries Sam Snead and Gary Player.
The exchange of the trophy blazer between golf legends was part of a five-year streak in which only Nicklaus or Palmer donned the green jacket (1962-1966) at Augusta.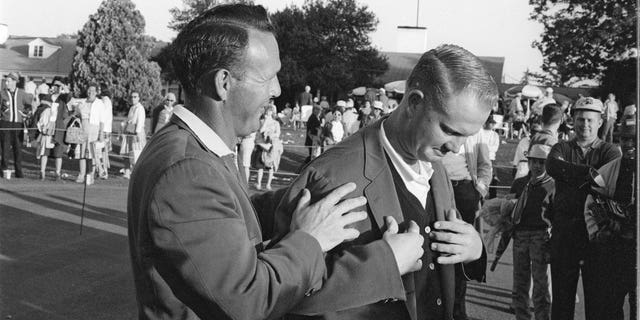 "In his prime, the Golden Bear was the one everyone chased," Golf Digest declared in 2020, in a celebration of Nicklaus's 80th birthday.
Drop that golfer into today's game, and it would be the case still."
"The Golden Bear was the one everyone chased. Drop that golfer into today's game, and it would be the case still."
Nicklaus is widely regarded today as the greatest golfer of all time, routinely topping lists of the best players in history.
He dominated amateur golf by winning the U.S. Amateur Championship twice (1959, 1961) and the NCAA title once (1961) before turning pro in 1962.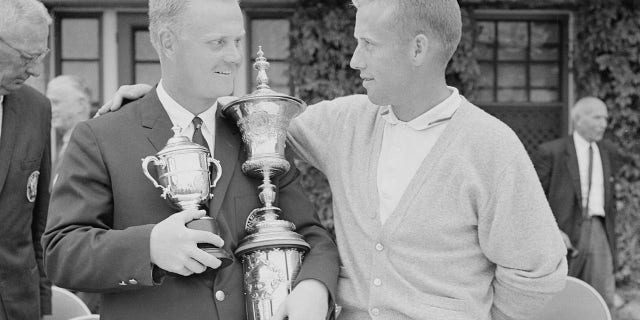 He immediately proved himself among the sport's elite, overcoming a two-shot deficit when entering the final round before edging Palmer by one shot in a playoff to capture the 1962 U.S. Open.
It was the first of his record 18 major titles. Nicklaus also holds records with 73 PGA Tour wins and an incredible 56 top-five finishes in majors, among many other best-ever achievements.
The Masters at Augusta National proved the tournament at which the Golden Bear's fearsome brilliance shined brightest.
TIGER WOODS' BEST INSPIRATIONAL QUOTES AND LIFE LESSONS
Nicklaus became the first players to win consecutive Masters titles in 1965 and 1966. He also won at Augusta in 1972 and 1975, before donning a final green jacket at the grand old age of 46.
"Never in the history of the Masters did the ground shake, cheers reverberate and emotions explode as they did for Jack Nicklaus in 1986."
Several sources cite that Nicklaus victory at Augusta in 1986, his record sixth Masters title, as the greatest moment in the history of the storied tournament.
Nicklaus sunk a spectacular 18-foot putt on the 17th hole of the final round, amid a delirious reaction from the gallery, then held on at 18 to win by one stroke.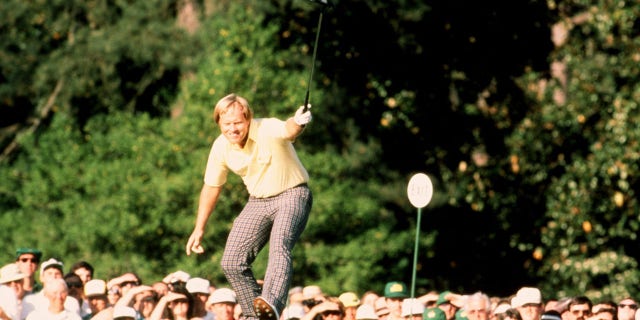 The sight of Nicklaus leaning forward intently, following his putt across the green with focused eyes, then raising his club triumphantly over his head as the ball dropped in the hole is one of the most famous images in the annals of golf.
"Never in the history of the Masters did the ground shake, cheers reverberate and emotions explode as they did for Jack Nicklaus in 1986," enthused U.K. golf outlet Links Magazine.
ON THIS DAY IN HISTORY, MARCH 22, 1934, MASTERS TOURNAMENT TEES OFF FOR FIRST TIME IN AUGUSTA, GEORGIA
In addition to his dominance atop the leader board in golf's biggest events, the Golden Bear finished second in major tournaments an incredible 19 times.
"It has been and will continue to be the utmost honor to have won your great tournament and to be forever called a Masters champion." — Jack Nicklaus
Nicklaus, now 83, is still revered at Augusta National
He's been an honorary starter at The Masters each year since 2010, teeing off yesterday with fellow golf legends Gary Player and Tom Watson.
CLICK HERE TO SIGN UP FOR OUR LIFESTYLE NEWSLETTER
He returned the affection with a so-called "love letter to the Masters" in 2019 — 60 years after he first competed at Augusta as an amateur in 1959.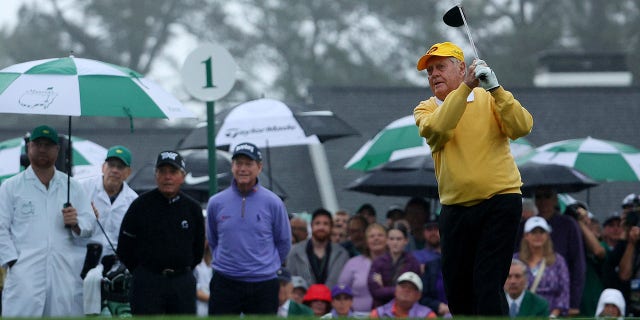 "Thank you for a lifetime of memories. Thank you providing the perfect background for 60 years and six opportunities to feel the overwhelming satisfaction of slipping on the green jacket," Nicklaus wrote.
"The Masters at Augusta National proved the tournament at which the Golden Bear's fearsome brilliance shined brightest."
"It has been and will continue to be the utmost honor to have won your great tournament and to be forever called a Masters champion."
"Nicklaus' presence at Augusta National is much more than ceremonial," Golfweek wrote in 2019.
"He is the game's ranking living legend — with those 18 majors — and continues to be an influential and respected golf presence."
______
Don January hitting a tee shot at the par-3 16th hole at the Houston Greats of Golf Challenge.
___________
I have written about golf several times before in the past and I do have some very interesting stories to tell. When I was growing up I used to attend the Danny Thomas St. Jude Memphis Golf Classic every year at Colonial Country Club and I got a kick out of seeing some of the top pros such as Jack Nicklaus, Dave Hill, Lee Trevino, Gary Player, Johnny Miller, Don January, Gene Littler and Tom Watson play.
My good friend Robert Fargarson told me that his father, Robert Sr, actually went to high school with Don January, and before Mr. Fargarson became a Christian in 1970, January would come in town every year and booze it up with Mr. Fargarson. However, after that Mr. Fargarson would reach out to Don with the gospel.
I told Mr.Fargarson that Don January was one of my favorite golfers to follow and he told me what to say to him the next time I had a chance to speak to him. So in 1977 I stood at the 2nd Tee and waited for Mr. January to walk up and I said, "Fargy wants to know when you are gonna get saved." January laughed and said, "Same ole Fargy!!!!"
Today I am mailing this post to Mr. January who lives in Texas. It will be the simple gospel message  that Mr. Fargarson had presented to Mr. January in the past. Earlier this morning Mr. Fargarson went to be with the Lord in Heaven.
Our views below (this material is from Campus Crusade for Christ) concerning how to go to heaven.
Just as there are physical laws that govern
the physical universe, so are there spiritual laws
that govern your relationship with God.
God loves you and offers a wonderful plan for your life.
God's Love
"God so loved the world that He gave His one and only Son, that whoever
believes in Him shall not perish but have eternal life" (John 3:16, NIV).
God's Plan
[Christ speaking] "I came that they might have life, and might have it abundantly"
[that it might be full and meaningful] (John 10:10).
Why is it that most people are not experiencing that abundant life?
Because…
Man is sinful and separated from God.
Therefore, he cannot know and experience
God's love and plan for his life.
Man is Sinful
"All have sinned and fall short of the glory of God" (Romans 3:23).
Man was created to have fellowship with God; but, because of his own stubborn
self-will, he chose to go his own independent way and fellowship with God was broken.
This self-will, characterized by an attitude of active rebellion or passive indifference,
is an evidence of what the Bible calls sin.
Man Is Separated
"The wages of sin is death" [spiritual separation from God] (Romans 6:23).
This diagram illustrates that God isholy and man is sinful. A great gulf separates the two. The arrows illustrate that man is continually trying to reach God and the abundant life through his own efforts, such as a good life, philosophy, or religion
-but he inevitably fails.The third law explains the only way to bridge this gulf…
Jesus Christ is God's only provision for man's sin.
Through Him you can know and experience
God's love and plan for your life.
He Died In Our Place
"God demonstrates His own love toward us, in that while we were yet sinners,
Christ died for us" (Romans 5:8).
He Rose from the Dead
"Christ died for our sins… He was buried… He was raised on the third day,
according to the Scriptures… He appeared to Peter, then to the twelve.
After that He appeared to more than five hundred…" (1 Corinthians 15:3-6).
He Is the Only Way to God
"Jesus said to him, 'I am the way, and the truth, and the life, no one comes to
the Father but through Me'" (John 14:6).
| | |
| --- | --- |
| | This diagram illustrates that God has bridged the gulf that separates us from Him by sending His Son, Jesus Christ, to die on the cross in our place to pay the penalty for our sins.It is not enough just to know these three laws… |
We must individually receive Jesus Christ as Savior and Lord;
then we can know and experience God's love and plan for our lives.
We Must Receive Christ
"As many as received Him, to them He gave the right to become children
of God, even to those who believe in His name" (John 1:12).
We Receive Christ Through Faith
"By grace you have been saved through faith; and that not of yourselves,
it is the gift of God; not as result of works that no one should boast" (Ephesians 2:8,9).
When We Receive Christ, We Experience a New Birth
(Read John 3:1-8.)
We Receive Christ Through Personal Invitation
[Christ speaking] "Behold, I stand at the door and knock;
if any one hears My voice and opens the door, I will come in to him" (Revelation 3:20).
Receiving Christ involves turning to God from self (repentance) and trusting
Christ to come into our lives to forgive our sins and to make us what He wants us to be.
Just to agree intellectually that Jesus Christ is the Son of God and that He died on the cross
for our sins is not enough. Nor is it enough to have an emotional experience.
We receive Jesus Christ by faith, as an act of the will.
These two circles represent two kinds of lives:
Self-Directed Life
S-Self is on the throne
-Christ is outside the life
-Interests are directed by self, often
resulting in discord and frustration
Christ-Directed Life
-Christ is in the life and on the throne
S-Self is yielding to Christ,
resulting in harmony with God's plan
-Interests are directed by Christ,
resulting in harmony with God's plan
Which circle best represents your life?
Which circle would you like to have represent your life?
---
The following explains how you can receive Christ:
You Can Receive Christ Right Now by Faith Through Prayer
(Prayer is talking with God)
God knows your heart and is not so concerned with your words as He is with the attitude
of your heart. The following is a suggested prayer:
Lord Jesus, I need You. Thank You for dying on the cross for my sins. I open the door of my life and receive You as my Savior and Lord. Thank You for forgiving my sins and giving me eternal life.
Take control of the throne of my life. Make me the kind of person You want me to be.
Does this prayer express the desire of your heart? If it does, I invite you to pray this
prayer right now, and Christ will come into your life, as He promised.
Now that you have received Christ
Here are some more memories of past golf tournaments I have attended:
Uploaded on Aug 1, 2008
Al Geiberger ("Mr. 59") talks about what helped him shoot his record breaking 59 in 1977.
__________________
Uploaded on Jul 27, 2011
go to view the website http://www.kxxu.com
signed autograph golf balls for sale 
by Al Geiberger Mr. 59
______________________
In 1977, two huge events made national news at the now titled "Danny Thomas Memphis Classic." First, President Gerald Ford made a hole-in-one during Wednesday's Celebrity Pro-Am. That event is now referred to as the "Shot Heard 'Round the World." Two days later, Al Geiberger shocked the golf world with his record low round of 59 on Friday of the tournament. The 13-under-par round still stands as a PGA TOUR record. (Chip Beck and David Duval have since tied the mark.)
I had the chance to hear the roar that came from the crowd that day that President Ford hit the hole in one (on hole #5 at Colonial Country Club in Cordova, TN). Just a few holes later I saw Danny Thomas walking around saying with slurred speech, :"This is the ball, this is the ball" while he held up a golf ball. I thought he was going to fall on me as he passed by.
Then just two days later I saw the last 5 holes of Al Geiberger's 59. He was walking around with this silly grin on his face because almost every putt was going in.
___________________
This picture above is right after the round of 59 and the picture below after he hit the last putt. I was in the crowd watching him and I was standing right behind the green towards the clubhouse.
_________________
____________
_____________
Fast forward to Sept 13, 2013 where another 59 happened:
Sep. 14, 2013   |
Jim Furyk almost made Al Geiberger's prophecy come true.
Geiberger, the Palm Desert resident and the first player to shoot a 59 on the PGA Tour, has always said some player will be coming down to the last hole needing to birdie the hole to shoot 59, and instead will hole out for an eagle and a 58.
"And he almost did it," Geiberger said moments after watching Furyk hit an approach shot to just two feet on the last hole, then make the birdie putt to shoot 59 in the second round of the BMW Championship near Chicago on Friday.
Geiberger said he had been getting text messages throughout the afternoon as Furyk made his run at the fabled 59. And the messages were coming in after the round ended, too.
"Here's one I just got. 'You're still the president of the club,' " Geiberger laughed.
Furyk birdied two of his last three holes Friday in the BMW Championship to become the sixth player in PGA Tour history to shoot a 59. Needing a birdie on the par-4 ninth hole at Conway Farms, he stuffed a gap wedge into just over 3 feet and calmly knocked it in.
"A very cool card," Furyk said as he gazed at the scores, which included an eagle when he holed out with a 9-iron.
It was a day he won't forget, in the same town — the Chicago suburbs, anyway — where he won his lone major at the U.S. Open in 2003.
Standing in the ninth fairway at Conway Farms, 103 yards from a front pin, Furyk didn't want to let his chance get away from him.
"I said, 'How many opportunities are you going to have in life to do this again?' " he said. "Got to take advantage of it. Tried to knock it in there tight and make it as easy on yourself as you can."
He made the putt and repeatedly pumped his fist, turning for the gallery in the grandstands to see, and then he hugged caddie Mike "Fluff" Cowan and tapped him on the head.
"I guess the moment kind of struck me the most at No. 9 when I hit it the wedge shot in there close, and the crowd erupted and I started looking around and it just hit me how many people had come over to that side to see the finish," Furyk said.
There's work left for the trophy. Furyk was tied on top with Brandt Snedeker, who was nine shots clear of Furyk at the start of the second round.
The six 59s started with Geiberger's round in the second round of the tour's Memphis tournament at Colonial Country Club in 1977. Six 59s have also been shot on the Web.com Tour, and Annika Sorenstam is the only golfer to have shot a 59 on the LPGA.
"I always told people there was no room for a bogey in the 59," Geiberger said of Furyk's round of 11 birdies, one eagle and one bogey. "This shows that was wrong."
Throughout the year, Geiberger has watched as a variety of players have made runs at 59, and he admits that the other 59s have brought more attention to his round.
"It's good. It gives it credibility," Geiberger said. "I was pulling for Phil (Mickelson) to shoot 59, not necessarily 58, at Phoenix. And Furyk is a good player, so there is credibility."
Geiberger says he never roots against anyone on the verge of a 59.
"You don't have any control to start with," he said. "I didn't realize it, but once it got past a couple of people, it's almost been a little better. More and more people have one now. Now they are comparing the rounds, and I know I will win the comparison. Not to be talking, but I know my round stands up."
Geiberger's round came on a demanding par-72 course, while other rounds have come on par-72 layouts considered not as tough as Colonial or on par-71 or par-70 courses.
"The first thing my wife said after Furyk's round was it's not 13-under and it's not par-72," Geiberger joked.
Related posts: