—-
The Left continues to object to laws requiring voters to present identification, even as voters support such laws and states enact them. As explained in my book "The Myth of Voter Suppression," states with voter ID laws typically have higher turnout during elections.
The Ohio Legislature passed a photo ID law this year, while Nebraska voters approved a ballot question on voter ID in November. North Carolina's photo ID law, previously blocked by a Democrat-controlled state Supreme Court, could get another hearing from the new majority.
Also this year, the latest of many studies—published in the Proceedings of the National Academy of Sciences—determined that voter ID had no impact on election outcomes or turnout.
What follows is an adapted excerpt from "The Myth of Voter Suppression" about the effectiveness of voter ID laws, which once had bipartisan support.
***
If—as the Left has claimed for decades—voter ID is about voter suppression, then it has been a miserable failure at suppressing the vote. Voter ID laws have made it easier to vote and harder to cheat while increasing confidence in elections, as demonstrated by higher voter participation.
Hillary Clinton spent four years complaining that the 2016 election was stolen from her. She came up with many reasons for her failure over the years, blaming everyone from Russia's dictator, Vladimir Putin, to former FBI Director James Comey.
Clinton also blamed Republicans for voter suppression, specifically in Wisconsin, where the voter ID law, she whined, depressed turnout by 200,000 votes. Her evidence for this claim was a study by the liberal group CIVIS USA, commissioned by the Democratic fundraising organization Priorities USA. Both organizations publicly supported Clinton's campaign in 2016.
PolitiFact, which typically bends over backward to give every Democrat the benefit of the doubt, said the study was "Mostly False," and that "experts…question the methodology of the report and say there is no way to put a number on how many people in Wisconsin didn't vote because of the ID requirement."
There was, in fact, a downturn in voter turnout in Wisconsin from 2012 to 2016. And Donald Trump's victory in the Badger State was key to his winning the presidential election. But the state's 2016 turnout was still higher than its 2008 turnout—a bit of an anomaly from the national political scene.
The United States Elections Project ranked Wisconsin as having the fifth-highest turnout in the country for 2016—more than many of the states that don't have voter ID laws. For instance, New York, a state with no voter ID requirement that Clinton represented in the Senate, had a 59.3% turnout—on par with the national average. Wisconsin, by contrast, had a turnout of 69.4%.
Further, nine of the 11 states that added voter ID laws in 2011 had an increase in turnout from the 2012 election to the 2016 election. Conversely, two of the 17 states that had no voter ID in 2016, along with Washington, D.C., finished in the top five.
Voter ID laws can stop multiple types of fraud, such as impersonating someone who is a registered voter. It also can prevent noncitizens from voting, as well as out-of-state residents or someone registered in multiple jurisdictions.
The main source of these recommendations is the Carter-Baker Commission, the bipartisan election reform panel of 2005 named for former President Jimmy Carter, a Democrat, and former Secretary of State James Baker, a Republican.
The report underlined that ID was reasonable and ensured security:
The electoral system cannot inspire public confidence if no safeguards exist to deter or detect fraud or to confirm the identity of voters. Photo IDs currently are needed to board a plane, enter federal buildings, and cash a check. Voting is equally important.
Polls consistently show that about 60% of Democrats and about 70% of non-white voters support voter ID; about 80% of voters overall back voter ID.
To look at the factual case in favor of voter ID, let's turn to academia, including Ivy League professors and federal government data, neither of which are known for espousing right-wing talking points. The facts show that voter ID not only doesn't suppress votes, but that voter turnout is on the rise across all demographics.
A National Bureau of Economic Research study from 2019 examined 10 years' worth of turnout data from across the country and concluded that voter ID laws have "no negative effect on registration or turnout overall or for any specific group defined by race, gender, age, or party affiliation."
The NBER study, conducted by Enrico Cantoni at the University of Bologna and Vincent Pons at Harvard Business School, found that voter ID laws don't decrease voter turnout, including that of minority voters.
The study also determined that ID laws have "no significant effect" on preventing fraud. However, proving any law prevents a crime is always trying to prove a negative. The bottom line is that, according to the study, voter registration and turnout rates didn't change after voter ID laws were implemented, and there was no statistically observable change in voting behavior before or after.
Most states with voter ID laws enacted them since 2011. One measure of voter turnout tells us this didn't drive down the vote.
Census Bureau data shows that Black, Hispanic, and Asian voter turnout all increased by double digits from the 2014 midterm election to the 2018 midterm election. Pew Research Center found "historic jumps" in turnout for every racial group in 2018. Black voter turnout rose by 27% nationally. Meanwhile, Asian and Hispanic turnout soared by 50%.
There was a notable exception to this evidence in favor of voter ID laws: A January 2017 study from professors at the University of California San Diego and Bucknell University purported that ID laws disproportionately affect minorities and "diminish the participation of Democrats and those on the left, while doing little to deter the vote of Republicans and those on the right."
But that one didn't last long.
Professors from Yale, Stanford, and the University of Pennsylvania examined the same data and determined that the original study contained measurement errors and misinterpreted data. The Yale-Stanford-Pennsylvania study found there is "no definitive relationship between strict voter ID laws and turnout."
Have an opinion about this article? To sound off, please email letters@DailySignal.com and we'll consider publishing your edited remarks in our regular "We Hear You" feature. Remember to include the url or headline of the article plus your name and town and/or state.
Georgia's Election Integrity Act faced blowback from Democrats, including President Biden
Democrats, corporations and the liberal media repeatedly decried Georgia's Republican-passed Election Integrity Act as the next Jim Crow, but the Peach State is now seeing record-breaking turnoutfor early voting ahead of Tuesday's primary.
Last year, President Biden called the law, known as SB 202, a "blatant attack on the Constitution and good conscience," ascribed it as "Jim Crow in the 21st century" and was supportive of Major League Baseball moving the 2021 All-Star Game out of Atlanta as a response. Biden urged Congress to pass sweeping federal voting laws, including the For the People Act and the John Lewis Voting Rights Advancement Act.
Biden, along with Democrats and members of liberal media, argued that the law would deny people the right to vote, especially minority Americans, and could lurch U.S. democracy off balance.
But voting in Georgia is breaking early records despite the state's "controversial new election law," as The Washington Post put it.
WASHINGTON POST ADMITS 'VOTING IS SURGING IN GEORGIA' DESPITE PREVIOUS REPORTS, CLAIMS ABOUT VOTER SUPPRESSION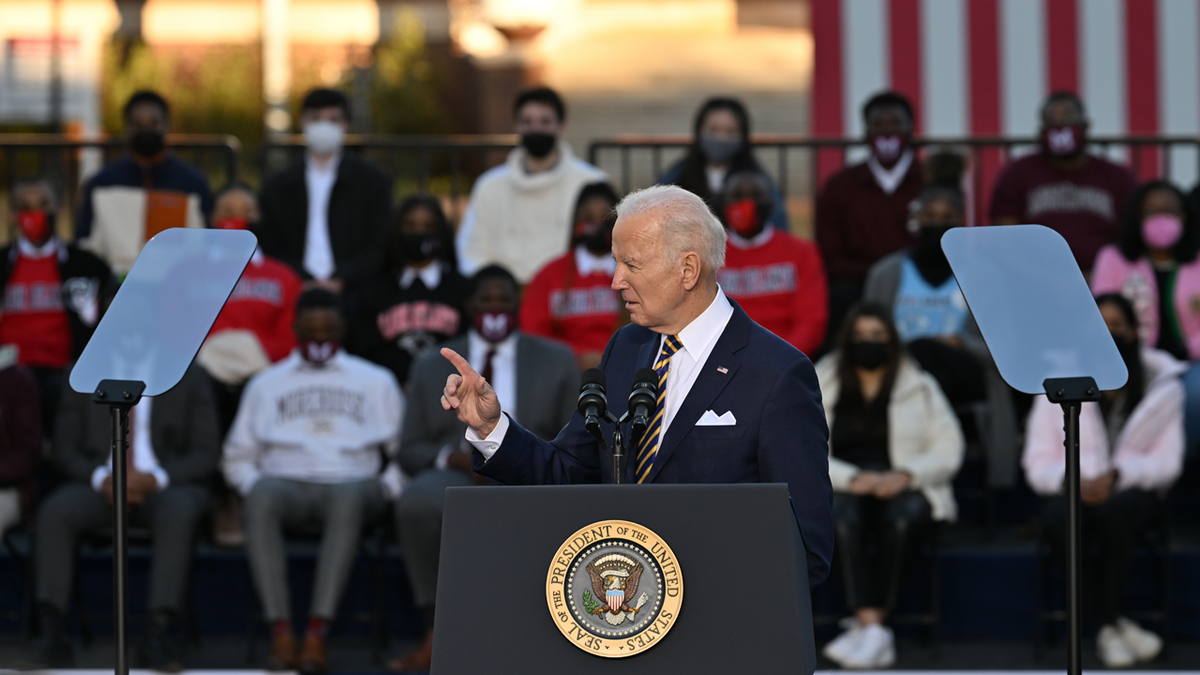 A 70-year-old Black woman that spoke with the Post said she was surprised at how easily she was able to vote.
"I had heard that they were going to try to deter us in any way possible because of the fact that we didn't go Republican on the last election, when Trump didn't win. To go in there and vote as easily as I did and to be treated with the respect that I knew I deserved as an American citizen — I was really thrown back," she said.
According to the office of Georgia Secretary of State Brad Raffensperger, there have been nearly 800,000 ballots cast by Georgians as of Friday, a number three times that of 2018 and significantly higher than 2020, an election year when voting typically increases.
"Major media outlets joined Stacey Abrams and Joe Biden in saying Georgia's Election Integrity Act was 'Jim Crow' and would suppress voting," Raffensperger told Fox News Digital. "In fact, SB 202 made common sense reforms that will help ensure confidence in Georgia's elections. The fact that we are seeing record early vote turnout, including record minority turnout, proves that the Abrams/Biden narrative was always completely false."
Such information likely came as a surprise to the Post, which last June tweeted that the law signed by Georgia Gov. Brian Kemp "imposes a number of restrictions" on voting and thus earned it comparisons to Jim Crow laws that "effectively blocked Black men and women from voting in the American South."
An attached article argued in part that the new restrictions are "likely" to make "disproportionately more difficult" for people of color to vote.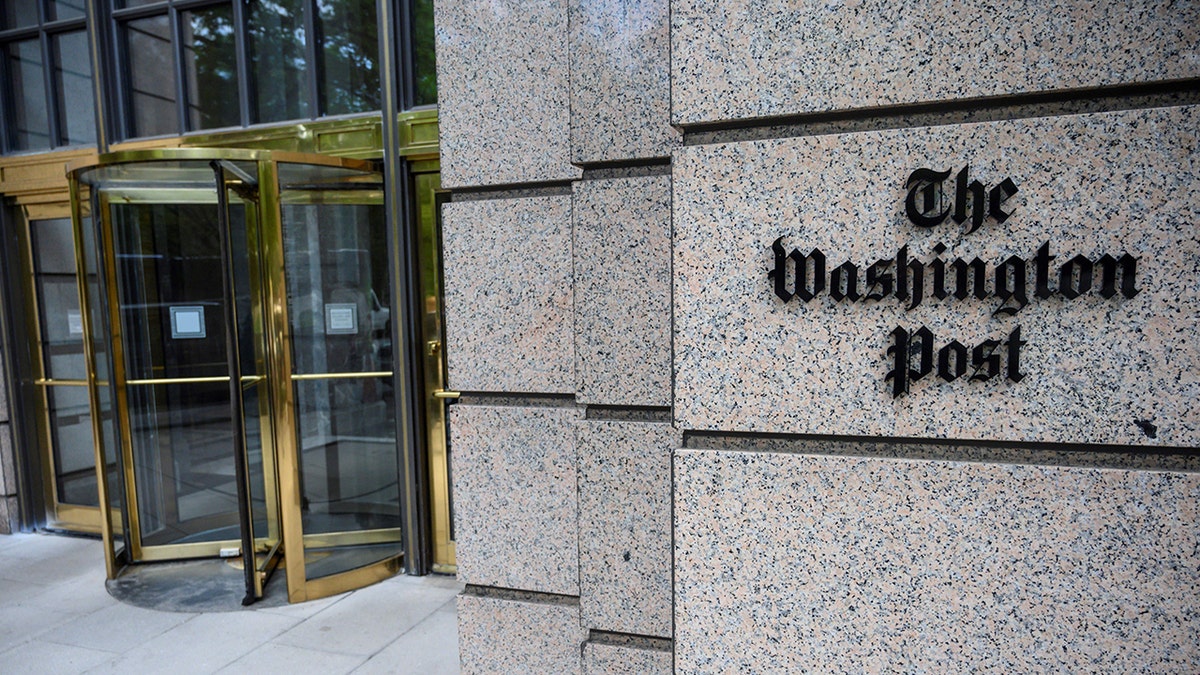 Two months earlier the paper's editorial board asserted that Republicans had adopted a strategy in many states, including Georgia, of making it more difficult to vote.
"No, that is not a full return to Jim Crow. But it shows a toxic hostility to democracy that no Republican can take pride in," the board concluded.
The Post was far from the only media organization to tout the Jim Crow narrative.
A March 2021 article from attorney and author Teri Kanefield in MSNBC ran with the title, "Georgia's 'Jim Crow' voter suppression bill is now law. Here's how Democrats can fight back."'
'"Jim Crow in a suit and tie": Georgia passes massive voter suppression bill,"' a Vanity Fair headlined blared.
An opinion column from the New York Times asked of the Georgia law, "If it's not Jim Crow, what is it?"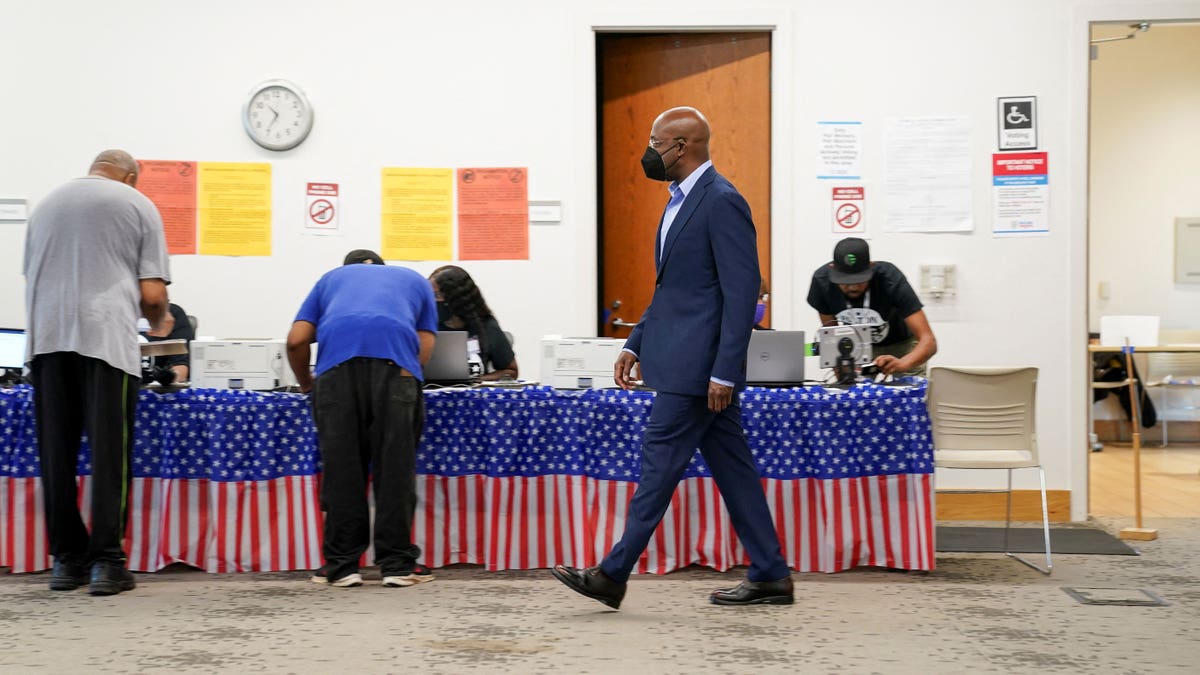 It wasn't just in print media that liberal organizations flooded the airwaves with rabid criticism of the Georgia law, but also on the airwaves.
MSNBC host Joy Reid said early last year that the Republican voting legislation was the "end of democracy" in America and the beginning of a strategy reminiscent of apartheid South Africa.
"It's old school American, it's Jim Crow American," Reid added.
Furthermore, during an appearance on MSNBC, liberal Washington Post columnist Eugene Robinson was asked by host Ali Velshi whether he agreed with Biden's comments comparing the law to Jim Crow.
"Well, I'd say it is," Robinson replied. "I mean I did grow up under Jim Crow laws."
"It's voter suppression, it's the new Jim Crow," CNN anchor Don Lemon similarly said of Georgia's legislation and the filibuster.
CNN political analyst April Ryan took shots directly at the GOP, calling them a party against the "browning of America" and actively "cheating at the polls."
Speaking with CBSN, New York Times opinion columnist told host Tanya Rivero that the law was at least "Jim Crow-adjacent."
By Jim Thomas
Sunday, 04 Apr 2021 5:24 PM
---
Certain Republican Georgia lawmakers want Coca Cola products removed from their offices after the corporation spoke out against the state's new election law, reports the Hill.
In a letter to Kevin Perry, president of the Georgia Beverage Association, eight members of the Georgia House of Representatives —Victor Anderson, Clint Crowe, Matt Barton, Jason Ridley, Lauren McDonald III, Stan Gunter, Dewayne Hill and Marcus Wiedower —complained about Coca-Cola.
"Given Coke's choice to cave to the pressure of an out of control cancel culture, we respectfully request all Coca-Cola Company products be removed from our office suite immediately," they stated. "Should Coke choose to read the bill, share its true intentions and accept their role in the dissemination of mistruths, we would welcome a conversation to rebuild a working relationship."
Coca-Cola said in a statement obtained by Newsweek that it had been working with the Metro Atlanta Chamber in "expressing our concerns and advocating for positive change in voting legislation. We, along with our business coalition partners, sought improvements that would enhance accessibility, maximize voter participation, maintain election integrity and serve all Georgians."
The company stated it would continue to advocate for its position on voting issues in Georgia.
"We will continue to identify opportunities for engagement and strive for improvements aimed at promoting and protecting the right to vote in our home state and elsewhere," the company said.
Coca-Cola CEO James Quincey publicly attacked Georgia Republican Gov. Brian Kemp for recently signing into law voting legislation Quincey declared as "unacceptable" and "a step backwards."
The legislation expands early voting opportunities, weekend early voting and extends deadlines for absentee ballot requests. It also creates a state-wide voter ID absentee voting requirement and restricts ballot drop box usage.
Quincey said the new law moves Georgia backwards.
"Let me be crystal clear and unequivocal, this legislation is unacceptable, it is a step backward and it does not promote principles we have stood for in Georgia, around broad access to voting, around voter convenience, about ensuring election integrity, and this is frankly just a step backwards," Quincey said.
One provision of the new law seems to be of particular interest to the Georgia Beverage Association: the prohibition on handing out either soft drinks or food voters waiting in a line at the polling station to vote, reports the Hill.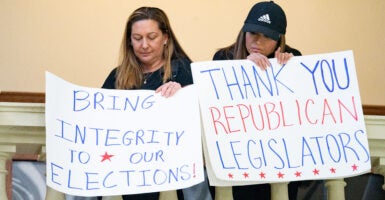 President Joe Biden and other Democrats, without offering evidence, equate Georgia's new election law with the Jim Crow era, while many media outlets obligingly repeat Democratictalking points about it.
A headline over a March 25 news report in The New York Times, not an opinion piece, referred to the legislation as a "major law to limit voting."
Among the most vocal opponents is Stacey Abrams, Georgia Democrats' 2018 candidate for governor, who now heads a group called Fair Fight Action, which describes itself as a voting rights organization.
"From passage of the #SB202 voter suppression bill targeted at Black and brown voters to the arrest of a Black legislator who was advocating for the voting rights of her constituents, today was a reminder of Georgia's dark past," Abrams wrote last week in a tweet. "We must fight for the future of our democracy #gapol."
>>> Read Georgia's entire new election law here. 
The Washington Post stands almost alone in the ocean of mainstream media outlets, noting in a fact-check analysis that Biden earned "four Pinocchios" for making misleading comments about Georgia's new election law both during his first press conference and in an official presidential statement.
Here's a look at the key myths vs. facts about Georgia's election legislation, which Gov. Brian Kemp, a Republican, signed into law last Thursday.
1. 'Restrictions on Casting Absentee Ballots'
In his written statement, Biden said of the new law: "It adds rigid restrictions on casting absentee ballots that will effectively deny the right to vote to countless voters."
The term "rigid restrictions" is a matter for debate, so a ruling of true or false is difficult here.
The law does require voter ID for individuals who are casting absentee ballots, which previously was not the case. A voter would need to provide a driver's license number or another state identification number on the absentee ballot form.
The law also requires voters to request absentee ballots 11 days before the election. In its previous form, the law allowed voters to request ballots by the Friday before Election Day.
The deadline is still before Election Day. But the new law allows voters to return applications for absentee ballots online, through the Secretary of State's Office.
The earliest that Georgia voters may request an application for an absentee ballot will be 77 days before Election Day, down from 180 days, according to Georgia Public Broadcasting.
Kemp said that 96% of Georgia voters already have suitable voter ID, and alternative identification would be provided at no charge to those who need it.
"In order to verify that the absentee ballot was voted by the elector who requested the ballot, the elector shall print the number of his or her Georgia driver's license number or identification card," the law states, referring to a voter as "elector" and adding: "The elector shall also print his or her date of birth in the space provided in the outer oath envelope."
The law goes on to state:
If the elector does not have a Georgia driver's license or state identification card issued pursuant to Article 5 of Chapter 5 of Title 40, the elector shall so affirm in the space provided on the outer oath envelope and print the last four digits of his or her Social Security number in the space provided on the outer oath envelope.

If the elector does not have a Georgia driver's license, identification card issued pursuant to Article 5 of Chapter 5 of Title 40, or a Social Security number, the elector shall so affirm in the space provided on the outer oath envelope and place a copy of one of the forms of identification set forth in subsection (c) of Code Section 21-2-417 in the outer envelope.
For its part, Fair Fight Action, the group run by Abrams, asserts: "Over 200,000 Georgians lack the appropriate ID under SB 202."
2. 'Crime to Provide Water'
Georgia's law prohibits campaign workers from distributing food or drink, or anything else of value, to waiting voters, and from setting up a table within 150 feet of the building or 25 feet of a voter.
The most prominent talking point to emerge from Biden and other Democrats has been regarding water bottles.
"It makes it a crime to provide water to voters while they wait in line—lines Republican officials themselves have created by reducing the number of polling sites across the state, disproportionately in Black neighborhoods," Biden said of the new law in his formal statement.
This is false, because the law specifically allows official poll workers, as opposed to campaign workers, to provide water to voters.
Specifically, the law says:
No person shall solicit votes in any manner or by any means or method, nor shall any person distribute or display any campaign material, nor shall any person give, offer to give, or participate in the giving of any money or gifts, including, but not limited to, food and drink, to an elector, nor shall any person solicit signatures for any petition, nor shall any person, other than election officials discharging their duties, establish or set up any tables or booths on any day in which ballots are being cast: (1) Within 150 feet of the outer edge of any building within which a polling place is established; (2) Within any polling place; or (3) Within 25 feet of any voter standing in line to vote at any polling place.
The law goes on to state:
This Code section shall not be construed to prohibit a poll officer from distributing materials, as required by law, which are necessary for the purpose of instructing electors or from distributing materials prepared by the Secretary of State which are designed solely for the purpose of encouraging voter participation in the election being conducted or from making available self-service water from an unattended receptacle to an elector waiting in line to vote.
A practice known as the "line warming loophole," in which campaign operatives provide giveaways to voters while they stand in line, is not a new controversy.
Last year, Georgia Secretary of State Brad Raffensperger warned against tolerating the practice.
"The right to vote is sacred and fundamental to our democracy, and I am committed to upholding that right for all Georgians," Raffensperger said in a formal statement. "Political organizations looking to game the system should be forewarned that we will not tolerate efforts to electioneer near polling sites in violation of the law."
As for Biden's charge that Republicans are creating long lines to vote, the new law provides "additional voting equipment or poll workers to precincts containing more than 2,000 electors."
Kemp said this change would lead to shorter lines.
3. 'It Ends Voting Hours Early' 
In his written statement Friday, Biden said: "Among the outrageous parts of this new state law, it ends voting hours early so working people can't cast their vote after their shift is over."
This assertion about voting hours is false.
The new Georgia law does nothing to change Election Day voting hours from 7 a.m to 7 p.m., although it expands weekend voting before Election Day.
The law adds early voting on two Saturdays and one Sunday that previously were not available to Georgians.
Georgia Public Broadcasting, the state affiliate of the left-leaning Public Broadcasting Service (which includes National Public Radio), did an explanatory piece that said: "One of the biggest changes in the bill would expand early voting access for most counties, adding an additional mandatory Saturday and formally codifying Sunday voting hours as optional."
The law itself states:
Requiring two Saturday voting days and two optional Sunday voting days will dramatically increase the total voting hours for voters across the State of Georgia, and all electors in Georgia will have access to multiple opportunities to vote in person on the weekend for the first time.
The Georgia Public Broadcasting story also says: "Counties can have early voting open as long as 7 a.m. to 7 p.m., or 9 a.m. to 5 p.m. at minimum."
Previously, some rural counties in Georgia didn't provide for early voting for eight hours on a work day, the Post reported.
The legislation signed into law by Kemp does limit the time for runoff campaigns from nine weeks after Election Day to four weeks. But it says early voting in these runoff elections should begin "as soon as possible prior to a runoff from any other general primary."
The law reads:
Voting shall be conducted during normal business hours beginning at 9:00 A.M. and ending at 5:00 P.M. on weekdays, other than observed state holidays, during such period and shall be conducted on the second Saturday and third Saturdays during the hours of 9:00 A.M. through 5:00 P.M. and, if the registrar or absentee ballot clerk so chooses, the second Sunday, the third Sunday, or both the second and third Sundays prior to a primary or election during the hours of 9:00 A.M. through 4:00 P.M. determined by the registrar or absentee ballot clerk, but no longer than 7:00 A.M. through 7:00 P.M.
4. 'Render Drop Boxes Useless'
Abrams' Fair Fight Action organization said the law, known as Senate Bill 202, would "render drop boxes 'useless' and otherwise harm voters across the state."
The New York Times, in a March 30 story, referred to the legislation as a "GOP-backed bill that prohibits the use of drop boxes."
The law actually codifies use of drop boxes. Election officials provided drop boxes for ballots in the presidential election in Georgia based on Kemp's emergency order to address voting concerns during the COVID-19 pandemic.
But for SB 202, drop boxes would not have to be used in any future Georgia elections.
That said, fewer drop boxes will be available in future elections—presumably operating in the absence of a pandemic—than in the 2020 election.
Each county in Georgia must provide at least one drop box. But boxes will have to be located near early-voting sites and be accessible for dropping off absentee ballots when these polling locations are open.
The law states:
A board of registrars or absentee ballot clerk shall establish at least one drop box as a means for absentee by mail electors to deliver their ballots to the board of registrars or absentee ballot clerk.

A board of registrars or absentee ballot clerk may establish additional drop boxes, subject to the limitations of this Code section, but may only establish additional drop boxes totaling the lesser of either one drop box for every 100,000 active registered voters in the county or the number of advance voting locations in the county. Any additional drop boxes shall be evenly geographically distributed by population in the county.
5. 'Jim Crow 2.0'?
One's tolerance for hypercharged political rhetoric—and decision to accept something as literal or serious—may determine whether it's justifiable to claim the new law imposes modern Jim Crow-style restrictions on voting rights.
Upon the Georgia Legislature's passage of the bill, Abrams, the losing 2018 gubernatorial candidate, said in a public statement:
Republican state leaders willfully undermine democracy by giving themselves authority to overturn results they do not like. Now, more than ever, Americans must demand federal action to protect voting rights as we continue to fight against these blatantly unconstitutional efforts that are nothing less than Jim Crow 2.0.
During his press conference Thursday, Biden appeared to make false assertions about the Georgia legislation that were repeated in his official statement.
"Deciding in some states that you cannot bring water to people standing in line, waiting to vote; deciding that you're going to end voting at 5 o'clock when working people are just getting off work; deciding that there will be no absentee ballots under the most rigid circumstances," Biden said at one point to reporters.
The president added: "This makes Jim Crow look like Jim Eagle. I mean, this is gigantic what they're trying to do, and it cannot be sustained."
Biden later tweeted a similar assertion.
"It's Jim Crow in the 21st Century—and it must end," Biden said in the tweet.
Sen. Elizabeth Warren, D-Mass., tweeted of Kemp: "The Republican who is sitting in Stacey Abrams' chair just signed a despicable voter suppression bill into law to take Georgia back to Jim Crow."
Tweets from some reporters and media outlets expressed the same line.
Putting aside what is or isn't acceptable political hyperbole, Jim Crow has a literal historical legacy.
Factually, the term Jim Crow laws refers to state and local laws in the segregated South that existed from after the Civil War until at least the mid-1960s.
With regard to voting, these laws included requiring poll tests for black voters before they could cast a ballot. These overtly racist laws also restricted employment and educational opportunities for black Americans.
Schools, parks, recreation facilities, and other public buildings routinely were segregatedthroughout the South, as were public restrooms and water fountains. The Jim Crow era included terrorist activity by the Ku Klux Klan, which committed violent and deadly acts against blacks such as lynchings, often with impunity.
"It's an outrageous historical lie and insulting to those who actually suffered under Jim Crow election laws in the old South, to compare providing ID on absentee ballots with Jim Crow," Hans von Spakovsky, manager of the Election Law Reform Initiative at The Heritage Foundation, told The Daily Signal.
6. 'Legislative Takeover'
Abrams' Fair Fight Action says Georgia's new law would "allow legislative takeovers of local boards of elections, and much more."
This is a dubious political characterization.
The Associated Press reported: "One of the biggest changes [in the law] gives the GOP-controlled legislature more control over election administration. That has raised alarms about potential greater partisan influence."
The fact is that under the new law, the state Legislature does indeed have an increased role in the State Election Board under the new law.
Meanwhile, Georgia's secretary of state will have a diminished role. This is the basis for the claim that partisan politics could play a role.
"The secretary of state will no longer chair the State Election Board, becoming instead a non-voting ex-officio member," Georgia Public Broadcasting explained. "The new chair would be nonpartisan but appointed by a majority of the state House and Senate."
"The chair would not be allowed to have been a candidate, participate in a political party organization or campaign or [have] made campaign contributions for two years prior to being appointed."
Have an opinion about this article? To sound off, please email letters@DailySignal.com and we will consider publishing your remarks in our regular "We Hear You" feature.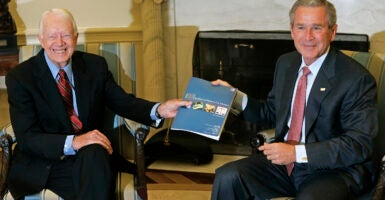 They called on states to increase voter ID requirements; to be leery of mail-in voting; to halt ballot harvesting; to maintain voter lists, in part to ensure dead people are promptly removed from them; to allow election observers to monitor ballot counting; and to make sure voting machines are working properly.
They also wanted the media to refrain from calling elections too early and from touting exit polls.
All of this may sound eerily similar to the issues in the prolonged presidential election battle of 2020. But these were among the 87 recommendations from the 2005 report of the bipartisan Commission on Federal Election Reform, known informally as the Carter-Baker Commission.
The bipartisan commission's co-chairmen were former Democratic President Jimmy Carter and former Secretary of State James Baker, a Republican who served in the George H.W. Bush administration.
The left is actively working to undermine the integrity of our elections. Read the plan to stop them now. Learn more now >>
The commission was created to address voting and election integrity issues raised by the tumultuous 36-day postelection battle of 2000, which was settled by the U.S. Supreme Court decision that resulted in awarding Florida's 25 electoral votes and the presidency to Republican George W. Bush over Democrat Al Gore.
Had Congress and state governments adopted many of the panel's recommendations, the 2020 postelection mess between President Donald Trump and former Vice President Joe Biden might have been avoided, said Carter-Baker Commission member Kay C. James, now the president of The Heritage Foundation.
"So many of the problems we're now hearing about in the aftermath of the 2020 election could have been avoided had states heeded the advice of the Commission on Federal Election Reform," she said.
James continued:
Simple protections against fraud, like voter ID and updated voter registration lists, make perfect sense if we truly believe that every vote must count. Election officials should take another look at the commission's recommendations and make sure they're doing everything possible to protect the integrity of our elections.
Several state legislatures adopted aspects of the recommendations, particularly voter ID proposals. However, Congress reportedly was unenthusiastic about the report.
Major media outlets have called the race for Biden, but election litigation is still playing out in courts, and votes are still being counted.
However, 70% of Republicans do not believe the 2020 election was free and fair, according to a Politico/Morning Consult poll. Before the election, just 35% of Republicans didn't believe the election would be free and fair. The shift was different among Democrats, where 95% believed the election was free and fair afterward, compared with 52 who said the same before the election.
Here's a look at the 2005 panel's recommendations relevant to this year's elections.
1) Voter IDs
With the vast expansion of mail-in voting this year, voter ID requirements were less likely.
Today, states have a patchwork of voter ID laws, with 36 states either requiring or requesting voters to present identification at the polls, according to the National Conference of State Legislatures. The conference says only six states have "strict" photo ID requirements—Georgia, Indiana, Kansas, Mississippi, Tennessee, and Wisconsin.
The Carter-Baker Commission called for voter ID standards nationwide in its 2005 report.
"To ensure that persons presenting themselves at the polling place are the ones on the registration list, the Commission recommends that states require voters to use the REAL ID card, which was mandated in a law signed by the President in May 2005," the Carter-Baker Commission report said.
"The card includes a person's full legal name, date of birth, a signature (captured as a digital image), a photograph, and the person's Social Security number. This card should be modestly adapted for voting purposes to indicate on the front or back whether the individual is a U.S. citizen. States should provide an [Election Assistance Commission]-template ID with a photo to non-drivers free of charge."
Carter, when speaking months after the release of the report, said other countries not known for being examples of democracy had fairer elections than the United States, and stressed the need for photo IDs.
"It's disgraceful and embarrassing," the former president said in May 2006. On IDs, Carter said, "Americans have to remember you have to have the equivalent to what we're requiring to cast a ballot to cash a check or board a plane."
2) Mail-In and Absentee Voting Risks
In a brief filed supporting the Trump campaign's Pennsylvania litigation over mail-in ballots, a group of Republican state attorneys general reference the Cater-Baker Commission report among other items regarding mail-in voting and ballot harvesting.
The 2020 election trends seemed to shift dramatically as mailed-in votes were counted. Further, many questions have emerged about the point of origin for ballots.
Specifically, the report called on states to prohibit third parties or political operatives from collecting ballots—a practice commonly known as "ballot harvesting."
The report stated: "Absentee ballots remain the largest source of potential voter fraud."
"State and local jurisdictions should prohibit a person from handling absentee ballots other than the voter, an acknowledged family member, the U.S. Postal Service, or other legitimate shipper, or election officials," the 2005 commission report said. "The practice in some states of allowing candidates or party workers to pick up and deliver absentee ballots should be eliminated."
However, this year, as mail-in voting veered into becoming a partisan issue, the Carter Center issued a statement promoting support for mail-in voting, but maintaining safeguards against ballot harvesting.
The Carter Center, founded by the former president and first lady Rosalynn Carter, is affiliated with Emory University and promotes peace and democracy efforts globally and domestically.
A Carter Center press release in May said the commission report "noted among its many findings and recommendations that because it takes place outside the regulated environment of local polling locations, voting by mail creates increased logistical challenges and the potential for vote fraud, especially if safeguards are lacking or when candidates or political party activists are allowed to handle mail-in or absentee ballots."
"However, the Carter-Baker Commission found that where safeguards for ballot integrity are in place—for example in Oregon, where the entire state has voted by mail since 1998—there was little evidence of voter fraud," the Carter Center statement continued.
The commission's main recommendations on vote-by-mail and absentee voting were to increase research on vote-by-mail (and early voting) and to eliminate the practice of allowing candidates or party workers to pick up and deliver absentee ballots.

Fortunately, since 2005, many states have gained substantial experience in vote-by-mail and have shown how key concerns can be effectively addressed through appropriate planning, resources, training, and messaging.
Carter himself is quoted in the press release saying, "I urge political leaders across the country to take immediate steps to expand vote-by-mail and other measures that can help protect the core of American democracy—the right of our citizens to vote."
3) Avoiding Duplicate Registration Across State Lines
In Nevada, the Trump campaign asserts there were potentially thousands of out-of-state votescast in one of the most closely contested states.
The Carter-Baker Commission report called for states to make it easier to track registered voters who move from one state to another to reduce duplication of registrations.
The report states, "Invalid voter files, which contain ineligible, duplicate, fictional, or deceased voters, are an invitation to fraud."
"In order to assure that lists take account of citizens moving from one state to another, voter databases should be made interoperable between states," the Carter-Baker report stated. "This would serve to eliminate duplicate registrations, which are a source of potential fraud."
The report calls for states to maintain and update their voter registration lists.
"When an eligible voter moves from one state to another, the state to which the voter is moving should be required to notify the state which the voter is leaving to eliminate that voter from its registration list," the report said, adding:
All states should have procedures for maintaining accurate lists, such as electronic matching of death records, driver's licenses, local tax rolls, and felon records.

Federal and state courts should provide state election offices with the lists of individuals who declare they are non-citizens when they are summoned for jury duty.
4) Election Observers for Integrity
In Pennsylvania, Michigan, and Nevada, Republicans have complained that qualified election observers have been prohibited from watching the counting.
The Carter-Baker Commission report stressed the need for election observers to maintain the integrity of the ballots.
"All legitimate domestic and international election observers should be granted unrestricted access to the election process, provided that they accept election rules, do not interfere with the electoral process, and respect the secrecy of the ballot," the 2005 report said.
Such observers should apply for accreditation, which should allow them to visit any polling station in any state and to view all parts of the election process, including the testing of voting equipment, the processing of absentee ballots, and the vote count.

States that limit election observation only to representatives of candidates and political parties should amend their election laws to explicitly permit accreditation of independent and international election observers.
5) Reliable Voting Machines
Voting machines have also been a significant issue in 2020, particularly in Michigan, as one county there flipped from Biden to Trump after a hand recount showed the machine count to be inaccurate.
The Carter-Baker Commission suggested that machines print out paper receipts for voters to verify their vote was accurately counted.
"States should adopt unambiguous procedures to reconcile any disparity between the electronic ballot tally and the paper ballot tally," the 2005 report says. "The Commission strongly recommends that states determine well in advance of elections which will be the ballot of record."
6) Media Calling Elections
On election night, Fox News Channel was the first to call the state of Arizona for Biden, prompting outrage in the Trump camp. Moreover, major media outlets have projected Biden to have won the election, even as vote counting and litigation continue.
The 2005 commission report also addressed problems with the media, suggesting news outlets voluntarily offer candidates free airtime and also show restraint in calling a state for one candidate or the other. The First Amendment would prevent any such rule from being mandatory.
"News organizations should voluntarily refrain from projecting any presidential election results in any state until all of the polls have closed in the 48 contiguous states," the report states. "News organizations should voluntarily agree to delay the release of any exit-poll data until the election has been decided."
7) Prosecuting Voter Fraud
The Carter-Baker Commission suggested that federal and state prosecutors should more aggressively monitor voter fraud.
"In July of even-numbered years, the U.S. Department of Justice should issue a public report on its investigations of election fraud," the report says.
This report should specify the numbers of allegations made, matters investigated, cases prosecuted, and individuals convicted for various crimes. Each state's attorney general and each local prosecutor should issue a similar report. … The U.S. Department of Justice's Office of Public Integrity should increase its staff to investigate and prosecute election-related fraud.
—-

John Fund
Voter Fraud is real and can affect the outcome of close elections!!!
May 17, 2013 at 2:58 pm
A guilty plea in a Kansas City, Missouri, voter fraud case this week illustrates something the U.S. Supreme Court pointed out when it upheld Indiana's voter ID law in 2008:
[F]lagrant examples of [voter] fraud…have been documented throughout this Nation's history [and] occasional examples have surfaced in recent years that…demonstrate that not only is the risk of voter fraud real but that it could affect the outcome of a close election.
On Monday, John C. Moretina pleaded guilty to a federal felony count of voter fraud in the August 2010 Democratic primary in Missouri's 40th legislative district. Moretina falsely claimed he was living in the 40th district just so he could vote in the primary. This is a Democratic district where the winner of the primary, John J. Rizzo, was highly likely to become the district representative in the state house and, in fact, was elected. But Rizzo beat his Democratic opponent, Will Royster, by only one vote: 664 to 663.
Moretina did not inform the court whom he voted for, but since he is Rizzo's uncle, it is not too much of a stretch to guess that he gave his nephew the winning margin of victory. Moreover, there were also allegations that Moretina's wife fraudulently voted in this primary election as well, although she was not charged.
What is undeniable is that, as the Kansas City Star says, "the wrong candidate was declared [the] winner of the 2010 Democratic primary."
Some opponents of voter ID mistakenly claim that this fraud shows that "stricter voter ID" requirements are not needed because voter ID would not have stopped this fraud. While no one claims that voter ID is a solution to all types of voter fraud, it is one of the critical steps that should be taken by states to improve the integrity of the election process.
As John Fund and I outlined in our book Who's Counting? How Fraudsters and Bureaucrats Put Your Vote at Risk and as the Supreme Court said, voter fraud is real, and it can change the outcome of a close election. It certainly changed the outcome of this state legislative race in Missouri.
Related posts: