—-
EXCLUSIVE: Two Republican senators are taking aim at the Biden administration over its support for the Washington, D.C., Council bill giving illegal immigrants and non-citizens, which they say would include members of the Chinese Communist Party residing in the city, the right to vote in local elections.
Sens. Katie Britt, R-Ala., and Tom Cotton, R-Ark., are urging the Senate to take up a joint resolution that would stop the bill in its tracks, following the House of Representatives' passage Friday of a bipartisan resolution of disapproval on the D.C. measure.
Prior to the House's passing of H.J. 24, the resolution disapproving of the D.C. Council's move, the Biden administration issued a memo stating its support for the council's bill and its opposition to the resolution, calling it a denial of "true self-governance," and evidence that D.C. "deserves statehood."
SEN. BRITT TO INTRODUCE FOUR SWEEPING IMMIGRATION MEASURES, CALL ON SENATE TO ACKNOWLEDGE CRISIS AT THE BORDER
"The Biden administration should be ashamed," Britt told Fox News Digital. "This is a flagrant failure of the president to uphold his oath of office to 'preserve, protect and defend the Constitution of the United States.' Quite simply, he has chosen to pander to the far-left wing of the Democratic Party instead of advancing America's interests."
"Voting in our country is a sacred right that must solely be limited to American citizens. This is simple common sense," she said.
The House passed H.J. 24 in a 260-162 vote. Despite Democratic leadership urging its members to oppose the resolution, 42 of the party's members joined Republicans.
AOC SAYS GOP REVIVING 'LEGACY OF SLAVERY' BY ENDING NON-CITIZEN VOTING RIGHTS IN DC
Britt accused D.C. and other Democrat-run municipalities of "diluting the value of American citizenship" with the push to allow illegal immigrants to vote, and added that it was "effectively disenfranchising hardworking American citizens, insulting those American citizens who came to our country legally and took the time and effort to go through the citizenship process, and undermining faith in our entire electoral system."
"D.C. would even allow official representatives of the Chinese Communist Party and other foreign adversaries to vote in local elections in our nation's capital, when their stated interests run counter to America's interests. This is a dangerous, illogical policy that Congress has a duty to block," she said.
Cotton echoed Britt's sentiment and called on Senate Democrats to join them in supporting S.R. 5, the Senate version of the joint resolution passed by the House.
"The Washington, D.C., Council is insulting every voter in America by putting forward this bill. There should be a bipartisan denouncement of this insane policy," he said.
REP. JIM JORDAN CRITICIZED ONLINE AFTER SAYING 'ONLY AMERICANS SHOULD VOTE IN AMERICAN ELECTIONS'
It's unclear when, or if, the Democratic-controlled Senate would take up the joint resolution for a vote. It's also unclear how many Democratic senators would join.
You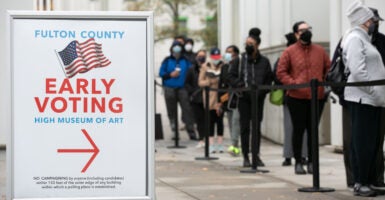 Texas Gov. Greg Abbott this week capped off a year of major election reforms across America by signing hotly debated legislation after a prolonged drama that saw Democratic legislators flee the state in a bid to prevent its passage.
Texas, with its Republican governor, is among at least 18 states to enact election reform measures this year, including bills to require voter ID, curb the controversial practice of ballot harvesting, and remove the dead and other ineligible voters from registration rolls.
Organizations that tallied the election changes include the National Conference of State Legislatures, a nonpartisan group representing state lawmakers, and the Brennan Center for Justice, a liberal group opposed to voter ID laws and the upkeep of voter registration.
"State legislatures finally realized in many states that these holes and vulnerabilities that existed in the system for quite a while need to be fixed," Hans von Spakovsky, a former member of the Federal Election Commission, told The Daily Signal.
"States like Texas, Georgia, Florida, and other places actually passed some good reforms to fix it," von Spakovsky said.
Now manager of the Election Law Reform Initiative at The Heritage Foundation, parent organization of The Daily Signal, von Spakovsky noted that many of the state election reforms prevailed despite misleading political attacks.
"[Lawmakers have] done it in the face of totally unfair and outrageous criticism of them, basically saying all kinds of lies about what they were doing," von Spakovsky, also a member of President Donald Trump's Presidential Advisory Commission on Election Integrity, said.
The Brennan Center, which is affiliated with the New York University School of Law, characterized the new state laws as "restrictive" measures that would "suppress" voting.
The group announced a lawsuit against the state of Texas, claiming that the objective of the legislation known as SB 1 "is not to prevent voter fraud; it is to retain power in the face of a changing and expanding electorate."
The 18 revised state election laws could be the most such successful bills since 14 states passed election measures 10 years ago, the Brennan Center said, noting: "The United States is on track to far exceed its most recent period of significant voter suppression—2011."
Most of the new laws, however, allow more early voting and are less restrictive than election laws in New York, where the Brennan Center is based, von Spakovsky said.
Kansas and Kentucky are the only states with Democratic governors to enact major election reforms, although Nevada saw passage of a modest new law. The Kansas law came only after a veto override.
In most states that acted, a clear partisan divide opened over election reforms, with Republicans backing them and Democrats opposed.
"I think it's a hopeful sign because I think it finally, maybe, will show that many of the opponents in the political ranks are realizing that the lies they are telling about voter ID aren't working," von Spakovsky said of states with Democratic governors.
"Given that the American people overwhelmingly support [voter] ID, that they better finally get onboard and go with what the American people think is a good idea," he said.
Here is an overview of state election reforms passed so far this year:
Alabama
A new Alabama law prohibits curbside voting and requires that applications for absentee ballots be received no less than 10 days before Election Day.
Arkansas
A new Arkansas law requires voters who cast provisional ballots to show ID by noon on the Monday after Election Day. These voters previously had only to sign a sworn statement.
A separate law puts stricter limits on ballot harvesting, the practice in which political operatives distribute and collect large quantities of absentee ballots. It also prohibits election officials from distributing unsolicited applications for absentee ballots.
Arizona
One new Arizona law requires the secretary of state to compare death records with a statewide voter registration database. Another law enhances the security of voting machines.
The Grand Canyon State also joined a trend among states by banning private money to pay for election administration. The move largely was in response to Facebook CEO Mark Zuckerberg's donating $350 million to election offices across the United States last year.
Another new Arizona law will remove the names of inactive voters from an early-voting list if they have not voted in two consecutive election cycles. And a fourth law requires voters to sign the envelope in which they submit an absentee ballot.
Florida
A new Florida law restricts ballot harvesting byallowing someone to collect absentee ballots from immediate family members, but no more than two ballots from others.
Besides banning private funding of election administration, the law requires voters to request an absentee ballot in order to receive one. It also increases security for ballot drop boxes, which debuted in the 2020 election because of the COVID-19 pandemic.
Georgia
A Georgia law, among the most controversial in prompting protests, requires voter ID to cast an absentee ballot. Opponents falsely claimed the restriction amounted to "Jim Crow 2.0."
The law establishes guidelines for ballot drop boxes, aims to shorten lines at polling places, and gives a State Election Board more oversight over county election administration.
The measure also prohibits political operatives from offering food, bottled water, or anything of value within 150 feet of polls. Only New York and Montana have similar provisions related to offering food and water in voting lines.
Idaho
Idaho is among states that responded to Zuckerberg's big spending on election administration through the left-leaning Center for Tech and Civic Life, which distributed the money.
The Idaho Legislature passed and Gov. Brad Little, a Republican, signed SB 1168, which requires that all state elections be funded only by appropriations from federal, state, or local government entities.
Indiana
Indiana's SB 398 prohibits local election jurisdictions from accepting or spending funds that come from private donors for the purpose of running elections. In response to the Zuckerberg donations, the new law specifies only federal, state, and local government money may be used to administer elections.
"A number of states banned private funding of election officials, election offices, which I think was something that happened in the last election [and was] unprecedented—"Zuckerbucks"—[and] raised enormous conflicts of interest and ethical problems for election officials," von Spakovsky said.
"They have now banned that, which is a good thing," he added. "No private party, no political candidate, should be able to give money to local election offices in a way that might influence and manipulate the outcome of the election."
Iowa
A new law in Iowa, a battleground state in recent presidential elections, requires absentee ballots to arrive at election offices by the close of Election Day to be counted.
The measure also allows fewer early-voting days, dropping the total from 29 to 20.
Kansas
A new law in Kansas curbs ballot harvesting by limiting to 10 the number of ballots one person may return to an election office.
The Republican-controlled Legislature voted in May to override a veto of the measure by Gov. Laura Kelly, a Democrat.
Kentucky
Kentucky's new law increases security for absentee ballots and requires a paper trail for voting machines. It also sets up an online portal for absentee ballot requests and adds three days to in-person early voting, up from the previous 19-day limit.
Gov. Andy Beshear, a Democrat, signed HB 574, which was passed by the Republican-controlled General Assembly.
Louisiana
Louisiana's new law, known as HB 167, establishes a procedure for election officials to remove dead voters from registration rolls within 30 days of receipt of a death certificate.
Montana
One new Montana law requires voters at the polls to present either a state driver's license, a tribal photo identification card, a state ID card number, or a military ID.
Other new laws in Montana close voter registration at noon the day before an election, restrict paid ballot collectors, and allow local election officials to reduce hours at polling locations with fewer than 400 registered voters who will cast ballots in person, as long as other polling places are open from 7 a.m. to 8 p.m.
Nevada
A measure signed into law by Nevada Gov. Steve Sisolak, a Democrat, increases the maximum size of an election precinct from 3,000 to 5,000 registered voters.
New Hampshire
A new law in New Hampshire, the only New England state to pass election reforms this year, requires the secretary of state to provide information on matches of death records against voter checklists.
Another law requires that those who register to vote on Election Day by using a voter affidavit or sworn statement must also have a photo taken beforehand. The Brennan Center claims the measure is among those that "restricts access to vote."
Oklahoma
A new law in Oklahoma sets a 30-day limit for a county election board to remove dead voters from its registration list. Another law both expands early in-person voting and requires applications for absentee ballots to be received no later than 5 p.m. on the third Monday preceding an election.
A third Oklahoma law allows the State Election Board to participate in multistate organizations that maintain voter lists, such as the nonprofit Electronic Registration Information Center.
Texas
The new Texas law extends early voting hours, prohibits election clerks from mailing out an application for an absentee ballot unless a voter requests one, and bans "drive-through" voting. The measure also requires voter ID for mail-in ballots and safeguards for poll watchers.
The law also requires the Texas secretary of state to use specifics on a driver's license to "verify the accuracy of citizenship status information previously provided on voter registration applications."
Utah
Utah's new law, known as HB 12, requires that the names of dead voters be removed from rolls and assigns the state's lieutenant governor to enforce it.
The Brennan Center described the law and others removing dead people from voter rolls as a "purge."
Wyoming
A new Wyoming law requires voters to show ID to vote in person. Acceptable forms of identification include a driver's license, a state or tribal ID, a passport, a military ID, or one from a Wyoming public school, university, or community college.
Have an opinion about this article? To sound off, please email letters@DailySignal.com and we'll consider publishing your edited remarks in our regular "We Hear You" feature. Remember to include the URL or headline of the article plus your name and town and/or state.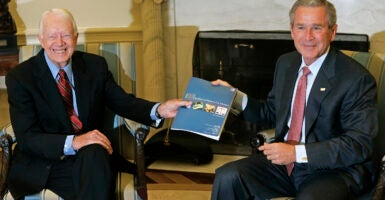 They called on states to increase voter ID requirements; to be leery of mail-in voting; to halt ballot harvesting; to maintain voter lists, in part to ensure dead people are promptly removed from them; to allow election observers to monitor ballot counting; and to make sure voting machines are working properly.
They also wanted the media to refrain from calling elections too early and from touting exit polls.
All of this may sound eerily similar to the issues in the prolonged presidential election battle of 2020. But these were among the 87 recommendations from the 2005 report of the bipartisan Commission on Federal Election Reform, known informally as the Carter-Baker Commission.
The bipartisan commission's co-chairmen were former Democratic President Jimmy Carter and former Secretary of State James Baker, a Republican who served in the George H.W. Bush administration.
The left is actively working to undermine the integrity of our elections. Read the plan to stop them now. Learn more now >>
The commission was created to address voting and election integrity issues raised by the tumultuous 36-day postelection battle of 2000, which was settled by the U.S. Supreme Court decision that resulted in awarding Florida's 25 electoral votes and the presidency to Republican George W. Bush over Democrat Al Gore.
Had Congress and state governments adopted many of the panel's recommendations, the 2020 postelection mess between President Donald Trump and former Vice President Joe Biden might have been avoided, said Carter-Baker Commission member Kay C. James, now the president of The Heritage Foundation.
"So many of the problems we're now hearing about in the aftermath of the 2020 election could have been avoided had states heeded the advice of the Commission on Federal Election Reform," she said.
James continued:
Simple protections against fraud, like voter ID and updated voter registration lists, make perfect sense if we truly believe that every vote must count. Election officials should take another look at the commission's recommendations and make sure they're doing everything possible to protect the integrity of our elections.
Several state legislatures adopted aspects of the recommendations, particularly voter ID proposals. However, Congress reportedly was unenthusiastic about the report.
Major media outlets have called the race for Biden, but election litigation is still playing out in courts, and votes are still being counted.
However, 70% of Republicans do not believe the 2020 election was free and fair, according to a Politico/Morning Consult poll. Before the election, just 35% of Republicans didn't believe the election would be free and fair. The shift was different among Democrats, where 95% believed the election was free and fair afterward, compared with 52 who said the same before the election.
Here's a look at the 2005 panel's recommendations relevant to this year's elections.
1) Voter IDs
With the vast expansion of mail-in voting this year, voter ID requirements were less likely.
Today, states have a patchwork of voter ID laws, with 36 states either requiring or requesting voters to present identification at the polls, according to the National Conference of State Legislatures. The conference says only six states have "strict" photo ID requirements—Georgia, Indiana, Kansas, Mississippi, Tennessee, and Wisconsin.
The Carter-Baker Commission called for voter ID standards nationwide in its 2005 report.
"To ensure that persons presenting themselves at the polling place are the ones on the registration list, the Commission recommends that states require voters to use the REAL ID card, which was mandated in a law signed by the President in May 2005," the Carter-Baker Commission report said.
"The card includes a person's full legal name, date of birth, a signature (captured as a digital image), a photograph, and the person's Social Security number. This card should be modestly adapted for voting purposes to indicate on the front or back whether the individual is a U.S. citizen. States should provide an [Election Assistance Commission]-template ID with a photo to non-drivers free of charge."
Carter, when speaking months after the release of the report, said other countries not known for being examples of democracy had fairer elections than the United States, and stressed the need for photo IDs.
"It's disgraceful and embarrassing," the former president said in May 2006. On IDs, Carter said, "Americans have to remember you have to have the equivalent to what we're requiring to cast a ballot to cash a check or board a plane."
2) Mail-In and Absentee Voting Risks
In a brief filed supporting the Trump campaign's Pennsylvania litigation over mail-in ballots, a group of Republican state attorneys general reference the Cater-Baker Commission report among other items regarding mail-in voting and ballot harvesting.
The 2020 election trends seemed to shift dramatically as mailed-in votes were counted. Further, many questions have emerged about the point of origin for ballots.
Specifically, the report called on states to prohibit third parties or political operatives from collecting ballots—a practice commonly known as "ballot harvesting."
The report stated: "Absentee ballots remain the largest source of potential voter fraud."
"State and local jurisdictions should prohibit a person from handling absentee ballots other than the voter, an acknowledged family member, the U.S. Postal Service, or other legitimate shipper, or election officials," the 2005 commission report said. "The practice in some states of allowing candidates or party workers to pick up and deliver absentee ballots should be eliminated."
However, this year, as mail-in voting veered into becoming a partisan issue, the Carter Center issued a statement promoting support for mail-in voting, but maintaining safeguards against ballot harvesting.
The Carter Center, founded by the former president and first lady Rosalynn Carter, is affiliated with Emory University and promotes peace and democracy efforts globally and domestically.
A Carter Center press release in May said the commission report "noted among its many findings and recommendations that because it takes place outside the regulated environment of local polling locations, voting by mail creates increased logistical challenges and the potential for vote fraud, especially if safeguards are lacking or when candidates or political party activists are allowed to handle mail-in or absentee ballots."
"However, the Carter-Baker Commission found that where safeguards for ballot integrity are in place—for example in Oregon, where the entire state has voted by mail since 1998—there was little evidence of voter fraud," the Carter Center statement continued.
The commission's main recommendations on vote-by-mail and absentee voting were to increase research on vote-by-mail (and early voting) and to eliminate the practice of allowing candidates or party workers to pick up and deliver absentee ballots.

Fortunately, since 2005, many states have gained substantial experience in vote-by-mail and have shown how key concerns can be effectively addressed through appropriate planning, resources, training, and messaging.
Carter himself is quoted in the press release saying, "I urge political leaders across the country to take immediate steps to expand vote-by-mail and other measures that can help protect the core of American democracy—the right of our citizens to vote."
3) Avoiding Duplicate Registration Across State Lines
In Nevada, the Trump campaign asserts there were potentially thousands of out-of-state votescast in one of the most closely contested states.
The Carter-Baker Commission report called for states to make it easier to track registered voters who move from one state to another to reduce duplication of registrations.
The report states, "Invalid voter files, which contain ineligible, duplicate, fictional, or deceased voters, are an invitation to fraud."
"In order to assure that lists take account of citizens moving from one state to another, voter databases should be made interoperable between states," the Carter-Baker report stated. "This would serve to eliminate duplicate registrations, which are a source of potential fraud."
The report calls for states to maintain and update their voter registration lists.
"When an eligible voter moves from one state to another, the state to which the voter is moving should be required to notify the state which the voter is leaving to eliminate that voter from its registration list," the report said, adding:
All states should have procedures for maintaining accurate lists, such as electronic matching of death records, driver's licenses, local tax rolls, and felon records.

Federal and state courts should provide state election offices with the lists of individuals who declare they are non-citizens when they are summoned for jury duty.
4) Election Observers for Integrity
In Pennsylvania, Michigan, and Nevada, Republicans have complained that qualified election observers have been prohibited from watching the counting.
The Carter-Baker Commission report stressed the need for election observers to maintain the integrity of the ballots.
"All legitimate domestic and international election observers should be granted unrestricted access to the election process, provided that they accept election rules, do not interfere with the electoral process, and respect the secrecy of the ballot," the 2005 report said.
Such observers should apply for accreditation, which should allow them to visit any polling station in any state and to view all parts of the election process, including the testing of voting equipment, the processing of absentee ballots, and the vote count.

States that limit election observation only to representatives of candidates and political parties should amend their election laws to explicitly permit accreditation of independent and international election observers.
5) Reliable Voting Machines
Voting machines have also been a significant issue in 2020, particularly in Michigan, as one county there flipped from Biden to Trump after a hand recount showed the machine count to be inaccurate.
The Carter-Baker Commission suggested that machines print out paper receipts for voters to verify their vote was accurately counted.
"States should adopt unambiguous procedures to reconcile any disparity between the electronic ballot tally and the paper ballot tally," the 2005 report says. "The Commission strongly recommends that states determine well in advance of elections which will be the ballot of record."
6) Media Calling Elections
On election night, Fox News Channel was the first to call the state of Arizona for Biden, prompting outrage in the Trump camp. Moreover, major media outlets have projected Biden to have won the election, even as vote counting and litigation continue.
The 2005 commission report also addressed problems with the media, suggesting news outlets voluntarily offer candidates free airtime and also show restraint in calling a state for one candidate or the other. The First Amendment would prevent any such rule from being mandatory.
"News organizations should voluntarily refrain from projecting any presidential election results in any state until all of the polls have closed in the 48 contiguous states," the report states. "News organizations should voluntarily agree to delay the release of any exit-poll data until the election has been decided."
7) Prosecuting Voter Fraud
The Carter-Baker Commission suggested that federal and state prosecutors should more aggressively monitor voter fraud.
"In July of even-numbered years, the U.S. Department of Justice should issue a public report on its investigations of election fraud," the report says.
This report should specify the numbers of allegations made, matters investigated, cases prosecuted, and individuals convicted for various crimes. Each state's attorney general and each local prosecutor should issue a similar report. … The U.S. Department of Justice's Office of Public Integrity should increase its staff to investigate and prosecute election-related fraud.
—-

John Fund
Voter Fraud is real and can affect the outcome of close elections!!!
May 17, 2013 at 2:58 pm
A guilty plea in a Kansas City, Missouri, voter fraud case this week illustrates something the U.S. Supreme Court pointed out when it upheld Indiana's voter ID law in 2008:
[F]lagrant examples of [voter] fraud…have been documented throughout this Nation's history [and] occasional examples have surfaced in recent years that…demonstrate that not only is the risk of voter fraud real but that it could affect the outcome of a close election.
On Monday, John C. Moretina pleaded guilty to a federal felony count of voter fraud in the August 2010 Democratic primary in Missouri's 40th legislative district. Moretina falsely claimed he was living in the 40th district just so he could vote in the primary. This is a Democratic district where the winner of the primary, John J. Rizzo, was highly likely to become the district representative in the state house and, in fact, was elected. But Rizzo beat his Democratic opponent, Will Royster, by only one vote: 664 to 663.
Moretina did not inform the court whom he voted for, but since he is Rizzo's uncle, it is not too much of a stretch to guess that he gave his nephew the winning margin of victory. Moreover, there were also allegations that Moretina's wife fraudulently voted in this primary election as well, although she was not charged.
What is undeniable is that, as the Kansas City Star says, "the wrong candidate was declared [the] winner of the 2010 Democratic primary."
Some opponents of voter ID mistakenly claim that this fraud shows that "stricter voter ID" requirements are not needed because voter ID would not have stopped this fraud. While no one claims that voter ID is a solution to all types of voter fraud, it is one of the critical steps that should be taken by states to improve the integrity of the election process.
As John Fund and I outlined in our book Who's Counting? How Fraudsters and Bureaucrats Put Your Vote at Risk and as the Supreme Court said, voter fraud is real, and it can change the outcome of a close election. It certainly changed the outcome of this state legislative race in Missouri.
Related posts: