—
Little Rock Touchdown Club – January 13, 2023
Theismann airs it out: LRTD Club welcomes former NFL QB
by Sam Lane | Today at 2:33 a.m.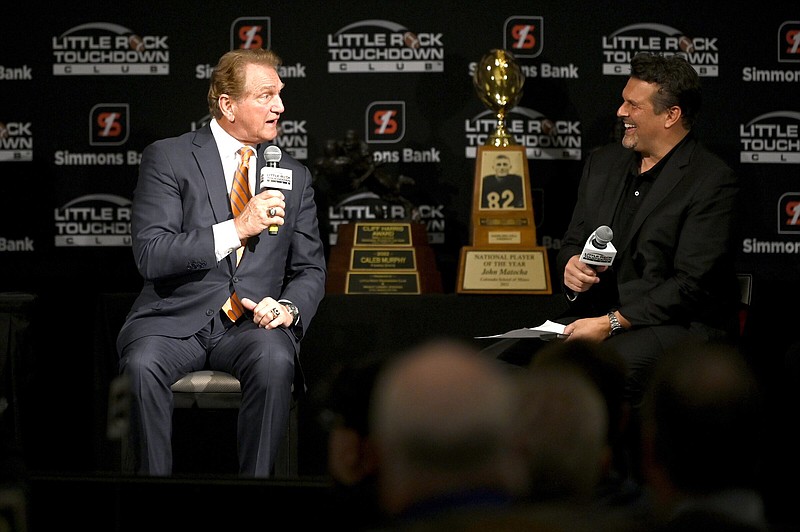 Super Bowl champion quarterback Joe Theismann (left) discussed many topics with host David Bazzel during the Little Rock Touchdown Club annual awards banquet Friday at the DoubleTree hotel in downtown Little Rock. (Arkansas Democrat-Gazette/Stephen Swofford)
Hundreds filed into the DoubleTree Hilton banquet hall in downtown Little Rock on Friday morning for the 16th and final meeting of the Little Rock Touchdown Club for the 2022-23 season.
The Touchdown Club welcomed Super Bowl champion quarterback Joe Theismann as its guest speaker. It was also the first in-person end-of-year awards ceremony since 2019 as covid-19 forced their cancellation in 2020 and 2021.
Theismann touched on many topics during his half-hour discussion with host David Bazzel, including having his leg broken by NFL Hall of Famer Lawrence Taylor, his record-setting career as an NFL punter and how he related to the recent health scare of Buffalo Bills safety Damar Hamlin.
One of the first stories went back to his collegiate playing days at Notre Dame. The Fighting Irish fell to Texas 21-17 on New Year's Day in the 1970 Cotton Bowl.
As the following season came to a close, Theismann and his fellow members of a select committee at Notre Dame decided they wanted a rematch with Texas exactly one year after the first meeting. The Irish halted the then-No. 1 Longhorns in their tracks, winning the rematch 24-11 to finish No. 2 in the nation.
Theismann mentioned the heightened scrutiny on the modern athlete, something he wanted to emphasize to those in attendance.
"The college and high school experience is something that is valued and appreciated," Theismann said. "Life is moving so fast, and for so many of us in this room, we did not have to deal with what these young men and women are dealing with today in athletics. We have to understand that the pressure is so much greater for them."
On top of winning the 1983 Super Bowl and being named the league MVP the same year, Theismann's career is often remembered by his career-ending broken leg in a 1985 game against the New York Giants.
After all these years, Theismann had one simple clarification to the story: "People always come up to me and say, 'Ah Joe, I'm so sorry you broke your leg'. I didn't break my leg, Lawrence Taylor broke my leg. Keep the facts straight."
For all of Theismann's accolades and skill as a quarterback, he's never forgotten his once chance to double as a punter.
In a 1985 game against the Chicago Bears, Washington Redskins Coach Joe Gibbs called Theismann over and told him he'd be the team's punter for the rest of the day, as starter Jeff Hayes hurt his thigh earlier in the contest.
Theismann had one punt attempt that day, and it was one that still stands in the NFL's record books. With the ball on the 15-yard line, Theismann stood on his own goal line. He took the snap, let the ball drop and kicked it to his 16, all for a net punt of a single yard.
"That's right, you're being addressed today by a record holder in the NFL, I hold the record for the shortest net punt in the history of the National Football League," Theismann joked.
The Willie Roaf Award for best in-state offensive linemen, the Paul Eells Award, the Darren McFadden Award for best in-state running backs, the Dan Hampton Award for best high school defensive lineman, the Sully Award for best high school call and team MVPs from all 12 in-state schools were awarded at Friday's banquet.
The final two awards handed out Friday were the Harlon Hill Award, regarded as the Heisman Trophy for Division II football, which was given to John Matocha of Colorado School of Mines, and the Cliff Harris Award for the Division II Defensive Player of the Year, which went to Caleb Murphy of Ferris State.
LR Touchdown Club award winners
Harlon Hill Award — John Matocha, Colorado School of Mines
Cliff Harris Award — Caleb Murphy, Ferris State
Paul Eells Award — Bumper Pool, Arkansas
Willie Roaf Award — Ricky Stromberg, Arkansas; Joey Su'a, Bentonville
Darren McFadden Award — TJ Cole, Ouachita Baptist; Dennis Gaines, East Poinsett County
Dan Hampton Award — Quincy Rhodes, North Little Rock
Sully Award — Kevin Pearce, Newport
Team MVPS
Arkansas — KJ Jefferson
Arkansas-Monticello — Damrous White
Arkansas-Pine Bluff — Mark Evans III
Arkansas State — Johnnie Lang
Arkansas Tech — Jesus Zizumbo
Central Arkansas — TaMuarion Wilson
Harding — Cade Pugh
Henderson State — Xavier Malone
Hendrix — Tajae White
Lyon — Isaiah Bradford
Ouachita Baptist — Payton Stafford
Southern Arkansas — Jariq Scales
John Robinson Guest Speaker at Little Rock Touchdown Club 08 /27/12 (at the 36:20 mark I ask him about the halftime speech that John McKay gave)
I have read over and over that John McKay gave a big pep talk at halftime of this game while trailing 24-6 to the Fighting Irish and he predicted that Anthony Davis would return the kickoff for a touchdown and then USC would score over and over and over!!!! However, that is not what McKay said at halftime according to John Robinson. First, let me give one of the incorrect reports of McKay's speech and then I will share where Robinson corrects the record. Here is one of the websites I came across:
1974
USC vs. Notre Dame, Nov. 30, 1974
Notre Dame had a 24-0 lead just a minute before the end of the first
half.  USC scored just before halftime (and missed the conversion) to
make the score 24-6 at the half.  Coach McKay is quoted as having said
during halftime something like "Gentlemen, if you block like you should, Anothony Davis will carry the second-half kickoff back for a score, and we'll go on from there.  Let's go!!"  USC's Anthony Davis took the second half kickoff 102 yards for a touchdown, and the comeback was on.  The Trojans scored 55 unanswered points in only 17 minutes!!!  The Trojans
won the game 55-24.  Father Theodore Hesburgh, the Notre Dame president,
congratulated Coach John McKay after the game, then added, "That wasn't a
very nice thing for a Catholic to do."  Replied McKay: "Father, that
serves you right for hiring a Presbyterian (Coach Ara Parseghian)."
Neither team was a "cream puff".  USC went on to win the Rose Bowl and
the UPI and MacArthur Bowl National Championships, and Notre Dame went on to ruin Alabama's National Championship hopes in the Orange Bowl.
hptaylor@gps.caltech.edu (Hugh Taylor)
woodylives69@earthlink.net (Billy Mccloud)
________________
If you want to know really happened then check out the video clip above and start at 36.21 mark. The quote of the day came from Johnny McKay, coach John McKay's son, a wideout for the Trojans: "I can't understand it. I'm gonna sit down tonight and have a beer and think about it. Against Notre Dame? Maybe against Kent State . . . but Notre Dame?"
Here is what really happened according to John Robinson who was the offensive coordinator on that 74 USC team:
It was the most shocking first half results. We score right before halftime and we are down 24-7 to Notre Dame. Now John McKay could go around the bend pretty good, but he comes in there at halftime and gets all the guys to come in together kind of like the cubscouts coming around a fireside. He gets in the middle and he says, "Fellows". I thought oh no, but he talks to them in a soothing voice.  "I am prouder of this team than any team I have ever coached. We are jittery somehow playing for the national championship has gotten to us."
During this whole halftime we did not talk any football at all and when it time for us to go out and we run the second half opening kickoff and Anthony Davis runs it back for a touchdown, and we score 55 straight points and beat those dirty rotten Catholics (joking since Robinson was raised Catholic).
Related posts:
1972 USC Football Highlights vs. Notre Dame Uploaded by 63utuber on Jun 14, 2011 No description available. I got to hear Coach Robinson speak in Little Rock on August 27, 2012. Little Rock Touchdown Club Week 2: Hall Of Fame Coach John Robinson by Zack Veddern on Aug 28, 2012 9:07 AM CDT   robinson […]
1972 USC Football Highlights vs. Notre Dame Uploaded by 63utuber on Jun 14, 2011 No description available. ________- Hearing John Robinson at the Little Rock Touchdown Club was very enjoyable. Earlier I posted about asking him the question: "Do you remember John McKay's halftime speech at the 1974 Notre Dame at USC game?" Did you know that […]
USC vs. Tennessee 1980 Uploaded by yankeefanintenn on Jan 5, 2011 Hate that we lost, but I love watching games from this era. Fans were really into the games and it was a great game. All video footage is copyright of the University of Tennessee, but legally reproduced here in conjunction with Fair Use laws. […]
2005 USC Trojans vs Arkansas Part 1 (Rewind) Uploaded by NHBI007 on Oct 13, 2008 2005 USC Trojans vs Arkansas __________ I really enjoyed Robinson talk on 8-27-12. Robinson talks past UA, USC matchups JEFF HALPERN Former football coach John Robinson was 3-2 in his career at Southern California and UNLV against the Arkansas Razorbacks. […]
On August 27, 2012 I got to hear John Robinson speak at the the Little Rock Touchdown Club and he was a great speaker. Jim Harris: Former Southern Cal Coach John Robinson Wins In Little Rock <!– 23 –> by Jim Harris 8/27/2012 at 1:59pm College Football Hall of Fame coach John Robinson recalled some […]
    2006 USC Trojans vs Arkansas Part 1 Uploaded by NHBI007 on Mar 29, 2009 2006 USC Trojans vs Arkansas Today John Robinson told some funny stories at the Little Rock Touchdown Club and some interesting trivia facts. Did you know that USC won several national titles under John McKay with Frank Broyles defensive […]
USC-ND '74 – The Anthony Davis Game Uploaded by sckego on Aug 6, 2006 Notre Dame was killing USC 24-0 with a minute left in first half of the 1974 game in Los Angeles. Anthony Davis caught a TD pass to close out the half, then returned the 2nd half kickoff for a touchdown, and […]
John Robinson Guest Speaker at Little Rock Touchdown Club 08 /27/12 I have read over and over that John McKay gave a big pep talk at halftime of this game while trailing 24-6 to the Fighting Irish and he predicted that Anthony Davis would return the kickoff for a touchdown and then USC would score […]