—
—
Uncool: Biden Pushes Senate to Ratify Treaty That Would Raise Cost of Air Conditioning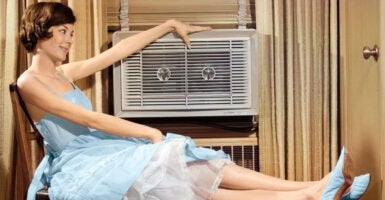 After a hot summer with utility bills rising, reasonable people would think that President Joe Biden would want to keep air conditioning costs low for Americans.
But the Senate is poised to vote on a climate treaty that would raise those costs and put yet another notch in the belt of Biden's whole-of-government, whole-of-the-economy climate agenda.
In his first week as president, Biden issued Executive Order 14008, "Tackling the Climate Crisis at Home and Abroad." Among the many regulatory actions it initiated, Biden's order also directed his administration to pursue the Senate's ratification of the Kigali Amendment to the U.N. Montreal Protocol on Substances that Deplete the Ozone Layer.
What does a treaty on the ozone layer have to do with global warming? Very little, but it offers a convenient cover to slip in costly climate policy that would drive Americans' air conditioning costs even higher.
The Kigali Amendment mandates a phasing down of hydrofluorocarbons—the most common and affordable compounds used in the U.S. and globally for air conditioning, refrigeration, building insulation, semiconductor manufacturing, and even fire extinguishers. Hydrofluorocarbons also emit greenhouse gases (more on that later) and consequently have become a target of global warming alarmists for elimination, regardless of the costs or  benefits of doing so.
Think just of where Americans use air conditioning— in houses, cars, businesses, offices, hospitals, and data centers—and the scope of the Kigali Amendment becomes clearer, to say nothing of the other uses of hydrofluorocarbons.
Ratification of the Kigali Amendment is an unmistakable item on the Biden administration's climate "to do" list. But it adds up to trouble for Americans.
Here are six reasons why:
Doubling down: Congress passed legislation requiring the Environmental Protection Agency to develop regulations to reduce domestic production and use of hydrofluorocarbons. The law (the American Innovation and Manufacturing Act) was passed right before Christmas 2020 in a massive omnibus spending package and mirrors the Kigali Amendment requirements.
So, what is the harm in doubling down on the EPA's regulations by ratifying Kigali? In doing so, the Senate would be ceding control to the U.N., turning oversight over to international bureaucrats, and removing flexibility to make adjustments in the future. Currently, Congress has little idea of the costs or impacts of this mandate besides theoretical guesstimates and what certain special interests have told them.
Those who push for ratification are stating a preference for oversight and ultimate implementation by the U.N. rather than Americans' representatives in Congress.
Six years: The Constitution requires presidents to get the "advice and consent" of the Senate in order to ratify treaties. While President Barack Obama supported the Kigali Amendment in 2016 as part of his climate agenda, the Senate has declined to ratify it for these past six years. There is no rush or pressing need to ratify Kigali now.
146 nations: If the Senate ratifies the Kigali Amendment, the U.S. would be held to a more rapid timeframe to phase out hydrofluorocarbons and comply with the treaty. In contrast, 146 other nations, including China and Iran, have more lenient requirements and an extra decade to comply.
People and businesses in those countries will have access to more affordable refrigerants and other hydrofluorocarbons for a decade longer than American residents and businesses.
With the second-largest economy in the world, China is outgrowing its label as a developing nation and the favorable terms and flexibility afforded to it by the U.N.
$957,235,348: A multilateral fund was created by parties to the Montreal Protocol to subsidize compliance by developing countries and fund related research and development. American taxpayers have paid more into this fund in the past 30 years than any other country, to the tune of nearly $1 billion. By ratifying the Kigali Amendment, American taxpayers will be subsidizing other countries' compliance with the mandates in addition to the costs that will come with meeting the mandates themselves.
Fourfold: The Kigali Amendment mandates a rapid decrease in the consumption and production of the most widely used, affordable means of cooling.
Americans can expect repair and replacement costs for appliances, such as the air conditioners in their homes and cars, to increase. Ben Lieberman of the Competitive Enterprise Institute writes that "the price of the refrigerant used in home air conditioners shot up 4-fold, and as a result, certain repairs now cost hundreds [of dollars] more" since the EPA began implementing domestic regulations that took effect this yearand mirror Kigali.
Ironically, Biden recently directed millions of dollars to subsidize air conditioning for low-income families in the midst of a July heat wave. In the years to come, those very same units are likely to only get more expensive and out of the financial reach of the people he was intending to help.
0.05 to 0.06 degrees Celsius by the year 2100: That's the more realistic reduction in global temperatures Americans can expect, assuming countries fully comply with the Kigali Amendment. Many have claimed that eliminating hydrofluorocarbons is necessary to fight climate change and can reduce global temperatures by "as much as 0.5 degrees Celsius."
However, that estimate makes the most generous assumptions about compliance, likely double counts alleged temperature reductions from other countries' other climate pledges, and relies on the most extreme (and implausible) climate scenario, which even the U.N. Intergovernmental Panel on Climate Change considers of low likelihood.
In sum, the goals of the Kigali Amendment promise increase costs on American families and businesses, with invisible environmental benefits.
Rather than an easy environmental "win" for the Senate, ratifying the Kigali Amendment would create hotter, more expensive summers for Americans that will be very hard to undo.
Have an opinion about this article? To sound off, please email letters@DailySignal.com and we'll consider publishing your edited remarks in our regular "We Hear You" feature. Remember to include the url or headline of the article plus your name and town and/or state.
John Stossel: Through 50 years of reporting on scares, only COVID proved true
I hear that climate change will destroy much of the world.
"There will be irreversible damage to the planet!" warns a CNN anchor.
Joe Biden says he'll spend $500 billion a year to fight what his website calls an "existential threat to life."
Really?
I'm a consumer reporter. Over the years, alarmed scientists have passionately warned me about many things they thought were about to kill Americans.
Asbestos in hair dryers, coffee, computer terminals, electric power lines, microwave ovens, cellphones (brain tumors!), electric blankets, herbicides, plastic residue, etc., are causing "America's cancer epidemic"!
If those things don't get us, "West Nile Virus will!" Or SARS, Bird Flu, Ebola, flesh-eating bacteria or "killer bees."
Experts told me millions would die on Jan. 1, 2000, because computers couldn't handle the switch from 1999. Machines would fail; planes would crash.
The scientists were well-informed specialists in their fields. They were sincerely alarmed. The more knowledge you have about a threat, the more alarmed you get.
Yet, mass death didn't happen. COVID-19 has been the only time in my 50 years of reporting that a scare proved true.
Maybe you accepted the phrase I used above: "America's cancer epidemic." But there is no cancer epidemic. Cancer rates are down. We simply live long enough to get diseases like cancer. But people think there's a cancer epidemic.
The opposite is true. As we've been exposed to more plastics, pesticides, mysterious chemicals, food additives and new technologies, we live longer than ever!
Advertisement – story continues below
That's why I'm skeptical when I'm told: Climate change is a crisis!
Climate change is real. It's a problem, but I doubt that it's "an existential threat."
Saying that makes alarmists mad.
When Marc Morano says it, activists try to prevent him from speaking.
"They do not want dissent," says Morano, founder of ClimateDepot.com, a website that rebuts much of what climate activists teach in schools.
"It's an indoctrination that's so complete that by the time (kids) get to high school, they're not even aware that there's any scientific dissent."
Morano's new movie, "Climate Hustle 2," presents that dissent. My new video this week features his movie.
Morano argues that politicians use fear of global warming to gain power.
"Climate Hustle 2" features Sen. Chuck Schumer shouting: "If we would do more on climate change, we'd have fewer of these hurricanes and other types of storms! Everyone knows that!"
But everyone doesn't know that. Many scientists refute it. Congress' own hearings include testimony about how our warmer climate has not caused increases in the number of hurricanes or tornadoes. "Climate Hustle 2" includes many examples like that.
"Why should we believe you?" I ask Morano. "You're getting money from the fossil fuel industry." After all, Daily Kos calls him "Evil Personified" and says ExxonMobil funds him.
"Not at all," he replies. "I'm paid by about 90% individual contributions from around the country. Why would ExxonMobil give me money (when) they want to appear green?"
Morano's movie frustrates climate activists by pointing out how hypocritical some are.
Actor Leonardo DiCaprio says he lives a "green lifestyle … (using) energy-efficient appliances. I drive a hybrid car."
Then he flies to Europe to attend a party.
I like watching Morano point out celebrities' hypocrisy, but think one claim in his movie goes too far.
"Stopping climate change is not about saving the planet," says narrator Kevin Sorbo. "It's about climate elites trying to convince us to accept a future where they call all the shots."
I push back at Morano: "I think they are genuinely concerned, and they want to save us."
"Their vision of saving us is putting them in charge," he replies.
And if they're in charge, he says, they will destroy capitalism.
—-
State of the Union 2013
Published on Feb 13, 2013
Cato Institute scholars Michael Tanner, Alex Nowrasteh, Julian Sanchez, Simon Lester, John Samples, Pat Michaels, Jagadeesh Gokhale, Michael F. Cannon, Jim Harper, Malou Innocent, Juan Carlos Hidalgo, Ilya Shapiro, Trevor Burrus and Neal McCluskey respond to President Obama's 2013 State of the Union Address.
Video produced by Caleb O. Brown, Austin Bragg and Lester Romero.
_______________
In the past I have written the White House on several issues such as abortion, medicare, welfare,  Greece, healthcare, and what the founding fathers had to say about welfare programs,   and have got several responses from the White House concerning issues such as Obamacare, Social Security, welfare,  and excessive government spending.
Today I am taking a look at the response of the scholars of the Heritage Foundation and the Cato Institute scholars to the 2013 State of the Union Address.
February 13, 2013 at 8:22 am
State of the…Climate?
Swept into office four years ago based, in part, on promises to slow sea-level rise, President Obama initiated a radical climate agenda. It seems we are seeing a rerun in 2013. It is worth asking what is different four years after his first State of the Union Address?
There have been four more years of no global warming. In 2010, there had been no significant world temperature increase for over a decade. The streak is now 16 years long. We have four years of costly lessons on the waste and inefficiency of green-energy subsidies.
The scientific basis for catastrophic climate change gets weaker and weaker. The economic argument for green subsidies has already collapsed. It is time for the administration to quit using both arguments to justify a regulatory and fiscal power grab.
– David W. Kreutzer, PhD, research fellow in energy economics and climate change, Center for Data Analysis
Related posts:
Is President Obama gutting the welfare reform that Bill Clinton signed into law? Morning Bell: Obama Denies Gutting Welfare Reform Amy Payne August 8, 2012 at 9:15 am The Obama Administration came out swinging against its critics on welfare reform yesterday, with Press Secretary Jay Carney saying the charge that the Administration gutted the successful […]
Senator Blunt Vows to Keep Pressure on President Obama Over Contraceptive Mandate Uploaded by HeritageFoundation on Feb 13, 2012 http://blog.heritage.org/2012/02/13/sen-blunt-vows-to-keep-pressure-on-obama-… | Sen. Roy Blunt (R-MO) introduced legislation to protect religious organizations from Obamacare's overreach last summer. Now, as President Obama presses forward with his anti-conscience mandate, Blunt is prepared to keep the pressure on the […]
Max Brantley is wrong about Tom Cotton's accusation concerning the rise of welfare spending under President Obama. Actually welfare spending has been increasing for the last 12 years and Obama did nothing during his first four years to slow down the rate of increase of welfare spending. Rachel Sheffield of the Heritage Foundation has noted: […]