_
Ronnie Lane – Ooh la la (live @ BBC 1974)
ROD STEWART & THE FACES – ANGEL
Rod Stewart's wife, Penny Lancaster, on policing Queen Elizabeth's funeral: 'Biggest honor of all'
Queen Elizabeth II, who died on Sept. 8 in Scotland after 70 years on the throne, was interred alongside her late husband Prince Philip
By Stephanie Nolasco | Fox News
Penny Lancaster had "great training and preparation" to be part of the police detail on Monday for Queen Elizabeth II's state funeral
"With all that planning going ahead, you can never quite predict how the crowd is [going to] react and the dangers that might lay ahead," the British model and TV personality, who is married to Rod Stewart, told Sky News.
"But we've had great training and preparation and fortunately, everybody paid their respects in the proper manner, and we didn't have any incidents to speak of," the 51-year-old shared. "So I'm very grateful for that."
Lancaster began volunteering for the force after appearing in the reality TV show "Famous and Fighting Crime," where celebrities swap their day jobs with those of emergency service professionals. An inspired Lancaster went on to become a special police constable for the City of London Police in April 2021.
WHAT QUEEN ELIZABETH'S FUNERAL TOLD THE WORLD AND WHAT IT MEANS FOR BRITAIN, KING CHARLES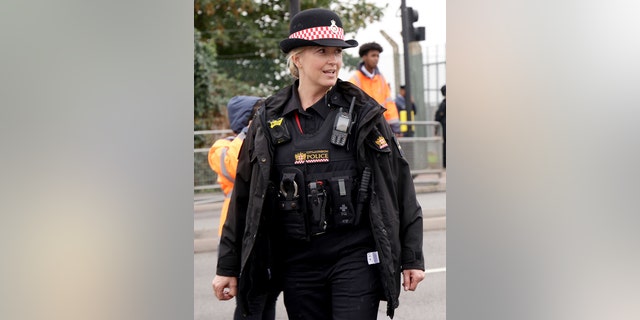 Penny Lancaster is a special constable with the City of London Police.(Shutterstock)
Lancaster joined an estimated 15,000 officers on the streets for the funeral, which took place at Westminster Abbey. Lancaster was spotted in full uniform while thousands took to the streets and paid their respects to Britain's longest-serving monarch.
Elizabeth passed away on Sept. 8 at Balmoral Castle in Scotland. She was 96.
"This is the biggest honor of all, to be able to serve today on Her Majesty the Queen's funeral," Lancaster told PA News Agency. "We were in uniform by five o'clock this morning, and we didn't know what time we will be working until. We just want to make sure that all the crowds get home safely."
The star noted that despite her "long" shift, "I wouldn't have missed it for the world."
CLICK HERE TO SIGN UP FOR THE ENTERTAINMENT NEWSLETTER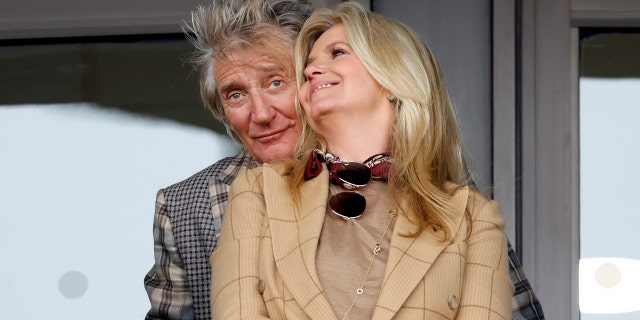 Rod Stewart and Penny Lancaster married in 2007. (Photo by Max Mumby/Indigo/Getty Images)
"The focus is mostly on duty, but it also [was] a wonderful opportunity, and [I'm] very honored to be here to pay my respects at the same time," she added.
Last week, Lancaster told "Good Morning Britain" that she was "very proud to be able to serve" during such a "historic moment" for the country.
"It was a great privilege to work at the queen's memorial service at St. Paul's Cathedral on Friday," she said at the time. "I signed the oath of Office of Constable to Her Majesty the Queen just over a year ago, April last year, and just as the seamless tie between Her Majesty and King Charles III, my oath will now be with the King."
Last year, Stewart described his wife's eight-month journey toward becoming a cop. The couple said "I do" in 2007.
QUEEN ELIZABETH BIOGRAPHER CALLS HER FUNERAL A 'FACADE,' DEMANDS 'ATONEMENT' FOR SLAVERY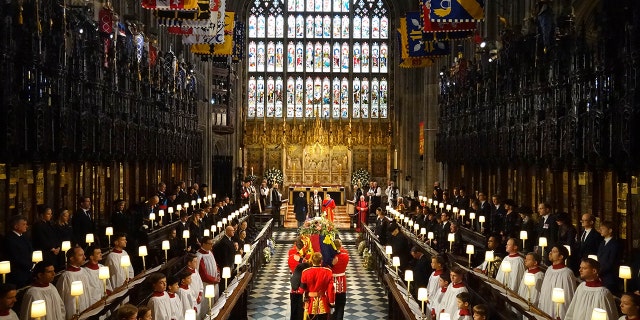 Queen Elizabeth II died at Balmoral Castle in Scotland on Sept. 8, 2022, and is succeeded by her eldest son, King Charles III. (Photo by Jonathan Brady – WPA Pool/Getty Images)
"She got absolutely absorbed by it and loved it," the 77-year-old told People magazine. "She said, 'I'm going to do this. I'm going to do all the training, all the exams.' The nicest quote she said [is], 'I want to give something back, fine, but I want to look after the city that I love, which is London."
"She's a part-timer, she works one day a week and patrols the Tower Bridge around London," the singer explained. "She makes arrests, and she'll go out in front… She's tough. She's 6'2″. You can't argue with a big blonde."
The queen was interred alongside her late husband, Prince Philip, and her parents in Windsor Castle's St. George's Chapel.
Rod Stewart -The Faces – Stay With Me – Live 1972
I have read over 40 autobiographies by ROCKERS and it seems to me that almost every one of those books can be reduced to 4 points. Once fame hit me then I became hooked on drugs. Next I became an alcoholic (or may have been hooked on both at same time). Thirdly, I chased the skirts and thought happiness would be found through more sex with more women. Finally, in my old age I have found being faithful to my wife and getting over addictions has led to happiness like I never knew before. (Almost every autobiography I have read from rockers has these points in it although Steven Tyler is still chasing the skirts!!).
_
_
_____________
Francis August Schaeffer (January 30, 1912 – May 15, 1984[1])
building of king solomon's temple
The Judgment of Solomon, 1617 by Peter Paul Rubens (1577–1640)
Steel mezzotint engraving by John Sartain
of the 1863 painting by Christian Schussele
__
Adrian Pierce Rogers (September 12, 1931 – November 15, 2005)
___
________
__
Larry Joe Speaks (August 20, 1947 to April 7, 2017)
On April 16, 2017 is the day we celebrate Easter which is about Christ's resurrection from the dead!!!
__
_
620 × 342Images may be subject to copyright _
1280 × 620Images may be subject to copyright
April 16, 2017
Rod Stewart

Dear Rod,
I read your book ROD:THE AUTOBIOGRAPHY OF ROD STEWART and in that book you said your father's recipe for contentment in life was a JOB, a sport and a hobby. This letter is about the issue of labor and what a job can mean to a man. Today I want to start off talking about your life's work and your accomplishments.
Wikipedia notes:
Sir Roderick David Stewart, CBE (born 10 January 1945)[1] is a British rock singer and songwriter. Born and raised in London, he is of Scottish and English ancestry. Stewart is one of the best-selling music artists of all time, having sold over 100 million records worldwide.[2] He has had six consecutive number one albums in the UK and his tally of 62 UK hit singles includes 31 that reached the top ten, six of which gained the #1 position.[3] Stewart has had 16 top ten singles in the US, with four reaching #1 on the Billboard Hot 100. He was knighted in the 2016 Birthday Honours for services to music and charity.[4]
You have been tremendously blessed in your talents and your life work has brought you much in financial rewards and notoriety in your field. With that in mind in today's letter I want to compare you to King Solomon and look at what both you and Solomon have accomplished in the area of LABOR (or his life's work).
As you know in these series of letters I am looking at the 6 L words that Solomon pursued in the Book of Ecclesiastes and today I am looking at LABOR (Solomon's life work). Now that we have looked at some of your accomplishments, let us take a look at SOLOMON. I consider you a very successful man in your field and in that sense you are similar to SOLOMON, and by comparing you two I am in no way trying to belittle your accomplishments. However, I do want to point out some of SOLOMON's own words of analysis concerning his legacy from Ecclesiastes (which is Richard Dawkins favorite book in the Bible).
SOLOMON was remembered for his WISDOM and his success with the LADIES, but he was also remembered for his LABOR (his life work). For Solomon that basically came down to the labor he commissioned in his building campaigns through out his kingdom plus the effort he put forth building his own palace and the temple in Jerusalem.
Below are the comments of Francis Schaeffer on SOLOMON and the Book of Ecclesiastes:
Leonardo da Vinci and Solomon both were universal men searching for the meaning in life. Solomon was searching for a meaning in the midst of the details of life. His struggle was to find the MEANING OF LIFE. Not just plans in life. Anybody can find plans in life. A child can fill up his time with plans of building tomorrow's sand castle when today's has been washed away. There is a difference between finding plans in life and purpose in life. Humanism since the Renaissance and onward has never found it. Modern man has not found it and it has always got worse and darker in a very real way.
We have here the declaration of Solomon's universality:
1 Kings 4:30-34
English Standard Version (ESV)
30 so that Solomon's wisdom surpassed the wisdom of all the people of the east and all the wisdom of Egypt. 31 For he was wiser than all other men…and his fame was in all the surrounding nations. 32 He also spoke 3,000 proverbs, and his songs were 1,005. 33 He spoke of trees, from the cedar that is in Lebanon to the hyssop that grows out of the wall. He spoke also of beasts, and of birds, and of reptiles, and of fish. 34 And people of all nations came to hear the wisdom of Solomon, and from all the kings of the earth, who had heard of his wisdom.
_________________________
Here is the universal man and his genius. Solomon is the universal man with a empire at his disposal. Solomon had it all.
Ecclesiastes 1:3
English Standard Version (ESV)
3 What does man gain by all the toil
at which he toils under the sun?
Solomon took a look at the meaning of life on the basis of human life standing alone between birth and death "under the sun."
After wisdom Solomon comes to the great WORKS of men. Ecclesiastes 1:14, "I have seen all the works which have been done under the sun, and behold, all is [p]vanity and striving after wind." Solomon is the man with an empire at this disposal that speaks. This is the man who has the copper refineries in Ezion-geber. This is the man who made the stables across his empire. This is the man who built the temple in Jerusalem. This is the man who stands on the world trade routes. He is not a provincial. He knew what was happening on the Phonetician coast and he knew what was happening in Egypt. There is no doubt he already knew something of building. This is Solomon and he pursues the greatness of his own construction and his conclusion is VANITY AND VEXATION OF SPIRIT.
Ecclesiastes 2:18-20
18 Thus I hated all the fruit of my labor for which I had labored under the sun, for I must leave it to the man who will come after me. 19 And who knows whether he will be a wise man or a fool? Yet he will have control over all the fruit of my labor for which I have labored by acting wisely under the sun. This too is vanity. 20 Therefore I completely despaired of all the fruit of my labor for which I had labored under the sun.
He looked at the works of his hands, great and multiplied by his wealth and his position and he shrugged his shoulders.
Ecclesiastes 2:22-23
22 For what does a man get in all his labor and in his striving with which he labors under the sun? 23 Because all his days his task is painful and grievous; even at night his mind does not rest. This too is vanity.
Man can not rest and yet he is never done and yet the things which he builds will out live him. If one wants an ironical three phrases these are they. There is a Dutch saying, "The tailor makes many suits but one day he will make a suit that will outlast the tailor."
———
Many have tried sexual exploits just like Solomon did, and many have thrown their efforts into business too. Sadly Solomon also found the pursuit of great works in his LABOR just as empty. In Ecclesiastes 2:11 he asserted, "THEN I CONSIDERED ALL THAT MY HANDS HAD DONE AND THE TOLL I HAD EXPENDED IN DOING IT, AND BEHOLD, ALL WAS VANITY AND A STRIVING AFTER WIND, and there was nothing to be gained under the sun."
Many people through history have reminded me of Solomon because they are looking for lasting meaning in their life and they are looking in the same 6 areas that King Solomon did in what I call the 6 big L words. He looked into learning (1:16-18), laughter, ladies, luxuries, and liquor (2:1-3, 8, 10, 11), and LABOR (2:4-6, 18-20).
Then in last few words in the Book of Ecclesiastes he looks above the sun and brings God back into the picture: "The conclusion, when all has been heard, is: Fear God and keep His commandments, because this applies to every person. For God will bring every act to judgment, everything which is hidden, whether it is good or evil."
I started writing this series of 7 letters to you concerning Solomon and the meaning of life after the death of my good friend LARRY SPEAKS. During the last 20 years of his life Larry would hand out CD's of Adrian Rogers' message WHO IS JESUS? and I wanted to share one of the points that is made in that sermon that particularly applies today since it is EASTER:
Simon Peter gave THREE LINES OF EVIDENCE, three witnesses; and we use these same three witnesses when we share Jesus today. Let's look at Acts chapter 10:
39 And we are witnesses of all that he did both in the country of the Jews and in Jerusalem. They put him to death by hanging him on a tree, 40 but God raised him on the third day and made him to appear, 41 not to all the people but to us who had been chosen by God as witnesses, who ate and drank with him after he rose from the dead. 42 And he commanded us to preach to the people and to testify that he is the one appointed by God to be judge of the living and the dead. 43 To him all the prophets bear witness that everyone who believes in him receives forgiveness of sins through his name."
I THE PERSONAL WITNESS OF THE SAINTS (Acts 10:39)
The apostles were a diverse group, yet they were united in their witness. Among them:
John was young, observant and sensitive.
Peter was a rough, hard-working fisherman.
Simon the Zealot was a political activist.
Nathaniel and Thomas both tended to be skeptical and inquiring.
Matthew was a hardened, political businessman.
Andrew was gentle and compassionate.
Philip was a calculating thinker.
James was a straight shooter.
They were eyewitnesses of the virtuous life of Jesus.
Acts 10:34 & 38
Matthew 17:1-5
They were eyewitnesses of His vicarious death.
Acts 10:39
Deuteronomy 21:23
They were eyewitnesses of His victorious resurrection.
Acts 10:40-41
II THE PROPHETIC WITNESS OF THE SCRIPTURES (Acts 10:43) (We looked at this in a previous letter.)
III THE PERSUASIVE WITNESS OF THE SPIRIT (Acts 10:44)
____________
Today is Easter and I listened to one one my favorite Easter Songs "O Praise the Name." Let me encourage you to look it up on You Tube. Christ died NOT for his own sins because he was sinless, but for ours (Romans 10:9) so we could receive the free gift of grace (Ephesians 2:8). Through your LABOR you can NOT earn salvation.
Romans 10:8-13 English Standard Version (ESV)
8 But what does it say? "The word is near you, in your mouth and in your heart" (that is, the word of faith that we proclaim); 9 because, if you confess with your mouth that Jesus is Lord and believe in your heart that God raised him from the dead, you will be saved. 10 For with the heart one believes and is justified, and with the mouth one confesses and is saved. 11 For the Scripture says, "Everyone who believes in him will not be put to shame." 12 For there is no distinction between Jew and Greek; for the same Lord is Lord of all, bestowing his riches on all who call on him. 13 For "everyone who calls on the name of the Lord will be saved."
The answer to find meaning in life is found in putting your faith and trust in Jesus Christ. The Bible is true from cover to cover and can be trusted.
Thanks for your time.
Sincerely,
Everette Hatcher, everettehatcher@gmail.com, http://www.thedailyhatch.org, cell ph 501-920-5733, Box 23416, Little Rock, AR 72221