________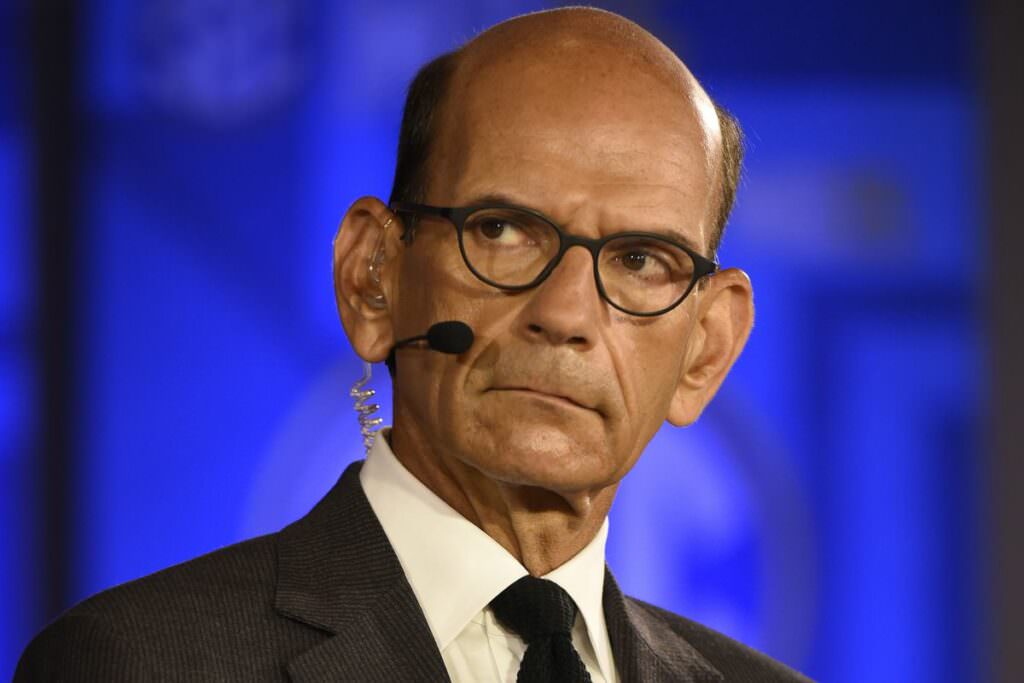 Monday September 12, 2022
David Bazzel on the Paul Finebaum Show 09/02/2022
Little Rock Touchdown Club – September 12, 2022
Finebaum: Lots to like from Arkansas
by Joe Luciano | Today at 3:43 a.m.
I really enjoyed hearing Edwards speak to our Touchdown Club in Little Rock!!!!
Radio and television sports talk show host Paul Finebaum said he learned a lesson the last time he was in Little Rock, 10 years ago.
Finebaum was back to address the Little Rock Touchdown Club's luncheon at the DoubleTree Hotel in downtown Little Rock on Monday.
Before Monday's address, Finebaum said when he spoke to club members in 2012, he did not know Arkansas Razorbacks fans remained sensitive to Arkansas' loss to the Texas Longhorns in 1969.
"They had just honored both sides at the Touchdown Club, and I took I few shots," Finebaum said. "I realized you don't make jokes about that game in Arkansas. I'm not going to today. I learned."
Undefeated No. 2 Arkansas and top-ranked Texas met in Fayetteville for the final game of both team's Southwest Conference seasons on Dec. 6, 1969. Arkansas led 14-0 to start the fourth quarter, but Texas came back to win 15-14.
Finebaum, 67, said he watched the game from his hometown of Memphis.
"The first big game I remember watching on TV, the very first, was in December of 1969," he said. "It was the Arkansas and Texas game. I had never seen a game that big because, quite frankly, I don't know if there had been one that big involving Southern teams.
"Growing up in Memphis, Arkansas was a big deal. You had Arkansas, Ole Miss and Memphis State. Tennessee was around, but they weren't as omnipresent as they are now. I had a lot of friends who were Arkansas fans. I remember just being distraught at the end of that game when Texas won. We all know how long ago that was, but it's still etched in my mind."
Finebaum, a Tennessee graduate, was a sportswriter and columnist in Birmingham, Ala., from 1980 through 2001, when he joined the Mobile Press-Register as a bi-weekly columnist. He became a regular guest on sport-talk radio in 1986 but soon hosted his own top-rated afternoon radio program in Birmingham.
He launched The Paul Finebaum Radio Network with affiliates across much of the SEC area. In 2014, he signed with ESPN to appear on the SEC Network. He still hosts a daily radio show based in Charlotte, N.C
Finebaum said Arkansas' current football turnaround under Coach Sam Pittman has impressed him.
"I just think everything about his program is going well," he said. "That's still hard for me to wrap my arms around, considering the dysfunctionality of this football program a couple of years ago."
Finebaum said Arkansas, which has opened this season victories of 31-24 over Cincinnati and 44-30 over South Carolina, is off to an ideal start.
"I thought the first two games were dangerous for them for obvious reasons, and they survived that very well," he said. "There are a couple of things about the schedule I don't like, namely the BYU game. But beyond that, I think Arkansas is in a great spot right now."
Finebaum spent most of his Alabama-based radio career in conversation about Alabama and Auburn sports. He remains an SEC authority and said fans should not make too much of Alabama's last-minute, 20-19 victory at unranked Texas on Saturday.
"If you look at Alabama last year, the Florida game, they were three-touchdown favorites and barely won," Finebaum said. "Same thing at [Texas] A&M, they lost. Same thing at Auburn, it took them four overtimes. They have a track record of this."
Finebaum said Arkansas has a legitimate chance to upset Alabama when they meet in Fayetteville on Oct. 1.
"That's a game I thought Alabama wasn't going to lose," Finebaum said. "Now, why would you think that game is going to be any different than the one we just got through seeing? At this point, I think Arkansas has a pretty good shot at winning, and that's not just talk-show-host speak. It's real. Arkansas can beat Alabama."
Print Headline: Finebaum: Lots to like from Arkansas
Little Rock Touchdown Club – August 29, 2016
By Jeremy Muck
This article was published August 30, 2016 at 5:45 a.m.
Herm Edwards has no problem with San Francisco 49ers quarterback Colin Kaepernick refusing to stand for the national anthem.
He does want Kaepernick to be informed if he's serious about his viewpoint, though.
Kaepernick did not stand for the anthem before Friday's NFL preseason game against the Green Bay Packers at Levi's Stadium in Santa Clara, Calif. While he did not stand for the anthem in the 49ers' two previous exhibition games, Friday was the first time reporters noticed him, as he was in full uniform.
Edwards, a former NFL cornerback with the Philadelphia Eagles, Los Angeles Rams and Atlanta Falcons and head coach with the New York Jets (2001-2005) and Kansas City Chiefs (2006-2008), spoke at the Little Rock Touchdown Club on Monday. He said if he were still coaching and had Kaepernick on his team, he would tell him there are a lot of eyeballs on him.
"The first thing I'd tell him is that it's not so much the flag," said Edwards, 62, whose father was a Master Sergeant in the U.S. Army and served in World War II. "If you really understand what the flag represents, it represents all the good in this country. Don't be mad at the flag, because it has nothing to do with the social issues. If we would live by the credence of what the flag says, we would actually live in a country that's pretty unique to live in. We wouldn't have all these social issues.
"But he's making a stand, which is fine. But I would tell him this: Make sure you're educated on the situation. Make sure you have solutions when people ask you questions. If you have no solutions, it doesn't matter if you take a stand. What are the solutions? What are you going to do in your community?"
Kaepernick, 28, explained his reasons for not standing for the anthem to NFL Network reporter Steve Wyche on Friday.
"I am not going to stand up to show pride in a flag for a country that oppresses black people and people of color," Kaepernick told Wyche. "To me, this is bigger than football and it would be selfish on my part to look the other way. There are bodies in the street and people getting paid leave and getting away with murder."
Since leaving the coaching ranks, Edwards has been an NFL analyst on ESPN.
One of the biggest storylines this preseason has been the Dallas Cowboys' quarterback situation. Veteran Tony Romo is reported to be out 6-10 weeks because of a compression fracture to the L1 vertebra in his back. Romo suffered the injury in Thursday's preseason game against the Seattle Seahawks.
Rookie Dak Prescott, who was drafted from Mississippi State in the fourth round, is expected to start for Dallas. Prescott has completed 39 of 50 passes for 454 yards and 5 touchdowns in 3 preseason games.
Edwards said the Cowboys are comfortable with Prescott.
"They've got a young guy who they feel pretty comfortable about," Edwards said. "You lighten the load on him. You're going to be limited at what you ask him to do from the line of scrimmage and game-planning. You're going to play to the strength, where I think it's on the move some. The offensive line will be a key factor in helping a young guy.
"I think as they continue to watch Tony and what his development is, I think that will tell a lot about where he's going. Will they have to go get a veteran guy? With Dak, they have a chance. With veteran guys, [Jason] Witten, Dez Bryant, the offensive linemen, they like him. They think he has it. But here's the critical part: They're basically giving the ball to two rookies. A runner [Ezekiel Elliott] and a quarterback. That's unique."
Other highlights from Monday's Touchdown Club luncheon:
• Edwards on the popularity of football at the high school, college and professional levels: "I think it's really taken America by storm, especially over the past five years. It's the become the passion of America. I grew up in an era where baseball was our game. I think, now, football has done it."
• On meeting the late Muhammad Ali: "He told me, 'Bet on yourself.' From that point, I bet on myself throughout my career."
• On former Ouachita Baptist and Dallas Cowboys safety Cliff Harris: "He's a Hall of Famer. There's no doubt about that."
• On the state of America in 2016: "People in America don't huddle up anymore. There are many voices talking and not enough listening."
• Edwards' advice on goals: "A goal without a plan is a wish."
• On children and role models: "The most powerful thing that you can give your kids is your last name. Parents should be a kid's role model."
Sports on 08/30/2016
Print Headline: Edwards to 49ers QB Kaepernick: Have a solution
Related posts:
_____