I have read articles for years from Dan Barker, but recently I just finished the book Barker wrote entitled LIFE DRIVEN PURPOSE which was prompted by Rick Warren's book PURPOSE DRIVEN LIFE which I also read several years ago.
Dan Barker is the Co-President of the Freedom From Religion Foundation, And co-host of Freethought Radio and co-founder of The Clergy Project.
On March 19, 2022, I got an email back from Dan Barker that said:
Thanks for the insights.
Have you read my book Life Driven Purpose? To say there is no purpose OF life is not to say there is no purpose IN life. Life is immensely meaningful when you stop looking for external purpose.
Ukraine … we'll, we can no longer blame Russian aggression on "godless communism." The Russian church, as far as I know, has not denounced the war.
db
—
In the next few weeks I will be discussing the book LIFE DRIVEN PURPOSE which I did enjoy reading. Here is an assertion that Barker makes that I want to discuss:
It wasn't until more than a millennium later that the Enlightenment—another appropriate name—began to tease out scientific truth from dogma. Isaac Newton, one of the early Enlightenment thinkers, is the person who actually taught us about the properties of light, showing that white light is really a combination of the rainbow colors that represent different frequencies of electromagnetic radiation.
Did you know that Isaac Newton spent much of his time studying the Book of Daniel and writing about it? Daniel is also my favorite book in the Bible and I named one of my sons Wilson Daniel Hatcher! There are some amazing prophecies in it and it is a historically accurate book.
Daniel chapter 2 predicted the succession of Babylon to Medi-Persia to Greece to Rome.
A couple of years ago I sent you the CD "Dust, Darwin and Disbelief," by Adrian Rogers and Bill Elliff. On that CD you will find this story below:
The Bible is affirmed through historical accuracy. Do you remember the story about the handwriting on the wall that is found in the fifth chapter of Daniel? Belshazzar hosted a feast with a thousand of his lords and ladies. Suddenly, a gruesome hand appeared out of nowhere and began to write on a wall. The king was disturbed and asked for someone to interpret the writing. Daniel was found and gave the interpretation. After the interpretation, "Then commanded Belshazzar, and they clothed Daniel with scarlet, and put a chain of gold about his neck, and made a proclamation concerning him, that he should be the third ruler in the kingdom." (Daniel 5:29). Basing their opinion on Babylonian records, the historians claim this never happened. According to the records, the last king of Babylon was not Belshazzar, but a man named Nabonidas. And so, they said, the Bible is in error. There wasn't a record of a king named Belshazzar. Well, the spades of archeologists continued to do their work. In 1853, an inscription was found on a cornerstone of a temple built by Nabonidas, to the god Ur, which read: "May I, Nabonidas, king of Babylon, not sin against thee. And may reverence for thee dwell in the heart of Belshazzar, my first-born favorite son." From other inscriptions, it was learned that Belshazzar and Nabonidas were co-regents. Nabonidas traveled while Belshazzar stayed home to run the kingdom. Now that we know that Belshazzar and Nabonidas were co-regents, it makes sense that Belshazzar would say that Daniel would be the third ruler. What a marvelous nugget of truth tucked away in the Word of God!
Liberals argue that Daniel did not write the book in the 6th century B.C. But in the Maccabean period, but how would a Maccabean author know these details? [1] Belshazzar was ruling during the last few years of the Babylonian Empire. [2] The Babylonians executed individuals by casting them into fire, but the Persians threw the condemned to the lions. [3] The practice in the 6th Century was to mention first the Medes, then the Persians. [4] Laws made by Persian kings could not be revoked. [5] In the sixth century B.C., Susa was in the province of Elam (Dan. 8:2). [6] Nebuchadnezzar had a pride problem (Dan. 4:30) and often boasted about his great building projects.
Francis Schaeffer observed:
For Newton and the other early scientists, no problem concerning the why, because they began with the existence of a personal God who had created the universe.
R.C.Sproul asserted:
Historically, an example of a healthy attitude toward science and revelation was found in Isaac Newton. He did not live in fear of contradicting his faith through the study of the world. He said that the activity of the scientist is to think God's thoughts after him. Newton's was a humble, as well as a careful approach. He understood that all truth meets at the top.
Actually I had the opportunity to debate the 6th century authorship of Daniel with Farrell Till in his publication THE SKEPTICAL REVIEW (can be found at this link: https://web.archive.org/web/20160303233345/http://www.theskepticalreview.com/tsrmag/992dan.html )
—
Francis Schaeffer
How Should We Then Live | Season 1 | Episode 7 | The Age of Non-Reason


How Should We Then Live | Season 1 | Episode 8 | The Age of Fragmentation
Whatever Happened To The Human Race? | Episode 1 | Abortion of the Human…

Whatever Happened To The Human Race? | Episode 4 | The Basis for Human D…

1984 SOUNDWORD LABRI CONFERENCE VIDEO – Q&A With Francis & Edith Schaefer

–
Featured Artist is CIMABUE
m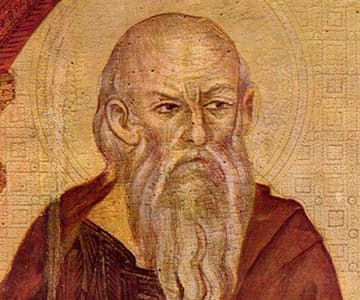 CIMABUE (c.1240-1302)
Although in some of his works Cimabue already represented a visible evolution of the rigid Byzantine art, his greatest contribution to painting was to discover a young talented artist named Giotto (see number 2), who changed forever the Western painting.
Related posts:
I have gone back and forth and back and forth with many liberals on the Arkansas Times Blog on many issues such as abortion, human rights, welfare, poverty, gun control and issues dealing with popular culture. Here is another exchange I had with them a while back. My username at the Ark Times Blog is Saline […]
By Everette Hatcher III|Posted in Francis Schaeffer, Prolife|Edit|Comments (0)
On March 17, 2013 at our worship service at Fellowship Bible Church, Ben Parkinson who is one of our teaching pastors spoke on Genesis 1. He spoke about an issue that I was very interested in. Ben started the sermon by reading the following scripture: Genesis 1-2:3 English Standard Version (ESV) The Creation of the […]
By Everette Hatcher III|Posted in Adrian Rogers, Atheists Confronted, Current Events|TaggedBen Parkinson, Carl Sagan|Edit|Comments (0)
Review of Carl Sagan book (Part 4 of series on Evolution) The Long War against God-Henry Morris, part 5 of 6 Uploaded by FLIPWORLDUPSIDEDOWN3 on Aug 30, 2010 http://www.icr.org/ http://store.icr.org/prodinfo.asp?number=BLOWA2http://store.icr.org/prodinfo.asp?number=BLOWASGhttp://www.fliptheworldupsidedown.com/blog _______________________ I got this from a blogger in April of 2008 concerning candidate Obama's view on evolution: Q: York County was recently in the news […]
By Everette Hatcher III|Posted in Atheists Confronted, Current Events, President Obama|Edit|Comments (0)
Review of Carl Sagan book (Part 3 of series on Evolution) The Long War against God-Henry Morris, part 4 of 6 Uploaded by FLIPWORLDUPSIDEDOWN3 on Aug 30, 2010 http://www.icr.org/ http://store.icr.org/prodinfo.asp?number=BLOWA2http://store.icr.org/prodinfo.asp?number=BLOWASGhttp://www.fliptheworldupsidedown.com/blog______________________________________ I got this from a blogger in April of 2008 concerning candidate Obama's view on evolution: Q: York County was recently in the news […]
By Everette Hatcher III|Posted in Atheists Confronted, Current Events, President Obama|Edit|Comments (0)
At the end of this post is a message by RC Sproul in which he discusses Sagan. Over the years I have confronted many atheists. Here is one story below: I really believe Hebrews 4:12 when it asserts: For the word of God is living and active and sharper than any two-edged sword, and piercing as far as the […]
By Everette Hatcher III|Posted in Adrian Rogers, Atheists Confronted, Current Events, Francis Schaeffer|Tagged Bill Elliff, Carl Sagan, Jodie Foster, RC Sproul|Edit|Comments (0)
Review of Carl Sagan book (Part 4 of series on Evolution) The Long War against God-Henry Morris, part 5 of 6 Uploaded by FLIPWORLDUPSIDEDOWN3 on Aug 30, 2010 http://www.icr.org/ http://store.icr.org/prodinfo.asp?number=BLOWA2http://store.icr.org/prodinfo.asp?number=BLOWASGhttp://www.fliptheworldupsidedown.com/blog _______________________ This is a review I did a few years ago. THE DEMON-HAUNTED WORLD: Science as a Candle in the Dark by Carl […]
By Everette Hatcher III|Posted in Atheists Confronted, Current Events|Edit|Comments (0)
Review of Carl Sagan book (Part 3 of series on Evolution) The Long War against God-Henry Morris, part 4 of 6 Uploaded by FLIPWORLDUPSIDEDOWN3 on Aug 30, 2010 http://www.icr.org/ http://store.icr.org/prodinfo.asp?number=BLOWA2http://store.icr.org/prodinfo.asp?number=BLOWASGhttp://www.fliptheworldupsidedown.com/blog______________________________________ I was really enjoyed this review of Carl Sagan's book "Pale Blue Dot." Carl Sagan's Pale Blue Dot by Larry Vardiman, Ph.D. […]
By Everette Hatcher III|Posted in Atheists Confronted, Current Events|Edit|Comments (0)
In today's news you will read about Kirk Cameron taking on the atheist Stephen Hawking over some recent assertions he made concerning the existence of heaven. Back in December of 1995 I had the opportunity to correspond with Carl Sagan about a year before his untimely death. Sarah Anne Hughes in her article,"Kirk Cameron criticizes […]
By Everette Hatcher III|Posted in Atheists Confronted|Edit|Comments (2)
In this post we are going to see that through the years humanist thought has encouraged artists like Michelangelo to think that the future was extremely bright versus the place today where many artist who hold the humanist and secular worldview are very pessimistic. In contrast to Michelangelo's DAVID when humanist man thought he […]
By Everette Hatcher III|Posted in Francis Schaeffer|Tagged David Leeds, J.I.PACKER, Joe Carter, Massimiliano Gioni, Michelangelo, Michelangelo's DAVID, Michelangelo's Florence Pietà, Paul McCarthy, Renaissance, Rick Pearcey, Rush Limbaugh, Tony Bartolucci|Edit|Comments (0)
_________ Antony Flew on God and Atheism Published on Feb 11, 2013 Lee Strobel interviews philosopher and scholar Antony Flew on his conversion from atheism to deism. Much of it has to do with intelligent design. Flew was considered one of the most influential and important thinker for atheism during his time before his death […]
By Everette Hatcher III|Posted in Current