I have read articles for years from Dan Barker, but recently I just finished the book Barker wrote entitled LIFE DRIVEN PURPOSE which was prompted by Rick Warren's book PURPOSE DRIVEN LIFE which I also read several years ago.
Dan Barker is the Co-President of the Freedom From Religion Foundation, And co-host of Freethought Radio and co-founder of The Clergy Project.
On March 19, 2022, I got an email back from Dan Barker that said:
Thanks for the insights.
Have you read my book Life Driven Purpose? To say there is no purpose OF life is not to say there is no purpose IN life. Life is immensely meaningful when you stop looking for external purpose.
Ukraine … we'll, we can no longer blame Russian aggression on "godless communism." The Russian church, as far as I know, has not denounced the war.
db
—
In the next few weeks I will be discussing the book LIFE DRIVEN PURPOSE which I did enjoy reading. Here is an assertion that Barker makes that I want to discuss:
Think about abortion…Those of us who affirm a woman's freedom to decide her own reproductive future equate a human life with personhood, seeing the earlier stages of development within a spectrum leading up to a precious baby whose arrival and existence we do cherish.
—
It seems to me the real argument lies in the personhood of the unborn baby. (The best evidence pointing to unborn baby being human was given by my atheist friend Dr. Kevin Henke. Kevin brings the argument back to the very beginning of the devolopment of the baby!!! ) If it is just a piece of material that is lifeless then the pro-life crowd has no argument. However, if it is a person then the pro-choice crowd has no argument. (A great article on the Biblical passages against abortion are found in this link.)
Bernard Nathanson, M.D.
Silent Scream, The Hand of God is "semi-autobiographical…for the study of…the…demise of one system of morality…and the painful acquisition of another more coherent, more reliable [morality]…[with] the backdrop …of abortion. p. 3.
"We live in an age of fulsome nihilism; an age of death; an age in which, as author Walker Percy (a fellow physician, a pathologist who specializes in autopsying Western civilization) argued, "compassion leads to the gas chamber," or the abortion clinic, or the euthanist's office." p. 4.
"I worked hard to make abortion legal, affordable, and available on demand. In 1968, I was one of the three founders of the National Abortion Rights Action League. I ran the largest abortion clinic …and oversaw tens of thousands of abortions. I have performed thousands myself." p. 5.
"The Hippocratic Oath states the following,
I will give no deadly medicine to anyone if asked, nor suggest any such counsel; and in like manner, I will not give to a woman a pessary [a device inserted in the vagina, thought erroneously to initiate an abortion] to produce an abortion.
The oath is unambiguous on these matters." p. 48.
"The World Medical Association meeting at Geneva, in 1948, in the aftermath of the revelations of the Nazi medical experiments, revised the oath marginally to include the pledge, "I will retain the utmost respect for Human Life from conception."…in 1964 restated the theme : "The health of my patient will be my first consideration." p.50. The unborn baby in an abortion procedure is not considered a patient.
Photo credit: Getty Images
Christopher Hitchens was a celebrated essayist, debater, and social critic. A self-professed contrarian known for his dry wit, Hitchens is perhaps the best-known proponent of the "New Atheism." He died in 2011 at the age of 63.
Editor's note: This article first appeared in the January 1988 print edition of Crisis Magazine. It has been edited for brevity.
I really couldn't bring myself to accept the so-called "social clause." I had a queasy feeling about the disposability of the fetus. This queasy feeling has not gone away.
What about the feminist claim that abortion is an issue of a woman's right to control her own body?
Look, once you allow that the occupant of the womb is even potentially a life, it cuts athwart any glib invocation of "the woman's right to choose." If the unborn is a candidate member of the next generation, it means that it is society's responsibility. I used to argue that if this is denied, you might as well permit abortion in the third trimester. I wasn't as surprised as perhaps I ought to have been when some feminists—only some, and partly to annoy—said yes to that. They at least were prepared to accept their own logic, and say that the unborn is nobody's business but theirs. That is a very reactionary and selfish position, and it stems from this original evasion about the fetus being "merely" an appendage.
But it's only an evasion if we have some firm grounds for suspecting that the fetus is a human being.
True. But I think that by now we know where babies come from. And dialectics will tell you that you can't be meaningfully inhuman unless you are actually or potentially human as well. Pointless to describe a rat or a snake, say, as behaving in an inhuman fashion. I put the question like this. You see a woman kicked in the stomach. Your instinct is properly one of revulsion. You learn that the woman is pregnant. Who will reply that this discovery does not multiply their revulsion? And who will say that this is only because it makes it worse for the woman? I don't think this is just an instinctive or an emotional reaction (not that we should always distrust our instincts and emotions either). We are stuck with a basic reverence for life.
—

I was saddened to learn of the passing of Dr. Nicolaas Bloembergen and this is the third post showing my interaction with Dr. B. over the last 3 decades.
___
Nicolaas "Nico" Bloembergen (March 11, 1920 – September 5, 2017) was a Dutch–American physicist and Nobel laureate, recognized for his work in developing driving principles behind nonlinear optics for laser spectroscopy.[1] During his career, he was a professor at both Harvard University and later at the University of Arizona.
An excerpt from phone call I received from Dr. Nicolaas Bloembergen on July 1, 2016 went something like this:
Dr. B said, I wanted to call you since it is so hard to write letters. I fell and broke my hip 6 months ago. I responded, "I very humbled that you took the time to call me. It is a real honor to speak with you." Dr. B said Thank you for writing me….Next I pointed out that we corresponded way back on September 6, 1995 on the subject of abortion and religious wars but even though he didn't doubt that it happened, Dr. B had no memory of that….
Back in 1995 I had the opportunity to correspond with Nobel Prize Winner Nicolaas Bloembergen concerning the issue of abortion.
In his September 6, 1995 letter to me he wrote:
I respect your anti-abortion views, but do not attempt to impose your views on others. It is more important to be concerned with the fate of already born children than that of the unborn.
Less zealotry and more compassion for those who have different concepts of the world from yours would help make this world more livable.
I wrote him back on October 24, 1995 that I read a work by Professor J. Beckwith, Dept of Philosophy, Univ of Nevada, Las Vegas that seemed to address the issue he brought up in his letter. Here is what Dr. Beckwith wrote:
Some abortion-rights advocates, in response to pro-life arguments, emote such bumper-sticker slogans as: "Pro-choice, but personally opposed," or "Abortion is against my beliefs, but I would never dream of imposing my beliefs on others." These slogans attempt to articulate in a simple way a common avenue taken by politicians and others who want to avoid the slings and arrows that naturally follow a firm position on abortion. It is an attempt to find "a compromise" or "a middle ground"; it's a way to avoid being labeled "an extremist" of either camp.
During the 1984 presidential campaign — when questions of Geraldine Ferraro's Catholicism and its apparent conflict with her abortion-rights stance were prominent in the media — New York Governor Mario Cuomo, in a lecture delivered at the University of Notre Dame, attempted to give this "middle ground" intellectual respectability. He tried to provide a philosophical foundation for his friend's position, but failed miserably. For one cannot appeal to the fact that we live in a pluralistic society (characterized by moral pluralism/relativism) when the very question of who is part of that society (that is, whether it includes unborn children) is itself the point under dispute. Cuomo begged the question and lost the argument.
The pro-abortionist's unargued assumption of moral relativism to solve the abortion debate reveals a tremendous ignorance of the pro-life position. For the fact is that if one believes that the unborn are fully human (persons), then the unborn carried in the wombs of pro-choice women are just as human as those carried in the wombs of pro-life women. For the pro-lifer, an unborn child is no less a human person simply because the child happens to be living inside Whoopi Goldberg or Cybil Shepherd. Ideology does not change identity.
Pro-choicers ought to put at least some effort into understanding the pro-life position. When they tell pro-lifers (as they often do) that they have a right to believe what they want to believe, they are unwittingly promoting the radical tactics of Operation Rescue (OR). Think about it. If you believed that a class of persons were being murdered by methods that include dismemberment, suffocation, and burning — resulting in excruciating pain in many cases — wouldn't you be perplexed if someone tried to ease your outrage by telling you that you didn't have to participate in the murders if you didn't want to? That is exactly what pro-lifers hear when abortion-rights supporters tell them, "Don't like abortion, don't have one," or "I'm pro-choice, but personally opposed." In the mind of the pro-lifer, this is like telling an abolitionist, "Don't like slavery, don't own one," or telling Dietrich Bonhoffer, "Don't like the holocaust, don't kill a Jew."Consequently, to request that pro-lifers "shouldn't force their pro-life belief on others" while at the same time claiming that "they have a right to believe what they want to believe" is to reveal an incredible ignorance of their position.
Contrary to popular belief, the so-called "pro-choice" position is not neutral. The abortion-rights activist's claim that women should have the "right to choose" to kill their unborn fetuses amounts to denying the pro-life position that the unborn are worthy of protection. And the pro-lifer's affirmation that the unborn are fully human with a "right to life" amounts to denying the abortion-rights position that women have a fundamental right to terminate their pregnancies, since such a termination would result in a homicide. It seems, then, that appealing to moral relativism (or moral pluralism ala Mario Cuomo) to "solve" the abortion debate is an intellectual impossibility and solves nothing.
____________________________________
We can say that we want a society where no one forces their view on others, but if we are discussing who is a part of that society (that is, whether it includes unborn children) then we have to settle that question first. 

Take a look at this piece of evidence from the book WHATEVER HAPPENED TO THE HUMAN RACE? by Francis Schaeffer and C. Everett Koop at this link!
Millet Biography from Goodbye-Art Academy



FEATURED ARTIST IS MILLET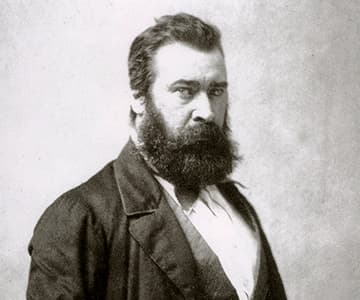 JEAN.FRANÇOIS MILLET (1814-1875)
One of the main figures of the Barbizon School, creator of one of the most emotive paintings of the 19th century: The "Angelus".
—
Francis Schaeffer
How Should We Then Live | Season 1 | Episode 7 | The Age of Non-Reason


How Should We Then Live | Season 1 | Episode 8 | The Age of Fragmentation
Whatever Happened To The Human Race? | Episode 1 | Abortion of the Human…

Whatever Happened To The Human Race? | Episode 4 | The Basis for Human D…

1984 SOUNDWORD LABRI CONFERENCE VIDEO – Q&A With Francis & Edith Schaefer

Related posts:
I have gone back and forth and back and forth with many liberals on the Arkansas Times Blog on many issues such as abortion, human rights, welfare, poverty, gun control and issues dealing with popular culture. Here is another exchange I had with them a while back. My username at the Ark Times Blog is Saline […]
By Everette Hatcher III|Posted in Francis Schaeffer, Prolife|Edit|Comments (0)
On March 17, 2013 at our worship service at Fellowship Bible Church, Ben Parkinson who is one of our teaching pastors spoke on Genesis 1. He spoke about an issue that I was very interested in. Ben started the sermon by reading the following scripture: Genesis 1-2:3 English Standard Version (ESV) The Creation of the […]
By Everette Hatcher III|Posted in Adrian Rogers, Atheists Confronted, Current Events|TaggedBen Parkinson, Carl Sagan|Edit|Comments (0)
Review of Carl Sagan book (Part 4 of series on Evolution) The Long War against God-Henry Morris, part 5 of 6 Uploaded by FLIPWORLDUPSIDEDOWN3 on Aug 30, 2010 http://www.icr.org/ http://store.icr.org/prodinfo.asp?number=BLOWA2http://store.icr.org/prodinfo.asp?number=BLOWASGhttp://www.fliptheworldupsidedown.com/blog _______________________ I got this from a blogger in April of 2008 concerning candidate Obama's view on evolution: Q: York County was recently in the news […]
By Everette Hatcher III|Posted in Atheists Confronted, Current Events, President Obama|Edit|Comments (0)
Review of Carl Sagan book (Part 3 of series on Evolution) The Long War against God-Henry Morris, part 4 of 6 Uploaded by FLIPWORLDUPSIDEDOWN3 on Aug 30, 2010 http://www.icr.org/ http://store.icr.org/prodinfo.asp?number=BLOWA2http://store.icr.org/prodinfo.asp?number=BLOWASGhttp://www.fliptheworldupsidedown.com/blog______________________________________ I got this from a blogger in April of 2008 concerning candidate Obama's view on evolution: Q: York County was recently in the news […]
By Everette Hatcher III|Posted in Atheists Confronted, Current Events, President Obama|Edit|Comments (0)
At the end of this post is a message by RC Sproul in which he discusses Sagan. Over the years I have confronted many atheists. Here is one story below: I really believe Hebrews 4:12 when it asserts: For the word of God is living and active and sharper than any two-edged sword, and piercing as far as the […]
By Everette Hatcher III|Posted in Adrian Rogers, Atheists Confronted, Current Events, Francis Schaeffer|Tagged Bill Elliff, Carl Sagan, Jodie Foster, RC Sproul|Edit|Comments (0)
Review of Carl Sagan book (Part 4 of series on Evolution) The Long War against God-Henry Morris, part 5 of 6 Uploaded by FLIPWORLDUPSIDEDOWN3 on Aug 30, 2010 http://www.icr.org/ http://store.icr.org/prodinfo.asp?number=BLOWA2http://store.icr.org/prodinfo.asp?number=BLOWASGhttp://www.fliptheworldupsidedown.com/blog _______________________ This is a review I did a few years ago. THE DEMON-HAUNTED WORLD: Science as a Candle in the Dark by Carl […]
By Everette Hatcher III|Posted in Atheists Confronted, Current Events|Edit|Comments (0)
Review of Carl Sagan book (Part 3 of series on Evolution) The Long War against God-Henry Morris, part 4 of 6 Uploaded by FLIPWORLDUPSIDEDOWN3 on Aug 30, 2010 http://www.icr.org/ http://store.icr.org/prodinfo.asp?number=BLOWA2http://store.icr.org/prodinfo.asp?number=BLOWASGhttp://www.fliptheworldupsidedown.com/blog______________________________________ I was really enjoyed this review of Carl Sagan's book "Pale Blue Dot." Carl Sagan's Pale Blue Dot by Larry Vardiman, Ph.D. […]
By Everette Hatcher III|Posted in Atheists Confronted, Current Events|Edit|Comments (0)
In today's news you will read about Kirk Cameron taking on the atheist Stephen Hawking over some recent assertions he made concerning the existence of heaven. Back in December of 1995 I had the opportunity to correspond with Carl Sagan about a year before his untimely death. Sarah Anne Hughes in her article,"Kirk Cameron criticizes […]
By Everette Hatcher III|Posted in Atheists Confronted|Edit|Comments (2)
In this post we are going to see that through the years humanist thought has encouraged artists like Michelangelo to think that the future was extremely bright versus the place today where many artist who hold the humanist and secular worldview are very pessimistic. In contrast to Michelangelo's DAVID when humanist man thought he […]
By Everette Hatcher III|Posted in Francis Schaeffer|Tagged David Leeds, J.I.PACKER, Joe Carter, Massimiliano Gioni, Michelangelo, Michelangelo's DAVID, Michelangelo's Florence Pietà, Paul McCarthy, Renaissance, Rick Pearcey, Rush Limbaugh, Tony Bartolucci|Edit|Comments (0)
_________ Antony Flew on God and Atheism Published on Feb 11, 2013 Lee Strobel interviews philosopher and scholar Antony Flew on his conversion from atheism to deism. Much of it has to do with intelligent design. Flew was considered one of the most influential and important thinker for atheism during his time before his death […]
By Everette Hatcher III|Posted in Current