My favorite Christian music artist of all time is Keith Green.
Keith Green passed away on July 28th, 1982 almost 39 years ago to the day!!! I want to remember him with a series of posts and today I have quoted below from a book about him!!!
I have read articles for years from Dan Barker, but recently I just finished the book Barker wrote entitled LIFE DRIVEN PURPOSE which was prompted by Rick Warren's book PURPOSE DRIVEN LIFE which I also read several years ago.
Dan Barker is the Co-President of the Freedom From Religion Foundation, And co-host of Freethought Radio and co-founder of The Clergy Project.
On March 19, 2022, I got an email back from Dan Barker that said:
Thanks for the insights.
Have you read my book Life Driven Purpose? To say there is no purpose OF life is not to say there is no purpose IN life. Life is immensely meaningful when you stop looking for external purpose.
Ukraine … we'll, we can no longer blame Russian aggression on "godless communism." The Russian church, as far as I know, has not denounced the war.
db
—
In the next few weeks I will be discussing the book LIFE DRIVEN PURPOSE which I did enjoy reading. Here is an assertion that Barker makes that I want to discuss:
On my Dad's side I know a lot more. I learned just a little about his mother's Cherokee and French grandparents, but thanks to the fact that his father, a Delaware Indian (or Lenape, the real name of our tribe), was quite a storyteller, we have a fuller picture of the paternal side of the family, as recounted in his memoirs, Paradise Remembered.3 In the introduction to the book, Legends of the Delaware Indians and Picture Writing, by Richard C. Adams, I found this historical note: On April 27, 1904, a general council of the Delaware tribe met at Dewey, Indian Territory, to assess the status of their claims against the government and to vote on the proposed settlement of those claims…. The council elected a committee of eleven men to discuss the issues and make a recommendation. These eleven men, who represented some of the leading families of the tribe, were: Stephen Miller, Jim Wilson, Simon Secondine, Charley Elkhair, William Smith, Arthur Armstrong, Jack Barker, John McCracken, John Kinney, Tom Lane, and John Willey."4 My great-grandfather is in that list. Jack Barker, my Dad's granddad, was part of that historic committee that voted to define the Delaware Tribe as "the 985 Registered Delawares on the Pratt Roll of 1867, taken in Kansas, and their living descendants." That 1867 census had happened when about half the tribe left the reservation in Kansas to move to Indian Territory, which became part of Oklahoma in 1906.
I have a family history that includes great, great, great, great grandparents who moved from Manchester, England in the 1700's to Virginia and to the Nashville, Tennessee area in 1830 or so.
I remember talking to my grandfather, Everette Hatcher Sr, (1903-1988), in the late 1970's and he told me of a time around 1910 at a family dinner when his great aunt was in attendance. Something was said about Lincoln or Grant and his aunt started shouting at the person who mentioned the dreaded northern name. My grandfather asked after the meal why she was so angry and it was explained to him that his great aunt was present as a youth at their family farm in Thompson Station, Tennessee when the Yankees came and took on one occasion many of their cattle and much of their food during the civil war.
I never gave that story a second thought until I mentioned it to a friend a few months ago and he went to the website https://www.thompsons-station.com/2158/History and came up with this from the history books:
During the latter stages of the Civil War, Union troops garrisoned in Nashville and Franklin frequently reconnoitered and foraged for food as far south as Thompson's Station and Spring Hill. In the spring of 1863, the Federal Army made several expeditions into the area to collect food and hay.
It then occurred to me that I had just verified a historical event that happened 150 years ago that I had heard about 2nd hand through my grandfather. Chills went up my spine.
A lot can be learned from history and archaeology!!!
(Francis Schaeffer)

Francis Schaeffer has correctly argued:
The universe was created by an infinite personal God and He brought it into existence by spoken word and made man in His own image. When man tries to reduce [philosophically in a materialistic point of view] himself to less than this [less than being made in the image of God] he will always fail and he will always be willing to make these impossible leaps into the area of nonreason even though they don't give an answer simply because that isn't what he is. He himself testifies that this infinite personal God, the God of the Old and New Testament is there.
Instead of making a leap into the area of nonreason the better choice would be to investigate the claims that the Bible is a historically accurate book and that God created the universe and reached out to humankind with the Bible.
(Tim Caldwell below)
Last week the sermon by Rev Tim Caldwell at our church FELLOWSHIP BIBLE in Little Rock was on Genesis 12 and it included these 3 verses about Israel and the Jewish people.
12 Now (A)the Lord said[a] to Abram, "Go from your country[b] and your kindred and your father's house to the land that I will show you. 2 (B)And I will make of you a great nation, and I will bless you and make your name great, so that you will be a blessing. 3 (C)I will bless those who bless you, and him who dishonors you I will curse, and (D)in you all the families of the earth shall be blessed."[c]
This passage made me think long and hard about two Jewish people who had a hard time accepting Jesus was the messiah and would bless so many millions!
EXACTLY 40 years ago my favorite singer Keith Green passed on July 28, 1982. Keith and his wife Melody were Jewish and they had a hard time accepting that Jesus was Lord. Here is how Melody put it:
Afterward we went out to eat with Todd, and he and Keith continued their ongoing arguments. "What about Philippians, chapter two?" Todd challenged. He quoted a passage that said Jesus was "in the form of God" although he came to earth as a humble servant. Because Jesus had suffered death on the cross, the Bible said, "God also hath highly exalted him, and given him a name which is above every name—" "Okay," Keith countered, "so I agree that God has exalted Jesus. But it still doesn't say he was God, directly anyway. You see, I can argue every one of your Scriptures away," Keith said self-assuredly.…As Kenn Gullikson shared, we realized that the idea in the Bible is not that a man became God, but that God himself came as a man. To us, this made a huge difference! We remembered reading something in the Old Testament, where the coming Messiah was portrayed as coming as a child, but also being a son and a Father. It was in Isaiah 9:6: "For unto us a child is born, unto us a son is given: and the government shall be upon his shoulder: and his name shall be called Wonderful, Counsellor, the mighty God, the everlasting Father, the Prince of Peace."
(Melody Green suffered a terrible blow in her life when her late husband, Keith Green, died at the age of 28 in July 1982 when the plane he was riding in crashed after takeoff in east Texas. Two of their children, 3-year-old Josiah and 2-year-old Bethany, also died in the accident, along with nine other people.Mar 19, 2015)
(The Association of Vineyard Churches, was started by Kenn Gulliksen)
It also seemed clear in the New Testament that following Jesus was the most Jewish thing a Jew could do. I was stunned to realize it was the Gentiles who were making a switch if they wanted to follow Jesus. They were being "grafted in" to the root of Judaism! And Jesus loved us all equally and set us free to love each other. New believers, 1975 On top of all that, I'd recently learned that Jesus fulfilled more than three hundred Old Testament prophecies about the coming Messiah, including where he'd be born and that he would be rejected. One prophecy in particular impacted me deeply. I couldn't believe it was actually in the Old Testament. I'd never heard it before. The Jewish prophet Isaiah talked about the kind of punishment and death the Messiah would suffer. That when he died he would be pierced for our sins. Pierced! That word blew my mind. If that didn't describe Roman crucifixion, I don't know what did! There was no prescribed Jewish death penalty that included piercing. Isaiah said that he also carried all of our sins, paying the death penalty for all of mankind to gain forgiveness at once. He was the spotless Lamb of God. Our eternal sacrifice. It's what Kenn was explaining last week. And there it was in chapter fifty-three straight from Isaiah's mouth. He was pierced through for our transgressions,
He was crushed for our iniquities;
The chastening for our well-being fell upon Him,
And by His scourging we are healed. (v. 5 NASB) I read it over and over again all week, and it pretty much sealed the deal for me on the Jewish side of things. But maybe the most important thing I learned was that the closer I got to Jesus, the more my spirit was coming alive. The more I opened my heart to him, the more excitement and genuine peace I was experiencing—more than I'd ever known. By the end of the week, I had what my heart needed. I'd made what I called the "Jewish Connection." I wouldn't be betraying my Judaism to follow Jesus. I just needed to receive the gift that Kenn talked about. Yes, I would receive Jesus as the promised Jewish Messiah for all of mankind. It suddenly seemed foolish not to.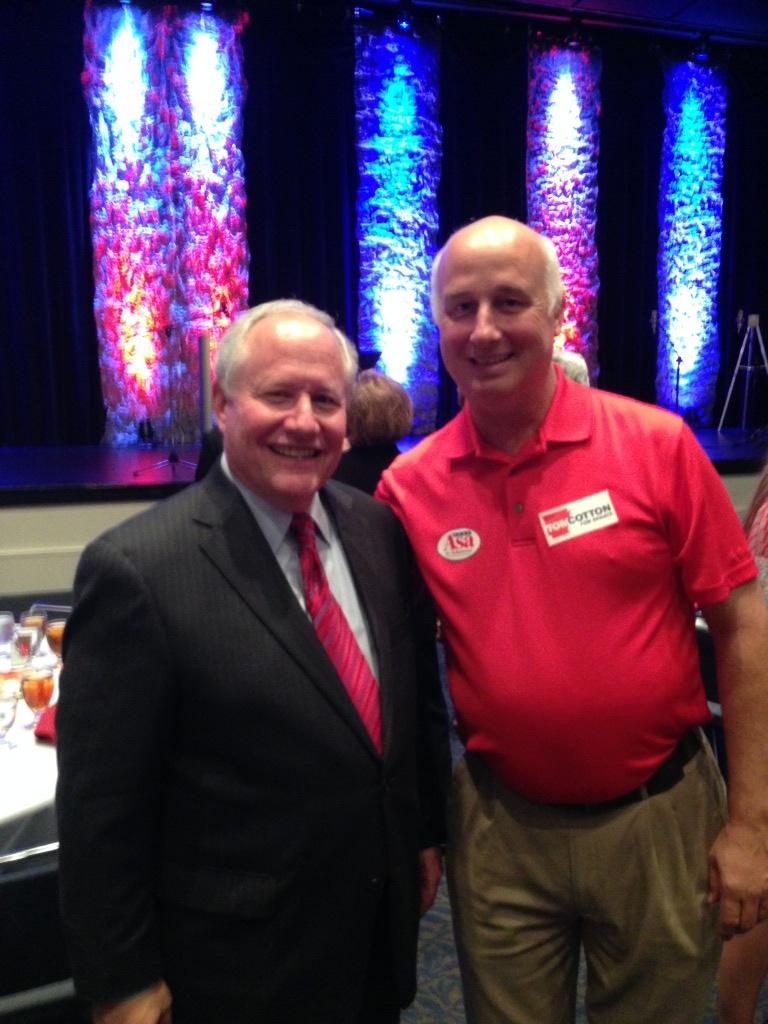 My pic with Bill Kristol
On Friday July 18, 2014 I had the opportunity to visit personally with Bill Kristol who is the founder of THE WEEKLY STANDARD MAGAZINE. I told him that I had the privilege to correspond with both his father, Irving Kristol, and his father's good friend Daniel Bell back in 1995. I actually gave him a copy of both letters I received back from them and he read them both as we stood there. I told him that those copies were his to keep, and he thanked me for that.
I went on to explain how the correspondence started. I had come across several quotes from Daniel Bell when I was reading the books HOW SHOULD WE THEN LIVE? and WHATEVER HAPPENED TO THE HUMAN RACE? by Francis Schaeffer (and this second book was co-authored by Dr. C. Everett Koop). Dr. Koop's name caught Mr. Kristol's attention and he said he found that interesting. I pointed out those quotes by Bell led me to eventually begin a correspondence with both Bell and Kristol's father Irving on the subject of what the Old Testament scriptures have to say about the Jews being returned from all over the world back to the land of Israel.
Daniel Bell (May 10, 1919 – January 25, 2011)[1]
Irving Kristol (/ˈkrɪstəl/; January 22, 1920 – September 18, 2009)
Finally, I asked how his mother was doing and he said that she was doing very well in fact. I told him how much I respected her work as a historian.
Let me make a few observations about Irving Kristol who I was very fascinated with because of some of his comments in the 1990′s. First, isn't it worth noting that the Old Testament predicted that the Jews would regather from all over the world and form a new reborn nation of Israel. Second, it was also predicted that the nation of Israel would become a stumbling block to the whole world. Third, it was predicted that the Hebrew language would be used again as the Jews first language even though we know in 1948 that Hebrew at that time was a dead language!!!Fourth, it was predicted that the Jews would never again be removed from their land.
You want some evidence that indicates that the Bible is true? Here is a good place to start and that is taking a closer look at the archaeology of the Old Testament times. Is the Bible historically accurate? Here are some of the posts I have done in the past on the subject: 1. The Babylonian Chronicle, of Nebuchadnezzars Siege of Jerusalem, 2. Hezekiah's Siloam Tunnel Inscription. 3. Taylor Prism (Sennacherib Hexagonal Prism), 4. Biblical Cities Attested Archaeologically. 5. The Discovery of the Hittites, 6.Shishak Smiting His Captives, 7. Moabite Stone, 8. Black Obelisk of Shalmaneser III, 9A Verification of places in Gospel of John and Book of Acts., 9B Discovery of Ebla Tablets. 10. Cyrus Cylinder, 11. Puru "The lot of Yahali" 9th Century B.C.E., 12. The Uzziah Tablet Inscription, 13. The Pilate Inscription, 14. Caiaphas Ossuary, 14 B Pontius Pilate Part 2, 14c. Three greatest American Archaeologists moved to accept Bible's accuracy through archaeology.,
—
Francis Schaeffer
How Should We Then Live | Season 1 | Episode 7 | The Age of Non-Reason


How Should We Then Live | Season 1 | Episode 8 | The Age of Fragmentation
Whatever Happened To The Human Race? | Episode 1 | Abortion of the Human…

Whatever Happened To The Human Race? | Episode 4 | The Basis for Human D…

1984 SOUNDWORD LABRI CONFERENCE VIDEO – Q&A With Francis & Edith Schaefer

Featured artist is HALS
FRANS HALS (c.1580-1666)
One of the most important portraitists ever, his lively brushwork influenced early impressionism.
Related posts:
I have gone back and forth and back and forth with many liberals on the Arkansas Times Blog on many issues such as abortion, human rights, welfare, poverty, gun control and issues dealing with popular culture. Here is another exchange I had with them a while back. My username at the Ark Times Blog is Saline […]
By Everette Hatcher III|Posted in Francis Schaeffer, Prolife|Edit|Comments (0)
On March 17, 2013 at our worship service at Fellowship Bible Church, Ben Parkinson who is one of our teaching pastors spoke on Genesis 1. He spoke about an issue that I was very interested in. Ben started the sermon by reading the following scripture: Genesis 1-2:3 English Standard Version (ESV) The Creation of the […]
By Everette Hatcher III|Posted in Adrian Rogers, Atheists Confronted, Current Events|TaggedBen Parkinson, Carl Sagan|Edit|Comments (0)
Review of Carl Sagan book (Part 4 of series on Evolution) The Long War against God-Henry Morris, part 5 of 6 Uploaded by FLIPWORLDUPSIDEDOWN3 on Aug 30, 2010 http://www.icr.org/ http://store.icr.org/prodinfo.asp?number=BLOWA2http://store.icr.org/prodinfo.asp?number=BLOWASGhttp://www.fliptheworldupsidedown.com/blog _______________________ I got this from a blogger in April of 2008 concerning candidate Obama's view on evolution: Q: York County was recently in the news […]
By Everette Hatcher III|Posted in Atheists Confronted, Current Events, President Obama|Edit|Comments (0)
Review of Carl Sagan book (Part 3 of series on Evolution) The Long War against God-Henry Morris, part 4 of 6 Uploaded by FLIPWORLDUPSIDEDOWN3 on Aug 30, 2010 http://www.icr.org/ http://store.icr.org/prodinfo.asp?number=BLOWA2http://store.icr.org/prodinfo.asp?number=BLOWASGhttp://www.fliptheworldupsidedown.com/blog______________________________________ I got this from a blogger in April of 2008 concerning candidate Obama's view on evolution: Q: York County was recently in the news […]
By Everette Hatcher III|Posted in Atheists Confronted, Current Events, President Obama|Edit|Comments (0)
At the end of this post is a message by RC Sproul in which he discusses Sagan. Over the years I have confronted many atheists. Here is one story below: I really believe Hebrews 4:12 when it asserts: For the word of God is living and active and sharper than any two-edged sword, and piercing as far as the […]
By Everette Hatcher III|Posted in Adrian Rogers, Atheists Confronted, Current Events, Francis Schaeffer|Tagged Bill Elliff, Carl Sagan, Jodie Foster, RC Sproul|Edit|Comments (0)
Review of Carl Sagan book (Part 4 of series on Evolution) The Long War against God-Henry Morris, part 5 of 6 Uploaded by FLIPWORLDUPSIDEDOWN3 on Aug 30, 2010 http://www.icr.org/ http://store.icr.org/prodinfo.asp?number=BLOWA2http://store.icr.org/prodinfo.asp?number=BLOWASGhttp://www.fliptheworldupsidedown.com/blog _______________________ This is a review I did a few years ago. THE DEMON-HAUNTED WORLD: Science as a Candle in the Dark by Carl […]
By Everette Hatcher III|Posted in Atheists Confronted, Current Events|Edit|Comments (0)
Review of Carl Sagan book (Part 3 of series on Evolution) The Long War against God-Henry Morris, part 4 of 6 Uploaded by FLIPWORLDUPSIDEDOWN3 on Aug 30, 2010 http://www.icr.org/ http://store.icr.org/prodinfo.asp?number=BLOWA2http://store.icr.org/prodinfo.asp?number=BLOWASGhttp://www.fliptheworldupsidedown.com/blog______________________________________ I was really enjoyed this review of Carl Sagan's book "Pale Blue Dot." Carl Sagan's Pale Blue Dot by Larry Vardiman, Ph.D. […]
By Everette Hatcher III|Posted in Atheists Confronted, Current Events|Edit|Comments (0)
In today's news you will read about Kirk Cameron taking on the atheist Stephen Hawking over some recent assertions he made concerning the existence of heaven. Back in December of 1995 I had the opportunity to correspond with Carl Sagan about a year before his untimely death. Sarah Anne Hughes in her article,"Kirk Cameron criticizes […]
By Everette Hatcher III|Posted in Atheists Confronted|Edit|Comments (2)
In this post we are going to see that through the years humanist thought has encouraged artists like Michelangelo to think that the future was extremely bright versus the place today where many artist who hold the humanist and secular worldview are very pessimistic. In contrast to Michelangelo's DAVID when humanist man thought he […]
By Everette Hatcher III|Posted in Francis Schaeffer|Tagged David Leeds, J.I.PACKER, Joe Carter, Massimiliano Gioni, Michelangelo, Michelangelo's DAVID, Michelangelo's Florence Pietà, Paul McCarthy, Renaissance, Rick Pearcey, Rush Limbaugh, Tony Bartolucci|Edit|Comments (0)
_________ Antony Flew on God and Atheism Published on Feb 11, 2013 Lee Strobel interviews philosopher and scholar Antony Flew on his conversion from atheism to deism. Much of it has to do with intelligent design. Flew was considered one of the most influential and important thinker for atheism during his time before his death […]
By Everette Hatcher III|Posted in Current