I have read articles for years from Dan Barker, but recently I just finished the book Barker wrote entitled LIFE DRIVEN PURPOSE which was prompted by Rick Warren's book PURPOSE DRIVEN LIFE which I also read several years ago.
Dan Barker is the Co-President of the Freedom From Religion Foundation, And co-host of Freethought Radio and co-founder of The Clergy Project.
On March 19, 2022, I got an email back from Dan Barker that said:
Thanks for the insights.
Have you read my book Life Driven Purpose? To say there is no purpose OF life is not to say there is no purpose IN life. Life is immensely meaningful when you stop looking for external purpose.
Ukraine … we'll, we can no longer blame Russian aggression on "godless communism." The Russian church, as far as I know, has not denounced the war.
db
—
In the next few weeks I will be discussing the book LIFE DRIVEN PURPOSE which I did enjoy reading. Here is an assertion that Barker makes that I want to discuss:
A humanistic view of human nature is neither negative nor positive. It is realistic and optimistic. We recognize that we all fall somewhere across a spectrum of characteristics and tendencies that are a mix of violence and empathy. Some will lean more toward "saint" and others toward "sinner," but except for a few people at the far end of the curve who are truly mentally unhealthy, most of us are neither wholly "bad" nor wholly "good" by nature. We are wholly human. (I put "bad" and "good" in quotes because they seem to smack of cosmic judgment, not measurable biological traits.) However, even if we aren't wholly "good" by nature, we have the potential to be wholly moral if we make it a priority to act in ways that minimize harm. Unlike most believers, most humanists are optimistic about human nature.
The best way to answer this is to quote from the first 9 minutes of episode 7 of HOW SHOULD WE THEN LIVE?
—
Francis Schaeffer
How Should We Then Live | Season 1 | Episode 7 | The Age of Non-Reason

The history of the nonchristian Philosophers up until the 18th century went like this:
Here is a circle which stands for what the unified and true knowledge of the universe is. The next man would say "No," and cross out the circle. He then would say "Here is the circle." Then the next man would say "No,"and cross out that circle. Then he would make his circle and the next man would cross it out and make his circle. This continued through the centuries. They never found the circle, but they optimistically thought someone would beginning with man himself and on the basis of man's reasoning alone.
Then the endless rows of circles through the and the crossing out were broken and a drastic shift came because the humanist ideal had failed. Humanist man gave up his optimism for pessimism. He gave up the hope of an unified answer and this makes modern man who he is.
Jean-Jacques Rousseau philosopher from Geneva, he lived in the 18th century, he thought that primitive man, the noble savage to be superior to civilized man. He felt that the enlightenment with its emphasis on reason, the arts and the sciences caused man to lose more than he gained.
Rousseau saw the restraints of civilization as evils.
"Man was born free but everywhere he is in chains!" He demanded not just freedom from God or the Bible but freedom from any kind of restraint, freedom from culture, freedom from authority, absolute freedom for the individual with the individual at the center of the universe. When applied to the individual his concept led to the bohemian ideal where the hero was the man who fought all standards, all values and all restraints of society.
When Rousseau applied his concept of autonomous freedom to society his concept would not function. "Whosoever refuses to obey the general shall be compelled to do so by the whole body." Rousseauwrote this in 1762. This means nothing less than that he will be forced to be free. In other words tyranny. A tyranny that carried its position to its logical conclusion in the reign of terror in the French Revolution. Robespierre, the king of the terror, saw himself putting Rousseau's ideas into practice.
—-
I got to correspond with Edward O. Wilson from 1994 to 2020, and I read many of his books. Below I quote from The Social Conquest of Earth, 2012, Liveright Publishing Corporation, New York, ISBN 0-87140-363-3, and Dr. Wilson in a letter to me recommended that I read The Meaning of Human Existence, 2014, and that was my favorite book and I read it four times!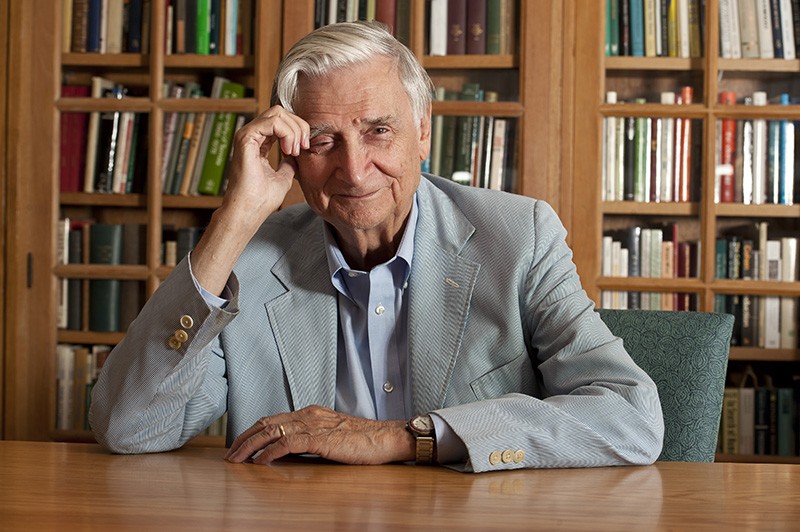 Harvard University Professor E.O. Wilson in his office at Harvard University in Cambridge, MA. USACredit: Rick Friedman/Corbis via Getty.
Open Letter #16 to Ricky Gervais on comparison of the Tony of AFTER LIFE to the Solomon of ECCLESIASTES, "No point to anything is there really? Where do they bury dog crap? That is where we all going to end up. We are all pieces of crap." (The tweet announcing this post was liked by Ricky Gervais and 17,159 people saw it!)
On Saturday April 18, 2020 at 6pm in London and noon in Arkansas, I had a chance to ask Ricky Gervais a question on his Twitter Live broadcast which was "Is Tony a Nihilist?" At the 20:51 mark Ricky answers my question. Below is the video:

Robert Foley quote
; I think that Darwinism is one of the least adaptive beliefs in the world as it is basically saying that we are not important in the big scheme of things.
I agree with Dr. Foley that evolution puts people in their current mindset and that is we are not special in the big scheme of things in life UNDER THE SUNas Solomon puts it in ECCLESIASTES.
Ecclesiastes 3: 18-21
18 I said in my heart with regard to the children of man that God is testing them that they may see that they themselves are but beasts. 19 For what happens to the children of man and what happens to the beasts is the same; as one dies, so dies the other. They all have the same breath, and man has no advantage over the beasts, for all is vanity.[n] 20 All go to one place. All are from the dust, and to dust all return.21 Who knows whether the spirit of man goes upward and the spirit of the beast goes down into the earth?
If looking at things with the limited perspective of LIFE UNDER THE SUN then it appears that life will end for good and we will return to the dirt. This is also pictured vividly in the 5th episode of the second season of AFTER LIFE:
Tony: How long have you been posting your mail in a dog waste bin?
Older Gentleman: About a year I would say.
Tony: It says "Dog waste" on it.
Older Gentleman: yeah but my eyes are shot.
Tony: What did you think the smell was? Wasn't that a clue?
Older Gentleman: Yeah. I thought it was me. I have no one to be hygienic for. No point is there. No one to wash for.
Tony: Yourself maybe?
Older Gentleman: No point is there. No point to anything is there really? Where do they take dog crap? They probably bury it don't they? That's where we all are going to end up. We are all just future [dog crap]. I have no self esteem.
Edward O. Wilson takes a look at the nihilism of Paul Gauguin
Here is a portion of a letter I wrote to Dr. Wilson:
I know that I just wrote you recently but I have read your book THE MEANING OF HUMAN EXISTENCE 4 times now and it keeps bringing me back to the Book of Ecclesiastes. Today is February 2nd, GROUNDHOG DAY and I am reminded of the Bill Murray movie GROUNDHOG DAY. In that movie he can't get out of Groundhog Day until he gets it all figured out and that is how I feel about your book THE MEANING OF HUMAN EXISTENCE. In both that book and THE SOCIAL CONQUEST OF EARTH you discuss Paul Gauguin.
Here are your conclusions on Gauguin's journey:
AND AS FOR YOU, PAUL GAUGUIN, why did you write those lines on your painting? Of course, the ready answer I suppose is that you wanted to be very clear about the symbolization of the great range of human activity depicted in your Tahitian panorama, just in case someone might miss the point. But I sense there was something more. Perhaps you asked the three questions in such a way to imply that no answers exist, either in the civilized world you rejected and left behind or in the primitive world you adopted in order to find peace. Or again, perhaps you meant that art can go no further than what you have done; and all that was left for you to do personally was express the troubling questions in script. Let me suggest yet another reason for the mystery you left us, one not necessarily in conflict with these other conjectures. I think what you wrote is an exclamation of triumph. You had lived out your passion to travel far, to discover and embrace novel styles of visual art, to ask the questions in a new way, and from all that createan authentically original work. In this sense your career is one for the ages; it was not paid out in vain. In our own time, by bringing rational analysis and art together and joining science and humanities in partnership, we have drawn closer to the answers you sought.
I have to accept your first conclusion concerning Gauguin and that is the pessimistic and nihilistic one. The speculation that possibly Gauguin wrote an "exclamation of triumph" is not realistic at all because he was looking UNDER THE SUN for answers to these 3 big questions and they must be given spiritual answers. The ironic thing is that if the spiritual quest finds fulfilling answers then a more abundant life can be lived on this earth.
Gauguin's conclusion is logical, and Francis Schaeffer says that Woody Allen has come to this same nihilistic conclusion.
Schaeffer noted:
One of the most striking developments in the last half-century is the growth of a profound pessimism among both the well-educated and less-educated people. The thinkers in our society have been admitting for a long time that they have no final answers at all. Take Woody Allen, for example. Most people know his as a comedian, but he has thought through where mankind stands after the "religious answers" have been abandoned. In an article in Esquire (May 1977), he says that man is left with:
… alienation, loneliness [and] emptiness verging on madness…. The fundamental thing behind all motivation and all activity is the constant struggle against annihilation and against death. It's absolutely stupefying in its terror, and it renders anyone's accomplishments meaningless. As Camus wrote, it's not only that he (the individual) dies, or that man (as a whole) dies, but that you struggle to do a work of art that will last and then you realize that the universe itself is not going to exist after a period of time. Until those issues are resolved within each person – religiously or psychologically or existentially – the social and political issues will never be resolved, except in a slapdash way.
Allen sums up his view in his film Annie Hall with these words: "Life is divided into the horrible and the miserable."
Many would like to dismiss this sort of statement as coming from one who is merely a pessimist by temperament, one who sees life without the benefit of a sense of humor. Woody Allen does not allow us that luxury. He speaks as a human being who has simply looked life in the face and has the courage to say what he sees. If there is no personal God, nothing beyond what our eyes can see and our hands can touch, then Woody Allen is right: life is both meaningless and terrifying. As the famous artist Paul Gauguin wrote on his last painting shortly before he tried to commit suicide: "Whence come we? What are we? Whither do we go?" The answers are nowhere, nothing, and nowhere.
https://bidding-test.devops.iponweb.net/automattic/dio-passback.html
(END OF LETTER TO DR. Wilson)
——-
We have a similar situation in Tony Johnson's life in AFTERLIFE because Paul Gauguin's three questions are constantly contemplated by Tony:
"Whence come we?
What are we?
Whither do we go?"
Sadly in a atheist point of view the answers areNOWHERE, NOTHING and NOWHERE.
In the last years of his life King Solomon took time to look back and then he wrote the BOOK OF ECCLESIASTES. Solomon did believe in God but in this book he took a look at life "UNDER THE SUN." Christian scholar Ravi Zacharias has noted, "The key to understanding the Book of Ecclesiastes is the term 'UNDER THE SUN.' What that literally means is you lock God out of a closed system, and you are left with only this world of time plus chance plus matter."
Francis Schaeffer comments on the Book of Ecclesiastes and the subject of death:
Ecclesiastes 9:11
11 Again I saw that under the sun the race is not to the swift, nor the battle to the strong, nor bread to the wise, nor riches to the intelligent, nor favor to those with knowledge, but time and chance happen to them all.
Chance rules. If a man starts out only from himself and works outward it must eventually if he is consistent seem so that only chance rules and naturally in such a setting you can not expect him to have anything else but finally a hate of life.
Ecclesiastes 2:17-18a
17 So I hated life, because what is done under the sun was grievous to me, for all is vanity and a striving after wind. 18 I hated all my toil in which I toil under the sun…
That first great cry "So I hated life." Naturally if you hate life you long for death and you find him saying this in Ecclesiastes 4:2-3:
2 And I thought the dead who are already dead more fortunate than the living who are still alive. 3 But better than both is he who has not yet been and has not seen the evil deeds that are doneunder the sun.
He lays down an order. It is best never have to been. It is better to be dead, and worse to be alive. But like all men and one could think of the face of Vincent Van Gogh in his final paintings as he came to hate life and you watch something die in his self portraits, the dilemma is double because as one is consistent and one sees life as a game of chance, one must come in a way to hate life. Yet at the same time men never get beyond the fear to die. Solomon didn't either. So you find him in saying this.
Ecclesiastes 2:14-15
14 The wise person has his eyes in his head, but the fool walks in darkness. And yet I perceived that the same event happens to all of them. 15 Then I said in my heart, "What happens to the fool will happen to me also. Why then have I been so very wise?" And I said in my heart that this also is vanity.
The Hebrew is stronger than this and it says "it happens EVEN TO ME," Solomon on the throne, Solomon the universal man. EVEN TO ME, even to Solomon.
Ecclesiastes 3:18-21
18 I said in my heart with regard to the children of man that God is testing them that they may see that they themselves are but beasts. 19 For what happens to the children of man and what happens to the beasts is the same; as one dies, so dies the other. They all have the same breath, and man has no advantage over the beasts, for all is vanity.[n] 20 All go to one place. All are from the dust, and to dust all return.21 Who knows whether the spirit of man goes upward and the spirit of the beast goes down into the earth?
What he is saying is as far as the eyes are concerned everything grinds to a stop at death.
Ecclesiastes 4:16
https://bidding-test.devops.iponweb.net/automattic/dio-passback.html
16 There was no end of all the people, all of whom he led. Yet those who come later will not rejoice in him. Surely this also is vanity and a striving after wind.
That is true. There is no place better to feel this than here in Switzerland. You can walk over these hills and men have walked over these hills for at least 4000 years and when do you know when you have passed their graves or who cares? It doesn't have to be 4000 years ago. Visit a cemetery and look at the tombstones from 40 years ago. Just feel it. IS THIS ALL THERE IS? You can almost see Solomon shrugging his shoulders.
Ecclesiastes 8:8
8 There is no man that hath power over the spirit to retain the spirit; neither hath he power in the day of death: and there is no discharge in that war; neither shall wickedness deliver those that are given to it. (King James Version)
A remarkable two phrase. THERE IS NO DISCHARGE IN THAT WAR or you can translate it "no casting of weapons in that war." Some wars they come to the end. Even the THIRTY YEARS WAR (1618-1648) finally finished, but this is a war where there is no casting of weapons and putting down the shield because all men fight this battle and one day lose. But more than this he adds, WICKEDNESS WON'T DELIVER YOU FROM THAT FIGHT. Wickedness delivers men from many things, from tedium in a strange city for example. But wickedness won't deliver you from this war. It isn't that kind of war. More than this he finally casts death in the world of chance.
Ecclesiastes 9:12
12 For man does not know his time. Like fish that are taken in an evil net, and like birds that are caught in a snare, so the children of man are snared at an evil time, when it suddenly falls upon them.
Death can come at anytime. Death seen merely by the eye of man between birth and death and UNDER THE SUN. Death too is a thing of chance. Albert Camus speeding in a car with a pretty girl at his side and then Camus dead. Lawrence of Arabiacoming up over a crest of a hill 100 miles per hour on his motorcycle and some boys are standing in the road and Lawrence turns aside and dies.
Surely between birth and death these things are chance. Modern man adds something on top of this and that is the understanding that as the individual man will dies by chance so one day the human race will die by chance!!! It is the death of the human race that lands in the hand of chance and that is why men grew sad when they read Nevil Shute's book ON THE BEACH.
__________
By the way, the final chapter of Ecclesiastes finishes with Solomon emphasizing that serving God is the only proper response of man. Solomon looks above the sun and brings God back into the picture. I am hoping that your good friend Woody Allen will also come to that same conclusion that Solomon came to concerning the meaning of life and man's proper place in the universe in Ecclesiastes 12:13-14:
13 Now all has been heard;
here is the conclusion of the matter:
Fear God and keep his commandments,
for this is the whole duty of man.
14 For God will bring every deed into judgment,
including every hidden thing,
whether it is good or evil.
—
END OF POST ON MY BLOG
How Should We Then Live | Season 1 | Episode 8 | The Age of Fragmentation
Whatever Happened To The Human Race? | Episode 1 | Abortion of the Human…

Whatever Happened To The Human Race? | Episode 4 | The Basis for Human D…

1984 SOUNDWORD LABRI CONFERENCE VIDEO – Q&A With Francis & Edith Schaefer

Featured artist is ROSSETTI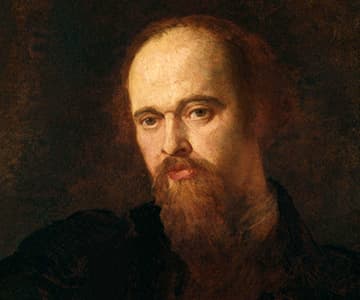 DANTE GABRIEL ROSSETTI (1828-1882)
Perhaps the key figure in the pre-Raphaelite movement, Rossetti left the poetry to focus on classic painting with a style that influenced the symbolism.
Related posts:
I have gone back and forth and back and forth with many liberals on the Arkansas Times Blog on many issues such as abortion, human rights, welfare, poverty, gun control and issues dealing with popular culture. Here is another exchange I had with them a while back. My username at the Ark Times Blog is Saline […]
By Everette Hatcher III|Posted in Francis Schaeffer, Prolife|Edit|Comments (0)
On March 17, 2013 at our worship service at Fellowship Bible Church, Ben Parkinson who is one of our teaching pastors spoke on Genesis 1. He spoke about an issue that I was very interested in. Ben started the sermon by reading the following scripture: Genesis 1-2:3 English Standard Version (ESV) The Creation of the […]
By Everette Hatcher III|Posted in Adrian Rogers, Atheists Confronted, Current Events|TaggedBen Parkinson, Carl Sagan|Edit|Comments (0)
Review of Carl Sagan book (Part 4 of series on Evolution) The Long War against God-Henry Morris, part 5 of 6 Uploaded by FLIPWORLDUPSIDEDOWN3 on Aug 30, 2010 http://www.icr.org/ http://store.icr.org/prodinfo.asp?number=BLOWA2http://store.icr.org/prodinfo.asp?number=BLOWASGhttp://www.fliptheworldupsidedown.com/blog _______________________ I got this from a blogger in April of 2008 concerning candidate Obama's view on evolution: Q: York County was recently in the news […]
By Everette Hatcher III|Posted in Atheists Confronted, Current Events, President Obama|Edit|Comments (0)
Review of Carl Sagan book (Part 3 of series on Evolution) The Long War against God-Henry Morris, part 4 of 6 Uploaded by FLIPWORLDUPSIDEDOWN3 on Aug 30, 2010 http://www.icr.org/ http://store.icr.org/prodinfo.asp?number=BLOWA2http://store.icr.org/prodinfo.asp?number=BLOWASGhttp://www.fliptheworldupsidedown.com/blog______________________________________ I got this from a blogger in April of 2008 concerning candidate Obama's view on evolution: Q: York County was recently in the news […]
By Everette Hatcher III|Posted in Atheists Confronted, Current Events, President Obama|Edit|Comments (0)
At the end of this post is a message by RC Sproul in which he discusses Sagan. Over the years I have confronted many atheists. Here is one story below: I really believe Hebrews 4:12 when it asserts: For the word of God is living and active and sharper than any two-edged sword, and piercing as far as the […]
By Everette Hatcher III|Posted in Adrian Rogers, Atheists Confronted, Current Events, Francis Schaeffer|Tagged Bill Elliff, Carl Sagan, Jodie Foster, RC Sproul|Edit|Comments (0)
Review of Carl Sagan book (Part 4 of series on Evolution) The Long War against God-Henry Morris, part 5 of 6 Uploaded by FLIPWORLDUPSIDEDOWN3 on Aug 30, 2010 http://www.icr.org/ http://store.icr.org/prodinfo.asp?number=BLOWA2http://store.icr.org/prodinfo.asp?number=BLOWASGhttp://www.fliptheworldupsidedown.com/blog _______________________ This is a review I did a few years ago. THE DEMON-HAUNTED WORLD: Science as a Candle in the Dark by Carl […]
By Everette Hatcher III|Posted in Atheists Confronted, Current Events|Edit|Comments (0)
Review of Carl Sagan book (Part 3 of series on Evolution) The Long War against God-Henry Morris, part 4 of 6 Uploaded by FLIPWORLDUPSIDEDOWN3 on Aug 30, 2010 http://www.icr.org/ http://store.icr.org/prodinfo.asp?number=BLOWA2http://store.icr.org/prodinfo.asp?number=BLOWASGhttp://www.fliptheworldupsidedown.com/blog______________________________________ I was really enjoyed this review of Carl Sagan's book "Pale Blue Dot." Carl Sagan's Pale Blue Dot by Larry Vardiman, Ph.D. […]
By Everette Hatcher III|Posted in Atheists Confronted, Current Events|Edit|Comments (0)
In today's news you will read about Kirk Cameron taking on the atheist Stephen Hawking over some recent assertions he made concerning the existence of heaven. Back in December of 1995 I had the opportunity to correspond with Carl Sagan about a year before his untimely death. Sarah Anne Hughes in her article,"Kirk Cameron criticizes […]
By Everette Hatcher III|Posted in Atheists Confronted|Edit|Comments (2)
In this post we are going to see that through the years humanist thought has encouraged artists like Michelangelo to think that the future was extremely bright versus the place today where many artist who hold the humanist and secular worldview are very pessimistic. In contrast to Michelangelo's DAVID when humanist man thought he […]
By Everette Hatcher III|Posted in Francis Schaeffer|Tagged David Leeds, J.I.PACKER, Joe Carter, Massimiliano Gioni, Michelangelo, Michelangelo's DAVID, Michelangelo's Florence Pietà, Paul McCarthy, Renaissance, Rick Pearcey, Rush Limbaugh, Tony Bartolucci|Edit|Comments (0)
_________ Antony Flew on God and Atheism Published on Feb 11, 2013 Lee Strobel interviews philosopher and scholar Antony Flew on his conversion from atheism to deism. Much of it has to do with intelligent design. Flew was considered one of the most influential and important thinker for atheism during his time before his death […]
By Everette Hatcher III|Posted in Current