—
Here is the link to the CNN STORY.. Sad that CNN's first 6 stories were about what a shame it is the Supreme Court is allowing states to protect infant life now!! (As is 1:16 am CST the story has risen to 6th behind 5 stories on January 6 show hearing by NEVER TRUMPERS.!)
Texas-Mexico border chaos: At least 46 migrants found dead in San Antonio inside 18-wheeler, reports say
Arrests and deportations of migrants have plummeted under the Biden administration as it faces pressure from states like Texas over immigration policy
At least 46 undocumented migrants were found dead in a tractor-trailer in San Antonio, Texas and more than a dozen were hospitalized, authorities said. 
Crews were at the 9600 block of Quintana Road where an 18-wheeler containing up to 100 migrants inside was found abandoned, Fox San Antonio reported. The discovery is part of what is believed to be a human smuggling operation. 
"This is nothing short of a horrific human tragedy," San Antonio Mayor Ron Nirenberg said Monday night near where the location where the tractor-trailer was found.
Authorities at the scene confirmed 46 individuals were found deceased, none of which were children. Officials did not say whether the individuals had migrated from Mexico or elsewhere.
BIDEN'S NOMINEE TO BE ICE DIRECTOR WITHDRAWS FROM CONSIDERATION
"The plight of migrants seeking refuge is always a humanitarian crisis but tonight we are dealing with a horrific human tragedy," the mayor added. 
Sixteen individuals from the tractor-trailer were transported to the hospital, including 12 adults and four children.
"We hope those responsible for putting these people in such inhumane conditions are prosecuted to the fullest extent of the law," the mayor said. 
San Antonio Police Department Chief William McManus said a nearby worker notified authorities about the tractor-trailer shortly before 6 p.m. Upon arriving to the scene, officials found dozens of deceased inside the back of the transport vehicle.
"This is now a federal investigation," McManus said. The police chief also said at least three people were in custody but did not specify if the individuals were suspects in the investigation.
All the deceased victims had evidence of heat-related causes of death and the survivors who were transported to the hospital were similarly suffering heat stroke, exhaustion, and dehydration, he said.
McManus clarified the tractor-trailer was refrigerated, however, the refrigeration system was not functioning. 
He also said there was no drinkable water found inside the trailer. 
Fox News has reached out to the Department of Homeland Security.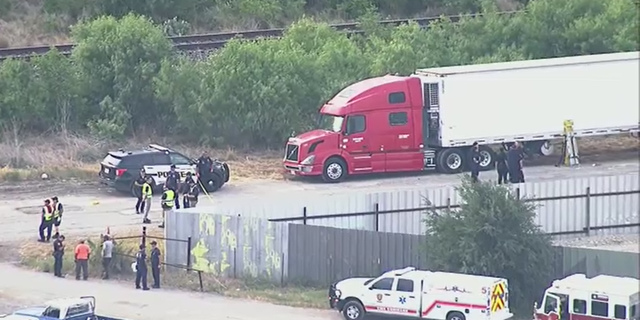 The San Antonio Fire Department similarly described a nightmarish scene.
"We're not supposed to open up a truck and see stacks of bodies in there," an official said.
Rep. Tony Gonzales, a Republican who represents Texas, tweeted about the incident.
"Today in San Antonio it was 102 degrees. Imagine being abandoned inside an 18-wheeler left to die – 42 people died today – will @AliMayorkas even mention their names?" . 
Texas Gov. Greg Abbott put the death on President Biden, who has been criticized for not doing enough to secure the southern border. 
"At Least 42 People Found Dead Inside Truck Carrying Migrants In Texas. These deaths are on Biden," Abbott tweeted Monday evening. "They are a result of his deadly open border policies. They show the deadly consequences of his refusal to enforce the law."
Fox News' Lorraine Taylor contributed to this report.
February 28, 2021
President Biden c/o The White House 1600 Pennsylvania Avenue NW Washington, DC 20500
Dear Mr. President,
The federal government debt is growing so much that it is endangering us because if things keep going like they are now we will not have any money left for the national defense because we are so far in debt as a nation. We have been spending so much on our welfare state through food stamps and other programs that I am worrying that many of our citizens are becoming more dependent on government and in many cases they are losing their incentive to work hard because of the welfare trap the government has put in place. Other nations in Europe have gone down this road and we see what mess this has gotten them in. People really are losing their faith in big government and they want more liberty back. It seems to me we have to get back to the founding  principles that made our country great.  We also need to realize that a big government will encourage waste and corruption. The recent scandals in our government have proved my point. In fact, the jokes you made at Ohio State about possibly auditing them are not so funny now that reality shows how the IRS was acting more like a monster out of control. Also raising taxes on the job creators is a very bad idea too. The Laffer Curve clearly demonstrates that when the tax rates are raised many individuals will move their investments to places where they will not get taxed as much.
I have written about 66 heroes of mine in the House of Representatives that voted "no" on the Obama/Biden debt ceiling increase request in 2011. I believe we must have representatives that will vote to restore our freedom and that means voting to cut spending and lower taxes like the Patriots of long ago wanted. Today the Tea Party represented my views the most closely.  Lord knows I have written a lot about that in the past. . I have praised over and over and over the 66 House Republicans that voted no on that before. If they did not raise the debt ceiling then we would have a balanced budget instantly.  I agree that the Tea Party has made a difference and I have personally posted 49 posts on my blog on different Tea Party heroes of mine.
I have written and emailed Senator Pryor over, and over again with spending cut suggestions but he has ignored all of these good ideas in favor of keeping the printing presses going as we plunge our future generations further in debt. I am convinced if he does not change his liberal voting record that he will no longer be our senator in 2014.
I have written hundreds of letters and emails to President Obama in the past, and I must say that I have been impressed that he has  had the White House staff answer so many of my letters. The White House answered concerning Social Security (two times), Green Technologies, welfare, small businesses, Obamacare (twice),  federal overspending, expanding unemployment benefits to 99 weeks,  gun control, national debt, abortion, jumpstarting the economy, and various other  issues.   However, the Obama/Biden policies have not changed, and by the way the White House after answering over 50 of my letters before November of 2012 has not answered one since.    The Obama/Biden administration was  committed to cutting nothing from the budget that I can tell. I am hoping your administration,  President  Biden, will be more open minded and look at the facts.
 I have praised over and over and over the 66 House Republicans that voted no on that before. If they did not raise the debt ceiling then we would have a balanced budget instantly.  I agree that the Tea Party has made a difference and I have personally posted 49 posts on my blog on different Tea Party heroes of mine.
THIS BRINGS ME TO ONE OF MY BIGGEST ECONOMIC HEROES AND IT IS THE LATE MILTON FRIEDMAN. Friedman had such revolutionary policies such as eliminating welfare and instituting the negative income tax and putting in school vouchers.
The problem in Washington is not lack of revenue but our lack of spending restraint. This video below makes that point.
Milton Friedman did not favor free immigration with existing welfare state in USA
Milton Friedman – Illegal Immigration – PT 2
Uploaded on Dec 18, 2009
(2 of 2) Professor Friedman fields a question on the dynamics of illegal immigration
________________
The Heritage Foundation has issued the following statement in response to Senator Marco Rubio's (R-FL) comments about our new study on the cost of amnesty.
Senator Rubio's family story is a testament to the American Dream. His parents' ability to scrimp and save and sacrifice for their children is something in which we all take pride. The story of the Rubios, in fact, makes the point we make with our study. They represent the immigration model that worked for America for centuries and one we need to get back to.
Senator Rubio's parents came here in 1956, almost a decade before the introduction of the Great Society programs that laid the foundation of the modern welfare state. Over the following four and a half decades, our government has added layer upon layer of government involvement in our lives, creating a dependency that undermines self-respect and self-reliance.
That dependency has been devastating to our society; it has shattered communities, families, and individuals. It is now threatening the American Dream. This is true for all—native and immigrant alike, lawful or unlawful. We do not blame immigrants for being entrapped by that system; we blame the people who created that system. We especially blame people who now seek to expand it.
This is why Heritage has been leading the fight on the need to recreate upward mobility for low-income and middle-income Americans. The current welfare and entitlement systems lower opportunity and make it all but impossible for people to climb the ladder of success.
Heritage has worked with Senator Rubio on numerous issues, and we admire him. He is right: Our study is "an argument for welfare reform and entitlement reform." He cannot pretend, however, that this already herculean task will be made easier after we have added millions of new people to a failing entitlement system. The time to fix it is now. We are ready to work with him and any man and woman of either party who realizes the urgency of our plight.
As Milton Friedman, the Nobel Prize-winning economist, once said:
It is one thing to have free immigration to jobs. It is another thing to have free immigration to welfare. You cannot have both. If you have a welfare state, if you have a state in which a resident is promised certain minimum level of income or a minimum subsistence regardless of whether he works or not produces it or not. Well then it really is an impossibility.
Thank you so much for your time. I know how valuable it is. I also appreciate the fine family that you have and your commitment as a father and a husband.
Sincerely,
Everette Hatcher III, 13900 Cottontail Lane, Alexander, AR 72002, ph 501-920-5733,
Williams with Sowell – Minimum Wage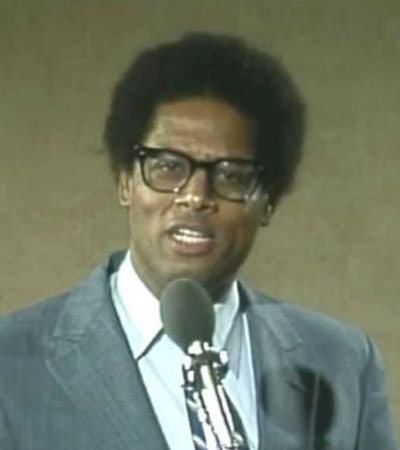 Thomas Sowell – Reducing Black Unemployment
—-
Ronald Reagan with Milton Friedman
Milton Friedman The Power of the Market 2-5
Related posts:
I like Milton Friedman's comments on this issue of immigration   and Ron Paul and Dan Mitchell do well on the issue too. Question of the Week: What's Your Take on the Immigration Debate? April 7, 2013 by Dan Mitchell A reader from overseas wonders about my views on immigration, particularly amnesty. I confess that this is one of […]
Two very wise men below: Milton Friedman – Illegal Immigration – PT 1 (1 of 2) Professor Friedman looks at the dynamics of illegal immigration. See part two:http://www.youtube.com/watch?v=NfU9Fqah-f4 http://Libertypen.com_______________________________________ Back in 1980 I read the book "Free to Choose" by Milton and Rose Friedman. I noticed that Milton made it clear both in […]
Part 5 Milton Friedman: I do not believe it's proper to put the situation in terms of industrialist versus government. On the contrary, one of the reasons why I am in favor of less government is because when you have more government industrialists take it over, and the two together form a coalition against the ordinary […]
Where the USA's economic success come from? An Amazing Story of Economic Success May 5, 2013 by Dan Mitchell I've written before about the remarkable vitality of Hong Kong and Singapore, two jurisdictions that deserve praise for small government and free markets. Pretending to be a jet-setter in Monaco I have also praised Switzerland because of policies such as genuine federalism […]
  Why are despicable people sometimes subsidized by taxpayers? Are You Happy that Your Tax Dollars Subsidized the Tsarnaev Family? April 28, 2013 by Dan Mitchell The bad news is that there are despicable and evil people seeking to kill innocents. The worse news is that some of these pathetic excuses for protoplasm are subsidized by […]
Obama is up to his old tricks again and here comes the White House's political motivated chicanery with the FAA Privatization Is the Best Response to the FAA's Deliberate Attempt to Inconvenience Air Passengers April 24, 2013 by Dan Mitchell In an interview with Neil Cavuto earlier this month, I mocked proponents of big government for […]
Sad case indeed. Immigration, Terrorism, and Welfare Tourism April 24, 2013 by Dan Mitchell So we've now learned that the Boston Marathon terrorists were welfare bums. Why am I not surprised? "Thanks for the handouts, suckers!" Heck, it was only a couple of days ago that I announced the Moocher Hall of Fame and included terrorists from theUnited Kingdom and Australia (and […]
President Obama is from Illinois and he is running our nation like the politicians of Illinois run their state with lots of wasteful spending and too many high taxes. It's Tax Freedom Day, So Congratulations (if You Don't Live in New York, California, New Jersey, Illinois, etc) April 18, 2013 by Dan Mitchell It's time to celebrate. […]
The IRS agents are as well thought of as Zacchaeus who was the tax collector that only Jesus was nice to. Here is a fine article by Dan Mitchell of the Cato Institute.  Some Good Cartoons if You're Suffering from Post-Tax Return Traumatic Stress Disorder April 16, 2013 by Dan Mitchell For the past 30 or so […]
Sad that the government wastes so much of our money and it wants more from us under President Obama. An Aggravating Reminder of Government Waste on Tax Day April 15, 2013 by Dan Mitchell Remember the Spending Quiz from 2010, which asked people to guess whether absurd examples of government waste were true or false? Well, […]