—
This morning while I was attending the Association of Christian Lawmakers at the COLLEGE OF THE OZARKS, our group had a big impromptu praise and prayer service when the Supreme Court Decision overturning Roe v Wade was announced this morning!
Supreme Court Roe v. Wade decision centered on a Mississippi law banning abortions after 15 weeks
In Photos: How Pro-Lifers Are Celebrating Dobbs Decision
Rob Bluey / @RobertBluey / June 24, 2022
Pro-life activists celebrate after the announcement of the Dobbs v. Jackson Women's Health Organization ruling in front of the U.S. Supreme Court. (Photo: Anna Moneymaker/Getty Images)
Ever since the Dobbs v. Jackson draft opinion leaked in early May, pro-life activists have gathered peacefully at the U.S. Supreme Court on decision days to eagerly await the ruling. That day finally arrived Friday. The following photos showcase their reactions.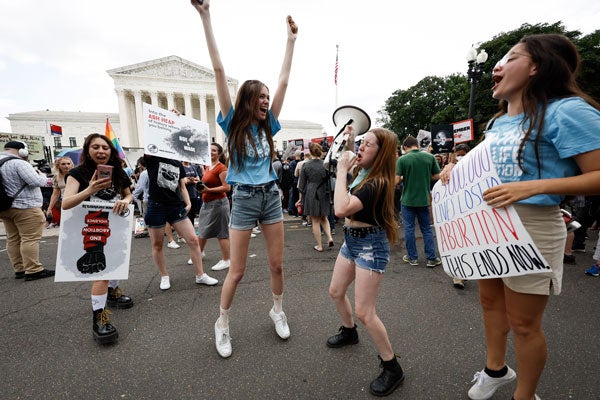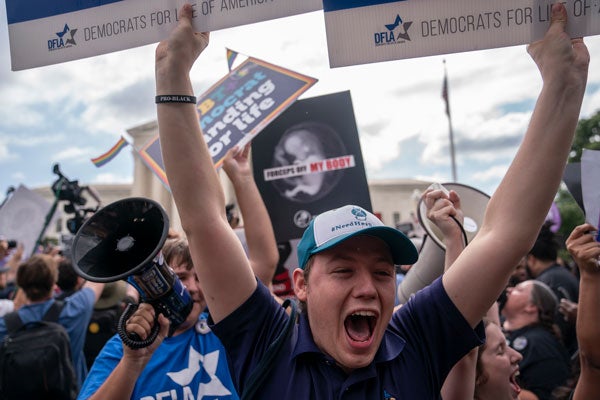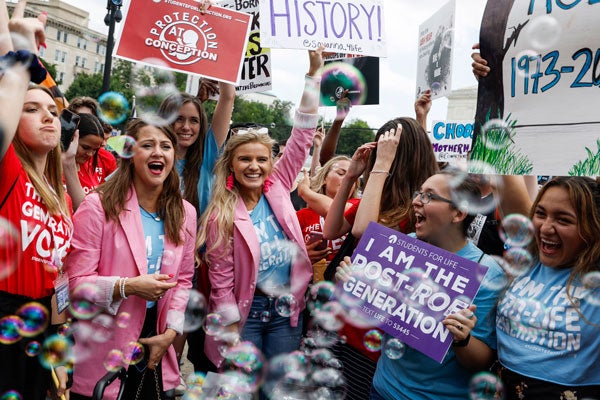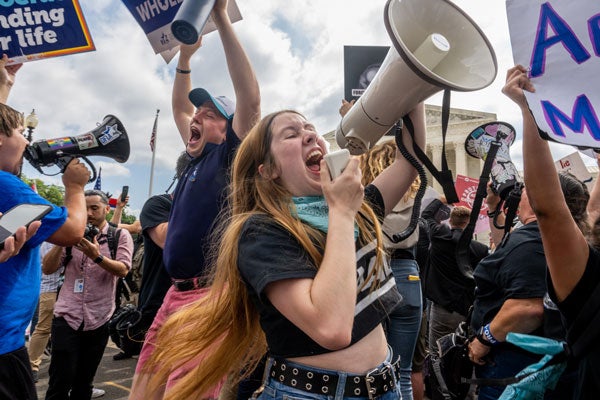 The Daily Signal depends on the support of readers like you. Donate now
—
—
November 23, 2020
Office of Barack and Michelle Obama
P.O. Box 91000
Washington, DC 20066
Dear President Obama,
I wrote you over 700 letters while you were President and I mailed them to the White House and also published them on my blog http://www.thedailyhatch.org .I received several letters back from your staff and I wanted to thank you for those letters.
I have been reading your autobiography A PROMISED LAND and I have been enjoying it.
Let me make a few comments on it, and here is the first quote of yours I want to comment on:
The 1973 Roe v. Wade decision focused further attention on Court appointments with every nomination from that point on triggering a pitched battle between pro-choice and anti-abortion forces.

Let me point out that we prefer to be called the PRO-LIFE movement and I don't think you want to really say what the choices are in your pro-choice movement because the real question is when does human life begin and your support of partial birth abortion puts you on slippery ground on that question too!


—
There is a question that I have asked pro-abortionists over and over and they just don't like answering it. It comes also from the first episode of "WHATEVER HAPPENED TO THE HUMAN RACE." Dr. Koop put forth the question:
My question to the pro-abortionist who would not directly kill a newborn baby the minute it is born is this, "Would you have killed it a minute before that or a minute before that or a minute before that or a minute before that?" You can see what I am getting at. At what minute does an unborn baby cease to be worthless and become a person entitled to the right to life and legal protection?
_____
"Protection of the life of the mother as an excuse for an abortion is a smoke screen. In my 36 years of pediatric surgery, I have never known of one instance where the child had to be aborted to save the mother's life. If toward the end of the pregnancy complications arise that threaten the mother's health, the doctor will induce labor or perform a Caesarean section. His intention is to save the life of both the mother and the baby. The baby's life is never willfully destroyed because the mother's life is in danger."
Dr. Koop said, "We live in a schizophrenic society" and that makes me think of this cartoon:
Carl Sagan and Ann Druyan pictured above
by Carl Sagan and Ann Druyan
I corresponded with the pro-choice Carl Sagan in 1995 about abortion and he sent me an article which included these words:
And yet, by consensus, all of us think it proper that there be prohibitions against, and penalties exacted for, murder. It would be a flimsy defense if the murderer pleads that this is just between him and his victim and none of the government's business. If killing a fetus is truly killing a human being, is it not the duty of the state to prevent it? Indeed, one of the chief functions of government is to protect the weak from the strong.
Let me quote from the book WHATEVER HAPPENED TO THE HUMAN RACE? By Francis Schaeffer and Dr. C. Everett Koop:
It hasn't been too far back in the history of the United States, that black people were sold like cattle in our slave markets. For economic reasons, white society had classified them as "nonhuman." The U S Supreme Court upheld this lie in its infamous Dred Scott Decision.
Jesse L. Jackson, in 1977, tied the prior treatment of blacks with our present treatment of the preborn:
You could not protest the existence or treatment of slaves on the plantation because that was private and therefore outside your right to be concerned…. The Constitution called us three-fifths human and the whites further dehumanized us by calling us `n#%+#rs' It was part of the dehumanizing process…. These advocates taking life prior to birth do not call it killing or murder, they call it abortion. They further never talk about aborting a baby because that would imply something human…. Fetus sounds less than human and therefore can be justified…. What happens to the mind of a person, and the moral fabric of a nation, that accepts the aborting of the life of a baby without a pang of conscience? What kind of a person and what kind of a society will we have twenty years hence if life can be taken so casually? It is that question, the question of our attitude, our value system, and our mind set with regard to the nature and the worth of life itself that is the central question confronting mankind. Failure to answer that question affirmatively may leave us with a hell right here on earth. [Francis A. Schaeffer and C. Everett Koop, M.D., Whatever Happened to the Human Race? (Old Tappan, NJ: Fleming H. Revell Company, 1979), p. 209.]
(both Adrian Rogers and Francis Schaeffer mentioned Carl Sagan in their books and that prompted me to write Sagan and expose him to their views.
Francis Schaeffer when he was a young pastor in St. Louis pictured above.
An excerpt from the Sunday morning message (11-6-83) by Adrian Rogers in Memphis, TN.
I want to tell you that secular humanism and so-called abortion rights are inseparably linked together. We have been taught that our bodies and our children are the products of the evolutionary process, and so therefore human life may not be all that valuable to begin with. We have come today to where it is legal and even considered to be a good thing to put little babies to death…15 million little babies put to death since 1973 because of this philosophy of Secular Humanism.
How did the court make that type of decision? You would think it would be so obvious. You can't do that! You can't kill little babies! Why? Because the Bible says! Friend, they don't give a hoot what the Bible says! There used to be a time when they talked about what the Bible says because there was a time that we as a nation had a constitution that was based in the Judeo-Christian ethic, but today if we say "The Bible says" or "God says "Separation of Church and State. Don't tell us what the Bible says or what God says. We will tell you what we think!" Therefore, they look at the situation and they decide if it is right or wrong purely on the humanistic philosophy that right and wrong are relative and the situation says what is right or what is wrong.
This little girl just 19 years old went into the doctor's office and he examined her. He said, "We can take take of you." He gave her an injection in her arm that was to cause her to go into labor and to get rid of that protoplasm, that feud, that little mass that was in her, but she wasn't prepared for the sound she was about to hear. It was a little baby crying. That little baby weighed 13 ounces. His hand the size of my thumbnail. You know what the doctor did. The doctor put that little baby in a grocery sack and gave it to Maria's two friends who were with her in that doctor office and Said, "It will stop making those noises after a while."
(Adrian Rogers pictured above)
They took that grocery sack and Maria home and one hour passed and two hours passed and that baby was still crying and panting for his life in that grocery sack. They took that little baby down to the hospital there in Pine Bluff, Arkansas, and they called an obstetrician and he called a pediatrician and they called nurses and they began to work on that little baby. Today that baby is alive and well and healthy, that little mass of protoplasm. That little thing that wasn't a human being is alive and well. I want to tell you they spent $150,000 to save the life of that baby. NOW CAN YOU EXPLAIN TO ME HOW THEY CAN SPEND $150,000 TO SAVE THE LIFE OF SOMETHING THAT SOMEBODY WAS PAYING ANOTHER DOCTOR TO TAKE THE LIFE OF? The same life!!! Are you going to tell me that is not a baby? Are you going to tell me that if that baby had been put to death it would not have been murder? You will never convince me of that. What has happened to us in America? We have been sold a bill of goods by the Secular Humanists!
Carl Sagan asked, "Does a woman's "innate right to control her own body" encompass the right to kill a near-term fetus who is, for all intents and purposes, identical to a newborn child?"
I would also would like to note that the courts were the vehicle to make the change on abortion in 1973 because the elected legislatures would not have so easy to convince. Notice also Judge Alito's warning to us below after Daniel Whyte III quotes Francis Schaeffer:
This podcast is aimed at showing Christian pastors, leaders, and individuals the devastating consequences of sitting quietly by and letting society continue to go against God and His Word. This podcast also aims to encourage Christians to be courageous, to speak up, and to resist this present day evil by standing up for God and His truth in an age when truth is fast fading away from the public square. As Peter and the apostles declared in Acts 5:29, "We must obey God rather than man."
Our Christian Manifesto Today passage from the Word of God today is Romans 3:12 which reads: "They are all gone out of the way, they are together become unprofitable; there is none that doeth good, no, not one."
Our Christian Manifesto Today quote today is from A.W. Tozer. He said: "'Let God be true but every man a liar' is the language of true faith."
In this podcast, we are using as our text: "A Christian Manifesto" by Francis A. Schaeffer. Dr. Francis A. Schaeffer writes on "The Destruction of Faith and Freedom" (Part 6):
The law, and especially the courts, is the vehicle to force this total humanistic way of thinking upon the entire population. This is what has happened. The abortion law is a perfect example. The Supreme Court abortion ruling invalidated abortion laws in all fifty states, even though it seems clear that in 1973 the majority of Americans were against abortion. It did not matter. The Supreme Court arbitrarily ruled that abortion was legal, and overnight they overthrew the state laws and forced onto American thinking not only that abortion was legal, but that it was ethical. They, as an elite, thus forced their will on the majority, even though their ruling was arbitrarily both legally and medically. Thus law and the courts became the vehicle for forcing a totally secular concept on the population.
…
---
Daniel Whyte III has spoken in meetings across the United States and in over twenty-five foreign countries. He is the author of over forty books including the Essence Magazine, Dallas Morning News, and Amazon.com national bestseller, Letters to Young Black Men. He is also the president of Gospel Light Society International, a worldwide evangelistic ministry that reaches thousands with the Gospel each week, as well as president of Torch Ministries International, a Christian literature ministry.
He is heard by thousands each week on his radio broadcasts/podcasts, which include: The Prayer Motivator Devotional, The Prayer Motivator Minute, as well as Gospel Light Minute X, the Gospel Light Minute, the Sunday Evening Evangelistic Message, the Prophet Daniel's Report, the Second Coming Watch Update and the Soul-Winning Motivator, among others.
He holds a Bachelor's Degree in Theology from Bethany Divinity College, a Bachelor's degree in Religion from Texas Wesleyan University, a Master's degree in Religion, a Master of Divinity degree, and a Master of Theology degree from Liberty University's Rawlings School of Divinity (formerly Liberty Baptist Theological Seminary). He is currently a candidate for the Doctor of Ministry degree.
He has been married to the former Meriqua Althea Dixon, of Christiana, Jamaica since 1987. God has blessed their union with seven children.
SOCIETYCOMMENTARY
Cal Thomas / @CalThomas / November 22, 2020 /51 Comments
"The pandemic has resulted in previously unimaginable restrictions on individual liberty," Associate Justice Samuel Alito remarks. Pictured: Alito testifies about the court's budget during a hearing of the House Appropriations Committee's Financial Services and General Government Subcommittee in Washington, D.C., March 7, 2019. (Photo: Chip Somodevilla/Getty Images)
COMMENTARY BY
Cal Thomas is a syndicated columnist, author, broadcaster, and speaker with access to world leaders, U.S. presidents, celebrities, educators, and countless other notables. He has authored several books, including his latest, "America's Expiration Date: The Fall of Empires and Superpowers and the Future of the United States." Readers can email him at tcaeditors@tribpub.com.
Everywhere one looks there are warning signs, from labels on cigarette packs warning that smoking causes cancer, to ridiculous labels on thermometers that read, "Once used rectally, the thermometer should not be used orally."

Associate Justice Samuel Alito has delivered some serious warnings that too often are ignored by many who believe the freedoms we enjoy are inviolable.

In an address earlier this month to the Federalist Society National Lawyers Convention, Alito touched on several subjects, including COVID-19, religious liberty, the Second Amendment, free speech, and "bullying" of the Supreme Court by U.S. senators.

Alito made a case for how each issue contains elements that contribute to a slow erosion of our liberties. On tolerance, preached but not often practiced by the left, Alito said: "…tolerance for opposing views is now in short supply in many law schools, and in the broader academic community. When I speak with recent law school graduates, what I hear over and over is that they face harassment and retaliation if they say anything that departs from the law school orthodoxy." This is not a new revelation, but it bears repeating.

While acknowledging the deaths, hospitalizations, and unemployment caused by COVID-19, Alito warned: "The pandemic has resulted in previously unimaginable restrictions on individual liberty. Now, notice what I am not saying or even implying, I am not diminishing the severity of the virus's threat to public health. … I'm not saying anything about the legality of COVID restrictions. Nor am I saying anything about whether any of these restrictions represent good public policy. I'm a judge, not a policymaker. All that I'm saying is this. And I think it is an indisputable statement of fact, we have never before seen restrictions as severe, extensive and prolonged as those experienced, for most of 2020."
>>> What's the best way for America to reopen and return to business? The National Coronavirus Recovery Commission, a project of The Heritage Foundation, assembled America's top thinkers to figure that out. So far, it has made more than 260 recommendations. Learn more here.

Where does this lead? Alito answered when he spoke of "…the dominance of lawmaking by executive fiat rather than legislation. The vision of early 20th-century progressives and the new dealers of the 1930s was the policymaking would shift from narrow-minded elected legislators, to an elite group of appointed experts, in a word, the policymaking would become more scientific. That dream has been realized to a large extent. Every year administrative agencies acting under broad delegations of 'authority' churn out huge volumes of regulations that dwarfs the statutes enacted by the people's elected representatives. And what have we seen in the pandemic sweeping restrictions imposed for the most part, under statutes that confer enormous executive discretion?"

Alito cited a Nevada case that came before the Court: "Under that law, if the governor finds that there is, quote, a natural technological or manmade emergency, or disaster of major proportions, the governor can perform and exercise such functions, powers and duties as are necessary to promote and secure the safety and protection of the civilian population. To say that this provision confers broad discretion would be an understatement."

Restrictions on how we are told to celebrate Thanksgiving would be another example.

On the erosion of religious liberty, he said: "It pains me to say this, but in certain quarters, religious liberty is fast becoming a disfavored, right." As evidence he mentioned how we have moved from the Religious Freedom Restoration Act passed by Congress in 1993 to the recent persecution by the Obama administration of The Little Sisters of the Poor for their refusal to include contraceptives in their health insurance. The Catholic nuns prevailed in a 7-2 court ruling, but Alito believes the threat to the free exercise of religion remains all too real.

There is much more in his address that should be read in its entirety. Alito's warnings ring true, but are we listening?

(C)2020 Tribune Content Agency, LLC
Sincerely,
Everette Hatcher III, 13900 Cottontail Lane, Alexander, AR 72002, ph 501-920-5733 everettehatcher@gmail.com
Related posts:
President Obama c/o The White House 1600 Pennsylvania Avenue NW Washington, DC 20500 Dear Mr. President, I know that you receive 20,000 letters a day and that you actually read 10 of them every day. I really do respect you for trying to get a pulse on what is going on out here. There have […]By Everette Hatcher III | Posted in David Barton, Founding Fathers, President Obama | Edit |Comments (0)
There have been many articles written by evangelicals like me who fear that our founding fathers would not recognize our country today because secular humanism has rid our nation of spiritual roots. I am deeply troubled by the secular agenda of those who are at war with religion in our public life. Lillian Kwon quoted somebody […]By Everette Hatcher III | Posted in David Barton, Founding Fathers | Edit | Comments (0)
There have been many articles written by evangelicals like me who fear that our founding fathers would not recognize our country today because secular humanism has rid our nation of spiritual roots. I am deeply troubled by the secular agenda of those who are at war with religion in our public life. Lillian Kwon quoted somebody […]By Everette Hatcher III | Posted in David Barton, Founding Fathers | Edit | Comments (0)
There have been many articles written by evangelicals like me who fear that our founding fathers would not recognize our country today because secular humanism has rid our nation of spiritual roots. I am deeply troubled by the secular agenda of those who are at war with religion in our public life. Lillian Kwon quoted somebody […]By Everette Hatcher III | Posted in David Barton, Founding Fathers | Edit | Comments (0)
There have been many articles written by evangelicals like me who fear that our founding fathers would not recognize our country today because secular humanism has rid our nation of spiritual roots. I am deeply troubled by the secular agenda of those who are at war with religion in our public life. Lillian Kwon quoted somebody […]By Everette Hatcher III | Posted in David Barton, Founding Fathers | Edit | Comments (0)
There have been many articles written by evangelicals like me who fear that our founding fathers would not recognize our country today because secular humanism has rid our nation of spiritual roots. I am deeply troubled by the secular agenda of those who are at war with religion in our public life. Lillian Kwon quoted somebody […]By Everette Hatcher III | Posted in Founding Fathers | Edit | Comments (0)
President Obama Speaks at The Ohio State University Commencement Ceremony Published on May 5, 2013 President Obama delivers the commencement address at The Ohio State University. May 5, 2013. You can learn a lot about what President Obama thinks the founding fathers were all about from his recent speech at Ohio State. May 7, 2013, […]By Everette Hatcher III | Posted in Founding Fathers, President Obama | Edit | Comments (0)
Dr. C. Everett Koop with Bill Graham. Francis Schaeffer: "Whatever Happened to the Human Race" (Episode 4) THE BASIS FOR HUMAN DIGNITY Published on Oct 7, 2012 by AdamMetropolis The 45 minute video above is from the film series created from Francis Schaeffer's book "Whatever Happened to the Human Race?" with Dr. C. Everett Koop. This […]By Everette Hatcher III | Posted in Founding Fathers, Francis Schaeffer, Prolife | Edit |Comments (1)
America's Founding Fathers Deist or Christian? – David Barton 4/6 There have been many articles written by evangelicals like me who fear that our founding fathers would not recognize our country today because secular humanism has rid our nation of spiritual roots. I am deeply troubled by the secular agenda of those who are at […]By Everette Hatcher III | Posted in David Barton, Founding Fathers | Tagged governor of connecticut, john witherspoon, jonathan trumbull | Edit | Comments (1)
3 Of 5 / The Bible's Influence In America / American Heritage Series / David Barton There were 55 gentlemen who put together the constitution and their church affliation is of public record. Greg Koukl notes: Members of the Constitutional Convention, the most influential group of men shaping the political foundations of our nation, were […]By Everette Hatcher III | Posted in Founding Fathers | Edit | Comments (0)
I do not think that John Quincy Adams was a founding father in the same sense that his father was. However, I do think he was involved in the early days of our government working with many of the founding fathers. Michele Bachmann got into another history-related tussle on ABC's "Good Morning America" today, standing […]By Everette Hatcher III | Posted in David Barton, Founding Fathers | Edit | Comments (0)
I have gone back and forth and back and forth with many liberals on the Arkansas Times Blog on many issues such as abortion, human rights, welfare, poverty, gun control and issues dealing with popular culture. Here is another exchange I had with them a while back. My username at the Ark Times Blog is Saline […]By Everette Hatcher III | Posted in Arkansas Times, Francis Schaeffer, Prolife | Edit |Comments (0)
I truly believe that many of the problems we have today in the USA are due to the advancement of humanism in the last few decades in our society. Ronald Reagan appointed the evangelical Dr. C. Everett Koop to the position of Surgeon General in his administration. He partnered with Dr. Francis Schaeffer in making the […]By Everette Hatcher III | Posted in Adrian Rogers, Francis Schaeffer | Edit | Comments (0)
Francis Schaeffer: "Whatever Happened to the Human Race" (Episode 4) THE BASIS FOR HUMAN DIGNITY Published on Oct 7, 2012 by AdamMetropolis ____________ The 45 minute video above is from the film series created from Francis Schaeffer's book "Whatever Happened to the Human Race?" with Dr. C. Everett Koop. This book really helped develop my political […]By Everette Hatcher III | Posted in Francis Schaeffer | Edit | Comments (0)
—-
—