I have read articles for years from Dan Barker, but recently I just finished the book Barker wrote entitled LIFE DRIVEN PURPOSE which was prompted by Rick Warren's book PURPOSE DRIVEN LIFE which I also read several years ago.
Dan Barker is the Co-President of the Freedom From Religion Foundation, And co-host of Freethought Radio and co-founder of The Clergy Project.
On March 19, 2022, I got an email back from Dan Barker that said:
Thanks for the insights.
Have you read my book Life Driven Purpose? To say there is no purpose OF life is not to say there is no purpose IN life. Life is immensely meaningful when you stop looking for external purpose.
Ukraine … we'll, we can no longer blame Russian aggression on "godless communism." The Russian church, as far as I know, has not denounced the war.
db
—
In the next few weeks I will be discussing the book LIFE DRIVEN PURPOSE which I did enjoy reading. Here is an assertion (near the end of the book) that Barker makes that I want to discuss:
In the movie Annie Hall by Woody Allen, nine-year-old Alvy has stopped doing his homework, so his mother takes him to a psychiatrist who asks, "Why are you depressed, Alvy?" "Well, the universe is everything," Alvy says, "and if it's expanding, someday it will break apart and that would be the end of everything! … What's the point?" "What has the universe got to do with it?" his mother asks. "You're here in Brooklyn! Brooklyn is not expanding!" Alvy and his mother are both right. There is no meaning in the cosmic picture, but there is meaning in the here and now. Here in Brooklyn.9 How do you feel about that? What can you do about it? You already know that your not-too-distant descendants will forget about you, or even if they don't—even if you become astonishingly famous and remembered for millennia—your life will be mere memories in their minds.
I would agree that we should care about what happens in this life, but Ecclesiastes 3:11 tells us that God has planted eternity in our heart and we are longing for a lasting purpose and meaning. That is where Barker misses the point.
Francis Schaeffer quotes H.J. Blackham below.

The humanist H. J. Blackham had this same message that "On humanist assumptions, life leads to nothing, and every pretense that it does not is a deceit. If there is a bridge over a gorge which spans only half the distance and ends in mid-air, and if the bridge is crowded with human beings pressing on, one after the other they fall into the abyss. The bridge leads nowhere, and those who are pressing forward to cross it are going nowhere….It does not matter where they think they are going, what preparations for the journey they may have made, how much they may be enjoying it all. The objection merely points out objectively that such a situation is a model of futility"( H. J. Blackham, et al., Objections to Humanism (Riverside, Connecticut: Greenwood Press, 1967).
The Woody Allen movie HANNAH AND HER SISTERS makes the same point:
MICKEY
Do you realize what a thread we're
all hanging by?
GAIL
(offscreen)
Mickey, you're off the hook. You
should be celebrating.
MICKEY
(walking around to
the front of his
desk, gesturing)
Can you understand how meaningless
everything is? Everything! I'm
talking about nnnn–our lives, the
show…the whole world, it's
meaningless.
GAIL
(gesturing)
Yeah…but you're not dying!
MICKEY
No, I'm not dying now, but, but…you know it, it just takes the
pleasure out of everything.
(gesturing, pointing)
I mean, you're gonna die, I'm gonna
die, the audience is gonna die, the
network's gonna– The sponsor.
Everything!
GAIL
(chewing)
I know, I know, and your hamster.
MICKEY
(nodding emphatically)
Yes!…I can't stay on this show. I gotta
get some answers. Otherwise
(pausing and holding
his head)
I'm telling you, I'm going to do
something drastic
—
Francis Schaeffer
I have spent alot of time talking about Woody Allen films on this blog and looking at his worldview. He has a hopeless, meaningless, nihilistic worldview that believes we are going to turn to dust and there is no afterlife. Even though he has this view he has taken the opportunity to look at the weaknessesof his own secular view. I salute him for doing that. That is why I have returned to his work over and over and presented my own Christian worldview as an alternative. Take a moment and read again a good article on Woody Allen below. There are some links below to some other posts about him.
Francis Schaeffer two months before he died made the following comments in Knoxville, TN in 1984 and he comments on Woody Allen:
1984 SOUNDWORD LABRI CONFERENCE VIDEO – Q&A With Francis & Edith Schaeffer
I would emphasize and it grows on me always with intensified strength the older I live that there is only ONE REASON to be a Christian and that is because it is TRUTH. There is no other reason to be a Christian.
The reason to become a Christian is not because it gives you butterflies in your stomach on Sunday morning. The reason for being a Christian is because it is true.
We at L'Abri talk about it being TRUE TRUTH and we are talking about it not just being religiously true but true in all reality. In other words, if you don't have the Bible and you don't act upon it, it isn't that you just don't know how to escape hell and go to heaven, you do that too happily, but it also is true that without the Bible we won't know who God is and we would know who people are.
That is what is wrong with our generation and that is why it accepted abortion and the infanticide and youth euthanasia came in quickly with such a flood because this generation doesn't understand who people are.
I don't know if you saw the TIME editorial a short time ago called THINKING ANIMAL THOUGHTS. It did so much better than most of our evangelical magazines did on dealing with this because what they said was (it was from a non-christian point of view) if you take away the biblical view of who God is and man being made in his image then there is no basis for a distinction between human life and other forms of life. You only have distinctions and that is life and non-life, and he carried it out quite properly to its extension. What right does the human race to perform experimentation's on animals if the human race is good and the human race is only the same qualification of life? This author really understood the game much better than most Christians seem to understand it.
https://bidding-test.devops.iponweb.net/automattic/dio-passback.html
What I'm saying is without the Bible it isn't just that you don't know how to go to heaven, but without the Bible you don't know who people are and you don't know what this world is. When you watch the birds fly across the sky if you really don't have the Bible to tell you who created this world and what the world is even the birds flying across the sky is very different. We have many people that come to L'Abri that have thought this out to the very end properly and that is there is no meaning to life, no meaning to life, no meaning to human life. They are not wrong. They are right.
The younger generation who grab the needle and shoot it up because they can't find any meaning to life, they are not wrong. They are right. if you take the Bible away it is not just that people are lost for eternity, but they are lost now. They have no meaning to life…. If I was talking to a gentleman I was sitting next to on an airplane about Christ I wouldn't necessarily start off quoting Bible verses. I would go back rather to their dilemma if they hold the modern worldview of the final reality only being energy, etc., I would start with that. I would begin as I stress in the book THE GOD WHO IS THERE about their own [humanist] prophets who really show where their view goes. For instance, Jacques Monod, Nobel Prize winner from France, in his book NECESSITY AND CHANCE said there is no way to tell the OUGHT from the IS. In other words, you live in a TOTALLY SILENT universe.
—-
The men like Monod and Sartre or whoever the man might know that is his [humanist] prophet and they point out quite properly and conclusively what life is like, not just that there is no meaningfulness in life but everyone according to modern man is just living out some kind of game plan. It may be knocking 1/10th of a second off a downhill ski run or making one more million dollars. But all you are doing is making a game plan within the mix of a meaningless situation. WOODY ALLEN exploits this very strongly in his films. He really lives it. I feel for that man, and he has expressed it so thoroughly in ANNIE HALL and MANHATTAN and so on.
———
Let us go back to this comment of Woody Allen:
MICKEY: you know it, it just takes the
pleasure out of everything.
(gesturing, pointing)
I mean, you're gonna die, I'm gonna
die, the audience is gonna die, the
network's gonna– The sponsor.
Everything!
GAIL
(chewing)
I know, I know, and your hamster.
MICKEY
(nodding emphatically)
Yes!
NOW LOOK AT FRANCIS S CHAEFFER'S COMMENTS ON KING SOLOMON IN ECCLESIASTES:
Ecclesiastes 2:14-15
14 The wise person has his eyes in his head, but the fool walks in darkness. And yet I perceived that the same event happens to all of them. 15 Then I said in my heart, "What happens to the fool will happen to me also. Why then have I been so very wise?" And I said in my heart that this also is vanity.
The Hebrew is stronger than this and it says "it happens EVEN TO ME," Solomon on the throne, Solomon the universal man. EVEN TO ME, even to Solomon.
Ecclesiastes 3:18-21
18 I said in my heart with regard to the children of man that God is testing them that they may see that they themselves are but beasts.19 For what happens to the children of man and what happens to the beasts is the same; as one dies, so dies the other. They all have the same breath, and man has no advantage over the beasts, for all is vanity.[n] 20 All go to one place. All are from the dust, and to dust all return.21 Who knows whether the spirit of man goes upward and the spirit of the beast goes down into the earth?
What he is saying is as far as the eyes are concerned everything grinds to a stop at death.
Ecclesiastes 4:16
16 There was no end of all the people, all of whom he led. Yet those who come later will not rejoice in him. Surely this also is vanity and a striving after wind.
That is true. There is no place better to feel this than here in Switzerland. You can walk over these hills and men have walked over these hills for at least 4000 years and when do you know when you have passed their graves or who cares? It doesn't have to be 4000 years ago. Visit a cemetery and look at the tombstones from 40 years ago. Just feel it. IS THIS ALL THERE IS? You can almost see Solomon shrugging his shoulders.
—-
In 1978 I heard the song "Dust in the Wind" by Kansas when it rose to #6 on the charts. That song told me thatKerry Livgren the writer of that song and a member of Kansas had come to the same conclusion that Solomon had. I remember mentioning to my friends at church that we may soon see some members of Kansas become Christians because their search for the meaning of life had obviously come up empty even though they had risen from being an unknown band to the top of the music business and had all the wealth and fame that came with that. Furthermore, like Solomon and Coldplay, they realized death comes to everyone and "there must be something more."
Livgren wrote:
"All we do, crumbles to the ground though we refuse to see, Dust in the Wind, All we are is dust in the wind, Don't hang on, Nothing lasts forever but the Earth and Sky, It slips away, And all your money won't another minute buy."
Both Kerry Livgren and Dave Hope of Kansas became Christians eventually. Kerry Livgren first tried Eastern Religions and Dave Hope had to come out of a heavy drug addiction. I was shocked and elated to see their personal testimony on The 700 Club in 1981 and that same interview can be seen on youtube today. Livgren lives in Topeka, Kansas today where he teaches "Diggers," a Sunday school class at Topeka Bible Church. Hope is the head of Worship, Evangelism and Outreach at Immanuel Anglican Church in Destin, Florida.
The movie maker Woody Allen has embraced the nihilistic message of the song "Dust in the Wind" by Kansas. David Segal in his article, "Things are Looking Up for the Director Woody Allen. No?" (Washington Post, July 26, 2006), wrote, "Allen is evangelically passionate about a few subjects. None more so than the chilling emptiness of life…The 70-year-old writer and director has been musing about life, sex, work, death and his generally futile search for hope…the world according to Woody is so bereft of meaning, so godless and absurd, that the only proper response is to curl up on a sofa and howl for your mommy."
The song "Dust in the Wind" recommends, "Don't hang on." Allen himself says, "It's just an awful thing and in that context you've got to find an answer to the question: 'Why go on?' " It is ironic that Chris Martin the leader of Coldplay regards Woody Allen as his favorite director.
Lets sum up the final conclusions of these gentlemen: Coldplay is still searching for that "something more." Woody Allen has concluded the search is futile. Livgren and Hope of Kansas have become Christians and are involved in fulltime ministry. Solomon's experiment was a search for meaning to life "under the sun." Then in last few words in the Book of Ecclesiastes he looks above the sun and brings God back into the picture: "The conclusion, when all has been heard, is: Fear God and keep His commandments, because this applies to every person. For God will bring every act to judgment, everything which is hidden, whether it is good or evil."
The answer to find meaning in life is found in putting your faith and trust in Jesus Christ. The Bible is true from cover to cover and can be trusted.
Kansas – Dust in the Wind (Official Video)


Kerry Livgren/Dave Hope: 700 Club Interview (Kansas) Part 1

—
101. INGRES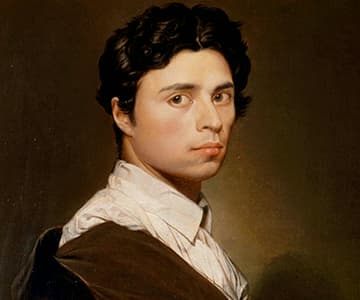 JEAN-AUGUSTE-DOMINIQUE INGRES (1780-1867)
Ingres was the most prominent disciple of the most famous neoclassicist painter, Jacques Louis David, and a master of classic portrait
How Should We Then Live | Season 1 | Episode 7 | The Age of Non-Reason


How Should We Then Live | Season 1 | Episode 8 | The Age of Fragmentation
Whatever Happened To The Human Race? | Episode 1 | Abortion of the Human…

Whatever Happened To The Human Race? | Episode 4 | The Basis for Human D…

1984 SOUNDWORD LABRI CONFERENCE VIDEO – Q&A With Francis & Edith Schaefer

Related posts:
I have gone back and forth and back and forth with many liberals on the Arkansas Times Blog on many issues such as abortion, human rights, welfare, poverty, gun control and issues dealing with popular culture. Here is another exchange I had with them a while back. My username at the Ark Times Blog is Saline […]
By Everette Hatcher III|Posted in Francis Schaeffer, Prolife|Edit|Comments (0)
On March 17, 2013 at our worship service at Fellowship Bible Church, Ben Parkinson who is one of our teaching pastors spoke on Genesis 1. He spoke about an issue that I was very interested in. Ben started the sermon by reading the following scripture: Genesis 1-2:3 English Standard Version (ESV) The Creation of the […]
By Everette Hatcher III|Posted in Adrian Rogers, Atheists Confronted, Current Events|TaggedBen Parkinson, Carl Sagan|Edit|Comments (0)
Review of Carl Sagan book (Part 4 of series on Evolution) The Long War against God-Henry Morris, part 5 of 6 Uploaded by FLIPWORLDUPSIDEDOWN3 on Aug 30, 2010 http://www.icr.org/ http://store.icr.org/prodinfo.asp?number=BLOWA2http://store.icr.org/prodinfo.asp?number=BLOWASGhttp://www.fliptheworldupsidedown.com/blog _______________________ I got this from a blogger in April of 2008 concerning candidate Obama's view on evolution: Q: York County was recently in the news […]
By Everette Hatcher III|Posted in Atheists Confronted, Current Events, President Obama|Edit|Comments (0)
Review of Carl Sagan book (Part 3 of series on Evolution) The Long War against God-Henry Morris, part 4 of 6 Uploaded by FLIPWORLDUPSIDEDOWN3 on Aug 30, 2010 http://www.icr.org/ http://store.icr.org/prodinfo.asp?number=BLOWA2http://store.icr.org/prodinfo.asp?number=BLOWASGhttp://www.fliptheworldupsidedown.com/blog______________________________________ I got this from a blogger in April of 2008 concerning candidate Obama's view on evolution: Q: York County was recently in the news […]
By Everette Hatcher III|Posted in Atheists Confronted, Current Events, President Obama|Edit|Comments (0)
At the end of this post is a message by RC Sproul in which he discusses Sagan. Over the years I have confronted many atheists. Here is one story below: I really believe Hebrews 4:12 when it asserts: For the word of God is living and active and sharper than any two-edged sword, and piercing as far as the […]
By Everette Hatcher III|Posted in Adrian Rogers, Atheists Confronted, Current Events, Francis Schaeffer|Tagged Bill Elliff, Carl Sagan, Jodie Foster, RC Sproul|Edit|Comments (0)
Review of Carl Sagan book (Part 4 of series on Evolution) The Long War against God-Henry Morris, part 5 of 6 Uploaded by FLIPWORLDUPSIDEDOWN3 on Aug 30, 2010 http://www.icr.org/ http://store.icr.org/prodinfo.asp?number=BLOWA2http://store.icr.org/prodinfo.asp?number=BLOWASGhttp://www.fliptheworldupsidedown.com/blog _______________________ This is a review I did a few years ago. THE DEMON-HAUNTED WORLD: Science as a Candle in the Dark by Carl […]
By Everette Hatcher III|Posted in Atheists Confronted, Current Events|Edit|Comments (0)
Review of Carl Sagan book (Part 3 of series on Evolution) The Long War against God-Henry Morris, part 4 of 6 Uploaded by FLIPWORLDUPSIDEDOWN3 on Aug 30, 2010 http://www.icr.org/ http://store.icr.org/prodinfo.asp?number=BLOWA2http://store.icr.org/prodinfo.asp?number=BLOWASGhttp://www.fliptheworldupsidedown.com/blog______________________________________ I was really enjoyed this review of Carl Sagan's book "Pale Blue Dot." Carl Sagan's Pale Blue Dot by Larry Vardiman, Ph.D. […]
By Everette Hatcher III|Posted in Atheists Confronted, Current Events|Edit|Comments (0)
In today's news you will read about Kirk Cameron taking on the atheist Stephen Hawking over some recent assertions he made concerning the existence of heaven. Back in December of 1995 I had the opportunity to correspond with Carl Sagan about a year before his untimely death. Sarah Anne Hughes in her article,"Kirk Cameron criticizes […]
By Everette Hatcher III|Posted in Atheists Confronted|Edit|Comments (2)
In this post we are going to see that through the years humanist thought has encouraged artists like Michelangelo to think that the future was extremely bright versus the place today where many artist who hold the humanist and secular worldview are very pessimistic. In contrast to Michelangelo's DAVID when humanist man thought he […]
By Everette Hatcher III|Posted in Francis Schaeffer|Tagged David Leeds, J.I.PACKER, Joe Carter, Massimiliano Gioni, Michelangelo, Michelangelo's DAVID, Michelangelo's Florence Pietà, Paul McCarthy, Renaissance, Rick Pearcey, Rush Limbaugh, Tony Bartolucci|Edit|Comments (0)
_________ Antony Flew on God and Atheism Published on Feb 11, 2013 Lee Strobel interviews philosopher and scholar Antony Flew on his conversion from atheism to deism. Much of it has to do with intelligent design. Flew was considered one of the most influential and important thinker for atheism during his time before his death […]
By Everette Hatcher III|Posted in Current