I have read articles for years from Dan Barker, but recently I just finished the book Barker wrote entitled LIFE DRIVEN PURPOSE which was prompted by Rick Warren's book PURPOSE DRIVEN LIFE which I also read several years ago.
Dan Barker is the Co-President of the Freedom From Religion Foundation, And co-host of Freethought Radio and co-founder of The Clergy Project.
On March 19, 2022, I got an email back from Dan Barker that said:
Thanks for the insights.
Have you read my book Life Driven Purpose? To say there is no purpose OF life is not to say there is no purpose IN life. Life is immensely meaningful when you stop looking for external purpose.
Ukraine … we'll, we can no longer blame Russian aggression on "godless communism." The Russian church, as far as I know, has not denounced the war.
db
—
In the next few weeks I will be discussing the book LIFE DRIVEN PURPOSE which I did enjoy reading. Here is an assertion that Barker makes (near the end of the book) that I want to discuss:
If that nihilistic bird had flown over the scene saying, "See! It's all pointless," I would have looked up and said, "Speak for yourself." As the mocking creature flew away, I would have yelled, "You didn't know my Mom." Our daughter Sabrina had a bird once, a cockatiel named Pikachu, and that little creature was definitely not nihilistic. Cockatiels are intensely social animals, and this one craved interaction. It's amazing how such a tiny brain can produce so much personality. That bird became a member of the family. He would feed from his own bowl at the dinner table each night, joining in the conversation, bobbing his head and "talking" in his bird-like way. He would say Sabrina's name when he heard her coming down the stairs, and he sang a specific song when he saw me, as if to say, "Hi, Dan." He could recite the words of the poet Christina Rossetti, "My heart is like a singing bird." When we came into the house, we usually greeted him by name, so eventually when he heard us opening the door, he would say, "Pikachu!" He wanted to be held and talked to and groomed. In the mornings, watching me approach the windows, he would mimic the sound of the shades rising before I pulled the cords. I think that is amazing. It puts birds not in a separate class of specially created creatures, but on a continuum of intelligence with all other animals, including humans. Pikachu never did recognize himself in a mirror—he would posture to fight the male intruder—so his theory of mind was less than ours, but it was not zero. He was definitely a distinct personality. Sabrina invented a word for this. When she was in her early teens, she started calling Pikachu a "zird." When he did something funny or smart, she would say, "You're a good zird!" I asked her what she meant by that, and she said that calling him just a "bird" was not enough to describe what he was, as if he were an alien. (She says it was because when he repeated "Good bird!" it sounded like "Gud zird.") To her, to all of us, that creature was a part of the family with a unique personality and should not be insulted by being classed as qualitatively inferior. A "zird" is a person, any person, not just a human animal. Sabrina would sometimes call me a zird, and I took it as a compliment. If you have a close friend who is a cat, dog, or other animal, you have a zird—well, you don't have a zird, because you can't own another person, but you have a friend who is a zird. Legally, Sabrina owned Pikachu, but in reality they were two separate persons, different species linked by a real friendship. Zirds of a feather. When Pikachu died suddenly one spring morning when he was only eight years old (I think he had hit his head the night before while flying across the room), it was a death in the family.
—
I am advocate of rescue animals. Our rescue dog Lucille is part dachshund and part yorkie and brings so much love to our home. We have had a long process of helping her to overcome hiding for long periods of time. Evidently her previous owner must have beaten her.
As a Justice of the Peace in Saline County in Arkansas I have recently voted to appropriate $25,000 to Saline County Humane Society & $15,000 to the Hot Springs Village Animal Welfare League, and this has always been a top priority with me while I have been in office and I have been a volunteer for the Saline County Humane Society.
Dan, I respect that you and your daughter love your pets and we love ours, but are animals equal to humans or are we created special by God to rule over the animals?
—
Francis Schaeffer
Dr. John J. Shea appeared on the TV series APE MAN with Walter Cronkite back in the 1990's and claimed that there is only a degree of difference between monkeys and humans and not a categorical difference. After that program aired I had the opportunity to correspond with Dr. Shea and he was kind enough to send me a two page response to my questions. (This correspondence took place back in 1994 and 1995.)
Dr. Shea also suggested that I read SHADOWS OF FORGOTTEN ANCESTORS by Carl Sagan and his wife Ann Druyan, and I did so. Here are my thoughts on the question.
First, only humans lie in the sense we are held morally responsible. Sagan wrote, "Deception in the social relations of animals…is an emerging and productive topic in biology…" (p. 379). This may be true, but are animals responsible to God? I think not. Romans 3:23 teaches that "All MEN have sinned and fall short of the glory of God." Animals may deceive but they are not morally responsible.
Second, only men feel guilt. Sagan refers briefly to the fact that men feel guilt (p. 4.14), but he does not spend a lot of time on this. Romans 1:19 asserts, "For that which is known about God is evident to them and made plain in their inner consciousness, because God has show it to them" (Amplified Bible). Here Sagan turns to Thomas Henry Huxley who he quotes:
On all sides, I shall hear the cry–"We are men and women, not a mere better sort of apes, a little longer in the leg, more compact in the foot, and bigger in brain than your brutal Chimpanzees and Gorillas. The power of knowledge–the conscience of good and evil--the pitiful tenderness of human affections, raise us out of all real fellowship with the brutes, however, closely they may seem to approximate us."
To this I can reply that the exclamation would be just and would be most just and would have my entire sympathy, if it were only relevant. But, it is not I who seek to base Man's dignity upon this great toe, or insinuate that we are lost if an Ape has a hippocampus minor (in its brain). On the contrary, I have done my best to sweep away this vanity…
WHY DID SAGAN AND HUXLEY FACE SUCH A LARGE CHORUS THAT WAS OBJECTING TO THIS VIEW THAT WE DON'T HAVE A GOD-GIVEN CONSCIENCE? The answer is very simple and it deals with the consequences of Social Darwinism. Chuck Colson said that Larry King was not very impressed with his long talk on the historical accuracy of the scriptures, but when he touched on this subject things got interesting:
Larry King invited me to dinner. "I don't believe in God," Larry told me straight out. "But tell me why you believe." I responded, "Have you seen Woody Allen's movie CRIMES AND MISDEMEANORS?
Yes, he loved it, in fact. It's about a doctor who is haunted by GUILT after hiring a killer to murder his mistress. His Jewish father has taught him that God will surely bring justice. In the end the doctor suppresses his GUILT, convincing himself that LIFE IS AN DARWINIAN STRUGGLE WHERE ONLY THE RUTHLESS SURVIVE.
I asked Larry, "Is that our only choice–to be tormented by GUILT or else kill our conscience? Larry, how do you deal with your conscience?" He dropped his fork. I said, "What do you do with the GUILT that is in here? What do you do with what you know you have done wrong?
Then he was ready to listen. I went on and shared with him from Romans which teaches about the voice of conscience that God has given us.

Third, men have a longing for significance which expresses itself most clearly in the fear of non being.
Fourth, I would point to the fact that only people worship.
Fifth, men are not satisfied unless they have their spiritual needs met. Carl Sagan quotes the poet Walt Whitman, "Not one (animal) is dissatisfied…Not one is respectable or unhappy over the whole earth…" Sagan comments, "On this basis of the evidence presented in this book, we doubt if any of Whitman's six purported differences between other animals and humans is true…" (p. 389).
I read Sagan's book cover to cover and made over 15 pages of notes, and I have yet to find any of the "evidence" that Sagan speaks of on page 389. I find the comments of NOAM CHOMSKY more logical. He calls animal language an "evolutionary miracle" akin to "finding an island of humans who could be taught to fly."
I like Francis Schaeffer's term "Mannishness" of man. He defines it as those aspects of man, such as significance, love, rationality and the fear of non being, which mark him off from animals and machines and give evidence of his being created in the image of a personal God.
The scientist Blaise Pascal is quoted by Sagan on page 364 and then Sagan notes, "Most of the philosophers adjudged great in the history of western thought held that humans are fundamentally different from other animals…"
As you know Pascal was the inventor of the barometer and he lived from 1623 to 1662. Pascal also observed, "There is a God-shaped vacuum in the heart of every man,and only God can fill it."
What is the solution? "For God so loved the world that He gave his one and only Son, that whoever believes in him should not perish but have eternal life" (John 3:16). The scriptural directive is not for us to work harder to achieve God's favor (Romans 3:20), but to accept God's mercy through our repentance and receiving Christ as a free gift (Ephesians 2:8-10).
Is the Bible historically accurate? Here are some of the posts I have done in the past on the subject: 1. The Babylonian Chronicle, of Nebuchadnezzars Siege of Jerusalem, 2. Hezekiah's Siloam Tunnel Inscription. 3. Taylor Prism (Sennacherib Hexagonal Prism), 4. Biblical Cities Attested Archaeologically. 5. The Discovery of the Hittites, 6.Shishak Smiting His Captives, 7. Moabite Stone, 8. Black Obelisk of Shalmaneser III, 9A Verification of places in Gospel of John and Book of Acts., 9B Discovery of Ebla Tablets. 10. Cyrus Cylinder, 11. Puru "The lot of Yahali" 9th Century B.C.E., 12. The Uzziah Tablet Inscription, 13. The Pilate Inscription, 14. Caiaphas Ossuary, 14 B Pontius Pilate Part 2, 14c. Three greatest American Archaeologists moved to accept Bible's accuracy through archaeology.,
https://bidding-test.devops.iponweb.net/automattic/dio-passback.html
The answer to find meaning in life is found in putting your faith and trust in Jesus Christ. The Bible is true from cover to cover and can be trusted.
How Should We Then Live | Season 1 | Episode 7 | The Age of Non-Reason


How Should We Then Live | Season 1 | Episode 8 | The Age of Fragmentation
Whatever Happened To The Human Race? | Episode 1 | Abortion of the Human…

Whatever Happened To The Human Race? | Episode 4 | The Basis for Human D…

1984 SOUNDWORD LABRI CONFERENCE VIDEO – Q&A With Francis & Edith Schaefer

—
Featured artist is DE CHIRICO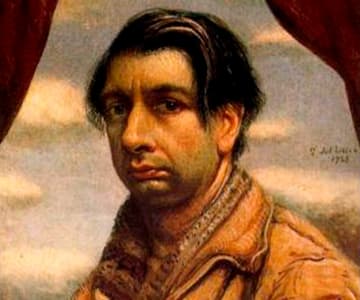 GIORGIO DE CHIRICO (1888-1978)
Considered the father of metaphysical painting and a major influence on the Surrealist movement.
Related posts:
I have gone back and forth and back and forth with many liberals on the Arkansas Times Blog on many issues such as abortion, human rights, welfare, poverty, gun control and issues dealing with popular culture. Here is another exchange I had with them a while back. My username at the Ark Times Blog is Saline […]
By Everette Hatcher III|Posted in Francis Schaeffer, Prolife|Edit|Comments (0)
On March 17, 2013 at our worship service at Fellowship Bible Church, Ben Parkinson who is one of our teaching pastors spoke on Genesis 1. He spoke about an issue that I was very interested in. Ben started the sermon by reading the following scripture: Genesis 1-2:3 English Standard Version (ESV) The Creation of the […]
By Everette Hatcher III|Posted in Adrian Rogers, Atheists Confronted, Current Events|TaggedBen Parkinson, Carl Sagan|Edit|Comments (0)
Review of Carl Sagan book (Part 4 of series on Evolution) The Long War against God-Henry Morris, part 5 of 6 Uploaded by FLIPWORLDUPSIDEDOWN3 on Aug 30, 2010 http://www.icr.org/ http://store.icr.org/prodinfo.asp?number=BLOWA2http://store.icr.org/prodinfo.asp?number=BLOWASGhttp://www.fliptheworldupsidedown.com/blog _______________________ I got this from a blogger in April of 2008 concerning candidate Obama's view on evolution: Q: York County was recently in the news […]
By Everette Hatcher III|Posted in Atheists Confronted, Current Events, President Obama|Edit|Comments (0)
Review of Carl Sagan book (Part 3 of series on Evolution) The Long War against God-Henry Morris, part 4 of 6 Uploaded by FLIPWORLDUPSIDEDOWN3 on Aug 30, 2010 http://www.icr.org/ http://store.icr.org/prodinfo.asp?number=BLOWA2http://store.icr.org/prodinfo.asp?number=BLOWASGhttp://www.fliptheworldupsidedown.com/blog______________________________________ I got this from a blogger in April of 2008 concerning candidate Obama's view on evolution: Q: York County was recently in the news […]
By Everette Hatcher III|Posted in Atheists Confronted, Current Events, President Obama|Edit|Comments (0)
At the end of this post is a message by RC Sproul in which he discusses Sagan. Over the years I have confronted many atheists. Here is one story below: I really believe Hebrews 4:12 when it asserts: For the word of God is living and active and sharper than any two-edged sword, and piercing as far as the […]
By Everette Hatcher III|Posted in Adrian Rogers, Atheists Confronted, Current Events, Francis Schaeffer|Tagged Bill Elliff, Carl Sagan, Jodie Foster, RC Sproul|Edit|Comments (0)
Review of Carl Sagan book (Part 4 of series on Evolution) The Long War against God-Henry Morris, part 5 of 6 Uploaded by FLIPWORLDUPSIDEDOWN3 on Aug 30, 2010 http://www.icr.org/ http://store.icr.org/prodinfo.asp?number=BLOWA2http://store.icr.org/prodinfo.asp?number=BLOWASGhttp://www.fliptheworldupsidedown.com/blog _______________________ This is a review I did a few years ago. THE DEMON-HAUNTED WORLD: Science as a Candle in the Dark by Carl […]
By Everette Hatcher III|Posted in Atheists Confronted, Current Events|Edit|Comments (0)
Review of Carl Sagan book (Part 3 of series on Evolution) The Long War against God-Henry Morris, part 4 of 6 Uploaded by FLIPWORLDUPSIDEDOWN3 on Aug 30, 2010 http://www.icr.org/ http://store.icr.org/prodinfo.asp?number=BLOWA2http://store.icr.org/prodinfo.asp?number=BLOWASGhttp://www.fliptheworldupsidedown.com/blog______________________________________ I was really enjoyed this review of Carl Sagan's book "Pale Blue Dot." Carl Sagan's Pale Blue Dot by Larry Vardiman, Ph.D. […]
By Everette Hatcher III|Posted in Atheists Confronted, Current Events|Edit|Comments (0)
In today's news you will read about Kirk Cameron taking on the atheist Stephen Hawking over some recent assertions he made concerning the existence of heaven. Back in December of 1995 I had the opportunity to correspond with Carl Sagan about a year before his untimely death. Sarah Anne Hughes in her article,"Kirk Cameron criticizes […]
By Everette Hatcher III|Posted in Atheists Confronted|Edit|Comments (2)
In this post we are going to see that through the years humanist thought has encouraged artists like Michelangelo to think that the future was extremely bright versus the place today where many artist who hold the humanist and secular worldview are very pessimistic. In contrast to Michelangelo's DAVID when humanist man thought he […]
By Everette Hatcher III|Posted in Francis Schaeffer|Tagged David Leeds, J.I.PACKER, Joe Carter, Massimiliano Gioni, Michelangelo, Michelangelo's DAVID, Michelangelo's Florence Pietà, Paul McCarthy, Renaissance, Rick Pearcey, Rush Limbaugh, Tony Bartolucci|Edit|Comments (0)
_________ Antony Flew on God and Atheism Published on Feb 11, 2013 Lee Strobel interviews philosopher and scholar Antony Flew on his conversion from atheism to deism. Much of it has to do with intelligent design. Flew was considered one of the most influential and important thinker for atheism during his time before his death […]
By Everette Hatcher III|Posted in Current