I have read articles for years from Dan Barker, but recently I just finished the book Barker wrote entitled LIFE DRIVEN PURPOSE which was prompted by Rick Warren's book PURPOSE DRIVEN LIFE which I also read several years ago.
Dan Barker is the Co-President of the Freedom From Religion Foundation, And co-host of Freethought Radio and co-founder of The Clergy Project.
On March 19, 2022, I got an email back from Dan Barker that said:
Thanks for the insights.
Have you read my book Life Driven Purpose? To say there is no purpose OF life is not to say there is no purpose IN life. Life is immensely meaningful when you stop looking for external purpose.
Ukraine … we'll, we can no longer blame Russian aggression on "godless communism." The Russian church, as far as I know, has not denounced the war.
db
—
In the next few weeks I will be discussing the book LIFE DRIVEN PURPOSE which I did enjoy reading. Here is an assertion that Barker makes that I want to discuss:
The same is true with the existence of the historical Jesus. As I write in Godless, I think the probability of the existence of a historical person named Jesus, the founder of Christianity, is very low. I don't think it is zero, but I definitely think it is below 50 percent—maybe I would put it around 20 percent or 30 percent. Although I might be wrong, I am comfortable calling Jesus a myth. Bart Ehrman disagrees.5 Ehrman is also a former preacher, like me, now a nonbeliever, and a biblical scholar who wrote Did Jesus Exist?: The Historical Argument for Jesus of Nazareth.
I enjoyed your friend Richard Dawkins' book Outgrowing God which is one of my favorite books that Dawkins has written.
However, there are some some weak parts of the book. For instance, on page 21 Dawkins wrote:
The balance of probability, according to most but not all scholars, suggest that Jesus did exist. Of course we'd know for sure if we could be certain the four gospels of the New Testament were historically true. Until recently, nobody doubted them. There's even a proverbial phrase in English, 'gospel truth', meaning as true as true can be. But the phrase rings rather hollow today after studies in the 19th and 20th century scholars.
Let me answer that with his sermon from Adrian Rogers:
Who is the Man Called Jesus Christ? – Acts 10:34 part 1LWF: Who is the Man Called Jesus Christ? – Acts 10:34 part 1 Jesus Christ is a historical fact, yet some people doubt that He ever even lived let alone that He is God.Now the truth is that only the ignorant think that way.Without even considering the Bible, Jesus Christ is a historical fact.From secular history, Flavius Josephus, one of the greatest historians of all time, and a great man of the first century: a student, a priest, a military commander, and a diplomat in addition to being a great historian.He's been described as one of the most distinguished and learned Jews of his day. He wrote a great 21 volume history titled, The Antiquities of the Jews.This compendium tells the story of the Jews and the history of the world from Creation to the destruction of Masada.He's the historians' historian, so historians go to this historian when they want to understand what these times were like.Andhe commented on the times of the Lord Jesus Christ in one of these volumes and wrote about the social unrest in Judea when Pontius Pilate was the Roman procurator around AD 26-36.
So here's a paragraph from the historian Flavius Josephus and not from the Word of God. He says, and I quote,"Now there was about this time Jesus, a wise man for he was a doer of wonderful works. A teacher of such men as have received the truth with pleasure. He drew over to him both many of the Jews and many of the Gentiles. And when Pilate at the suggestion of the principle men among us had condemned him to the cross, those that loved him at the first ceased not to do so, and the race of Christians so named from him are not extinct even now."
So that was written by a Jewish historian. Not one of the writers of the Bible or a Christian.And notice what he said about Jesus.He said he was a wise men.He said he was a miracle worker.He said that he was a teacher.He said that he was crucified unto Pontus Pilate and that he was the founder of a race of people known as Christians.
Now there's another historian, Citonious, who was the official historian of the imperial house of Rome.InAD 49, he wrote an account at the request of the emperor, Claudius, who had banished all of the Jews from the city.And this is what he said. "He expelled the Jews from Rome on account of the riots in which they were constantly indulging at the instigation of Christus (another name for Christ)."Now he's not suggesting that Chritus was ever in Rome in person he was referring to the introduction of his spiritually radical teaching. So here's a pagan historian who was writing about a man named Christ.Then another historian, named Tassatus, was the Roman governor of Asia.Now recall that Ceasar Nero, in about AD 64, when the city of Rome burned, was accused of burning the slums in Rome so he could rebuild the city of Rome.Then Nero, blamed it on the Christians to shift the blame.
https://bidding-test.devops.iponweb.net/automattic/dio-passback.html
And here's what Cornelius Tassatus, this noted historian, wrote, and I quote:"To dispel the rumor, Nero substituted as culprits and treated with the most extreme punishments some people popularly known as "Christians," whose disgraceful activities were notorious. The originator of that name—Christus—had been executed when Tiberius was emperor by order of the procurator, Pontius Pilate."
So all of these secular historians had to deal with this man named Jesus.Plyniums the governor of Bethania also known as Pline the younger, was a contemporary of both Tassitus and Sitonius.And he was also a historian. He says, and I quote:"I have asked the accused themselves if they were Christians. (Now there are some people who, if they were named Christians would be put to death.) and they said "Yes." I asked them a second and third time, warning them of the penalty if they persisted. I ordered them to be led off to the execution, and what was their crime? They were in the habit of meeting on a certain fixed day before sunrise and reciting an antiphenal hymn to Christ as God and binding themselves with an oath, not to commit any crime but to abstain from all acts of theft, robbery, and adultery. From breaches of faith, from repudiating of trust when called upon to honor it."
Now we just read some snatches of history from secular historians, contemporaries of those who were living at the time of Christ, and contemporaries immediately after this time, and they all speak of Jesus Christ as an historical fact.Now remember that these were not Christians, in fact they were enemies of the faith, but they all had to reckon with Jesus Christ as both you and I must do.So let me just put it down big and plain and straight: Jesus Christ was and is an historical fact.
By Walter C. Kaiser, Jr. • November 22, 2006
In his "Encyclopedia of Biblical Prophecy," J. Barton Payne itemized 127 Messianic predictions involving more than 3,000 Bible verses, with a remarkable 574 verses referring directly to a personal Messiah! My book "The Messiah in the Old Testament" examined 65 direct prophecies about the Messiah. These incredible promises formed one of the most central themes of the Old Testament: the coming Messiah.
The word Messiah or Anointed One (or in Greek, Christ), is taken from Psalm 2:2 and Daniel 9:25-26. The term took its meaning from the Jewish practice of anointing their priests and kings. But this term was applied in a special sense to the future Ruler who would be sent from God to sit on the throne of David forever. He is the One that God distinctly identified many years ahead of His arrival on earth, as Acts 3:18 affirms: "But this is how God fulfilled what he had foretold through all the prophets, saying that his Christ [Messiah] would suffer" (NIV).
Likewise, according to 1 Peter 1:11, the Old Testament prophets predicted "the sufferings of Christ and the glories that would follow" (NIV). The Messiah's coming was not a secret left in a corner, but the repeated revelation of God to His people in the Old Testament.
Here are some of the definite clues about this coming that God gave in the Old Testament:
The Messiah would be the seed/offspring of a woman and would crush the head of Satan (Genesis 3:15).
He would come from the seed/offspring of Abraham and would bless all the nations on earth (Genesis 12:3).
He would be a "prophet like Moses" to whom God said we must listen (Deuteronomy 18:15).
He would be born in Bethlehem of Judah (Micah 5:2).
He would be born of a virgin (Isaiah 7:14).
He would have a throne, a kingdom and a dynasty, or house, starting with King David, that will last forever (2 Samuel 7:16).
He would be called "Wonderful Counselor," "Mighty God," "Everlasting Father," "Prince of Peace," and would possess an everlasting kingdom (Isaiah 9:6-7).
He would ride into Jerusalem on a donkey, righteous and having salvation, coming with gentleness (Zechariah 9:9-10).
He would be pierced for our transgression and crushed for our iniquities (Isaiah 53:5).
He would die among the wicked ones but be buried with the rich (Isaiah 53:9).
He would be resurrected from the grave, for God would not allow His Holy One to suffer decay (Psalm 16:10).
He would come again from the clouds of heaven as the Son of Man (Daniel 7:13-14).
He would be the "Sun of Righteousness" for all who revere Him and look for His coming again (Malachi 4:2).
He is the One whom Israel will one day recognize as the One they pierced, causing bitter grief (Zechariah 12:10).
The prophesies about the Messiah were not a bunch of scattered predictions randomly placed throughout the Old Testament, but they form a unified promise-plan of God, where each promise is interrelated and connected into a grand series comprising one continuous plan of God. Thus, a unity builds as the story of God's call on Israel, and then on the house of David, progresses in each part of the Old Testament.
However, this eternal plan of God also had multiple fulfillments as it continued to unfold in the life and times of Israel. For example, every successive Davidic king was at once both a fulfillment in that day as well as a promise of what was to come when Christ, the final One in the Davidic line, arrived. Each of these successive fulfillments gave confidence that what was in the distant future would certainly happen, because God was working in the fabric of history as well. And although the promise was made to specific persons, such as Eve, Abraham, Isaac, Jacob and David, it was cosmopolitan in its inclusiveness. What God was doing through Israel and these individuals was to be a source of blessing to all the families of the earth (Genesis 12:3).
Some insist that the Messiah whom Christians revere is not the same one that Jewish people also look forward to meeting. Some years ago, I had an opportunity to be part of a televised debate with a rabbi who is a Jewish New Testament scholar around the question, "Is Jesus the Messiah?" The rabbi explained the Jewish point of view: "Evangelicals believe the Messiah has two comings: one at Christmas and one at His second coming. We Jews believe He will only come once, at a time of peace on earth just as the prophet Zechariah declared in Zechariah 12-14. Since we still experience wars, Messiah has not yet come."
I responded, "It says in Zechariah 12:10 that 'They will look on me.' Who is the one speaking here?"
He replied: "The Almighty, of course."
I responded, "It says, 'They will look on me, the one they have pierced.' How did He get pierced?" He answered that he did not know. I said, "I have an idea. It was at Calvary." He did not counter with any further argument.
The Bible is saying that on that future day of His Second Coming, Jews and Gentiles will personally see the One who was pierced for the sins of the world. In other words, that "future day" will not be the first time they have seen Him. So even the Old Testament, it turns out, anticipated two comings of the Messiah: one at His birth and another when He comes as triumphant king at His Second Coming.
What would this world be like without the Messiah? What would Christmas be like without the fulfillment of all those ancient promises and the prospect of Messiah's coming yet once more as King of kings and Lord of lords? His arrival has made the difference between light and darkness itself. Think what His triumphal appearance once more will mean to this world. Everyone, including all of nature itself (Romans 8:20-21), will let out a burst of praise such as has never been heard: Here comes the King Himself, our Lord and our Savior! Joy to the World!
Take a look at this piece of evidence from the book WHATEVER HAPPENED TO THE HUMAN RACE? by Francis Schaeffer and C. Everett Koop at this link!
The answer to find meaning in life is found in putting your faith and trust in Jesus Christ. The Bible is true from cover to cover and can be trusted.
—
Francis Schaeffer
How Should We Then Live | Season 1 | Episode 7 | The Age of Non-Reason


How Should We Then Live | Season 1 | Episode 8 | The Age of Fragmentation
Whatever Happened To The Human Race? | Episode 1 | Abortion of the Human…

Whatever Happened To The Human Race? | Episode 4 | The Basis for Human D…

1984 SOUNDWORD LABRI CONFERENCE VIDEO – Q&A With Francis & Edith Schaefer



Featured artist is MOREAU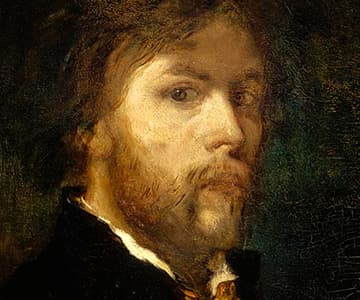 GUSTAVE MOREAU (1826-1898)
One of the key figures of symbolism, introverted and mysterious in life, but very free and colorful in his works.
Related posts:
I have gone back and forth and back and forth with many liberals on the Arkansas Times Blog on many issues such as abortion, human rights, welfare, poverty, gun control and issues dealing with popular culture. Here is another exchange I had with them a while back. My username at the Ark Times Blog is Saline […]
By Everette Hatcher III|Posted in Francis Schaeffer, Prolife|Edit|Comments (0)
On March 17, 2013 at our worship service at Fellowship Bible Church, Ben Parkinson who is one of our teaching pastors spoke on Genesis 1. He spoke about an issue that I was very interested in. Ben started the sermon by reading the following scripture: Genesis 1-2:3 English Standard Version (ESV) The Creation of the […]
By Everette Hatcher III|Posted in Adrian Rogers, Atheists Confronted, Current Events|TaggedBen Parkinson, Carl Sagan|Edit|Comments (0)
Review of Carl Sagan book (Part 4 of series on Evolution) The Long War against God-Henry Morris, part 5 of 6 Uploaded by FLIPWORLDUPSIDEDOWN3 on Aug 30, 2010 http://www.icr.org/ http://store.icr.org/prodinfo.asp?number=BLOWA2http://store.icr.org/prodinfo.asp?number=BLOWASGhttp://www.fliptheworldupsidedown.com/blog _______________________ I got this from a blogger in April of 2008 concerning candidate Obama's view on evolution: Q: York County was recently in the news […]
By Everette Hatcher III|Posted in Atheists Confronted, Current Events, President Obama|Edit|Comments (0)
Review of Carl Sagan book (Part 3 of series on Evolution) The Long War against God-Henry Morris, part 4 of 6 Uploaded by FLIPWORLDUPSIDEDOWN3 on Aug 30, 2010 http://www.icr.org/ http://store.icr.org/prodinfo.asp?number=BLOWA2http://store.icr.org/prodinfo.asp?number=BLOWASGhttp://www.fliptheworldupsidedown.com/blog______________________________________ I got this from a blogger in April of 2008 concerning candidate Obama's view on evolution: Q: York County was recently in the news […]
By Everette Hatcher III|Posted in Atheists Confronted, Current Events, President Obama|Edit|Comments (0)
At the end of this post is a message by RC Sproul in which he discusses Sagan. Over the years I have confronted many atheists. Here is one story below: I really believe Hebrews 4:12 when it asserts: For the word of God is living and active and sharper than any two-edged sword, and piercing as far as the […]
By Everette Hatcher III|Posted in Adrian Rogers, Atheists Confronted, Current Events, Francis Schaeffer|Tagged Bill Elliff, Carl Sagan, Jodie Foster, RC Sproul|Edit|Comments (0)
Review of Carl Sagan book (Part 4 of series on Evolution) The Long War against God-Henry Morris, part 5 of 6 Uploaded by FLIPWORLDUPSIDEDOWN3 on Aug 30, 2010 http://www.icr.org/ http://store.icr.org/prodinfo.asp?number=BLOWA2http://store.icr.org/prodinfo.asp?number=BLOWASGhttp://www.fliptheworldupsidedown.com/blog _______________________ This is a review I did a few years ago. THE DEMON-HAUNTED WORLD: Science as a Candle in the Dark by Carl […]
By Everette Hatcher III|Posted in Atheists Confronted, Current Events|Edit|Comments (0)
Review of Carl Sagan book (Part 3 of series on Evolution) The Long War against God-Henry Morris, part 4 of 6 Uploaded by FLIPWORLDUPSIDEDOWN3 on Aug 30, 2010 http://www.icr.org/ http://store.icr.org/prodinfo.asp?number=BLOWA2http://store.icr.org/prodinfo.asp?number=BLOWASGhttp://www.fliptheworldupsidedown.com/blog______________________________________ I was really enjoyed this review of Carl Sagan's book "Pale Blue Dot." Carl Sagan's Pale Blue Dot by Larry Vardiman, Ph.D. […]
By Everette Hatcher III|Posted in Atheists Confronted, Current Events|Edit|Comments (0)
In today's news you will read about Kirk Cameron taking on the atheist Stephen Hawking over some recent assertions he made concerning the existence of heaven. Back in December of 1995 I had the opportunity to correspond with Carl Sagan about a year before his untimely death. Sarah Anne Hughes in her article,"Kirk Cameron criticizes […]
By Everette Hatcher III|Posted in Atheists Confronted|Edit|Comments (2)
In this post we are going to see that through the years humanist thought has encouraged artists like Michelangelo to think that the future was extremely bright versus the place today where many artist who hold the humanist and secular worldview are very pessimistic. In contrast to Michelangelo's DAVID when humanist man thought he […]
By Everette Hatcher III|Posted in Francis Schaeffer|Tagged David Leeds, J.I.PACKER, Joe Carter, Massimiliano Gioni, Michelangelo, Michelangelo's DAVID, Michelangelo's Florence Pietà, Paul McCarthy, Renaissance, Rick Pearcey, Rush Limbaugh, Tony Bartolucci|Edit|Comments (0)
_________ Antony Flew on God and Atheism Published on Feb 11, 2013 Lee Strobel interviews philosopher and scholar Antony Flew on his conversion from atheism to deism. Much of it has to do with intelligent design. Flew was considered one of the most influential and important thinker for atheism during his time before his death […]
By Everette Hatcher III|Posted in Current