—
Joni Mitchell – Both Sides Now (Lyric Video)
Joni Mitchell – Both Sides, Now [Original Studio Version, 1969]
Love Is The Answer – England Dan & John Ford Coley – Lyrics
England Dan & John Ford Coley…Love is the Answer
Kate Rusby – Who Will Sing Me Lullabies
Not Dark Yet (+lyrics) Bob Dylan
Bob Dylan – Not Dark Yet (Official Video)

Aaron Espe – Back to the Beginning
10cc – The Things We Do For Love (W/Lyrics)
10cc – The Things We Do For Love
Death Cab For Cutie – I Will Follow You Into The Dark +Lyrics
Death Cab for Cutie – I Will Follow You into the Dark (Official Music Vi…

BBC Radio 2 My Life In A Mixtape – Ricky Gervais – Opening
After Life Season 3 Soundtrack | Back to the Beginning – AARON ESPE |
—
—-
—-
—-
—
World Exclusive: After Life Season 3: The First few Minutes
After Life | Season 3 Official Trailer | Netflix
—
episodes will be released on January 14th.
Just Three Things. Written for #Afterlife by Ricky Gervais and Andy Burrows




April 14, 2022
Ricky Gervais
London, W1F 0LE
UK
Dear Ricky,
The series finale is particularly jam-packed with recognisable tunes.
By David Craig
Published: Friday, 14th January 2022 at 12:07 pm
The third season of After Life launches on Netflixtoday, bringing the latest comedy project from Ricky Gervais to an emotional conclusion.
The so-called 'sadcom' has tackled some heavy themes during its rollercoaster run, which has seen widow Tony Johnson (Gervais) give into self-destructive tendencies as he struggles to come to terms with his wife's tragic death.
Adding some extra heft to the most dramatic scenes are the music choices, which are usually directly relatable to the difficult situation that Tony finds himself in.
After Life season 3 features a wide range of musical acts, including legendary songwriters Bob Dylan and Cat Stevens, as well as rock bands Radiohead and Death Cab for Cutie.
For any viewers who hear something they like in the last six episodes, we've compiled a full list of the licensed songs in After Life season 3, of which the finale has the largest jukebox.
Read on for the full tracklist, while we also have details on the After Life cast and locations for you to peruse at your leisure.
Episode 1
The Things We Do for Love by 10cc
Back to the Beginning by Aaron Espe
Episode 2
Not Dark Yet by Bob Dylan
Who Will Sing Me Lullabies by Kate Rusby
Episode 3
Let Down by Radiohead
Episode 4
The Wind by Cat Stevens
Episode 5
Hammer and Felt by Beneath the Mountain
Episode 6
I Will Follow You Into the Dark – Death Cab for Cutie
Love Is the Answer (Single Version) by England Dan & John Ford Coley
Introspective Inquiries by Margaret Dahlberg
Mandolin Wind by Rod Stewart
Both Sides Now by Joni Mitchell
11 March 2022, 15:36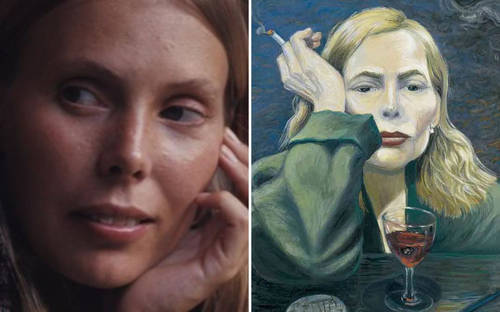 By Thomas Curtis-Horsfall
Both Sides, Now' is undoubtedly one of Joni Mitchell's most beloved songs.
Heart-breaking and at the same time enduringly hopeful, it was the song that ultimately started the career of a once-in-a-generation talent.
It was in fact Joni Mitchell that wrote 'Both Sides, Now' at the tender age of just 23, and would be the first hit she wrote.

That was despite the fact that the song was originally released by folk musician Judy Collins in 1967, as Joni wasn't a recognised performer so instead settled for writing songs for other artists.
Collins would go on to win the Grammy Award in 1969 for Best Folk Performance and 'Both Sides, Now' is widely regarded as her signature song, but she gave Joni her due by helping her launch her own career as a musician.
Joni cited Judy Collins as a major influence and was thrilled she chose to record a song she'd written.
Collins continued to support Joni, introducing a then-unknown Mitchell during her set at the Newport Folk Festival in 1966, which she remained grateful for.
What inspired the song?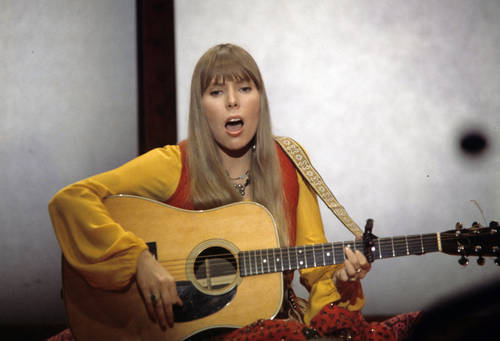 Joni had been struggling during the period she wrote the lyrics to 'Both Sides, Now', as she had recently given birth to a baby girl but was left by the father to bring her daughter up as a single parent.
Not being able to sufficiently provide for her baby as a young, single mother, Joni gave up her daughter for adoption, a distressing experience that remained private for the majority of her career.
After wedding musician Chuck Mitchell in the same year, their marriage would soon dissolve which started a dark period for Joni. Though, it provided the primary source of her inspiration.
Talking about the moment she began to pen her first song, Joni recalled: "I was reading Saul Bellow's Henderson the Rain King on a plane and early in the book Henderson the Rain King is also up in a plane. He's on his way to Africa and he looks down and sees these clouds."
"I put down the book, looked out the window and saw clouds too, and I immediately started writing the song. I had no idea that the song would become as popular as it did."
When was it released?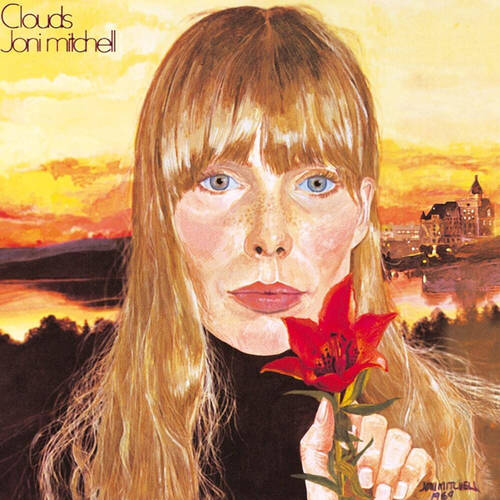 The song first hit airwaves when Judy Collins included it on her album Wildflowers in 1967. She would release 'Both Sides, Now' as a single the following year.
In 1969, Joni released the song herself on her sophomore album titled Clouds, which was drawn from the lyrics of 'Both Sides, Now' itself.
How did it perform in the charts?
Judy Collins' version made its way to No.8 on the US Billboard Charts, and to No.14 in the UK charts.
Joni's subsequent rendition would not chart at all, even though it has since become one of the most influential songs she's ever written.
What is the song's legacy?
The reputation of 'Both Sides, Now' was rejuvenated somewhat after Mitchell re-recorded an orchestral version in 2000 which was mainly comprised of jazz standards.
Singer Nichole Nordeman spoke about the song's influence on her, saying that it is "the perfect portrait of what it means to understand love when you are young and hopeful and naive, and then again when you are wise and weathered. From both sides."
"In rather beautiful irony, she recorded the original song in her 20s as a new artist and made it a hit, and then again in her 50s, when she had really lived the lyric. I like it better when older Joni sings it. Full of grit and nicotine and hard living, the regret and tenderness is what makes it more believable the second time around."
Led Zeppelin guitarist Jimmy Page was deeply affected by the song, saying in 1975 that he interpreted the lyrics "now old friends are acting strange, they shake their heads, they say I've changed," as being about celebrities losing all their old friends once they become famous.
Where have I heard the song before?
One of the most notable inclusions of 'Both Sides, Now' in film is in Love Actually, during the heart-wrenching scene where Emma Thompson's character discovers that her husband played by Alan Rickman is having an affair.
Love Actually's director Richard Curtis said the song was so moving, "especially by the fact that it was written by a 23-year-old yet is so suitable for a woman who's had the whole of life's experience."
It was also played during the final episode of Season 3 of Ricky Gervais' Afterlife when he walks into the distance holding his wife's hand before they both fade.

Collins' version has featured in Mad Men, You've Got Mail, and Steve Jobs.
Has anyone else recorded 'Both Sides, Now'?
'Both Sides, Now' is considered a timeless classic, and is Joni Mitchell's most covered song with over 1000 other versions recorded.
Luminaries such as Frank Sinatra, Herbie Hancock, Bing Crosby, Seal, Willie Nelson, and Susan Boyle have all recorded cover versions throughout the years.
Dolly Parton even recorded a version with Judy Collins (and Rhonda Vincent) for her covers album, Those Were The Days, in 2005.
—
Recently I read the book NO COMPROMISE about the life of Keith Green and I found this about Joni very interesting:
On the first day of May, Keith wrote, "Drum roll . . . we played for Joni Mitchell." Joni, a top-selling recording artist, was one of Keith's musical idols. She lived in a rustic area of the Hollywood Hills, and Keith had taken the trouble to find out exactly which house was hers. On this day, Keith and Todd hitchhiked to Jay Leon's house and on the way noticed Joni's gate was open. They got Jay and his guitar and the three of them walked back to Joni's. Keith, of course, had the nerve to knock on her door. There was no answer, so they decided to serenade her house with a song they'd just written. They put their whole heart into it. As they sang the last note, the door opened and there stood Joni Mitchell. To their amazement, she invited them inside. Keith made himself right at home. He sat at Joni's piano and sang her all the songs he was writing for his album. He even asked her to write the liner notes, and Todd and Jay nearly died of embarrassment. Keith also wrote, "She gave us organic apple juice. It was all such a beautiful dream . . . I wish it never ended. I left a piece of my soul with her." Probably one of the most surprising things about the afternoon was that, although Joni was at the peak of success, she had some unanswered spiritual questions too. On one hand, Keith already believed the truth was something much deeper than position or possessions. But he also was disappointed. He had such an immense level of love and respect for Joni he figured if she didn't have the answers, who did? He later wrote: She seems troubled with an inner conflict. I love her. God help her and us all. You are our only salvation. I feel so discontented today. I feel unfulfilled. Searching for something to quench my thirst for fulfillment. In September 1971, the long-sought recording contract finally became a reality. Keith's first album, with Amos Records, would be called Revelations. The bulk of the songs centered on his philosophy of peace and hope through the unity of mankind. But even the excitement of an album deal didn't dull the empty ache in Keith's heart. February 21, 1972 I have been so confused and off the path. Smoking really kills the pain of being lost. Tests, trials, and tribulations.


—
Later Keith found that inner peace and he wrote about it in this song below:
Your Love Broke Through
Song by Keith Green
Like a foolish dreamer, trying to build a highway to the sky
All my hopes would come tumbling down, and I never knew just why
Until today, when you pulled away the clouds that hung like curtains on my eyes
Well I've been blind all these wasted years and I thought I was so wise
But then you took me by surprise
Like waking up from the longest dream, how real it seemed
Until your love broke through
I've been lost in a fantasy, that blinded me
Until your love broke through
All my life I've been searching for that crazy missing part
And with one touch, you just rolled away the stone that held my heart
And now I see that the answer was as easy, as just asking you in
And I am so sure I could never doubt your gentle touch again
It's like the power of the wind
When musician Keith Green died in a plane crash on July 28, 1982, the world lost a special man whose heart was aflame with the Gospel message. Before his untimely end, Green took the world on his seven-year spiritual journey. He held back nothing and was consumed with loving Christ and the church.
On October 21, 1953, Keith Green was born into musical talent. His maternal grandfather was a songwriter and his mother studied voice at Carnegie Hall. By five years old, Green played the ukulele and began formal music lessons. He was writing his own music by age 9. Two years later, Green signed with Decca Records. Time magazine called Green a "pre-pubescent dreamboat" who "croons in a voice trembling with conviction." He was the youngest member of the American Society of Composers, Authors and Publishers, and played on The Jack Benny Show and The Joey Bishop Show. Green was on the cusp of pop music success until he was displaced by another budding teen idol, Donny Osmond.
After a troubled youth, he married singer/songwriter Melody Steiner in 1973. They struggled to financially and spiritually sought after the meaning of life. Growing up in the drug-induced, anti-establishment '60s era led them both to reject organized religion and dabble in eastern mysticism.
Green discovered Christ in the mid-70s. As he attended church and delved deeper into the Bible, Green was increasingly troubled by the hypocrisy of Christians. He longed to reach people through his music and drive them back to holiness. With vocals like Cat Stevens and the piano talent of Elton John, Green recorded his first album in 1977, For Him Who Has Ears to Hear on Sparrow Records. The album, produced by Bill Maxwell, was a commercial success. It later earned the No. 5 spot in CCM's Greatest Albums in Christian Music. Hits like "Your Love Broke Through" (co-written by friend Randy Stonehill) and "You Put This Love in My Heart" encapsulated Green's relationship with Jesus. It also had 2nd Chapter of Acts' "Easter Song." That same year the Greens started Last Days Ministries with a newsletter that reached 22,000 people.
No Compromise came in November of 1978. "Asleep in the Light," a radio hit, drove home Green's conviction for the hypocrites in the church. Penning his most confrontational lyrics, he sang: "Jesus rose from the dead / And you can't even get out of bed." Green also mourned the lost souls he encountered in Los Angeles in "How Can They Live Without Jesus."
Green released So You Wanna Go Back to Egypt in 1980. The title track is a light-hearted view of the little things that become obstacles in the Christian walk. He also sang the worshipful "Oh Lord You're Beautiful" and an ode to laying down his possessions in "Pledge My Head to Heaven." Green refused to let money be an obstacle in spreading the gospel. His third album sold 200,000 copies, and most of his albums were given away at concerts.
In the book NO COMPROMISE I read these words:
Probably one of the most surprising things about the afternoon was that, although Joni was at the peak of success, she had some unanswered spiritual questions too. On one hand, Keith already believed the truth was something much deeper than position or possessions. But he also was disappointed. He had such an immense level of love and respect for Joni he figured if she didn't have the answers, who did?

If Keith was here and could sing one song to Joni Mitchell or Tony Johnson I think it would be this one below:

Altar Call
Song by Keith Green
You know I can't explain to you
Really how He does it
But He proved Himself to me in such a Holy way
Such a complete way
That I'd die for that faith and I'd die for that believe
Because it is more than a believe
He lives in my heart
And that's the only proof
The only proof that I can give you
Cause He lives in my heart
Most people that knew me before
Didn't know that I could believe something so strong
The Gospel is simpy this:
Jesus will forive all your sins
If you come to Him humbly
Lay down at his feet and say:
'You're the Lord
And I'll follow you the rest of my life on earth
So that I can have the rest of eternity with You
And the Glory of Your Father'
(SONG BEGINS)
Most people don't find out
'Till it's too late
That someone has to pay the price
You can pay it your self (Hah!)
Or let someone else
But who would be that nice
To pay a debt that isn't his
Well I know someone like that
And He's your best friend
He really is
He really loves you
Most people don't find out
'Till they have death
That they need another life
You say you've heard everything
That's ever been said
About the way the truth, the life
You say you've heard lots of preaching
All before
So many times
But did you ever open up your door
Give Him a chance
To prove Himself
That He's real or not
I hope you find out
Before it's too late
That there's really nobody else
You know its breaking his heart
The longer you wait
Cause You've only been lying to yourself
Cause
No one believes a thing you say
Not even you
You know
You're gonna find out that He's the way
No matter which way you choose
But I pray you
Find out by His love for you
—-
Ricky Gervais would have us believe that there is no spiritual answers.
What happens in the end of After Life Season 3?
The closing scene of After Life Season 3 shows Tony walking away from Tambury Fair with Lisa and their dog Brandy. The married couple hold hands, but Lisa fades away. Shortly after, Brandy disappears. Then, Tony. What's going on? Have all three passed away?
What does the ending of After Life Season 3 mean?
Luckily, we don't have to speculate too much, because Gervais himself walked viewers through the ending. In an interview with Digital Spy, the creator explained what was going through his head as he wrote the last scene in Season 3.
"It's just that life goes on, you know? When we're all dead and buried, that field's still there, the Tambury Fair is still going, that tree is still there, and it's basically said that we all die, but not today," he said. "That's what the ending is saying. 'We all die, but not today'. Enjoy it while you can, life is so finite. Whenever you are born, and whenever you die, it's all over. So enjoy that bit, that tiny little bit."
The answer to find meaning in life is found in putting your faith and trust in Jesus Christ. The Bible is true from cover to cover and can be trusted.
Thanks for your time.
Sincerely,
Everette Hatcher, everettehatcher@gmail.com, http://www.thedailyhatch.org, cell ph 501-920-5733, 13900 Cottontail Lane, Alexander, AR 72002
PS: Try out the film series HOW SHOULD WE THEN LIVE? by Francis Schaeffer on You Tube. It shows how Humanism has been to blame for many of the problems in the western world in the
past and the alternative worldview of Biblical Christianity.

Francis Schaeffer pictured above.
How Should We Then Live | Season 1 | Episode 1 | The Roman Age | Francis…
How Should We Then Live | Season 1 | Episode 2 | The Middle Ages | Franc…

How Should We Then Live | Season 1 | Episode 3 | The Renaissance | Franc…

–
How Should We Then Live | Season 1 | Episode 4 | The Reformation | Franc…
How Should We Then Live | Season 1 | Episode 5 | The Revolutionary Age
How Should We Then Live | Season 1 | Episode 6 | The Scientific Age

How Should We Then Live | Season 1 | Episode 7 | The Age of Non-Reason

How Should We Then Live | Season 1 | Episode 8 | The Age of Fragmentation
How Should We Then Live | Season 1 | Episode 9 | The Age of Personal Pea…
How Should We Then Live | Season 1 | Episode 10 | Final Choices



Related posts:
I have gone back and forth and back and forth with many liberals on the Arkansas Times Blog on many issues such as abortion, human rights, welfare, poverty, gun control and issues dealing with popular culture. Here is another exchange I had with them a while back. My username at the Ark Times Blog is Saline […]By Everette Hatcher III | Posted in Biblical Archaeology, Francis Schaeffer, Prolife | Edit|Comments (0)
I have posted many of the sermons by John MacArthur. He is a great bible teacher and this sermon below is another great message. His series on the Book of Proverbs was outstanding too. I also have posted several of the visits MacArthur made to Larry King's Show. One of two most popular posts I […]By Everette Hatcher III | Posted in Adrian Rogers, Current Events | Edit|Comments (0)
I have posted many of the sermons by John MacArthur. He is a great bible teacher and this sermon below is another great message. His series on the Book of Proverbs was outstanding too. I also have posted several of the visits MacArthur made to Larry King's Show. One of two most popular posts I […]By Everette Hatcher III | Posted in Adrian Rogers, Current Events |Tagged Bible Prophecy, john macarthur | Edit|Comments (0)
Prophecy–The Biblical Prophesy About Tyre.mp4 Uploaded by TruthIsLife7 on Dec 5, 2010 A short summary of the prophecy about Tyre and it's precise fulfillment. Go to this link and watch the whole series for the amazing fulfillment from secular sources. http://www.youtube.com/watch?v=qvt4mDZUefo________________ John MacArthur on the amazing fulfilled prophecy on Tyre and how it was fulfilled […]By Everette Hatcher III | Posted in Biblical Archaeology | Edit|Comments (1)
John MacArthur on the Bible and Science (Part 2) I have posted many of the sermons by John MacArthur. He is a great bible teacher and this sermon below is another great message. His series on the Book of Proverbs was outstanding too. I also have posted several of the visits MacArthur made to Larry […]By Everette Hatcher III | Posted in Current Events | Edit|Comments (0)
John MacArthur on the Bible and Science (Part 1) I have posted many of the sermons by John MacArthur. He is a great bible teacher and this sermon below is another great message. His series on the Book of Proverbs was outstanding too. I also have posted several of the visits MacArthur made to Larry […]By Everette Hatcher III | Posted in Current Events | Edit|Comments (0)
Adrian Rogers – How you can be certain the Bible is the word of God Great article by Adrian Rogers. What evidence is there that the Bible is in fact God's Word? I want to give you five reasons to affirm the Bible is the Word of God. First, I believe the Bible is the […]By Everette Hatcher III | Posted in Adrian Rogers, Biblical Archaeology | Edit|Comments (0)
Is there any evidence the Bible is true? Articles By PleaseConvinceMe Apologetics Radio The Old Testament is Filled with Fulfilled Prophecy Jim Wallace A Simple Litmus Test There are many ways to verify the reliability of scripture from both internal evidences of transmission and agreement, to external confirmation through archeology and science. But perhaps the […]By Everette Hatcher III | Posted in Biblical Archaeology, Current Events | Edit|Comments (0)
I have gone back and forth and back and forth with many liberals on the Arkansas Times Blog on many issues such as abortion, human rights, welfare, poverty, gun control and issues dealing with popular culture. Here is another exchange I had with them a while back. My username at the Ark Times Blog is […]By Everette Hatcher III | Posted in Francis Schaeffer, Prolife | Edit|Comments (0)
Here is some very convincing evidence that points to the view that the Bible is historically accurate. Archaeological and External Evidence for the Bible Archeology consistently confirms the Bible! Archaeology and the Old Testament Ebla tablets—discovered in 1970s in Northern Syria. Documents written on clay tablets from around 2300 B.C. demonstrate that personal and place […]By Everette Hatcher III | Posted in Biblical Archaeology | E
On Saturday April 18, 2020 at 6pm in London and noon in Arkansas, I had a chance to ask Ricky Gervais a question on his Twitter Live broadcast which was "Is Tony a Nihilist?" At the 20:51 mark Ricky answers my question. Below is the video:

—
—
Ricky Gervais 25/07/2021 Facebook Live at 28:29 mark Ricky answers my question about Sam Harris