—
—
—-
—
After Life: Meet the owners of Netflix's number one dog
By Maisie Olah
BBC News, West MidlandsPublished6 hours ago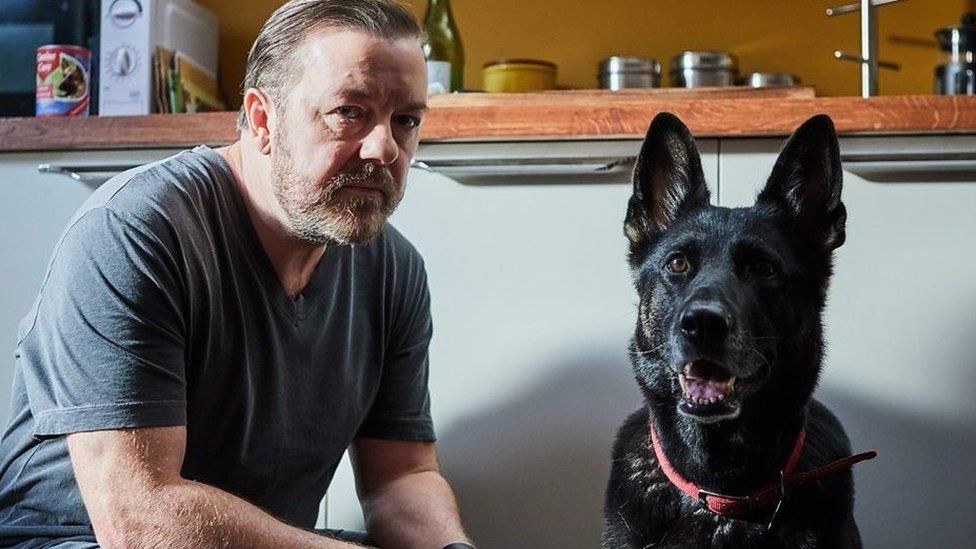 "Your dog looks like the one from After Life" is a phrase Ashley Foster and Beth Heale hear a lot.
They are the proud owners of Antilly, the German Shepherd who plays Brandy in Ricky Gervais's After Life.
The hit Netflix comedy follows Tony Johnson, played by Gervais, as he comes to terms with the death of his wife from cancer.
Brandy supports Tony through grief and Ms Heale said: "What she is to Tony, is what she is to us in real life."
The show, which started in 2019, follows Tony as he grapples with his emotions and finds glimmers of hope from within his own life.
Much of that glimmer comes from his dog and watching videos of his late wife Lisa, played by Kerry Godliman, playing with her.
"We don't have children, just like how Lisa and Tony don't in the show," said Ms Heale.
"It sends a poignant message throughout – dogs are there for you when people can't be and Antilly is always there."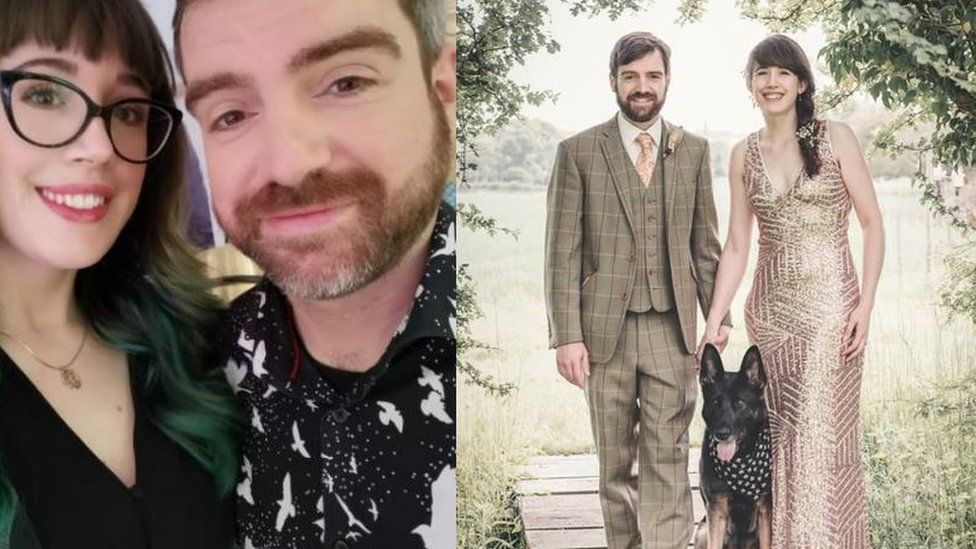 Antilly was born in Hereford to Mr Foster's parents' dogs, before moving to Bicester, Oxfordshire, with her new owner.
Mr Foster and his pet soon began competing in the dog sport IGP (Internationale Gebrauchshund Pruefung), which tests obedience, agility and commands.
Antilly's first sniff of fame was when she visited the set of The Dark Knight Rises at just 10 weeks old. Mr Foster, a TV and film extra, was playing one of Bane's henchmen with both of Antilly's parents starring as attack dogs.
After a few more IGP qualifications, Antilly followed in her parents' footsteps and signed for the agency Stunt Dogs and Animals.
Often typecast as a police dog or guard dog, she has featured in Midsomer Murders, Doc Martin and 2016 film Denial among others.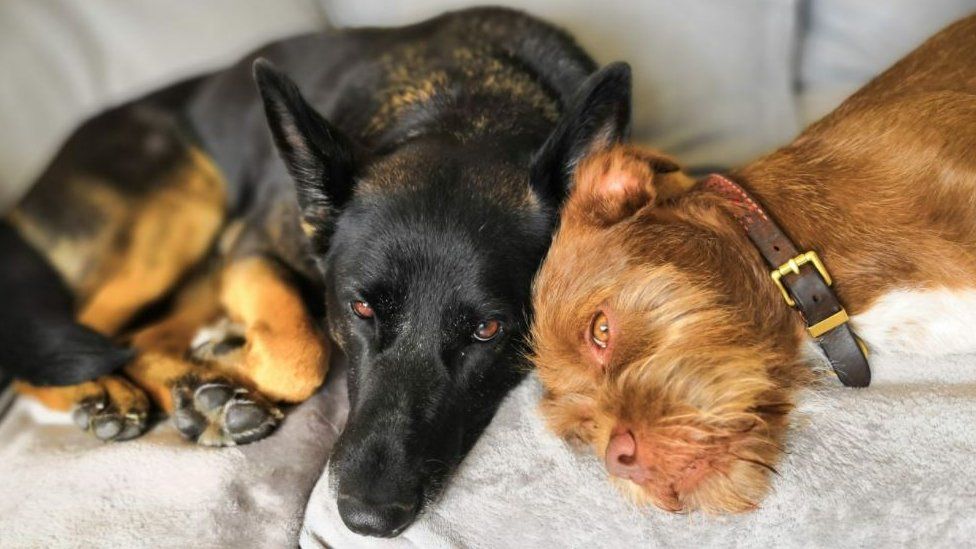 The third series of After Life, released in January, quickly became the streaming service's number one show and Antilly, 10, captured the hearts of viewers from around the world.
"I'm pleased people can see her as the cute pet she is," said Ms Heale.
Antilly was personally chosen by Gervais in 2018, when he told the owners he was looking for "a Scooby Doo-type dog".
"He told us, if I had to describe to aliens what a dog is, I would show them a picture of Antilly," said Ms Heale.
The actor and Antilly hit it off straight away, the star posting a picture on Instagram with the caption: "Spent a lovely day casting for my leading lady in #AfterLife. This beautiful girl got the part."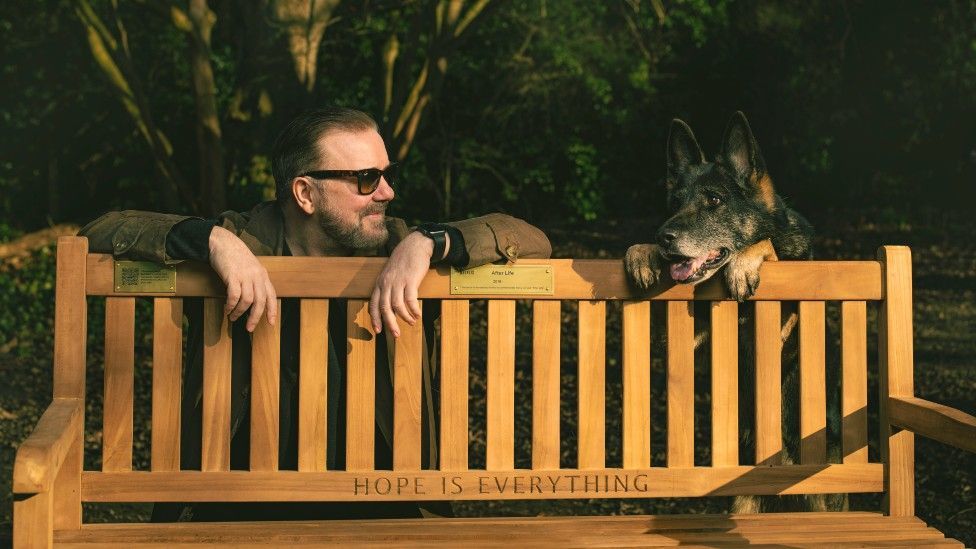 An average day on set for Antilly involves many tricks and treats, said Ms Heale.
"Because you can't explain to a dog what to do, they have to keep practising. There are lots of rehearsals with Ricky and his understudy," she said.
While the actors were learning their lines, for Antilly, it was muscle memory.
"Eventually, she gets used to going over to Ricky and walking with him," she added.
Series three also features the couple's other dog, Wylie, who is adopted by Diane Morgan's character Kath.
Wylie is a rescue dog in the show and in real life, and Ms Heale was an extra in the scene to keep him company.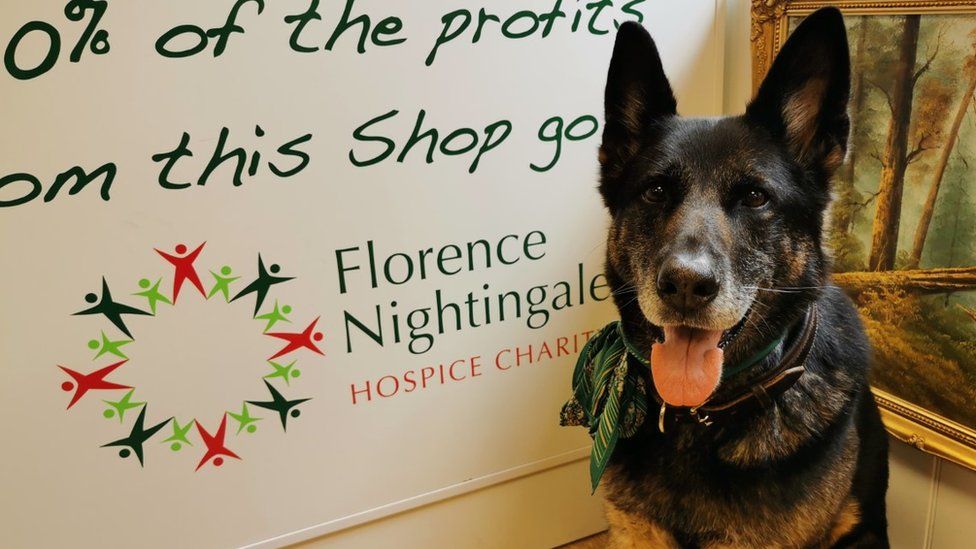 While Antilly was seen by many around the world in the first two seasons of the show, Ms Heale said it had been the final series that really brought her to people's attention.
The online sales manager for the Florence Nightingale Hospice in Buckinghamshire recently organised a fundraiser for the charity.
After a photoshoot of Gervais and Antilly was done by Hamish Brown from the Radio Times, she was amazed to discover that Mr Brown's mother was cared for by the same hospice.
A photograph was donated and Antilly signed it with her paw.
'Nothing fazes her'
When she isn't behind the camera, Antilly enjoys swimming, playing with her big blue rope as well as "cuddling up on the sofa and a cup of tea with oat milk".
She recognises her bark when the family sits down to watch her on TV.
"How she is on After Life is how she is in real life," said Ms Heale.
"She's very calm and steady, nothing fazes her, and she's also very loving – it's difficult to take a selfie with her because she just wants to give you kisses."

—
—-
—
World Exclusive: After Life Season 3: The First few Minutes
After Life | Season 3 Official Trailer | Netflix
—
episodes will be released on January 14th.
Just Three Things. Written for #Afterlife by Ricky Gervais and Andy Burrows




–
February 2, 2022
Ricky Gervais
London, W1F 0LE
UK
Dear Ricky,

Why did Tony think Anne was a Christian?
Tony: I didn't want to do the stupid soiree. I was doing it for you.
Matt: You were making life more interesting.
Tony: My fault, yeah. We've both learned a lesson, haven't we?
Matt: Which is?
Tony: "Never help anyone, ever."

Matt: "Great. Great lesson."
Ricky you sard that you made Tony an atheist and that he turns selfish after losing his wife and wants to strike out at the world but then he discovers that the only way he can feel better is by helping others. I assert that helping others is a byproduct of being a true Christian and that is why you initially thought Anne was a Christian.
On the bench in the graveyard Anne sits everyday with Tony and she often pronounces moral statements such as: "We're not just here for us, we're here for others."…"Happiness is amazing. It's so amazing it doesn't matter if it's yours or not… A society grows great when old men plant trees the shade of which they know they will never sit in….Good people do things for other people. That's it. The end." Anne identifies herself as an atheist, but when Tony first meets her after hearing her philosophy he suspects she is a Christian!!!! This is because she talks like a Christian!!!
Tony and his wife Lisa who died 6 months ago of cancer
My question is "HOW is there a moral basis for these assertions from an atheist?" Russian philosopher Vladimir Solovyovsarcastically summarized the ethical reasoning of the secular humanist like this: "Man descended from apes, therefore we must love one another.""
—
Ricky Gervais plays bereaved husband Tony Johnson in AFTER LIFE
Tim Keller, in his book Making Sense of God noted:

"I read a commentator on a New York Times article about the meaning of life that said:
When the Hubble space telescope pointed to a black spot in the sky about the size of an eraser head for a week, it found 30,000 galaxies over 13 billion years old with many trillions of stars and many, many more trillions of inferred planets. So, how significant are you? You are not a unique snowflake, you are not special; you are just another piece of decaying matter on the compost pile of the world. Nothing of who you are and what you will do in the short time you are here will matter. Everything short of that realization is vanity. So celebrate life in every moment, admire its wonder and love without reservation. (Steven Pinker)

The first part of the statement provides a bracing no-holds-barred materialistic view of the world. You are made strictly of matter without any soul. You were not created for any special purpose. There is no after-life. Nothing you do here: be it kind or cruel, will make any difference in the end. But then, with the word "so" indicating a logical sequence, we are told that we should therefore live a life of celebration and love.
However, if we are just a decaying piece of matter in a decaying universe and nothing more significant than that, how does it follow we should live a life of love toward others? It doesn"t. Why shouldn"t we live as selfishly as we can get away with? How do beliefs in individual freedom, human rights, and equality arise from or align with the idea that human beings came to be what they are through the survival of the fittest? They don"t! Russian philosopher Vladimir Solovyovsarcastically summarized the ethical reasoning of the secular humanist like this: "Man descended from apes, therefore we must love one another.""
The answer to find meaning in life is found in putting your faith and trust in Jesus Christ. The Bible is true from cover to cover and can be trusted.
Thanks for your time.
Sincerely,
Everette Hatcher, everettehatcher@gmail.com, http://www.thedailyhatch.org, cell ph 501-920-5733, 13900 Cottontail Lane, Alexander, AR 72002
PS: Try out the film series HOW SHOULD WE THEN LIVE? by Francis Schaeffer on You Tube. It shows how Humanism has been to blame for many of the problems in the western world in the
past and the alternative worldview of Biblical Christianity.
Francis Schaeffer pictured above
Related posts:
I have gone back and forth and back and forth with many liberals on the Arkansas Times Blog on many issues such as abortion, human rights, welfare, poverty, gun control and issues dealing with popular culture. Here is another exchange I had with them a while back. My username at the Ark Times Blog is Saline […]By Everette Hatcher III | Posted in Biblical Archaeology, Francis Schaeffer, Prolife | Edit|Comments (0)
I have posted many of the sermons by John MacArthur. He is a great bible teacher and this sermon below is another great message. His series on the Book of Proverbs was outstanding too. I also have posted several of the visits MacArthur made to Larry King's Show. One of two most popular posts I […]By Everette Hatcher III | Posted in Adrian Rogers, Current Events | Edit|Comments (0)
I have posted many of the sermons by John MacArthur. He is a great bible teacher and this sermon below is another great message. His series on the Book of Proverbs was outstanding too. I also have posted several of the visits MacArthur made to Larry King's Show. One of two most popular posts I […]By Everette Hatcher III | Posted in Adrian Rogers, Current Events |Tagged Bible Prophecy, john macarthur | Edit|Comments (0)
Prophecy–The Biblical Prophesy About Tyre.mp4 Uploaded by TruthIsLife7 on Dec 5, 2010 A short summary of the prophecy about Tyre and it's precise fulfillment. Go to this link and watch the whole series for the amazing fulfillment from secular sources. http://www.youtube.com/watch?v=qvt4mDZUefo________________ John MacArthur on the amazing fulfilled prophecy on Tyre and how it was fulfilled […]By Everette Hatcher III | Posted in Biblical Archaeology | Edit|Comments (1)
John MacArthur on the Bible and Science (Part 2) I have posted many of the sermons by John MacArthur. He is a great bible teacher and this sermon below is another great message. His series on the Book of Proverbs was outstanding too. I also have posted several of the visits MacArthur made to Larry […]By Everette Hatcher III | Posted in Current Events | Edit|Comments (0)
John MacArthur on the Bible and Science (Part 1) I have posted many of the sermons by John MacArthur. He is a great bible teacher and this sermon below is another great message. His series on the Book of Proverbs was outstanding too. I also have posted several of the visits MacArthur made to Larry […]By Everette Hatcher III | Posted in Current Events | Edit|Comments (0)
Adrian Rogers – How you can be certain the Bible is the word of God Great article by Adrian Rogers. What evidence is there that the Bible is in fact God's Word? I want to give you five reasons to affirm the Bible is the Word of God. First, I believe the Bible is the […]By Everette Hatcher III | Posted in Adrian Rogers, Biblical Archaeology | Edit|Comments (0)
Is there any evidence the Bible is true? Articles By PleaseConvinceMe Apologetics Radio The Old Testament is Filled with Fulfilled Prophecy Jim Wallace A Simple Litmus Test There are many ways to verify the reliability of scripture from both internal evidences of transmission and agreement, to external confirmation through archeology and science. But perhaps the […]By Everette Hatcher III | Posted in Biblical Archaeology, Current Events | Edit|Comments (0)
I have gone back and forth and back and forth with many liberals on the Arkansas Times Blog on many issues such as abortion, human rights, welfare, poverty, gun control and issues dealing with popular culture. Here is another exchange I had with them a while back. My username at the Ark Times Blog is […]By Everette Hatcher III | Posted in Francis Schaeffer, Prolife | Edit|Comments (0)
Here is some very convincing evidence that points to the view that the Bible is historically accurate. Archaeological and External Evidence for the Bible Archeology consistently confirms the Bible! Archaeology and the Old Testament Ebla tablets—discovered in 1970s in Northern Syria. Documents written on clay tablets from around 2300 B.C. demonstrate that personal and place […]By Everette Hatcher III | Posted in Biblical Archaeology | E
On Saturday April 18, 2020 at 6pm in London and noon in Arkansas, I had a chance to ask Ricky Gervais a question on his Twitter Live broadcast which was "Is Tony a Nihilist?" At the 20:51 mark Ricky answers my question. Below is the video:

—
—
Ricky Gervais 25/07/2021 Facebook Live at 28:29 mark Ricky answers my question about Sam Harris