—-
Per tradition (2020, 2019, 2018, etc), we highlight the best and worst developments of the year on December 31.
The choices are based on whether a particular policy increases or decreases individual liberty, either in a big way or a symbolic way.
Interestingly, the coronavirus pandemic doesn't show up on either the good list or bad list.
Why? Because governments continue to make things worse, but not in ways that are significantly new or different.
With that in mind, let's look at what happened in 2021, starting with the good news.
The Death of (the horribly misnamed) Build Back Better – President Biden somehow decided a very narrow victory over a very unpopular incumbent meant that he had a mandate for a radical expansion of the welfare state, accompanied by a plethora of class-warfare tax increases. Fortunately, Congress did not approve Biden's growth-sapping plan.
School Choice Advances – Led by a sweeping plan to empower parents in West Virginia, there were many encouraging victories this year for school choice. And as teacher unions continue to mishandle the pandemic, there's hope for continued progress next year.
Arizona Tax Reform – Several states lowered tax rates in 2021, but what happened in Arizona deserves special attention. Lawmakers reversed the outcome of a class-warfare referendum, meaning the state's top tax rate on households will be 4.5 percent rather than 8 percent.
Speaking of referendum results, if we had an "honorable mention" or "runner-up" category, I would list three results from 2021
Now let's look at the three worst policy developments of 2021.
Biden's Fake Stimulus and Infrastructure Boondoggle – Even though the so-called Build Back Better plan failed to advance, President Biden was able to significantly increase the burden of government spending with a supposed stimulus plan early in the year, followed by a grab-bag of special-interest handouts as part of "infrastructure" legislation later in the year.
Chile Elects a Hard-Core Leftist President – Much to my dismay, Chilean voters opted for a hard-core leftist presidentwho wants to dismantle the nation's very successful private social security system. The most economically successful nation in Latin America is now in danger of becoming another Argentina. Or worse.
Global Tax Cartel – While Biden's proposal for a higher corporate tax rate in the United States did not succeed, he seems to have successfully paved the way for a global tax cartelthat will require all nations to have a corporate tax rate of at least 15 percent. This is a victory for politicians over workers, consumers, and shareholders. And it creates a very dangerous precedent.
Let's also have an honorable mention for bad news.
One positive development during the Trump years was the unwinding of regulations that forced Americans to use crummy, low-flow showerheads.
Well, that victory was short-lived, as captured by this headline from a Reason article.

For what it's worth, I suspect this bit of bad news will be followed by some bad news on a related issue.
P.S. I thought about including inflation as one of the bad things that happened in 2021, but I think that's the results of years of misguided monetary policy. Politicians from both parties seem perfectly happy with Keynesian policy from the Federal Reserve.
I'm not a fan of Joe Biden's economic policy, particularly his tax-and-spend agenda.
I also don't approve when the Biden Administration uses phony numbers and phony arguments.
But what's really baffling is the use of accurate numbers to make dumb arguments.
What do I mean by that? Well, here's a tweet from the Democratic Congressional Campaign Committee celebrating a 2¢-per-gallon reduction in gas prices over a two-week period.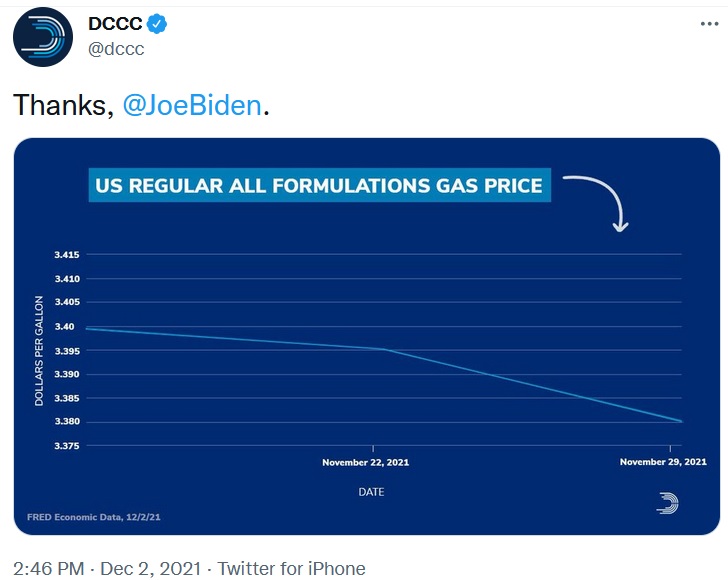 There's only one problem with this tidbit of data.
If you look at what's happened to gas prices during Biden's time in office, the recent 2¢ reduction is swamped by $1 increase over the past year.https://platform.twitter.com/embed/Tweet.html?dnt=true&embedId=twitter-widget-0&features=eyJ0ZndfZXhwZXJpbWVudHNfY29va2llX2V4cGlyYXRpb24iOnsiYnVja2V0IjoxMjA5NjAwLCJ2ZXJzaW9uIjpudWxsfSwidGZ3X2hvcml6b25fdHdlZXRfZW1iZWRfOTU1NSI6eyJidWNrZXQiOiJodGUiLCJ2ZXJzaW9uIjpudWxsfSwidGZ3X3NwYWNlX2NhcmQiOnsiYnVja2V0Ijoib2ZmIiwidmVyc2lvbiI6bnVsbH19&frame=false&hideCard=false&hideThread=false&id=1466514175698644994&lang=en&origin=https%3A%2F%2Fdanieljmitchell.wordpress.com%2F2021%2F12%2F04%2Fshould-we-celebrate-joe-bidens-economic-achievements%2F&sessionId=3884a86855ac36fdc75c1ab6675d2069fdcb2a17&siteScreenName=wordpressdotcom&theme=light&widgetsVersion=9fd78d5%3A1638479056965&width=550px
So how and why did the White House screw up?
Tim Carney of the Washington Examiner wrote about this strange episode.
The Democratic Congressional Campaign Committee has just produced and tweeted the worst chart of 2021. It is a line graph of gas prices with three data points covering a two-week time span. The absurd dishonesty comes when you look at the y-axis. Each horizontal line represents half of a cent. …Gas prices have nearly doubled over the past 18 months, and Biden's allies are holding a parade for a less-than-1% drop over two weeks. Thanks, Joe Biden! …So, how did this horrible chart happen? It seems someone at the DCCC took seriously a joke made by liberal blogger Matt Yglesias. …Ron Klain, White House chief of staff (presumably not understanding the tweet was a joke), liked the tweet before the DCCC put it out sincerely.
This is the political equivalent of leading with your chin.
And it's not the only example.
Here's a retweet from the White House Chief of Staff, Ronald Klain, celebrating a very tiny improvement in the labor force participation rate.
In this case, there's nothing disingenuous about the chart. We actually get to see several years of data.
But does this small uptick in the labor force participation rate actually mean that "America is back at work"?
Call me crazy, but it seems that the main takeaway from the chart is that the country is still way short of getting back to pre-pandemic levels of employment.
Which raises the obvious question of whether Biden's redistribution agenda is making it easier for people to live off the government rather than be part of the workforce.
P.S. My criticisms of Biden are not driven by partisanship. I'm also not a fan when Republicans enact bad policy.
Daniel Mitchell quotes Milton Friedman on minimum wage and contrasts Trump a d Biden approach!
In another display of selfless masochism, I watched the Trump–Biden debate last night.
The candidates behaved better, for whatever that's worth, but I was disappointed that there so little time (and even less substance) devoted to economic issues.
One of the few exceptions was the brief tussle regarding the minimum wage. Trump waffled on the issue, so I don't give him any points, but Biden fully embraced the Bernie Sanders policyof basically doubling the minimum wage to $15 per hour.
This is very bad news for low-skilled workers and very bad news to low-margin businesses.
The economic of this issue are very simple. If a worker generates, say, $9 of revenue per hour, and politicians say that worker can't be employed for less than $15 per hour, that's a recipe for unemployment.
Earlier this month, Professor Steven Landsburg on the University of Rochester opined for the Wall Street Journal on Biden's minimum-wage policy.
It isn't only that I think Mr. Biden is frequently wrong. It's that he tends to be wrong in ways that suggest he never cared about being right. He makes no attempt to defend many of his policies with logic or evidence, and he deals with objections by ignoring or misrepresenting them. …Take Mr. Biden's stance on the federal minimum wage, which he wants to increase to $15 an hour from $7.25. …So why does Mr. Biden want to raise the minimum wage…?He hasn't said, so I have two guesses, neither of which reflects well on him. Guess No. 1: He's dissembling about the cost. …The minimum wage…comes directly from employers but indirectly (after firms shrink and prices rise) from consumers. A minimum wage is a stealth tax on eating at McDonald's or shopping at Walmart. …Mr. Biden should acknowledge the cost of wage hikes and argue for accepting it. Instead he's silent about the cost, hoping he can foist it on people who won't realize they're footing this bill. Guess No. 2: He's rewarding his friends and punishing his enemies. New York is going to vote for Mr. Biden. The state also has a high cost of living and high wages—so New Yorkers would be largely unaffected by the minimum-wage hike. Alabama is going to vote against Mr. Biden. Alabama has a low cost of living and relatively low wages—so under the Biden plan Alabama firms would shrink, to the benefit of competitors in New York. Alabama workers and consumers would pay a greater price than New Yorkers.
And Mark Perry of the American Enterprise Institute recently highlighted some of the adverse effects for unskilled workers.
It's an economic reality that workers compete against other workers, not against employers, for jobs, and higher wages in the labor market. And it's also true that lower-skilled, limited-experience, less-educated workers compete against higher-skilled, more experienced, more educated workers for jobs. …If the minimum wage is increased…, that will…take away from unskilled workers the one advantage they currently have to compete against skilled workers – the ability to offer to work for a significantly lower wage than what skilled workers can command. …Result of a minimum wage hike to $15 an hour? Demand for skilled workers goes up, demand for unskilled workers goes down, and employment opportunities for unskilled workers are reduced.
Since I recently shared videos with Milton Friedman's wisdom on both taxes and spending, here's what he said about the minimum wage.
Let's share one last bit of evidence. Mark Perry's article referenced some new research by Jeffrey Clemens, Lisa Kahn, and Jonathan Meer.
Here's what those scholars found in a study published by the National Bureau of Economic Research.
We investigate whether changes in firms' skill requirements are channels through which labor markets respond to minimum wage increases. …Data from the American Community Survey show that recent minimum wage changes resulted in increases in the average age and education of the individuals employed in low-wage jobs. Data on job vacancy postings show that the prevalence of a high school diploma requirement increases at the same time. The shift in skill requirements begins within the first quarter of a minimum wage hike. Further, it results from both within-firm shifts in postings and across-firms shifts towards firms that sought more-skilled workers at baseline. Given the poor labor market outcomes of individuals without high school diplomas, these findings have substantial policy relevance. This possibility was recognized well over a century ago by Smith (1907), who noted that the "enactment of a minimum wage involves the possibility of creating a class prevented by the State from obtaining employment." Further, negative effects may be exacerbated for minority groups in the presence of labor market discrimination.
So why do politicians push for higher minimum wages, when all the evidence suggests that vulnerable workers bear the heaviest cost?
Part of the answer is that they don't understand economics and don't care about evidence.
But there's also a more reprehensible answer, which is that they do understand, but they want to curry favor with union bosses, and those union bosses push for higher minimum wages as a way of reducing competition from lower-skilled workers.
P.S. Here's my CNBC debate with Joe Biden's top economic advisor on this issue.
P.P.S. Here's a rather frustrating discussion I had on the minimum wage with Yahoo Finance.
P.P.P.S. But if you're pressed for time, don't listen to me pontificate. Instead, watch this video.
—-
October 4, 2020 by Dan Mitchell
Yesterday's column featured some of Milton Friedman's wisdom from 50 years ago on how a high level of societal capital (work ethic, spirit of self-reliance, etc) is needed if we want to limit government.
Today, let's look at what he said back then about that era's high tax rates.
His core argument is that high marginal tax rates are self-defeating because the affected taxpayers (like Trump and Biden) will change their behavior to protect themselves from being pillaged.
This was in the pre-Reagan era, when the top federal tax rate was 70 percent, and notice that Friedman made a Laffer Curve-type prediction that a flat tax of 19 percent would collect more revenue than the so-called progressive system.
We actually don't know if that specific prediction would have been accurate, but we do know that Reagan successfully lowered the top tax rate on the rich from 70 percent in 1980 to 28 percent in 1988.
So, by looking at what happened to tax revenues from these taxpayers, we can get a pretty good idea whether Friedman's prediction was correct.
Well, here's the IRS data from 1980 and 1988 for taxpayers impacted by the highest tax rate. I've circled (in red) the relevant data showing how we got more rich people, more taxable income, and more tax revenue.
The bottom line is that Friedman was right.
Good tax policy (i.e., lower rates on productive behavior) can be a win-win situation. Taxpayers earn more and keep more, while politicians also wind up with more because the economic pie expands.
Something to keep in mind since some politicians in Washington want a return to confiscatory taxes on work, saving, investment, and entrepreneurship.
—-
On his birthday, let's celebrate Milton Friedman's vision of enabling parents, not government, to be in control of a child's education.
Wednesday, July 31, 2019
EducationMilton FriedmanSchool ChoiceSchooling
Libertarians and others are often torn about school choice. They may wish to see the government schooling monopoly weakened, but they may resist supporting choice mechanisms, like vouchers and education savings accounts, because they don't go far enough. Indeed, most current choice programs continue to rely on taxpayer funding of education and don't address the underlying compulsory nature of elementary and secondary schooling.
Skeptics may also have legitimate fears that taxpayer-funded education choice programs will lead to over-regulation of previously independent and parochial schooling options, making all schooling mirror compulsory mass schooling, with no substantive variation.
Friedman Challenged Compulsory Schooling Laws
Milton Friedman had these same concerns. The Nobel prize-winning economist is widely considered to be the one to popularize the idea of vouchers and school choice beginning with his 1955 paper, "The Role of Government in Education." His vision continues to be realized through the important work of EdChoice, formerly the Friedman Foundation for Education Choice, that Friedman and his economist wife, Rose, founded in 1996.
July 31 is Milton Friedman's birthday. He died in 2006 at the age of 94, but his ideas continue to have an impact, particularly in education policy.
Friedman saw vouchers and other choice programs as half-measures. He recognized the larger problems of taxpayer funding and compulsion, but saw vouchers as an important starting point in allowing parents to regain control of their children's education. In their popular book, Free To Choose, first published in 1980, the Friedmans wrote:
We regard the voucher plan as a partial solution because it affects neither the financing of schooling nor the compulsory attendance laws. We favor going much farther. (p.161)
They continued:
The compulsory attendance laws are the justification for government control over the standards of private schools. But it is far from clear that there is any justification for the compulsory attendance laws themselves. (p. 162)
The Friedmans admitted that their "own views on this have changed over time," as they realized that "compulsory attendance at schools is not necessary to achieve that minimum standard of literacy and knowledge," and that "schooling was well-nigh universal in the United States before either compulsory attendance or government financing of schooling existed. Like most laws, compulsory attendance laws have costs as well as benefits. We no longer believe the benefits justify the costs." (pp. 162-3)
Still, they felt that vouchers would be the essential starting point toward chipping away at monopoly mass schooling by putting parents back in charge. School choice, in other words, would be a necessary but not sufficient policy approach toward addressing the underlying issue of government control of education.
Vouchers as a First Step
In their book, the Friedmans presented the potential outcomes of their proposed voucher plan, which would give parents access to some or all of the average per-pupil expenditures of a child enrolled in public school. They believed that vouchers would help create a more competitive education market, encouraging education entrepreneurship. They felt that parents would be more empowered with greater control over their children's education and have a stronger desire to contribute some of their own money toward education. They asserted that in many places "the public school has fostered residential stratification, by tying the kind and cost of schooling to residential location" and suggested that voucher programs would lead to increased integration and heterogeneity. (pp. 166-7)
To the critics who said, and still say, that school choice programs would destroy the public schools, the Friedmans replied that these critics fail to
explain why, if the public school system is doing such a splendid job, it needs to fear competition from nongovernmental, competitive schools or, if it isn't, why anyone should object to its "destruction." (p. 170)
What I appreciate most about the Friedmans discussion of vouchers and the promise of school choice is their unrelenting support of parents. They believed that parents, not government bureaucrats and intellectuals, know what is best for their children's education and well-being and are fully capable of choosing wisely for their children—when they have the opportunity to do so.
They wrote:
Parents generally have both greater interest in their children's schooling and more intimate knowledge of their capacities and needs than anyone else. Social reformers, and educational reformers in particular, often self-righteously take for granted that parents, especially those who are poor and have little education themselves, have little interest in their children's education and no competence to choose for them. That is a gratuitous insult. Such parents have frequently had limited opportunity to choose. However, U.S. history has demonstrated that, given the opportunity, they have often been willing to sacrifice a great deal, and have done so wisely, for their children's welfare. (p. 160).
Sign-Up: Receive Kerry's Weekly Parenting and Education Newsletter!
Voucher Programs Today
Today, school voucher programs exist in 15 states plus the District of Columbia. These programs have consistently shown that when parents are given the choice to opt-out of an assigned district school, many will take advantage of the opportunity. In Washington, D.C., low-income parents who win a voucher lottery send their children to private schools.
The most recent three-year federal evaluationof voucher program participants found that while student academic achievement was comparable to achievement for non-voucher students remaining in public schools, there were statistically significant improvements in other important areas. For instance, voucher participants had lower rates of chronic absenteeism than the control groups, as well as higher student satisfaction scores. There were also tremendous cost-savings.
In Wisconsin, the Milwaukee Parental Choice Program has served over 28,000 low-income students attending 129 participating private schools.
According to Corey DeAngelis, Director of School Choice at the Reason Foundation and a prolific researcher on the topic, the recent analysis of the D.C. voucher program "reveals that private schools produce the same academic outcomes for only a third of the cost of the public schools. In other words, school choice is a great investment."
In Wisconsin, the Milwaukee Parental Choice Program was created in 1990 and is the nation's oldest voucher program. It currently serves over 28,000 low-income students attending 129 participating private schools. Like the D.C. voucher program, data on test scores of Milwaukee voucher students show similar results to public school students, but non-academic results are promising.
Increased Access and Decreased Crime
Recent research found voucher recipients had lower crime rates and lower incidences of unplanned pregnancies in young adulthood. On his birthday, let's celebrate Milton Friedman's vision of enabling parents, not government, to be in control of a child's education.
According to Howard Fuller, an education professor at Marquette University, founder of the Black Alliance for Educational Options, and one of the developers of the Milwaukee voucher program, the key is parent empowerment—particularly for low-income minority families.
In an interview with NPR, Fuller said: "What I'm saying to you is that there are thousands of black children whose lives are much better today because of the Milwaukee parental choice program," he says.
"They were able to access better schools than they would have without a voucher."
Putting parents back in charge of their child's education through school choice measures was Milton Friedman's goal. It was not his ultimate goal, as it would not fully address the funding and compulsion components of government schooling; but it was, and remains, an important first step. As the Friedmans wrote in Free To Choose:
The strong American tradition of voluntary action has provided many excellent examples that demonstrate what can be done when parents have greater choice. (p. 159).
On his birthday, let's celebrate Milton Friedman's vision of enabling parents, not government, to be in control of a child's education.
Related posts:
Michael Harrington: If you don't have the expertise, the knowledge technology today, you're out of the debate. And I think that we have to democratize information and government as well as the economy and society. FRIEDMAN: I am sorry to say Michael Harrington's solution is not a solution to it. He wants minority rule, I […] By Everette Hatcher III | Posted in Current Events, Milton Friedman | Edit | Comments (0)
PETERSON: Well, let me ask you how you would cope with this problem, Dr. Friedman. The people decided that they wanted cool air, and there was tremendous need, and so we built a huge industry, the air conditioning industry, hundreds of thousands of jobs, tremendous earnings opportunities and nearly all of us now have air […] By Everette Hatcher III | Posted in Current Events, Milton Friedman | Edit | Comments (0)
Part 5 Milton Friedman: I do not believe it's proper to put the situation in terms of industrialist versus government. On the contrary, one of the reasons why I am in favor of less government is because when you have more government industrialists take it over, and the two together form a coalition against the ordinary […] By Everette Hatcher III | Posted in Current Events, Milton Friedman | Edit | Comments (0)
The fundamental principal of the free society is voluntary cooperation. The economic market, buying and selling, is one example. But it's only one example. Voluntary cooperation is far broader than that. To take an example that at first sight seems about as far away as you can get __ the language we speak; the words […] By Everette Hatcher III | Posted in Current Events, Milton Friedman | Edit | Comments (0)
_________________________ Pt3 Nowadays there's a considerable amount of traffic at this border. People cross a little more freely than they use to. Many people from Hong Kong trade in China and the market has helped bring the two countries closer together, but the barriers between them are still very real. On this side […] By Everette Hatcher III | Posted in Current Events, Milton Friedman | Edit | Comments (0)
Aside from its harbor, the only other important resource of Hong Kong is people __ over 4_ million of them. Like America a century ago, Hong Kong in the past few decades has been a haven for people who sought the freedom to make the most of their own abilities. Many of them are […] By Everette Hatcher III | Posted in Current Events, Milton Friedman | Edit | Comments (0)
"FREE TO CHOOSE" 1: The Power of the Market (Milton Friedman) Free to Choose ^ | 1980 | Milton Friedman Posted on Monday, July 17, 2006 4:20:46 PM by Choose Ye This Day FREE TO CHOOSE: The Power of the Market Friedman: Once all of this was a swamp, covered with forest. The Canarce Indians […]
Milton Friedman The Power of the Market 1-5
If you would like to see the first three episodes on inflation in Milton Friedman's film series "Free to Choose" then go to a previous post I did. Ep. 9 – How to Cure Inflation [4/7]. Milton Friedman's Free to Choose (1980) Uploaded by investbligurucom on Jun 16, 2010 While many people have a fairly […]
By Everette Hatcher III | Also posted in Current Events | Tagged dr friedman, expansion history, income tax brackets, political courage, www youtube | Edit | Comments (0)
Charlie Rose interview of Milton Friedman My favorite economist: Milton Friedman : A Great Champion of Liberty by V. Sundaram Milton Friedman, the Nobel Prize-winning economist who advocated an unfettered free market and had the ear of three US Presidents – Nixon, Ford and Reagan – died last Thursday (16 November, 2006 ) in San Francisco […] By Everette Hatcher III | Posted in Milton Friedman | Edit | Comments (0)
Stearns Speaks on House Floor in Support of Balanced Budget Amendment Uploaded by RepCliffStearns on Nov 18, 2011 Speaking on House floor in support of Balanced Budget Resolution, 11/18/2011 ___________ Below are some of the main proposals of Milton Friedman. I highly respected his work. David J. Theroux said this about Milton Friedman's view concerning […] By Everette Hatcher III | Posted in Milton Friedman | Edit | Comments (0)
Milton Friedman: Free To Choose – The Failure Of Socialism With Ronald Reagan (Full) Published on Mar 19, 2012 by NoNationalityNeeded Milton Friedman's writings affected me greatly when I first discovered them and I wanted to share with you. We must not head down the path of socialism like Greece has done. Abstract: Ronald Reagan […] By Everette Hatcher III | Posted in Milton Friedman, President Obama | Edit | Comments (1)
What a great defense of Milton Friedman!!!! Defaming Milton Friedman by Johan Norberg This article appeared in Reason Online on September 26, 2008 PRINT PAGE CITE THIS Sans Serif Serif Share with your friends: ShareThis In the future, if you tell a student or a journalist that you favor free markets and limited government, there is […]