While the Biden administration's proposed spending plan is being reduced from the initial—enormous—figure of $3.5 trillion, we could still be facing $1.75 trillion in new spending. After the massive spending increases we've already had in the various COVID "relief" bills, this is irresponsible. While some troublesome pieces, like "free" community college, are reportedly out of the plan, there are still many areas of concern—such as universal preschool.
First and foremost, there is absolutely no constitutional justification for the federal government to involve itself in preschool. Unfortunately, that fact isn't likely to prevent lawmakers from passing legislation that includes universal preschool.
Beyond the constitutional question, there's the matter of fiscal responsibility … or irresponsibility in this case. The various COVID-19 relief bills allocated billions of dollars toward preschool, but we don't have good information about how much has been spent or if it's been spent well. Before spending billions more, there needs to be a thorough accounting of what has already been spent.
Furthermore, states need to realize they'll be on the hook for these new programs when the federal money runs out. The current language provides 100 percent federal funding through 2024, falling by 10 percent increments each year until it reaches 60 percent in 2028. Of course, states only receive the funding if their plans jump through the myriad hoops included in the federal legislation. Many states have already implemented their own programs, which is a much better approach because it allows states to meet the needs of their residents. We should let states continue to figure out their own programs without bribes from the feds.
Better yet, lawmakers should let families make their own decisions. If the feds (or states) get involved, programs should provide maximum flexibility and target assistance to families who actually need it. New research from Nobel economics laureate James Heckman—an ardent advocate for high‐​quality preschool—reinforces the case for targeted rather than universal social service programs.
It's hard to turn on the news these days without seeing stories of parents fighting about a whole host of issues in K-12 public schooling. This is a natural outcome when you impose a one‐​size‐​fits‐​all system on a diverse group of people. Happily, K-12 education choice is blooming in response to parental frustration. It would be a shame to increase top‐​down bureaucratic mandates and federal involvement in preschool right as freedom is on the rise in K-12 education.
When I first got to Washington, I would be upset that politicians wanted to add billions of dollars to the burden of government.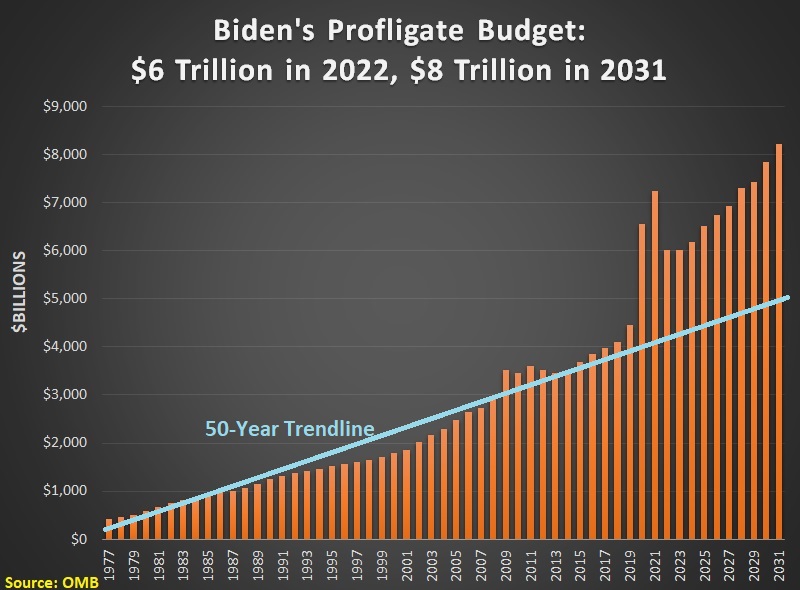 Well, those were the good ol' days. Biden is proposing to divert trillions of dollars from the private sector to expand the welfare state.
Even worse, he wants to make more Americans dependent on the federal government.
Maybe that's a smart way of buying votes, but it will erode societal capital.
John Cogan and Daniel Heil of the Hoover Institution warned about the consequences of this dependency agenda in a columnfor the Wall Street Journal.
The federal government's system of entitlements is the largest money-shuffling machine in human history, and President Biden intends to make it a lot bigger. His American Families Plan—which he recently attempted to tie to a bipartisan infrastructure deal—proposes to extend the reach of federal entitlements to 21 million additional Americans, the largest expansion since Lyndon B. Johnson's Great Society. …more than half of working-age households would be on the entitlement rolls if the plan were enacted in its current form. …57% of all married-couple children would receive federal entitlement benefits, and more than 80% of single-parent households would be on the entitlement rolls.
Many of the handouts would go to people with middle-class incomes.
And higher.
…The American Families Plan proposes several new entitlement programs. One promises students the government will pick up the entire cost of community-college tuition; another promises families earning 1.5 times their state's median income that Washington will cover all daycare expenses above 7% of family income for children under 5;still another promises workers up to 12 weeks of federally financed wage subsidies to take time off to care for newborns or sick family members. …Two-parent households with two preschool-age children and incomes up to $130,000 would qualify for federal cash assistance for daycare. Single parents with two preschoolers and incomes up to $113,000 would qualify. And some families with incomes over $200,000 would be eligible for health-insurance subsidies. Other parts of the plan, such as paid leave and free community college, have no income limits at all.
The Wall Street Journal opined on this issue last month. Here are the key passages from their editorial.
The entitlements are by far the biggest long-term economic threat from the Biden agenda. …entitlements that spend automatically based on eligibility are nearly impossible to repeal, or even reform, and they represent a huge tax-and-spend wedge far into the future. …We'd highlight two points. First is the dishonesty about costs. Entitlements always start small but then soar. The Biden Families Plan is even more dishonest than usual. For example, it pretends the child tax credit ends in 2025, so its cost is $449 billion over the 10-year budget window that is used for reconciliation bills that require only 51 votes to pass the Senate. But a future Congress will never repeal the credit. …Second, these programs aren't intended as a "safety net" for the poor or those temporarily down on their luck. They are explicitly designed to make the middle class dependent on government handouts.
The editorial explicitly warns that the United States will economically suffer if politicians copy Europe's counterproductive redistributionism.
…on present trend the U.S. is falling into the same entitlement trap as Western Europe. Entitlement spending requires higher taxes, which grab 40% or more of GDP. Economic growth declines as more money flows to transfer payments instead of investment. The entitlement state becomes too large to afford but also too politically entrenched to reform. …Only a decade ago the Tea Party fought ObamaCare. Now most Beltway conservatives worry more about Big Tech than they do Big Government. If the Biden Families Plan passes, these conservatives will find themselves spending the rest of their careers as tax collectors for the entitlement state.
Amen. I'm baffled when folks on the left argue that we should "catch up" with Europe.
Are they not aware that American living standards are far higher? Do they not understand that low-income people in the United States often have more income than middle-class people on the other side of the Atlantic Ocean?
P.S. As I mentioned in the interview, the 21st century has been bad news for fiscal policy, with two big-government Republicans and two big-government Democrats.
For what it's worth, the $3,000-per-child handouts are Biden's most damaging idea. In one fell swoop, he would create a trillion-dollar entitlement program and repeal the successful Clinton-Gingrich welfare reform.
Open letter to President Obama (Part 644)
(Emailed to White House on 6-10-13.)
President Obama c/o The White House 1600 Pennsylvania Avenue NW Washington, DC 20500
Dear Mr. President,
I know that you receive 20,000 letters a day and that you actually read 10 of them every day. I really do respect you for trying to get a pulse on what is going on out here.
The federal government debt is growing so much that it is endangering us because if things keep going like they are now we will not have any money left for the national defense because we are so far in debt as a nation. We have been spending so much on our welfare state through food stamps and other programs that I am worrying that many of our citizens are becoming more dependent on government and in many cases they are losing their incentive to work hard because of the welfare trap the government has put in place. Other nations in Europe have gone down this road and we see what mess this has gotten them in. People really are losing their faith in big government and they want more liberty back. It seems to me we have to get back to the founding  principles that made our country great.  We also need to realize that a big government will encourage waste and corruption. The recent scandals in our government have proved my point. In fact, the jokes you made at Ohio State about possibly auditing them are not so funny now that reality shows how the IRS was acting more like a monster out of control. Also raising taxes on the job creators is a very bad idea too. The Laffer Curve clearly demonstrates that when the tax rates are raised many individuals will move their investments to places where they will not get taxed as much.
______________________
We can fix the IRS problem by going to the flat tax and lowering the size of government.
_____________
Thank you so much for your time. I know how valuable it is. I also appreciate the fine family that you have and your commitment as a father and a husband.
Sincerely,
Everette Hatcher III, 13900 Cottontail Lane, Alexander, AR 72002, ph 501-920-5733, lowcostsqueegees@yahoo.com
Related Posts: