—
Michael Augsberger | Catholic News Service3/03/21
This is a scene from the movie "Roe v. Wade." | CNS photo/courtesy Valerie Zucker
ORLANDO, Fla. — The independent drama "Roe v. Wade" had its red-carpet premiere, billed as the first large-scale movie opening since the pandemic began, on Feb. 26 at the Conservative Political Action Conference in Orlando.
The event at last allowed viewers to evaluate for themselves this decidedly pro-life production dramatizing the 1973 Supreme Court decision that legalized abortion across the United States. Like that landmark ruling, the film has — predictably — been the subject of much controversy.
Co-director Nick Loeb welcomed a socially distanced crowd that filled the majority of the Hyatt Regency Hotel's expansive conference hall. Introductory remarks also came from Fox News political commentator Tomi Lahren, who had a cameo in the movie.
Meanwhile, high-profile advocates such as Father Frank Pavone, national director of Priests for Life, and Emily Berning, president and co-founder of the charity Let Them Live, posed for the cameras.
As is the case with many a finished feature, the warm reception accorded "Roe v. Wade" at CPAC belied the movie's arduous birth pangs. In this case, though, those travails were more political than cinematic. Loeb, for instance, has accused Facebook of denying his efforts to raise funds on its platform because of his movie's agenda.
Subsequently, Salon and the Daily Beast opened fire on the production, questioning the script's veracity and reporting that crew members — including the director — were storming off the set in protest, "shocked by the extremity of (the film's) point of view." That left Loeb and co-producer Cathy Allyn, with whom he collaborated on the screenplay, to direct "Roe v. Wade" themselves.
In his riposte to this negative publicity, in an in-depth interview The Hollywood Reporter published in late February, Loeb maintains that he intended to do justice to both sides in what is arguably the nation's most rancorous debate. "I think it's up to your perspective, right?" he asked.
"What we tried to do is really just lay out the facts of how Roe v. Wade came to be and how it was decided," he said. "People can take one view or another. I've had a lot of people who think it's in the middle."
Loeb also pointed to his portrayal of Dr. Bernard Nathanson, a prolific practitioner of abortion who helped shape the movement for its legalization in the U.S. Nathanson later became devotedly pro-life and was involved in tell-all projects such as the 1984 movie "The Silent Scream" — from which Loeb and Allyn's work draws much of its information.
In "Roe v. Wade," Nathanson says, reflecting on the mortality caused by illegal abortions, that he chose his career so that "no woman ever had to (die) again."
"There are characters who are generally trying to support abortion for serious issues," Loeb observed. "Betty Friedan really wants to save women and help women. This is really an important thing, and we don't vilify her at all."
The first-time director echoed those sentiments in his remarks for the crowd at the debut. "Why are all these actors, producers, people part of it when it's such difficult subject matter?" Loeb asked in his short opening speech on the main stage. "They wanted to be involved in telling the truth, telling both sides of what actually happened in 1973.
"The goal is not to get you guys to support it," he said, "but the others who may not agree with us — to win their hearts and minds."
Amid the palm trees, all the invective and investigative reporting was almost — but not totally — forgotten. "The media's gonna write what they're gonna write anyway," Loeb said.
Perhaps characteristically, Lahren adopted a more combative tone when she received the microphone from Berning, the opening speaker. "People tried to shut us down. People are not being taught this story in schools, the true story of Roe v. Wade," she said. "No matter which side you fall on, it's an important film to see.
"They say I'm an actress, but I was only in this movie for about three minutes," Lahren joked about her brief appearance. She plays Justice Harry Blackmun's daughter Sally, who volunteers at Planned Parenthood and tries to influence his vote.
Indeed, many conservative actors joined the cast, reportedly for lower than usual salaries. Jon Voight portrays Chief Justice Warren Burger while Stacey Dash is Dr. Mildred Jefferson, a co-founder of the National Right to Life Committee who later served as its president.
Criticism of the film's approach has been loud. It centers on claims that historical interpretation is presented as fact and that members of the production crew who quit upon reading the full script felt they had been misled.
Salon depicted assistant director Ben Collinsworth as one example among many. After a normal hiring process, he came, by his own account, to the rapid realization that details of the screenplay had been withheld. "I felt this script was a false account of history," he is quoted as saying, "and the writer was engaging in disingenuous character assassination."
Critics have also attacked "Roe v. Wade" for misquoting Abraham Lincoln and Benjamin Franklin. Additionally, the movie's depiction of birth-control activist Margaret Sanger has been targeted.
Sanger is shown speaking to Ku Klux Klan members while a cross burns. The fact that she delivered such a speech is not disputed — but its content is. It includes racist language about eradicating Black people via abortion that Sanger biographer Jean H. Baker rejects as an inaccurate representation of Sanger's opinions.
Loeb and Allyn counter that 40 percent of abortions are performed on African Americans, and they take pains to name their sources. In fact, the picture's last minutes are devoted to citing the books, down to page numbers, that they scoured in order to include such material as a jingle Nathanson is heard to sing: "There's a fortune in abortion."
They show footage from ABC's "Nightline" of Norma McCorvey — the real Jane Roe — calling her lawyers in the case liars. And they cite Sanger's autobiography for the Klan scene.
New York's St. Patrick's Cathedral and the National Mall in Washington are easily recognizable in the movie. But several host venues including Tulane University — Loeb's alma mater — and Louisiana State shut down production. Loeb maintains it was because of the film's subject matter; the schools cite logistics.
Other questions surrounding the movie concern its graphic depiction of abortion. Is this content propaganda intended to shock or an honest portrayal of the procedure? "Roe v. Wade" includes a few scenes of patients in distress as well as three quick shots of aborted fetuses — one of these is purposefully kept out of focus, but another is clear and distinct.
Loeb is likely to have culled from his own experience in preparing to portray Nathanson. The actor has openly regretted the two abortions carried out on previous partners of his — the same number the film depicts women involved with Nathanson as undergoing. Loeb credits the sadness he felt in the wake of these events with reversing his views on the subject.
Loeb's legal battle with his ex-fiancee, actress Sofia Vergara, over the fate of embryos the pair had frozen has, moreover, been a well-publicized one.
The credits list the Rev. Martin Luther King Jr.'s niece, Alveda, a former member of the Georgia House of Representatives, as an executive producer. And various Catholic organizations are named as well.
As for the picture's unusually long crawl of special thanks, it includes expressions of gratitude to many small, independent financial backers like the young Seagraves family of Tennessee. They made an eight-hour drive to be present at the premiere, where they were seated in a "silver guest" section just a row or two behind some of the cast.
"Roe v. Wade" was screened at the Vienna Independent Film Festival last year, winning its Best Supporting Actor award for Voight. It's scheduled to open in wide release April 2.
Augsberger is a guest reviewer for Catholic News Service.
March 23, 2021
Office of Senator Jack Reed, Rhode Island
United States Senate
Washington, D.C. 20510
Dear Senator Reed,
I noticed that you signed a 2017 letter strongly supporting the filibuster.
Why are you thinking about abandoning that view now?
Does your change of view have anything to do with Biden now being in office?
More than half of current Senate Democrats and VP Harris signed 2017 letter supporting filibuster when GOP was in control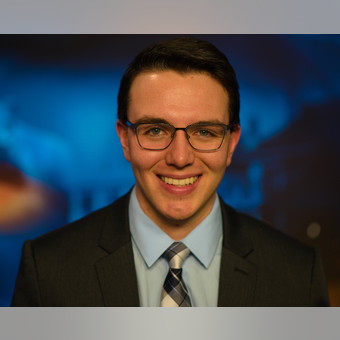 As progressives push hard for Democrats to eliminate the legislative filibuster after gaining control of the Senate, House and the presidency, many Democratic senators are distancing themselves from a letter they signed in 2017 backing the procedure.
Sens. Susan Collins, R-Maine, and Chris Coons, D-Del., led a letter in 2017 that asked Republican Leader Mitch McConnell, R-Ky., and Democratic Leader Chuck Schumer, D-N.Y., to preserve the legislative filibuster. As it's existed for decades, the filibuster requires 60 votes in order to end debate on a bill and proceed to a final vote.
"We are writing to urge you to support our efforts to preserve existing rules, practices, and traditions" on the filibuster, the letter said.
Besides Collins and Coons, 59 other senators joined on the letter. Of that group, 27 Democratic signatories still hold federal elected office. Twenty-six still hold their Senate seats, and Vice President Harris assumed her new job on Jan. 20, vacating her former California Senate seat.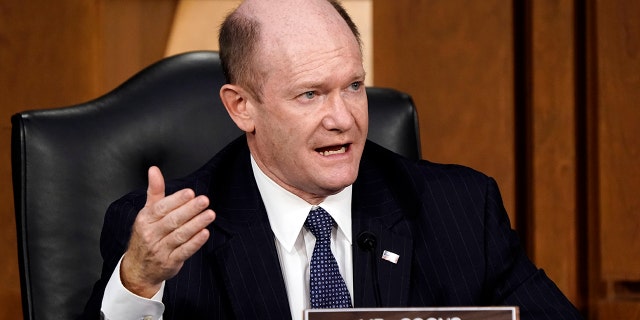 Sen. Chris Coons, D-Del., speaks as the Senate Judiciary Committee hears from legal experts on the final day of the confirmation hearing for Supreme Court nominee Amy Coney Barrett, on Capitol Hill in Washington, Thursday, Oct. 15, 2020. Coons has softened his support for the legislative filibuster in recent years after leading an effort to protect it in 2017. (AP Photo/J. Scott Applewhite)
But now, the momentum among Senate Democrats is for either full abolition of the filibuster or significantly weakening it. President Biden endorsed the latter idea Tuesday, announcing his support for a "talking filibuster."
KAMALA HARRIS SUPPORTS CHANGE TO FILIBUSTER IN SENATE TO LIMIT MINORITY PARTY POWER
"I don't think that you have to eliminate the filibuster, you have to do it what it used to be when I first got to the Senate back in the old days," Biden told ABC. "You had to stand up and command the floor, you had to keep talking."
The legislative filibuster has been a 60-vote threshold for what is called a "cloture vote" — or a vote to end debate on a bill — meaning that any 41 senators could prevent a bill from getting to a final vote. If there are not 60 votes, the bill cannot proceed.
The "talking filibuster" — as it was most recently seriously articulated by Sen. Jeff Merkley, D-Ore., in 2012 — would allow 41 senators to prevent a final vote by talking incessantly, around-the-clock, on the Senate floor. But once those senators stop talking, the threshold for a cloture vote is lowered to 51.
Harris' office confirmed to Fox News Wednesday that she is now aligned with Biden on the filibuster issue. She'd previously taken an even more hostile position to the filibuster, saying she would fully "get rid" of it "to pass a Green New Deal" at a CNN town hall in 2019.
The legislative filibuster has been a 60-vote threshold for what is called a "cloture vote" — or a vote to end debate on a bill — meaning that any 41 senators could prevent a bill from getting to a final vote. If there are not 60 votes, the bill cannot proceed.
The "talking filibuster" — as it was most recently seriously articulated by Sen. Jeff Merkley, D-Ore., in 2012 — would allow 41 senators to prevent a final vote by talking incessantly, around-the-clock, on the Senate floor. But once those senators stop talking, the threshold for a cloture vote is lowered to 51.
Harris' office confirmed to Fox News Wednesday that she is now aligned with Biden on the filibuster issue. She'd previously taken an even more hostile position to the filibuster, saying she would fully "get rid" of it "to pass a Green New Deal" at a CNN town hall in 2019.
Coons, who led the 2017 letter along with Collins, has also distanced himself from his previous stance.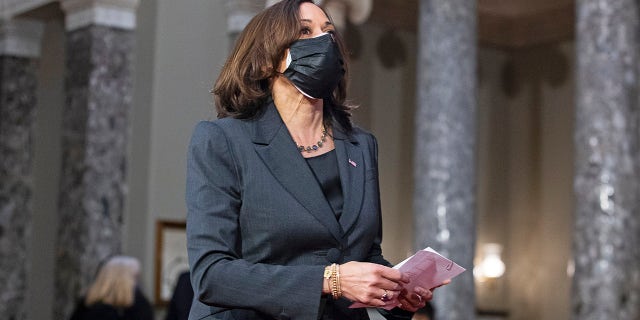 Vice President Kamala Harris attends a ceremonial swearing-in for Sen. Patrick Leahy, D-Vt., as President Pro Tempore of the Senate on Capitol Hill in Washington, Thursday, Feb. 4, 2021. Harris has changed her stance on the legislative filibuster since signing a letter in 2017 backing it. (Michael Reynolds/Pool via AP) (AP)
BIDEN SUPPORTS CHANGING SENATE FILIBUSTER
"I'm going to try my hardest, first, to work across the aisle," he said in September when asked about ending the filibuster. "Then, if, tragically, Republicans don't change the tune or their behavior at all, I would."
Fox News reached out to all of the other 26 Democratic signatories of the 2017 letter, and they all either distanced themselves from that position or did not respond to Fox News' inquiry.
"Less than four years ago, when Donald Trump was President and Mitch McConnell was the Majority Leader, 61 Senators, including more than 25 Democrats, signed their names in opposition to any efforts that would curtail the filibuster," a GOP aide told Fox News. "Other than the occupant of the White House, and the balance of power in the Senate, what's changed?"
"I'm interested in getting results for the American people, and I hope we will find common ground to advance key priorities," Sen. Tim Kaine. D-Va., said in a statement. "If Republicans try to use arcane rules to block us from getting results for the American people, then we'll have a conversation at that time."
Added Sen. Mark Warner, D-Va: "I am still hopeful that the Senate can work together in a bipartisan way to address the enormous challenges facing the country. But when it comes to fundamental issues like protecting Americans from draconian efforts attacking their constitutional right to vote, it would be a mistake to take any option off the table."
"Senator Stabenow understands the urgency of passing important legislation, including voting rights, and thinks it warrants a discussion about the filibuster if Republicans refuse to work across the aisle," Robyn Bryan, a spokesperson for Sen. Debbie Stabenow, D-Mich., said.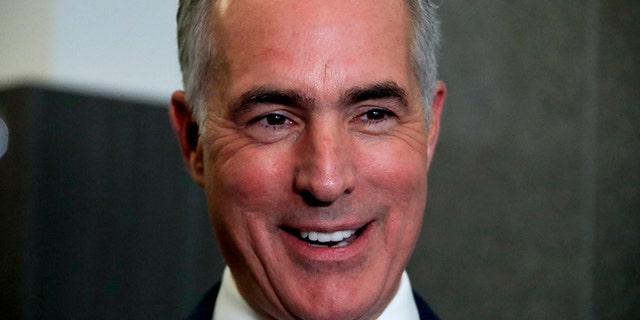 FILE – In this Oct. 26, 2018, file photo, Sen.Bob Casey, D-Pa., speaks to reporters in the studio of KDKA-TV in Pittsburgh. Casey has reversed his stance on the legislative filibuster since signing a 2017 letter in support of it. (AP Photo/Gene J. Puskar, File)
Representatives for Sen. Bob Casey, D-Pa., pointed to recent comments he made on MSNBC.
"Yes, absolutely," Casey said when asked if he would support a "talking filibuster" or something similar. "Major changes to the filibuster for someone like me would not have been on the agenda even a few years ago. But the Senate does not work like it used to."
MCCONNELL SAYS SENATE WILL BE '100-CAR PILEUP' IF DEMS NUKE FILIBUSTER
"I hope any Democratic senator who's not currently in support of changing the rules or altering them substantially, I hope they would change their minds," Casey added.
Representatives for Sen. Angus King, I-Vt., who caucuses with Democrats, meanwhile, references a Bangor Daily News editorial that said King was completely against the filibuster in 2012 but now believes it's helpful in stopping bad legislation. It said, however, that King is open to "modifications" similar to a talking filibuster.
The senators who did not respond to questions on their 2017 support of the filibuster were Sens. Joe Manchin. D-W.Va.; Patrick Leahy, D-Vt.; Amy Klobuchar, D-Minn.; Jeanne Shaheen, D-N.H.; Michael Bennet, D-Colo.; Martin Heinrich, D-N.M.; Sherrod Brown, D-Ohio; Dianne Feinstein, D-Calif.; Kirsten Gillibrand, D-N.Y.; Brian Schatz, D-Hawaii; Cory Booker, D-N.J.; Maria Cantwell, D-Wash.; Maize Hirono, D-Hawaii; John Tester, D-Mont.; Tom Carper, D-Del.; Maggie Hassan, D-N.H.; Tammy Duckworth, D-Ill.; Jack Reed, D-R-I.; Ed Markey, D-Mass.; Sheldon Whitehouse, D-R.I.; and Bob Menendez, D-N.J.
Some of these senators, however, have addressed the filibuster in other recent comments.
Sen. Dianne Feinstein, D-Calif., on Wednesday was asked if she supported changing the filibuster threshold by CNN and said she is still opposed to the idea. "Not at this time," Feinstein said.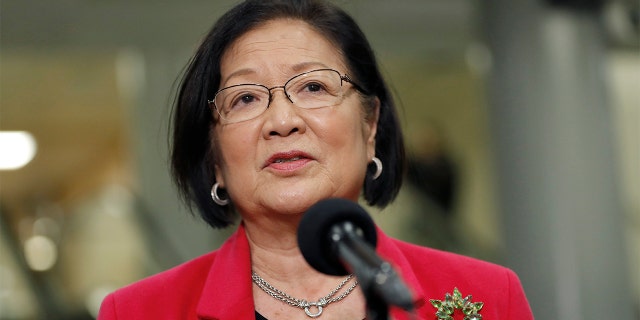 Sen. Mazie Hirono, D-Hawaii, speaks to reporters on Capitol Hill in Washington, Thursday, Jan. 30, 2020, during the impeachment trial of President Donald Trump on charges of abuse of power and obstruction of Congress. Hirono has changed her opinion on the legislative filibuster since signing a 2017 letter supporting it. (AP Photo/Julio Cortez)
Sen. Maize Hirono, D-Hawaii, meanwhile said last week she is already for getting rid of the current 60-vote threshold and thinks other Democrats will sign on soon.
"If Mitch McConnell continues to be totally an obstructionist, and he wants to use the 60 votes to stymie everything that President Biden wants to do and that we Democrats want to do that will actually help people," Hirono said, "then I think the recognition will be among the Democrats that we're gonna need to."
The most recent talk about either removing or significantly weakening the filibuster was spurred by comments from Manchin that appeared to indicate he would be open to a talking filibuster. He said filibustering a bill should be more "painful" for a minority.
Manchin appeared to walk back any talk of a talking filibuster on Wednesday, however.
"You know where my position is," he said. "There's no little bit of this and a little bit — there's no little bit here. You either protect the Senate, you protect the institution and you protect democracy or you don't."
Manchin and Sen. Kyrsten Sinema, D-Ariz., both committed to supporting the current form of the filibuster earlier this year. Sinema was not in the Senate in 2017.
Senate Minority Mitch McConnell, R-Ky., said their comments gave him the reassurance he needed to drop a demand that Senate Majority Leader Chuck Schumer, D-N.Y., put filibuster protections into the Senate's organizing resolution.
But with Manchin seeming to flake at least in the eyes of some, other Democrats are beginning to push harder for filibuster changes.
—
I read something about your views on abortion:
Pro-life leaders express outrage after Senate fails to pass 20-week abortion ban
Posted: Thursday, February 15, 2018 12:00 amBY RICK SNIZEK, EXECUTIVE EDITOR
"Rhode Islanders should be outraged that pro-abortion Senators Jack Reed and Sheldon Whitehouse refused to protect late-term unborn babies who can feel pain, as Representatives Langevin and Cicilline refused when the bill was voted upon last October in the House," Bracy said in a statement to Rhode Island Catholic.
Bracy cited a recent Marist poll on abortion which shows that 63 percent of Americans support a ban on abortion after 20 weeks of pregnancy, including 56 percent of Democrats and 56 percent of those who identify as "pro-choice."
"It is clear that the members of our congressional delegation have taken an extreme position on abortion and are out of touch with the people," Bracy said.
Owens said she was "truly disappointed" by Senator Reed's decision to oppose the defense of human life, which is a tenet of his faith.
"While Mr. Reed had an opportunity to stand for human life, he has once again taken a hard stand against life in its most vulnerable stage, that of an unborn child," she said.
"This is a huge disappointment and disregard for an innocent unborn child who can feel extreme pain. What happened to human rights and dignity and the inalienable right to life? Doesn't that mean it cannot be given or taken away?"
Although three Democrats supported the bill — Sens. Joe Manchin of West Virginia, Bob Casey of Pennsylvania and Joe Donnelly of Indiana — Republican Sens. Lisa Murkowski of Alaska and Susan Collins of Maine voted against it.
The United States Conference of Catholic Bishops decried the Democrats' filibuster of the bill.
Senator I wanted to talk to you about abortion.

Carl Sagan asked:
Does a woman's "innate right to control her own body" encompass the right to kill a near-term fetus who is, for all intents and purposes, identical to a newborn child?… it is the beginning of a slippery slope. If it is impermissible to abort a pregnancy in the ninth month, what about the eighth, seventh, sixth…?
C. Everett Koop asserted:
Our question to a proabortion doctor who would not kill a newborn baby is this: "Would you then kill this infant a minute before he was born, or a minute before that, or a minute before that?" At what point in time can one consider life to be worthless and the next minute precious and worth saving?
Francis Schaeffer went on to say:

A much more serious example of this schizophrenic mentality is that we will transport a newborn baby, who is premature and has a congenital defect incompatible with life, to a hospital a considerable distance away–so that a sophisticated team of doctors and nurses can correct that defect and plan for the rehabilitation of the youngster. Meanwhile, in a number of other hospitals within gunshot distance of that center, other medical personnel are destroying perfectly normal infants in the womb.
THE GROWTH OF HUMAN LIFE
Our reasons against abortion are logical as well as moral. It is impossible for anyone to say when a developing fetus becomes viable, that is, has the ability to exist on its own. Smaller and smaller premature infants are being saved each year! There was a day when a 1000-gram preemie has no chance; now 50 percent of preemies under 1000 grams are being saved. Theoretically, there once was a point beyond which technology could not be expected to go in salvaging premature infants—but with further technological advances, who knows what the limits may be! The eventual possibilities are staggering.
The logical approach is to go back to the sperm and the egg. A sperm has twenty-three chromosomes; even though it is alive and can fertilize an egg, it can never make another sperm. An egg also has twenty-three chromosomes, and it can never make another egg. Thus, we have sperm that cannot reproduce and eggs that cannot reproduce unless they get together. Once the union of a sperm and an egg occurs and the twenty-three chromosomes of each are brought together into one cell that has forty-six chromosomes, that one cell has all the DNA (the whole genetic code) that will, if not interrupted, make a human being.
Our question to a proabortion doctor who would not kill a newborn baby is this: "Would you then kill this infant a minute before he was born, or a minute before that, or a minute before that?" At what point in time can one consider life to be worthless and the next minute precious and worth saving?
(Page 297)
Having already mentioned the union of sperm and egg to give forty-six chromosomes, let us briefly review the development of a baby. At twenty-one days, the first irregular beats occur in the developing heart, long before the mother is sure she is pregnant. Forty-five days after conception, electroencephalographic waves can be picked up from the baby's developing brain.
By the ninth and tenth weeks, the thyroid and the adrenal glands are functioning. The baby can squint, swallow, and move his tongue. The sex hormones are already present. By twelve or thirteen weeks, he has fingernails; he sucks his thumb and will recoil from pain. His fingerprints, on the hands which have already formed, will never change throughout his lifetime except for size. Legally, it is understood that an individual's fingerprints distinguish him as a separate identity and are the most difficult characteristic to falsify.
In the fourth month the growing baby is eight to ten inches long. The fifth month is a time of lengthening and strengthening. Skin, hair, and nails grow. Sweat glands come into being, oil glands excrete. This is the month in which the mother feels the infant's movements.
In the sixth month the developing baby responds to light and sound. He can sleep and awaken. He gets hiccups and can hear the beat of his mother's heart. Survival outside the womb is now possible. In the seventh month the nervous system becomes much more complex. The infant is about sixteen inches long and weighs about three pounds. The eighth and ninth months see a fattening of the baby.
We do not know how anyone who has seen the remarkable films of the intrauterine development of the human embryo can still maintain that the product of an abortion consists of just some membranes or a part of the woman's body over which she has complete control–or indeed anything other than a human life within the confines of a tiny body. At the very least we must admit that an embryo is not simply an extension of another person's body; it is something separate and uniquely irreplaceable. Another good reason we should not view the unborn baby as an extension of the woman's body is that it did not originate only from the woman. The baby would not exist without the man's seed.
(Page 298)
We are convinced that the reason the Supreme Court decision for abortion-on-demand never came to grips with the issue of the viability of the human fetus is that its viability (this is, ability to live outside of the womb on its own) is really not the important point.
Viable or not, the single-celled fertilized egg will develop into a human being unless some force destroys its life. We should add that biologists take the uniform position that life begins at conception; there is no logical reason why the proabortionist should try to arrive at a different definition when he is talking about people, the highest form of all biological creatures. After conception, no additional factor is necessary at a later time. All that makes up the adult is present as the ovum and the sperm are united–the whole genetic code is present.
Sincerely,
Everette Hatcher III, 13900 Cottontail Lane, Alexander, AR 72002, ph 501-920-5733 everettehatcher@gmail.com
Related posts:
(Emailed to White House on 12-21-12.) President Obama c/o The White House 1600 Pennsylvania Avenue NW Washington, DC 20500 Dear Mr. President, I know that you receive 20,000 letters a day and that you actually read 10 of them every day. I really do respect you for trying to get a pulse on […]By Everette Hatcher III | Posted in Milton Friedman, President Obama, spending out of control, Taxes | Edit | Comments (0)
(Emailed to White House on 12-21-12.) President Obama c/o The White House 1600 Pennsylvania Avenue NW Washington, DC 20500 Dear Mr. President, I know that you receive 20,000 letters a day and that you actually read 10 of them every day. I really do respect you for trying to get a pulse on what is […]By Everette Hatcher III | Posted in Milton Friedman, President Obama, Ronald Reagan, spending out of control, Taxes | Edit | Comments (0)
(Emailed to White House on 12-21-12) President Obama c/o The White House 1600 Pennsylvania Avenue NW Washington, DC 20500 Dear Mr. President, I know that you receive 20,000 letters a day and that you actually read 10 of them every day. I really do respect you for trying to get a pulse on what is […]By Everette Hatcher III | Posted in President Obama, Ronald Reagan, spending out of control, Taxes | Edit | Comments (0)
The federal government has a spending problem and Milton Friedman came up with the negative income tax to help poor people get out of the welfare trap. It seems that the government screws up about everything. Then why is President Obama wanting more taxes? _______________ Milton Friedman – The Negative Income Tax Published on […]By Everette Hatcher III | Posted in President Obama, spending out of control, Taxes | Edit | Comments (0)
I was sad to read that the Speaker John Boehner has been involved in punishing tea party republicans. Actually I have written letters to several of these same tea party heroes telling them that I have emailed Boehner encouraging him to listen to them. Rep. David Schweikert (R-AZ),Justin Amash (R-MI), and Tim Huelskamp (R-KS). have been contacted […]By Everette Hatcher III | Posted in Current Events, Speaker of the House John Boehner, spending out of control | Edit | Comments (0)
Michael Tanner of the Cato Institute in his article, "Hitting the Ceiling," National Review Online, March 7, 2012 noted: After all, despite all the sturm und drang about spending cuts as part of last year's debt-ceiling deal, federal spending not only increased from 2011 to 2012, it rose faster than inflation and population growth combined. […]By Everette Hatcher III | Posted in spending out of control, Taxes| Edit | Comments (0)
Michael Tanner of the Cato Institute in his article, "Hitting the Ceiling," National Review Online, March 7, 2012 noted: After all, despite all the sturm und drang about spending cuts as part of last year's debt-ceiling deal, federal spending not only increased from 2011 to 2012, it rose faster than inflation and population growth combined. […]By Everette Hatcher III | Posted in spending out of control, Taxes| Edit | Comments (0)
Some of the heroes are Mo Brooks, Martha Roby, Jeff Flake, Trent Franks, Duncan Hunter, Tom Mcclintock, Devin Nunes, Scott Tipton, Bill Posey, Steve Southerland and those others below in the following posts. THEY VOTED AGAINST THE DEBT CEILING INCREASE IN 2011 AND WE NEED THAT TYPE OF LEADERSHIP NOW SINCE PRESIDENT OBAMA HAS BEEN […]By Everette Hatcher III | Posted in spending out of control, Taxes| Edit | Comments (0)
I hated to see that Allen West may be on the way out. ABC News reported: Nov 7, 2012 7:20am What Happened to the Tea Party (and the Blue Dogs?) Some of the Republican Party's most controversial House members are clinging to narrow leads in races where only a few votes are left to count. […]By Everette Hatcher III | Posted in Current Events | Edit | Comments (0)
Rep Himes and Rep Schweikert Discuss the Debt and Budget Deal Michael Tanner of the Cato Institute in his article, "Hitting the Ceiling," National Review Online, March 7, 2012 noted: After all, despite all the sturm und drang about spending cuts as part of last year's debt-ceiling deal, federal spending not only increased from 2011 […]By Everette Hatcher III | Posted in spending out of control, Taxes| Edit | Comments (0)
—