—
Roe v. Wade
CONTENT CAUTION
HeavyKidsHeavyTeensMediumAdults
CREDITS
IN THEATERS
CAST
Joey Lawrence as Robert Byrn; Nick Loeb as Bernard Nathanson; Jamie Kennedy as Larry Lader; Lucy Davenport as Betty Friedan; Stacey Dash as Dr. Mildred Jefferson; Greer Grammar as Sarah Weddington; Octavius Prince as Cyril Means; Tom Guiry as Father James T. McHugh; Justine Wachsberger as Linda Coffee; James DuMont as Henry Wade; Mindy Robinson as Ellen McCormack; Jon Voight as Justice Warren Burger; Corbin Bernsen as Justice Harry Blackmun; John Schneider as Justice Byron White; Richard Portnow as Justice William Douglas; William Forsythe as Justice Potter Stewart; Jarrett Ellis Beal as Justice Thurgood Marshall; Alveda King as Guthrie Jefferson; Robert Davi as Justice William Brennan; Steve Guttenberg as Justice Powell; Wade Williams as Justice William Rehnquist; Summer Joy Campbell as Norma McCorvey
HOME RELEASE DATE
DIRECTOR
DISTRIBUTOR
REVIEWER
Adam R. Holz
MOVIE REVIEW
On Jan. 22, 1973, nine Supreme Court justices made abortion the law of the land in America. It was the culmination of a cultural struggle years in the making.
Roe v. Wade tells the story of what many consider the most important case in Supreme Court history. It's a tale told from an insider's dramatized perspective, that of Dr. Bernard Nathanson, a New York physician at the heart of this complex and multilayered story. Bernie (as his friends call him) narrates each twist and turn in the path toward Roe v. Wade's legal outcome … and takes us decades further, too, as he realizes with horror the tragic legacy of his life's work.
The story begins in 1949, after Bernie's girlfriend confesses that she's pregnant and wants and abortion. He finds someone willing to perform the procedure. But the blood on her dress when she gets out of the cab afterward tells us it has not gone well. Indeed, she soon dies, resulting in Bernie's multidecade personal crusade to help desperate women obtain safe and legal abortions. "I became a doctor to make sure no girl ever had to go through that again," he tells us.
By 1970, Bernie has connected with Larry Lader, whom he labels "the father of the abortion movement," a man personally mentored by Planned Parenthood founder Margaret Sanger. If Bernie's motivations seem deeply personal, Lader's seem darker. He'll stop at nothing to make abortion on demand the law everywhere—and he's more than willing to reap any financial benefits of the movement.
Lader and Bernie convince emerging feminist icon Betty Freidan to spearhead the cause. Soon, Lader's "pro-choice" movement fuses with Freidan's Equal Rights movement to form a potent force bent on granting women the right to abortion in the name of freedom, privacy and equality.
Lader expertly manipulates the media while Bernie pulls made-up statistics out of thin air to support their cause. But what's truly needed is someone to serve as a pawn in their legal strategy to take their battle to the Supreme Court. With help of two fledgling lawyers in Dallas—Sarah Weddington and Linda Coffee—they find their mark: Norma McCorvey.
She's perfect, they say: young, inexperienced, a runaway with a criminal record, an alcoholic, a drug addict, a lesbian and a girl with only a 9th-grade education.
In other words, she's someone they can easily manipulate to accomplish their bigger goal of making abortion legal.
POSITIVE ELEMENTS
At the heart of this historical story are two interwoven philosophical questions: When does life begin, and does an unborn fetus deserve constitutional protection? We see both sides of this legal, ethical and theological debate play out here.
On the pro-life side, Robert Byrn is an articulate voice challenging anyone who suggests that life doesn't begin at conception. He's joined in the movement by the first black, female graduate of Harvard Medical School, Dr. Mildred Jefferson. Father James T. McHugh, a Catholic, also plays a pivotal role in energizing the emerging pro-life coalition.
On the other side, Bernie seems to be a sincere believer in his desire to help women (not unlike Abby Johnson in the movie Unplanned). At first, he believes he's helping those who have "nowhere else to turn." As the story unfolds, however, Bernie begins to have doubts about what he's doing—doubts that come crashing down on him when ultrasound technology enables him to see clearly what he's been doing for so many years. (More on that in Spiritual Content.) "It's a person!" he cries, hands covered with blood mid-procedure, as he falls to the floor in tears.
Years later, he tells a Washington Post reporter that some part of him always knew that he had been embracing a lie, but it took literally seeing an abortion's horror through the lens of an ultrasound machine to make him see the truth.
The Supreme Court justices themselves aren't depicted in a flattering light. Chief Justice Warren Berger initially stands against Roe, but later flips to the other side of the argument. In the end, newly named Justice Byron White is the one of only two justices to vote against Roe. And we hear his strong, consistent opposition to abortion most clearly.
Dr. Jefferson's mother quotes Dr. Martin Luther King Jr. as saying, "We cannot win if we are willing to sacrifice the futures of our children for immediate personal comfort or safety." Other spiritual leaders who are said to be against abortion include Mother Theresa, the Dalai Lama and Mahatma Gandhi.
Early in the film, we watch as a New York state senator gives an impassioned plea for restricting abortion by reading from a work called "Diary of the Unborn."
SPIRITUAL ELEMENTS
Bernie notes early on that he came from a Jewish family, yet he describes himself as an atheist. At a crisis moment, however, as his faith in what he's doing begins to crack, he goes to a Catholic church and has a yelling match with God, impugning the Almighty's character. But Bernie eventually regrets what he's done and realizes the gravity of it, calling out in tears, "God forgive me for what I have done. I'm so sorry, God. What have I done?" In the end, he's baptized as a Catholic.
Speaking of Catholics, Larry Lader tries to make Catholics his villains in his public relations campaign for abortion. The film, however, depicts Catholics (mostly in New York City) as forming the bulwark of the nascent pro-life movement. Multiple scenes take place within St. Patrick's Cathedral, and we see artwork featuring Mary holding baby Jesus.
Dr. Jefferson encourages those fighting the legal battle to make their arguments apart from references to God or spiritual convictions, because she believes references to faith will weaken their legal case.
Amid feminist protests we hear the voice of a street preacher quoting Proverbs 14:12: "There is a way that seems right to man. And in the end it leads to death."
Bernie tells of how he and Lader utilized a national network of rabbis and Protestant clergy across the country whom they worked with to secure abortions in places where the procedure wasn't legal, receiving a kickback for those referrals.
A Klan meeting of women includes a burning cross. Real archive footage of Norma McCorvey shows her wearing a large cross.
SEXUAL CONTENT
Bernie and his wife kiss twice.
Bernie and Lader vacation together (alone, without their wives) in St. Croix in the Caribbean. We see them ogle the backside of a woman wearing a revealing swimming suit. In another scene, they "hold court" with two adoring young women in bikinis, bragging about their exploits as leaders of the abortion movement. Another female character wears a formfitting shirt.
It's clear that Bernie and a girlfriend have been having sex. A woman comes to a rabbi in Chicago seeking information on where she can get an abortion. She has a man with her, whom the rabbi assumes is her husband until it becomes clear that he's an illicit lover.
Norma McCorvey is obviously unmarried and pregnant. The entire story is set against the backdrop of breaking free from old social mores, including "restrictive" sexual attitudes.
VIOLENT CONTENT
We see Bernie's girlfriend wearing a dress with bloodstains on the front. A doctor performing abortions in a hotel in Chicago has blood on his hands (literally). Police kick in a door and raid the hotel, and they (and we) see multiple buckets of aborted fetuses in a closet.
Bernie verbally walks doctors through a new procedure involving improved suction techniques. He talks through what happens, including the necessity to "reassemble" pieces of the aborted fetus to make sure that they've all been removed.
In an utterly heartbreaking scene, Bernie brags to someone about having performed an abortion on his own girlfriend at the time. He says it didn't bother him, but we see him weeping as he assembles the pieces of his daughter's little body in a tray.
We repeatedly see women lined up on beds awaiting their abortions, in what almost seems like an assembly line. Bernie seems to move quickly from one woman to another, and he places and moves medical implements between their legs (though nothing explicit is shown). We see jars full of syphoned blood and flesh in hospitals and clinics.
CRUDE OR PROFANE LANGUAGE
We hear one or two uses each of "h—," "d–n," "heck" and two misuses of God's name. When police break violently into a hotel room where a doctor is performing an abortion, someone seems to voice an unfinished s-word.
DRUG AND ALCOHOL CONTENT
As mentioned, Norma McCorvey is described as a drug and alcohol abuser. Various characters drink socially at events and meals throughout the film.
OTHER NEGATIVE ELEMENTS
Bernie says of Margaret Sanger: "Margaret opened clinics in poor, black neighborhoods, and called it 'The Negro Project.' … Her goal was to reduce the Black population, either through birth control or sterilization. She literally wanted to stop Black people from having babies altogether."
Another flashback-esque scene purported to have taken place at Silver Lake, New Jersey, in 1926, pictures Sanger speaking to a group of female KKK members. With a cross burning in the background, she says, "The mass of Negroes, particularly in the South, still breed carelessly and disastrously. The result, an increase in Negroes more than among whites, is that portion of the population least intelligent and fit." (End credits show a book cover from Sanger and quote a portion of it where she talks about speaking to a group of KKK women.)
Supreme Court justices are presented as petty, insecure and jockeying openly for position and influence. They seek to influence each other's votes, sometimes with those of more seniority threatening more junior memebers. We also learn that two justices had family members that volunteered for Planned Parenthood. One judge's perspective is shaped by his wife and daughters, who essentially gang up with him at dinner one night and suggest that voting against Roe would be equivalent to voting against women's equality—and against his only family.
Larry Lader masterminds a public relationships campaign to put abortion in a more positive light. We never really see what drives him, but money would seem to be at the top of the list. He understands that he needs media coverage (we hear that Time magazine ran pro-abortion stories four times a year for years because of him), as well as the role that Hollywood plays in reinforcing the pro-abortion worldview.
CONCLUSION
How does culture change over time? What influences its currents of conviction to flow this way, or that?
We may think of cultural change as a vague, ephemeral thing that simply happens mysteriously in the swirling ether of society. But what Roe v. Wade reminds us is that such currents of change have a source. They flow from individuals and their commitment to ideas and ideals, for better or for ill.
In particular, the film shows us how two men—one driven by warped idealism, one propelled by murkier motives—radically impacted American culture with their behind-the-scenes advocacy for abortion. Lader and Nathanson understand how the levers of power work; this story shows us how they unabashedly pulled them, over and over again.
The result: a Supreme Court decision that has ultimately led to the deaths of 61 million babies since Jan. 22, 1973, with 40% from Black mothers (according to the film). It's a staggering, sobering and sorrowful reminder of the stakes involved in this issue. And it's also a call to action for those who fiercely defend the cause of the preborn.
Roe v. Wade is a difficult movie to watch. It may not be quite as gut wrenching as 2019's Unplanned. But brief, graphic images of aborted babies here will push this story out of bounds for many sensitive viewers.
For those who can absorb some briefly horrific scenes, however, this is an important film. Like Unplanned, Roe v. Wade takes what can devolve into an abstract debate and makes the stakes shockingly clear. It also reminds us, through one man's painful journey, that even if you've embraced a lie for much of your life, there's still time to turn around and make a redemptive influence in the lives of others.
Focus on the Family is deeply invested in equipping and encouraging the pro-life movement. To learn more about how you can get involved, we encourage you to check out our See Life 2021 digital event. And for more coverage on Roe v. Wade, check out Focus on the Family's Daily Citizen coverage here.
March 24, 2021
Office of Senator Maggie Hasson, New Hampshire
United States Senate
Washington, D.C. 20510
Dear Senator Hasson,
I noticed that you signed a 2017 letter strongly supporting the filibuster.
Why are you thinking about abandoning that view now?
Does your change of view have anything to do with Biden now being in office?
More than half of current Senate Democrats and VP Harris signed 2017 letter supporting filibuster when GOP was in control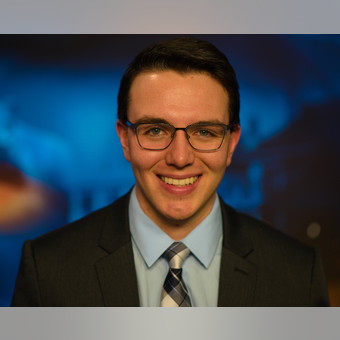 As progressives push hard for Democrats to eliminate the legislative filibuster after gaining control of the Senate, House and the presidency, many Democratic senators are distancing themselves from a letter they signed in 2017 backing the procedure.
Sens. Susan Collins, R-Maine, and Chris Coons, D-Del., led a letter in 2017 that asked Republican Leader Mitch McConnell, R-Ky., and Democratic Leader Chuck Schumer, D-N.Y., to preserve the legislative filibuster. As it's existed for decades, the filibuster requires 60 votes in order to end debate on a bill and proceed to a final vote.
"We are writing to urge you to support our efforts to preserve existing rules, practices, and traditions" on the filibuster, the letter said.
Besides Collins and Coons, 59 other senators joined on the letter. Of that group, 27 Democratic signatories still hold federal elected office. Twenty-six still hold their Senate seats, and Vice President Harris assumed her new job on Jan. 20, vacating her former California Senate seat.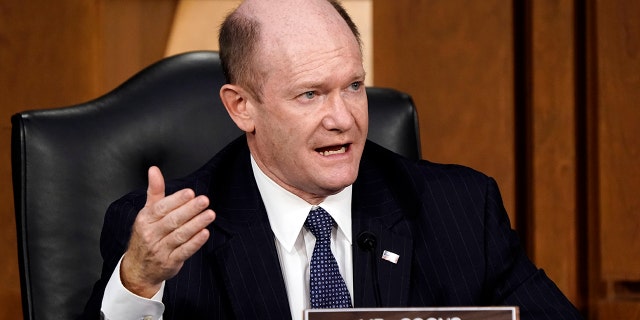 Sen. Chris Coons, D-Del., speaks as the Senate Judiciary Committee hears from legal experts on the final day of the confirmation hearing for Supreme Court nominee Amy Coney Barrett, on Capitol Hill in Washington, Thursday, Oct. 15, 2020. Coons has softened his support for the legislative filibuster in recent years after leading an effort to protect it in 2017. (AP Photo/J. Scott Applewhite)
But now, the momentum among Senate Democrats is for either full abolition of the filibuster or significantly weakening it. President Biden endorsed the latter idea Tuesday, announcing his support for a "talking filibuster."
KAMALA HARRIS SUPPORTS CHANGE TO FILIBUSTER IN SENATE TO LIMIT MINORITY PARTY POWER
"I don't think that you have to eliminate the filibuster, you have to do it what it used to be when I first got to the Senate back in the old days," Biden told ABC. "You had to stand up and command the floor, you had to keep talking."
The legislative filibuster has been a 60-vote threshold for what is called a "cloture vote" — or a vote to end debate on a bill — meaning that any 41 senators could prevent a bill from getting to a final vote. If there are not 60 votes, the bill cannot proceed.
The "talking filibuster" — as it was most recently seriously articulated by Sen. Jeff Merkley, D-Ore., in 2012 — would allow 41 senators to prevent a final vote by talking incessantly, around-the-clock, on the Senate floor. But once those senators stop talking, the threshold for a cloture vote is lowered to 51.
Harris' office confirmed to Fox News Wednesday that she is now aligned with Biden on the filibuster issue. She'd previously taken an even more hostile position to the filibuster, saying she would fully "get rid" of it "to pass a Green New Deal" at a CNN town hall in 2019.
The legislative filibuster has been a 60-vote threshold for what is called a "cloture vote" — or a vote to end debate on a bill — meaning that any 41 senators could prevent a bill from getting to a final vote. If there are not 60 votes, the bill cannot proceed.
The "talking filibuster" — as it was most recently seriously articulated by Sen. Jeff Merkley, D-Ore., in 2012 — would allow 41 senators to prevent a final vote by talking incessantly, around-the-clock, on the Senate floor. But once those senators stop talking, the threshold for a cloture vote is lowered to 51.
Harris' office confirmed to Fox News Wednesday that she is now aligned with Biden on the filibuster issue. She'd previously taken an even more hostile position to the filibuster, saying she would fully "get rid" of it "to pass a Green New Deal" at a CNN town hall in 2019.
Coons, who led the 2017 letter along with Collins, has also distanced himself from his previous stance.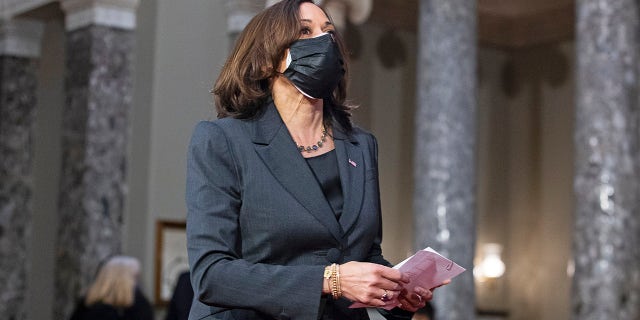 Vice President Kamala Harris attends a ceremonial swearing-in for Sen. Patrick Leahy, D-Vt., as President Pro Tempore of the Senate on Capitol Hill in Washington, Thursday, Feb. 4, 2021. Harris has changed her stance on the legislative filibuster since signing a letter in 2017 backing it. (Michael Reynolds/Pool via AP) (AP)
BIDEN SUPPORTS CHANGING SENATE FILIBUSTER
"I'm going to try my hardest, first, to work across the aisle," he said in September when asked about ending the filibuster. "Then, if, tragically, Republicans don't change the tune or their behavior at all, I would."
Fox News reached out to all of the other 26 Democratic signatories of the 2017 letter, and they all either distanced themselves from that position or did not respond to Fox News' inquiry.
"Less than four years ago, when Donald Trump was President and Mitch McConnell was the Majority Leader, 61 Senators, including more than 25 Democrats, signed their names in opposition to any efforts that would curtail the filibuster," a GOP aide told Fox News. "Other than the occupant of the White House, and the balance of power in the Senate, what's changed?"
"I'm interested in getting results for the American people, and I hope we will find common ground to advance key priorities," Sen. Tim Kaine. D-Va., said in a statement. "If Republicans try to use arcane rules to block us from getting results for the American people, then we'll have a conversation at that time."
Added Sen. Mark Warner, D-Va: "I am still hopeful that the Senate can work together in a bipartisan way to address the enormous challenges facing the country. But when it comes to fundamental issues like protecting Americans from draconian efforts attacking their constitutional right to vote, it would be a mistake to take any option off the table."
"Senator Stabenow understands the urgency of passing important legislation, including voting rights, and thinks it warrants a discussion about the filibuster if Republicans refuse to work across the aisle," Robyn Bryan, a spokesperson for Sen. Debbie Stabenow, D-Mich., said.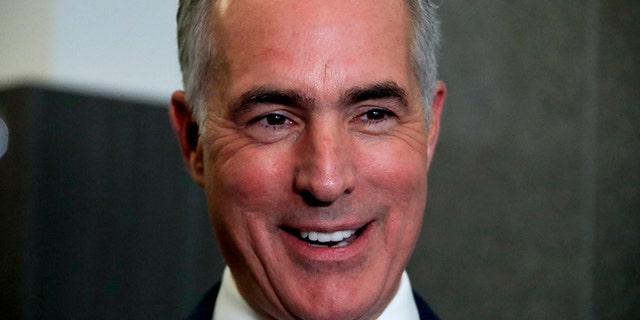 FILE – In this Oct. 26, 2018, file photo, Sen.Bob Casey, D-Pa., speaks to reporters in the studio of KDKA-TV in Pittsburgh. Casey has reversed his stance on the legislative filibuster since signing a 2017 letter in support of it. (AP Photo/Gene J. Puskar, File)
Representatives for Sen. Bob Casey, D-Pa., pointed to recent comments he made on MSNBC.
"Yes, absolutely," Casey said when asked if he would support a "talking filibuster" or something similar. "Major changes to the filibuster for someone like me would not have been on the agenda even a few years ago. But the Senate does not work like it used to."
MCCONNELL SAYS SENATE WILL BE '100-CAR PILEUP' IF DEMS NUKE FILIBUSTER
"I hope any Democratic senator who's not currently in support of changing the rules or altering them substantially, I hope they would change their minds," Casey added.
Representatives for Sen. Angus King, I-Vt., who caucuses with Democrats, meanwhile, references a Bangor Daily News editorial that said King was completely against the filibuster in 2012 but now believes it's helpful in stopping bad legislation. It said, however, that King is open to "modifications" similar to a talking filibuster.
The senators who did not respond to questions on their 2017 support of the filibuster were Sens. Joe Manchin. D-W.Va.; Patrick Leahy, D-Vt.; Amy Klobuchar, D-Minn.; Jeanne Shaheen, D-N.H.; Michael Bennet, D-Colo.; Martin Heinrich, D-N.M.; Sherrod Brown, D-Ohio; Dianne Feinstein, D-Calif.; Kirsten Gillibrand, D-N.Y.; Brian Schatz, D-Hawaii; Cory Booker, D-N.J.; Maria Cantwell, D-Wash.; Maize Hirono, D-Hawaii; John Tester, D-Mont.; Tom Carper, D-Del.; Maggie Hassan, D-N.H.; Tammy Duckworth, D-Ill.; Jack Reed, D-R-I.; Ed Markey, D-Mass.; Sheldon Whitehouse, D-R.I.; and Bob Menendez, D-N.J.
Some of these senators, however, have addressed the filibuster in other recent comments.
Sen. Dianne Feinstein, D-Calif., on Wednesday was asked if she supported changing the filibuster threshold by CNN and said she is still opposed to the idea. "Not at this time," Feinstein said.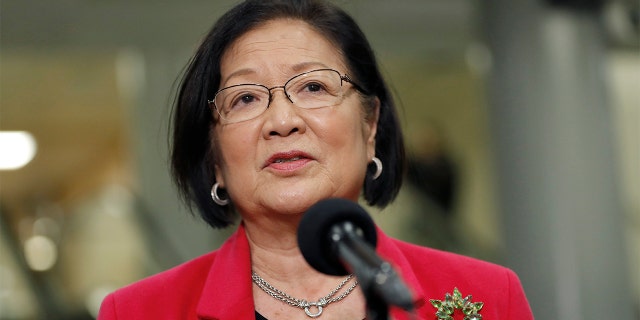 Sen. Mazie Hirono, D-Hawaii, speaks to reporters on Capitol Hill in Washington, Thursday, Jan. 30, 2020, during the impeachment trial of President Donald Trump on charges of abuse of power and obstruction of Congress. Hirono has changed her opinion on the legislative filibuster since signing a 2017 letter supporting it. (AP Photo/Julio Cortez)
Sen. Maize Hirono, D-Hawaii, meanwhile said last week she is already for getting rid of the current 60-vote threshold and thinks other Democrats will sign on soon.
"If Mitch McConnell continues to be totally an obstructionist, and he wants to use the 60 votes to stymie everything that President Biden wants to do and that we Democrats want to do that will actually help people," Hirono said, "then I think the recognition will be among the Democrats that we're gonna need to."
The most recent talk about either removing or significantly weakening the filibuster was spurred by comments from Manchin that appeared to indicate he would be open to a talking filibuster. He said filibustering a bill should be more "painful" for a minority.
Manchin appeared to walk back any talk of a talking filibuster on Wednesday, however.
"You know where my position is," he said. "There's no little bit of this and a little bit — there's no little bit here. You either protect the Senate, you protect the institution and you protect democracy or you don't."
Manchin and Sen. Kyrsten Sinema, D-Ariz., both committed to supporting the current form of the filibuster earlier this year. Sinema was not in the Senate in 2017.
Senate Minority Mitch McConnell, R-Ky., said their comments gave him the reassurance he needed to drop a demand that Senate Majority Leader Chuck Schumer, D-N.Y., put filibuster protections into the Senate's organizing resolution.
But with Manchin seeming to flake at least in the eyes of some, other Democrats are beginning to push harder for filibuster changes.
—
I read this about your views on abortion:
Hassan voted NAY Born-Alive Abortion Survivors Protection Act
S.311/H.R.962: Born-Alive Abortion Survivors Protection Act: Congress finds the following:
If an abortion results in the live birth of an infant, the infant is a legal person for all purposes under the laws of the United States, and entitled to all the protections of such laws.
(2) Any infant born alive after an abortion or within a hospital, clinic, or other facility has the same claim to the protection of the law that would arise for any newborn, or for any person who comes to a hospital, clinic, or other facility for screening and treatment or otherwise becomes a patient within its care.
In the case of an attempted abortion that results in a child born alive, any health care practitioner present at the time the child is born alive shall exercise the same degree of professional skill, care, and diligence to preserve the life and health of the child as a reasonably diligent and conscientious health care practitioner would render to any other child born alive at the same gestational age.
Opposing argument from Rewire.com, "Born Alive Propaganda," by Calla Hales, 4/12/2019: From restrictive bans at various points of pregnancy to a proposed death penalty for seeking care, both federal and state legislators are taking aim at abortion rights. The goal? To make abortion illegal, criminalizing patients and providers in the process. One kind of bill making a recent resurgence is the "Born-Alive Abortion Survivors Protection Act." These bills aim to further the false narrative that abortions regularly occur immediately before or, according to the president, at the time of birth. Intentional action to end the life of an infant is already illegal. This is covered by federal and state infanticide laws. These bills do nothing but vilify physicians who provide reproductive health care.
Legislative outcome Referred to Committee in House; Senate motion to proceed rejected, 56-41-3 (60 required).
I wanted to talk to about abortion too. Below is a quote from the book WHATEVER HAPPENED TO THE HUMAN RACE? By Francis Schaeffer and C.Everett Koop:
As another example, a publication of Nurses Concerned for Life, Inc., considered these facts, reported in the PITTSBURGH PRESS on November 1, 1974:
A 26-year-old woman requested an abortion of her 5-month fetus, claiming that she had been raped. The woman was first turned down by Magee Woman's Hospital because it was thought the pregnancy was too far advanced. The staff physician estimated the gestational age to be about 25 weeks. It was later established that she had not been raped.
The abortion was then performed by Dr. Leonard Laufe of West Penn Hospital in Pittsburgh, PA., who decided to use the prostaglandin needed. Prostaglandin is an abortifacient drug whose primary effect is stimulation of the uterine contractions. Ifs use frequently leads to a live birth. Nurse Monica Bright testified that the child gasped for breath for at least 15 minutes following the abortion and no attempts were made to help the child in any way. Ms. Bright is a circulating nurse in Labor and Delivery. She further testified that she observed a pulse in the upper chest, left neck area. Ms. Shirley Foust, R. N., testified she had seen the baby move and that one of the foreign residents, who was observing, baptized the child. The Head Nurse, Carol Totton, testified that the baby was gasping and a pulse was visible. Both the nurse anaesthetist and Ms. Totton refused to adminsiter a lethal dose of morphine to the baby despite the fact that "someone in the room had ordered it."
(Page 304)
The nurse anaesthetist, Nancy Gaskey, testified that the abortion was performed in a room where there were no resuscitative measures available if the child was born alive.
The entire procedure was filmed for educational purposes and the film showed the baby moving. Dr. Jules Rivkind, Chairman, Department of OB and Gyn, at Mercy Hospital, testified that this was indeed "a live birth."
The original birth records indicate the baby girl weighed 3 lbs. 1 ounce and listed the length as 45 centimeters. Dr. Laufe later changed the hospital records to read as follows: weight 2 lbs, 9 oz, length 29 centimeters. Lois Cleary, a staff nurse, witnessed this change, and testified that in the 3,000 to 4,000 births she had assisted with there had never been such changes made on original records to her knowledge. This change was also verified by an OB technician who was present. Estimated gestational age 29 to 32 weeks.
John Kenney, a young medical student, testifed that he had been threatened by Dr. Laufe's attorney if he testified in court against Dr. Laufe. The young man was told that he would be unable to get an internship in any hospital in Pennsylvania if he testified. He was also told he would be unable to get a license to practice medicine.
Editor's note: (You be the Judge)–Dr. Laufe was acquitted of the charges because he claimed the baby's brain was dead due to damage caused when he clamped the unbilical arteries in utero.
Embryos "created" in the biologists' laboratories raise special questions because they have the potential for growth and development if planted in the womb. The disposal of these live embryos is a cause for ethical and moral concern. Dr. Leon Kass, a University of Chicago biologist, wonders:
Who decides what are the grounds for discard? What if there is another recipient available who wishes to have the otherwise unwanted embryo? The geneticist's? The obstetrician's? The Ford Foundation's? Shall we say that discarding laboratory grown embryos is a matter solely between a doctor and his plumber? …We have paid some high prices for the technological conquest of nature, but none so high as the intellectual and spiritual costs of seeing nature as mere material for our manipulation, exploitation and transformation. With the powers for biological engineering now gathering, there will be splendid new opportunities for a similar degradation of our view of man. Indeed, we are already witnessing the erosion of our idea of man as something splendid or divine, as a creature with freedom and dignity. And clearly, if we come to see ourselves as meat, then meat we shall become.
(page 305)
Sincerely,
Everette Hatcher III, 13900 Cottontail Lane, Alexander, AR 72002, ph 501-920-5733 everettehatcher@gmail.com
Related posts:
(Emailed to White House on 12-21-12.) President Obama c/o The White House 1600 Pennsylvania Avenue NW Washington, DC 20500 Dear Mr. President, I know that you receive 20,000 letters a day and that you actually read 10 of them every day. I really do respect you for trying to get a pulse on […]By Everette Hatcher III | Posted in Milton Friedman, President Obama, spending out of control, Taxes | Edit | Comments (0)
(Emailed to White House on 12-21-12.) President Obama c/o The White House 1600 Pennsylvania Avenue NW Washington, DC 20500 Dear Mr. President, I know that you receive 20,000 letters a day and that you actually read 10 of them every day. I really do respect you for trying to get a pulse on what is […]By Everette Hatcher III | Posted in Milton Friedman, President Obama, Ronald Reagan, spending out of control, Taxes | Edit | Comments (0)
(Emailed to White House on 12-21-12) President Obama c/o The White House 1600 Pennsylvania Avenue NW Washington, DC 20500 Dear Mr. President, I know that you receive 20,000 letters a day and that you actually read 10 of them every day. I really do respect you for trying to get a pulse on what is […]By Everette Hatcher III | Posted in President Obama, Ronald Reagan, spending out of control, Taxes | Edit | Comments (0)
The federal government has a spending problem and Milton Friedman came up with the negative income tax to help poor people get out of the welfare trap. It seems that the government screws up about everything. Then why is President Obama wanting more taxes? _______________ Milton Friedman – The Negative Income Tax Published on […]By Everette Hatcher III | Posted in President Obama, spending out of control, Taxes | Edit | Comments (0)
I was sad to read that the Speaker John Boehner has been involved in punishing tea party republicans. Actually I have written letters to several of these same tea party heroes telling them that I have emailed Boehner encouraging him to listen to them. Rep. David Schweikert (R-AZ),Justin Amash (R-MI), and Tim Huelskamp (R-KS). have been contacted […]By Everette Hatcher III | Posted in Current Events, Speaker of the House John Boehner, spending out of control | Edit | Comments (0)
Michael Tanner of the Cato Institute in his article, "Hitting the Ceiling," National Review Online, March 7, 2012 noted: After all, despite all the sturm und drang about spending cuts as part of last year's debt-ceiling deal, federal spending not only increased from 2011 to 2012, it rose faster than inflation and population growth combined. […]By Everette Hatcher III | Posted in spending out of control, Taxes| Edit | Comments (0)
Michael Tanner of the Cato Institute in his article, "Hitting the Ceiling," National Review Online, March 7, 2012 noted: After all, despite all the sturm und drang about spending cuts as part of last year's debt-ceiling deal, federal spending not only increased from 2011 to 2012, it rose faster than inflation and population growth combined. […]By Everette Hatcher III | Posted in spending out of control, Taxes| Edit | Comments (0)
Some of the heroes are Mo Brooks, Martha Roby, Jeff Flake, Trent Franks, Duncan Hunter, Tom Mcclintock, Devin Nunes, Scott Tipton, Bill Posey, Steve Southerland and those others below in the following posts. THEY VOTED AGAINST THE DEBT CEILING INCREASE IN 2011 AND WE NEED THAT TYPE OF LEADERSHIP NOW SINCE PRESIDENT OBAMA HAS BEEN […]By Everette Hatcher III | Posted in spending out of control, Taxes| Edit | Comments (0)
I hated to see that Allen West may be on the way out. ABC News reported: Nov 7, 2012 7:20am What Happened to the Tea Party (and the Blue Dogs?) Some of the Republican Party's most controversial House members are clinging to narrow leads in races where only a few votes are left to count. […]By Everette Hatcher III | Posted in Current Events | Edit | Comments (0)
Rep Himes and Rep Schweikert Discuss the Debt and Budget Deal Michael Tanner of the Cato Institute in his article, "Hitting the Ceiling," National Review Online, March 7, 2012 noted: After all, despite all the sturm und drang about spending cuts as part of last year's debt-ceiling deal, federal spending not only increased from 2011 […]By Everette Hatcher III | Posted in spending out of control, Taxes| Edit | Comments (0)
—