——————
Trump's Lawyer Totally Owns CBS News Anchor Lana Zak in Live Interview
Trump's impeachment attorney goes viral after exchange with CBS reporter
Michael van der Veen, one of former President Trump's lawyers at the impeachment trial, went viral Saturday after an interview with CBS News' streaming service called CBSN.
The lawyer, who had just won his case, was interviewed by Lana Zak, an anchor from the network, who he accused of trying to downplay Democrat impeachment managers who he said doctored evidence during the trial.
The interview seemed to get tense after Zak asked him about beginning his defense by stating that there was no "insurrection" at the Capitol, but then– in his closing argument, "seemingly admitted that there was, in fact, an insurrection." She said he used the word during the argument.
Van der Veen shot back and said she did not understand the case. He said he only used the word "insurrection" when he quoted the charging documents.
What happened at the Capitol on Jan. 6 was absolutely horrific," he said. "But what happened at the Capitol during this trial was not too far away from that."
He said the Democrat impeachment managers failed to do their homework and—desperate to make a case—"doctored evidence."
Zak followed up his answer by clarifying for viewers that he was referring to allegations that the impeachment managers put the wrong date in a tweet, selectively edited videos and added a blue checkmark on a Twitter account submitted as evidence. Zak's defenders said she was doing her job as a journalist to get her audience up to speed about what exactly van der Veen was referring to.
But van der Veen took her explanation as an attempt to downplay a serious allegation against the prosecutors in the case. He asked her: those allegations "aren't enough for you?"
Zak told him that she is not a juror in the trial, but van der Veen tied the comment to the bias in the media.
"It's not OK to doctor a little bit of evidence," he said.
She responded, "I did not say that it was OK."
"The media has to start telling the right story in this country," he said. "The media is trying to divide this country. You are bloodthirsty for ratings, and as such, you're asking questions now that are already set up with a fact pattern. I can't believe that you would ask me a question indicating that it's alright to doctor just a little bit of evidence. There's more stuff that we uncovered that they doctored, to be frank with you."
He said the media should be looking into the allegation in a "square, straight way."
impeachment managers of changing the date on a tweet in an effort to tie it to the deadly riot.
Van der Veen said the media, in general, is playing a leading role in the country's divide because it plays for an audience, and politicians play for these news outlets for favorable coverage.
Dennis Prager / @DennisPrager / January 19, 2021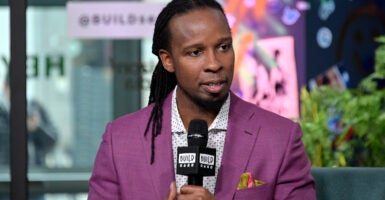 Ibram X. Kendi visits Build to discuss the book "Stamped: Racism, Antiracism, and You" at Build Studio March 10, 2020, in New York City. (Photo: Michael Loccisano/Getty Images)
COMMENTARY BY
Dennis Prager is a columnist for The Daily Signal, nationally syndicated radio host, and creator of PragerU.
Let us begin with this fact: The left always suppresses speech. Since Vladimir Lenin and the Bolshevik Revolution in Russia in 1917, there has been no example of the left in control and not crushing dissent.
That is one of the important differences between liberal and left: Liberalism and liberals believe in free speech.
(The present leftist threat to freedom in America, the greatest threat to freedom in American history, is made possible because liberals think they have more to fear from conservatives than from the left. Liberals do not understand that the left regards liberals as their useful idiots.)
The left controls universities. There is little or no dissent allowed at universities.
The Left has declared war on our culture, but we should never back down, nor compromise our principles. Learn more now >>
The left controls nearly every "news" medium. There is little or no dissent in the mainstream media—not in the "news" sections and not in the opinion sections.
The left controls Hollywood. No dissent is allowed in Hollywood.
That is why we have "cancel culture"—the silencing and firing of anyone who publicly dissents from the left, and even "publicly" is no longer necessary.
The National Association of Realtors has just announced that if you express dissenting views (on race, especially) in private, you may be fined and lose your membership in the organization—which effectively ends your career as a realtor.
So, we return to the opening question: Why does the left need to crush all dissent? This is a question made all the more stark because there is no parallel on the right: Conservatives do not shut down dissent or debate.
The answer, though the left will not acknowledge it, is the left fears dissent. And it does so for good reason. Leftism is essentially a giant balloon filled with nothing but hot air. Therefore, no matter how big the balloon—the Democratic Party, The New York Times, Yale University—all it takes is a mere pin to burst it.
Leftism is venerated by intellectuals. But there is little intellectual substance to leftism. It is a combination of doctrine and emotion. The proof? Those with intellectual depth do not stifle dissent; they welcome it.
That is why universities are so opposed to conservatives coming to speak on campus. One articulate conservative can undo years of left-wing indoctrination in a one-hour talk or Q&A. I know this from personal experience on campuses. You can, too.
Watch the speeches given by any conservatives allowed to speak on a campus—many of these talks are still on YouTube—and you will see large halls filled with students yearning to hear something other than left-wing pablum. Look at their faces, filled with rapt attention to ideas they never heard that are clearly having an impact.
Universities are entirely right to fear our coming to speak. We come with the pin that bursts their $50,000-a-year balloon.
That is also why it is so hard to get any of them to debate any of us. In 35 years of radio, I have never mistreated or bullied a guest. I was unfailingly polite to an icon of the left, Howard Zinn, the America-hating author of the America-hating "A People's History of the United States."
I even invited a UCLA political science professor and violinist, one of seven members of the Santa Monica Symphony Orchestra who refused to play when I conducted the orchestra in a Joseph Haydn symphony in the Disney Concert Hall—solely because I'm a conservative.
Despite his public letter, in which he accused me of holding "horribly bigoted positions" and wrote, "Please urge your friends to not attend this concert, which helps normalize bigotry in our community," I nevertheless invited him on my national radio show. He agreed.
I had him in studio for an entire hour and treated him and his wife (who accompanied him) with great respect, despite my contempt for his false accusations and his advocacy of the cancel culture. Every American should hear that hour.
Unfortunately for the emotional and intellectual health of our society, he, Zinn, and a few others were anomalies. Of the 100 or so left-wing authors, professors, and columnists invited to appear on my show, almost none has responded in the affirmative. They prefer NPR, where they are never challenged.
The opposite, however, is not true: Every conservative intellectual I know says yes to every one of the (very few) left-wing invitations we receive. Of course, we are almost never invited. We regularly invite leftists. Leftists almost never invite us.
They claim it's because we are not up to their intellectual level and they have no desire to waste their time. One would think that the opportunity to publicly show how vapid we conservatives really are would be too good to pass up.
Leftists do not debate us or appear as guests on our shows and prevent us from speaking whenever possible, because they (correctly) fear conservatives.
Race-baiters such as Ibram X. Kendi or Ta-Nehisi Coates or "White Fragility" author Robin DiAngelo would never debate Larry Elder, for example.
Why won't they? Because they would be shown to be the intellectually shallow purveyors of hate they are. Deep down, they know it. Elder is one of many conservative black intellectuals who left-wing blacks (and whites) refuse to debate.
Now you know why the left suppresses free speech: because it has to. If there is free speech, there is dissent. And if there is dissent, there is no more left.
COPYRIGHT 2021 CREATORS.COM
The Daily Signal publishes a variety of perspectives. Nothing written here is to be construed as representing the views of The Heritage Foundation.
—-
—
—
—-
—-
—-
January 13, 2021
Office of Barack and Michelle Obama
P.O. Box 91000
Washington, DC 20066
Dear President Obama,
I wrote you over 700 letters while you were President and I mailed them to the White House and also published them on my blog http://www.thedailyhatch.org .I received several letters back from your staff and I wanted to thank you for those letters.
I have been reading your autobiography A PROMISED LAND and I have been enjoying it.
Let me make a few comments on it, and here is the first quote of yours I want to comment on:
I can provide the exact quote here, because in the audience that night was a freelance writer who was recording me. To her mind, my answer risked reinforcing negative stereotypes some Californians already had about working-class white voters and was therefore worth blogging about on Huffington Post. (It's a decision I respect, by the way, though I wish she had talked to me about it before writing the story. This is what separates even the most liberal writers from their conservative counterparts—the willingness to flay politicians on their own side.)
—
If liberal writers hold Democrats feet to the fire then why did the liberal media delay reporting the news on Hunter Biden?
'This story broke in October. You didn't do it then,' former acting DNI scolded the CNN anchor
By Joseph A. Wulfsohn | Fox News
Former Acting Director of National Intelligence Ric Grenell took a shot at CNN anchor Jake Tapper Wednesday for finally acknowledged the controversies surrounding Hunter Biden.
Tapper was the first anchor on CNN to address the statement released by the president-elect's son revealing his "tax affairs" were being investigated by the Delaware U.S. Attorney's Office.
Tapper shared a CNN report about the investigation on Twitter, which caught Grenell's attention.
"This story broke in October. You didn't do it then," said Grenell, who then asked Tapper point-blank: "Were you instructed to ignore it until after the election?"
CNN did not immediately respond to Fox News' request for comment.
Grenell's question appears to be valid after recordings leaked by Project Veritas last week revealed that CNN President Jeff Zucker and Political Director David Chalian urged staff back in October not to cover the explosive New York Post report that shed light on Hunter Biden's shady business dealings overseas.
"Obviously, we're not going with the New York Post story right now on Hunter Biden," Chalian is heard saying during a conference call on Oct. 14, the same day the Post published its first Hunter Biden story.
JAKE TAPPER DECLARES HUNTER BIDEN CLAIMS 'TOO DISGUSTING' TO REPEAT ON CNN: 'THE RIGHTWING IS GOING CRAZY'
"The Trump media, you know, moves immediately from — OK, well, never mind — the [Michael Flynn] unmasking was, you know, found to be completely nonsensical to the latest alleged scandal and expects everybody to just follow suit," Zucker told his staff on Oct. 16. "So, I don't think that we should be repeating unsubstantiated smears just because the right-wing media suggests that we should."
Chalian and Zucker's messages appeared to have later resonated with Tapper, who said Oct. 22 that the allegations against Biden's son were "too disgusting" to repeat on air and that the "right wing is going crazy."
However, since the election, Tapper has struck a vastly different tone when it comes to Hunter Biden's potential business conflicts. Last week, the CNN anchor even asked Joe Biden about it during an interview.
"When your son came under scrutiny during the campaign, you vowed 'No one in my family or associated with me will be involved in any foreign operations whatsoever. Period. End of story,'" Tapper began. "Will your brothers, will your son take leave from any business interests, not just foreign but any business interests, that might create any even an appearance of impropriety?"
"My son, my family will not be involved in any business, any enterprise that is in conflict with or appears to be in conflict with an appropriate distance from the presidency and government," Biden responded.
Tapper quickly moved on to another topic without any follow-up questions.
On Twitter, however, Tapper scolded the Biden transition team over Wednesday's press release, apparently spoiling CNN's own reporting about the younger Biden's legal troubles in the process.
"CNN's @evanperez was working on the story about the US [sic] Attorney investigation and reached out to Hunter's legal team for comment Monday. They spoke on Tuesday and said they would get back to him today. They didn't. Instead the transition team issued a press release," Tapper tweeted.
He later wrote, "Note to Biden transition team: if your strategy to deal with bad news is to falsely promise a comment to journalists operating in good faith then issue a press release, you will end up getting called late in the process."
Francis Schaeffer in 1982 on the 700 Club noted:
The liberal newspapers dominated by this humanist view carried reams of material trying to get poor ole Dr. C.Everett Koop, who had been my friend for 30 years, tried to get him not accepted as the Surgeon General of the United States. When he was accepted the Washington Post ran one inch on the 3rd page. That is all.

Dr. Koop is one of the foremost pediatric surgeons in the United States, and among other honors, he was given the highest honor of the French government for his pioneering work in pediatric surgery. He also has experience in the direction of the care of public health. He was shut off not because he didn't have the qualifications but because he stood for the value of human life and behind it the Christian view.
The newspapers are supposed to make the distinction between news and the editorial page. If they want to be against us on the editorial page that is their privilege and it is our privilege not to buy their newspaper. But when they begin to have a hidden censorship on the news page that is tyranny!!
Sincerely,
Everette Hatcher III, 13900 Cottontail Lane, Alexander, AR 72002, ph 501-920-5733 everettehatcher@gmail.com
Francis Schaeffer
Related posts:
President Obama c/o The White House 1600 Pennsylvania Avenue NW Washington, DC 20500 Dear Mr. President, I know that you receive 20,000 letters a day and that you actually read 10 of them every day. I really do respect you for trying to get a pulse on what is going on out here. There have […]By Everette Hatcher III | Posted in David Barton, Founding Fathers, President Obama | Edit |Comments (0)
There have been many articles written by evangelicals like me who fear that our founding fathers would not recognize our country today because secular humanism has rid our nation of spiritual roots. I am deeply troubled by the secular agenda of those who are at war with religion in our public life. Lillian Kwon quoted somebody […]By Everette Hatcher III | Posted in David Barton, Founding Fathers | Edit | Comments (0)
There have been many articles written by evangelicals like me who fear that our founding fathers would not recognize our country today because secular humanism has rid our nation of spiritual roots. I am deeply troubled by the secular agenda of those who are at war with religion in our public life. Lillian Kwon quoted somebody […]By Everette Hatcher III | Posted in David Barton, Founding Fathers | Edit | Comments (0)
There have been many articles written by evangelicals like me who fear that our founding fathers would not recognize our country today because secular humanism has rid our nation of spiritual roots. I am deeply troubled by the secular agenda of those who are at war with religion in our public life. Lillian Kwon quoted somebody […]By Everette Hatcher III | Posted in David Barton, Founding Fathers | Edit | Comments (0)
There have been many articles written by evangelicals like me who fear that our founding fathers would not recognize our country today because secular humanism has rid our nation of spiritual roots. I am deeply troubled by the secular agenda of those who are at war with religion in our public life. Lillian Kwon quoted somebody […]By Everette Hatcher III | Posted in David Barton, Founding Fathers | Edit | Comments (0)
There have been many articles written by evangelicals like me who fear that our founding fathers would not recognize our country today because secular humanism has rid our nation of spiritual roots. I am deeply troubled by the secular agenda of those who are at war with religion in our public life. Lillian Kwon quoted somebody […]By Everette Hatcher III | Posted in Founding Fathers | Edit | Comments (0)
President Obama Speaks at The Ohio State University Commencement Ceremony Published on May 5, 2013 President Obama delivers the commencement address at The Ohio State University. May 5, 2013. You can learn a lot about what President Obama thinks the founding fathers were all about from his recent speech at Ohio State. May 7, 2013, […]By Everette Hatcher III | Posted in Founding Fathers, President Obama | Edit | Comments (0)
Dr. C. Everett Koop with Bill Graham. Francis Schaeffer: "Whatever Happened to the Human Race" (Episode 4) THE BASIS FOR HUMAN DIGNITY Published on Oct 7, 2012 by AdamMetropolis The 45 minute video above is from the film series created from Francis Schaeffer's book "Whatever Happened to the Human Race?" with Dr. C. Everett Koop. This […]By Everette Hatcher III | Posted in Founding Fathers, Francis Schaeffer, Prolife | Edit |Comments (1)
America's Founding Fathers Deist or Christian? – David Barton 4/6 There have been many articles written by evangelicals like me who fear that our founding fathers would not recognize our country today because secular humanism has rid our nation of spiritual roots. I am deeply troubled by the secular agenda of those who are at […]By Everette Hatcher III | Posted in David Barton, Founding Fathers | Tagged governor of connecticut, john witherspoon, jonathan trumbull | Edit | Comments (1)
3 Of 5 / The Bible's Influence In America / American Heritage Series / David Barton There were 55 gentlemen who put together the constitution and their church affliation is of public record. Greg Koukl notes: Members of the Constitutional Convention, the most influential group of men shaping the political foundations of our nation, were […]By Everette Hatcher III | Posted in Founding Fathers | Edit | Comments (0)
I do not think that John Quincy Adams was a founding father in the same sense that his father was. However, I do think he was involved in the early days of our government working with many of the founding fathers. Michele Bachmann got into another history-related tussle on ABC's "Good Morning America" today, standing […]By Everette Hatcher III | Posted in David Barton, Founding Fathers | Edit | Comments (0)
I have gone back and forth and back and forth with many liberals on the Arkansas Times Blog on many issues such as abortion, human rights, welfare, poverty, gun control and issues dealing with popular culture. Here is another exchange I had with them a while back. My username at the Ark Times Blog is Saline […]By Everette Hatcher III | Posted in Arkansas Times, Francis Schaeffer, Prolife | Edit |Comments (0)
I truly believe that many of the problems we have today in the USA are due to the advancement of humanism in the last few decades in our society. Ronald Reagan appointed the evangelical Dr. C. Everett Koop to the position of Surgeon General in his administration. He partnered with Dr. Francis Schaeffer in making the […]By Everette Hatcher III | Posted in Adrian Rogers, Francis Schaeffer | Edit | Comments (0)
Francis Schaeffer: "Whatever Happened to the Human Race" (Episode 4) THE BASIS FOR HUMAN DIGNITY Published on Oct 7, 2012 by AdamMetropolis ____________ The 45 minute video above is from the film series created from Francis Schaeffer's book "Whatever Happened to the Human Race?" with Dr. C. Everett Koop. This book really helped develop my political […]By Everette Hatcher III | Posted in Francis Schaeffer | Edit | Comments (0)
—-
—